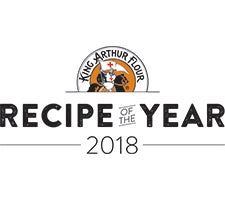 Banana bread: it's an all-time favorite, from coffee break treat to bake sale best-seller.
But a loaf of banana bread is so… square. Or rectangular, if you're going to be exact about it. You bake it, you cut the loaf in low-slung slices, you serve them.
People love banana bread in its traditional form, of course, but how about rethinking that shape? Maybe muffins would be easier to serve after the swim meet, or you'd love some mini loaves to pass around to the neighbors.
A taller, prettier loaf would look great in your breakfast bread basket — and hey, what about banana bread as Bundt cake? We can do that!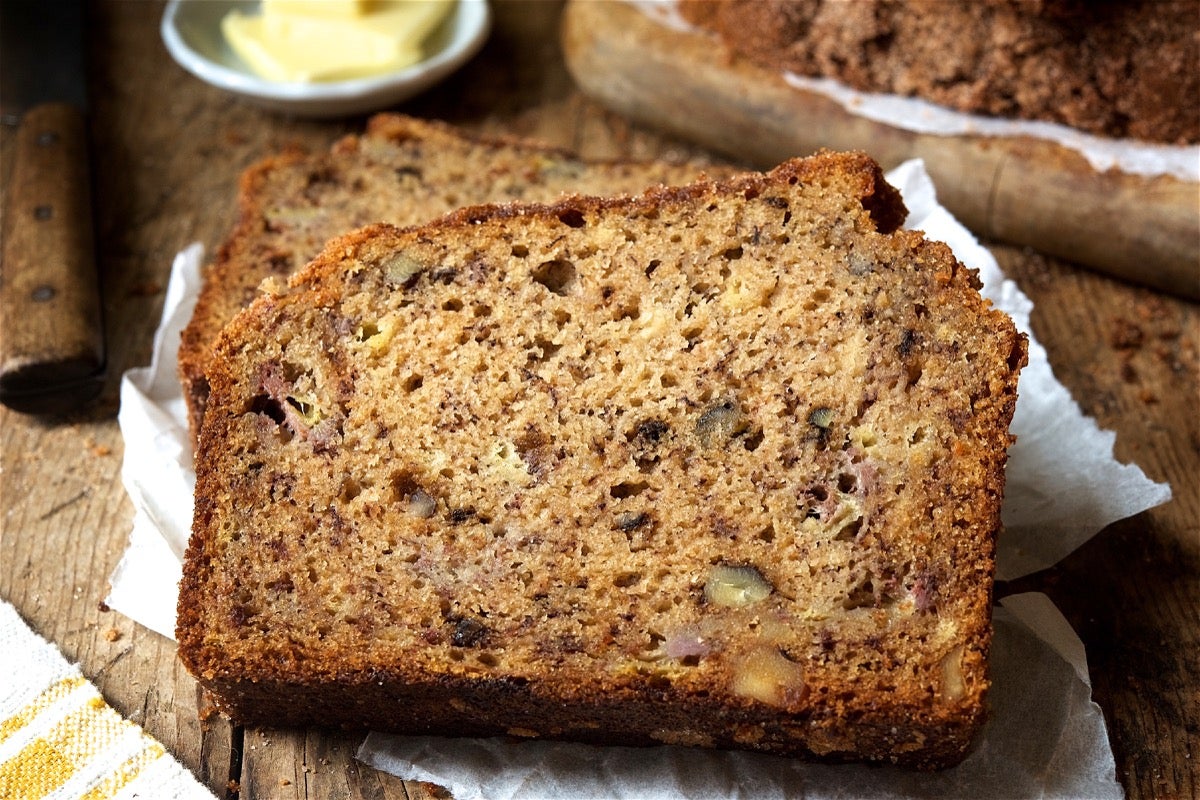 Let's take our Recipe of the Year, Whole-Grain Banana Bread, and pair it with all kinds of pans beyond the traditional 9" x 5".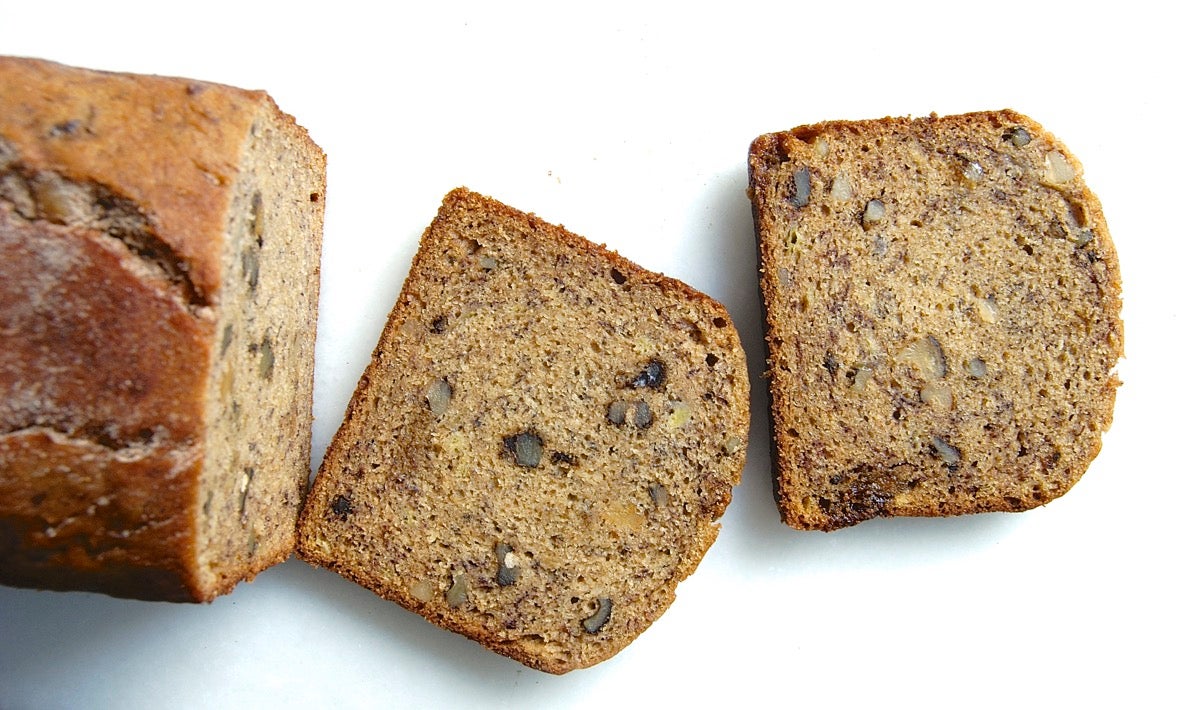 Banana bread: Square it up
How do you make a taller, more striking loaf of banana bread?
The typical loaf bakes in a 9" x 5" x 2 1/2" pan, which yields 3" x 5" rectangular slices. For (almost) square slices, choose a 9" x 4" x 4" pain de mie pan.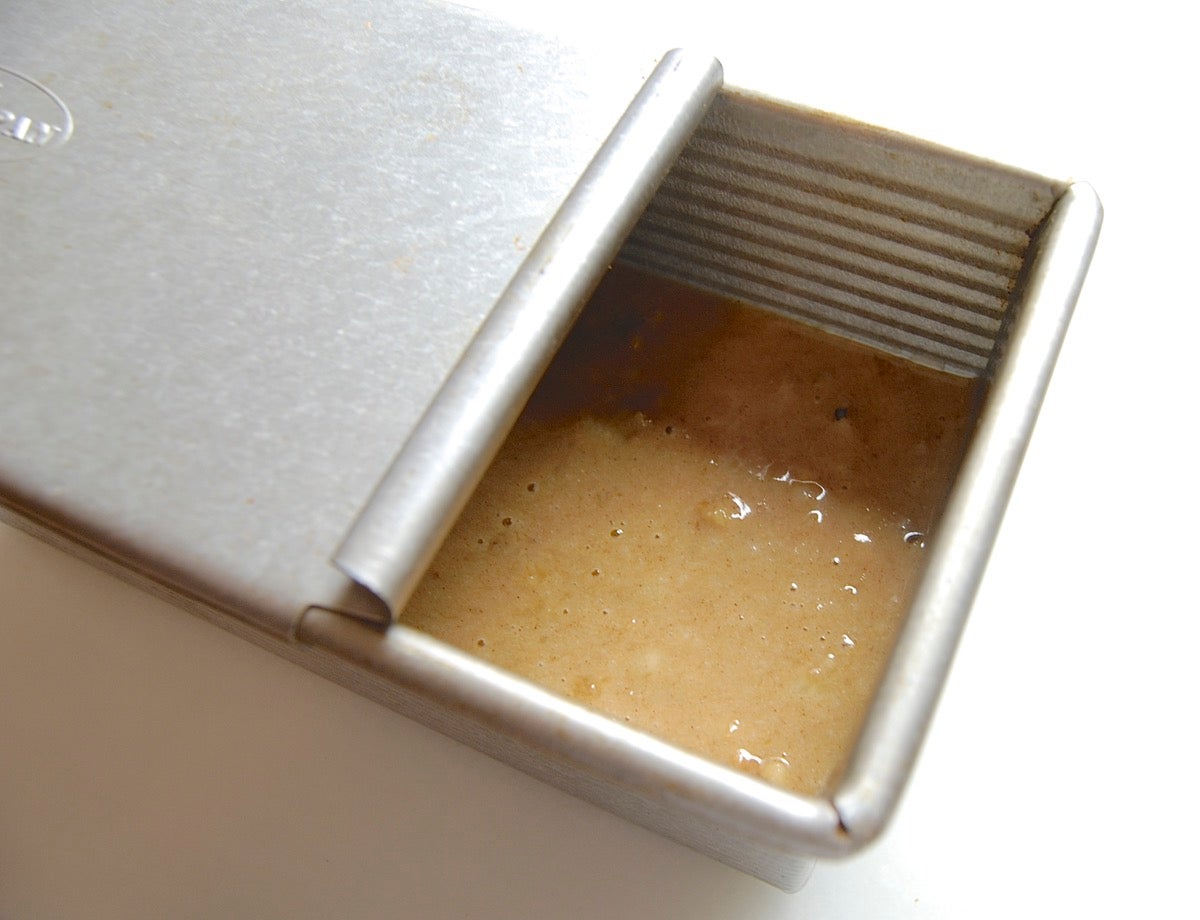 Pour your batter into the pan; it'll only come about halfway up.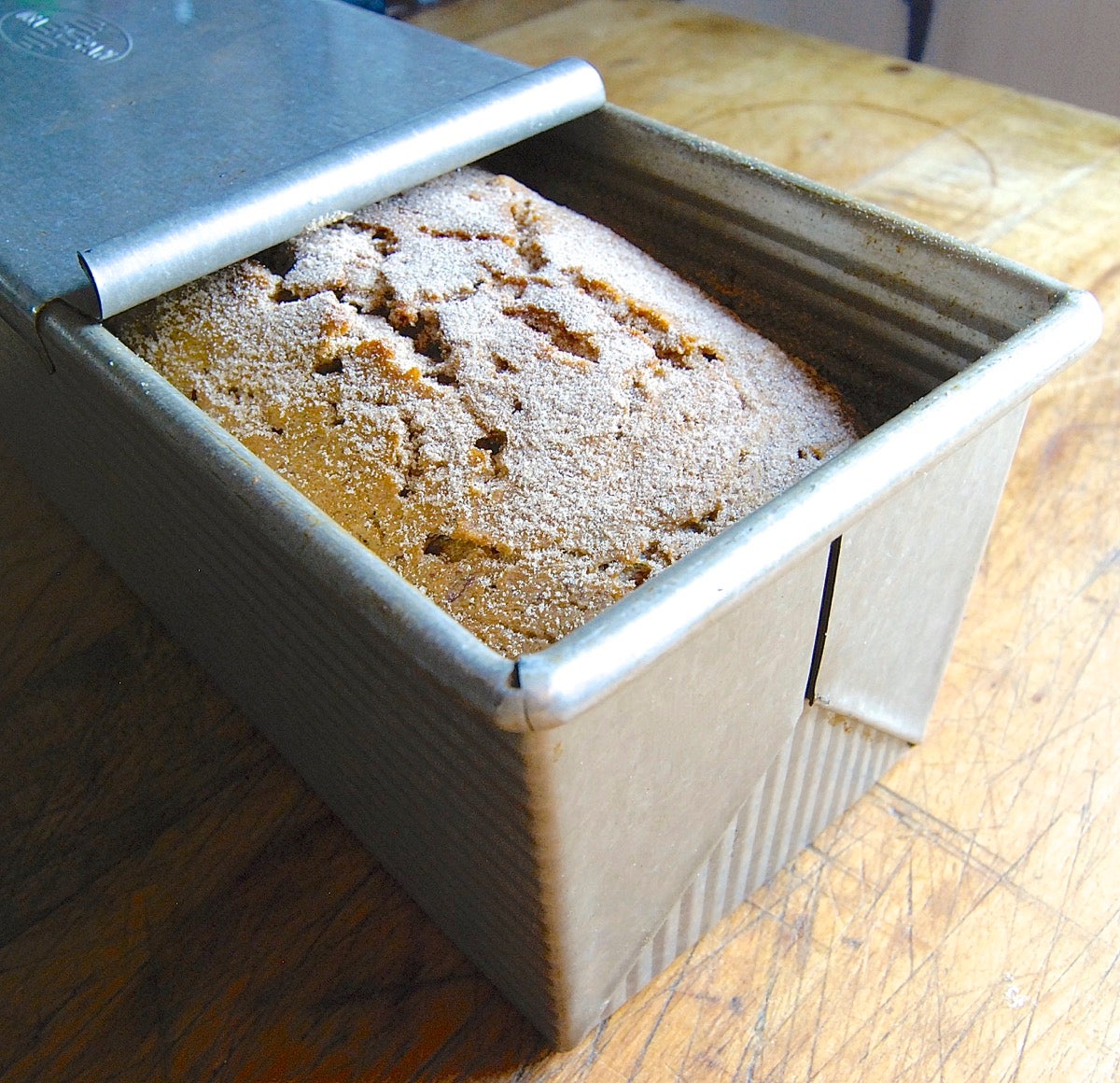 You don't need to use the lid, but I usually do. The lid traps heat and bakes the bread more evenly, with less possibility of a raw or doughy spot in the center.
The bread rises all the way to the top of the pan, just barely hitting the lid in the center, but still retaining its domed top. I typically bake this recipe for 70 to 75 minutes in my pain de mie pan, removing the lid at 60 minutes to test for doneness then leaving it off the rest of the way. (Removing the lid near the end also dissipates steam, which otherwise can make the crust tough.)
If you have a digital thermometer, use it to help gauge when your bread is done: banana bread should be at least 200°F to 205°F at the center before you take it out of the oven.
If you add mix-ins the loaf rises more and becomes truly squared-off. But in the process the cinnamon-sugar topping disappears, so it's best not to add the topping until after you've removed the lid.
I make a "loaded" version of this loaf using 2 cups of mix-ins, baking in a pain de mie pan with the lid on. After removing the lid at 60 minutes, the loaf needs an additional 20 to 25 minutes or so of baking time, since it's quite dense. But man, is that a flavor-packed loaf!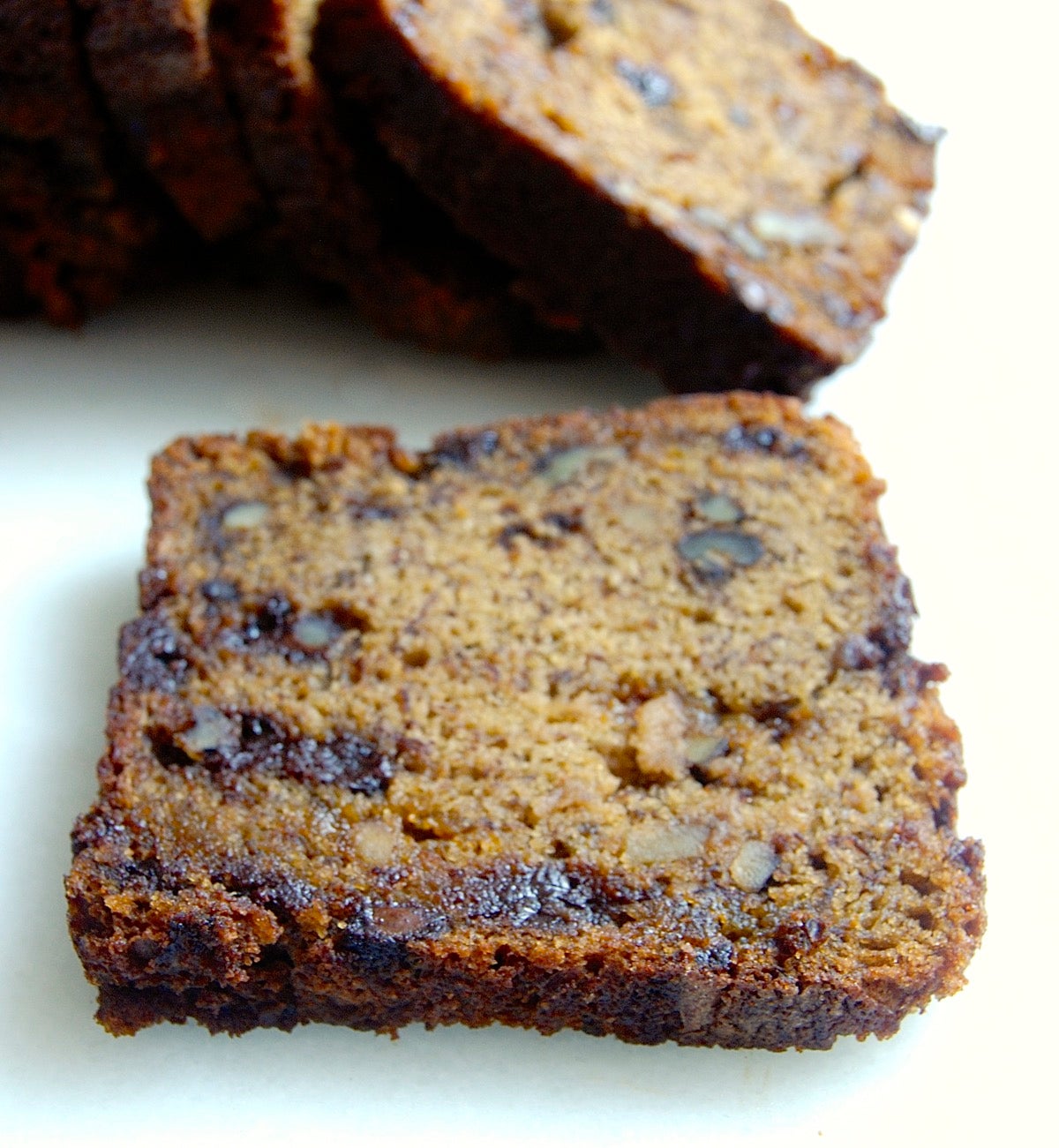 My latest version includes toasted walnuts, and chocolate and butterscotch chips.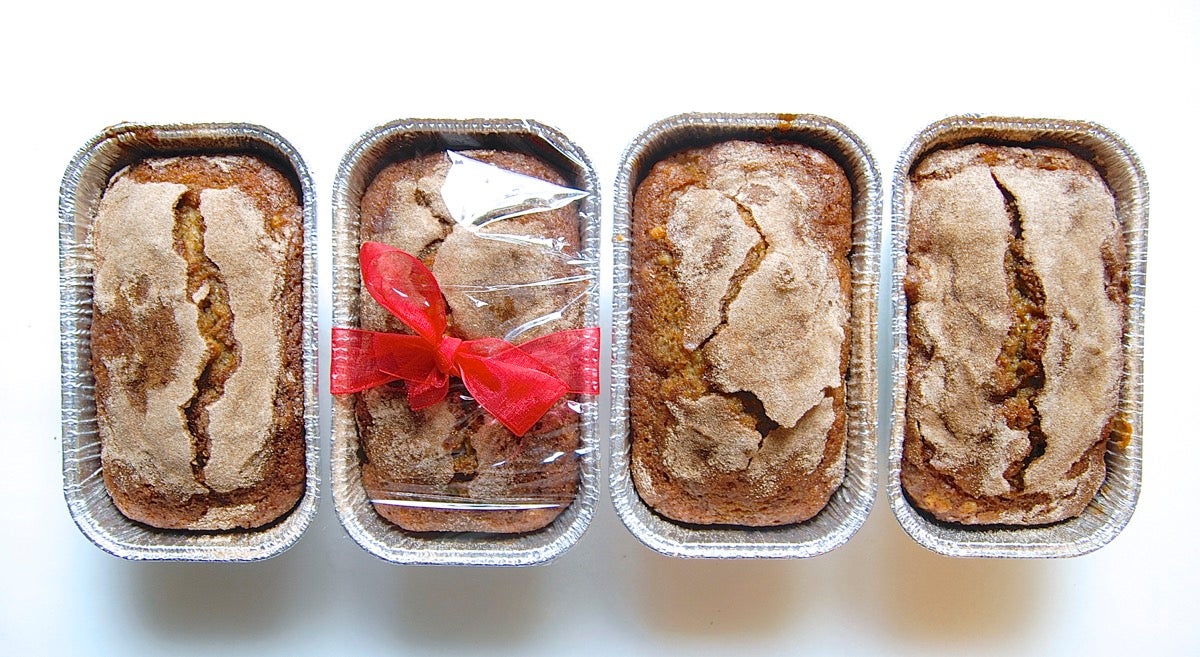 Banana bread: Make minis
Spread the joy: Our Whole-Grain Banana Bread recipe makes four delightful mini loaves (approximately 3 1/4" x 5 3/4" x 2"), perfect for giving. (FYI, this is the size of the typical five-pack of disposable aluminum mini loaf pans you can buy at the supermarket.)
Spoon the batter into the greased pans, and bake for 35 to 40 minutes in a preheated 350°F oven, until the loaves test done.
Do you need to go to an extra pan if you stir mix-ins into the basic recipe?
Not at all. The pans are large enough to accommodate batter with up to 1 cup of your favorite combination of chips, nuts, and dried fruit; the finished loaves with mix-ins will simply rise a bit higher.

Banana bread: Choose your favorite size muffins
Here's where this banana bread recipe really shines: it's simple to make one batch of batter into one to two dozen standard muffins, depending on your needs.
Feeding a crowd of kids? Make two dozen smaller muffins. Looking for an impressive addition to your brunch table? Make a dozen jumbo, "mushroom-top" muffins.
Here's the easiest way to make your desired number of muffins: Weigh the finished batter, and divide it by however many muffins you want to make. Scoop that amount of batter into each lined/greased muffin cup. The smallest muffins will bake for 20 to 23 minutes in a preheated 350°F oven; the largest, for 25 to 30 minutes.
What if you don't have a scale? Please get one; it's SO much easier and more accurate to bake by weight than volume, and your success rate will definitely skyrocket. But volume-wise, you'll fill the muffin cups about halfway for the smallest muffins; absolutely full for the largest ones; and somewhere in between for those in-between sizes.
Finally, because I know you'll ask: How about baking the batter in a mini-muffin pan? Depending on the exact size of your pan, the muffins will bake for about 10 to 12 minutes, and the recipe will yield about 40 to 48 mini muffins.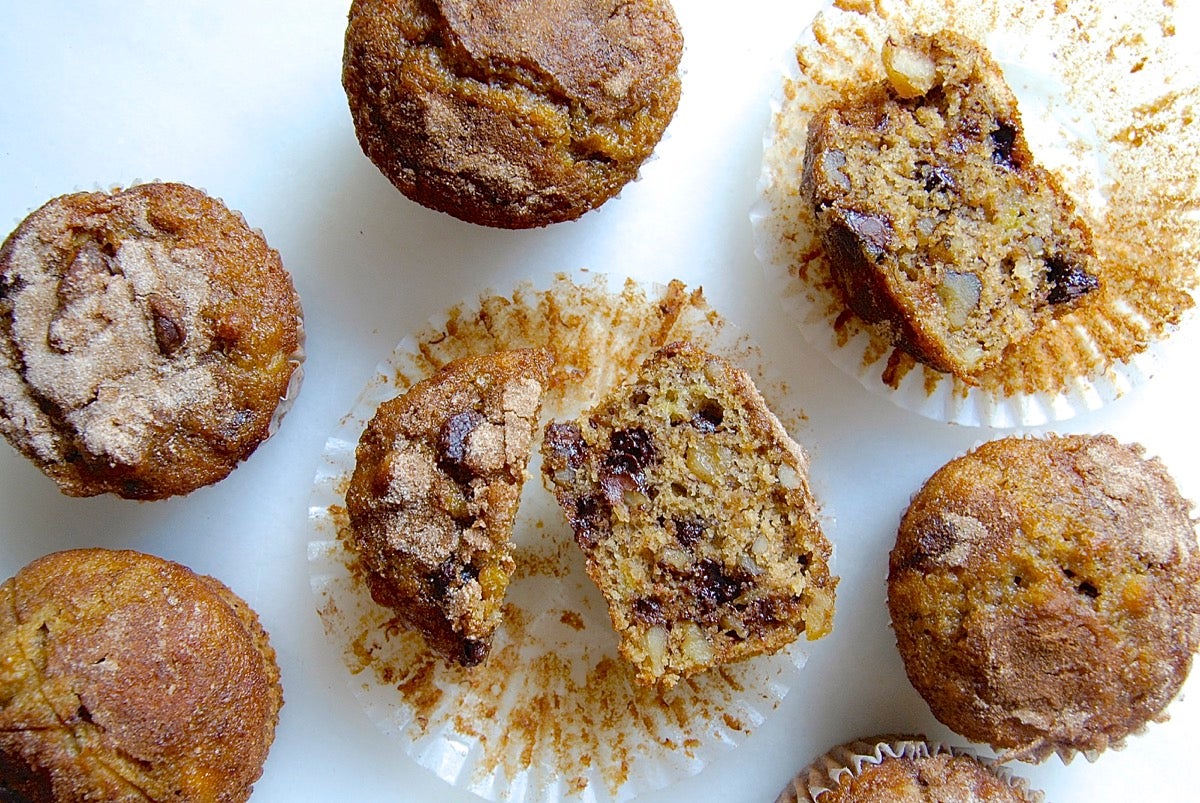 Do mix-ins change the yield?
Adding about 1 cup of mix-ins to your batch of batter shouldn't change the yield, except for the largest muffins. Since you're already filling the muffin cups absolutely full to make a dozen large muffins, you could potentially make an additional muffin, or perhaps two, with the added volume of mix-ins.
How about "loaded" muffins? I added a full 2 cups of mix-ins — 1 cup chocolate chips and 1 cup chopped walnuts — to the batter before baking the muffins pictured above. And instead of the 18 muffins I would have made without mix-ins, I ended up with 21 muffins. So yes, in the case of muffins, mix-ins do make a difference in yield.
Oh, and one more thing: you've heard of banana cupcakes, right? Frosting these muffins is another sweet option.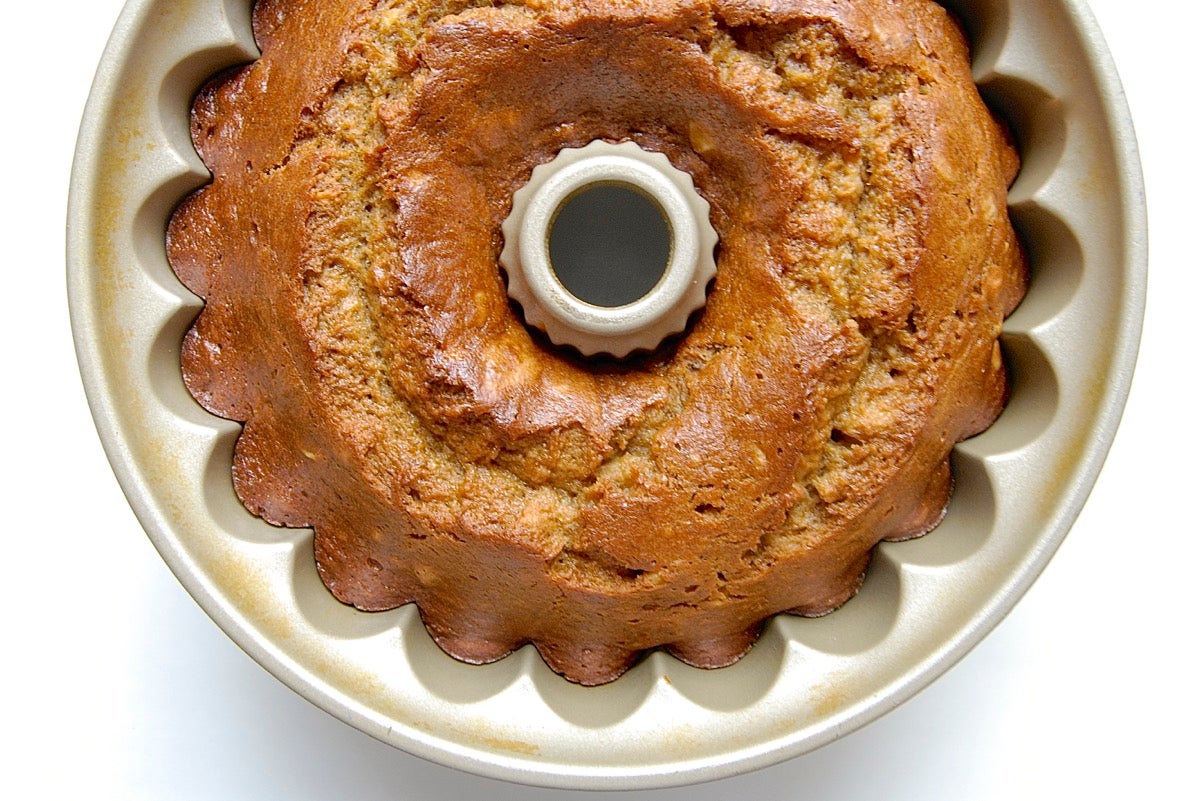 Banana bread: Almost dessert
Our Whole-Grain Banana Bread is super-moist without being overwhelmingly rich. So it's still decidedly a quick bread, not cake. But who says you can't bake quick bread in a cake pan?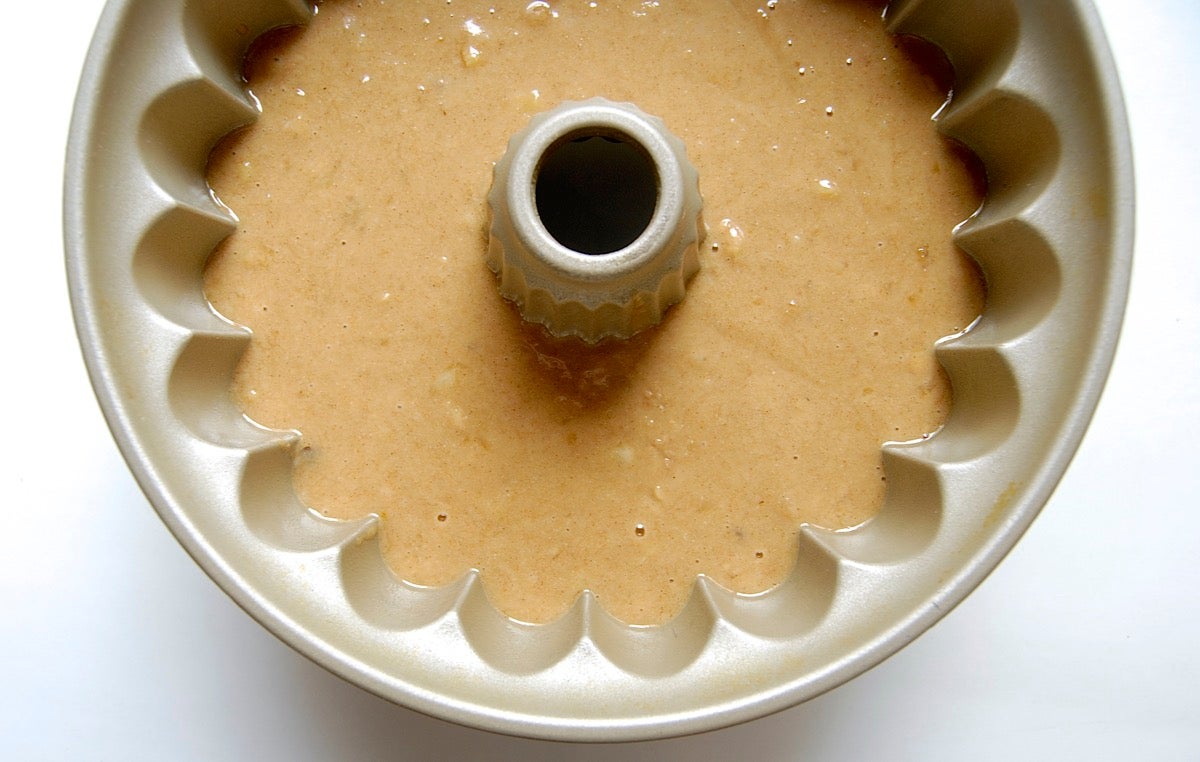 Our 10-cup Party Bundt Pan is the perfect size for Whole-Grain Banana Bread. Pour the batter into the greased pan; there's plenty of room for the batter to rise.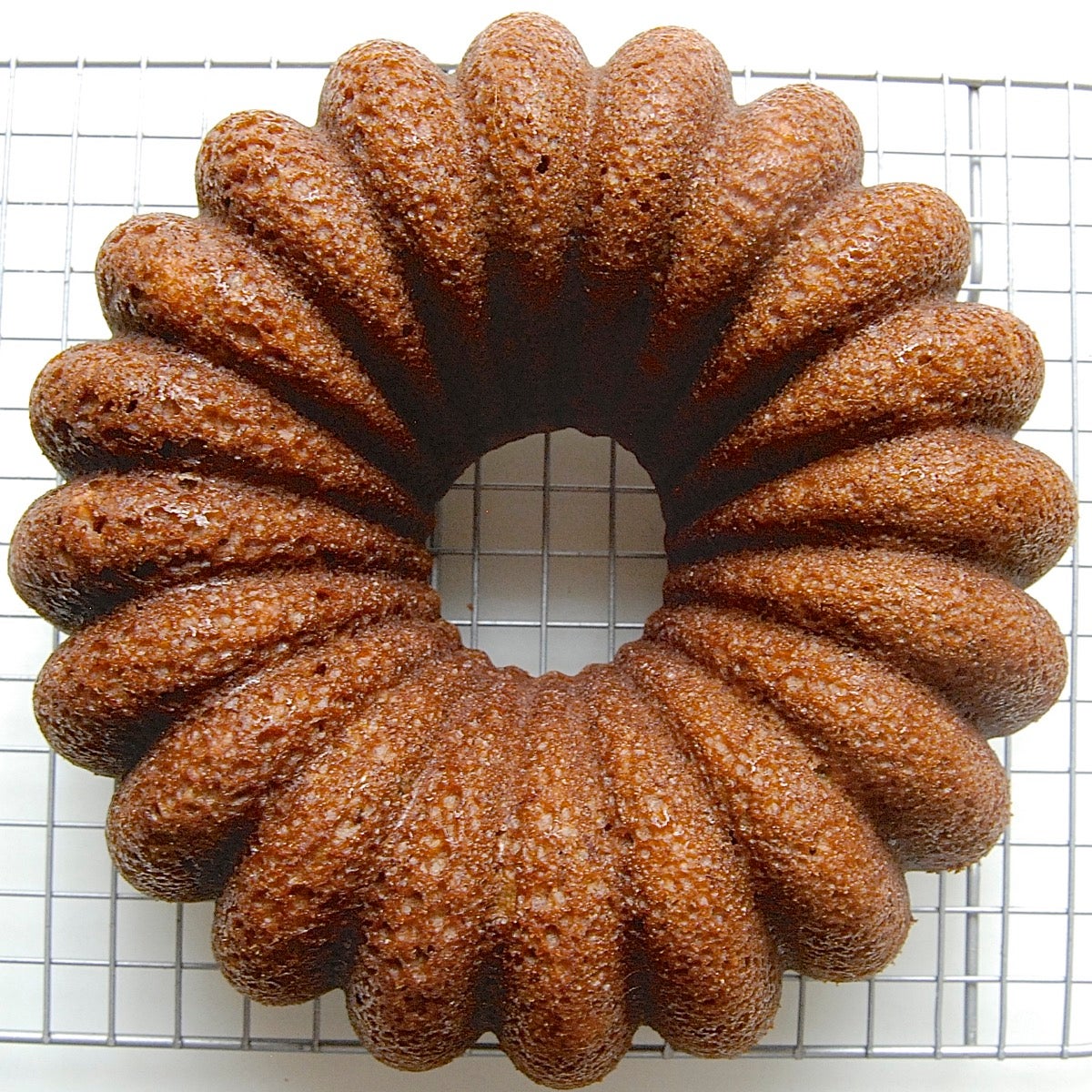 Bake the bread in a preheated 350°F oven for 48 to 53 minutes, or until it tests done. Wait 10 minutes, then tip the cake bread out of the pan onto a rack to cool.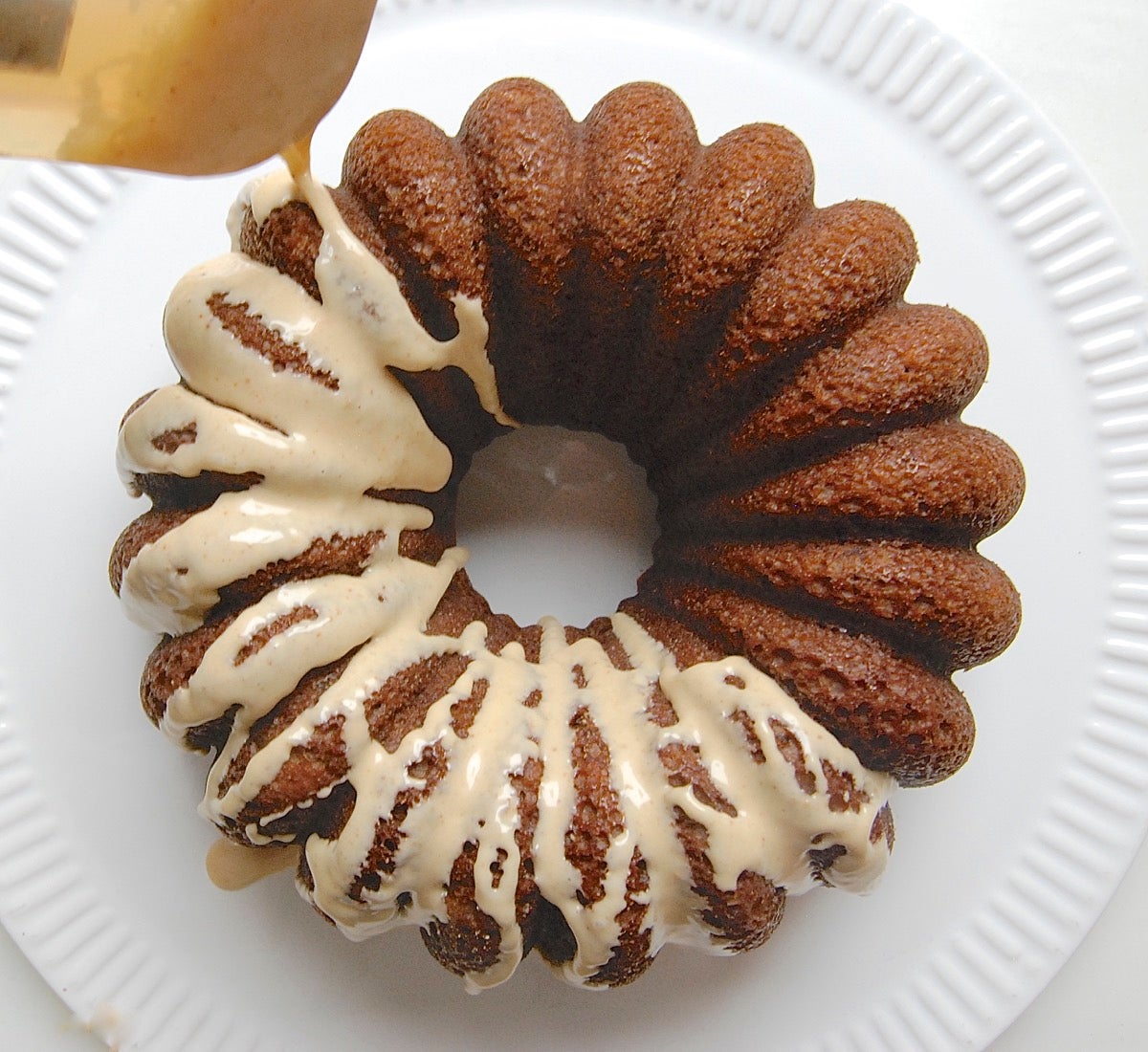 Want to dress it up?
Combine 1 cup (113g) confectioners' sugar, a pinch of salt, 1 tablespoon peanut butter, and about 2 tablespoons milk, or enough to make a thick but pourable glaze. Drizzle it over the bread.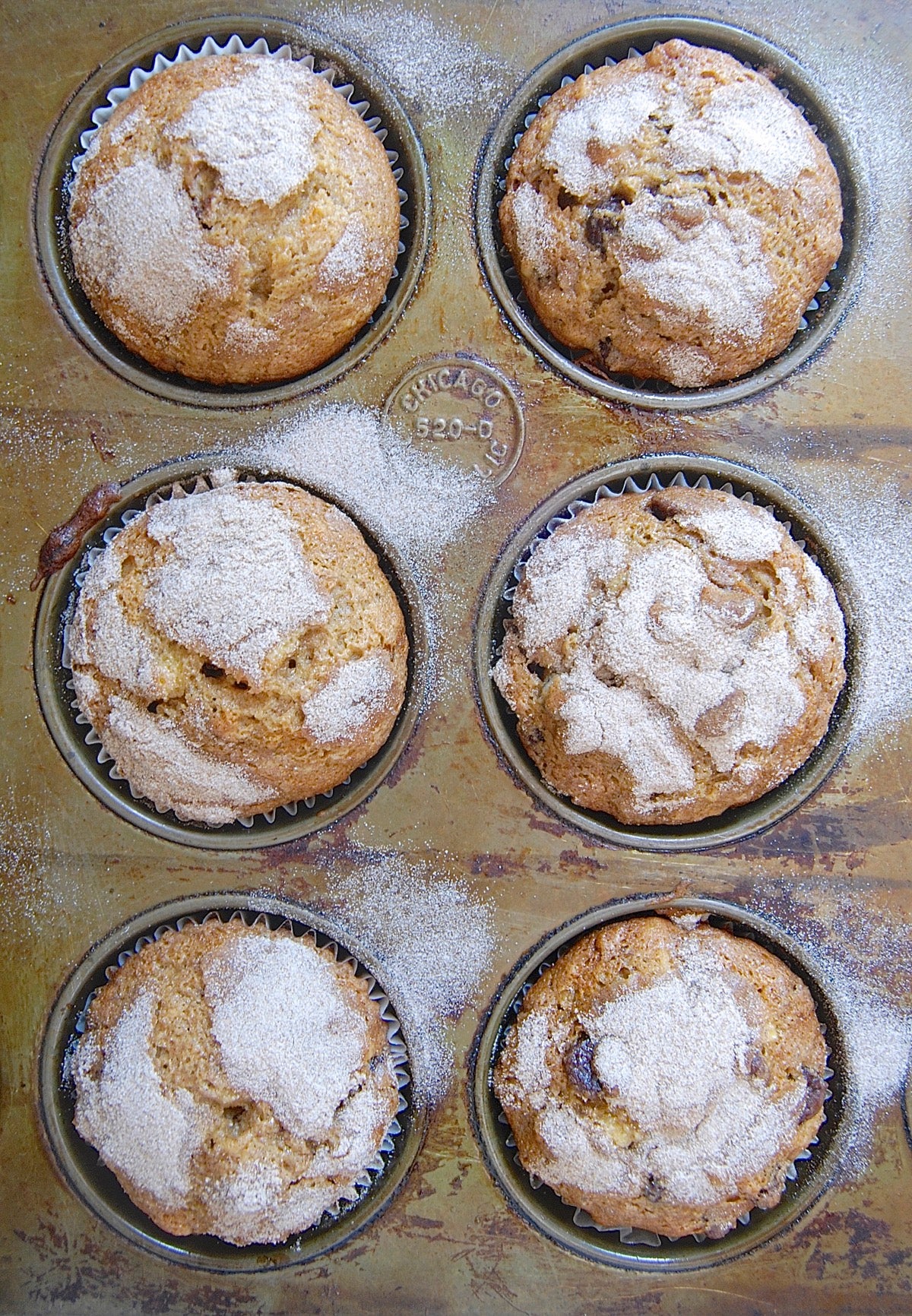 How will you reshape your banana bread today? How about baking banana bread batter in a square cake pan, like cornbread? Maybe in a popover pan, for extra-tall muffins? Please share your brainstorm in comments, below.
Jump to Comments