There are few things sweeter than an abundance of fresh fruits. Peaches, berries, apricots, cherries, and more exploding from farmers' markets and the produce aisle of your grocery store are happy sights to see. If you ever have more fruit than you know what do with, fruit that isn't quite ripe, frozen fruit, or if you just want to make your fruity flavors pop, grilling or roasting fruit is the way to go.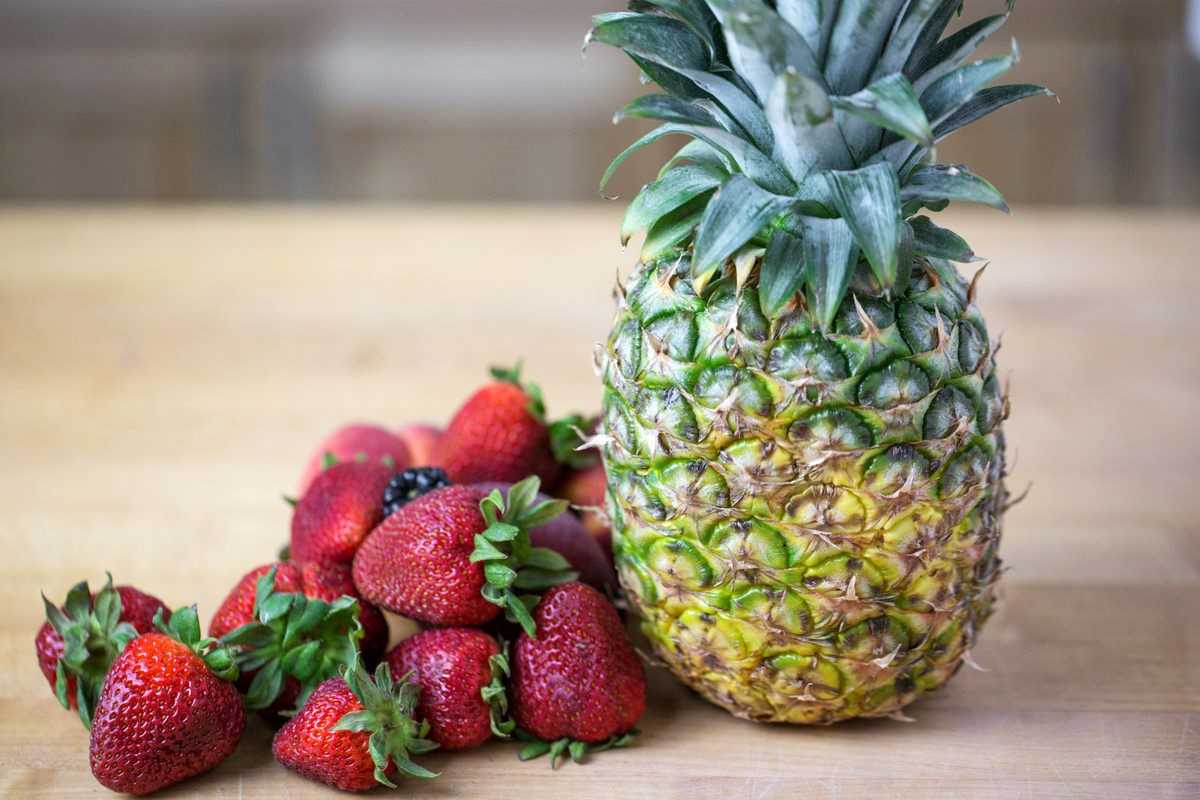 Why grilling or roasting fruit makes a difference
Be it fresh or frozen, roasting fruit at a high temperature concentrates the sugars, and therefore the flavor. Excess moisture is released in the oven leaving you with a highly flavorful bite of fruity goodness.
Grilling is another way to enhance flavor by adding an element of char and caramelization. Topping your burger with a sweet and tangy slice of grilled pineapple takes it from basic barbecue to a mini-vacation in your mouth.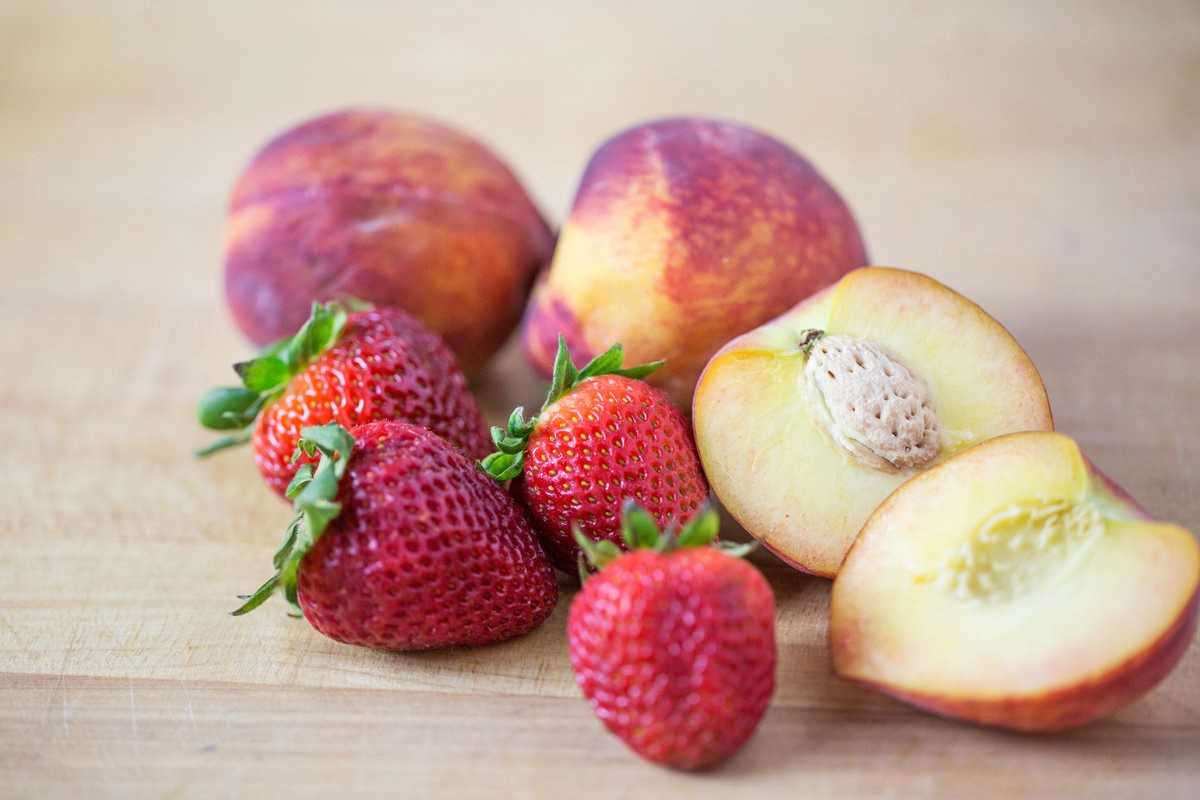 Roasting fruit for breakfast: Pancakes
Being that breakfast is the most important meal of the day, I'm always looking for ways to add fresh fruit to my morning. Why not start it off nice and sweet? Strawberry peach pancakes have forever been my favorite breakfast. Due to the juicy nature of both of these fruits, I never thought that they could be made without the inevitable soggy bits of batter in the center.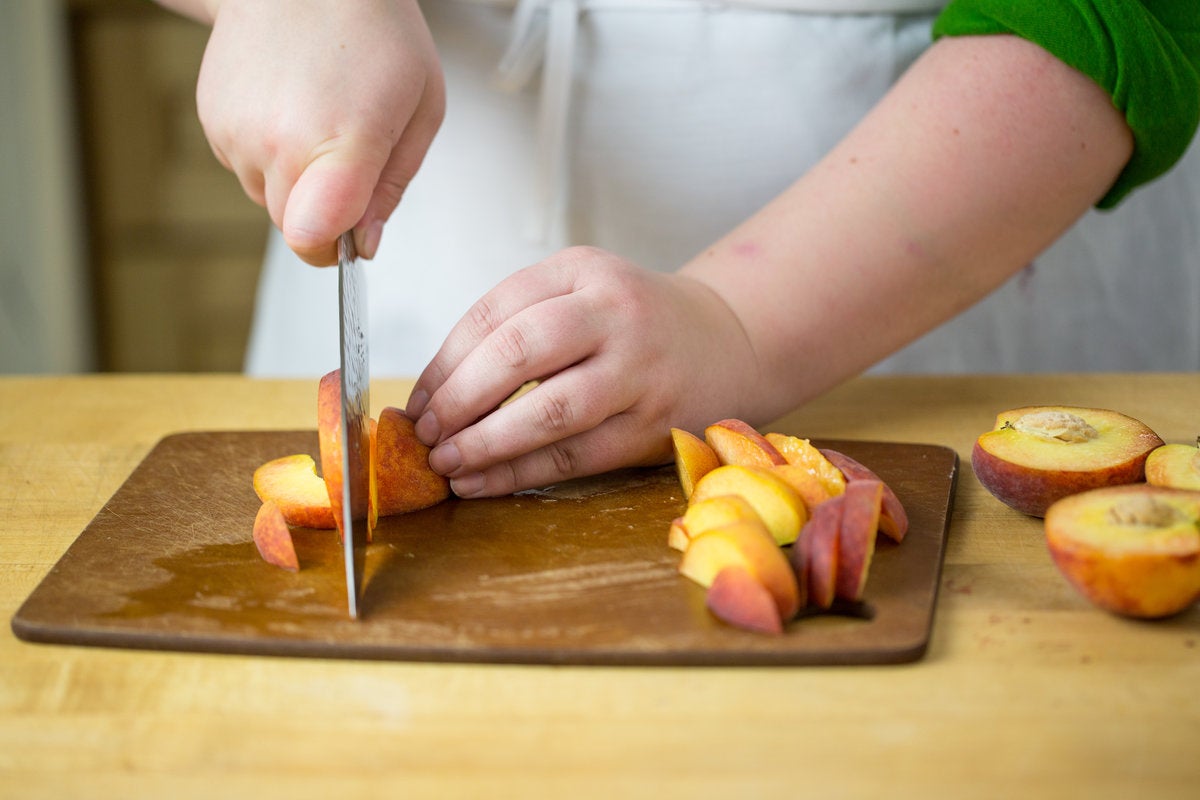 Soggy no longer! Preheat your oven to 400°F and line a baking sheet with parchment paper. If you don't have a baking sheet, just use any pan with sides. Slice your strawberries and peaches into pieces that are roughly 3/4" to 1" around.
For a single batch of pancakes, two small peaches and about 10 strawberries did the trick. Keep in mind, they'll shrink in the oven. The chopped fruit winds up about the size of large blueberries, which we all know are just plain delightful in pancakes.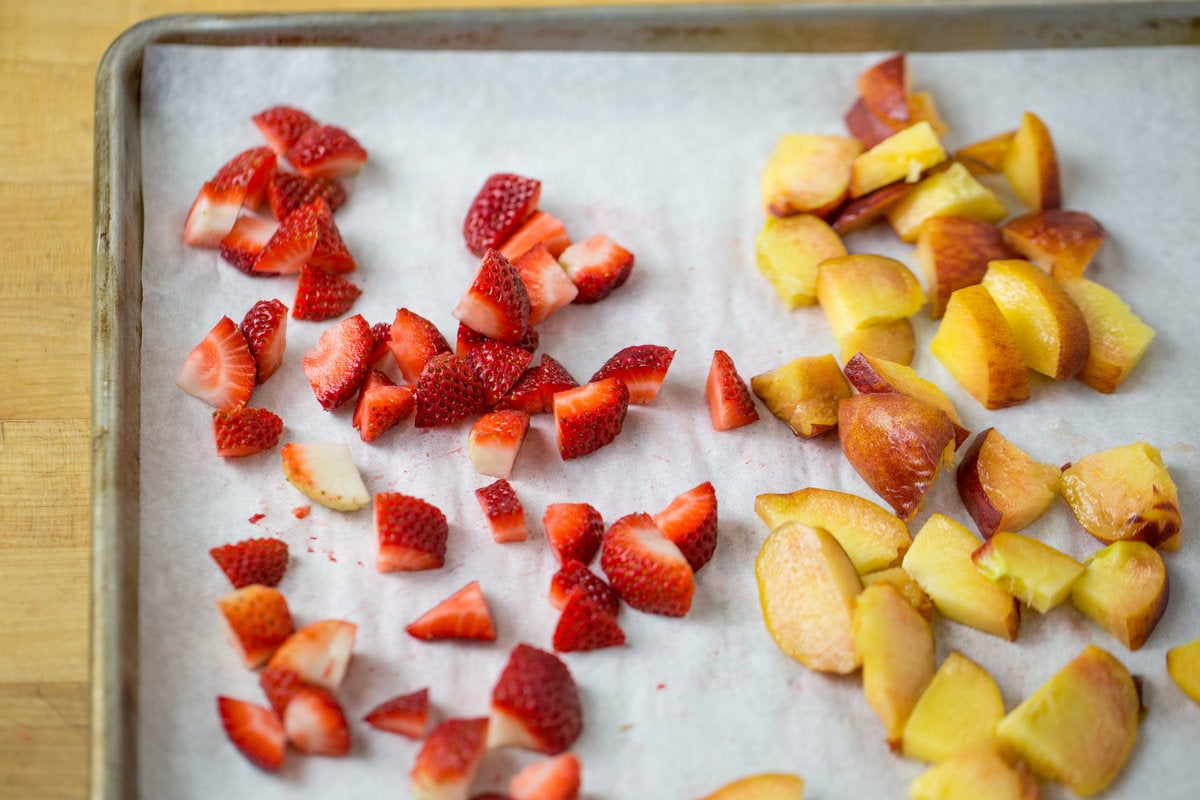 Roast the fruit for 10 minutes, stir, and roast for another 5 to 10 minutes. You want the fruit to be caramelized and somewhat shrunken. If your fruit is extra juicy it could take a little longer to get to this stage. Let the fruit cool slightly and add it to your pancake batter while it's still warm.
By roasting the fruit, the flavors are concentrated, extra juices are drawn out in the oven, and your fruit-filled finished pancakes will be evenly cooked, soft, tender, and plum full of summery goodness. No raw batter — huzzah!
Prep ahead
If you're thinking you don't want to get up any earlier than is humanly necessary to make breakfast, don't worry. Roast your fruit up to five days ahead of time and keep it wrapped in the fridge until you're ready to use it.
Better yet, freeze the roasted fruit for up to three months. Let it thaw before using to ensure even cooking/baking, and dab with a paper towel if it's especially juicy.
Speaking of frozen fruit, you can roast that too — right out of the freezer! Extend the baking time by 5 to 10 minutes to allow the fruit to dry out as it'll likely release more juices than fresh fruit.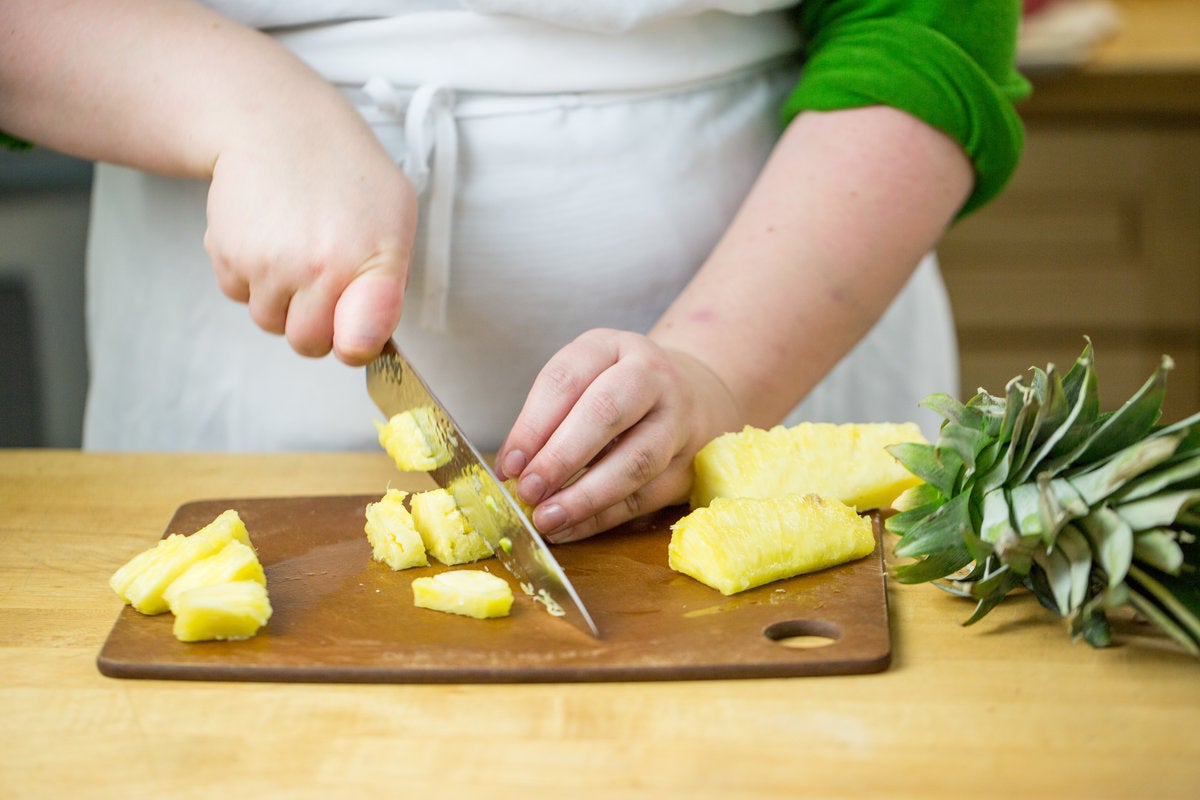 Roasting fruit for tea time: Scones
Now that we've had breakfast, let's fast-forward to afternoon tea time and whip up some tasty scones: pineapple coconut scones to be exact. We'll amp up these piña colada flavors by roasting the pineapple and using toasted coconut flakes.
If you can't find fresh pineapples in your grocery store or simply don't want to go through the effort of cutting one up (which I totally recommend doing at least once in your life just so you can say you did), canned pineapple is surprisingly wonderful.
For a single batch of scones, one 12-ounce can of pineapple chunks or half of one large pineapple is perfect.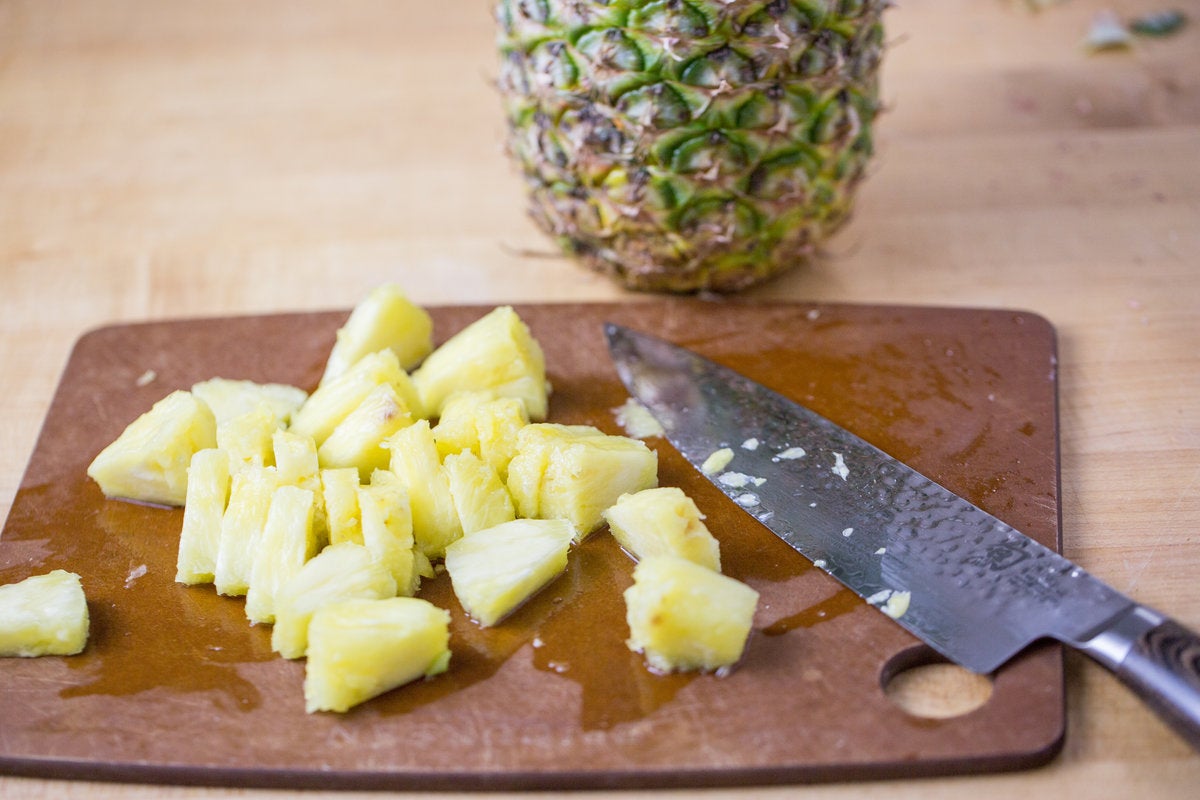 While we're on the subject of fruit from the pantry, there's no reason you couldn't roast any canned fruit to enhance its flavor. Just be sure to drain and pat the fruit dry with a paper towel before roasting.
Preheat your oven to 400°F and line a baking sheet with parchment paper. Dry off the pineapple as much as you can and spread it evenly across the pan. I used diced pineapple in about 1" x 1/2" chunks. You could also roast pineapple rings or spears; just extend the baking time by 5 to 10 minutes.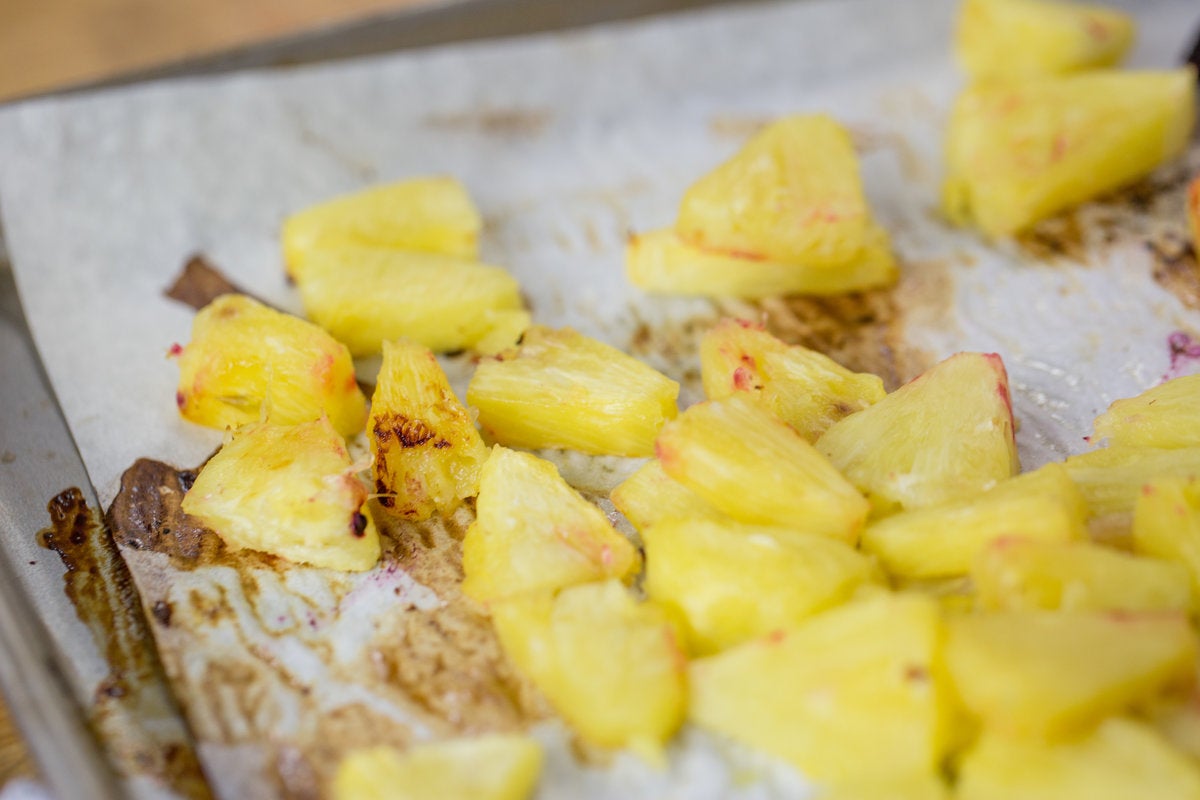 Roast for 10 minutes and carefully flip the pieces over with a spatula. The bottoms will show some color. Repeat for another five minutes or so and pull them out to cool. If you're in a hurry, stick the pieces in a bowl or pan and pop them in the fridge or freezer.
If you need a cold mixture, you need cold fruit.
For scones, it's imperative that the roasted pineapple has cooled completely. Anything warm will melt the butter in your scone dough, thereby ruining any potential for flaky layers. If you're making pancakes, muffins, or cake, this isn't as crucial and you can add the pieces while they're still warm.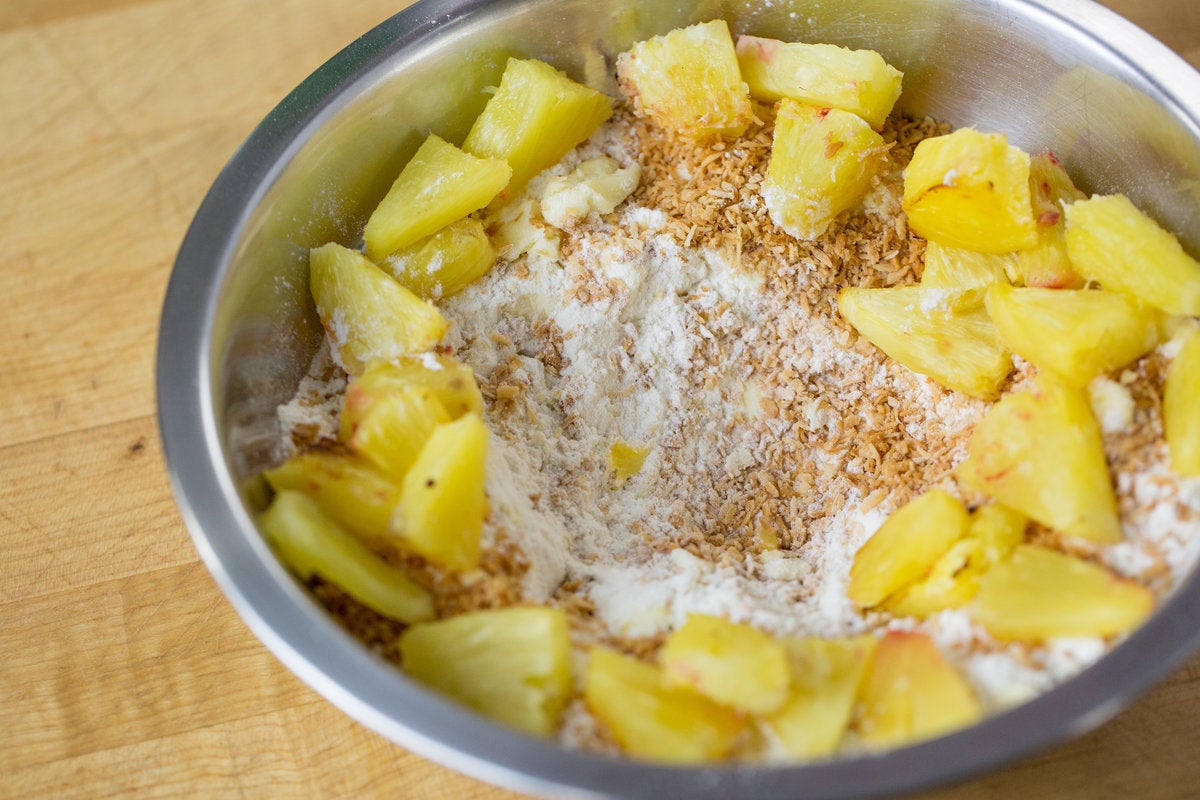 Our scone recipe calls for one to two cups of mix-in's so I opted for 1 1/2 cups of roasted pineapple and 1/2 cup toasted coconut.
Soon enough, you'll be able to enjoy a buttery bite and be transported to a tropical island as you sip your afternoon tea.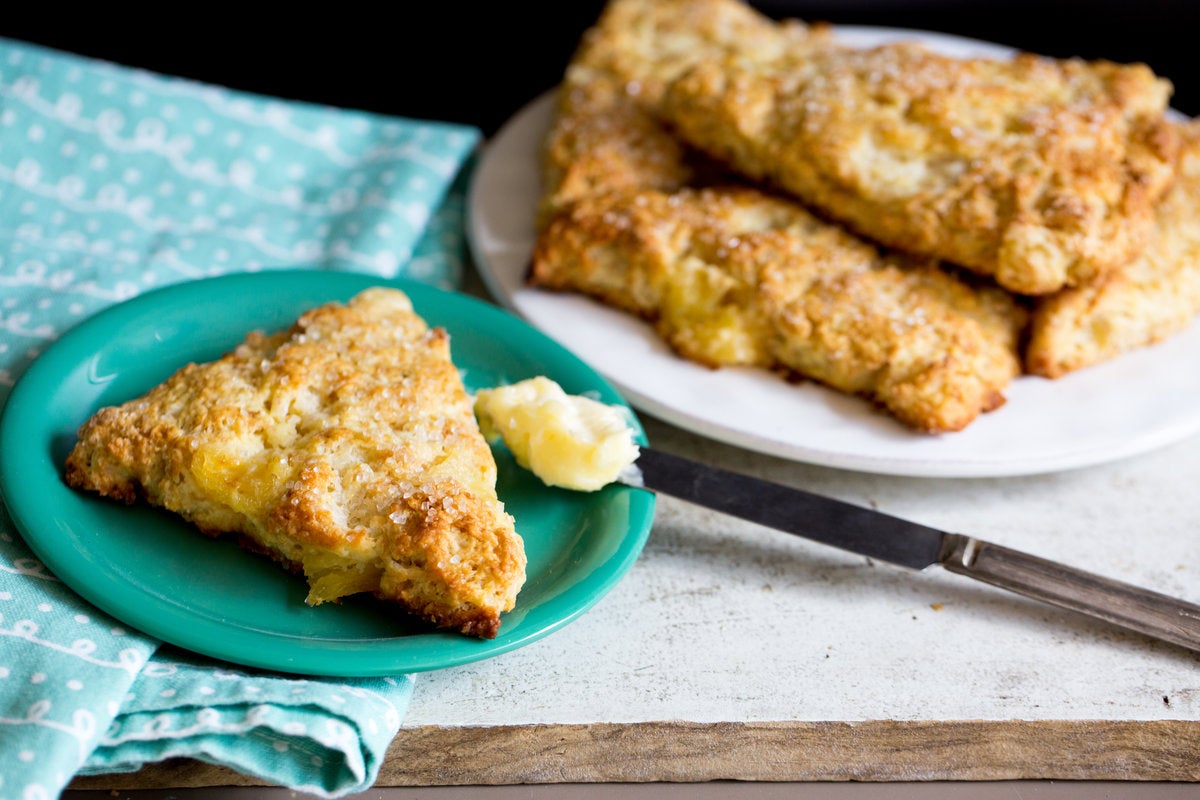 Roasting fruit for appetizers: Focaccia
So far we've roasted fruits to give enhanced fruity flavor to sweet batters and doughs. But what about using roasted fruit as a topping?
Today's menu includes an impressive and savory appetizer: fresh focaccia. Our Golden Focaccia recipe is the perfect canvas for creative flavor combinations. We'll top ours with roasted blackberries, goat cheese, fresh basil, and a drizzle of honey.
I find blackberries are one of the dryer berries, so they're wonderful to top bread without fear of making it soggy. Because focaccia is best served the day you bake it, I roast the blackberries just before baking the bread. However, you could roast them a few days ahead and store them in the fridge or freeze them for up to three months.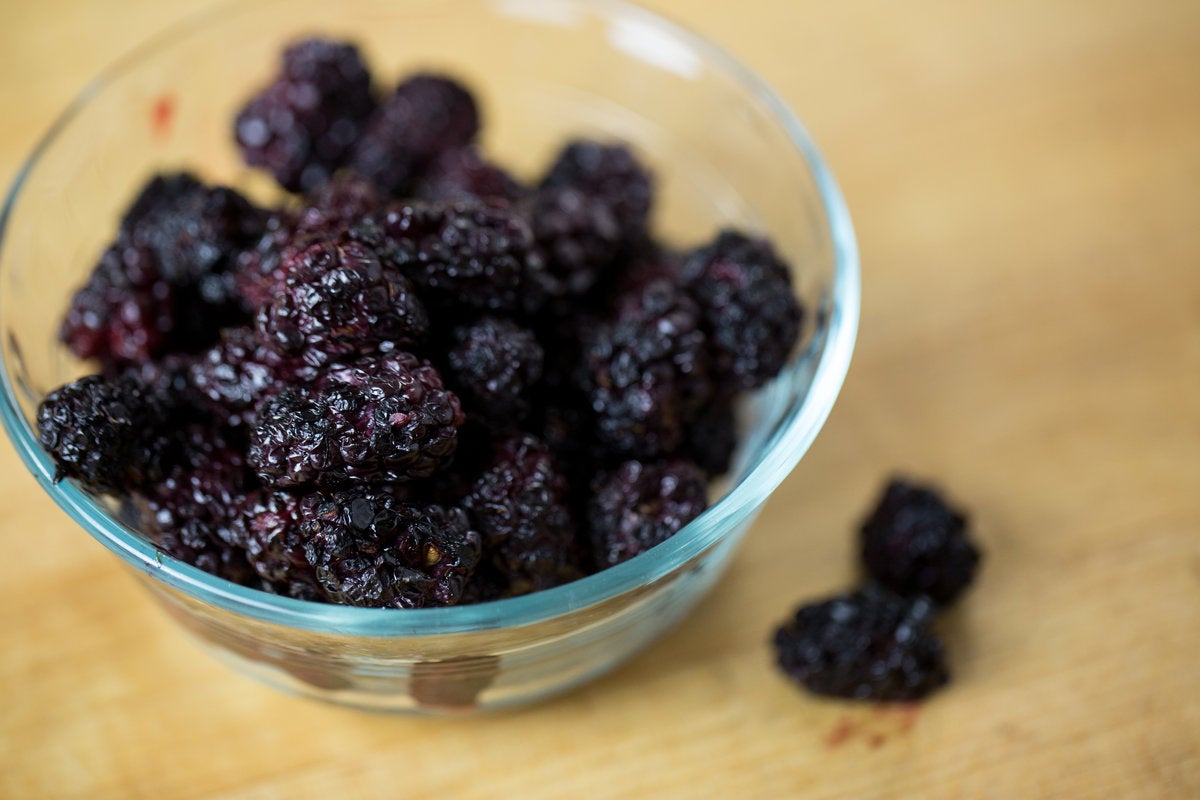 To roast blackberries, preheat your oven to 400°F and spread the berries on a baking sheet lined with parchment paper. Roast for 15 minutes, stir, and roast for another 5 to 10 minutes, or until the berries have become a bit shrunken.
Once you've pulled out your fruit, bump your oven temperature to 425°F and bake your focaccia while the berries cool. Focaccia is especially tasty when served warm, so gather your other toppings as it bakes.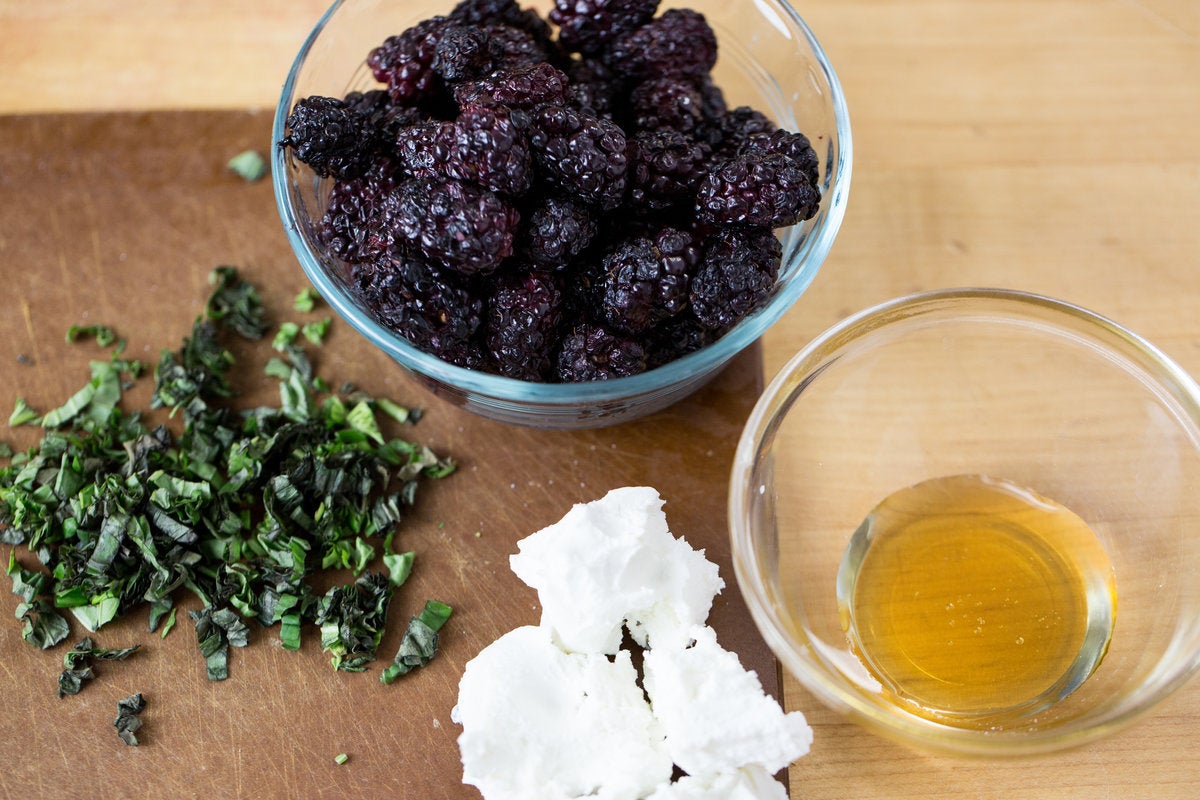 Top the soft, warm bread with the roasted berries, goat cheese, some basil ribbons, and a drizzle of honey. Feel free to replace the honey with extra-virgin olive oil if you'd prefer not to add any additional sweetness. I find the contrast between tangy goat cheese and sweet honey to be sheer bliss.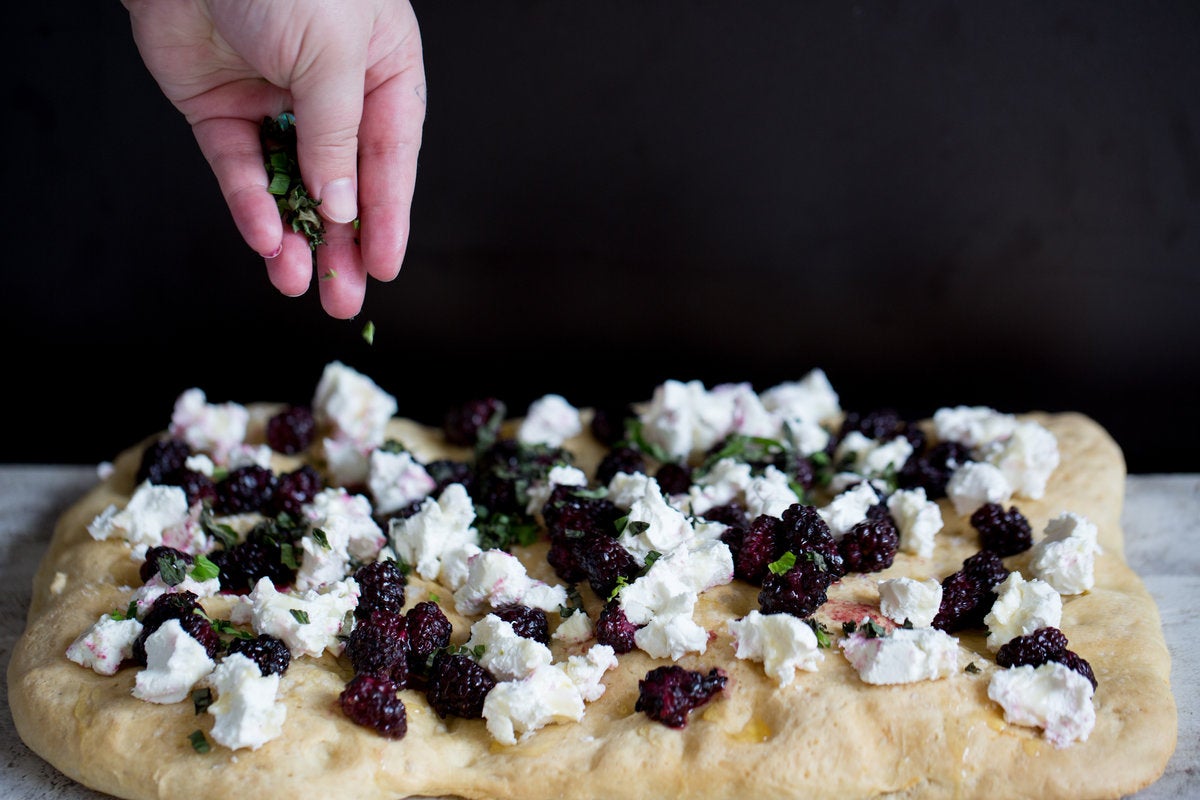 Grilling fruit
So far we've focused on roasting fruits to bring out their flavors. But if you've already got the grill heated up or don't want to turn on the oven, you can make some deliciously flavorful fruity treats in the great outdoors.
I'll be using a stovetop grill pan as summer is taking its sweet time coming to Vermont this year, but a panini press is another option to give your fruits quick grill marks, indoors or out. Even a waffle iron would work!
When choosing fruit to grill, stick with firmer varieties in larger pieces. Think spears of pineapple, halved peaches, or slices of cantaloupe. Brush your chosen fruit lightly with your favorite oil. And I do mean lightly — just enough to keep from sticking. We're not going for a flambé here.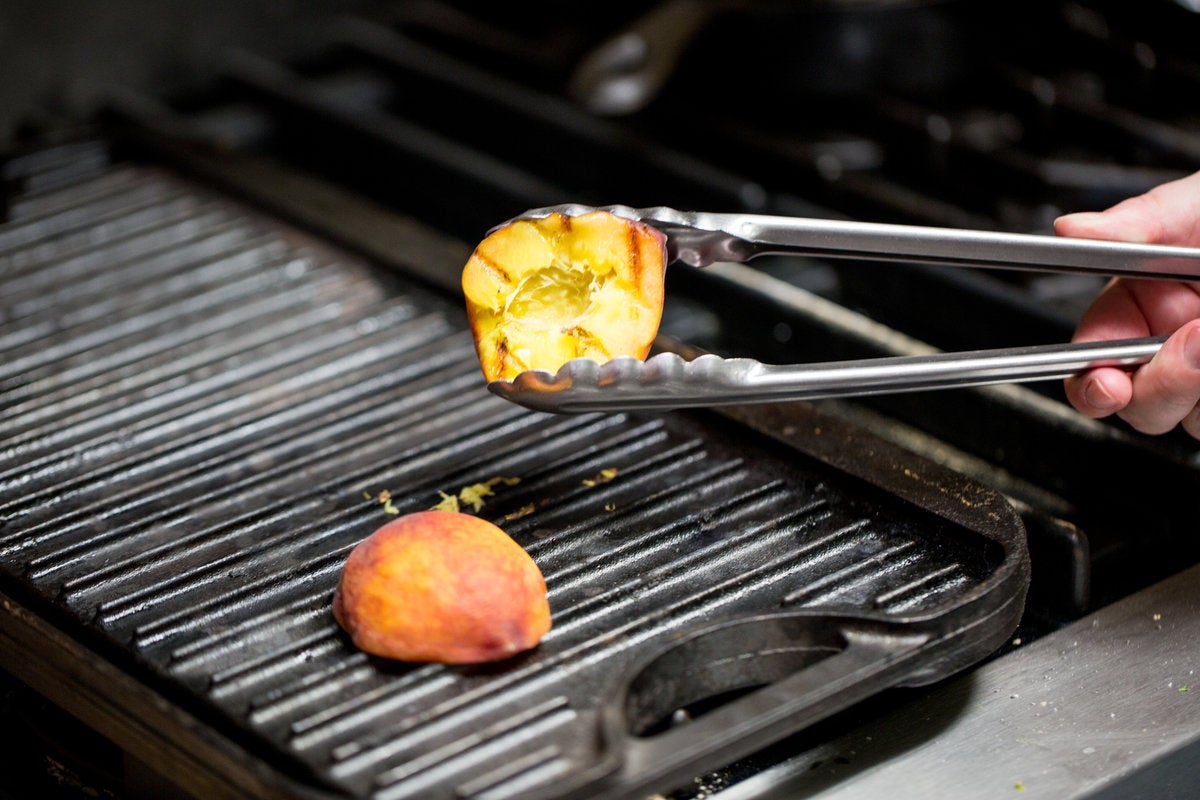 Grill your fruit for a few minutes, turning as needed until you have suitable grill marks. This will add a caramelized, slightly bitter note to your fruit, cutting some of the sweetness.
Bake with grilled fruit just as you do with roasted. Grilled fruit tends to retain more moisture, so, baked goods using grilled fruit might take longer to finish up.
Use grilled pineapple for your scones, grilled peaches for your pancakes, or grill up some orange slices for a striking garnish on an Orange Pistachio Cheesecake.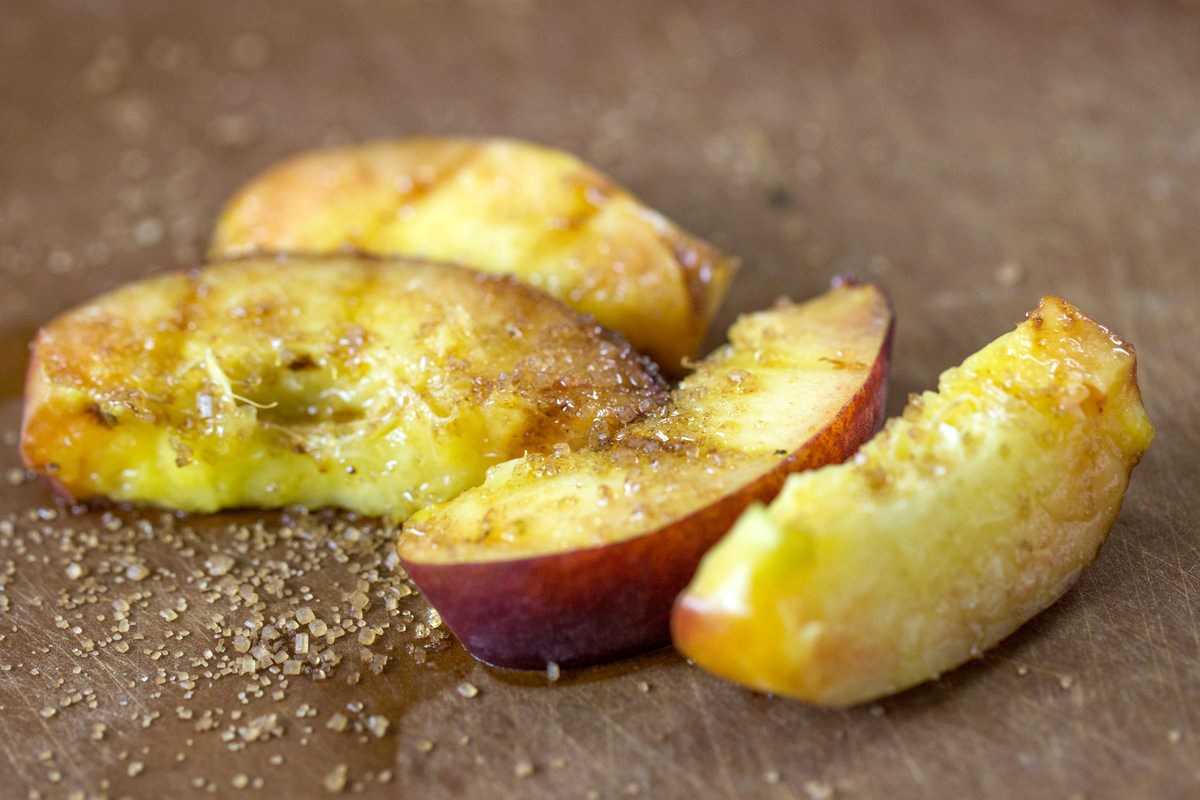 Little fruits aren't completely out of the question, though grilling blackberries sounds like a frustrating and (excuse the pun) fruitless activity. But it can be done! You can wrap berries, cherries, or other small fruits in foil and set them in the corner of the grill to heat up.
The slightly smoky flavor likely won't penetrate the fruit itself. But in an effort to leave the oven off, no one will say no to some grill-warmed berries and a scoop of vanilla ice cream on a hot day.
Grill fruit for any meal!
Think outside the box. How can you make your next cookout a little bit more special? Wrap grilled cantaloupe in prosciutto for a tasty appetizer. Use pineapple in your veggie kebab. Fill a warm grilled peach with a little scoop of yogurt or ice cream and sprinkle with raw sugar for a light dessert.
You have free creative reign to experiment with grilling or roasting your favorite fruits and using them in savory or sweet dishes.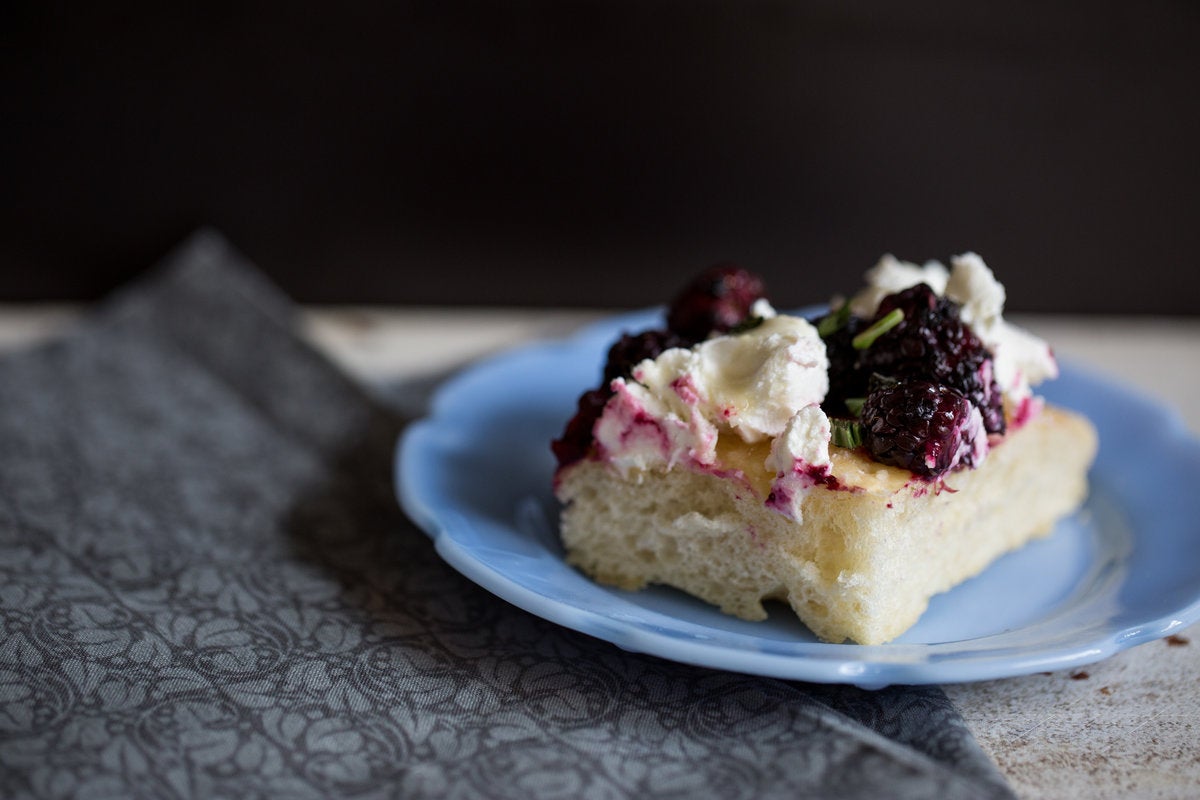 What will you make?
Whether you try your hand at roasting or grilling your fruit, you're sure to impart some incredible fresh flavor into your next meal. Make fruit the star or let it bring other flavors to life.
We need to get our five servings of fruit a day in somehow — why not run with it and let it play a part in every meal?
Break out the grill and the baking pans and get to roasting or grilling some fruity goodness today! Which fruits will you be putting to the test first? Let us know in the comments below!
Thank you to Anne Mientka for taking the photographs in this post.
Jump to Comments