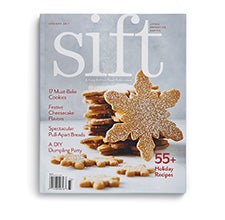 The 2017 Holiday issue of Sift magazine includes a collection of cookies from all over the world, but one in particular has a special story to tell: Mahmoul.
This filled cookie is a staple throughout the Middle East, and is a must for many holiday celebrations. Filled with ground walnuts, pistachios, or dates, scented with orange or rose flower water and spices, they're incredibly delicious and quite beautiful.
Mahmoul's distinctive shape comes from being filled and pressed into a hand-carved olivewood mold. Once tucked in, the mold is turned over and a quick tap releases the cookie onto a baking sheet.
We're lucky to have an employee-owner here at King Arthur Flour who grew up with Mahmoul.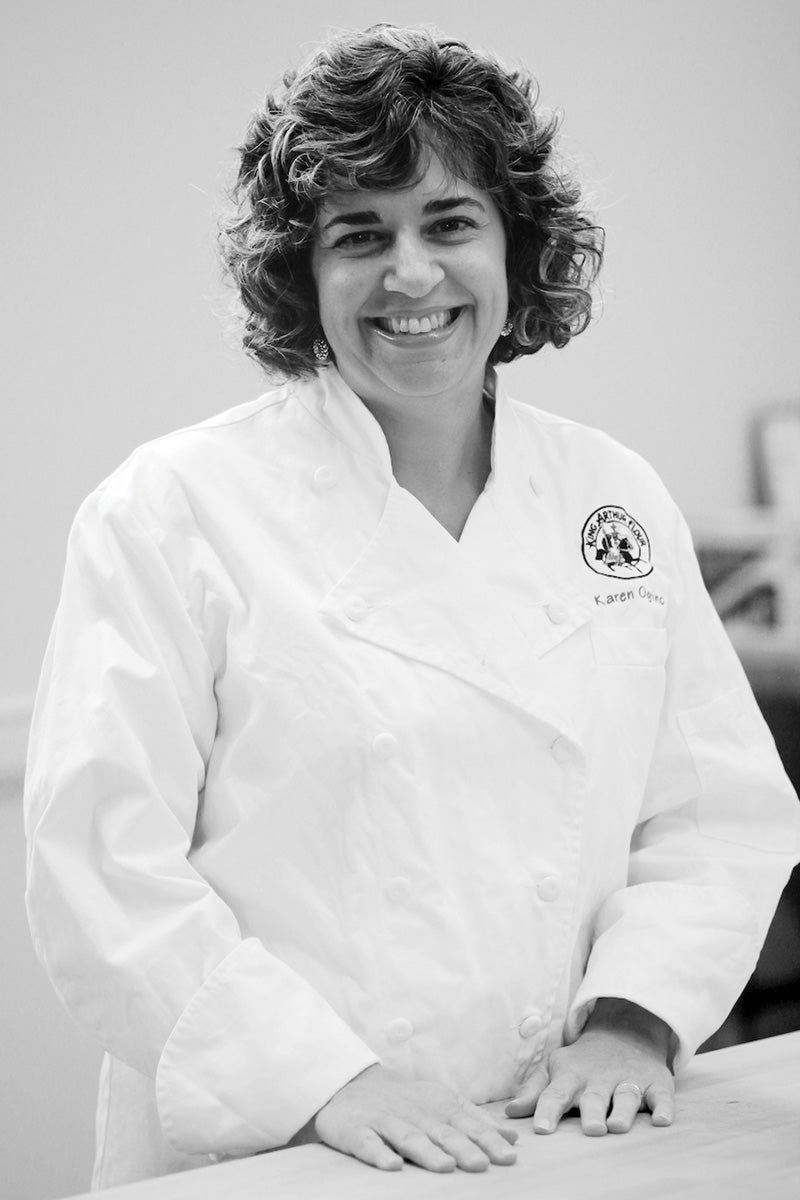 Meet Karen Ogrinc, who teaches at the King Arthur Flour Baking School in Norwich, Vermont. Her family is from Lebanon, and when she heard I was interested in Mahmoul recipes for Sift, she mentioned that she and her sisters all had their own Mahmoul molds. She shared her family's Mahmoul dough recipe and their lovely wooden molds for us to use in our story.
"Mahmoul was always on our Christmas cookie platter, so it really meant Christmas was coming when Mom made them," she says. "We were never allowed to eat them until Christmas though. The anticipation made them sweeter."
We think you should get to know this amazing cookie. You don't need an heirloom mold to make them, either: we'll show you how.
First, let's make the dough.
32 tablespoons (454g) unsalted butter, at room temperature
1 cup (113g) confectioners' sugar
1/2 teaspoon salt
1 large egg
1 tablespoon (14g) vanilla extract
3/4 cup (135g) farina (e.g., Cream of Wheat)
4 3/4 cups (20 ounces) King Arthur Unbleached All-Purpose Flour
In a large bowl, mix together the butter, confectioners' sugar, salt, and egg until combined. Add the vanilla, farina, and flour, and mix until a smooth dough comes together.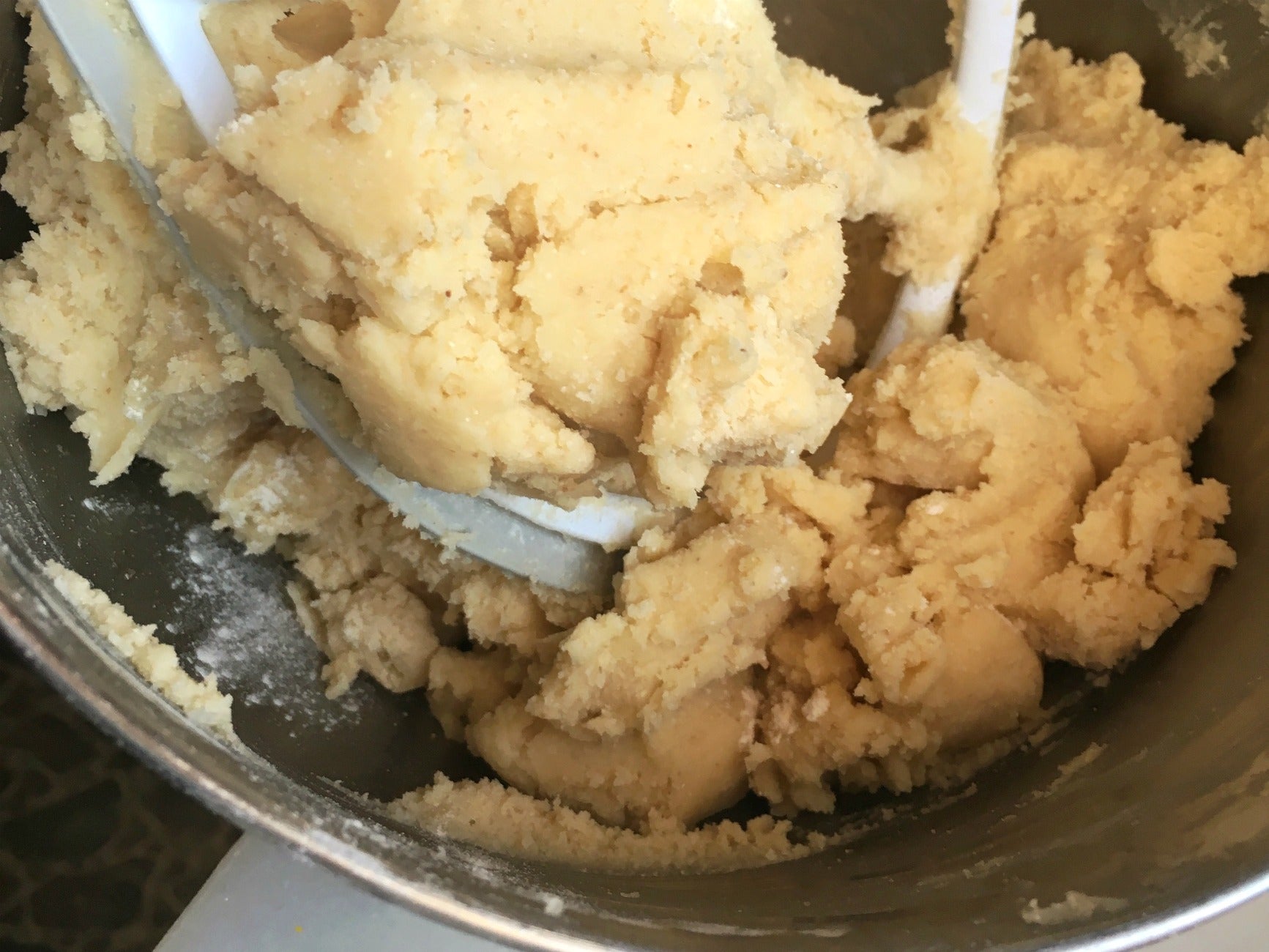 The dough is thick; it should hold together when you roll it into a ball and be easy to shape. Cover the dough so it doesn't dry out while you make the filling.
Next, let's make the filling.
1/4 cup (50g) granulated sugar
6 tablespoons (85g) water
3 cups (447g) chopped dates
4 tablespoons (57g) unsalted butter, room temperature
1/4 teaspoons salt
1 teaspoon cinnamon
1/2 teaspoon cardamom
1 tablespoon (14g) orange zest (grated orange rind) or orange blossom water
In a small saucepan, combine the granulated sugar and water and bring to a boil, stirring until the sugar dissolves. Remove from the heat.
Place the dates, butter, salt, cinnamon, cardamom, and orange zest (or orange blossom water) in the bowl of a food processor.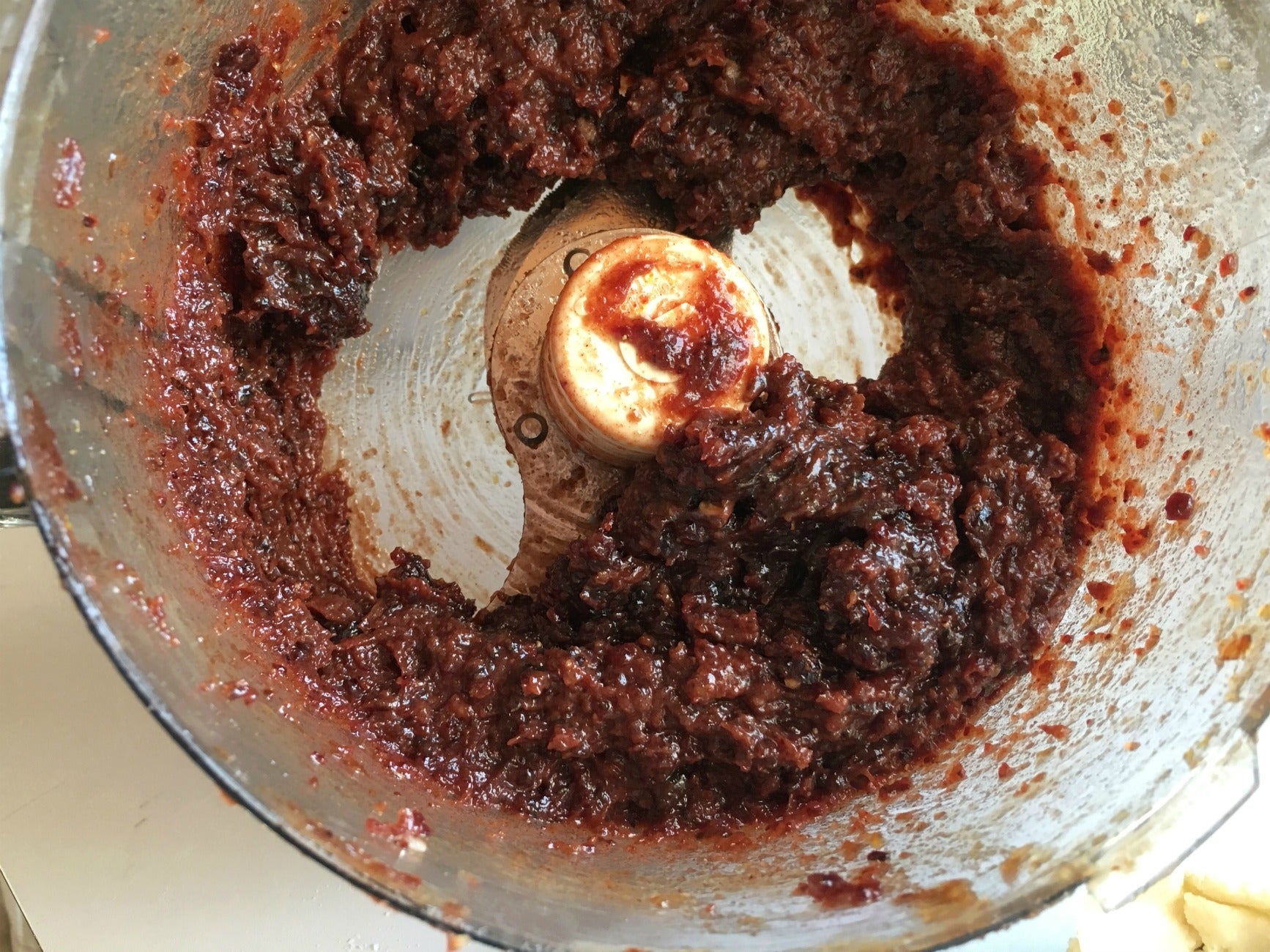 With the machine running, pour in the hot sugar/water mixture and process until the mixture is smooth. It will look like this; it should be stiff enough to roll into a small ball without being too sticky.
Preheat the oven to 350°F.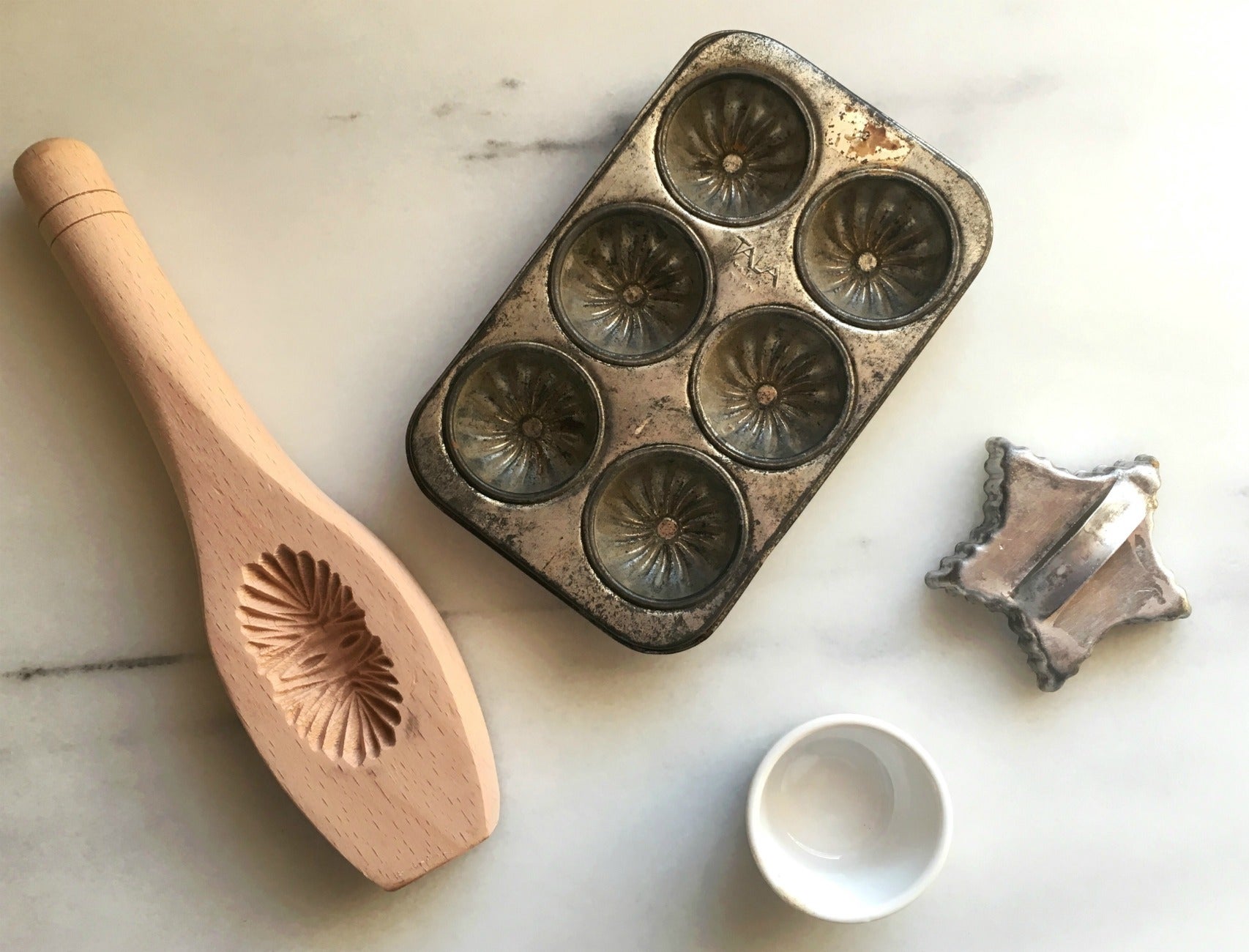 Shaping the cookie
If you don't have a Mahmoud mold, there are a number of options. For freehand shaping, reach for a small ramekin and a cutter with a wavy edge to use for decorating.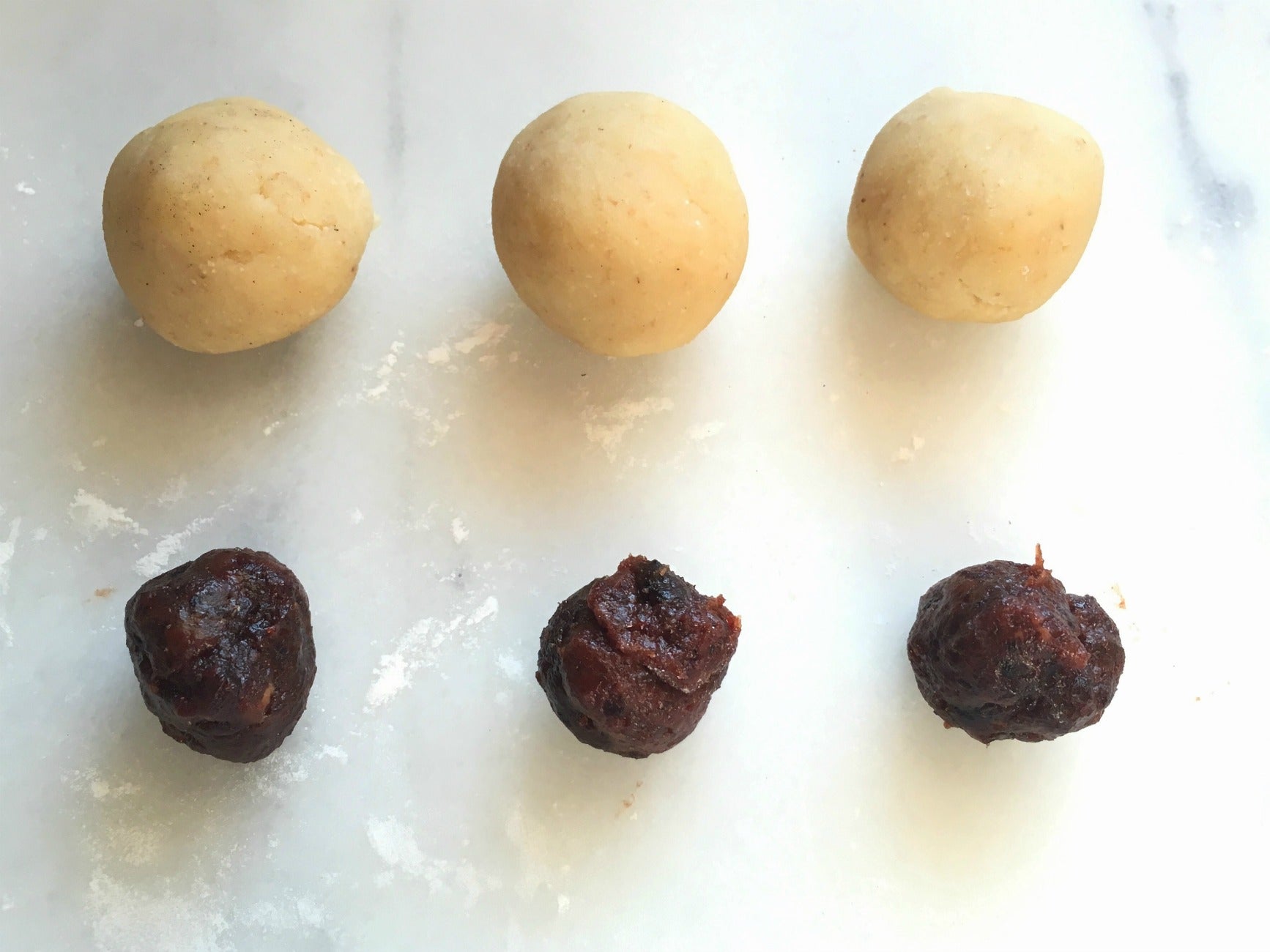 Scoop the dough by the tablespoon and roll into balls. Scoop the filling by the teaspoon and roll into balls.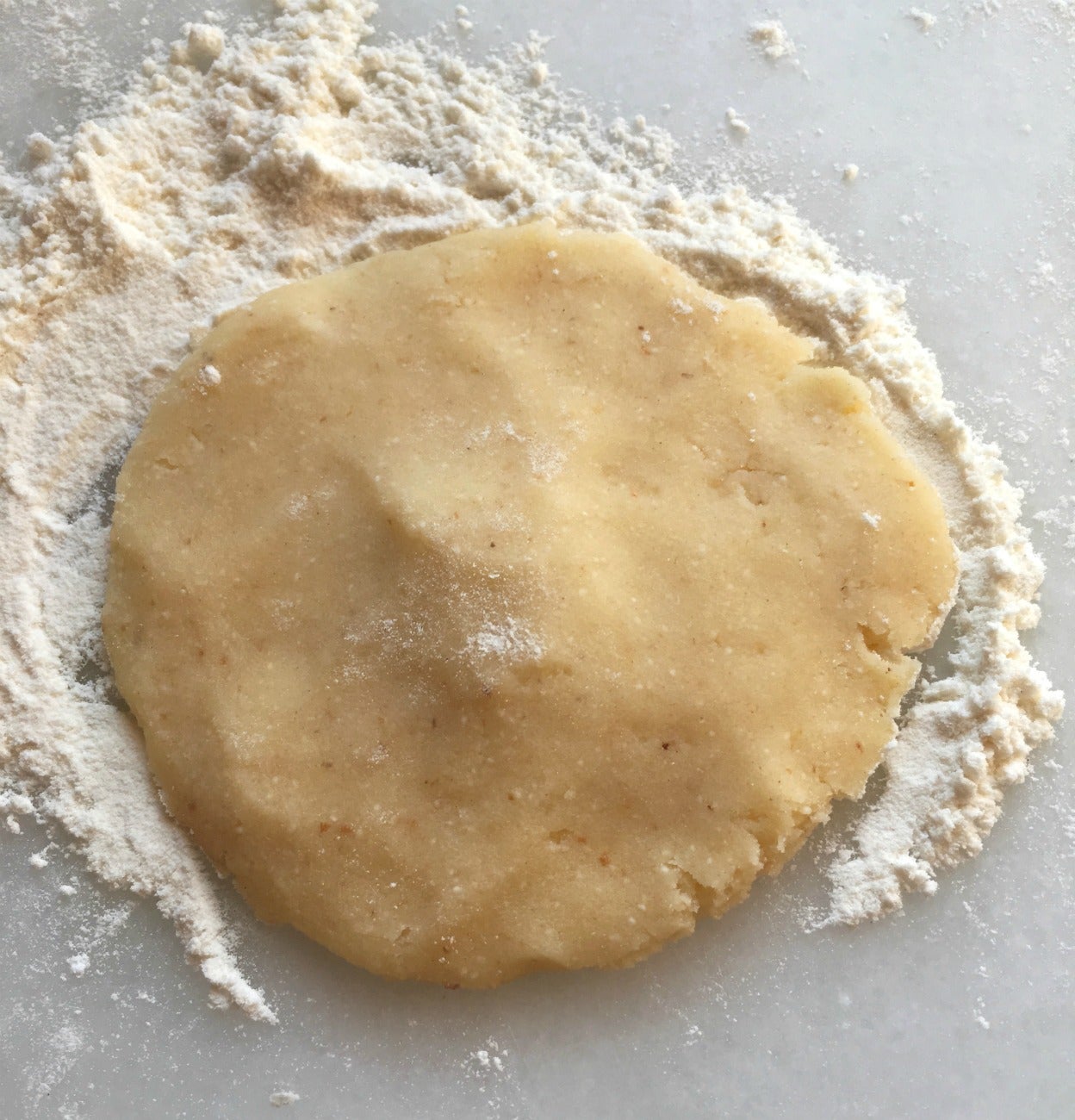 Press the portioned dough into a 3" diameter disk with your fingers. Leave the center a little thicker than the outside edges, so the top ends up as thick as the bottom once the seams are closed.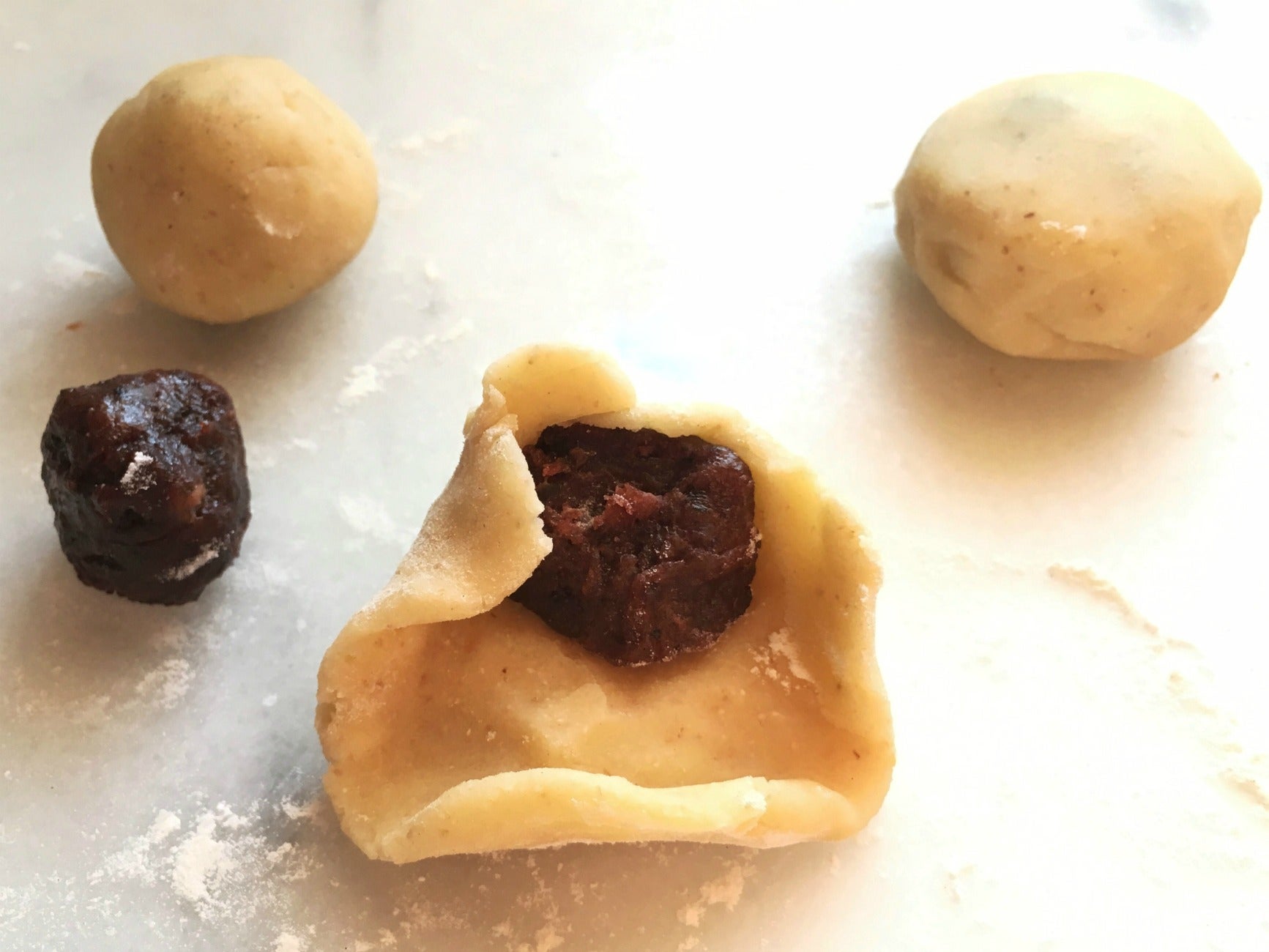 Place the filling inside the disk and bring the edges up to enclose it. Use the small ramekin as a third hand to hold the dough in place if that's easier for you. Pinch the edges closed and turn the ramekin over to place the filled cookie seam-side down. Gently pat it into a disk shape.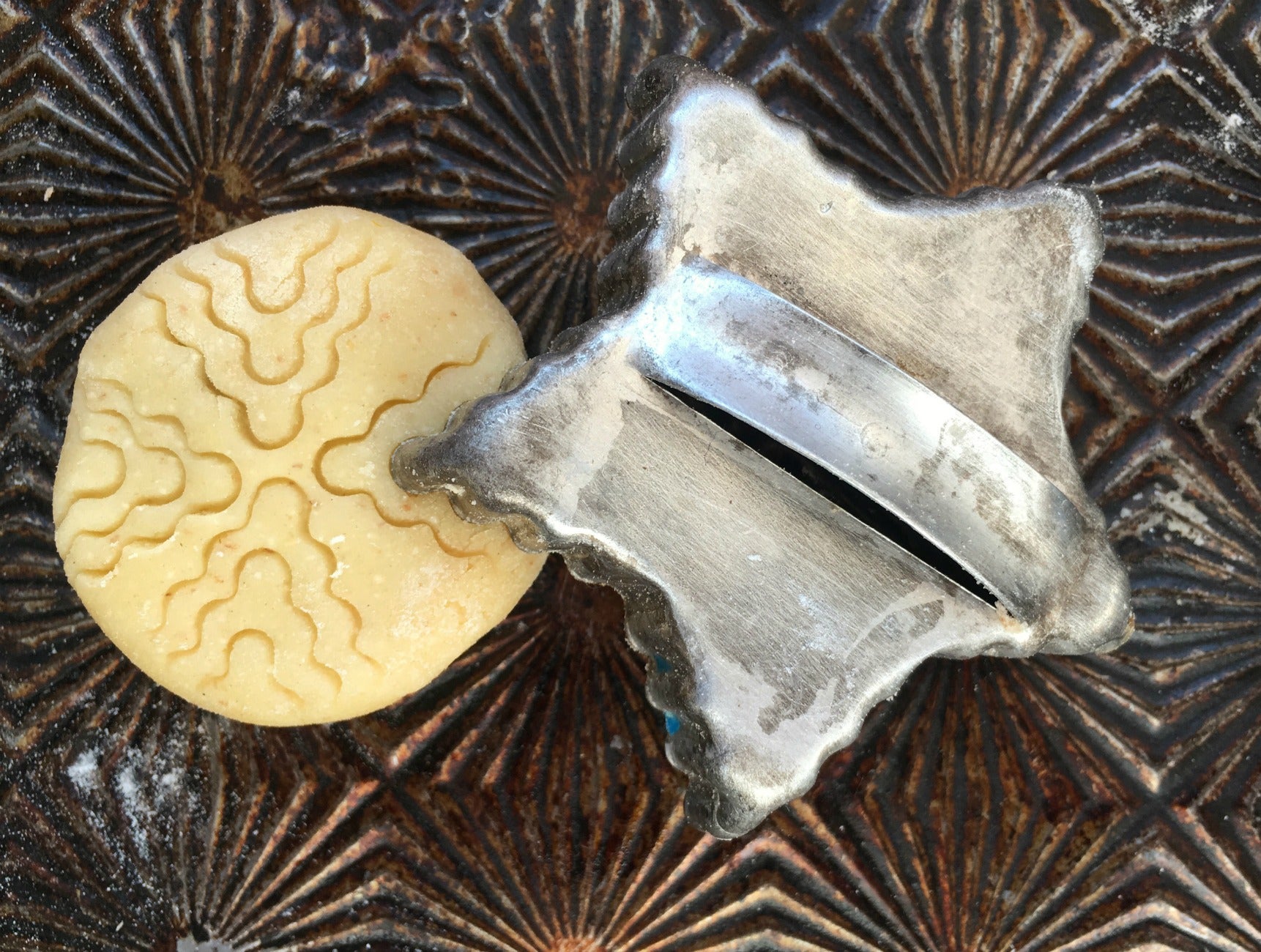 Transfer to a baking sheet and use the wavy edge of your cutter to lightly mark the top in a decorative pattern.

Another way to shape Mahmoul is to use the design of a tartlet tin (or a 1 1/2" barquette mold). Pat the cookies' bottom to set the pattern on the surface, then tip over and tap the cookie out of the mold.

Finally, here's how things go if you have a traditional wooden mold.
Once the cookies are shaped, bake them for 18 to 20 minutes, just until the edges begin to brown. Remove from the oven and cool on a rack. Dust with confectioners' sugar before serving.
"We didn't have a very big kitchen growing up, so Mom would make them when we were at school," says Karen. "I can remember coming home to the smell of whatever she was cooking or baking being the first thing that hit me when I came through the door and trying to guess what she'd been up to while I was at school. When I smelled Mahmoul, it was heaven.  She'd put them in the dining room to cool and it was torture not sneaking one."
When Karen got older, she helped her mom make them. "We'd set up an assembly line and work together. My favorite part was smacking the spoon on the table to get them out. I loved the thrill of seeing the beautiful pattern as they popped out."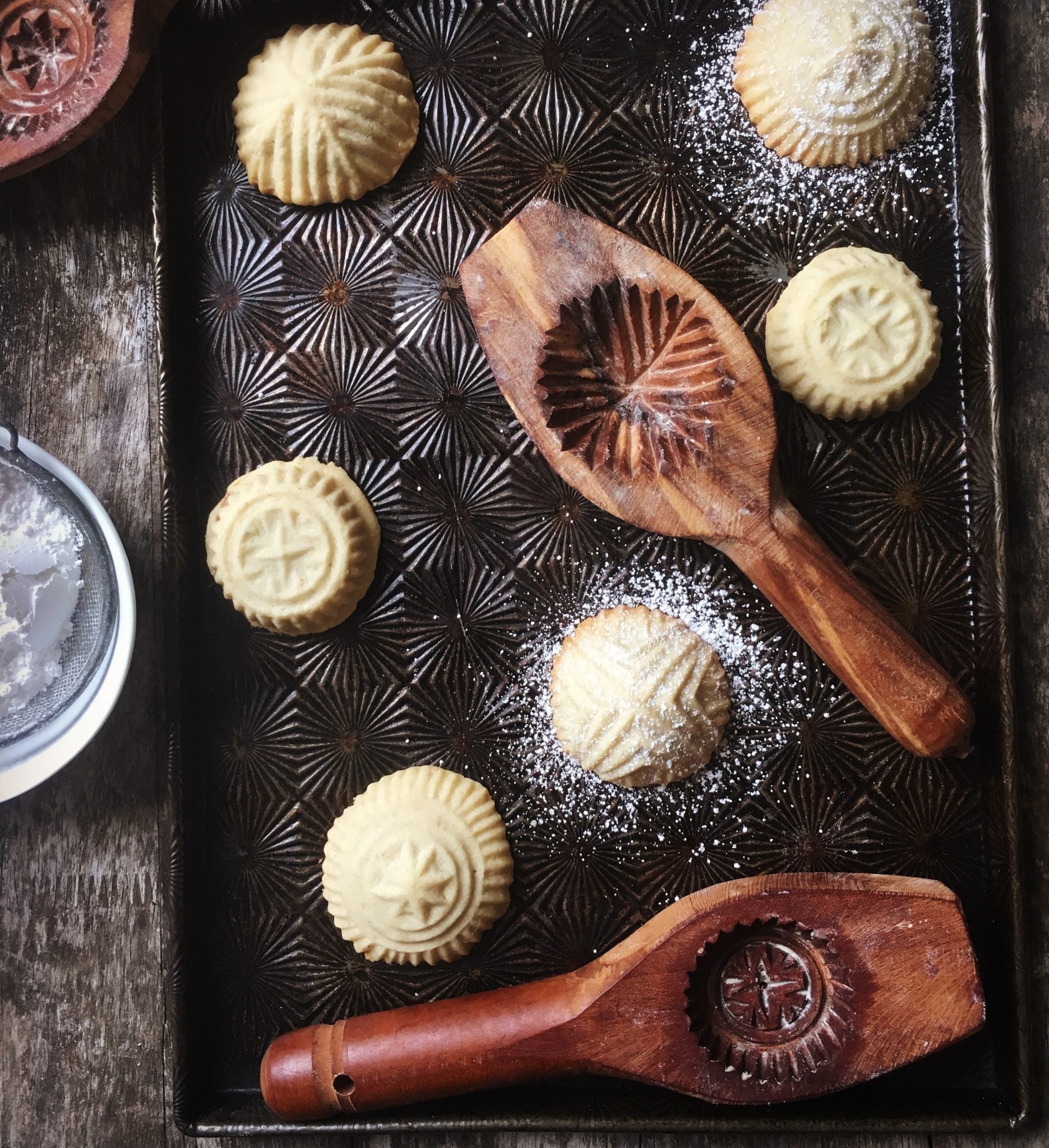 This buttery cookie with its rich spiced filling freezes well, ships well, and keeps for up to 2 weeks in an airtight container at cool room temperature. It's an international treat that's worth importing for your holiday cookie table.
Try your hand at making Mahmoul, and let us know what you think in the comments below.
Jump to Comments