May means graduations. And wedding showers. Throw the potential for birthday celebrations in there, and you've got all kinds of reasons to bake a cake. Or multiple cakes, if you're the designated family cake baker.
Most of us have a go-to cake recipe, one we religiously bake for one party or gathering after another. Maybe it's a chocolate layer cake, like our Favorite Fudge Birthday Cake. Or perhaps a simple pound cake, such as our Lemon Bliss Cake.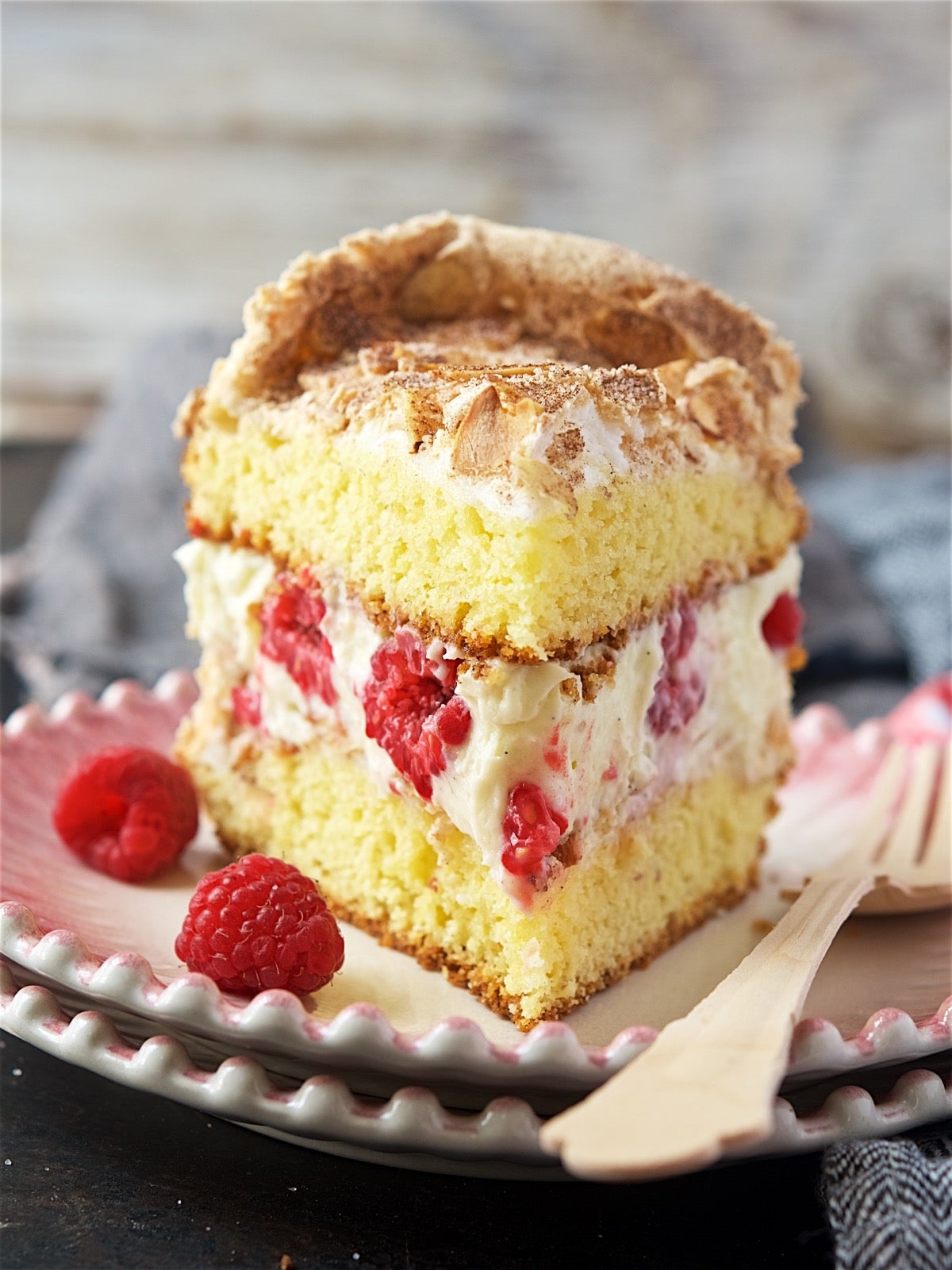 For me, that signature cake is Berry Blitz Torte. A wonderful mix of tender cake, delicately crunchy topping, and creamy filling layered with fresh berries, it's a visual stunner with flavor to match.
Best part? Well, aside from all of the above — it's easier to make than it looks. There's no need to set aside hours of time, nor polish up your pastry skills; this cake is reachable by any baker, I promise.
Berry Blitz Torte Bakealong: start with the filling
We'll start by making the filling, since it has to chill before you use it.
Gather your pastry cream filling ingredients:
2 1/2 cups (567g) whole milk
1/2 cup (99g) sugar
1/4 teaspoon salt
1/3 cup (39g) cornstarch
3 large egg yolks
1 large whole egg
2 teaspoons vanilla extract
In a medium-sized saucepan, stir together 2 cups of the milk, the sugar, and the salt. Bring to a simmer over medium heat, stirring to dissolve the sugar.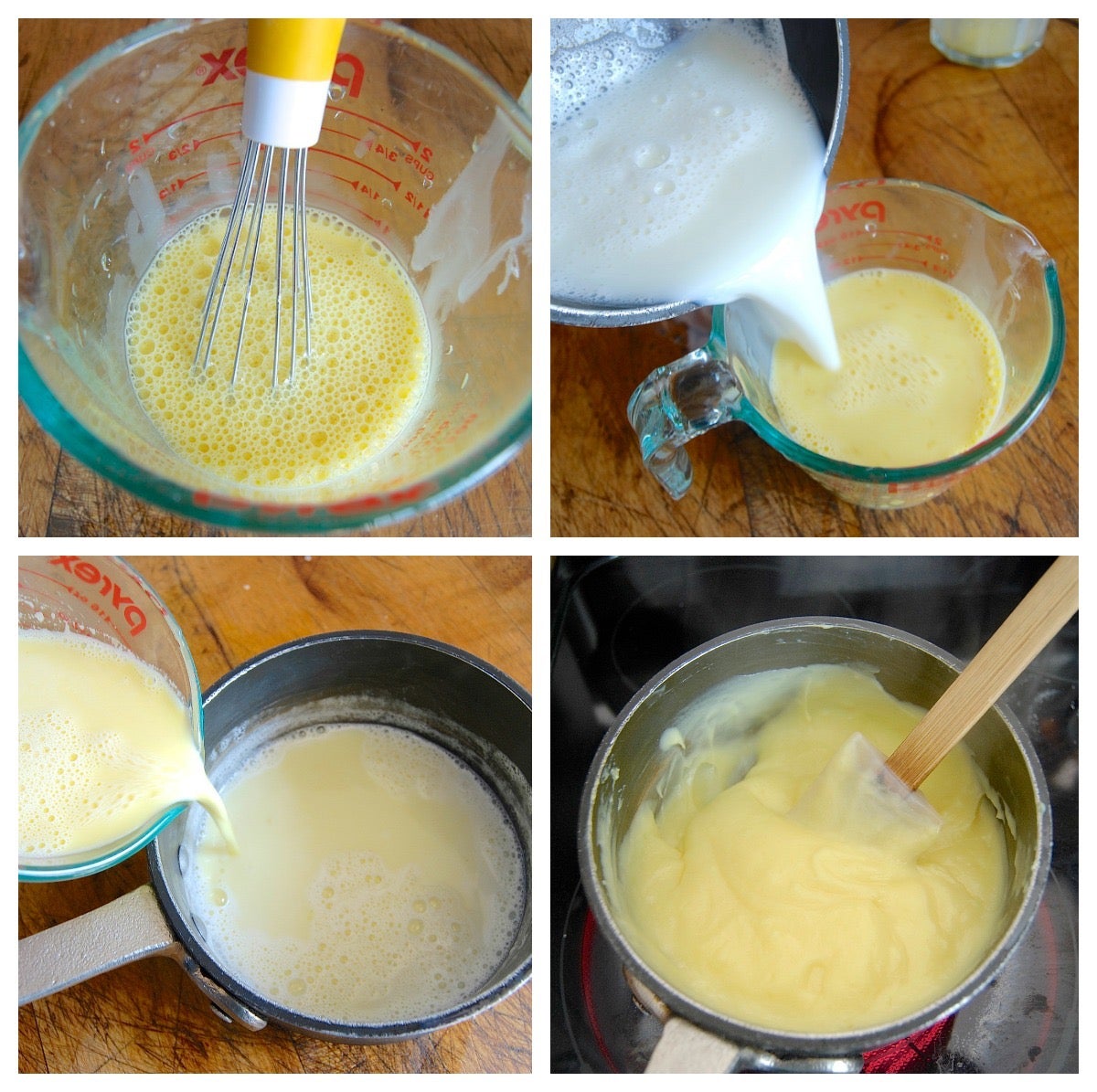 Meanwhile, whisk the cornstarch, egg yolks, and whole egg with the remaining 1/2 cup milk.
Whisk some of the hot milk mixture into the egg yolks/cornstarch to temper the yolks. This keeps them from coagulating when you add them to the simmering milk.
Pour the egg/milk mixture back into the remaining simmering milk, pouring it through a strainer (if necessary) to capture any bits of egg.
Bring to a boil over medium heat (this may happen very quickly), stirring constantly with a whisk. Cook for 2 minutes, stirring constantly; the mixture will thicken significantly.
Remove from the heat, and stir in the vanilla extract.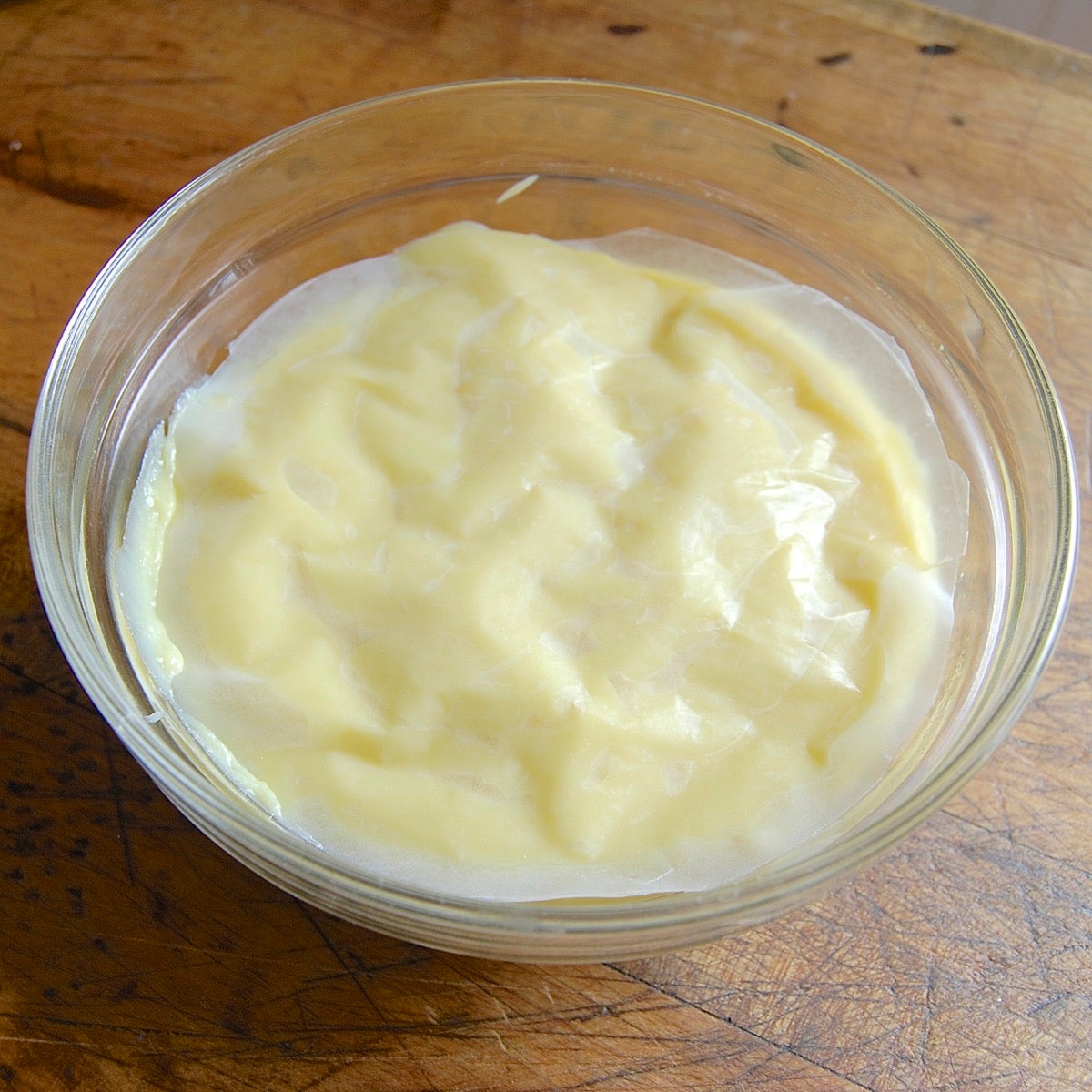 Transfer the filling to a heatproof storage container, and top it with a piece of buttered plastic wrap, waxed paper, or parchment (make sure it touches the top of the filling so it doesn't develop a skin). Refrigerate until cool, or for up to several days.
Psst! Here's a tasty pastry cream shortcut, and one I take all the time: Mix 1 small box instant vanilla pudding mix with 2 teaspoons vanilla extract and 1 3/4 cups light cream (rich) or heavy cream (ultra-rich) until thick. Refrigerate until ready to use.
Berry Blitz Torte Bakealong: make the batter
Preheat the oven to 350°F.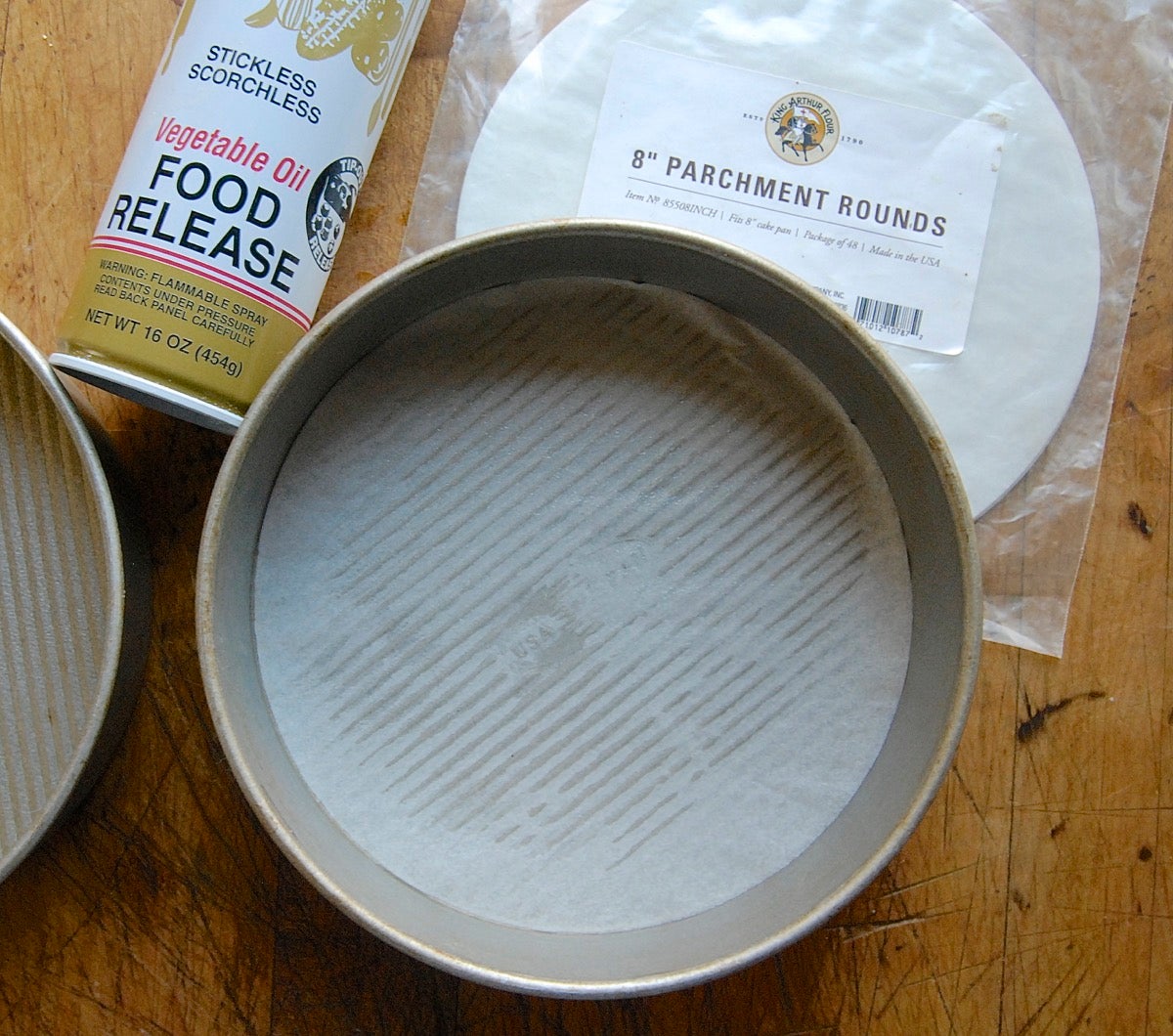 Lightly grease two 8" round cake pans. Or lightly grease the pans, line with parchment rounds, and lightly grease the parchment as well.
Gather your cake ingredients:
8 tablespoons (113g) unsalted butter, at room temperature, at least 65°F
1/2 cup (99g) sugar
1/4 teaspoon salt
4 large egg yolks (save the whites for the topping)
1 teaspoon vanilla extract
3 tablespoons (43g) milk
1 teaspoon baking powder
1 cup (120g) King Arthur Unbleached All-Purpose Flour
In a medium-sized mixing bowl, beat together the butter, sugar, salt, and egg yolks until well combined.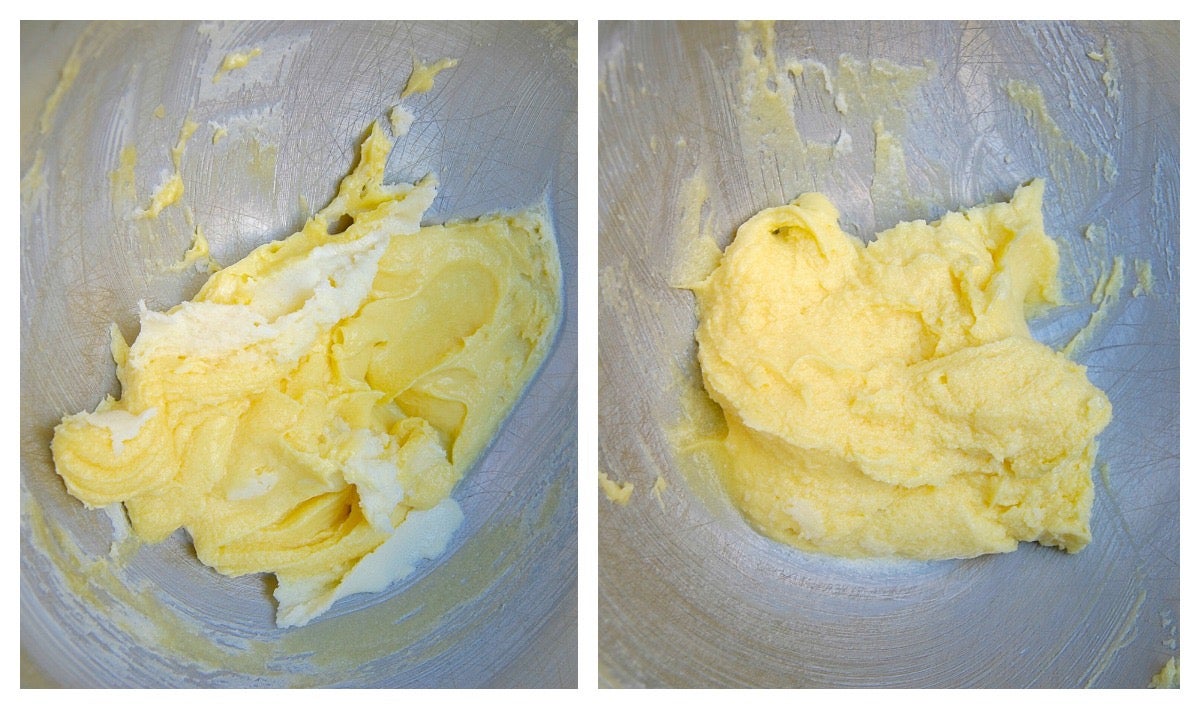 Scrape the bowl, and beat briefly to incorporate any sticky residue.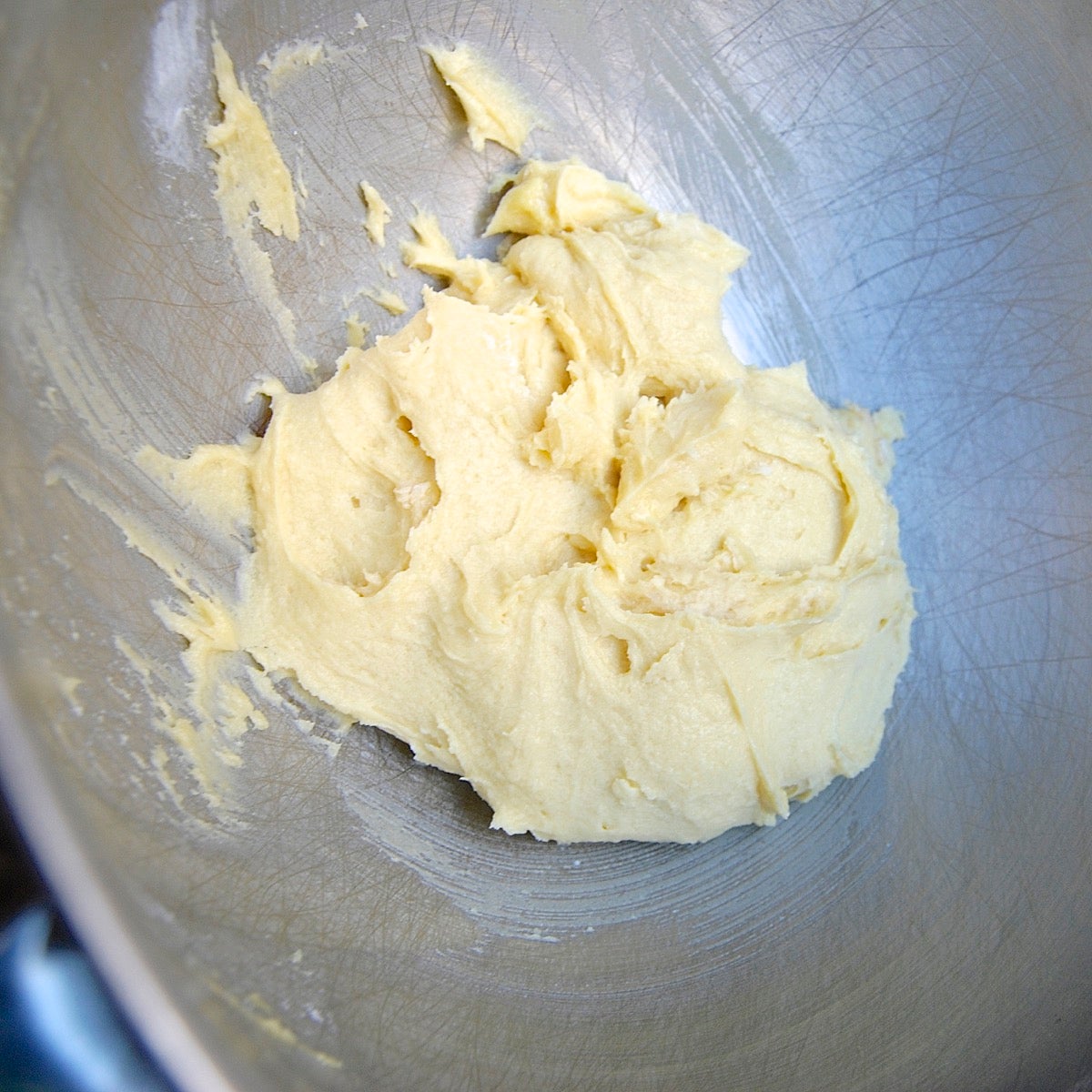 Beat in the vanilla, milk, baking powder, and flour; the batter will be stiff.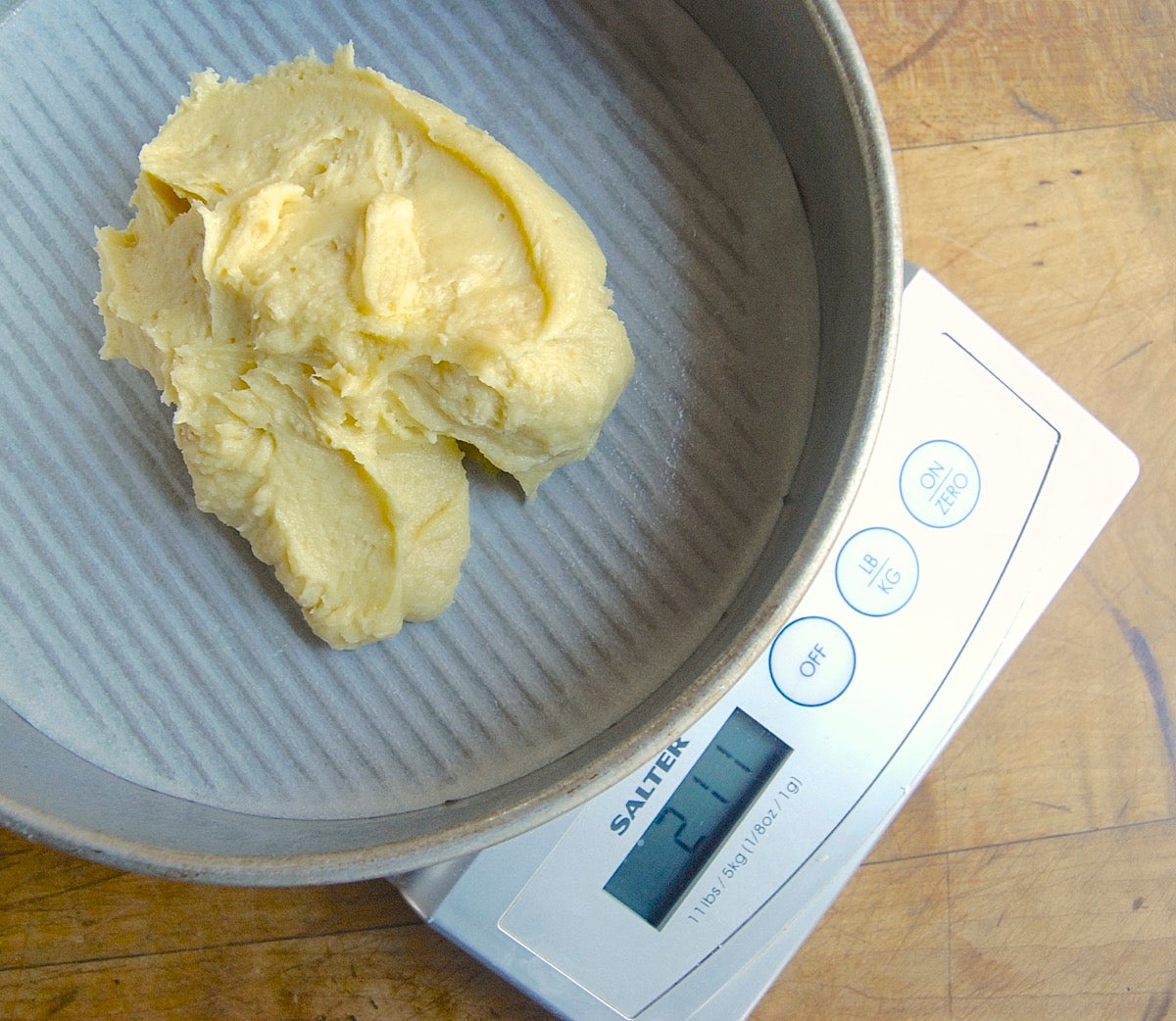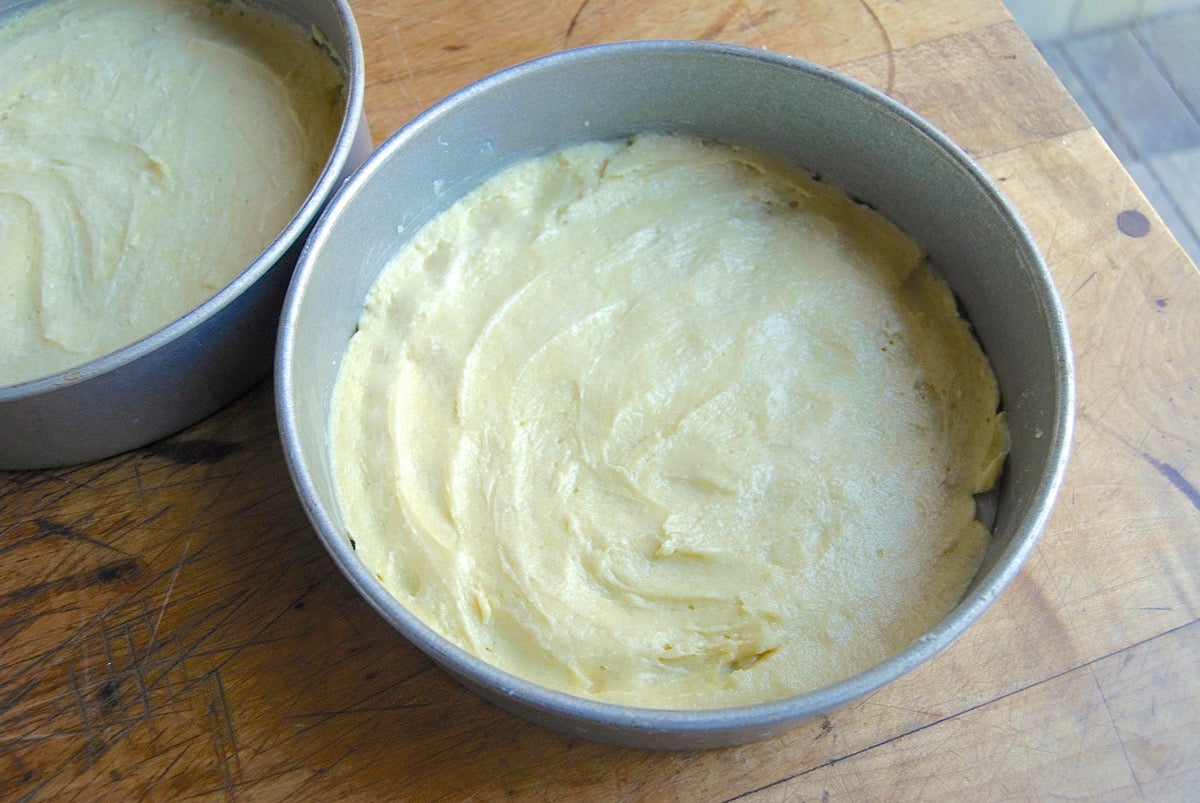 Spread the batter into the prepared pans (it will barely cover the bottom of the pans; that's OK). Using a scale to divide the batter in half is a help here.
Berry Blitz Torte Bakealong: top the cake
Gather your topping ingredients:
4 large egg whites (reserved from the cake ingredients above)
3/4 cup (149g) sugar
1/2 cup (50g) sliced or slivered almonds
1/2 teaspoon ground cinnamon*
1 tablespoon (14g) sugar*
*Substitute prepared cinnamon-sugar, if desired.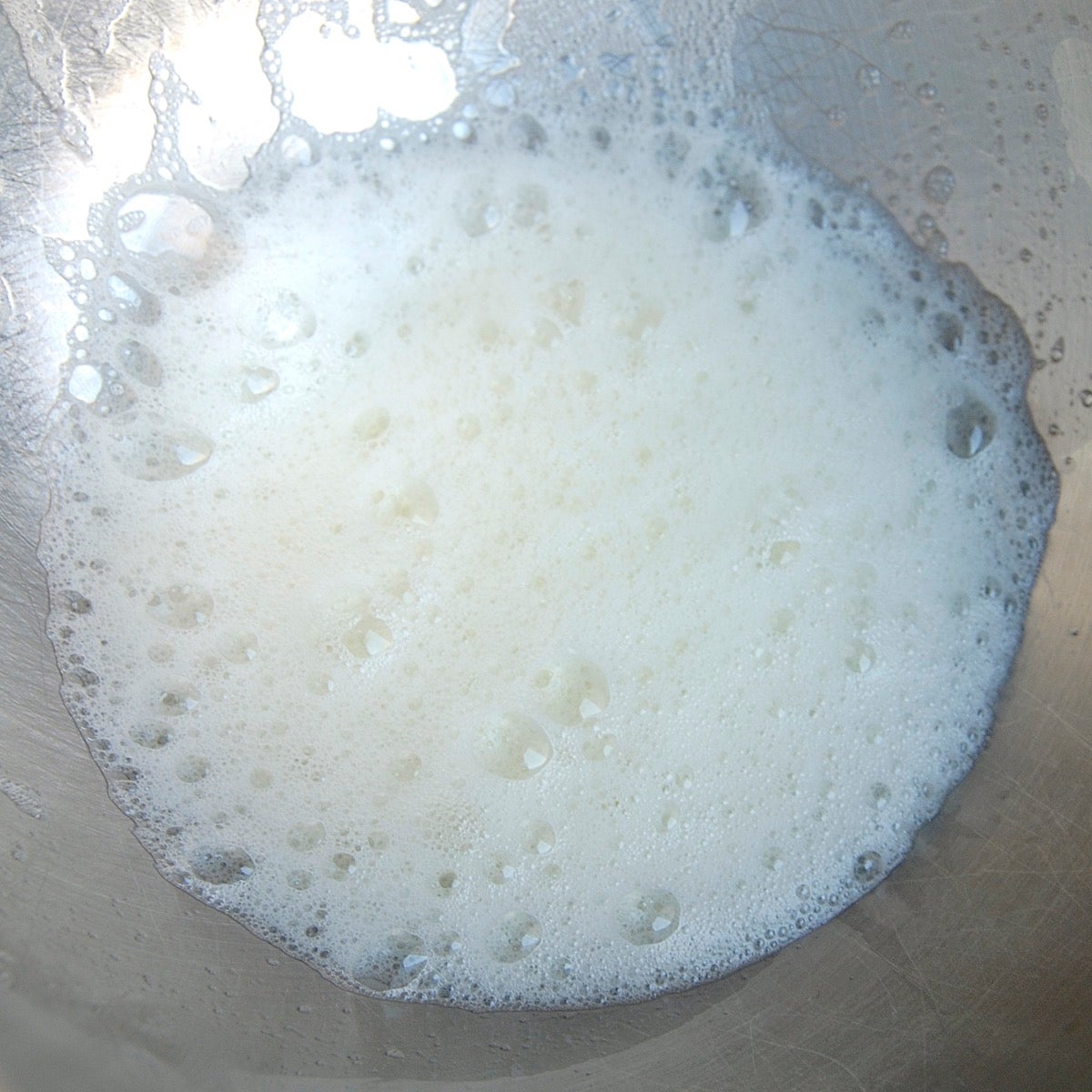 Using an electric mixer or stand mixer with a whisk attachment, beat the egg whites until foamy.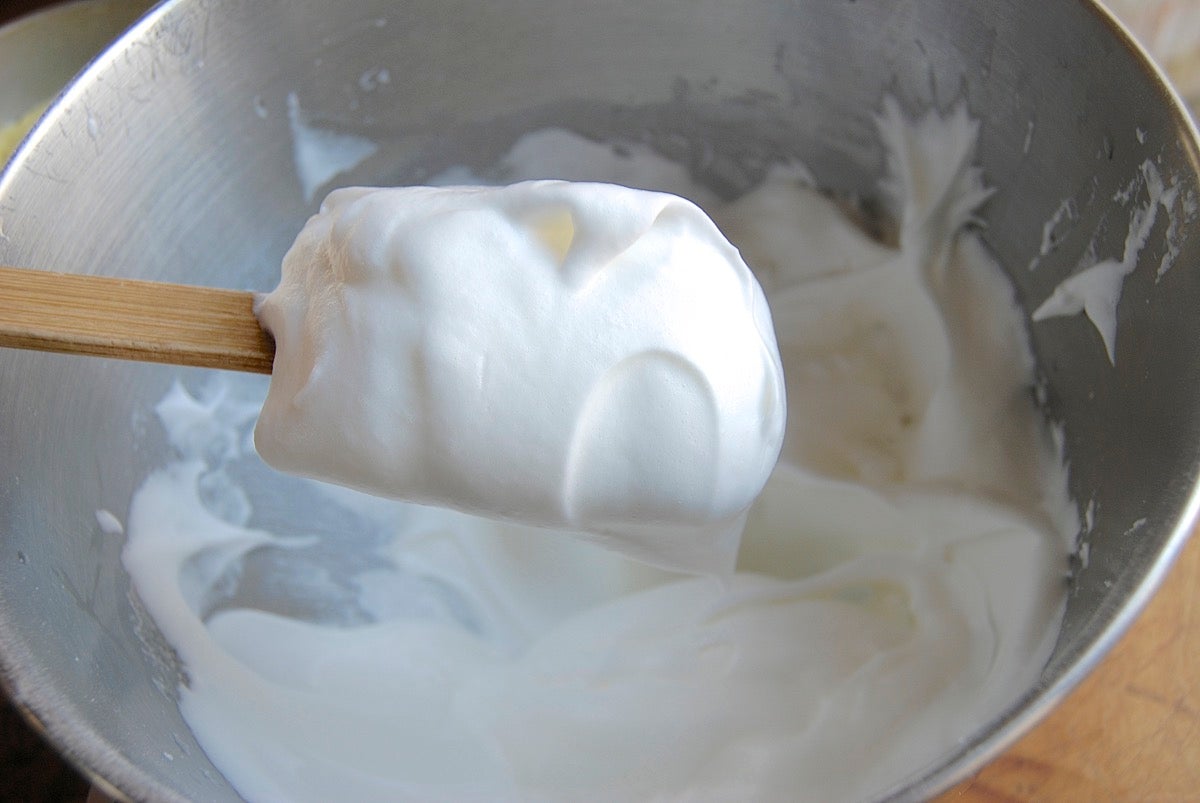 Gradually add the 3/4 cup sugar and continue to beat until the meringue is smooth, glossy, and somewhat stiff (but not stiff enough to form rigid stand-up points).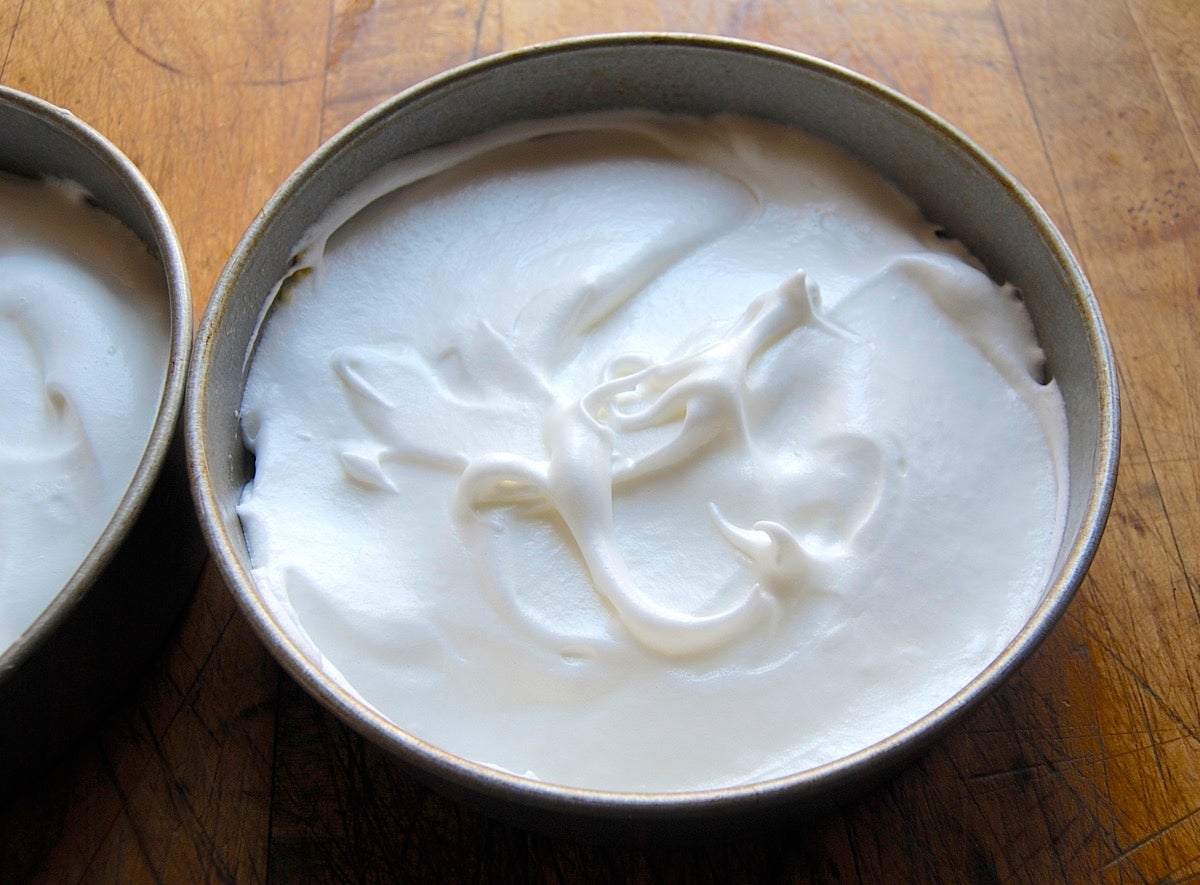 Spread the meringue on the cake batter.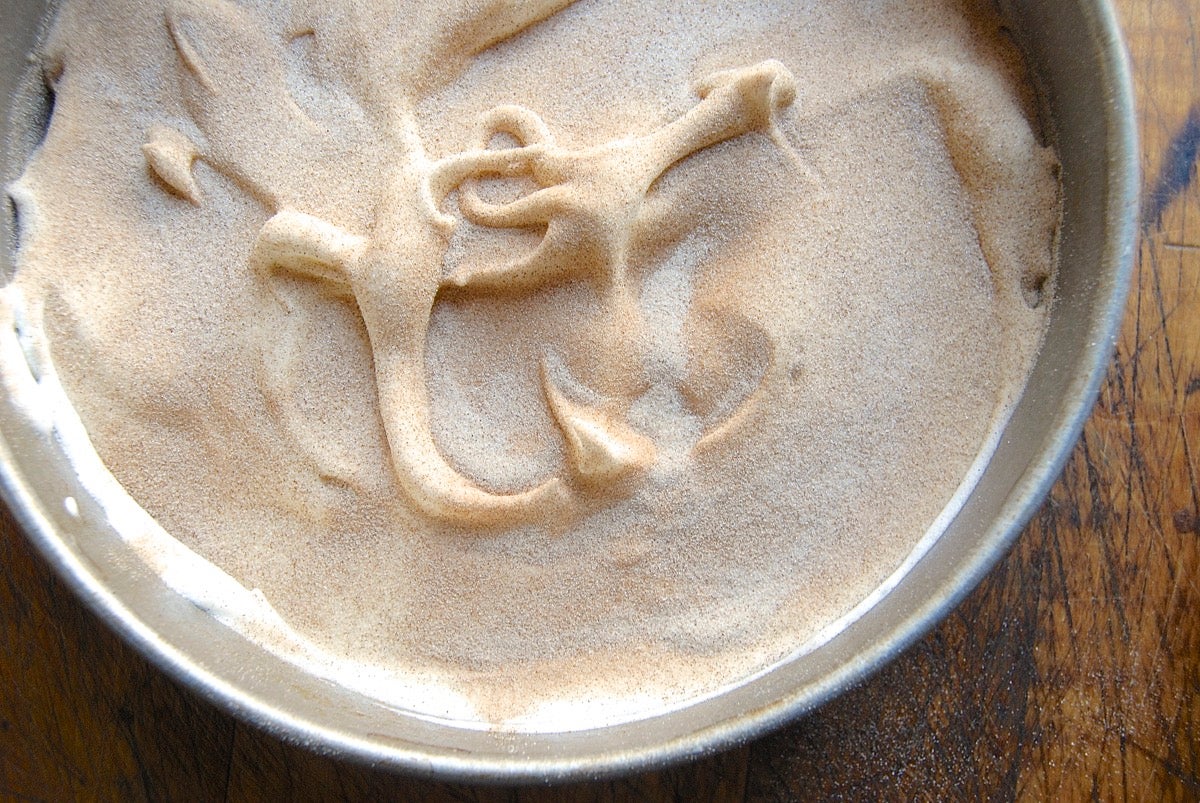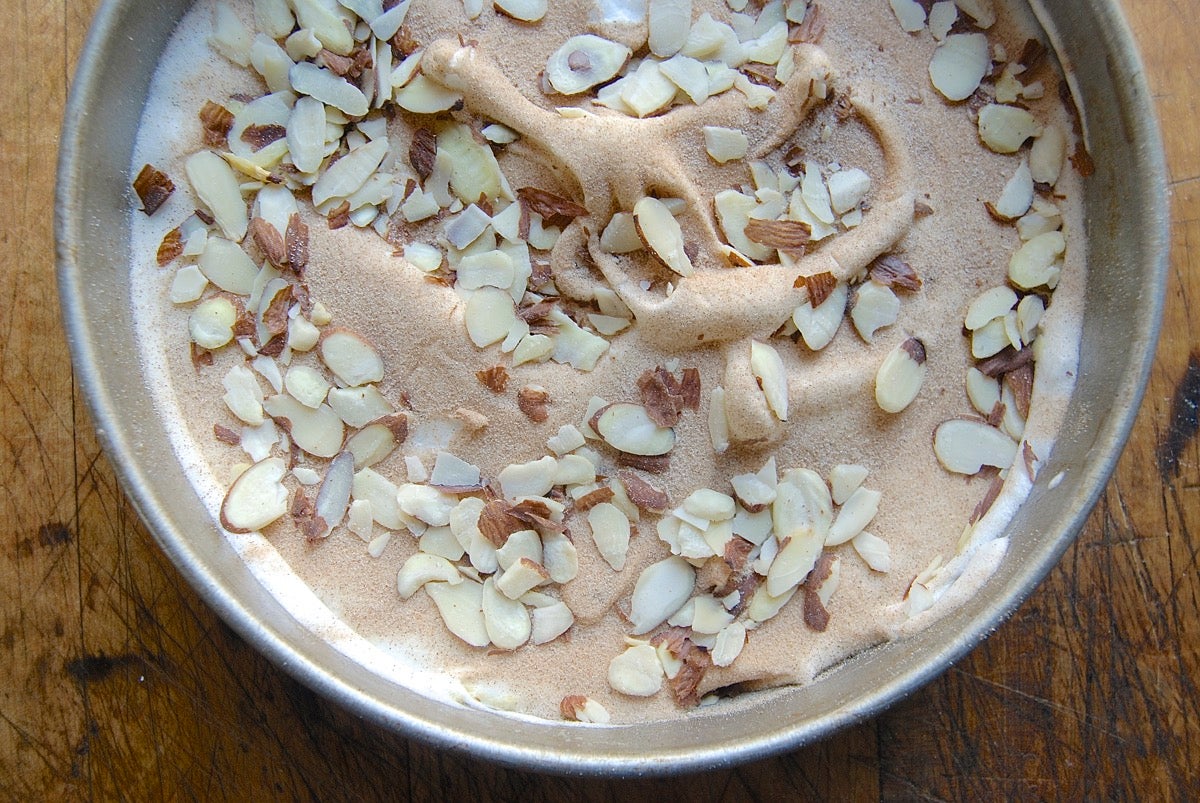 Sprinkle the almonds over the meringue. Mix the cinnamon with the sugar, and dust on top.
Notice I did this in reverse order; live and learn! Sprinkling the almonds over the meringue first, before the cinnamon-sugar, helps keep them from falling off when you turn the cakes out of the pan. Do as I say, etc.

Berry Blitz Torte Bakealong: baking the cake
Bake the cakes for 30 minutes, until the almonds are lightly browned. They'll puff up significantly; don't worry, they'll settle as they cool.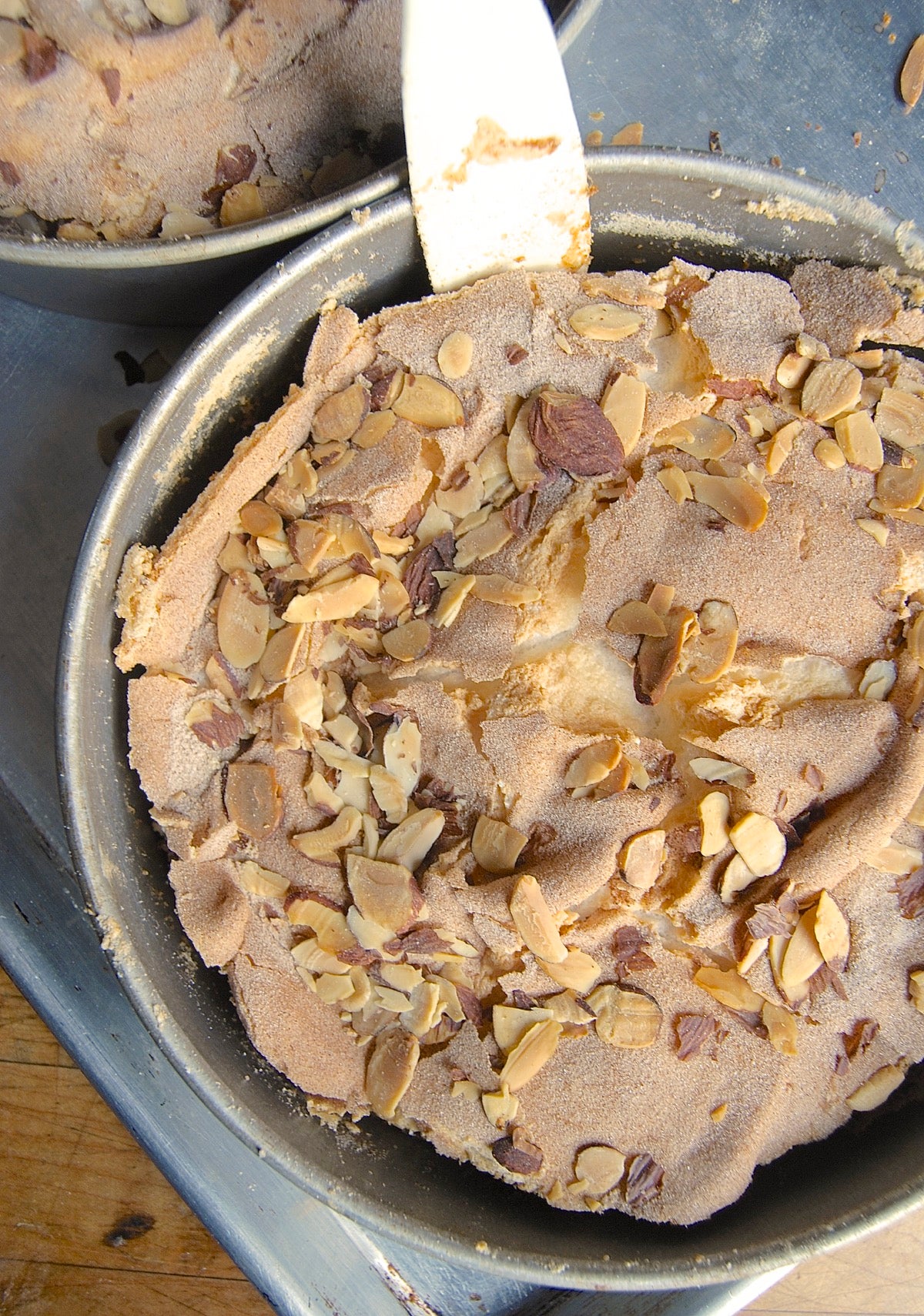 Remove the cakes from the oven, and allow them to cool for 15 minutes. Carefully and thoroughly loosen the edge of each cake.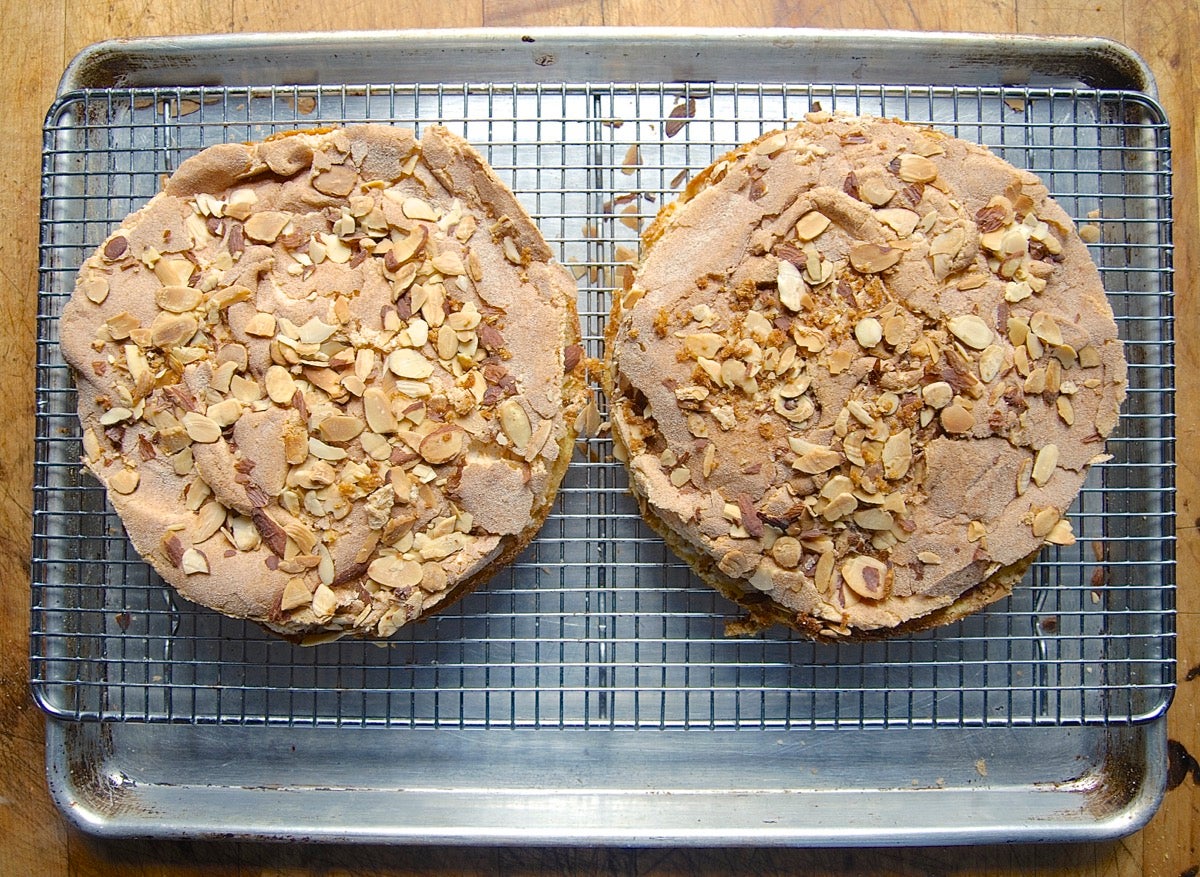 Gently turn the cakes out onto a rack to cool completely.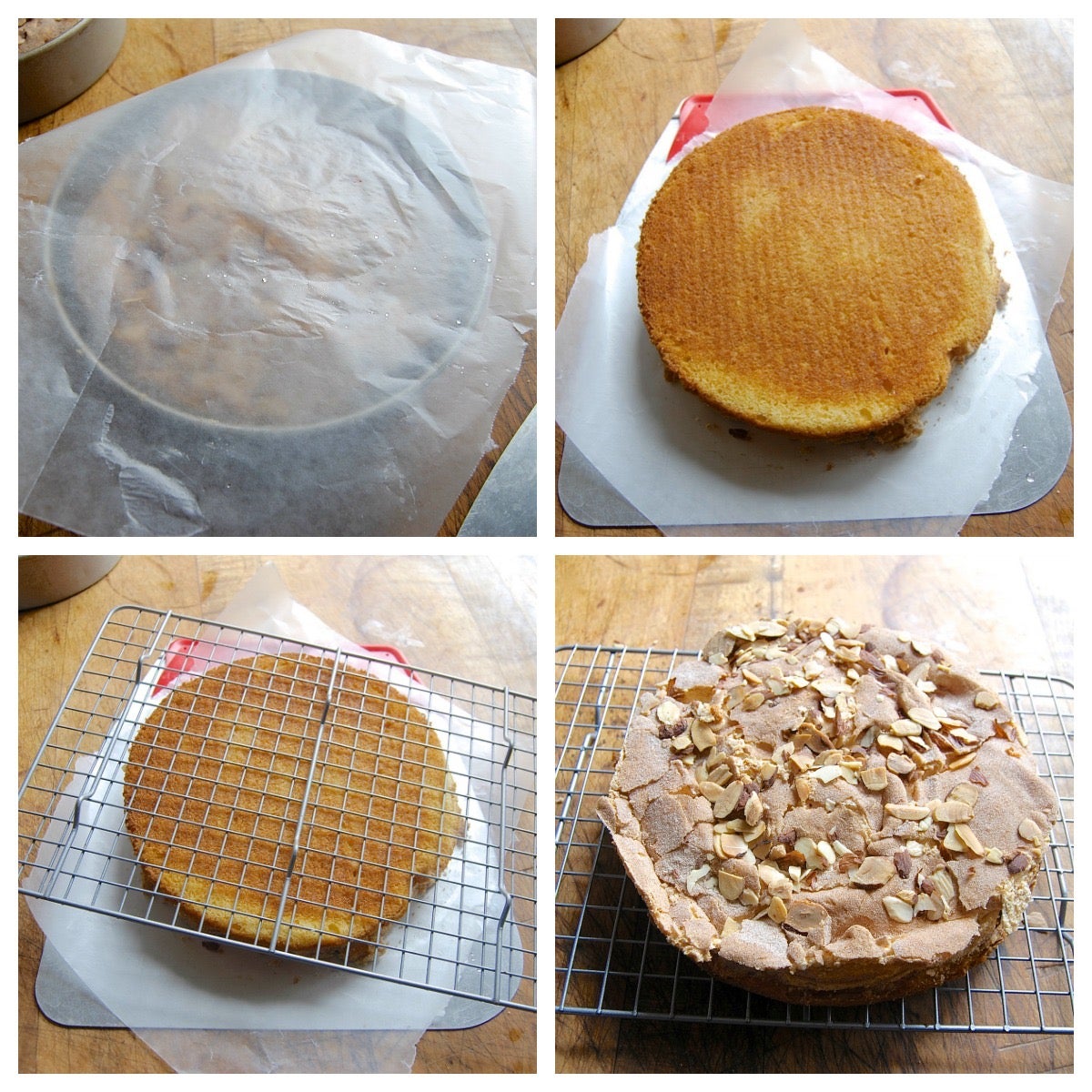 The best way to do this is to drape a piece of parchment or waxed paper across the top of the pan, then place a flat object (a giant spatula, a small baking sheet) atop the paper, and turn everything over.
Lift the cake pan off the cake, then place a cooling rack against the bottom of the cake. Turn everything back over again, so the rack is on the bottom. Some of the almonds will fall off during this process; just sprinkle them back on top.
When you're ready to finish the cake, remove the pastry cream from the refrigerator.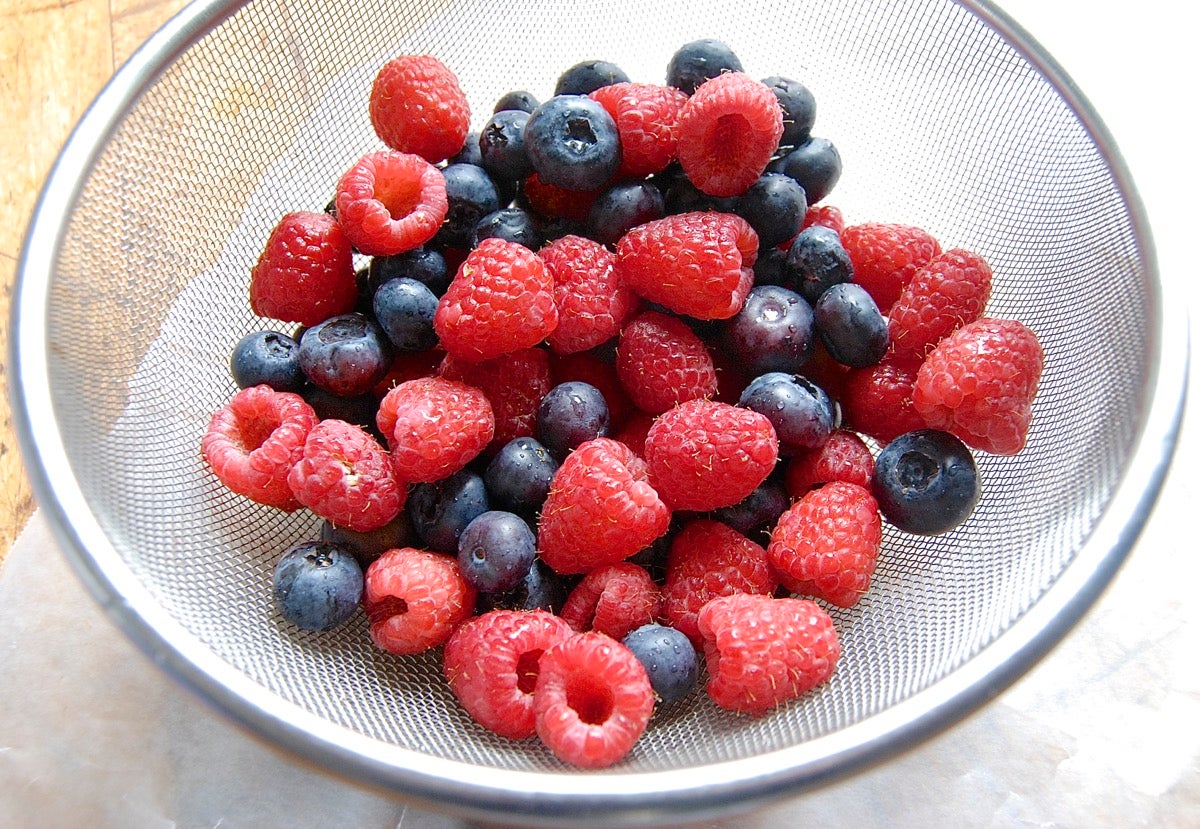 Wash and dry 1 1/2 to 2 cups fresh berries.
Can you use frozen? Of course, if you must; but they'll make the filling watery and streak it with juice.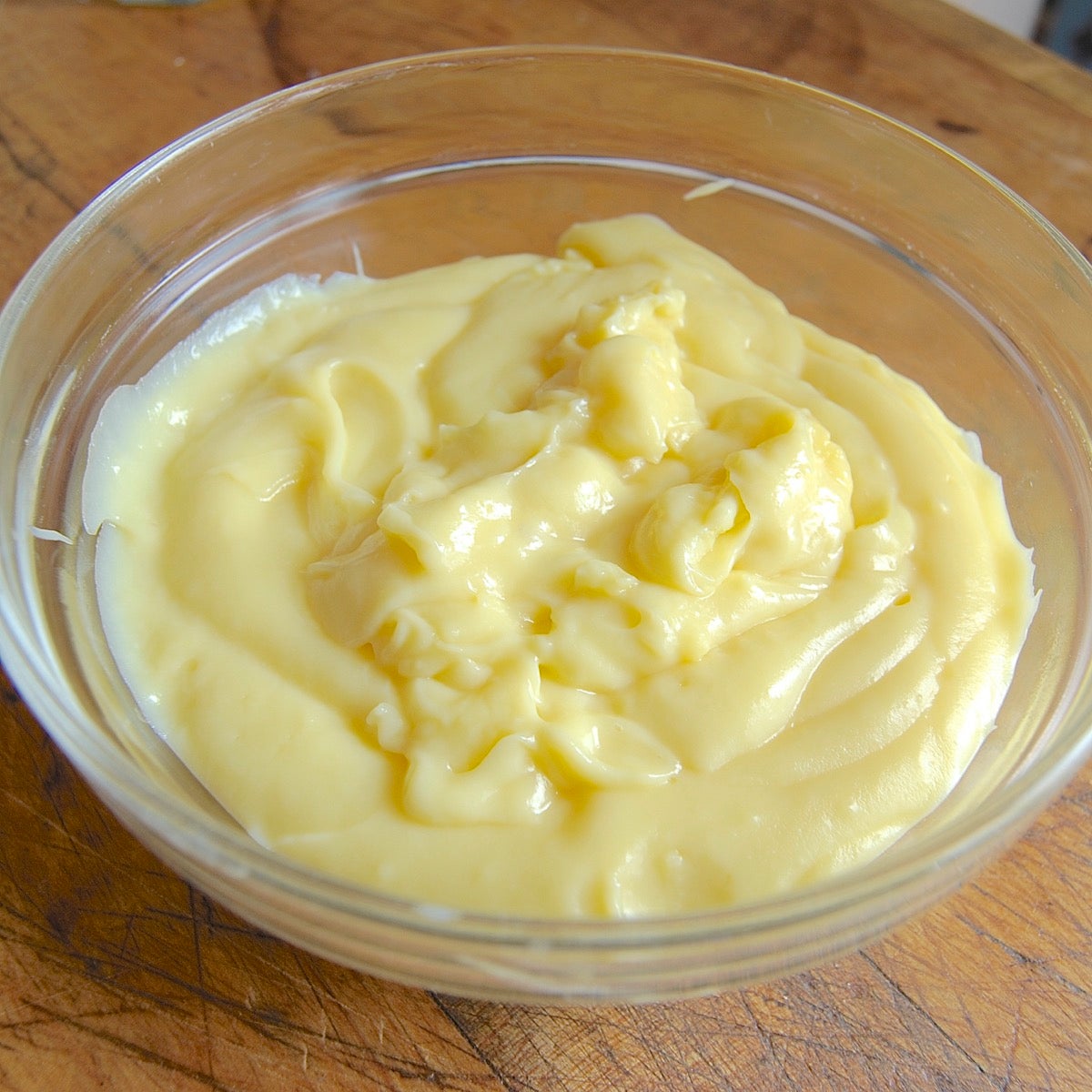 Stir the pastry cream gently, just to loosen it up enough to spread; stirring too vigorously can break it down and turn it watery. It'll probably have a few lumps; that's OK.
For slightly richer filling with greater volume, whip 1/2 cup heavy cream to stiff peaks, and gently fold it into the pastry cream. Again, don't beat the pastry cream; it'll be a bit lumpy, but that won't affect the taste.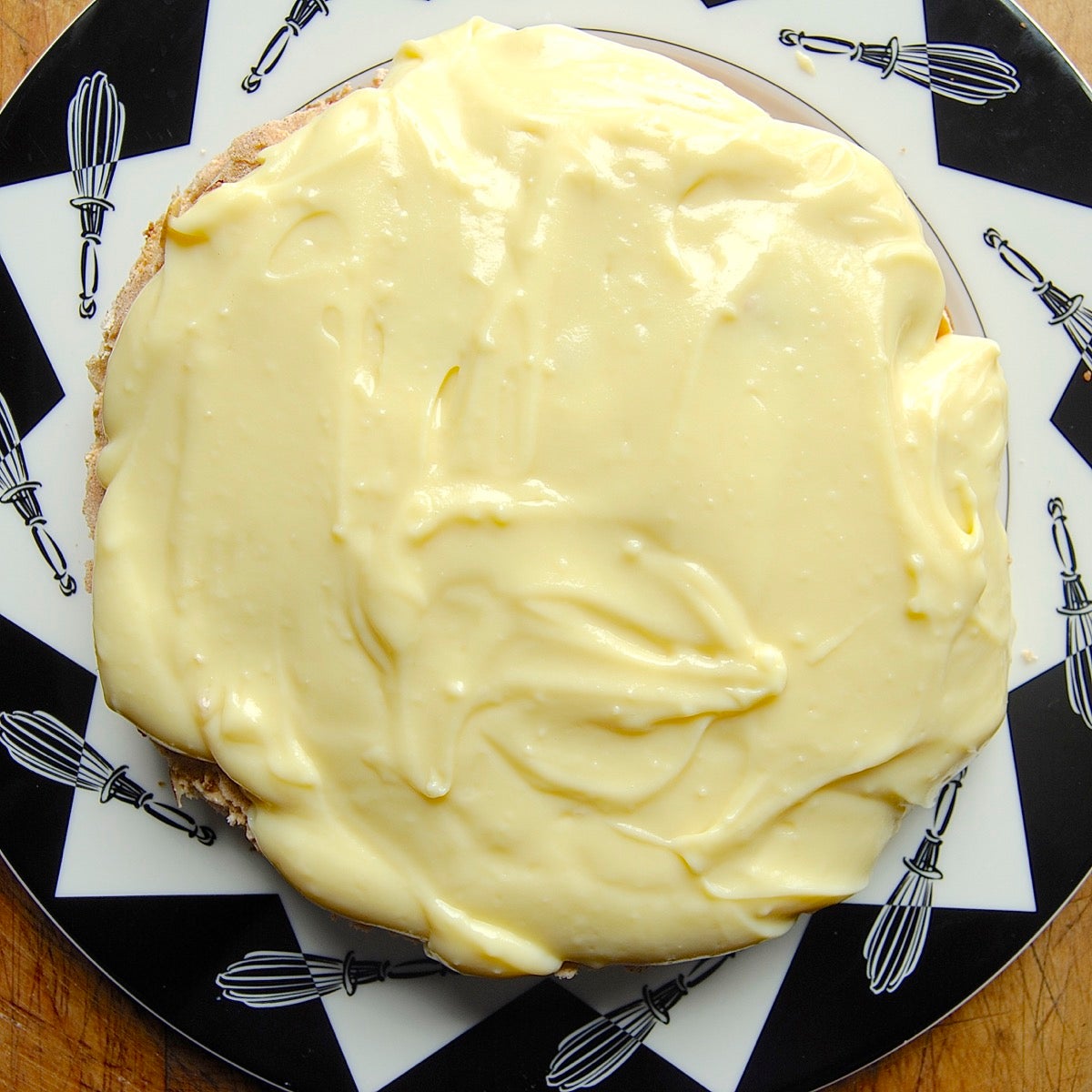 Berry Blitz Torte Bakealong: final assembly
Place one of the cake layers, meringue side up, on a serving plate. Spread with the filling.
Add the fresh berries.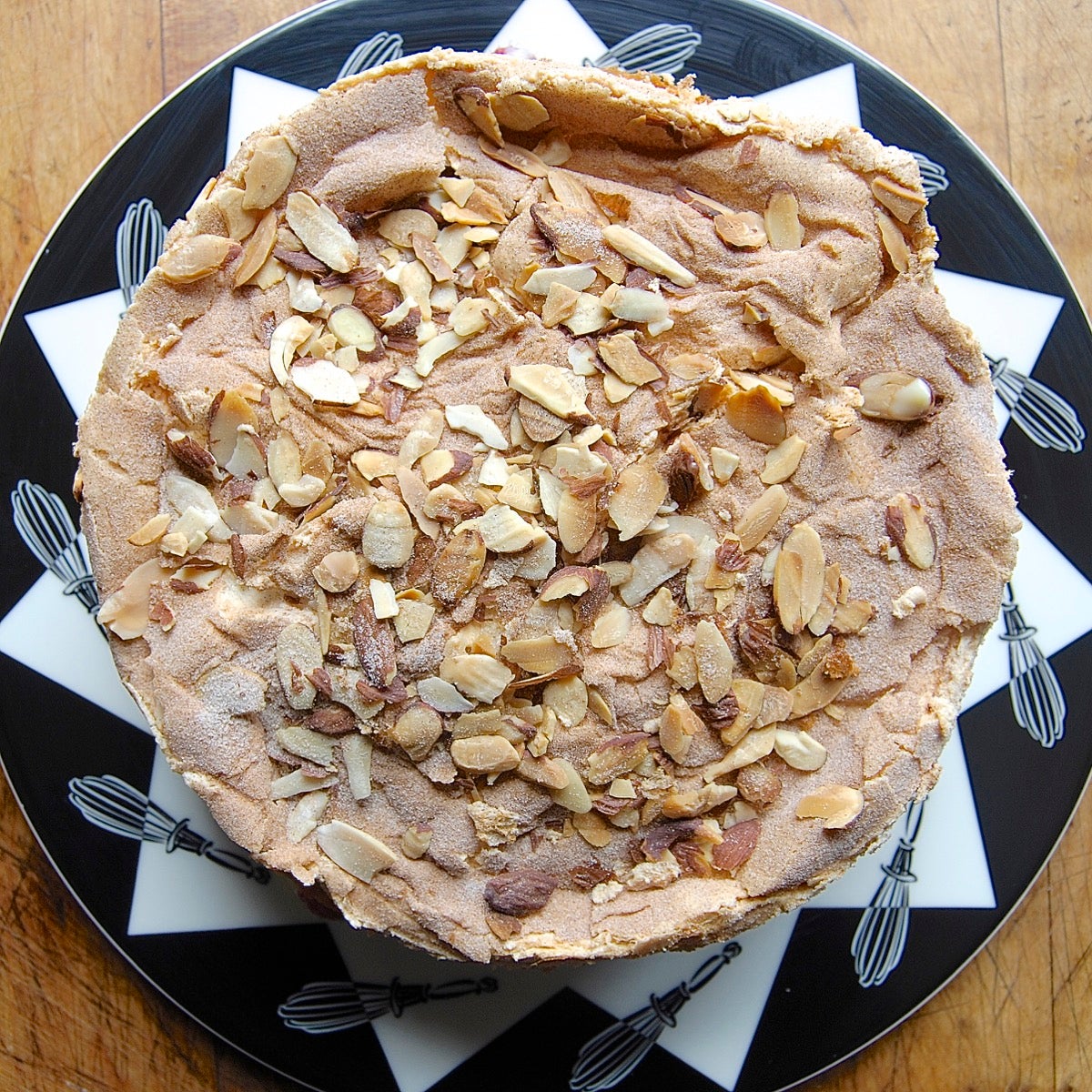 Top with the second cake layer, meringue-side up.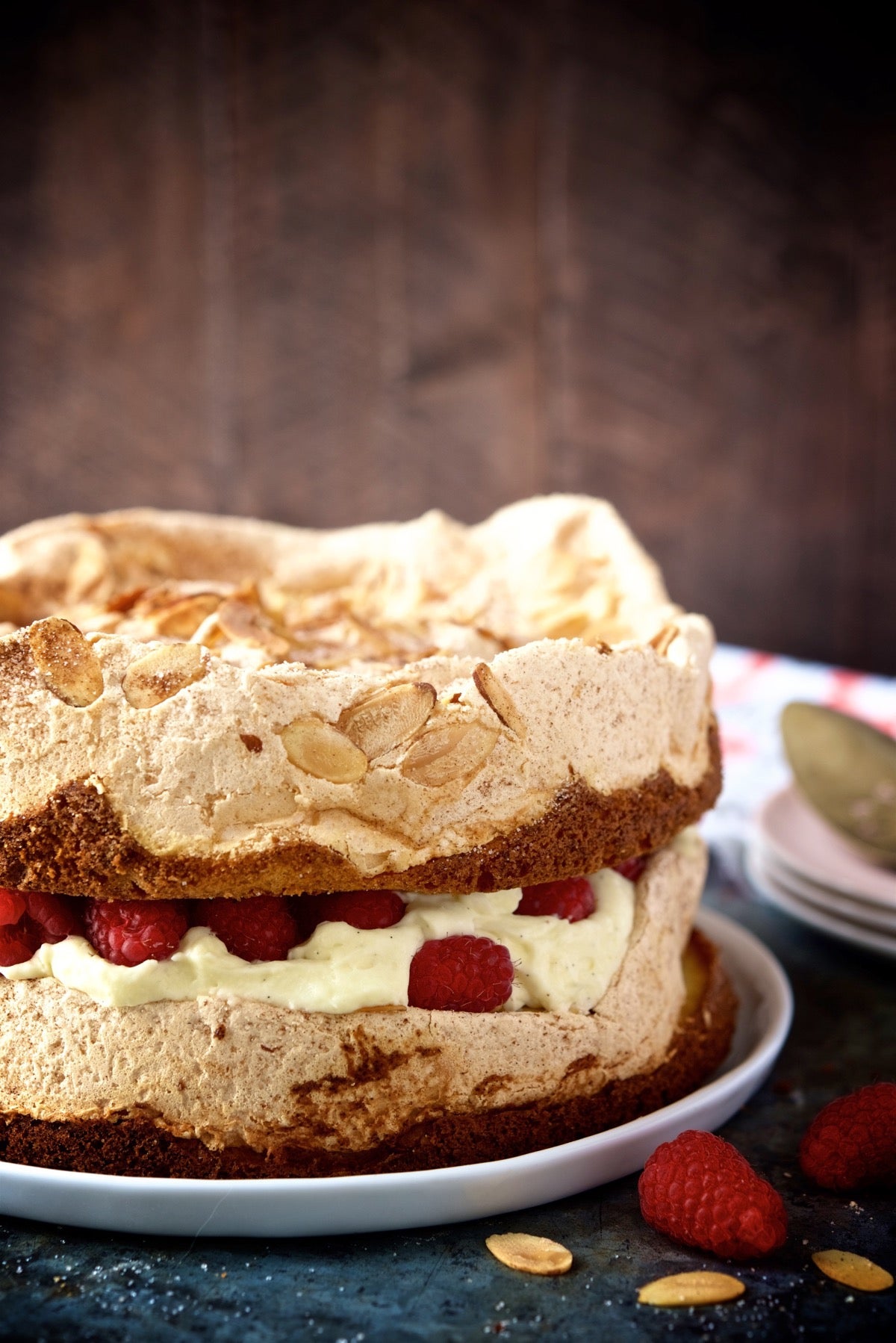 Serve immediately; or refrigerate covered, until ready to serve. It should stay good in the fridge for a day or so.
Dense, buttery cake; delicately crunchy cinnamon meringue; rich, creamy filling, and fresh berries — irresistible! How much do I value this recipe? I make it every year for my mom's birthday, May 1. And since she's somewhere north of age 90, that's a lot of Berry Blitz Tortes!
Baking gluten-free?
Make this cake with our Gluten-Free Measure for Measure Flour, following the recipe as written; no changes beyond this simple substitution are necessary.
High-altitude adjustments
Do you live high on a mountainside? Check out our high-altitude baking tips.
Interested in more? See our complete collection of Bakealong recipes.
Jump to Comments