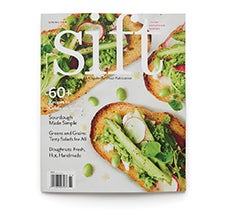 In the spring issue of Sift we turn our attention to scones, one of the easiest treats you can make for yourself. They're versatile, can be made in a dizzying range of flavors, and never fail to impress, served fresh and warm. Sweet and savory scones deserve your consideration, especially when you're thinking about having company.
We'd like to share some of our favorite scone recipes, as well as some tried and true hints for making them perfectly easy to create. Let's start with a classic.
 
If you can stir, you can make these scones. Simply measure the dry ingredients, stir in heavy cream, and pat into shape.
Tip: Perfect circle, perfect wedges
Line a 6" cake pan or soufflé dish with plastic wrap, leaving enough to hang over the sides. Pat half the dough into the pan or dish, until it's 3/4" thick. Line a baking sheet with parchment paper. Flip the pan or dish with the scone dough in it over onto the prepared baking sheet, remove the pan, and peel off the plastic wrap. You'll have a perfectly round disk in front of you, to cut into wedges before baking. Repeat with the other half of the dough.

Mashed banana joins the liquid in this recipe, while crunchy toffee bits add heavenly flavor.
Tip: Use a light hand when mixing
Once the dry ingredients are combined with cold butter, add the liquids all at once (in this case, mashed banana, vanilla extract, and milk). Stir just until the dough is evenly moistened, but no more. Our dough whisk is the perfect tool for this task.

After squeezing some lemons, it's all smooth sailing. Really. Stir your ingredients in a big bowl (the mixture bubbles up as you cook it), and microwave for a minute at a time until thick, stopping and stirring regularly.
Tip: An 8-cup measure does the trick
You can watch through its transparent sides, the handle makes handling easy, and it's simple to transfer the finished curd to a storage container when done.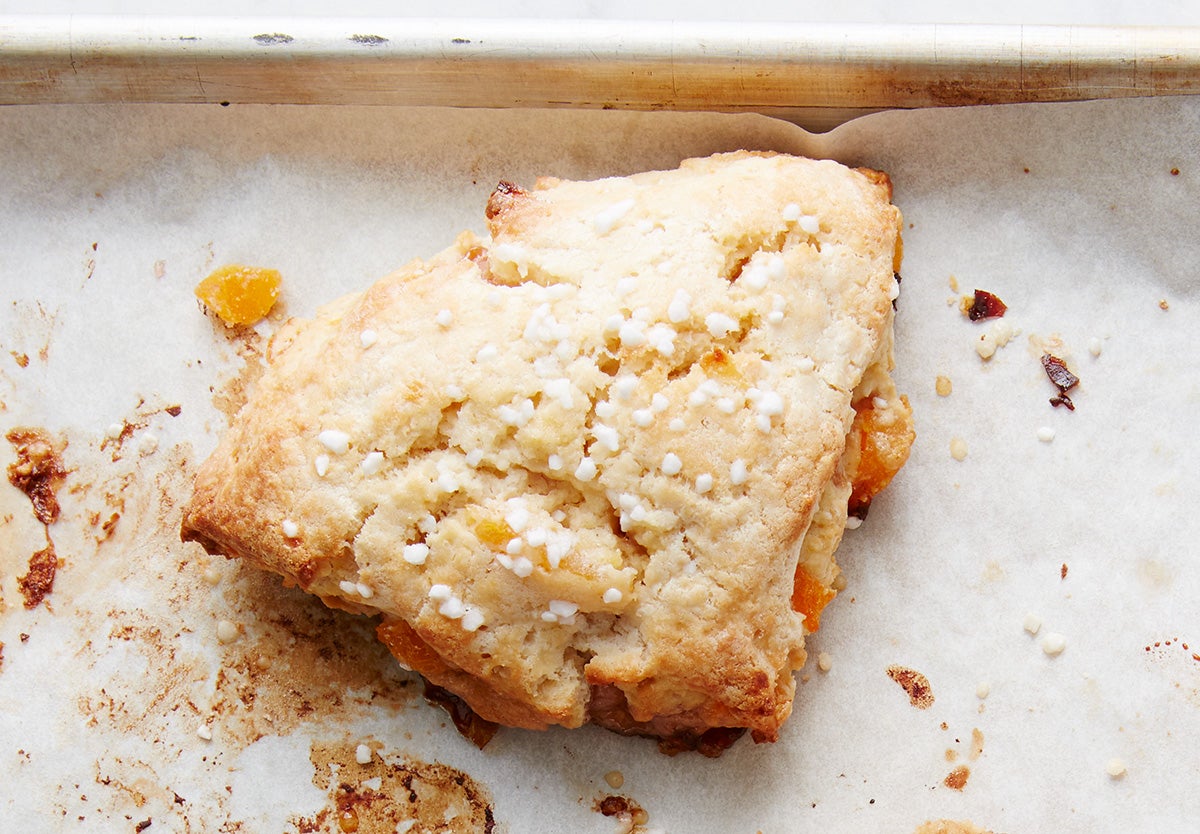 Moist, tender dough studded with apricots is sandwiched around yummy raspberry filling. A top of the line treat for any occasion.
Tip: Cold fat makes a tender scone.
Keeping the butter and cream cheese cold when working them into the dry ingredients ensures the dough will bake up as light as possible. The water in the fat stays suspended, which makes steam in the oven, which makes lovely layers. This scone benefits from using the cake pan technique described above. For even better results, chill the assembled scones for 20 minutes before baking.
While these are all attractive treats so far, sweet AND savory scones are your best friends when entertaining. Savory scones make terrific brunch or cocktail party partners. Behold: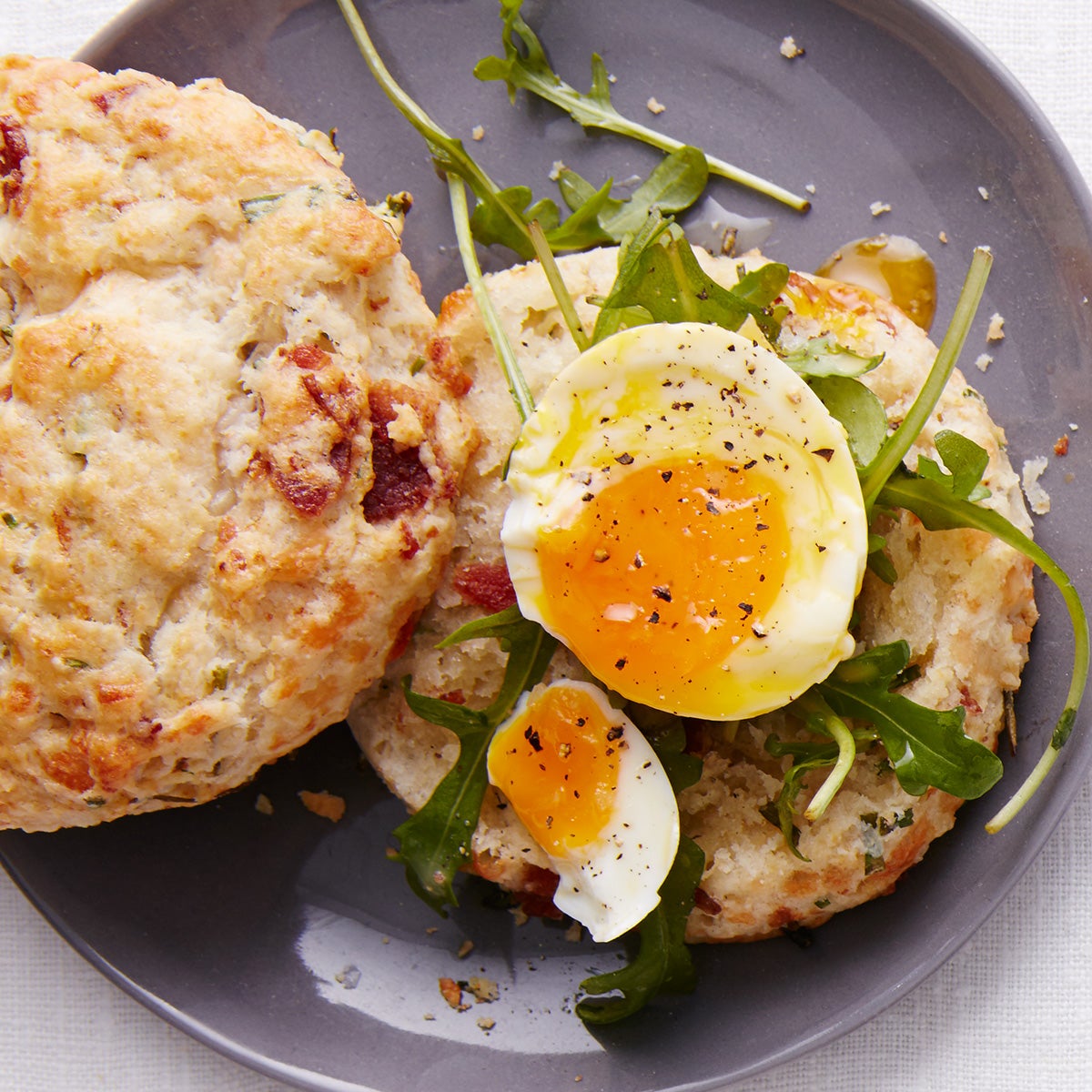 These scones taste great, and they're perfect next to soup, scrambled eggs, or cut small as tiny bursts of savory goodness on an appetizer buffet next to the olives.
Tip: Freeze for anytime entertaining, or for your own convenience
Sweet or savory scones can be made ahead and frozen. You can bake them right from the freezer (they'll need about 5 more minutes of bake time). With a stash of frozen scones on hand, you're a hot oven and 20 minutes away from fresh, scratch-made comestibles for company. And if you can't eat a whole batch of scones all at once, freezing most of the dough for another time is an excellent option.
Warning: Bake any frozen scones within a month; after that, their texture and rise start to suffer.

With fresh summer produce on the horizon, this tasty combination is a shoo-in for outdoor dining. Pair it with some fresh buffalo mozzarella, good olive oil, and sun-warmed fresh tomatoes, and yes, the living is easy.
Tip: Scone add-ins: Hold the water
While scone dough, sweet or savory, can accommodate a huge variety of flavor additions, it's best to keep it on the drier side. With these Basil and Parmesan Scones, sun-dried tomatoes can be mixed into the dough with no trouble. Diced fresh tomatoes? Not so much. Fresh tomatoes have so much liquid the dough becomes overly wet and sticky in no time.
At Sift, we want you to be inspired by baking, and we're more than happy to present scones as one of our favorite baking ideas for spring. There's a scone for every occasion. Warm and satisfying from the oven, they're simplicity itself.
Jump to Comments