Almond flour might seem like an obscure ingredient to some, but it's actually a flour that's used in many traditional baked goods, like French Macarons and Mexican Wedding Cookies. Traditionally, almond flour was used not only to add flavor, but also for the texture it brings to baked goods. Almond flour is full of protein, fiber, and healthy fats. The soft, delicate crumb it provides in baked goods makes it fantastic for things like cookies, cakes, and even muffins.
Almond flour has recently seen a resurgence of sorts. With more people choosing to remove gluten from their diets or looking to add more nutritional benefits to their baked goods, it's become a flour that many bakers keep on hand, especially when they're baking gluten-free. In our gluten-free baking, we like to use almond flour in combination with our gluten-free flour, as it can be used in both sweet and savory baked goods, bringing flavor, texture and nutritional benefits.
In today's post we'll show you four of our favorite almond flour recipes, spanning breakfast all the way to decadent dessert.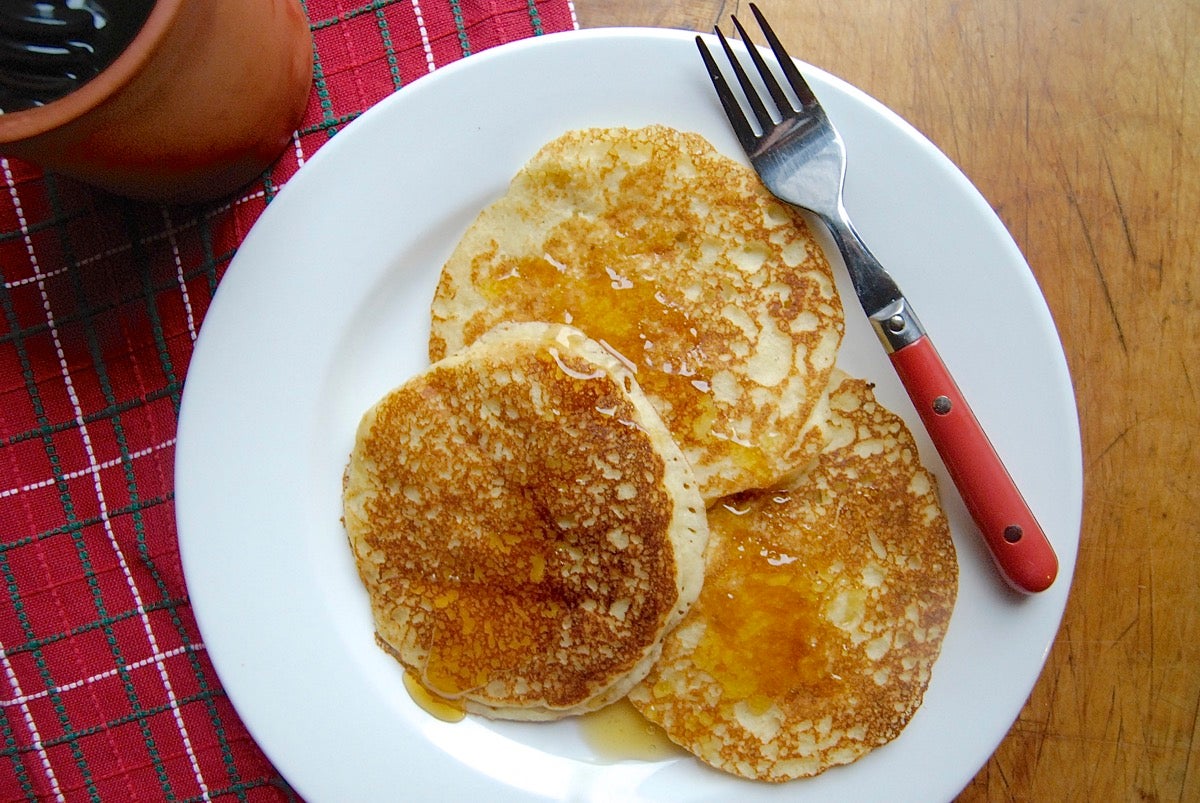 When you think about the perfect stack of pancakes, we bet your mind immediately jumps to light and moist. This stack of cakes is just that: ultra-moist, tender, and perfect for breakfast. The addition of almond flour turns these gluten-free pancakes into a power-packed breakfast treat that can easily be jazzed up with the addition of berries, chocolate chips, or even chopped nuts.

Bright and cheery, these lemon poppy seed muffins use a combination of almond flour and gluten-free flour for what might just be one of our favorite muffins yet. They rise beautifully, have an incredibly tender and moist texture, and they're full of flavor. They also freeze well, making them an excellent treat that you can have on hand at any time.

Whether you need to use up some extra zucchini or you're just looking for a simple gluten-free quick bread, this almond flour zucchini bread can't be beat. It's tender, dense, and lightly sweetened, so it's perfect for breakfast, with afternoon tea, or as dessert. We love it lightly reheated with a pat of butter on top.

Sweet, decadent, and full of dark chocolate flavor, these almond flour brownies are ultra-fudgy and make for a pretty spectacular treat. They use only a few simple ingredients and mimic the texture of traditional fudge brownies, so we bet no one will even be able to tell they're 100% grain-free. They're a crowd-pleaser for sure!
If you're grain-free (or baking for someone who is!) be sure to check out our Grain-Free Recipe collection for some additional baking inspiration. 
Jump to Comments