Better biscuits are ahead. If you've ever salivated over flaky, lofty biscuits – the sort that pull apart into buttery layers at the slightest tug – you've come to the right place.
Although biscuits might look as if they require a lot of technique and practice, they're quite simple to make properly. Armed with a few useful tips (and a light touch), you'll be impressing your friends with your baking prowess in no time.
Today we're focusing on texture: How to make biscuits that are light and airy. We'll talk about some of our collective favorite recipes here at King Arthur Flour and how to ensure success with each one.
A word of advice: Start with good ingredients. Biscuits, like many breads, only use a few ingredients so you'll really taste each one. Choosing good-quality butter, milk, and flour will pay off in the flavor of the end result.
Most of our recipes can be easily adapted to accommodate mix-ins. With blank canvas recipes, play around with adding grated cheese or chopped fresh herbs. If you want to get more adventurous, meats (like finely chopped ham or diced cooked bacon) and vegetables (like chopped shallots or diced bell peppers) are delicious options. Add-ins should equal about 1/3 the amount of your dough. Any more than that and you risk weighing down the biscuits and losing the lofty, flaky texture.
Biscuit Tip 1: Use cold ingredients
In our world, flaky is a good word. To achieve perfect, separate layers in your biscuits, you need to start with very cold fats (usually butter or shortening). When you cut in your fat, you leave it in small pea-sized lumps. Those lumps get coated in flour and melt during baking into layers. If your fats are too warm, the lumps will melt and form a homogeneous dough, resulting in dense, leaden biscuits.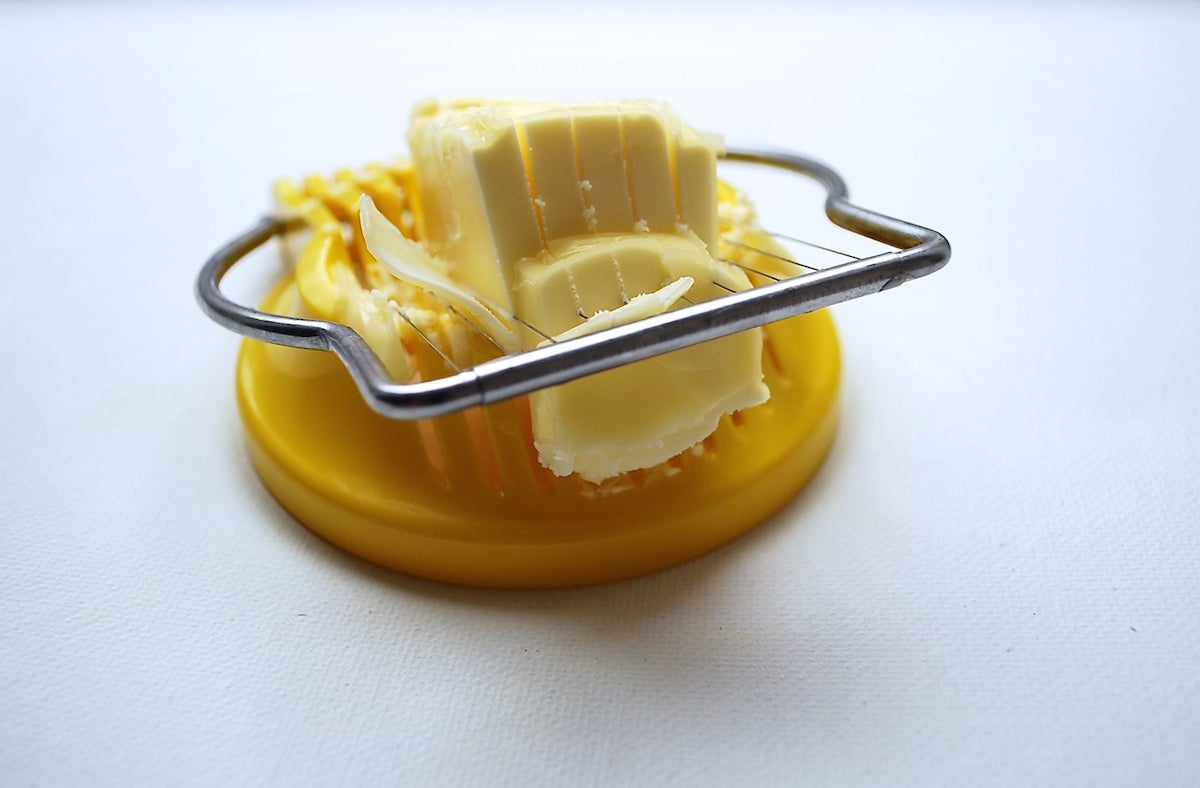 It can be difficult to prep your butter without warming it with your fingers. A neat trick to help with this is to use an egg slicer. I have an inexpensive plastic version that slices through very cold butter easily. It cubes the butter into tiny pieces and protects it from the heat of my fingers.
Put this tip to use in our Easy Self-Rising Biscuit recipe. Using only three ingredients, this recipe is particularly simple because it starts with our Self-Rising Flour: a blend of soft-wheat flour and baking powder with a touch of salt. Self-rising flour has a creamy taste and lighter-than-air texture, and yields an ethereally light biscuit. It saves you some mixing, since the baking powder and salt are already incorporated.

Biscuit Tip 2: Be gentle!
So your ingredients are chilled, you're hungry, and you're ready to make biscuits. As you start mixing and stirring, be sure to use a light and gentle touch. Every time you touch, knead, and fold the dough, you're developing the gluten. The more you develop the gluten, the tougher and more prone to shrinking the biscuits will be.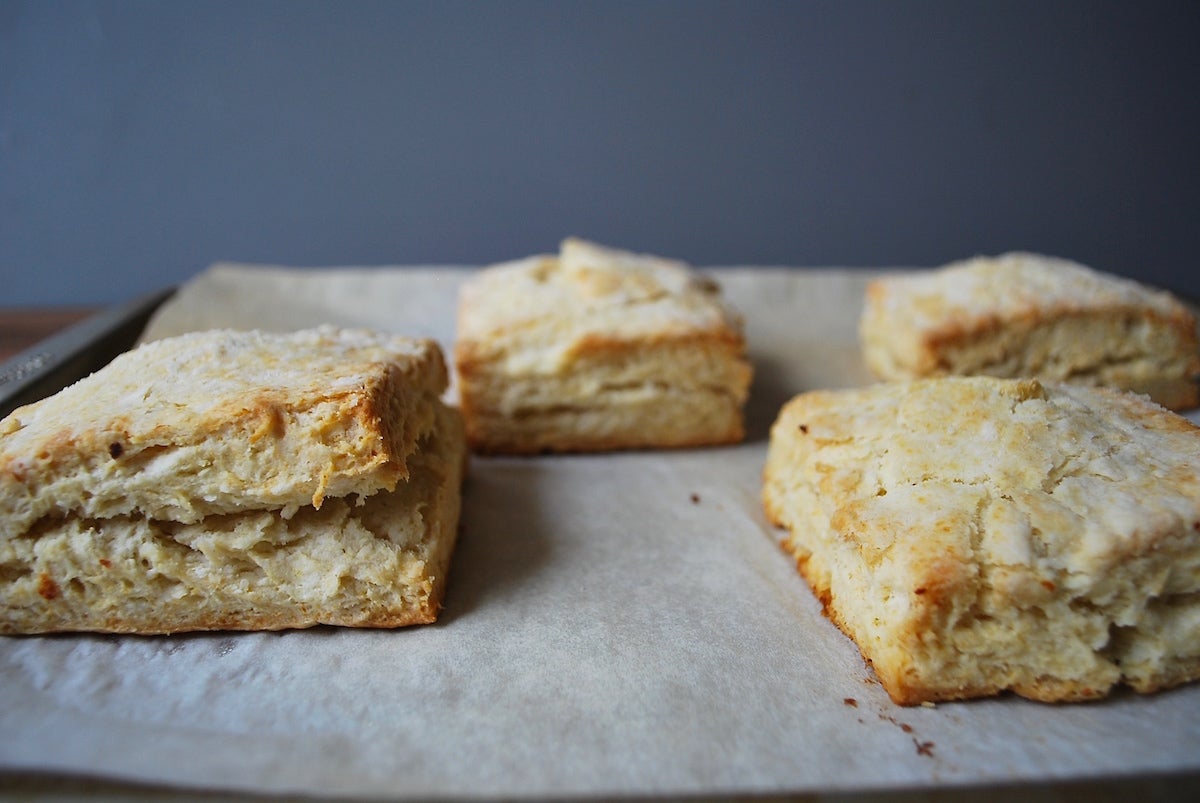 For example, our Biscuits for Breakfast recipe instructs you to knead your dough a few times to bring it together into a square. This is no joke! You want to handle it as little as possible: A few folds will make a cohesive dough. You'll still see chunks of butter and sprinkles of flour, and that's a good sign. A smooth, homogeneous dough is not what you want.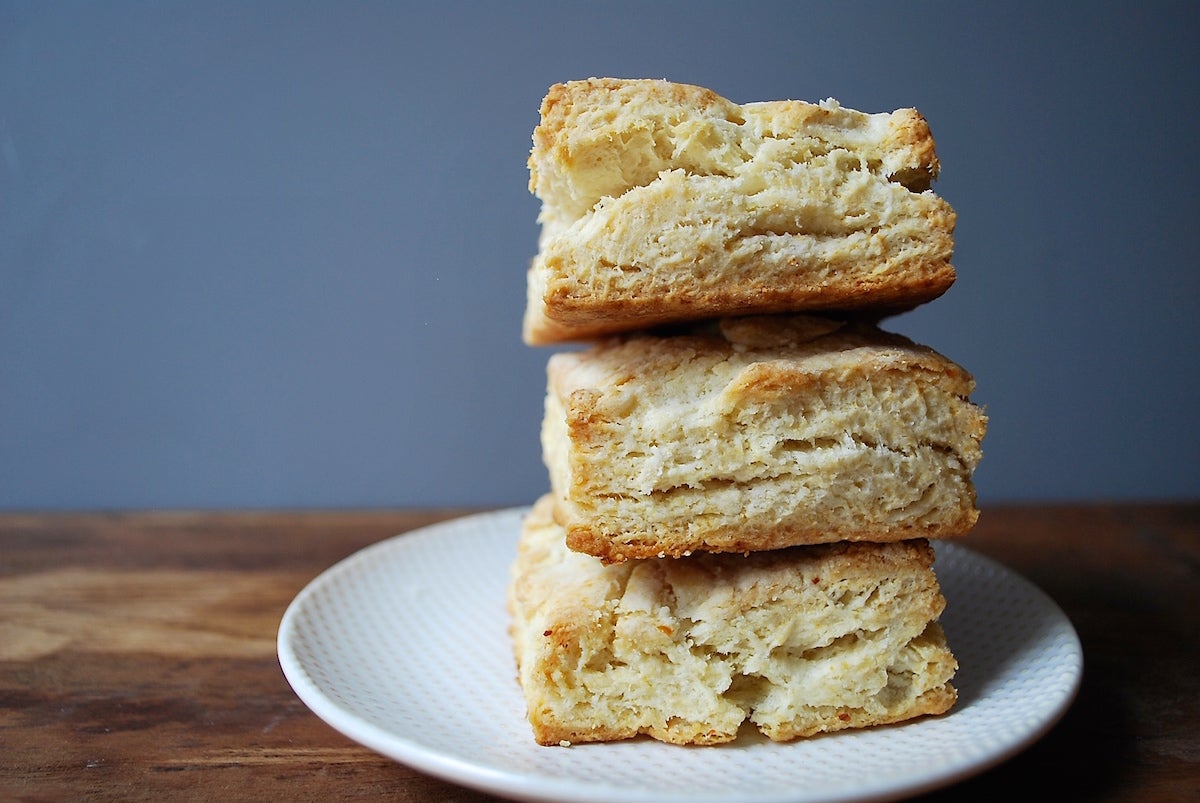 Biscuit Tip 3: Stay fresh
When baking lofty, airy biscuits, you need some way to encourage them to rise. Most often, baking powder acts as the leavening agent. Your baking powder helps the layers puff up beautifully.
Baking powder tends to be an ingredient that sits in your pantry for months. Over time, it will lose its efficacy so it's very important to check that your baking powder is fresh. You can test the freshness by mixing a small spoonful of baking powder with 1/4 cup of hot water. The baking powder should bubble vigorously. If it doesn't, you need to replace it with a new can.
Biscuit Tip 4: Sharpen up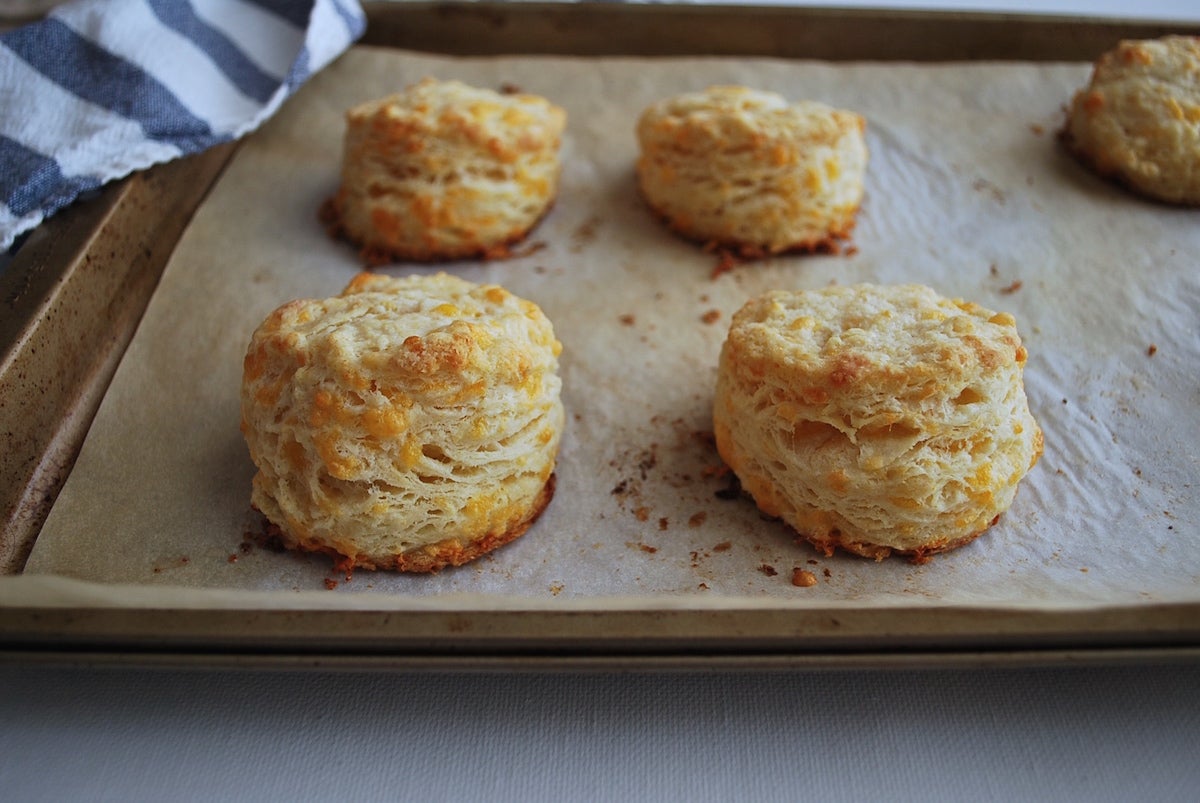 Many recipes, like our Savory Cheddar Cheese Biscuits, use a biscuit cutter to slice out rounds of dough.
For non-drop biscuits, it's crucial to use a sharp-edged circle (a biscuit cutter, cookie cutter, or sharp-edged drinking glass) to slice your dough. In a pinch, a drinking glass with thin sides will work. If you don't have any of those tools, you can always use a knife or bench scraper to cut your biscuits into squares instead of circles. Getting a clean slice on the edge of your dough will result in a nicely-shaped biscuit with well-defined layers. If you smoosh the sides of the dough, your biscuits will be sloped on the sides and misshapen.
To cut out your dough properly, press straight down instead of twisting. Dip the cutter in flour repeatedly to keep it from sticking. Transfer the circles of dough carefully to your baking sheet without pressing on the sides.
Place the biscuits closer together (about 1/2-inch apart) on the baking sheet to help the biscuits rise taller.
Biscuit Tip 5: A secret for beginner bakers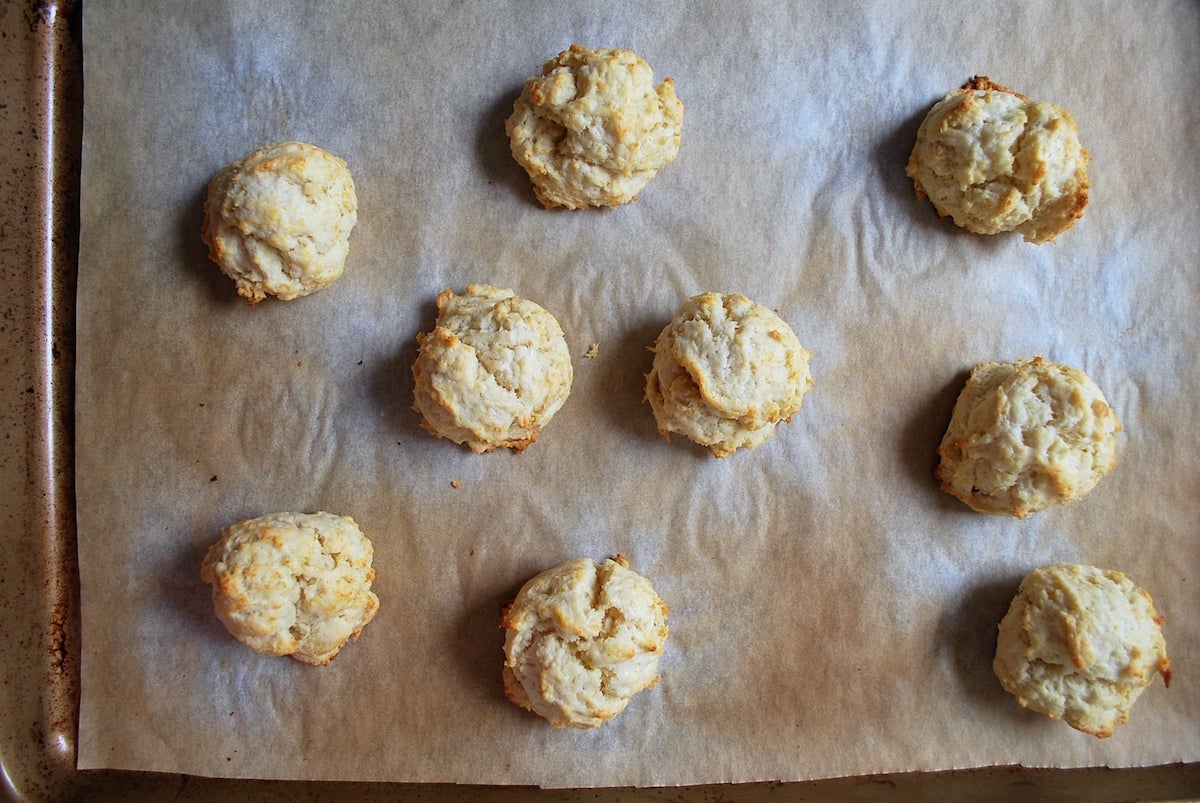 If the idea of cutting in butter and carefully kneading dough makes you nervous, we've got you covered with our Never-Fail Biscuit recipe. All you do is stir together self-rising flour, salt, and cream and drop spoonfuls of the dough onto a baking sheet.
If that sounds too good to be true, we assure you it's not. It's an aptly named recipe, and will not let you down, regardless of skill level.
With these five simple tips, you'll have a mouthful of warm, flaky biscuits in no time. Just don't forget to slather them with plenty of butter (and maybe some fresh homemade strawberry jam).
If you're looking to boost your biscuit baking, we have additional posts like How to make high-rising biscuits and Fats and liquids in biscuits to get you started. 
Jump to Comments