The dog days of summer are upon us. Long, hot afternoons and muggy nights are the norm. This time of year, bruschetta is at its best – tomatoes and basil are abundant, and cool, refreshing dinners are a welcome departure from the norm.
Our recipe for bruschetta is already a fan favorite, but today we're going to take it to the next level. With a few tips and variations, you can make a better bruschetta! Let's start with the basics. The following simple tips will take the standard bruschetta from good to amazing.
1. Peel and gut your tomatoes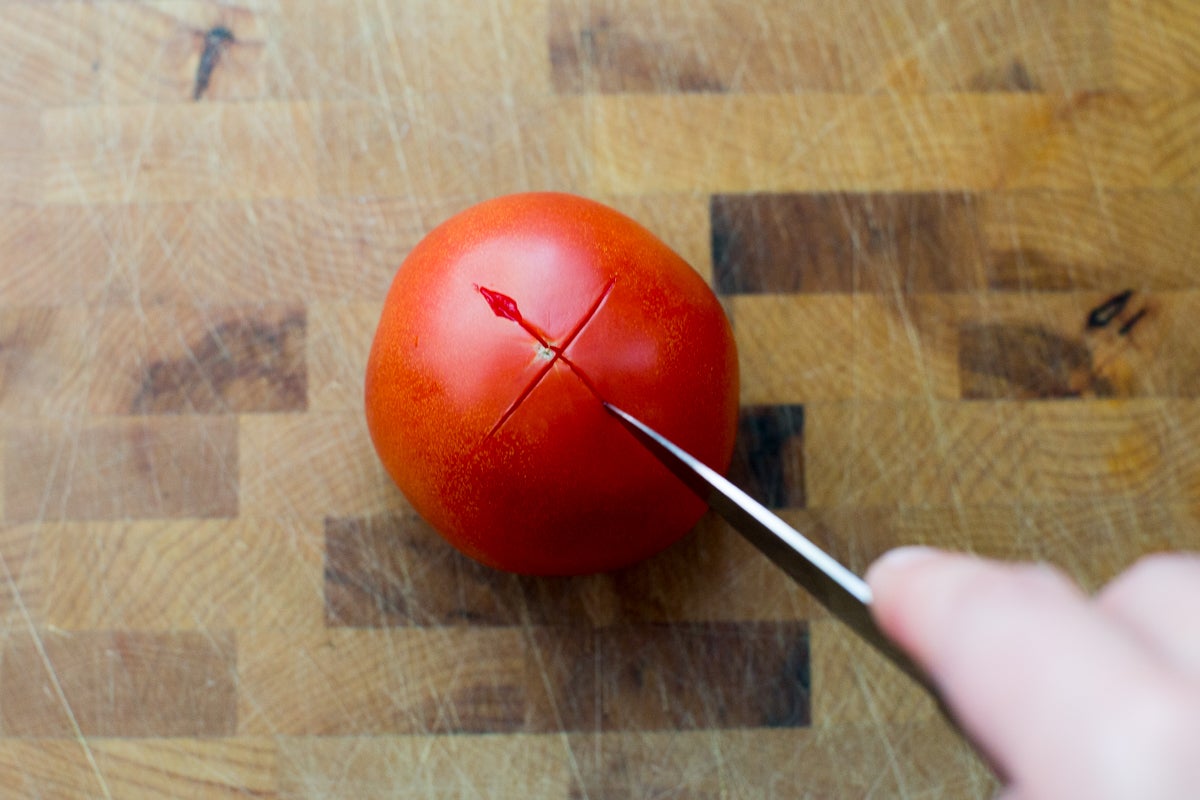 It's a dirty job, but someone has to do it! Fortunately, it's a simple job, too. Tomato skins and seeds can be bitter, and removing them improves the flavor and texture of your bruschetta topping. Seeds and skin also contain extra water, which can make your bruschetta runny and your toast points soggy. No one wants that!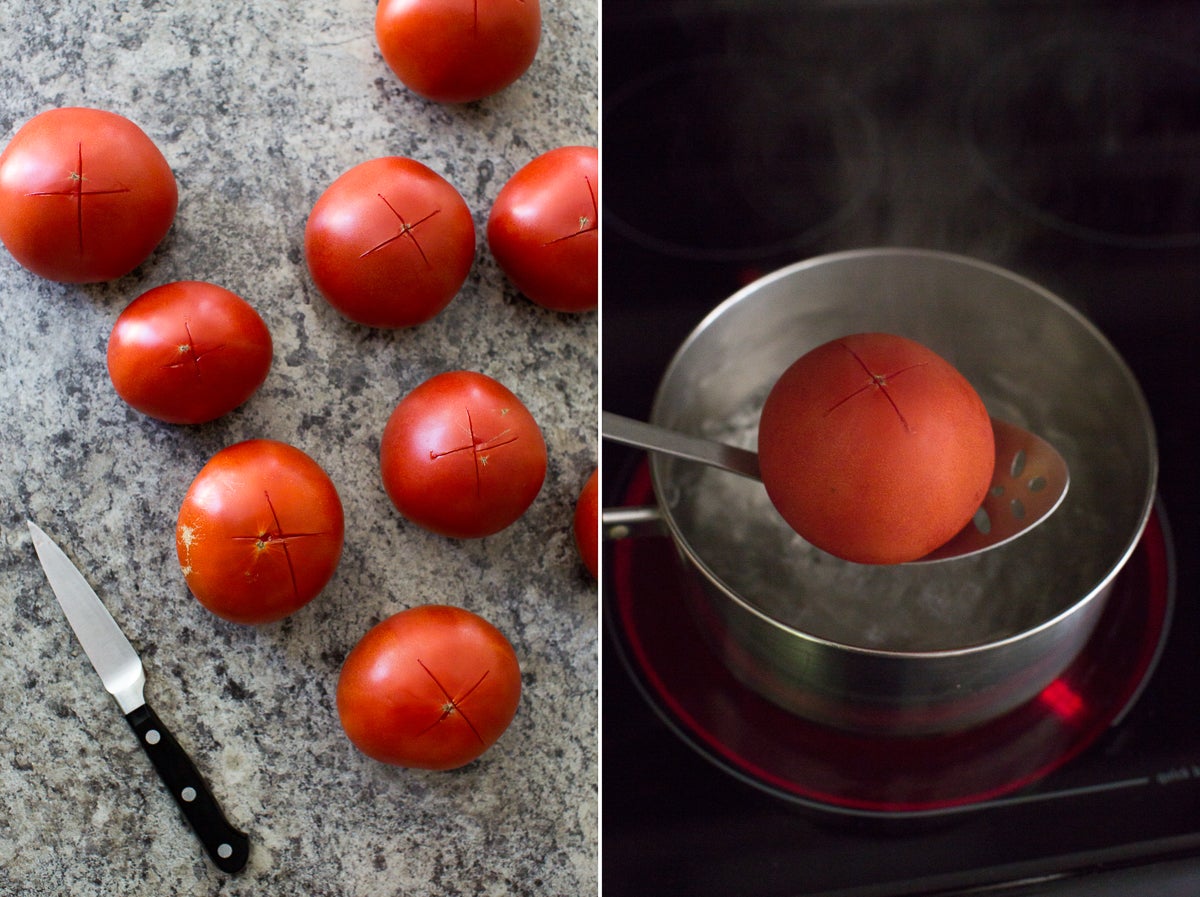 Start by scoring the skin of your tomatoes on the bottom, opposite the stem. Take care not to cut too deeply into the flesh.
Submerge the tomatoes in the boiling water for 20 to 30 seconds, until the skin begins to peel back. The hot water shrinks the skin, but doesn't cook the tomato underneath.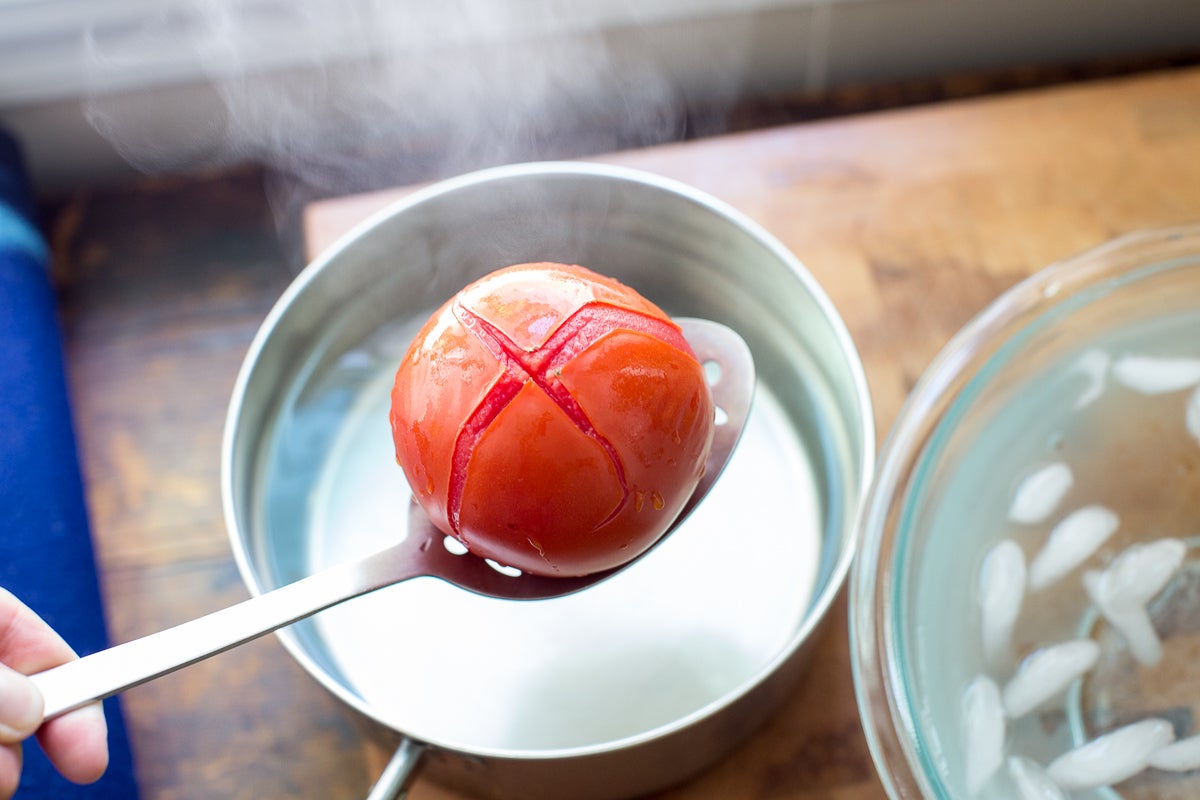 Move the tomatoes immediately to an ice bath.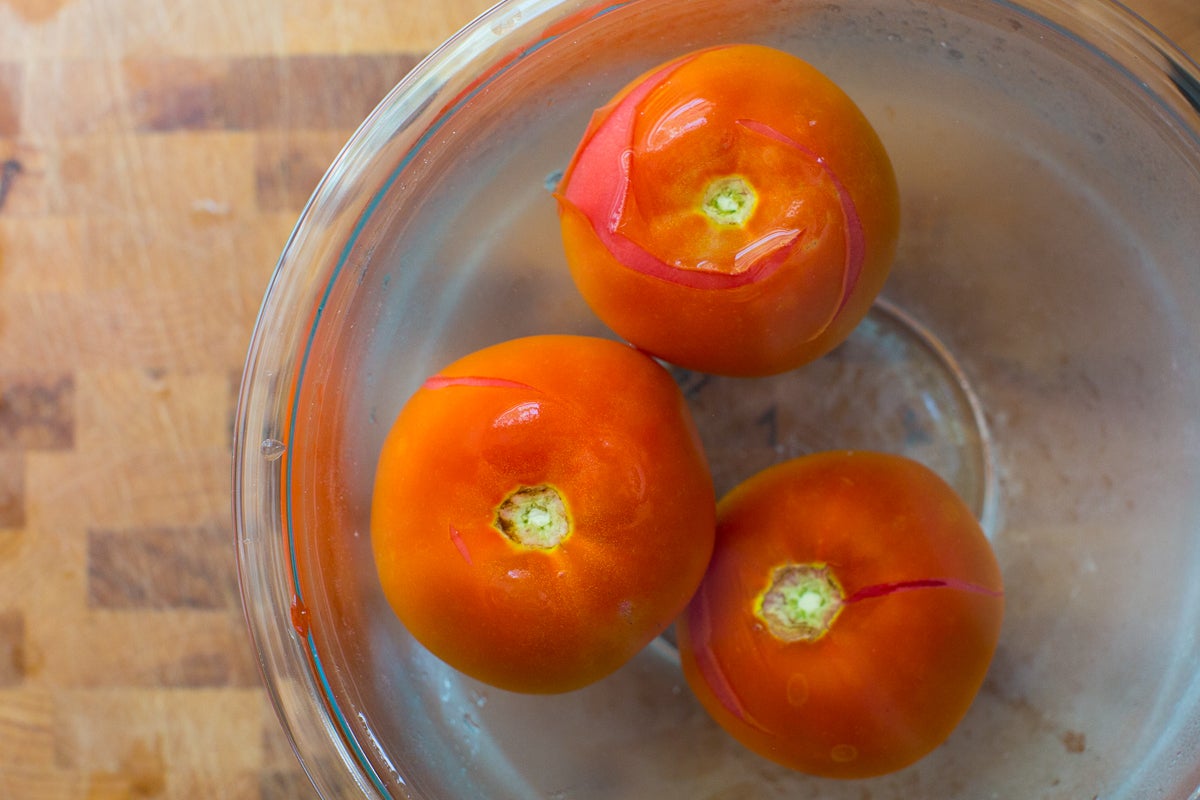 Peel the tomatoes as soon as they're cool enough to handle – their skins should slip right off. If they don't, you may need to leave them in the boiling water for a few more seconds.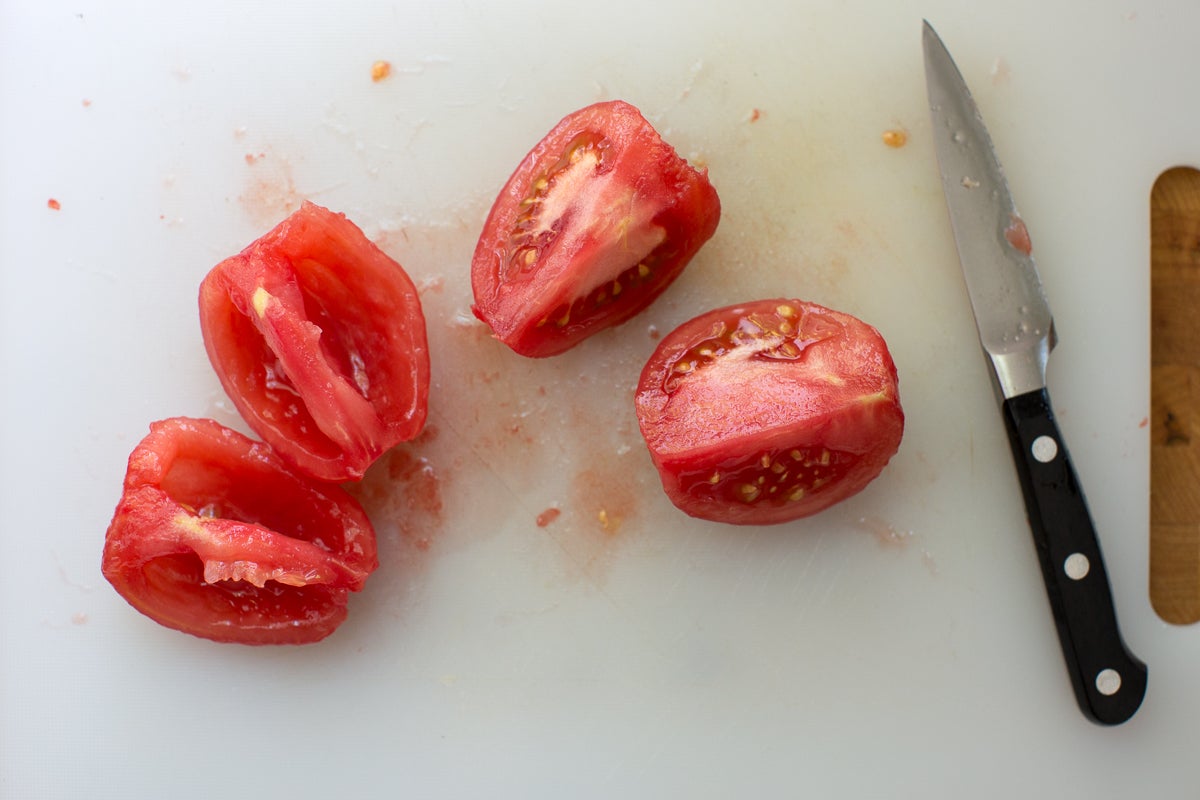 Slice your tomatoes into four wedges, and remove the seeds. Large tomatoes may be cut into eight wedges, to make this process easier.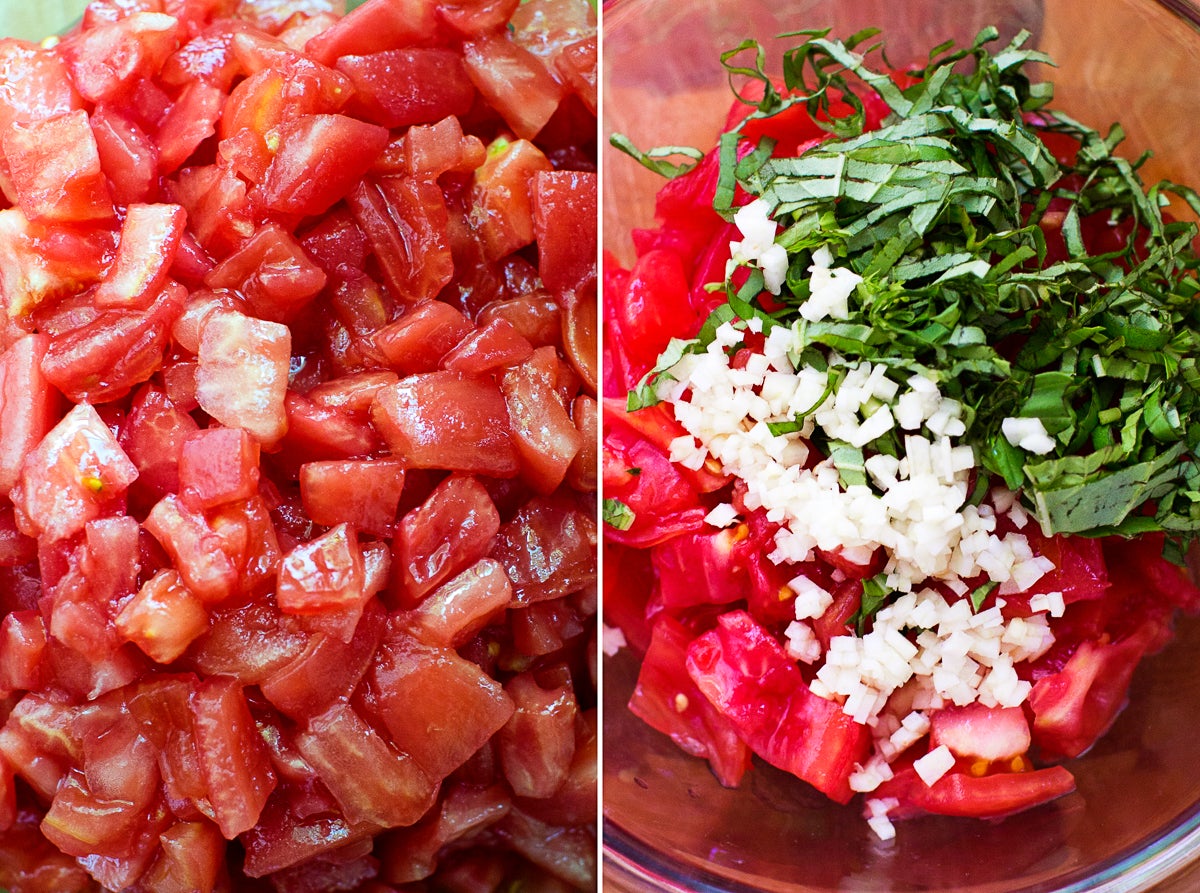 Dice tomatoes into uniform pieces. For traditional bruschetta topping, toss 2 skinned and peeled tomatoes with 2 minced cloves of garlic, 1 tablespoon chopped fresh basil, 3 tablespoons of good olive oil, 1 tablespoon of good balsamic vinegar, and salt and pepper to taste.
Tip 2: Use good oil and balsamic vinegar!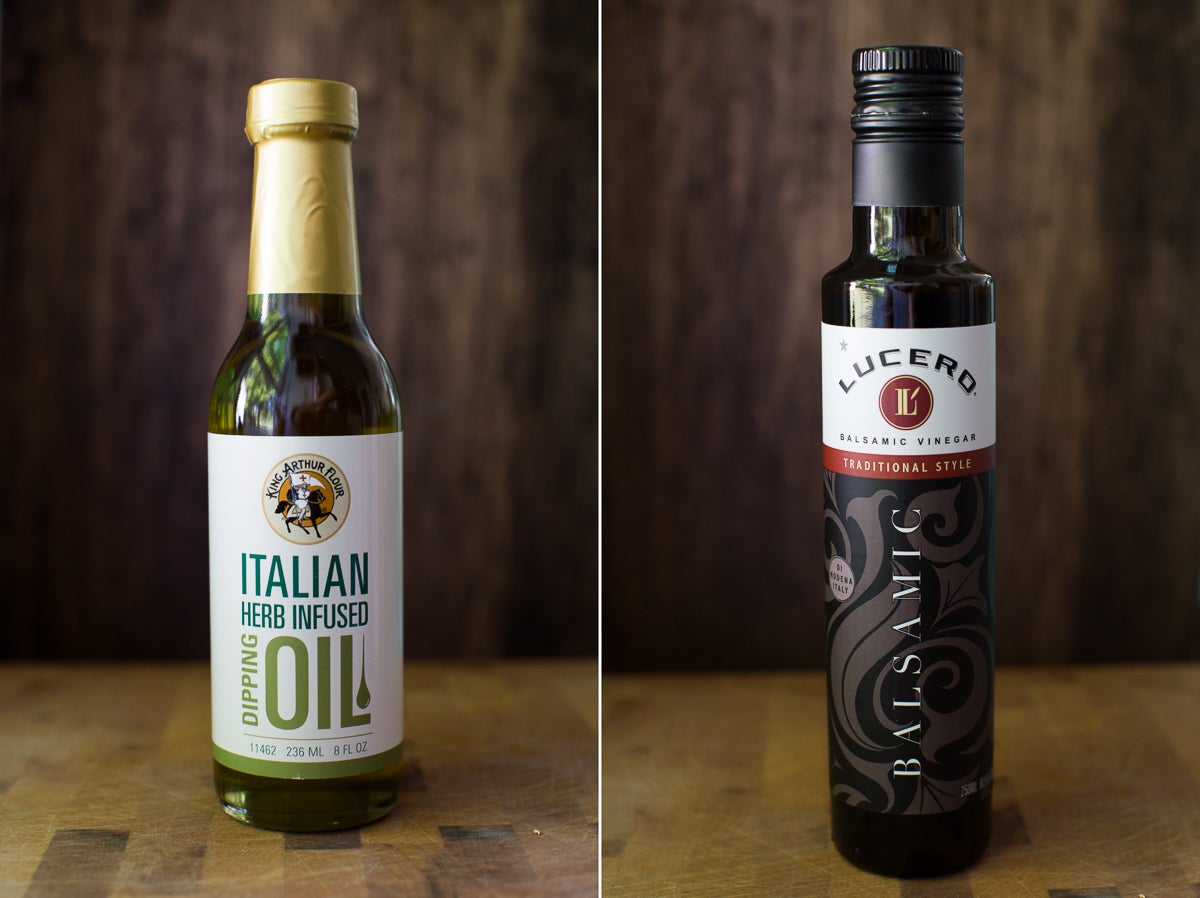 Bruschetta is comprised of only a handful of ingredients – make sure they're the best! You'll taste the vinegar and the oil through the other flavors, so this is a good place to splurge and use the good stuff.
For an extra kick of flavor, use our Boyajian Garlic or herb oil. I use this to brush the baguette before toasting, too.
Tip 3: Grill your baguette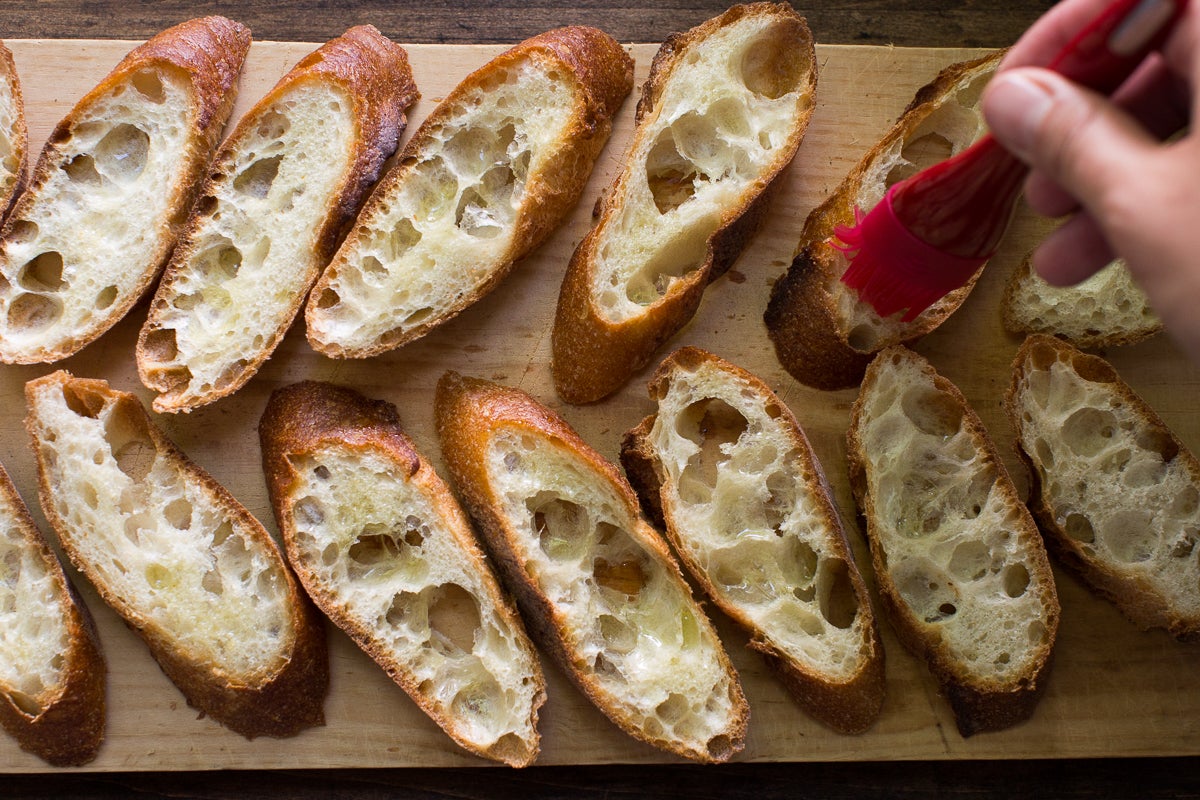 It's hot enough inside already! Use your grill to toast the baguette, and keep all of the heat outside where it belongs. Since you have the grill going anyway, consider throwing on some summer veggies to mix into your topping later.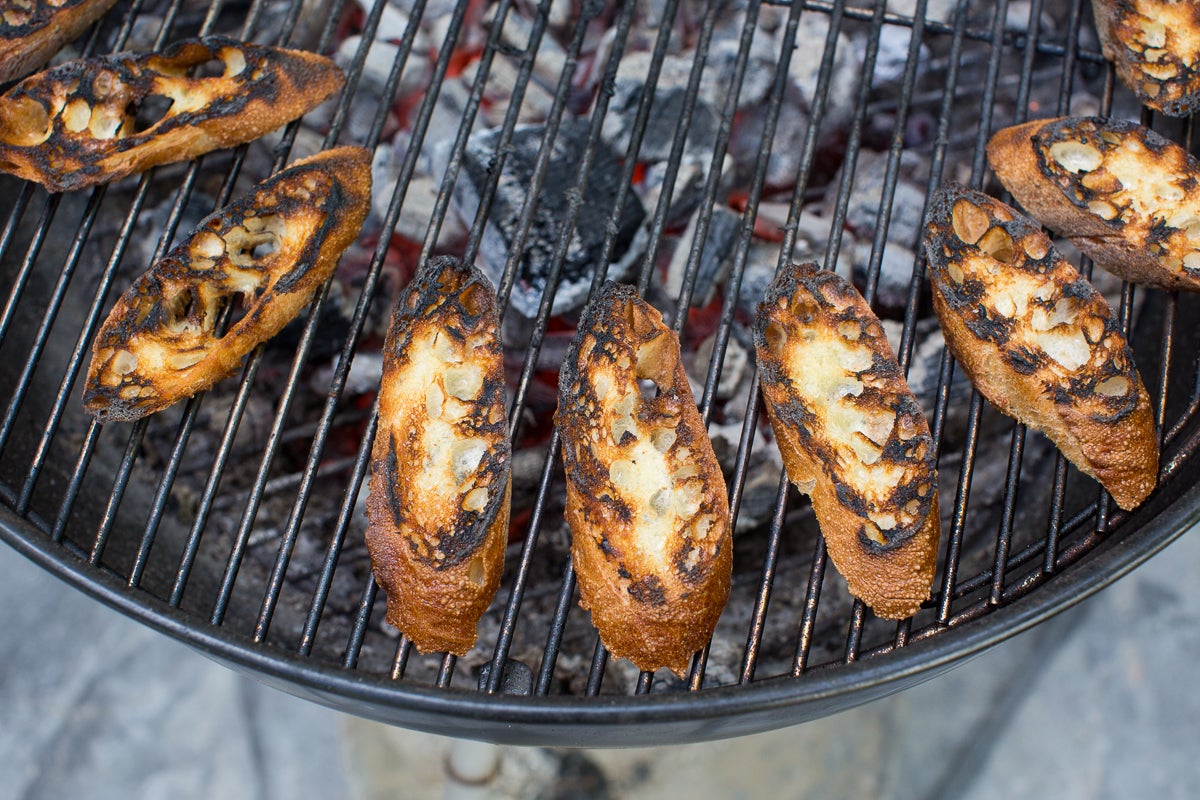 You've spent the time making a better bruschetta; now it's time to mix it up by adding some variation.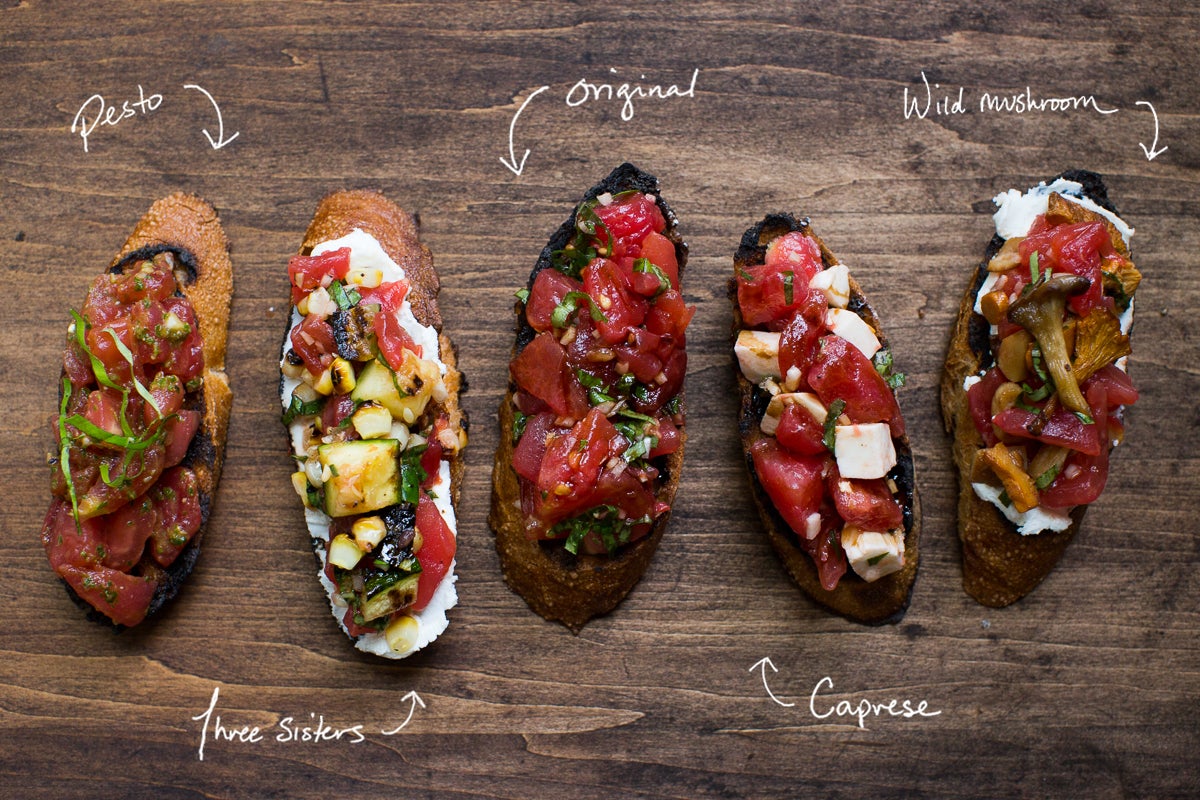 Variation 1: Three Sisters
Inspired by the Native American trio of corn, squash, and beans, my variation swaps beans for tomatoes!
Start with your basic tomato topping, then add grilled corn and squash to taste. Using 2 parts basic topping, 1 part corn, and 1 part grilled zucchini makes for a delicious ratio. Add 1 tablespoon of lime zest, and 1/2 teaspoon of dried chili peppers (to taste) for an extra kick.
Smear the toasted baguette points with goat cheese, or crumble some queso fresco into the  topping. Make it vegan by using an avocado in place of goat cheese on the bread.
Variation 2: Pesto
Forget chopping basil and garlic – toss in a dollop of pesto instead! Despite being almost the same ingredients, the difference in taste between pesto and chopped basil and garlic is surprising. You can also use chimichurri for this variation, which is especially delicious when served on toast points that have been topped with a thinly sliced piece of grilled beef.
Variation 3: Wild Mushrooms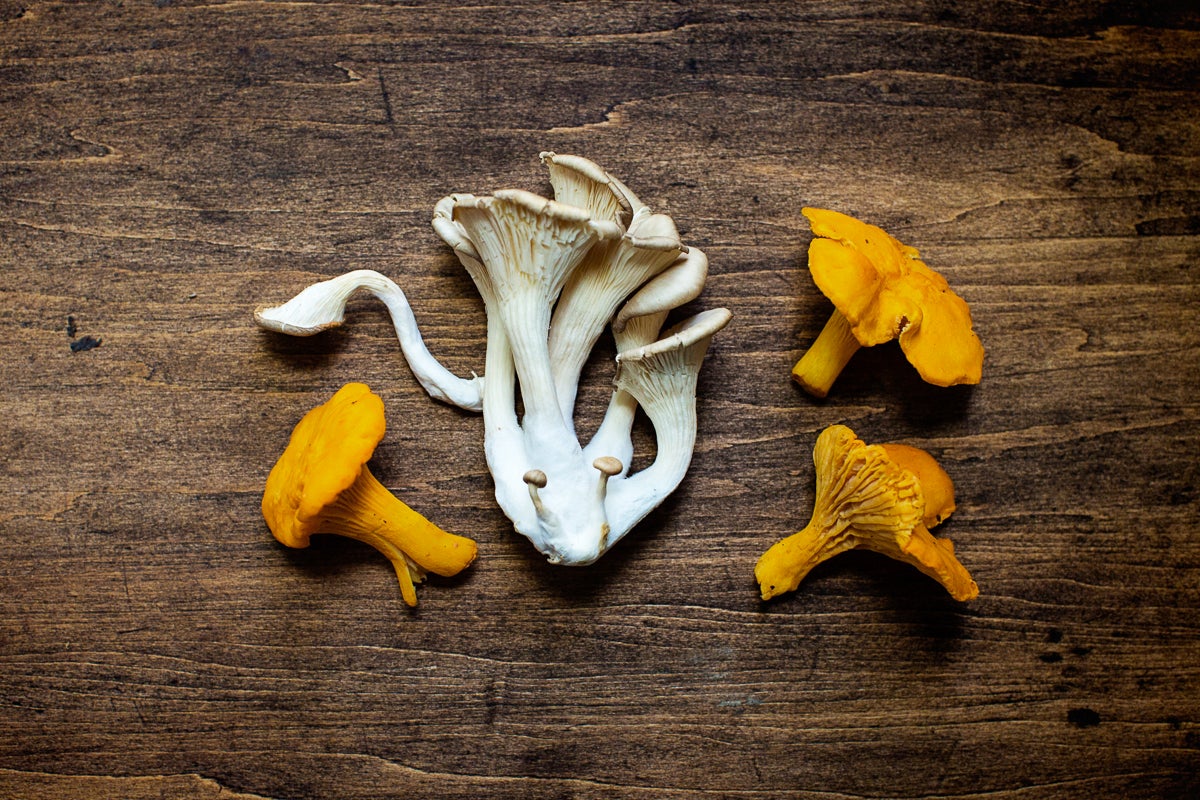 This time of year is great for mushroom foraging, and almost any wild mushroom lends itself to this recipe. Many stores carry local finds – Chanterelle and oyster mushrooms were available in my area, but even an ordinary button mushrooms will due. Mix and match and see what you like best!
Sauté mushrooms in a little butter, and allow them to cool before adding to the basic bruschetta topping. I found a ratio of 2 parts tomato to 1 part mushrooms to be ideal. Again, a smear of goat cheese on the bread elevates the flavor – use hummus to make it vegan.
Variation 4: Caprese
Fresh mozzarella goes with tomatoes and basil like salt goes with pepper...like bacon goes with eggs...like chicken goes with waffles...like pancakes go with syrup...the point I'm trying to make is that they were made for each other! Dice cubes of mozzarella and add it to your basic bruschetta topping, or put slices on the bread before topping. Finish with a drizzle of good balsamic vinegar.
The sky is the limit when it comes to bruschetta variations. Start with a good base by skinning and gutting your tomatoes, and using quality oil and balsamic. Let your imagination take you from there!
Want to go the extra mile? Try making your own baguettes! 
Jump to Comments