The King Arthur Flour Company marks its 225th anniversary this year. And we're celebrating by exploring some of America's favorite recipes, decade by decade, starting in 1900. Join us on this fascinating stroll through American food history.
As the 1950s dawned, America was on the go.
The rationing, anxiety, and hardships that characterized World War II had given way to a brazen confidence: America was on the road to a bright future – in shiny new cars.
During the war, America's assembly lines had necessarily turned to military production. But now Detroit's automotive plants were back in business, with no shortage of customers. With this influx of new cars came construction of what would eventually be a a coast-to-coast network of interstate highways, begun in 1956.
So, you've got the cars. You've got the roads. You've got money for leisure travel, thanks to a strong booming economy. What's next?
Road food, of course!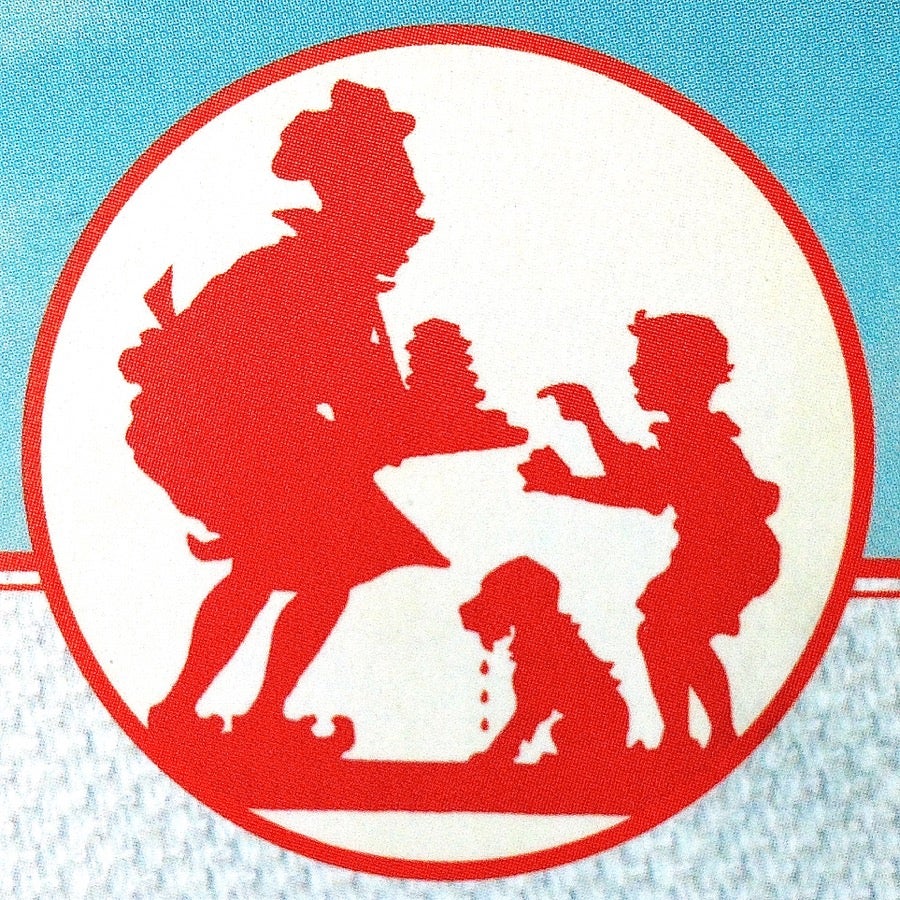 OK, go ahead and date yourself: if you recognize this famous logo, you're almost certainly a Boomer.
C'mon, don't leave me hanging here: you recognize this, right? Howard Johnson's was THE roadside stop for every traveling family back in the 1950s and up through the early 1970s.
From their fried clams and "grilled in butter frankfort in a toasted roll" to chicken croquettes, macaroni and cheese, and their signature 28 flavors of ice cream, Howard Johnson's fed a generation of hungry little Boomers-to-be.
It wasn't just their ice cream – peanut brittle, Burgundy cherry, frozen pudding – that floated your boat back then, either. There were those HoJo cakes, as well: carrot, fudge, "Chip Chocolate Angel Cake." If you weren't in the mood for ice cream, cake was a clear option.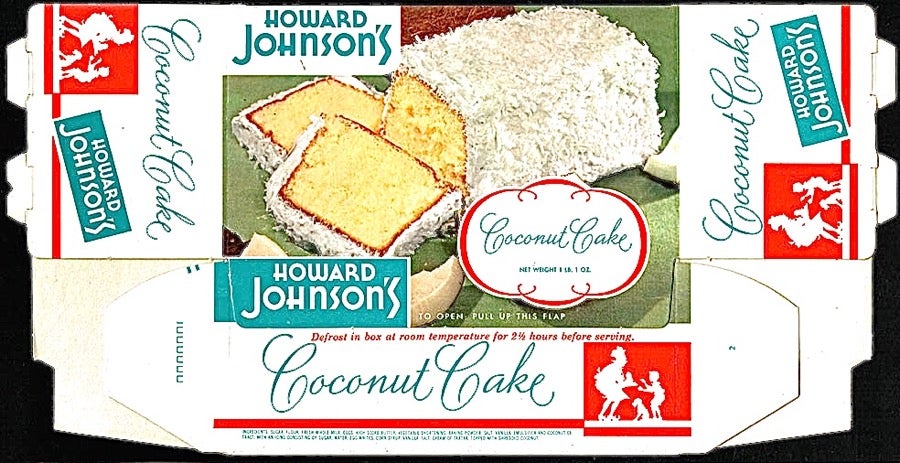 Like this coconut cake.
Now, little kids aren't usually attracted to coconut. But I've had a long-time love affair with coconut cake. It started back in the day with Howard Johnson's, and continues now with Pepperidge Farm's version – which is my regular birthday cake, given I eschew baking on my own birthday. (Though if I DID bake on my birthday, fellow baker Susan Reid's awesome Coconut Cake would be my go-to recipe.)
I recently spotted a recipe for Howard Johnson's coconut cake in the book pictured at the top of this post. And while I chose not to follow their exact recipe, I did mimic the basic premise: a coconut loaf cake with cream cheese icing.
It took me several tries, but I eventually came up with a cake close to what I remember: dense and close-grained, with mild but noticeable coconut flavor and a rich slather of cream cheese icing loaded with flaked coconut.
My in-laws, Boomers all, vet this cake. And if you're a HoJo devoté with warm memories of "the orange roof," I'm betting you'll enjoy it, too.
Let's start by heating the oven to 350°F.
Lightly grease a 9" x 5" loaf pan.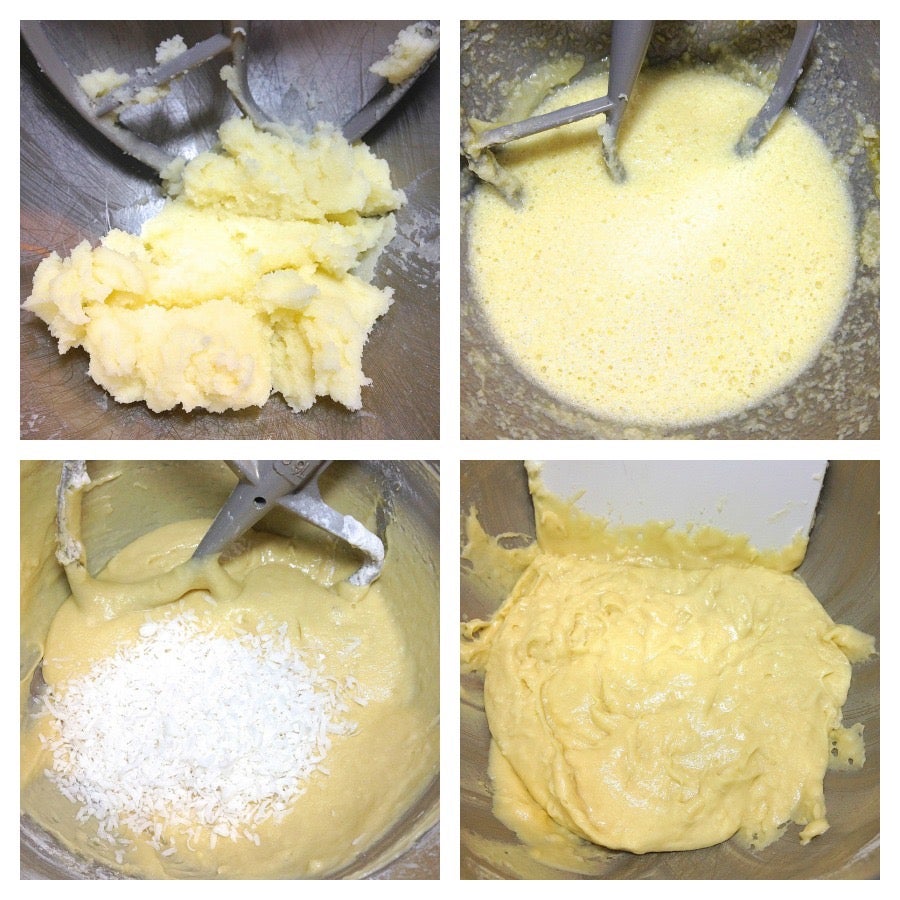 Gather the following ingredients:
12 tablespoons (170g) unsalted butter, at room temperature, at least 65°F
1 1/4 cups (248g) sugar
5 large eggs, room temperature
1 1/4 teaspoons salt
1 teaspoon baking powder
1/2 teaspoon coconut flavor, optional
1 teaspoon vanilla extract
2 cups (241g) King Arthur Unbleached All-Purpose Flour
1/2 cup (113g) heavy cream or whole milk
2/3 cup (57g) shredded coconut, sweetened
Beat the butter at medium speed, using an electric hand mixer or stand mixer, for about 10 seconds. Gradually add the sugar, beating all the while. Beat for 2 to 3 minutes, stopping to scrape down the sides and bottom of the bowl midway through, until the mixture has lightened in color and is fluffy (photo, top left). See our creaming butter and sugar video for a great demonstration of this technique.
Add the eggs one at a time, beating each in completely before adding the next. Scrape the bottom and sides of the bowl, and beat briefly, just until combined; the mixture will look curdled (top right). This curdling isn't a problem; but if you simply don't like the looks of it, do as Susan Reid does: "I've taken to putting a spoonful or two of dry ingredients into the butter/sugar mixture after egg 1; it keeps things from curdling when egg 2 is added." Thanks, Susan!
Stir in the salt, baking powder, coconut flavor, and vanilla. Add the flour to the bowl in three portions, alternating with the cream, and beginning and ending with the flour. Beat at low speed, just to combine, after each addition.
Stir in the flaked coconut.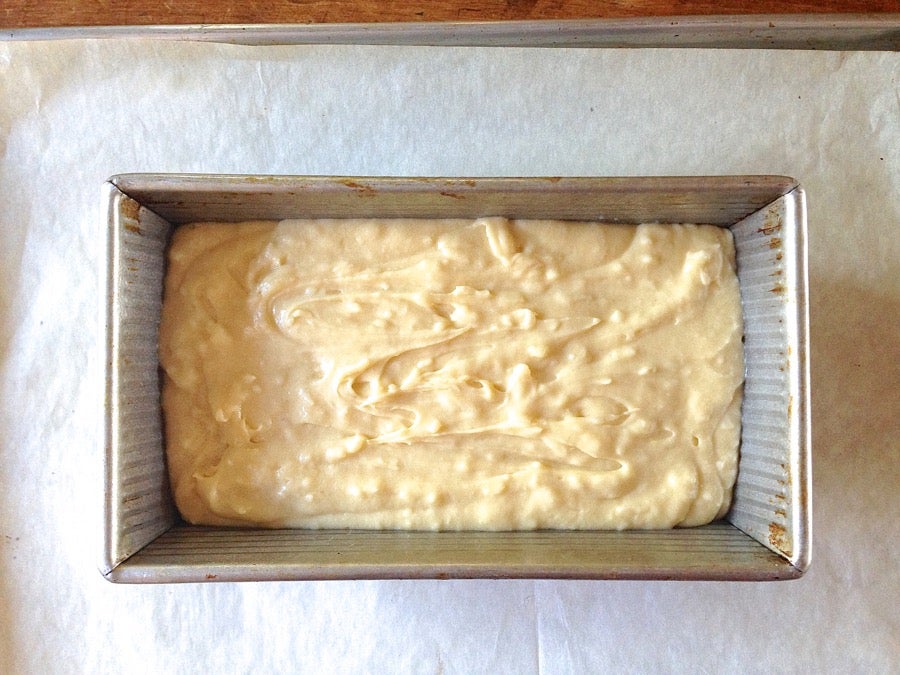 Scoop the batter into the prepared pan, smoothing its top surface.
Bake the cake for about 70 to 75 minutes, until a toothpick inserted into the center/top of the loaf comes out clean. Tent it gently with aluminum foil for the final 15 minutes of baking, if it appears to be getting too brown.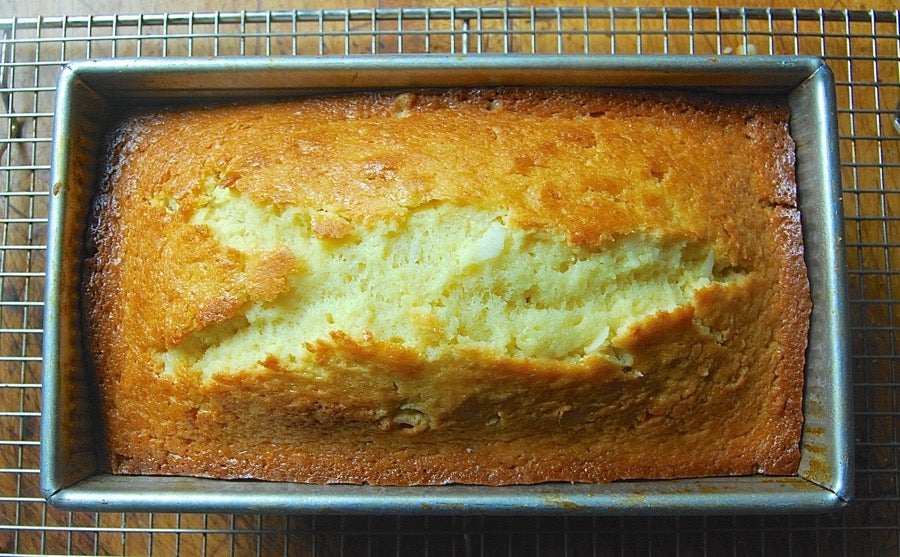 Remove the cake from the oven, let it cool in the pan for a couple of minutes, then turn it out onto a rack to cool completely.
Now for the frosting. Here's what you'll need:
8 tablespoons (113g) unsalted butter, at room temperature, at least 65°F
one 8-ounce package (227g) cream cheese, at room temperature
2 cups (227g) confectioners' sugar
pinch of salt
1/4 teaspoon coconut flavor, optional; for enhanced flavor
3/4 to 1 cup (64g to 85g) shredded coconut, sweetened
Mix the butter and cream cheese at low speed, until thoroughly combined. Gently beat in the sugar, salt, and coconut flavor, until smooth.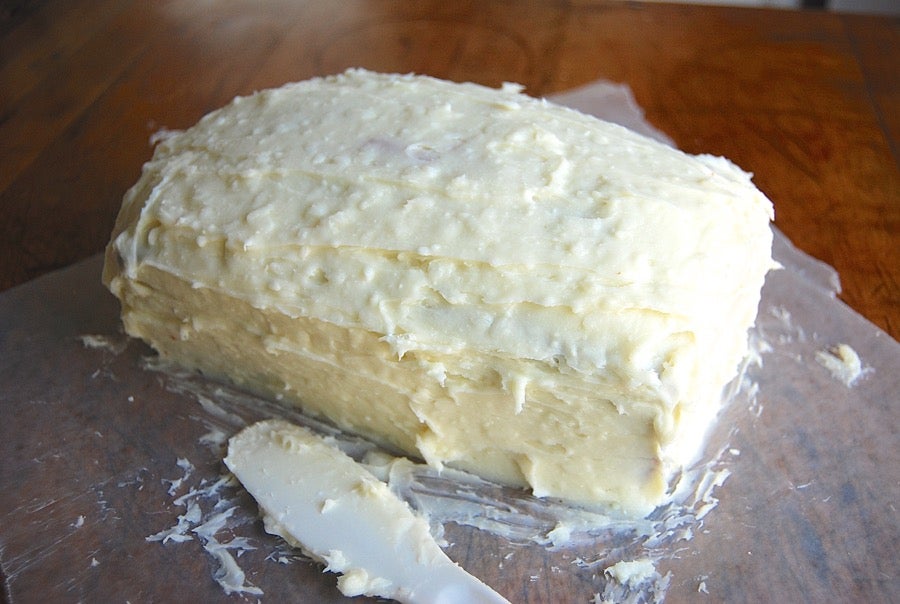 Place the cake on a large piece of waxed paper or plastic wrap. Spread the frosting all over the cake.
Why does that frosting look so lumpy? Because I thought I'd stir the flaked coconut right into the frosting – then I thought better of it. Testing, testing...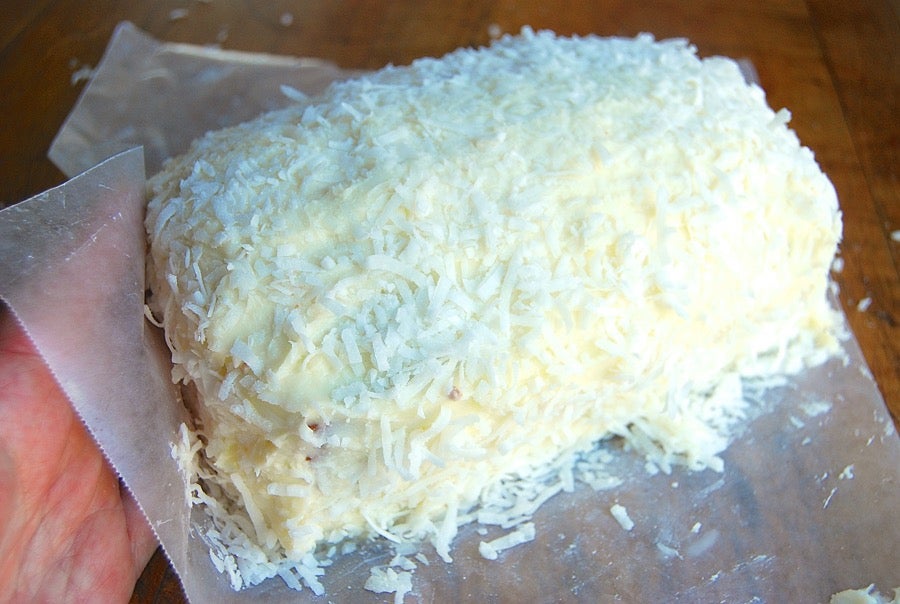 Pat the flaked coconut onto the frosting. This will be sticky work; use the paper or wrap to help. I've used a bit less coconut here; feel free to go overboard if you like!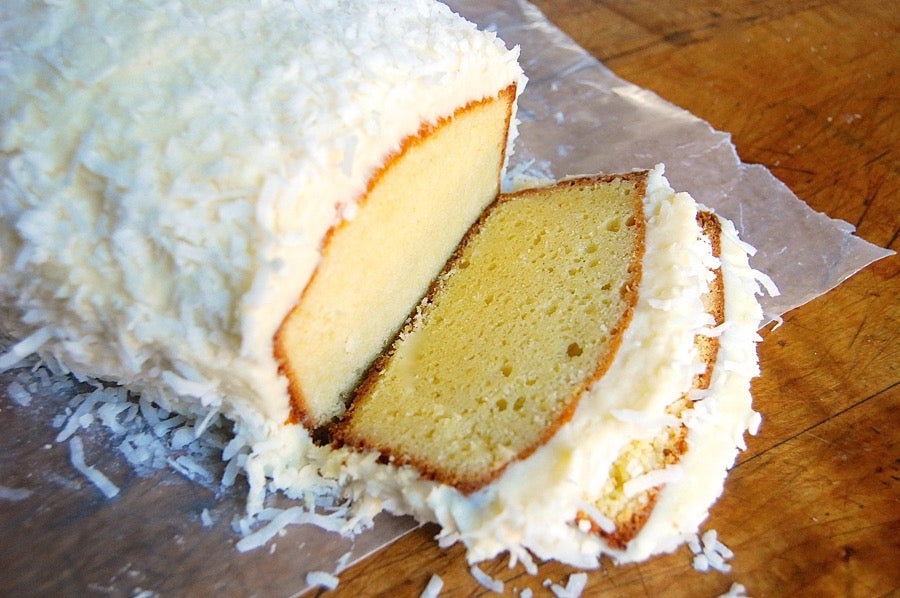 Serve the cake in 1/2" to 3/4" slices. Store any leftovers, well-wrapped, in the refrigerator for 24 hours; freeze for longer storage.
While it's counter-intuitive to refrigerate cake, it's clear from the photo of the cake box that HoJo's sold their cake frozen. And chilling this cake prior to serving isn't a bad thing, so long as you've wrapped it securely – it helps reduce the stickiness factor.
I love thinking back on family trips, with our regular meal stops at Howard Johnson's. Do you have happy road trip and/or Howard Johnson's memories? Share in "comments," below.
Please bake, rate, and review our recipe for Coconut Loaf Cake.
For more on Howard Johnson's and their iconic soft-sided grilled hotdog buns, read our post Buttery Hotdog Buns: a HoJo's Throwback.
Jump to Comments