Before iTunes, the word "app" on a menu meant the first course of a meal.
At their best, appetizers are an intriguing little nibble that lets your guests know they're in for any number of gustatory delights as the evening progresses.
Somewhere in the middle is their inherent usefulness, as they buy you some time as you're scrambling in the kitchen, wondering what on earth made you think that a scratch Mole Negro with its mile-long ingredient list was a good idea.
At their worst, they announce in food language, "Oh. It's you. How long are you here for?" Or, as my grandmother used to say, "Here's your hat. What's your hurry?" Just in case no one's told you the impression that canned cheese and stale crackers impart...
First, let's look at some of the simpler ways to make a good impression. Homemade crackers are a great start, and they can be made a week in advance.
If you're looking for a little more "pinky up" sort of thing, we have a wide variety of cheese puffs and breadsticks to get you started. Or, you can make one of my quick favorites. Moist and sweet Medjool dates are in season about now. I like to pit and stuff them with strong, savory flavors for an interesting contrast. This particular nibble wouldn't be out of place on the dessert tray with the port, either.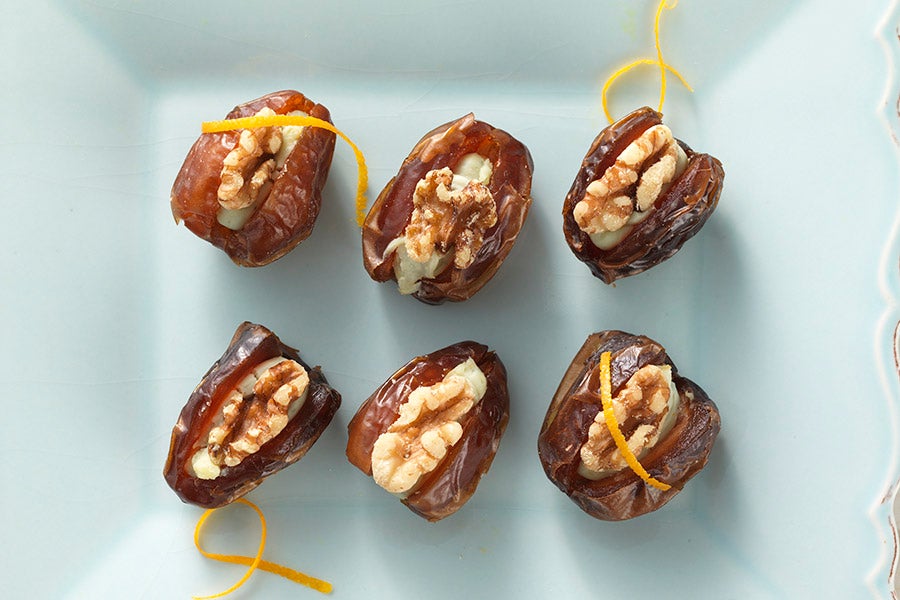 Here's all you have to do: combine equal amounts of softened cream cheese and room-temperature blue cheese with a bit of grated orange zest. I use my food processor to make the mixture smooth. Then spoon or pipe into the dates and top with a piece of walnut. That's it.
For the host or hostess willing to get their hands in the flour bin, you can do all kinds of wonderful things with our Fast and Easy Puff Pastry. From Cheese Twists to the Stovepipe Savory Pastries you see at the top of this post, it's a super-versatile starting point to all kinds of inspirations.
Last but not least, if you need one showstopper of an appetizer that can be made even weeks ahead, and will pretty much take care of the category until you call your guests to the dinner table, I give you this classic: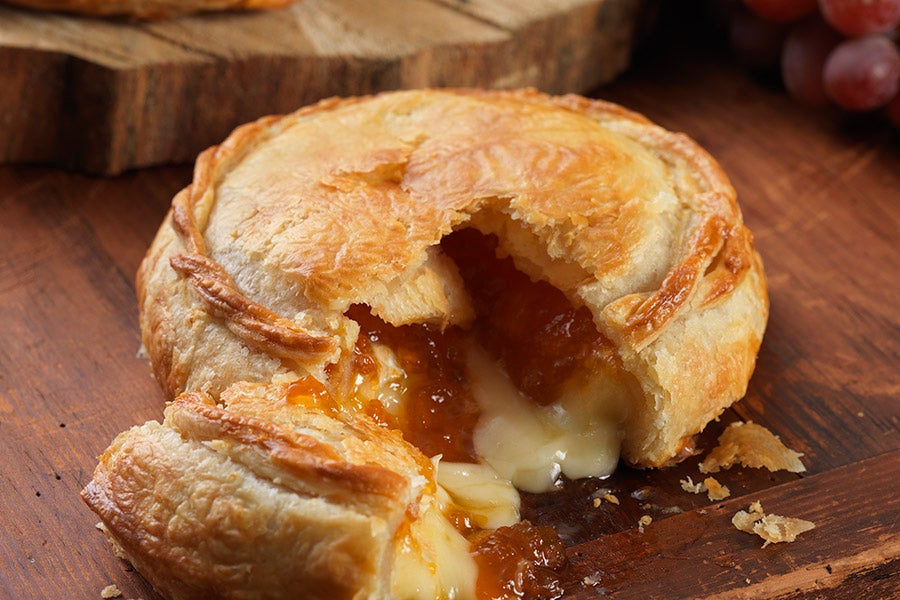 Brie baked in puff pastry. It's remarkably simple to do, using half the batch of our Fast and Easy Puff Pastry or (I won't tell) a sheet from the box at the grocery store.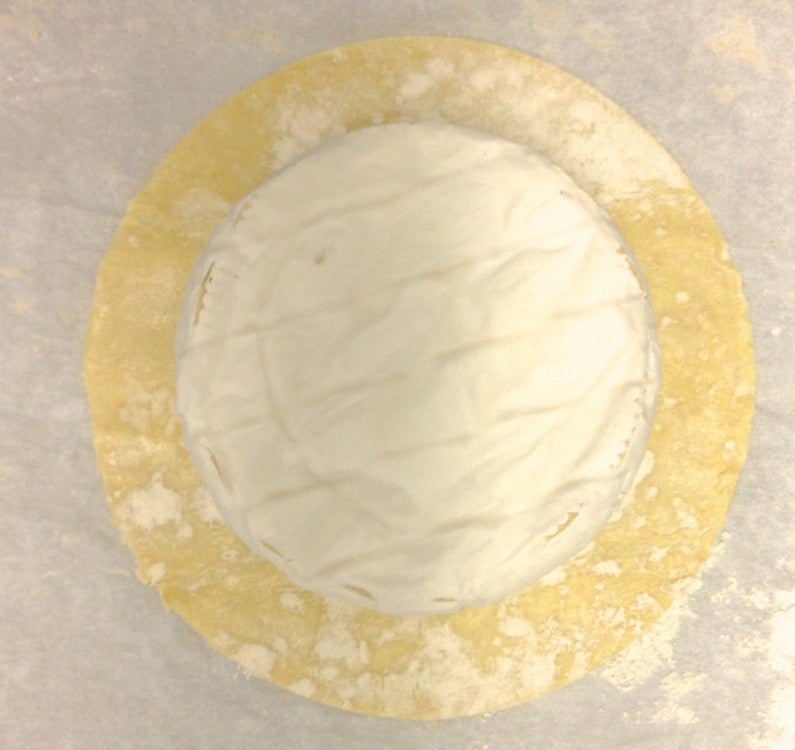 If you're using scratch puff pastry, roll half the batch to a 10" square. For store-bought, simply unfold a thawed sheet. Place a small wheel of Brie on the pastry. Cut a circle around it, leaving a 1" border of pastry.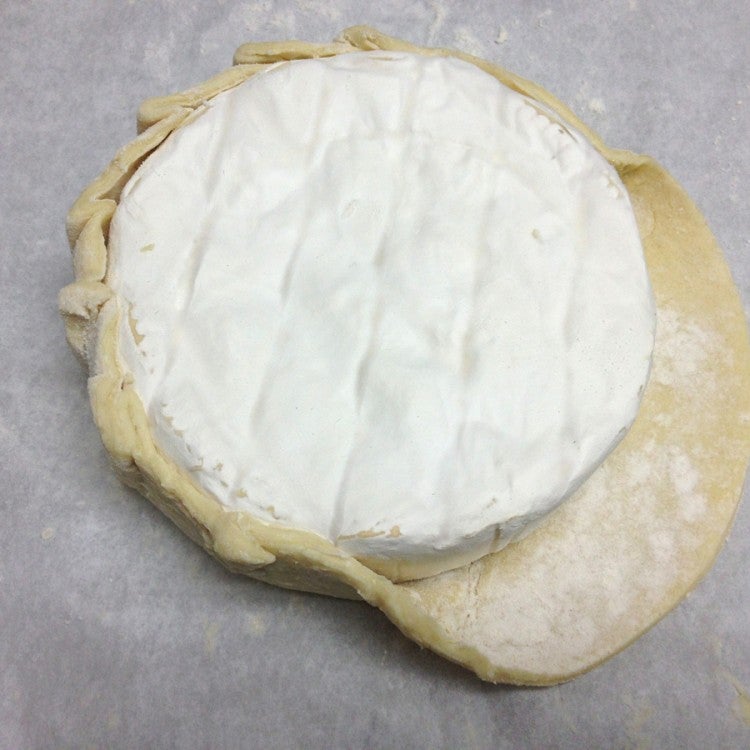 Fold the pastry up around the cheese, using some water to get your pleats to stay put.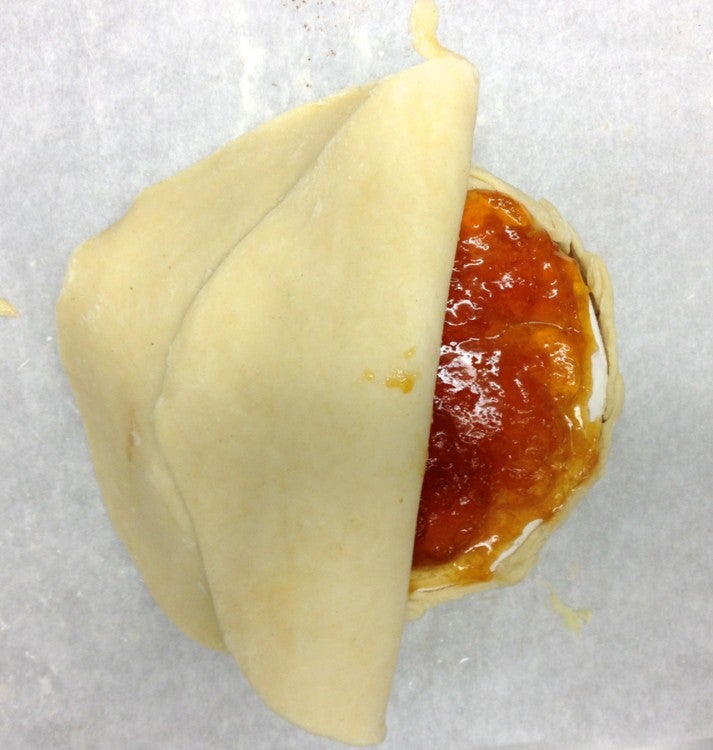 Spread apricot preserves over the cheese, then put another circle of pastry over top.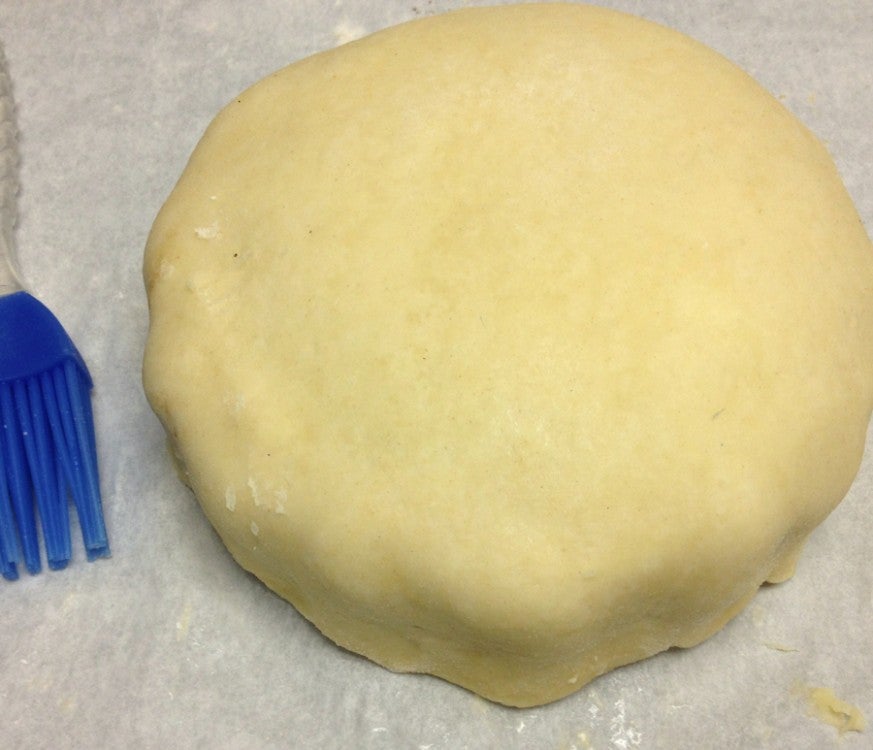 Smooth it down all around. Use scrap and trim from the pastry to create a nice design on top. I use egg substitute to "glue" them in place, and also as an egg wash over the whole pastry. At this point you can freeze your creation for up to 2 months.
When you're ready to bake the cheese, preheat the oven to 450°F. Place the cheese on a parchment-lined baking sheet, and bake for 25 to 28 minutes, until it's deep golden brown all over. If you're baking right out of the freezer, you may need to go another 5 or 10 minutes; just let the color of the pastry be your guide.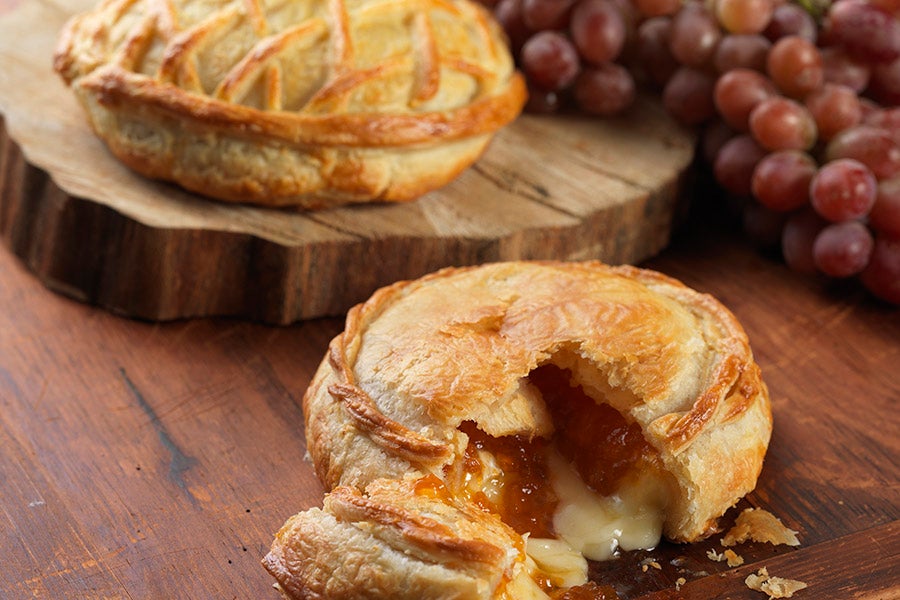 Remove the cheese from the oven and let it sit for 15 to 20 minutes before transferring it to a serving plate. Cutting into the wheel too soon is going to deliver a river of cheese and jam onto the platter. You're more looking for the slow lava flow you see above; this wheel had about 25 minutes of resting time.
All of these appetizers are good for making ahead; probably the second thing you should take care of after sending out the invitations! They'll be well received, and you'll get to spend time with your guests. Which is the point this holiday season, right?
Please read, bake, and rate our recipes for Stovepipe Savory Pastries and Baked Brie with Apricot Jam.
Jump to Comments