America's top three favorite pies are (drum roll, please):
Apple. Pumpkin.
And NOT cherry, blueberry, strawberry, lemon meringue, pecan, custard, shoofly, sweet potato, or key lime.
Nope, none of the above. As you've probably already surmised from looking at the mouthwatering picture, it's classic chocolate cream – "starter pie" (using a packaged graham cracker crust, chocolate instant pudding, and Cool Whip) for many a budding baker.
Yes, you can quickly and easily put together a chocolate cream pie using the ingredients mentioned above. It'll taste pretty good, too.
But to make a classic diner-style chocolate cream pie, the kind you see sitting under a cake cover on the formica counter at the local Dip 'n' Sip, you need to make a pie with REAL crust: tender, buttery rolled-out crust.
I recently did a pie demonstration for about 60 people gathered at Titcomb's, my favorite local bookstore (and one that every book-lover should visit at least once in their lives... it's that special a place).
I asked the roomful of people, "Who here makes  a good pie crust?"
Two people raised their hands. TWO out of 60.
Which leads me to believe, there are still a lot of you out there either 1) shunning homemade pie as too difficult due to that pesky crust, or 2) furtively unrolling a frozen/thawed store-bought crust into your pie plate.
If you fall into either of these categories, chin up. Throw your shoulders back, stride confidently into the kitchen, and get out your rolling pin. We're going to make a deep-dark Chocolate Cream Pie that'll make even the best diner's version pale (literally) in comparison.
Let's start with that stress-inducing crust. Stay calm and roll on! I'm going to walk you through this one step at a time, so even if you panic at the thought of making pie crust, trust me – this will be the best crust you've ever made.
That said – if you already make a darned good crust, simply use your own recipe and technique to make a single baked 9" pie crust. Feel free to skip all this crust stuff, and scroll down to the filling directions.
Start by whisking together 1 1/2 cups (181g) King Arthur Unbleached All-Purpose Flour and 1/2 teaspoon salt in a shallow bowl.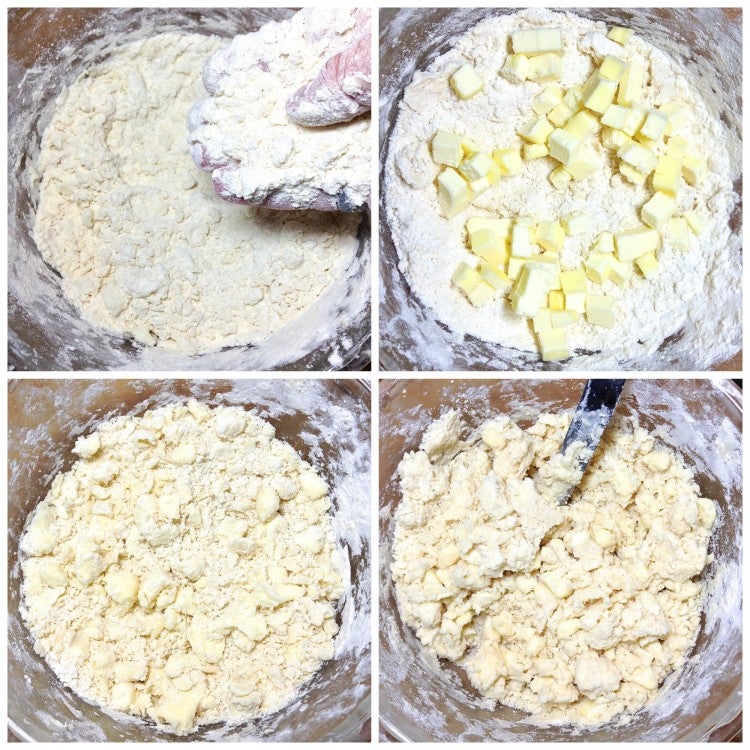 Work in 1/4 cup (46g) vegetable shortening. I recommend Crisco; the less expensive store brands I've tried just don't cut it. Work the flour and shortening until the mixture is in lumps the size of small peas.
Dice 4 tablespoons (57g) butter into 1/2" pieces, and work into the mixture until you have an irregularly lumpy mixture, with some pieces of butter the size of your fingernail.
Next, you're going to add ice-cold water. The amount will vary, depending on how accurately you measured your flour, and how humid it's been in your kitchen lately.
Start by sprinkling 2 tablespoons water over the crust, and tossing everything together to distribute the water; the mixture will come together in spots, and be dry in others. Add an additional 2 tablespoons ice water, tossing to combine; the lumps will become larger.
At this point you can continue to add water, a tablespoon at a time, until you can gather the dough into a cohesive ball.
But the flakiest crust demands you add the smallest amount of water possible; here's how to reach that goal.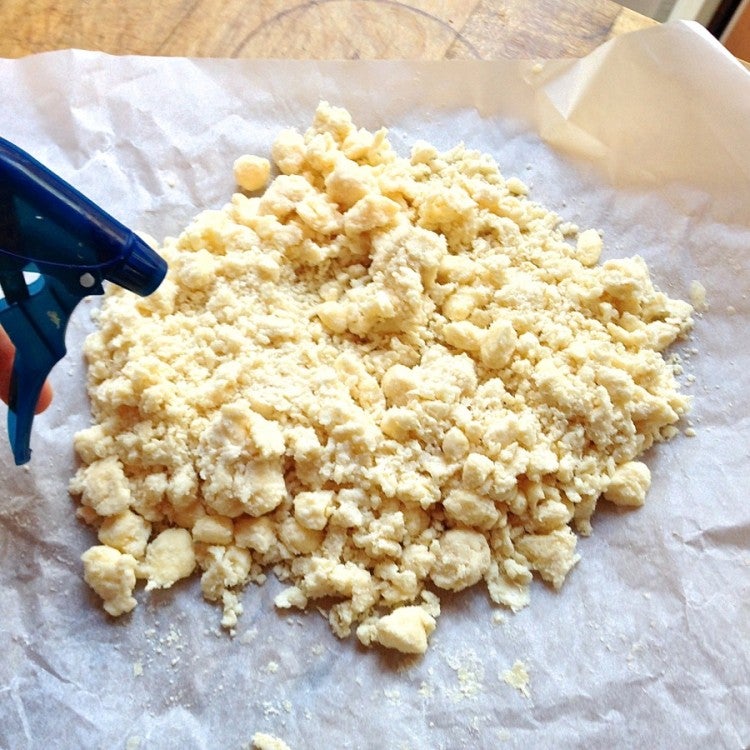 Transfer the crumbly mixture to a piece of waxed or parchment paper. There'll be dry spots in the pile. Use a spray bottle of water to lightly spritz these places; that way you'll add JUST enough water to bring the dough together.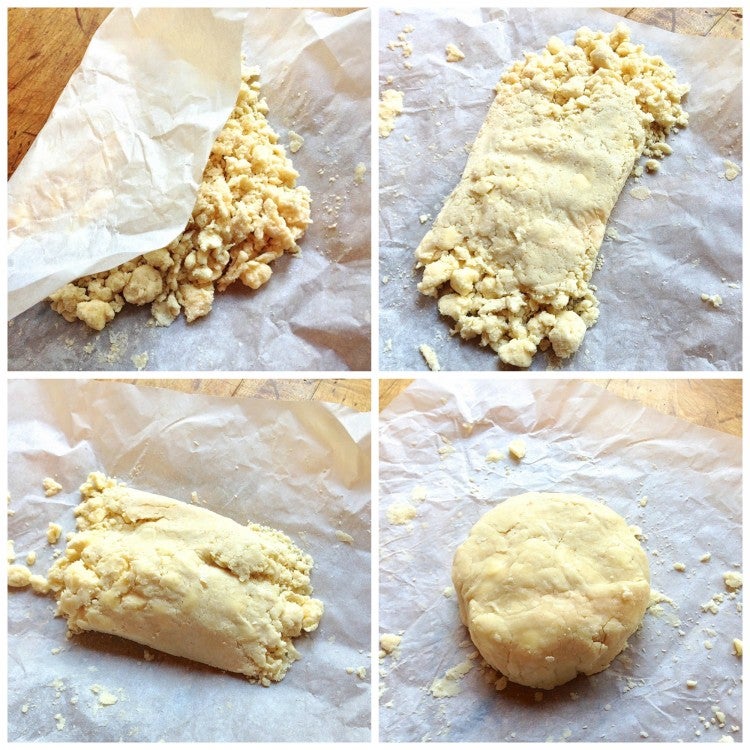 Fold the dough over on itself, first from one side, then the other, then from each end. There'll probably still be a few sandy bits breaking off; that's OK.
Pat the dough into a disk. Roll the disk on its edge, like a wheel, to smooth out the edges. This step will ensure your dough will roll out evenly, without a lot of cracks and splits at the edges later.
Wrap the dough in plastic or paper, and refrigerate it for 30 minutes, or for up to a couple of days. This cold rest does two things: it relaxes the gluten in the flour, which can potentially make crust tough; and it gives the flour time to absorb the water, making it easier to roll.
Next: shaping and baking the crust.
Preheat the oven to 400°F. Lightly grease a 9" pie pan that's at least 2" deep. This will make serving the pie easier after it's finished.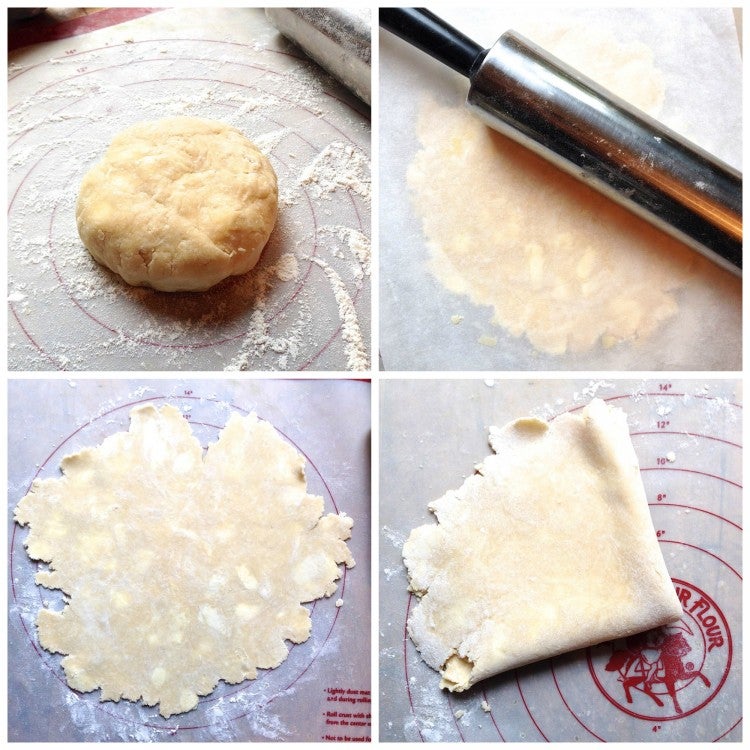 Take the crust out of the fridge and unwrap it. If it's been chilling longer than 30 minutes, let it rest at room temperature for 10 minutes or so, until it starts to become pliable.
Roll the crust into a 13" circle. I like to roll atop a lightly floured silicone mat, to contain the "mess," but your counter top is fine.
I also like to put a piece of parchment paper atop the crust as I roll; it helps prevent the crust sticking to the pin, and also cuts back on the amount of flour I have to sprinkle on the crust to keep it from sticking. The more added flour – the drier/tougher the crust.
Well, I still ended up with ragged edges, didn't I? Some crusts are more cooperative than others! No worries; all will be well once I crimp the edges.
Fold the crust in quarters...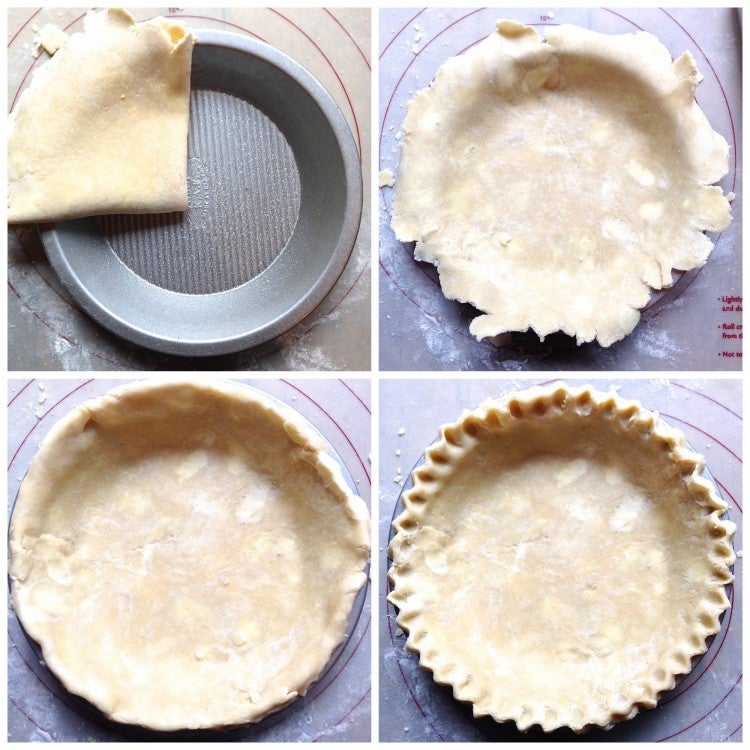 ...and set it into the greased pan, with the corner in the center of the pan. Unfold it, without stretching; simply settle it gently into the pan. If you've ever had a crust puddle down into the bottom of the pan as it bakes, one big reason is that it was stretched into the pan, rather than simply eased in.
Fold under those ragged edges, and push them into a tall rim. Use the thumb and pointer finger of one hand, and one finger of the other hand, to make a nice crimp.
Is your oven at 400°F? Let's get the pie ready to bake.
Prick the bottom of the crust all over with a fork; this will help prevent steam from collecting underneath and forming bubbles.
Put the lined pie pan in the refrigerator to chill for 10 minutes. Again, this relaxes the gluten, to alleviate toughness; it also chills the fat in the crust, which helps promote flakiness.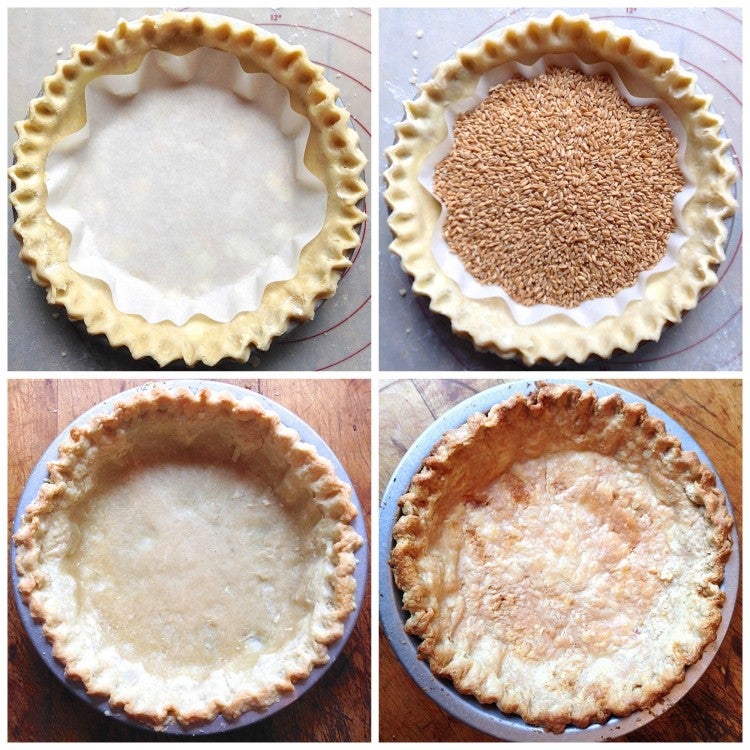 Line the pie with a round of parchment or aluminum foil; I find a 9" parchment cake round works nicely.
Fill the parchment with something heavy and oven-safe; I'm using wheat berries here. Many people use pie weights, uncooked rice, or dried beans. I recently saw a tip to use pennies, as they conduct the heat nicely; I'll have to try that sometime.
Bake the crust for 20 minutes. Remove it from the oven, and gently remove the foil or parchment and weights. Return the crust to the oven for 10 to 20 more minutes, until it's golden brown all over. If the edges of the crust start becoming too brown, cover them with a pie shield, or strips of aluminum foil.
Remove the crust from the oven, and let it cool while you make the filling.
Notice despite all my care the crust still shrunk a bit; but at least it didn't slide down the insides of the pan. Chocolate cream filling will cover a world of cosmetic mishaps!
Ah, yes, the filling...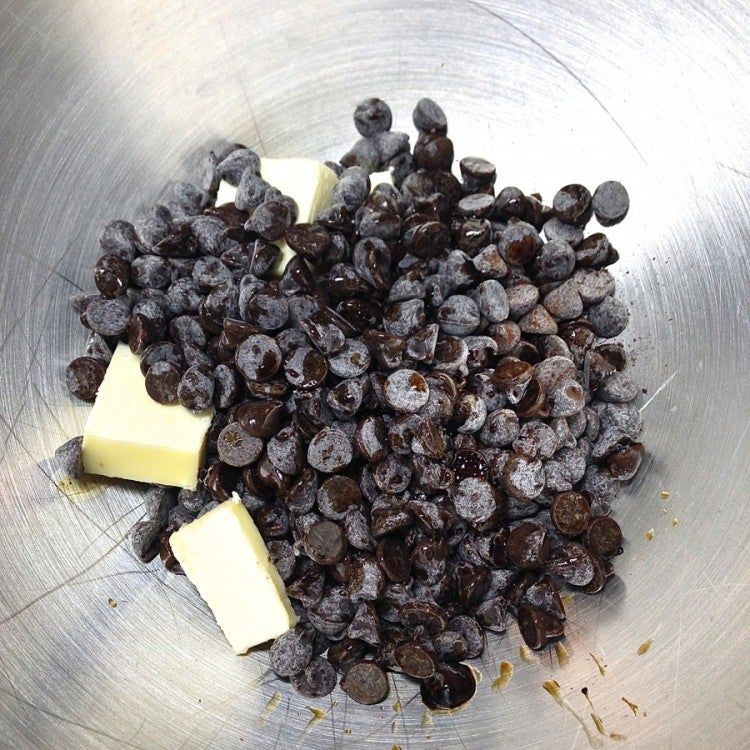 Put 2 tablespoons unsalted butter, 1 1/3 cups (227g) chopped semisweet or bittersweet chocolate or chocolate chips, and 1 teaspoon vanilla extract in a medium-sized mixing bowl. Set it aside, for now.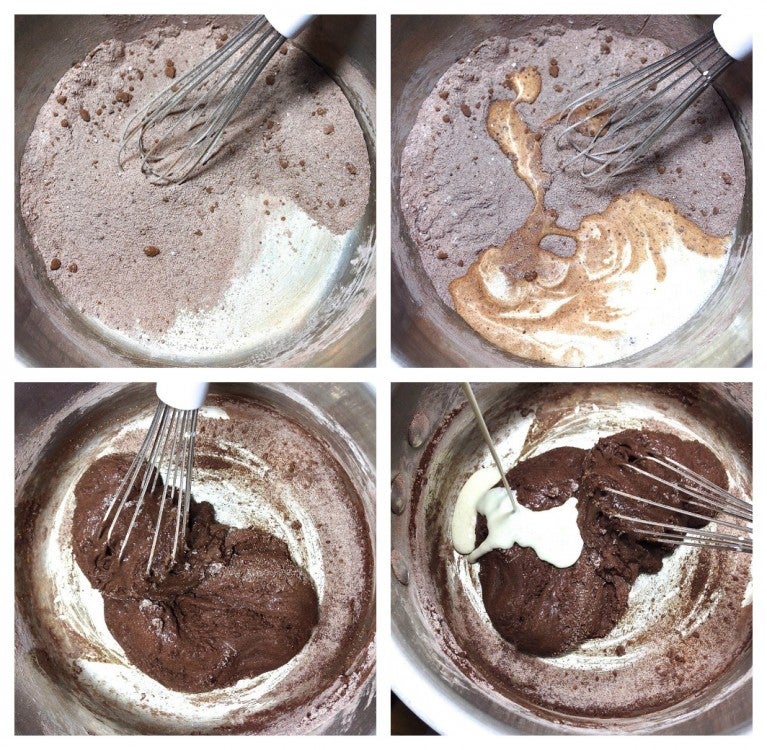 In a medium saucepan off the heat, whisk together 2/3 cup (131g) granulated sugar, 3 tablespoons (21g) cornstarch, 2 tablespoons (11g) unsweetened cocoa powder, 1 teaspoon espresso powder (optional; for richer chocolate flavor), and 1/8 teaspoon salt.
Whisk in 1/4 cup (57g) cold heavy cream until the mixture is smooth, with no lumps. Repeat with another 1/4 cup (57g) cream; the mixture will become smoother.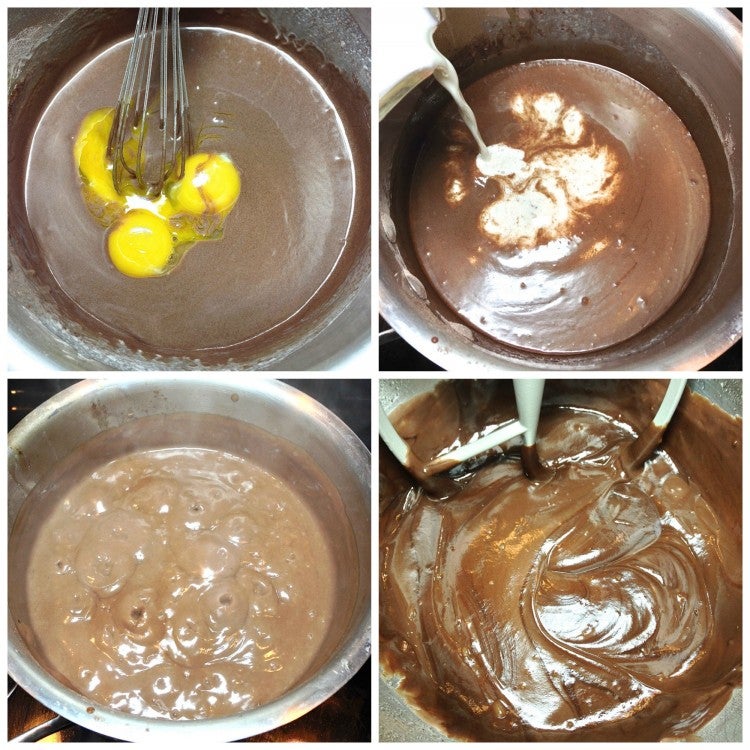 Whisk in 3 large egg yolks.
Place the saucepan over medium heat, and gradually whisk in another 1/2 cup (113g) heavy cream, and 2 cups (454g) milk.
Should you use skim milk, 1%, 2%... whole? Whatever you like; the higher-fat the milk, the richer the filling.
Bring the mixture to a boil, whisking constantly as it thickens; boil for 1 minute.
Remove the pan from the heat and pour the mixture over the reserved chocolate and butter in the mixing bowl. Stir until the chocolate is melted and the mixture is smooth.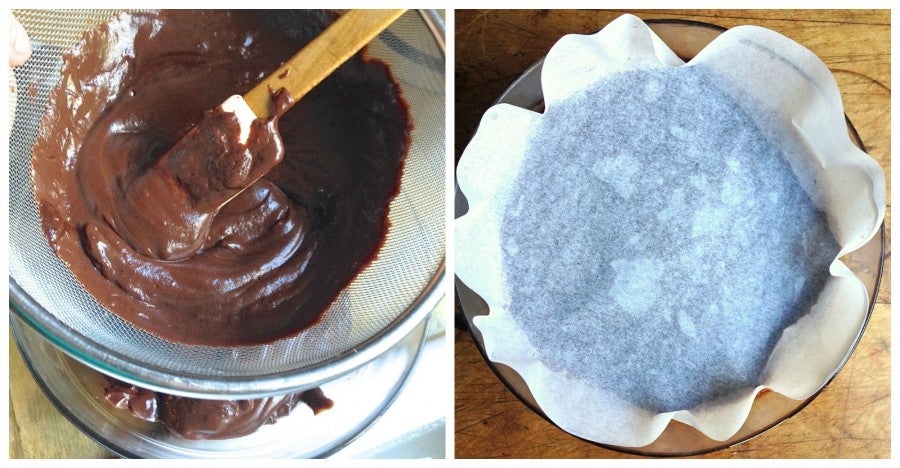 Push the filling through a strainer into a bowl, to remove any lumps. You can use the back of a ladle, a flexible spatula, or a wooden spoon to stir it through the strainer. Scrape the underside of the strainer  a few times with a clean spatula to help the process along.
Place plastic wrap or buttered parchment paper on the surface to prevent a skin from forming, and chill thoroughly.
Stay with me here; this is a long process, but SO worth it – and we're nearly there.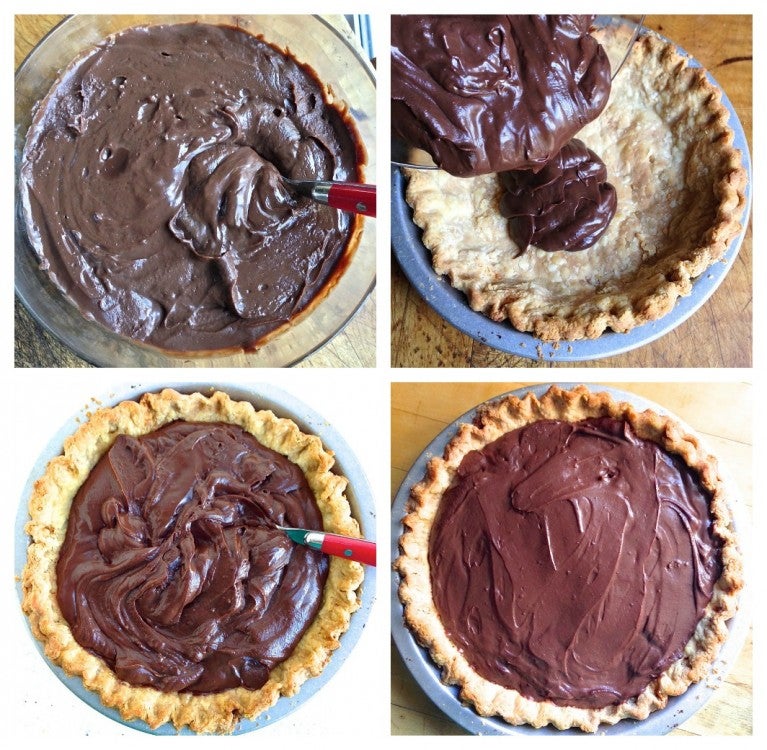 Transfer the thoroughly cooled (and thickened) filling to the baked pie crust. Level the top as best you can with the back of a spoon or an offset spatula.
You can serve the pie immediately. But I find it becomes nicely sliceable if you either refrigerate it overnight, or place it in the freezer for 30 minutes or so before serving.
You can also simply chill it in the fridge until you're ready to serve, up to several days. The closer to serving time you assemble the pie, the crispier the crust will be; but it's totally up to you and your time frame.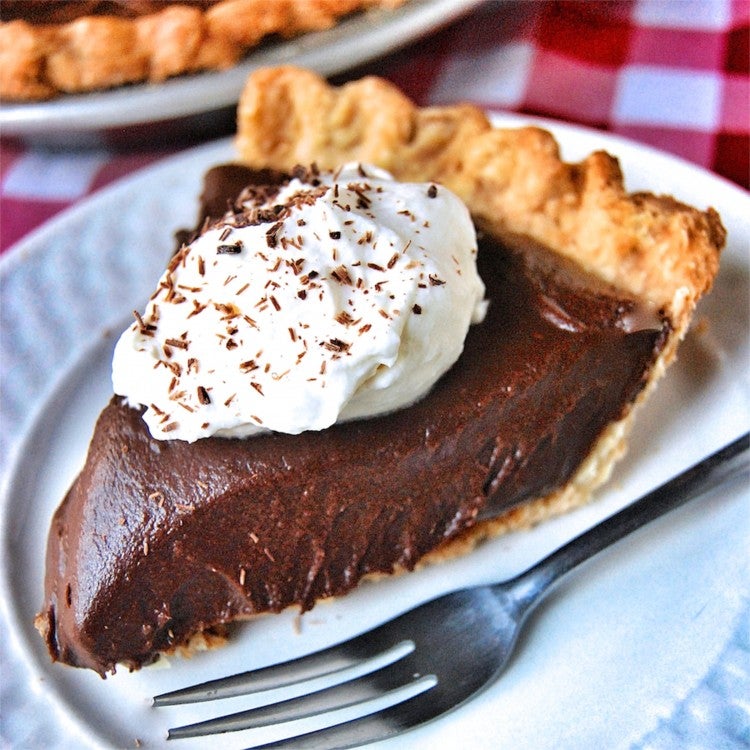 Now, isn't this just a thing of beauty and a joy forever? Yes, it's more involved than whipping up a pan of brownies; but the destination is totally worth the journey.
And, if you're not an expert pie crust baker, think how much progress you've just made!
The recipe for this pie calls for topping the entire pie with whipped cream before serving. I prefer to top individual slices with whipped cream; that way, if the whole pie isn't consumed in one sitting, you don't have to contend with whipped cream that gradually settles and melts into the pie as it sits in the fridge.
Please bake, rate, and review our recipe for Chocolate Cream Pie.
Jump to Comments