Blueberry Cream Cheese Rolls
There's no blue Monday here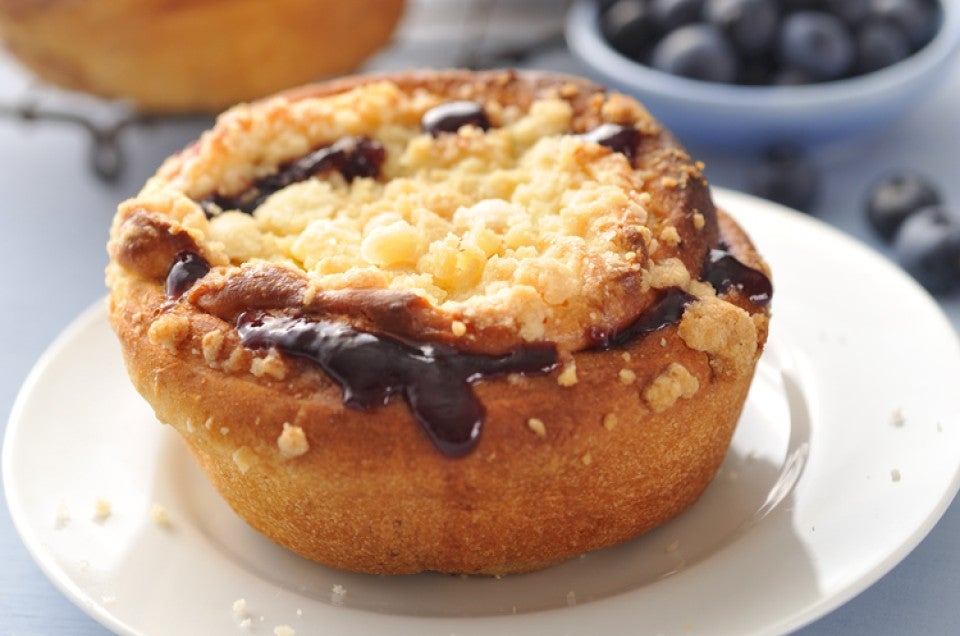 Beneath your bowler brim the world's a simple song,
A lovely lilt that makes you tilt your nose,
Get out your slickers, your flannel knickers,
Your red suspenders and hose,
For there's no blue Monday in your Sunday clothes!
Yes indeed, Dolly Levi, when you're dressed like a dream your spirits seem to turn about. It's just as true in the kitchen as it is in Yonkers, NY. When you take a baked treat that you love and dress it up just a bit it can really lift you up and change how you're feeling about life and livin'.
When my daughter graduated from high school this spring and performed in her last play, it didn't occur to me at the time that Hello, Dolly was in fact a wonderful way to transition to a whole new world.
Many of the kids in the class had been together since they were in my pre-school class at age 3. While we could have lost ourselves in the blues of leaving each other, instead the kids were singing about getting out into the world, and reawakening, and new beginnings. Looking back, it was an amazing message to have in their lives during a tough transition period.
I can honestly say the energy and sheer joy of the students made this the best performance we've ever seen on that school stage, and we've seen some spectacular shows over the years.
So do away with any blues we may be feeling today and make some blues we can use. Blueberry Cream Cheese Rolls are ready for their starring roles. (Did you see what I did there? Rolls, roles. I'm a wit, I am.)
Let's make a batch before the parade passes us by and bring happiness and joy to our kitchens.
remember, you can click anywhere on the picture to enlarge it
Making these rolls doesn't have to become a Broadway production; there are quite a few steps but they're all easy. Check out the steps here, starting with the top left.  Make a batch of dough. Make the filling*, spread it on the dough, cut up the rolls, make the cheese topping, pipe it and smooth it. Make the streusel, sprinkle, bake, and enjoy.
If that was enough to get you started, you can skip to the recipe. If you want to see a bit more up close and personal, come along as we make Blueberry Cream Cheese Rolls.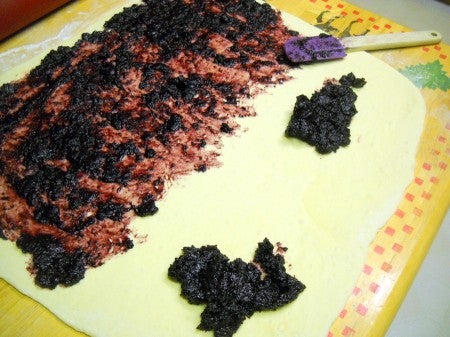 Start with your favorite sweet bread dough, rolled out to approximately 12" x 18".  You'll need approximately 2 cups of blueberry filling or jam.  
Taking a hint from sushi masters, place some of the filling in each of the 4 corners. You then spread out each section to the sides and center and before you know it, the whole surface is covered without any tugging or pulling of the dough.
Roll the dough up cinnamon bun-style, working from the long side and rolling towards yourself.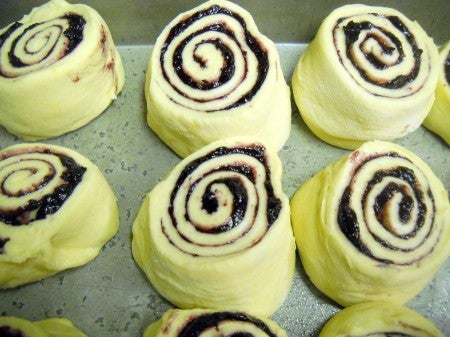 Using a sharp knife, dental floss, or quilting thread, divide the rolled log into 12 equal pieces. Place the pieces slightly touching in a well-greased 9"x 13" x 2" pan.
Cover with plastic wrap and set aside to rise for 40 minutes.
By the way, I hope no men are trying to make this recipe because you know...
O yes it takes a woman,
A fragile woman,
To bring you the sweet things in life!
OK, OK stop protesting – I was just kidding!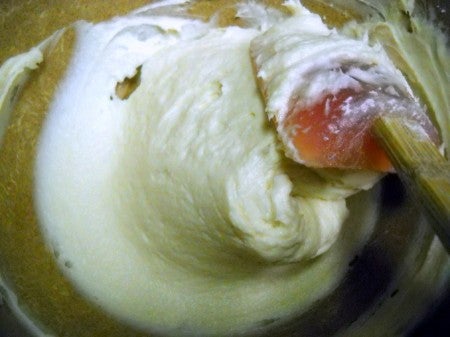 While the dough is rising prepare the cream cheese topping. Mix together 8 ounces soft cream cheese, 3/4 cup confectioners' sugar, 1 tablespoon flour and 1 teaspoon vanilla. Stir until smooth.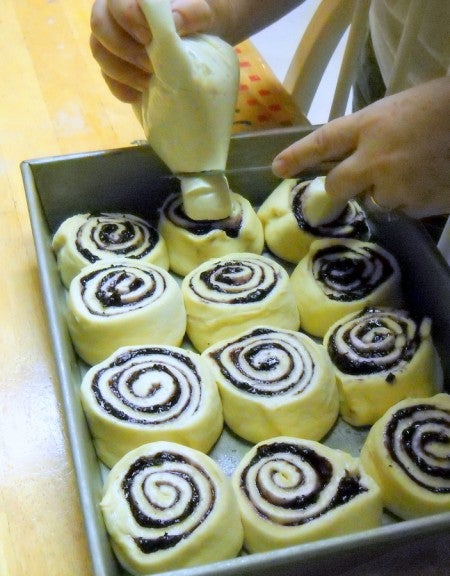 Using a piping bag or zip-top bag with the corner cut off, pipe large, marshmallow-sized daubs of cream cheese topping onto each roll. Using a knife to cut each portion off is helpful.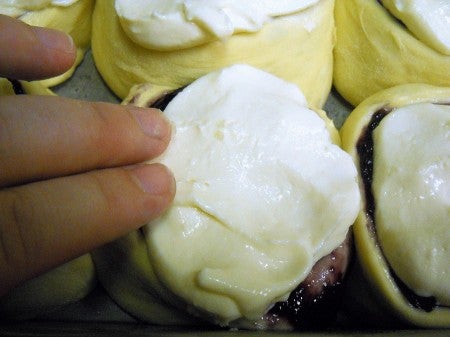 Wet your fingers with cold water and gently smooth out the filling so that the top of the bun is fully covered.
So, why not put the topping on the rolls at the beginning of the rise?
Sweet doughs have a harder time rising than plain dough, and adding a heavy layer on top would really slow them down even further. Give them a chance to get started, then add the topping shortly before baking.
Just before sending the rolls to the oven, make the streusel topping. White streusel topping is really easy to make. Here I've used 1 1/4 cups flour, 1/2 cup butter, and 1/2 cup granulated sugar, all whirled together in my trusty food processor.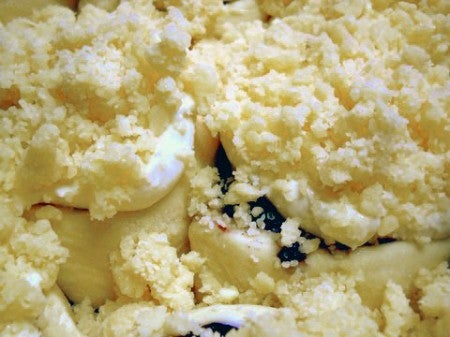 Sprinkle the crumb topping evenly over the whole pan full of rolls. Don't worry if some falls between; it will all bake together beautifully.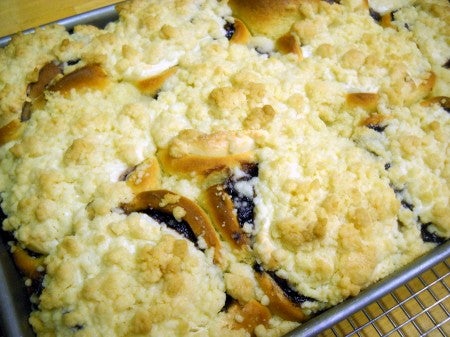 Bake the rolls in a preheated 350°F oven for 45 to 55 minutes. The cheese filling will puff up, the streusel will turn golden brown, and what little of the rolls you can see will be deep brown in color.
Set the pan to cool slightly on a rack before serving. I like to serve these just barely warm or at room temperature. They're definitely a KFJ (knife and fork job) dish, with a tall glass of milk on the side.
So, say so long, dearie, to feeling dreary, and go out there to conquer the world.
And... jazz hands!
I hope you've enjoy my tribute to Dolly. I'd love it if you took a moment to add a comment about your favorite musicals or plays. What show tunes lift your spirits when you're feeling down and out? Bonus points if you've been in the show!
Please read, bake, and review our recipe for Blueberry Cream Cheese Rolls.
Jump to Comments