It's also well-known that the cinnamon-y smell of an apple pie in the oven is a wildly effective home-sales tool; brokers often advise those having an open house to throw a pie into the oven just as prospective buyers start knocking on the door.
Bottom line: who can resist the smell and flavor of cinnamon? Particularly top-quality Vietnamese cinnamon, whose higher-than-normal oil content gives it over-the-top flavor, and the ability to thoroughly permeate anything to which it's added.
Think apple desserts. Snickerdoodles. Coffeecake. And, of course, these tender, buttery muffins. With cinnamon in their topping; rich, thick cinnamon filling, plus cinnamon chips in the batter, they're a veritable cinnamon-y symphony.
Want to bring every guy in the house into the kitchen? Bake up a batch of these babies, and see what happens!
Preheat your oven to 400°F. Line a 12-cup muffin pan with cupcake papers, or grease it lightly.
Let's start with the streusel topping and the filling.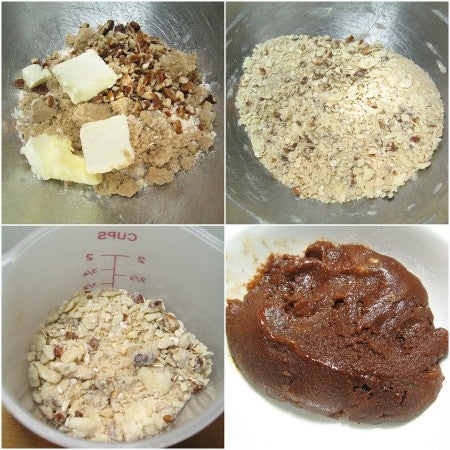 Mix the following ingredients until crumbly:
1/3 cup brown sugar, packed
1/4 cup diced pecans
1/4 cup rolled oats
1/2 cup (2 ounces) King Arthur Unbleached All-Purpose Flour
3 tablespoons soft butter
I like to put topping into a measuring cup once it's mixed, so I can easily see how much I should sprinkle onto each muffin. Looks like just about 1 1/2 cups topping – which would be about 2 tablespoons topping per muffin.
Now, how come there's no cinnamon in the topping, if these muffins are supposed to be all about cinnamon? Well, there can be, for sure; add 1/2 teaspoon if you're a true cinnamon devotée. But I find the "plain" streusel is a nice counterpoint to the rest of the cinnamon-rich muffin.
You have two choices for filling.
First choice: 1/2 cup Baker's Cinnamon Filling combined with 3 to 4 tablespoons water, enough to make a smooth paste. This makes a rich filling, heady with aromatic Vietnamese cinnamon; think the filling you find in top-quality cinnamon buns.
If you don't have any cinnamon filling in your pantry, give it a try sometime; you'll fall in love with it, I promise. But in the meantime, you can make an approximation by mixing 3 tablespoons melted butter, 1/2 cup brown sugar, and 1 1/2 tablespoons ground cinnamon. That's it; don't add any water.
Next up: the batter.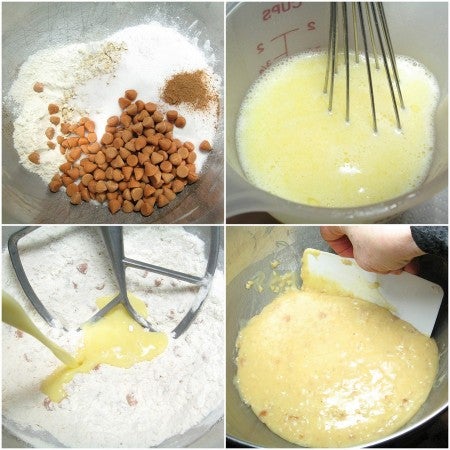 Combine the following in a large bowl:
1 3/4 cups (7 1/4 ounces) King Arthur Unbleached All-Purpose Flour
1/2 cup rolled oats, old-fashioned or quick
2 tablespoons cornstarch
3/4 cup granulated sugar
1 tablespoon baking powder
1/2 teaspoon salt
1/4 teaspoon ground nutmeg
1/2 cup cinnamon chips or butterscotch chips
In a measuring cup or bowl, whisk together the following:
1/2 cup (8 tablespoons) melted butter
3/4 cup lukewarm milk
2 large eggs
Add the liquid mixture to the dry, stirring just until combined. Be sure to scrape the sides and bottom of the bowl to incorporate any sticky residue.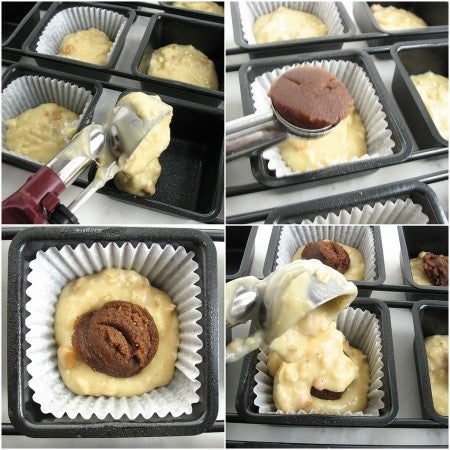 Divide half the batter evenly among the muffin cups. A heaped tablespoon cookie scoop (photo, top left) is just about the right amount for each cup.
Dollop 2 teaspoons cinnamon filling onto each muffin; a teaspoon cookie scoop, filled level, works well here.
Rather than drop it onto the batter in a big lump, as I did, use the teaspoon scoop as a measure, then crumble the filling over the surface of the batter. That way, you'll get more edge-to-edge coverage.
Top the muffins with the remaining batter, spreading it to cover the filling if necessary.
Notice the square muffin pan I'm using here; it's slick – both literally, and figuratively. I lined some of the cups with paper liners, to see how a round liner would do in a square cup. The answer is: just fine.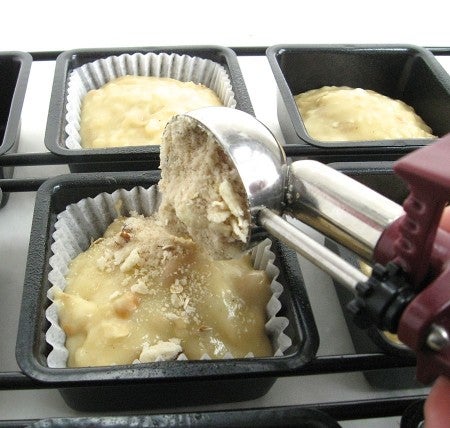 Sprinkle generously with the topping, pressing it in lightly.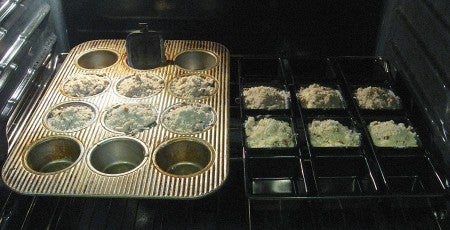 Bake the muffins for 20 to 25 minutes...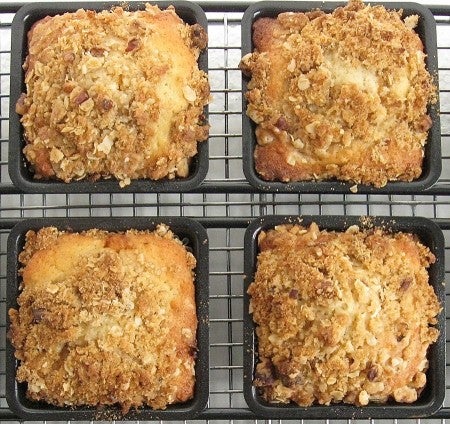 ...or until they're golden brown. Remove the muffins from the oven, and wait 5 minutes before transferring them from the pan to a rack to cool.
OK, hold on – what's with the other muffin pan in the oven?
Just another test I was doing. Is the capacity of this square pan the same as a standard muffin pan? Yes.
And, do paper liners make a difference? In the standard pan, liners make the muffins a little bit easier to get out of the pan; they don't make any difference in the square pan.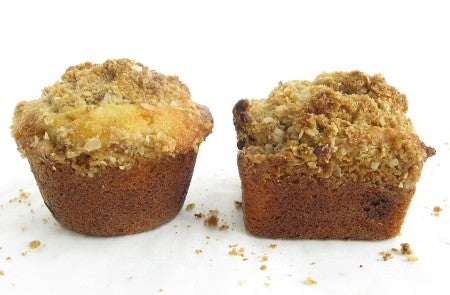 And here they are, in two delicious incarnations.
You know what they say – it's hip to be square!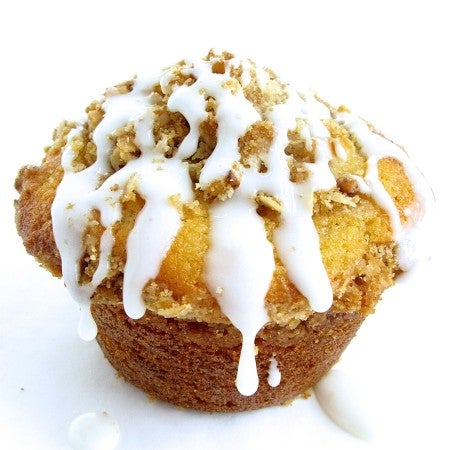 While it's totally optional, a drizzle of icing atop the cooled muffins is a felicitous final touch. Mix 2/3 cup confectioners' sugar, a pinch of salt, and 1 tablespoon milk, or enough to create a pourable glaze. Spoon/drizzle it over the cooled muffins.
Please read, bake, and review our recipe for Stuffed Cinnamon Streusel Muffins.
Jump to Comments