I hope the spring berries have started to arrive in your store, or better yet have started to blossom in your garden.
Why? Because we've been baking a plethora of berry beauties to share with you all summer long, and this is just the beginning.
Online the other day, I came across a photo of 100 small rocks painted to look like strawberries. Apparently the idea is to put them in your strawberry beds before your fruit comes in – then the hungry little critters that invade your garden will try to nibble the rocks, decide they're inedible, and leave your berries alone for the rest of the season.
I'm guessing it must work really well, because even I was hankering for fresh berries while looking at a handful of stones. Berry love is powerful once it gets a hold on you, and this Strawberry-filled Angel Food Cake is a lovely way to calm your cravings.
In my search for a light and fluffy angel food cake, I came across a few recipes that used confectioners' sugar in addition to  granulated sugar. I thought that was a very interesting approach, for a few reasons.
First, granulated sugar can be a little harsh on the egg white foam, popping larger bubbles and ruining your hard work in whipping them.
Second, confectioners' sugar contains a bit of cornstarch to prevent clumping. A little bit of added cornstarch can help add structure to the cake batter so that you end up with a higher, loftier cake.
So, off to the kitchen to try some tests.
Well, the first recipe I tried was confectioners' sugar only, no granulated at all. We all found it heavier than expected, and a bit gummy. Too much cornstarch seemed the likely culprit.
The next trial was equal parts granulated and confectioners' sugar, added while whipping the egg whites. Not bad, but not quite as lofty as I was looking for.
Finally, after a few more cakes, this version was a real winner. Granulated sugar in the egg foam, with a touch of Original Bakewell Cream for a stabilizer, plus confectioners' sugar and flour folded in. In all honesty, I've never seen a higher rising angel food cake, even after the normal shrinking during cooling.
Such a high-rising cake begged for fruit filling. Fresh berries, a touch of cream and sugar, and a little whisking makes a light, mousse-like confection that freezes beautifully.
I can barely stand to wait, so let's get started making a Strawberry-Filled Angel Food Cake.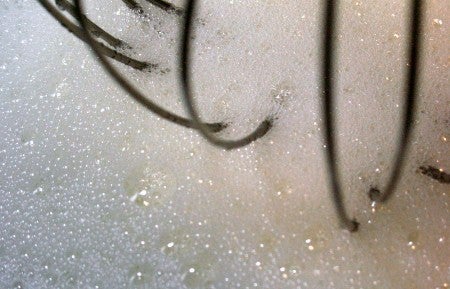 In the bowl of your mixer, place
12 large (425g) egg whites 
1 1/2 teaspoons Original Bakewell Cream or cream of tartar
Whip on MEDIUM speed for 2 to 3 minutes. By using medium speed you'll create smaller bubbles, which will in turn make a more stable egg-white foam.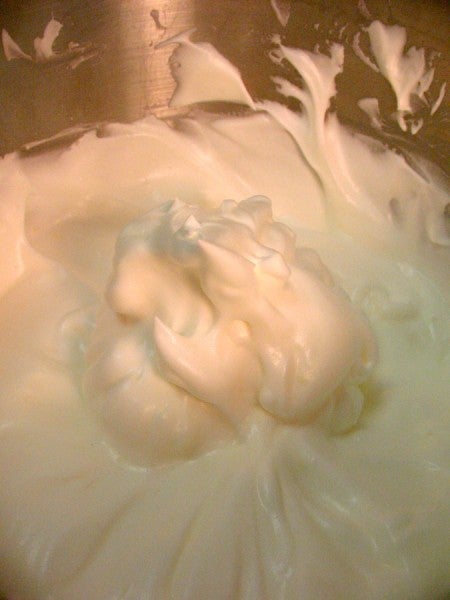 Slowly add 1 cup (198g) granulated sugar. The finer the grind of sugar, the better. Finer sugar will dissolve more easily, keeping your foam fluffier.
Increase the speed to high and whip for another 5 minutes, or until the foam is stiff and glossy, but not dry. Shaving cream is a good comparison.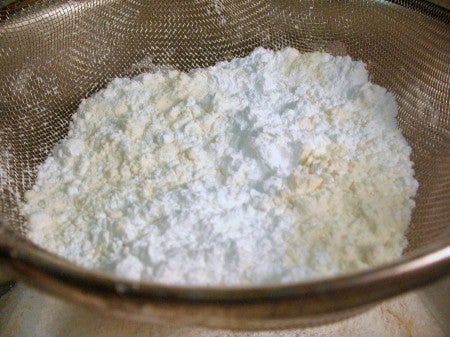 Sift together:
1 cup (120g) King Arthur Unbleached All-Purpose Flour
1 1/2 cups (170g) confectioners' sugar
Sifting will take care of any lumps of flour or sugar, and lighten up the dry ingredients.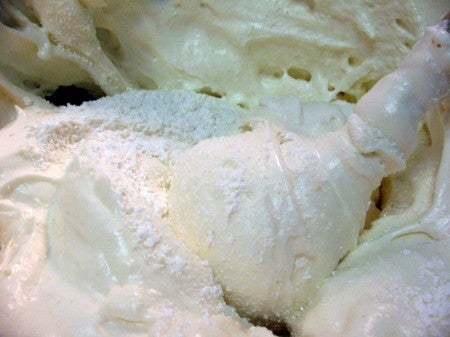 Sprinkle 1/3 of the dry ingredients over the egg-white foam. Add 1 teaspoon vanilla and 1/4 teaspoon salt. Fold together until only a few streaks of flour remain.
Repeat twice more with the dry ingredients, until all the flour/sugar is incorporated.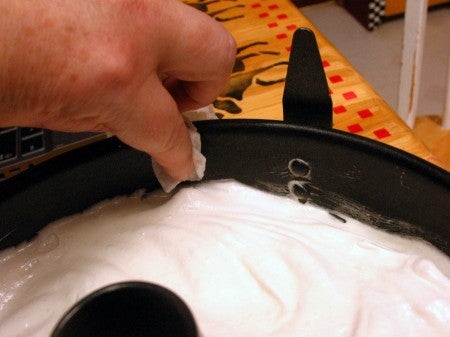 Place the batter in an ungreased 10" angel food pan. Be sure to wipe up any spills and splatters on the pan so that your batter has a smooth surface to cling to as it rises.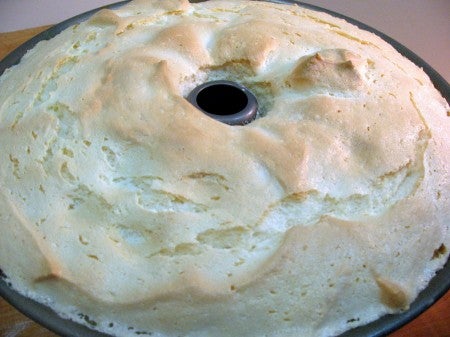 Bake in a preheated 325°F oven for 40 to 45 minutes. This is a very high-rising cake, so be sure there's no oven rack above the cake for it to cling and bake onto. Ask me how fun THAT is to clean up. NOT.
Cool the cake upside down over a bottle neck, or using the pan's "feet," for 2 hours. Remove the cake from the pan and place it in the freezer for 2 more hours, or up to overnight.
Baking this cake in the morning will give it plenty of time to chill, so you can fill and assemble in the early afternoon, then serve after dinner.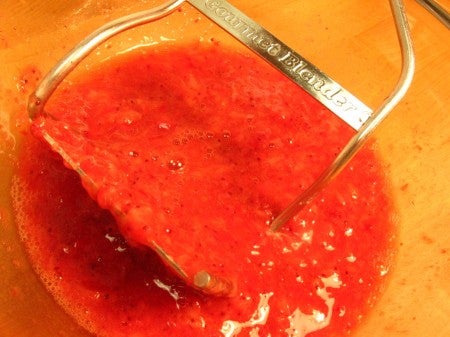 About an hour before you want to fill the cake, prepare the berry filling. Smash 2 cups (340g) fresh or frozen strawberries in a microwave-safe bowl.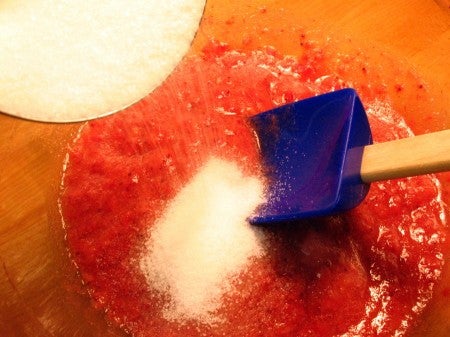 Add 1 envelope (7.2 grams, or 1 tablespoon) unflavored gelatin mixed with 1/4 cup (50g) of sugar to the berries. Stir well, then microwave for 1 minute. This will "bloom" (dissolve) the gelatin, which will in turn thicken the berry juices.
Stir once again, and place in the fridge for 30 to 60 minutes, to firm up.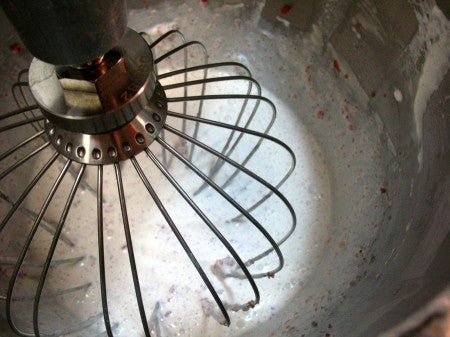 Once the berries are chilled, pour 2 cups (454g) heavy cream into your mixer bowl. Chop up the thick berry paste and add to the cream. Add 1/2 teaspoon vanilla; and 3 to 4 drops strawberry flavoring, if desired.
Whip until thick and mousse-like. I think you'd better give it a taste test, and adjust the sweetness/vanilla if desired. Go ahead, you deserve it.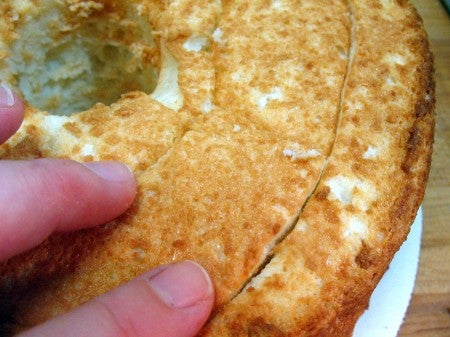 To assemble, turn the cake bottom-side up. With a sharp serrated knife, carve a moat or channel in the cake. Be sure you don't cut through the bottom of the cake.
Use your fingers or a spoon to hollow out the channel, leaving about 1" of cake "wall."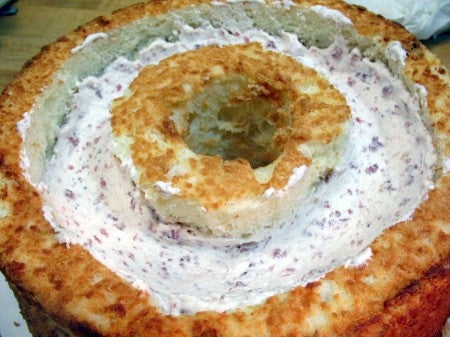 Dollop the filling into the moat, spreading evenly with the back of a spoon or spatula. Keep adding filling until it's level with the top of the moat, then use the rest of the filling to "frost" the cake. You should have enough to cover the top of the cake, and may have enough to do the sides, too, depending on how much filling went into the moat.
The cake is ready to serve at this point; or you can wrap it well, and freeze it for up to 3 weeks.
We ate this cake straight from the freezer with added berries on top; we ate this cake after thawing for 30 minutes, and we ate this cake straight from the fridge. It was marvelous each and every time, so try it and see how you like it best.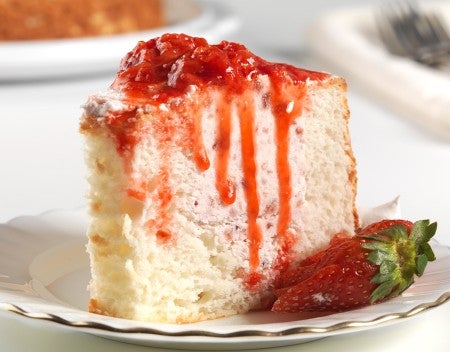 My good friend Cami loves angel food cake, and has a couple hundred chickens, so egg whites are plentiful. I think I'll whip up a few different berry fillings this season and stuff my freezer with cakes galore for our evening knitting sessions. A slice of cake just when we want it? I'd call that a slice of heaven.
Please bake, rate, and review our recipe for Strawberry-Filled Angel Food Cake.
What to do with all those leftover yolks? How about fresh Pastry Cream?
Jump to Comments