I brake for chocolate.
I also break for chocolate.
And bake with chocolate.
How about you?
I've had a lifelong love affair with chocolate – starting with Hostess Cupcakes, proceeding to college days spent making chocolate brownies from a box mix (guaranteed to draw boys into the dorm kitchen), and continuing with flourless chocolate cake (my go-to fancy dinner-party dessert during my 30s).
Since then, chocolate has always been on my baking radar. Brownies (along with pizza, Chinese food, and spaghetti and meatballs, IMHO) never lose their allure. Nor does a good chocolate layer cake – may I suggest Chocolate Stout Cake as both a standout in its field – and perfect for St. Pat's Day?
The following chocolate cake isn't a layer cake; in fact, it doesn't even sport the usual crown of frosting. Instead, it's a rather austere (yet nonetheless compelling) cake, perfect for all manner of occasions.
Lay a slice on a plate, top with vanilla ice cream and salted pecans, add chocolate ganache and whipped cream: instant paradise.
Use it in a trifle. Grill two slices with a chocolate bar in between for a dessert take on grilled cheese. Or simply enjoy a slice with a cup of coffee.
Chocolate is something that'll always delight, never disappoint. And at the end of the day, isn't that the definition of the perfect love affair?
Let's make Chocolate Loaf Cake.
Preheat the oven to 350°F.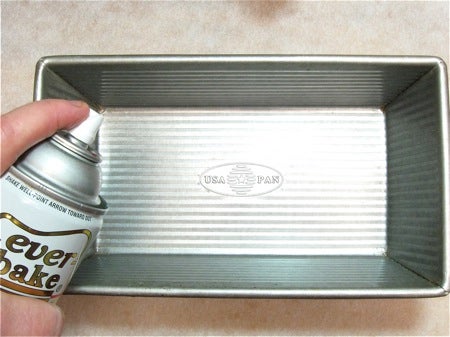 Lightly grease a 9" x 5" loaf pan (as I'm using here); or an 8 1/2" x 4 1/2" loaf pan, which will make a higher-crowned loaf.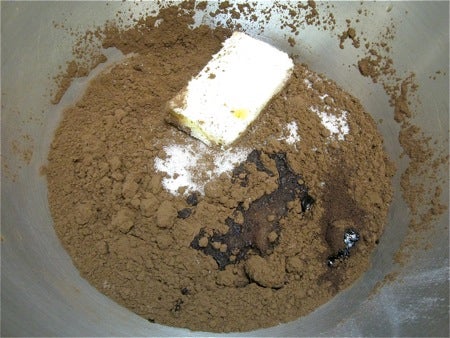 Put the following in a mixing bowl:
8 tablespoons (113g) butter, room temperature
1 1/2 cups (283g) sugar
3/4 teaspoon salt
2 teaspoons vanilla extract
1/2 teaspoon baking powder
2 teaspoons espresso powder, optional, to enhance chocolate flavor
2/3 cup (57g) Double-Dutch Dark Cocoa or Dutch-process cocoa powder
While it's not critical, I like to add 2 tablespoons Cake Enhancer, as well. This helpful ingredient helps keep cake, muffins, and bread soft and moist.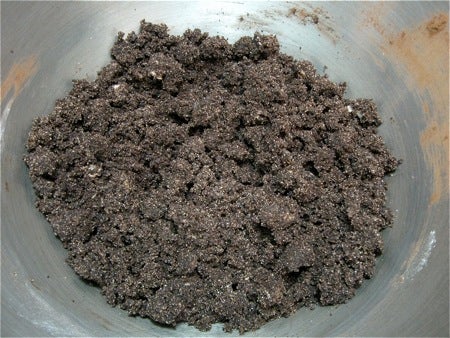 Mix to make a sandy, somewhat clumpy mixture. Don't worry; the eggs will smooth things out.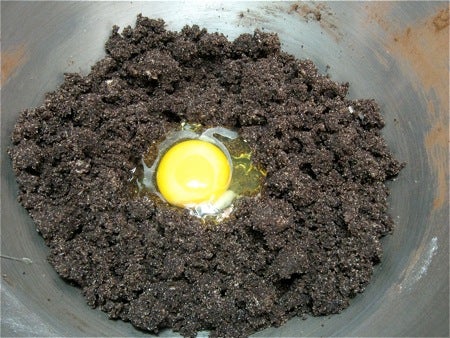 Add 3 large eggs one at a time, beating well after each addition.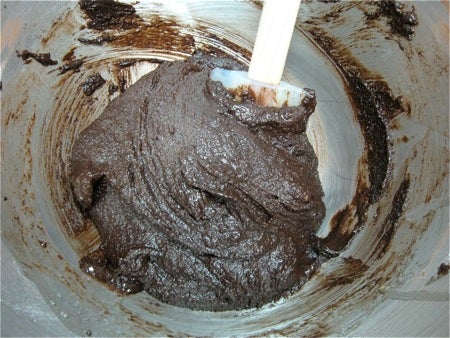 Scrape down the sides and bottom of the bowl midway through this process.
Hmmm, where to put down that chocolate-y spatula?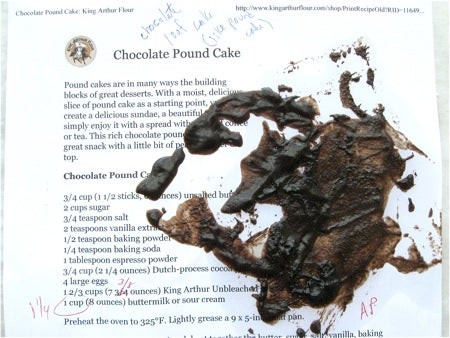 Well, not on your recipe, like I did. Makes it pretty hard to read afterwards!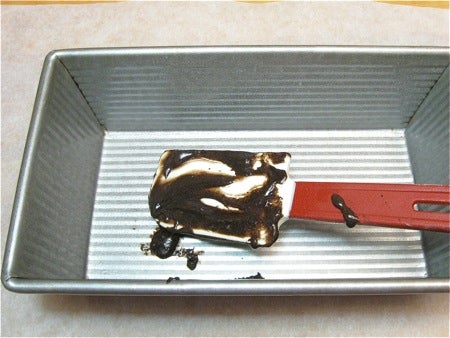 Ah-HA! How about setting it in the greased pan? Perfect.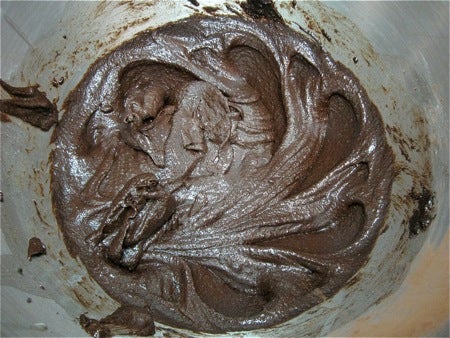 Here's the batter with all 3 eggs added. A tiny bit grainy, but overall, pretty smooth.
Next, you're going to add 1 1/4 cups (149g) King Arthur Unbleached All-Purpose Flour, and 3/4 cup (170g) milk.
But not all at once.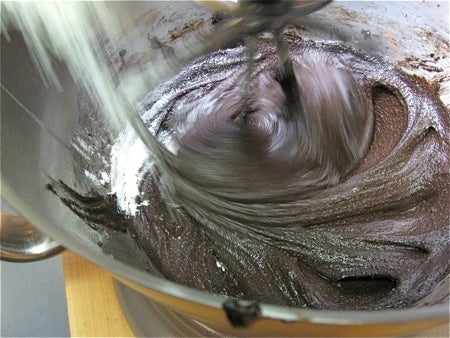 Add half the flour to the bowl, beating at low speed to combine.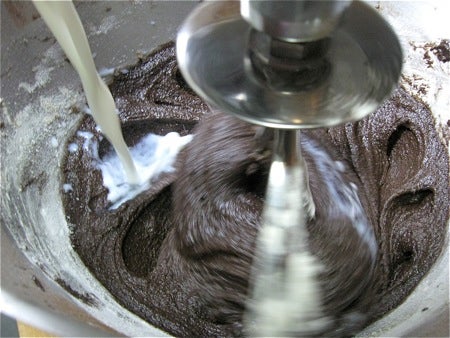 Add all of the milk, beating at low speed to combine.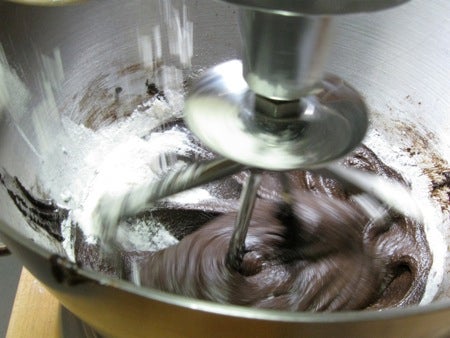 Add the remaining flour, beating gently just until the batter is smooth.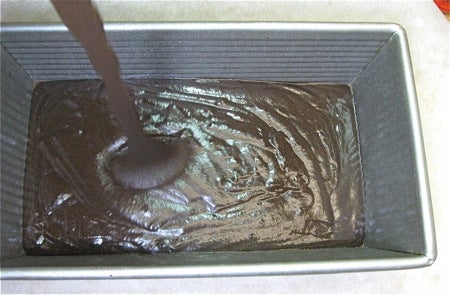 Pour the batter into the prepared pan.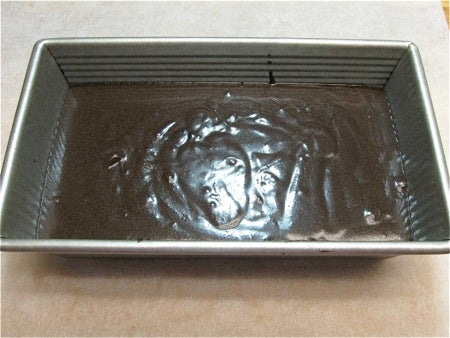 If you've used a 9" x 5" pan, the batter won't fill the pan very full; that's OK. An 8 1/2" x 4 1/2" pan will be about 3/4 full.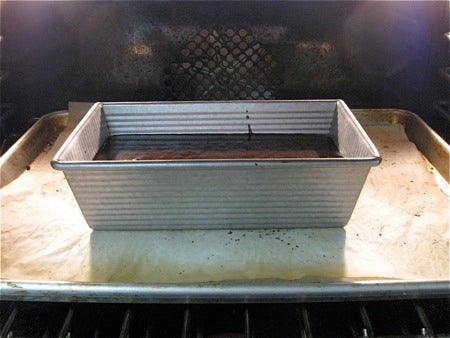 Bake the cake for 60 to 70 minutes.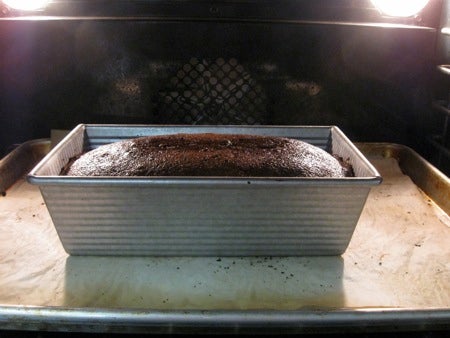 It'll dome nicely.
Remove the cake from the oven. A toothpick inserted into the center should come out clean. The top may look a tiny bit damp; that's OK.
If you have an instant-read thermometer, the center will register about 205°F, while just under the top will register about 195°F.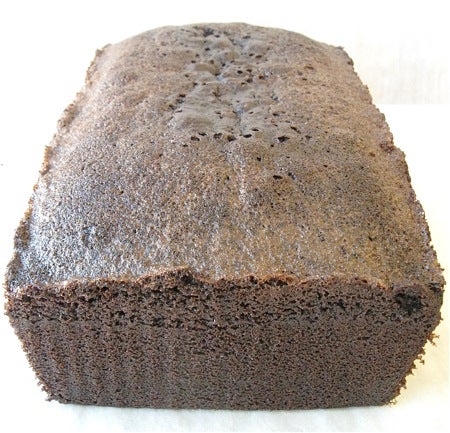 Remove the cake from the oven, loosen the edges, wait 10 minutes, and turn it out of the pan onto a rack to cool.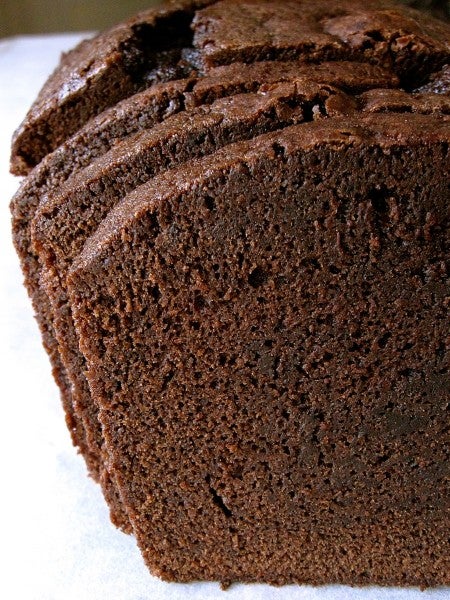 Patience; don't slice the cake until it's completely cool. Nice texture, eh?
I can see cutting this into cubes for trifle; or slicing, then grilling or frying, and topping with ice cream and fudge sauce. Are you with me?
Store completely cooled cake well wrapped, at room temperature.
Bake, rate, and review (please) our recipe for Chocolate Loaf Cake.
Jump to Comments