Baking it forward with Cookies for Kids' Cancer
Cookies that do good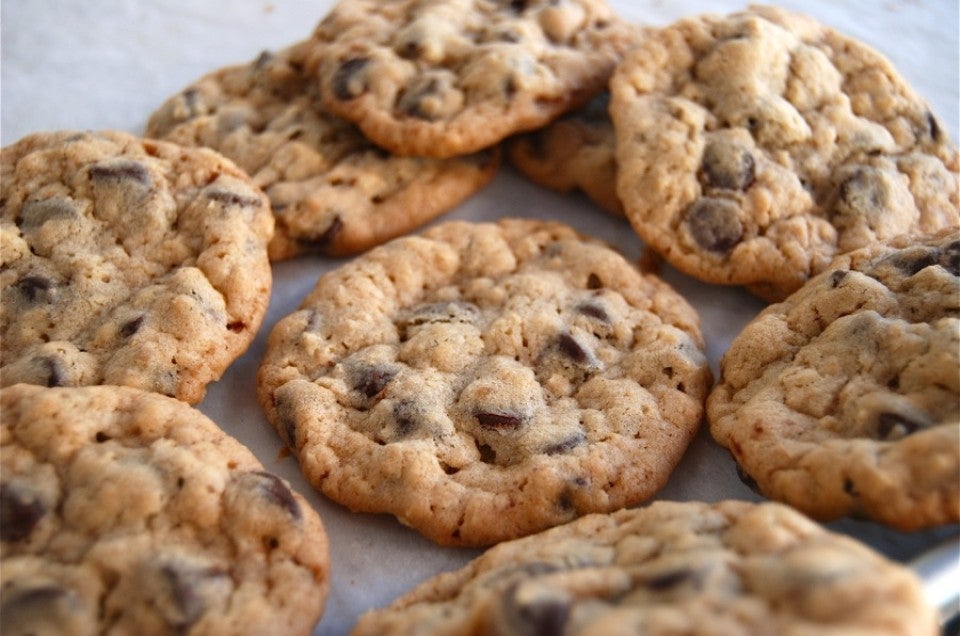 "Kids" and "cancer" are two words that should never, ever go together.
Unfortunately – they do. Thousands of kids are diagnosed with cancer each year.
Want to help change this cold, hard fact?
You can – by raising funds for pediatric cancer research.
How? With everyone's favorite fund-raiser: a bake sale.
Cookies for Kids' Cancer, a nonprofit devoted to funding  pediatric cancer research, suggests one very effective way to raise money is a community bake sale.
To that end, the CKC site offers "tips, tools, and ideas to guide and inspire your bake sale every step of the way."
Plus, they sell a Bake Sale Supply Kit that includes everything you need to hold your own Cookies for Kids' Cancer bake sale – including coupons for King Arthur Flour. We're proud to be one of CKC's main sponsors.
And to that end, we'll be holding our own bake sale Saturday, Oct. 27, at Dartmouth College in Hanover, NH. Traveling to New England that weekend? Stop by; a large number of KAF employee-owners are spending several days prior to Oct. 27 baking up a storm for this special event.
CKC's Best Bake Sale Cookbook offers an array of yummy recipes specially suited to bake sales. We highly recommend Chocolate Chip Oatmeal Cookies as a potential best-seller at YOUR bake sale!
We also recommend you try them out first. You know, just to make sure you still love chocolate chip cookies...
Preheat the oven to 325°F. Line several cookie sheets with parchment paper, or lightly grease with non-stick vegetable oil spray.
Beat together the following until smooth:
16 tablespoons (227g) unsalted butter, at room temperature
1 cup (213g) light brown sugar
1/2 cup (99g) granulated sugar
Add 1 large egg and 1 large egg yolk, both at room temperature; and 1 tablespoon vanilla extract. Beat to combine.
BTW, have you tried our new King Arthur vanilla? Its extra-strong, pure vanilla flavor is ridiculously good. And it's perfect for you active bakers, since it comes in a nice, big 16-ounce bottle.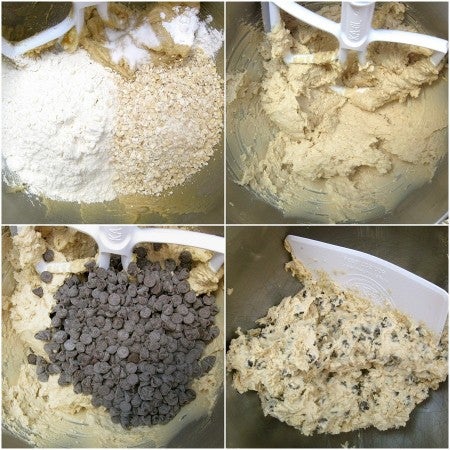 Add the following to the batter:
2 cups (241g) King Arthur Unbleached All-Purpose Flour
1 cup (89g) quick-cooking or old-fashioned oats
1 teaspoon baking powder
1 teaspoon baking soda
1 teaspoon kosher salt or 3/4 teaspoon regular table salt
Mix until everything is thoroughly incorporated. Scrape the bottom and sides of the bowl, and mix briefly.
Finally, add 3 cups (510g) semisweet chocolate chips. If you don't buy chips in bulk, feel free to substitute a 1-pound bag of chocolate chips.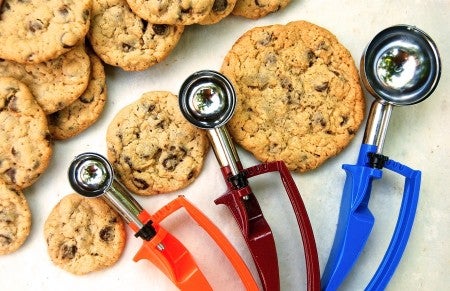 Decide what size cookies you want to make.
A teaspoon cookie scoop (2 teaspoons) will make 100 small (2 1/2") cookies; a tablespoon cookie scoop (4 teaspoons) will make 50 medium (2 3/4" to 3") cookies; and a muffin scoop (1/4 cup) will make 20 large, palm-sized cookies – a nice, big size to sell individually.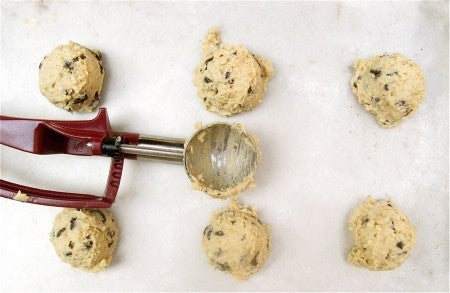 Scoop the dough onto the prepared baking sheets, leaving about 1 1/2" to 2" between cookies.
Bake the cookies for 12 to 15 minutes, until they're a light golden brown, with slightly darker edges.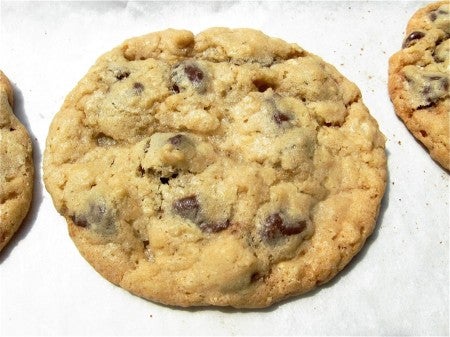 Their middles may still look a tiny bit shiny; that's OK, they'll continue to bake just a bit as they cool down.
Remove the cookies from the oven, and as soon as they're set enough to handle, transfer them to racks to cool.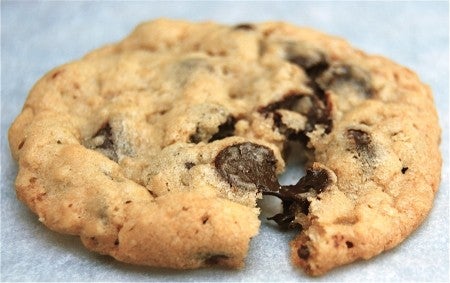 But be sure to sample one before they're completely cool – a warm chocolate chip cookie is surely one of life's great pleasures!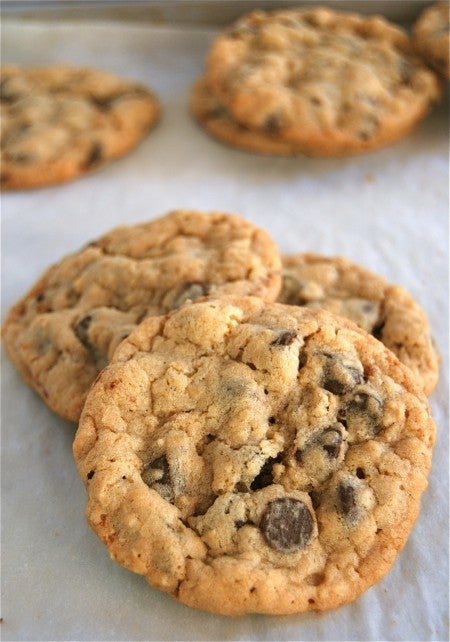 When the cookies are completely cool (and not a moment before), wrap large cookies individually; or package 3 to 6 smaller cookies in a bag with a twist of ribbon.
And, if the cookies aren't bound for a bake sale – enjoy! They freeze very well, so don't feel obliged to plow through them all at once (though that may very well be your initial desire).
You can also freeze the unbaked balls of dough, and bake as many or as few as you like at a time – for those times when you just HAVE to have a fresh-baked, hot-from-the-oven chocolate chip cookie.
Please read, bake, and review this recipe for Chocolate Chip Oatmeal Cookies.
Jump to Comments