When I cooked store-bought gluten-free pasta for the first time, it was an unfortunate situation.
I boiled the water, tossed in the spaghetti, briefly stirred it, then walked away. When I returned to drain it, I had missed the timer by a minute or so, and my brown rice noodles had turned into a mass of pasta pudding.
If you're eating gluten-free, you've probably had it before: the sticky, pasty mess that's the result of many cooked brown rice pastas out on the market. The mush in the pot. The inability to tell where the noodles begin and the sauce ends. Even a good glass of wine can't redeem this disaster.
The best thing about making homemade pasta is that it's easy, but you quickly become a hero at home because you made it yourself. It's more delicate and elegant compared to dumping a heap of dry noodles into boiling water, which have to cook for almost 10 minutes. The fresh stuff takes less than 5.
Pasta, like bread, contains a few simple ingredients, so there are few excuses not to make your own.
Save your pasta machine for the kids' play-dough or pressing wildflowers, because you'll have to hand-roll this recipe. This gluten-free dough is too finicky to tolerate the intensity of being cranked through stainless steel bars, but a dream to work with by hand. By now we've all learned to embrace the quirks and higher maintenance demands of gluten-free baking, so what's one more?
Get your favorite rolling pin ready, and learn to love the labor of homemade pasta.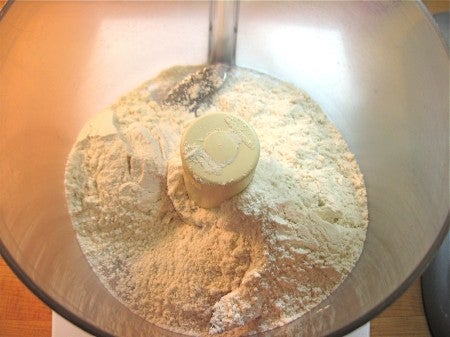 First, combine 1 1/4 cups (184) King Arthur Gluten-Free Multi-Purpose Flour with 2 teaspoons xanthan gum. I chose to use a food processor to take advantage of the pulsing feature, which gave me more control when bringing the dough together, especially when adding the water little by little.
Eggs: yolks only. One, two, three, four ...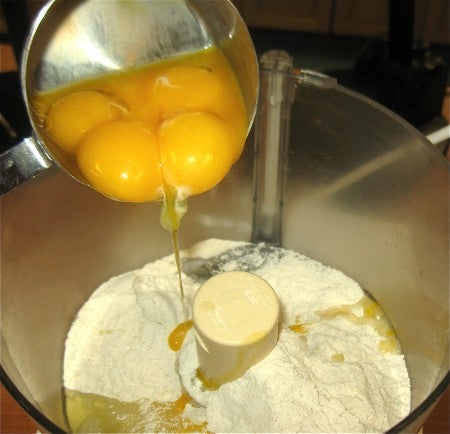 plus one more whole egg (yolk and white).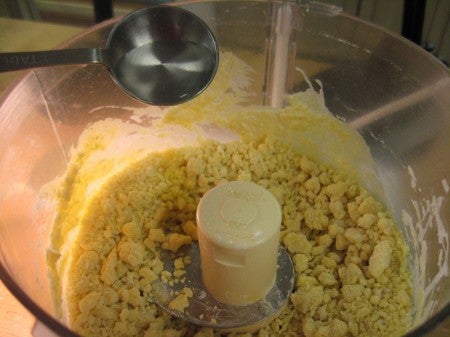 Pulse together until you have crumbles similar to the ones above. Add 2 to 4 tablespoons water, 1 tablespoon at a time, pulsing in between additions. Then knead it all into a smooth dough.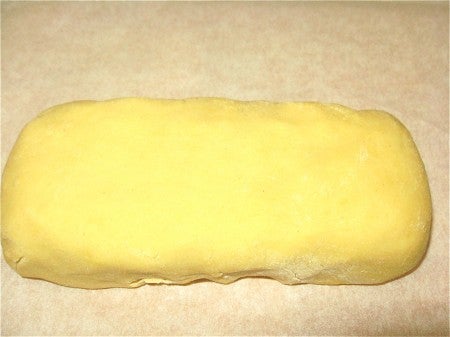 Allow the dough to rest at room temperature for about 30 minutes, and prepare for the easiest dough-rolling experience ever.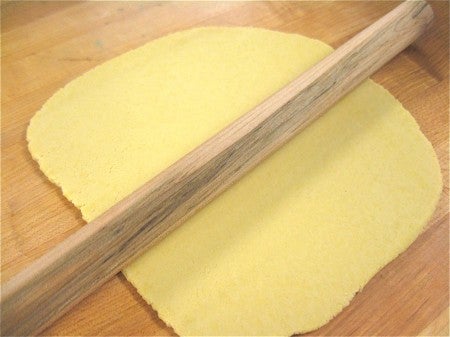 A rolling pin's dream come true, this dough never tore, stuck, or fought back.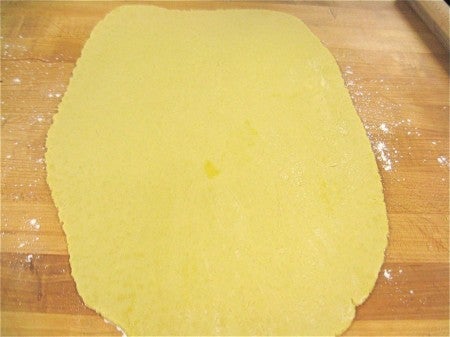 You can successfully roll the pasta fairly thin and make noodles of various widths; or if you prefer to cut small shapes with a cutter, you'll want to keep it on the thicker side (about 1/8").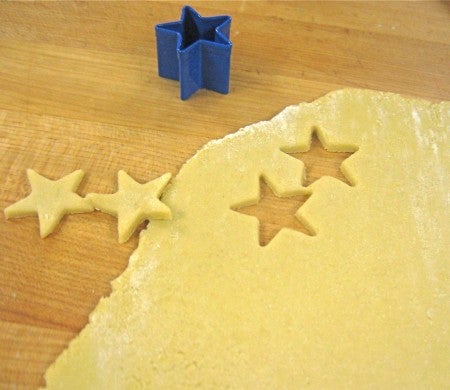 The star cutter happened to be handy in the test kitchen and it was the perfect size.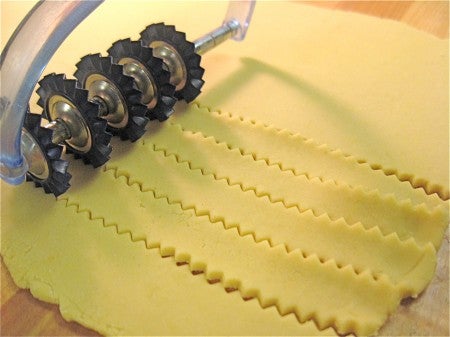 Just offering a visual of one of the many possibilities... A 5 wheel accordion cutter would also be suitable for this job, but it would give you a straight-edged noodle instead of this crimped look.
The pasta spa with salt.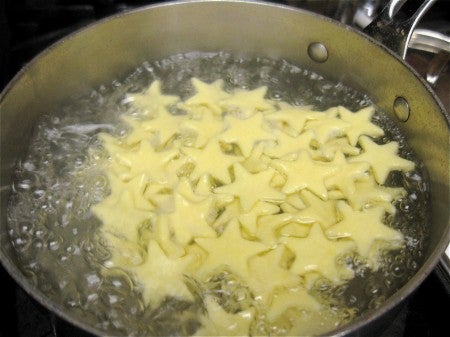 The very happy school of swimming stars are taking a 4-minute bath. I rolled the dough on the thicker side for the cutouts, so I'd suggest simmering for only 2 minutes when cooking a thinner, more delicate noodle.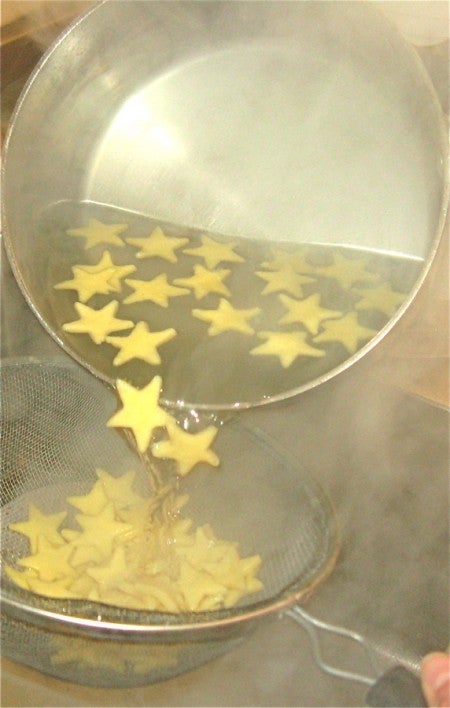 Perfectly cooked pasta and a facial. Life is good.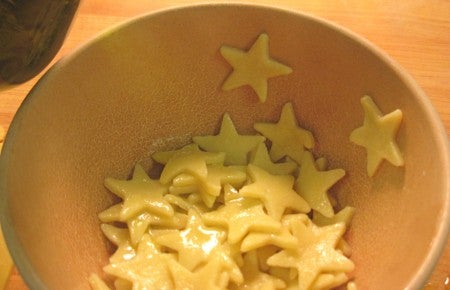 Toss immediately in olive oil or any sauce you have prepared. If you're planning to eventually build a salad, the oil will keep the pasta pieces from gluing to one another as they cool.
Check out our recipes for Homemade Pasta With Sage Butter, or Potato Gnocchi with Gorgonzola Cream Sauce for some inspiration to go with your new gluten-free masterpiece.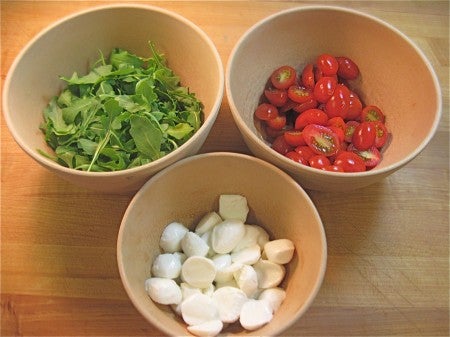 Pasta (hot or cold) wearing arugula, grape tomatoes, and fresh mozzarella would be considered festively dressed for summer.
I love spicy arugula with sweet, fruity tomato and the mellowing nature of mozzarella. A little salt and pepper are all it takes to bring this simple dish to your outdoor dining table.
As you can see, the gluten-free pasta also makes a great pillow. These raviolis are filled with feta and spinach, but this pasta could hold any creative mixture of cheeses, meats, or vegetables. Either the double-sided round or square Linzer cutters would give an artistic, fluted look to the edges.
Whatever your pasta pleasure, I hope you'll finally be able to bypass the bags in the grocery store – never again to be overwhelmed by too many choices and the anticipation of unsatisfactory results. Make some today and let the gluten run wild and free.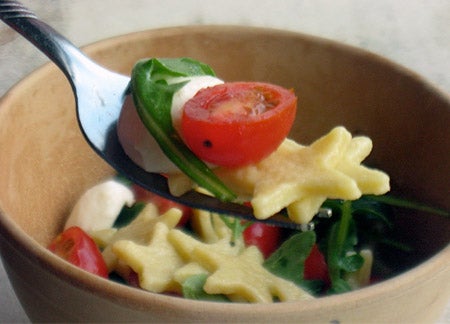 Please read, make, and review our recipe for Gluten-Free Pasta.
Jump to Comments