About a month ago, I posted the following question on our King Arthur Flour Facebook wall:
"Question: Have you, would you, or are you interested in making cream puffs, chocolate éclairs, and/or profiteroles (ice cream-stuffed puffs)?"
I expected a moderate response. I mean, cream puffs and éclairs aren't the most au courant dessert these days. Compared to cupcakes, they're positively old school.
Well, guess what? Our Facebook followers, which I know include a lot of you, dear readers, are apparently not averse to "old school."
Over 1,000 of you responded in the affirmative: YES, bring those cream puffs on!
Which positively warms my heart.
Maybe it's the fact I'm a Wisconsin native, and the cream puff – to be exact, the dinner-plate-sized, stuffed-with-about-a-quart-of-whipped-cream cream puff – is, as of last July, the state's official dessert.
Which makes sense, given Wisconsin's license-plate moniker: America's Dairyland.
Bet you didn't know that over 400,000 puffs are sold each year at the Wisconsin State Fair.
Or that at that fair last October, the Guinness record for World's Largest Cream Puff was set by the Wisconsin Bakers Association, clocking in at 125.6 lb.
But you know the very best part about cream puffs – and their pastry-cream-filled counterpart, chocolate éclairs?
They're just so gosh-darned easy to make.
Nothing fancy; no tricks. Just good, simple ingredients – and lots of cream.
What's not to like?
If you haven't made cream puffs in a while, dig out your favorite recipe and get going.
If you've never made cream puffs – read on. Before you know it, you'll be making not only cream puffs, but chocolate éclairs and ice cream profiteroles: three siblings under the same (pastry) skin.
Let's start with the pastry shells, made from all-purpose puff paste, a.k.a. choux paste ("Big Choux to Fill" - HA!).
Now, before we begin: note that the following pastry recipe will make 12 cream puffs OR 12 éclairs. The filling recipes (one for whipped cream, one for pastry cream) make enough for 12 pastries each. The chocolate icing recipe makes enough for 12 éclairs.
Preheat the oven to 425°F. Lightly grease (or line with parchment) two baking sheets.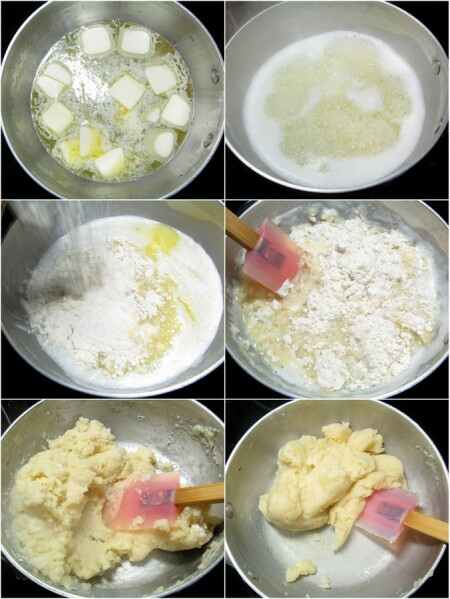 Combine the following in a saucepan set over medium heat:
1 cup (227g) water
8 tablespoons (113g) unsalted butter
3/8 teaspoon salt
Heat until the butter has melted, and bring to a rolling boil.
Remove the pan from the heat, and add 1 1/4 cups (149g) King Arthur Unbleached All-Purpose Flour all at once, stirring vigorously.
Return the pan to the burner and cook over medium heat, stirring all the while, until the mixture smooths out and follows the spoon around the pan; this should take less than a minute.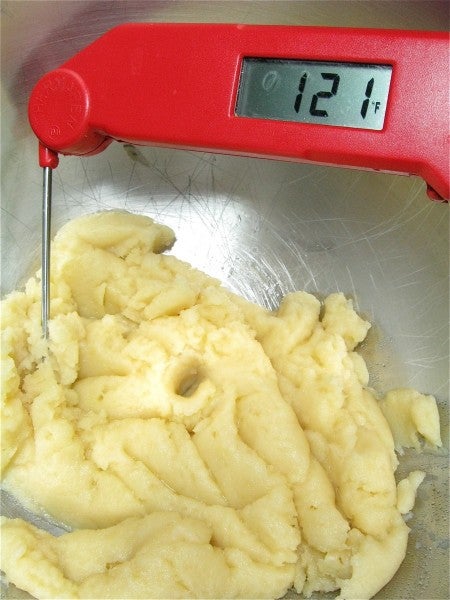 Remove the pan from the heat, and let the mixture cool for 5 to 10 minutes. It'll still feel hot, but you should be able to hold a finger in it for a few seconds. If you have an instant-read thermometer, the temperature should be below 125°F.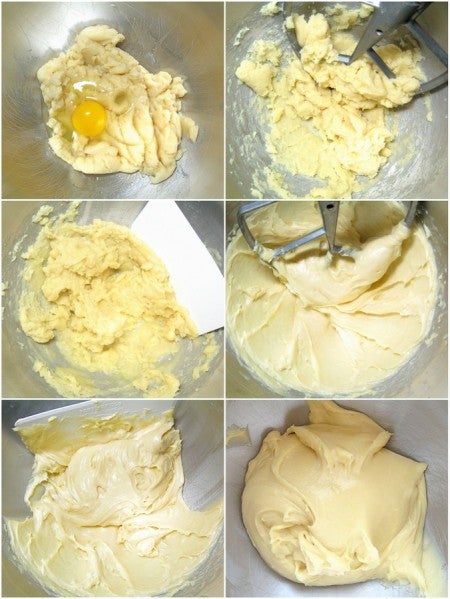 Transfer the mixture to a mixer, and beat in 4 large eggs one at a time, scraping the bowl as needed.
The mixture will look curdled at first, but when you add the last egg it should become smooth. Beat for at least 2 minutes after adding the last egg. See how silky it gets?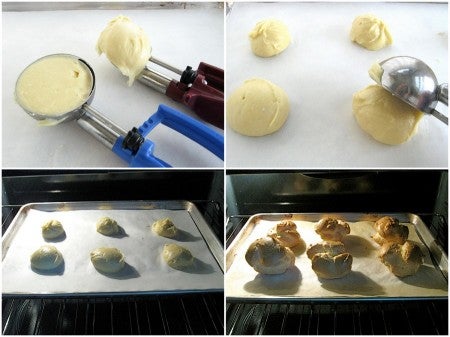 Using a generously filled tablespoon cookie scoop, or a level muffin scoop, drop the thick batter onto the prepared baking sheets in 3- to 4-tablespoon mounds.
The muffin scoop will make slightly larger puffs; either tool is a good choice. If you have neither, drop the dough from a wet spoon.
Space the mounds about 3" apart, to allow for expansion.
Bake the puffs for 15 minutes, then reduce the oven temperature to 350°F and bake for an additional 25 minutes, until they're a medium golden brown. Don't open the oven door while the puffs are baking; like popovers, they may fall a bit.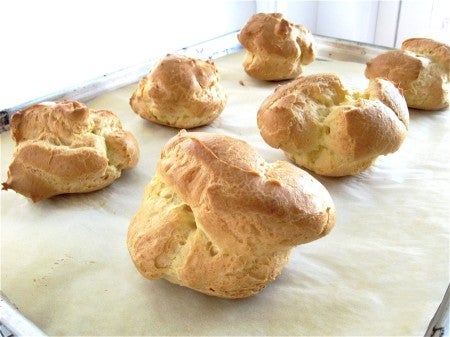 Remove the pastries from the oven.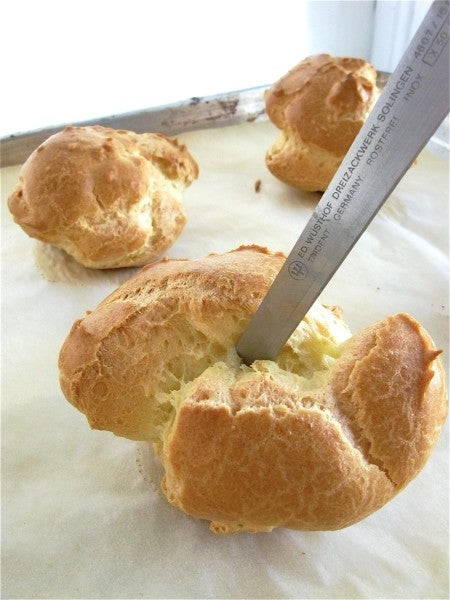 Make a small slit in the top of each, and return them to the oven for 5 minutes, to allow the steam to escape.
Place them on a rack to cool. When they're cool enough to handle, split each in half to make top and bottom pieces; splitting and exposing the centers to air will help keep them from becoming soggy.
Pour 1 pint heavy or whipping cream into a mixing bowl, and begin to whip it on high speed (using your mixer's whisk attachment, if you have one).
Gradually pour in 1/4 cup (50g) granulated sugar (or to taste) as the cream whips. If you're whipping cream more than a few hours ahead of time, mix 1/4 cup whipped cream stabilizer with the sugar before adding.
Whip cream until stiff, but be careful not to over-whip; it should still look smooth.
Fill each puff with about 1/3 cup whipped cream.
Yes, this is quite a lot; we Wisconsinites love our whipped cream!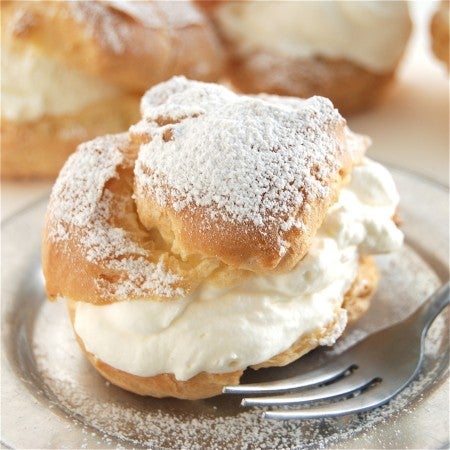 Sift confectioners' sugar over the puffs, and serve.
OK, I hear you – "I want to make these ahead of time..."
Make the shells, and store them at room temperature, lightly covered; they'll stay pretty good for a few days. If you can't use them within a few days, don't split them in half after baking; place cooled puffs on a baking sheet, and freeze. Transfer to airtight storage of some kind, and freeze for no longer than a few weeks.
Your best bet is to whip the cream no more than several hours ahead of time, unless you stabilize it with whipped cream stabilizer, as mentioned above; in that case, it can be whipped a couple of days ahead.
Thaw frozen puffs at room temperature, uncovered. They won't be as crisp as they were when freshly baked; if desired, refresh them in a 350°F oven, lightly covered with foil, for about 10 minutes.
Fill puffs with whipped cream just before serving. If you can't manage that – fill no more than several hours ahead, and refrigerate until ready to serve.
Now, how about chocolate éclairs?
Same pastry, different shape; different filling, added icing.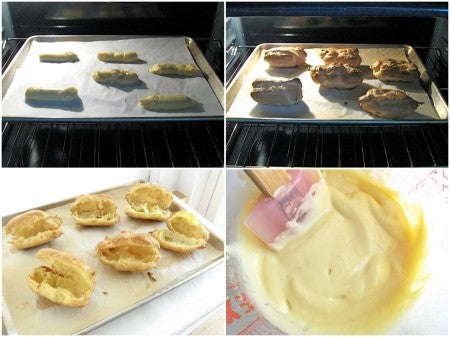 Pipe the puff batter onto a parchment-lined or lightly greased baking sheet. Make 5" logs about 1/2" to 3/4" in diameter.
To shape éclairs without a pastry bag, place a sandwich bag into a glass, to hold it securely upright as you fill it. Roll the bag's edge over the rim of the glass, to hold it in place.
Spoon the batter into the bag. Cut off one corner of the bag, making a 1/2" cut. Squeeze the batter onto the baking sheet through the hole in the corner.
Bake éclairs the same way you would puffs; see oven temperature and baking time above.
To make the éclair filling, prepare your favorite pastry cream. You'll need about 3 cups of filling.
While homemade pastry cream is delicious, I have to admit to taking an easy shortcut 99% of the time: jazzed-up instant pudding.
Pour 3 cups milk into a bowl (the higher-fat the milk, the richer the filling; I often use half & half or even light cream).
Add the contents of 2 regular-size boxes of vanilla instant pudding mix (sugar-free is fine), plus 2 teaspoons vanilla extract. Beat until thick, and refrigerate until ready to use.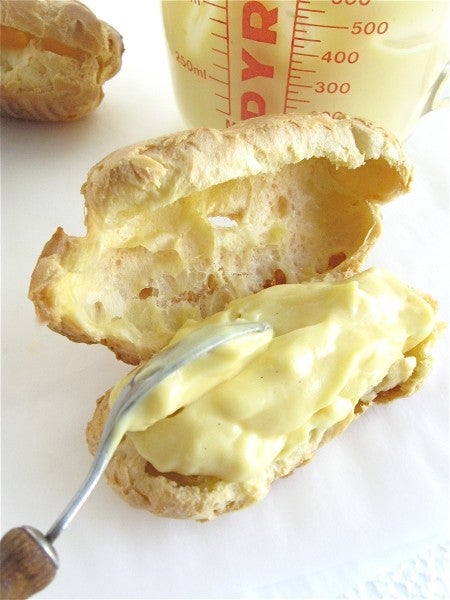 Spoon the filling into the split éclair shells.
To make the icing, place 1 cup (170g) chocolate chips or chopped semisweet chocolate and 1/2 cup (113g) heavy or whipping cream in a small saucepan or microwave-safe bowl or cup.
Heat over low heat (or in the microwave) until the cream is very hot. Remove from the heat, and stir until the chocolate melts and the icing is smooth.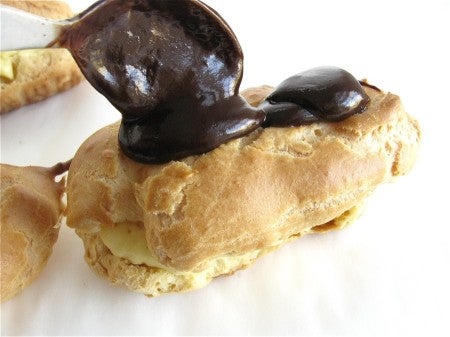 Spoon over the éclairs, spreading to the edges.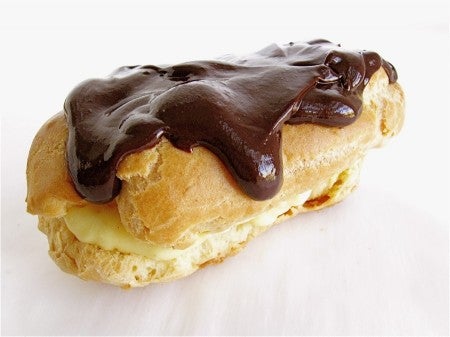 Serve immediately; or refrigerate for up to several hours.
Now, how about profiteroles? Fill cream puff shells with ice cream, and drizzle with the sauce of your choice; chocolate is traditional.
Read, bake, and review (please) our recipe for Cream Puffs and Eclairs.
Jump to Comments