Asparagus Strata with Sourdough
Serving the brunch bunch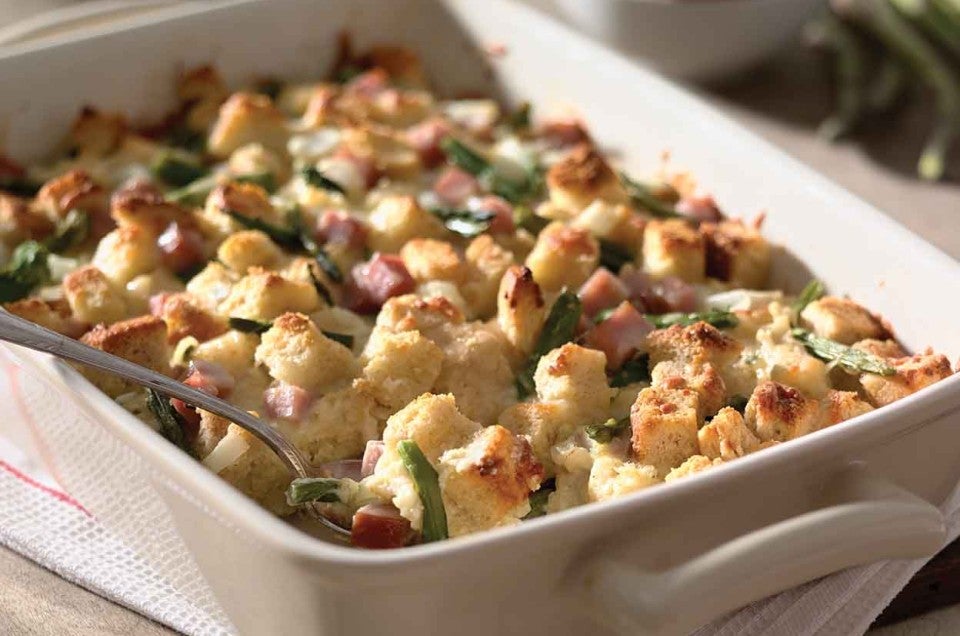 Q. What do you call a savory bread pudding, made with sourdough bread, asparagus, ham, cheese, and eggs?
A. Delicious.
HA! You were going to say strata, weren't you? Well, you get an "A" for effort, as well as culinary cred; bread pudding made with savory ingredients rather than sweet is indeed strata.
And it is, indeed, remarkably delicious.
Strata (and its sweet sibling, bread pudding) are two dishes that have sadly fallen by the popular-food wayside.
Oh sure, you can get incredible bread pudding in New Orleans, complete with bourbon sauce (and probably on Bourbon Street, with all the entertainment that entails).
But in most restaurants? Maybe in New England, where it's often nose to tail on the menu with grapenut custard and homemade tapioca pudding.
And in your typical suburban joint, the type of place most of us go when we're tired of cooking and need a night out at a sensible price?
Don't think so.
Which is a shame. Because bread pudding/strata is comfort food at its best: smooth, soft (with a complementary bit of chew), richly flavored yet mild (if that makes sense), and very easy to love.
Not only that - either is a great way to use up bread that's going stale. AND they're both super party dishes – bread pudding for a dinner party, strata for brunch. Assemble the night before, then bake just before serving; no fuss, no stress.
So, I challenge you: bookmark this recipe. And the next time you're having a crowd for breakfast (or your teenage son is home from college), serve Asparagus Strata with Sourdough.
Let's put this old favorite back on the culinary landscape.
Preheat the oven to 350°F. Line a baking sheet with parchment, and grease a 2-quart casserole dish or 9" x 13" pan.
Choose your asparagus; you'll need a medium bunch of fresh asparagus (about 15 to 20 average-size stalks), ends snapped off and cut into 1" pieces; or 9 ounces frozen asparagus.
I'm using fresh here. Cook the asparagus very briefly; a couple of minutes in the microwave should be sufficient. You want the stalks to be crisp, but not hard.
Toss 10 to 11 cups sourdough bread (about 12 to 16 ounces), cut in 3/4" cubes, with 4 tablespoons (57g) melted butter. Spread the bread cubes evenly on the baking sheet. Heat the bread in the oven for 10 minutes; it won't color, but will dry out a bit.
Turn the oven off; you won't be baking the strata until later.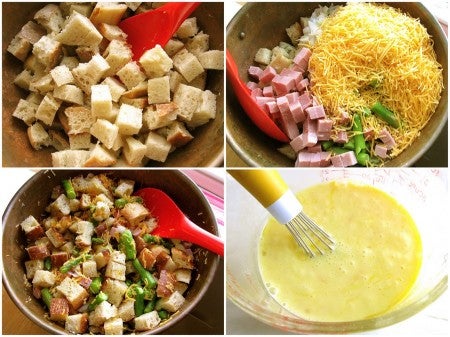 Put the bread cubes in a large bowl. Toss with 1/2 pound (227g) ham, diced; the asparagus; and 1 1/2 cups (170g) shredded cheddar cheese.
Whisk together 8 large eggs; 1/2 cup (113g) half & half, and 1/2 teaspoon salt.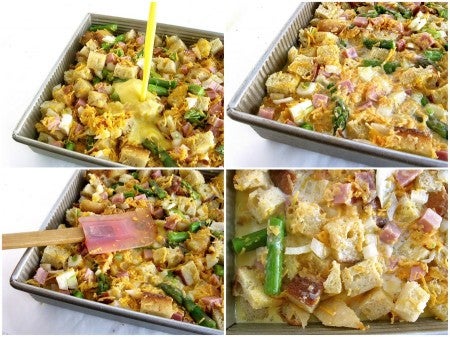 Spread the bread mixture in the prepared pan.
Pour the eggs/half & half over the bread mixture, pressing the bread gently into the liquid. Add up to an additional 1 cup (227g) half & half if the liquid doesn't come to within about 3/4" of the top of the bread cubes.
Why is there such a variation in the amount of half & half? Because a lot depends on the size and shape of your casserole dish. As noted, use enough so that the liquid comes to within 1/2" to 3/4" of the top of the bread.
Cover the pan, and refrigerate overnight, or for at least 6 hours.
Just before you're ready to bake, preheat the oven to 375°F.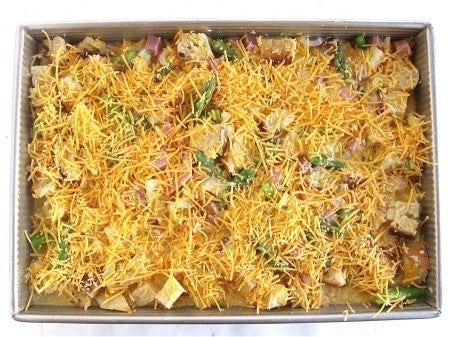 Sprinkle the top of the strata with 1/2 cup (57g) cheddar cheese.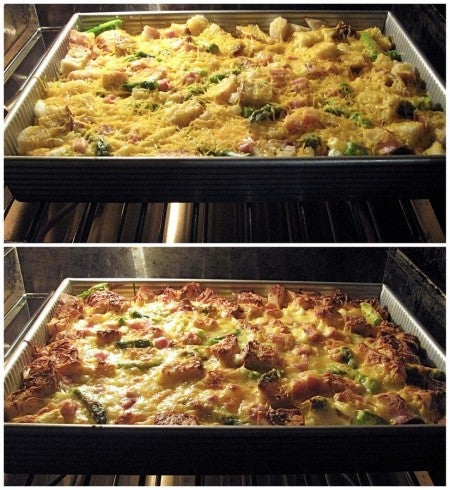 Bake the strata, uncovered, for about 45 minutes, or until it's puffed and golden. A knife blade inserted into the center will come out clean.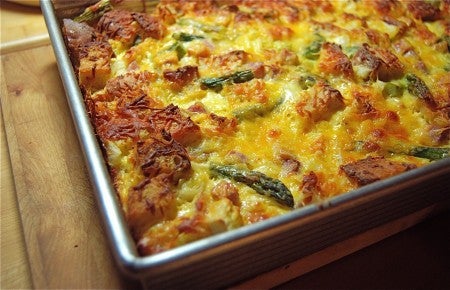 Remove the strata from the oven, and allow it to rest for 15 minutes before serving.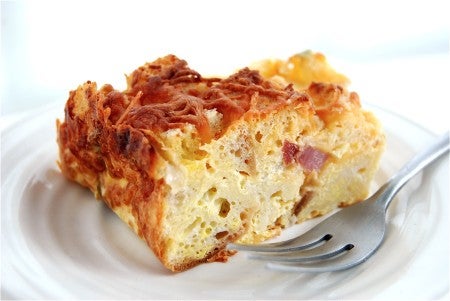 Dig in!
Read, bake, and review (please) our recipe for Asparagus Strata with Sourdough.
Jump to Comments