Homemade lemon curd in under 10 minutes
No joke - here's how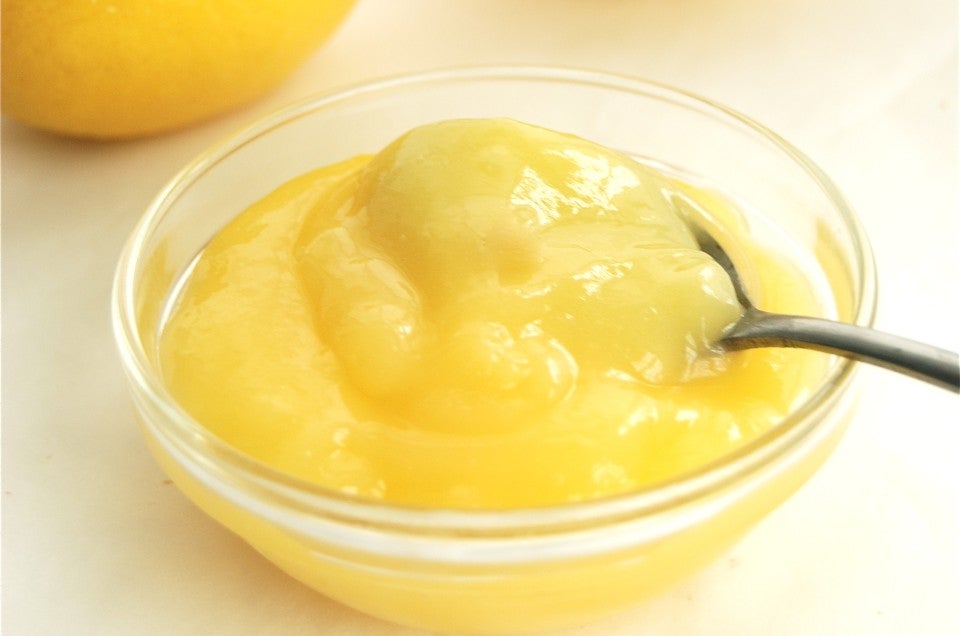 So, I was browsing through my Modern Baking magazine last night, and came across the slickest little recipe ever:
Microwave lemon curd.
I mean, I know you can make lemon curd at home, but doesn't it involve egg yolks, and stirring a pot on the stove, and transferring some of the hot liquid from one bowl to another and back again...
No thanks - too busy!
But THIS lemon curd, made simply by stirring everything together and cooking in the microwave for 7 minutes?
I can do that.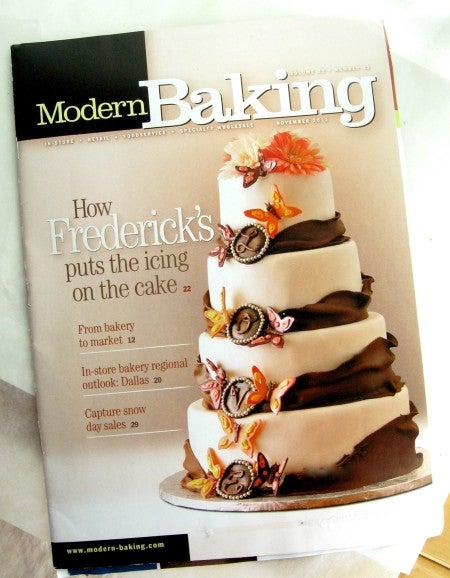 Modern Baking, since I know you're wondering, is the main trade magazine of bakery professionals: bakery owners and employees, caterers, wedding cake bakers, and anyone who makes their living with flour and sugar and eggs and all that good stuff.
They have a tips column I peruse with avid interest each month, in which a baker in, say, Skokie, Illinois, asks for a foolproof way to keep buttercream frosting from melting.
The column often includes short, simple recipes – short and simple because, when you're making a living as a baker, the more efficient you are, the better.
The challenge is, most of the time these recipes A) assume a certain level of familiarity with common bakery practices (kind of like recipes used to be written back in the day - no directions, you're just supposed to know what to do); B) they assume a certain amount of equipment (a dough sheeter, for instance); and C), they make 30 dozen of whatever, when all you want is 2 dozen at the most.
But this lemon curd recipe is different.
It doesn't use any unusual techniques; no fancy equipment is necessary; and it makes just 1 quart of curd, easily cut back to a more manageable 2 cups.
Did I mention how easy this is?
How about how tasty?
Well, see for yourself; if you have lemons, sugar, butter, and eggs on hand, get out your microwave-safe bowl and let's get started.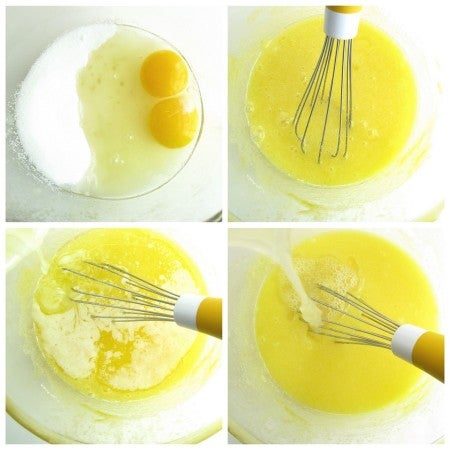 Put 2 large eggs and 1 cup (198g) sugar in a microwave-safe bowl.
Make that a BIG microwave-safe bowl; the eggs and sugar should take up no more than 1/4 of the bowl's capacity.
Whisk to combine, then whisk in 8 tablespoons (113g) unsalted butter, which you've melted first.
Finally, add 1 cup (227g) freshly squeezed lemon juice. About 4 large, juicy lemons should do it.
Note: Modern Baking calls for the grated rind of the lemons as well as their juice. I prefer a super-smooth curd without stringy little bits of peel, but add it for more assertive lemon flavor, if you choose.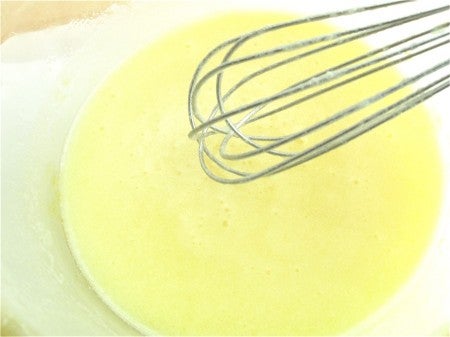 Whisk until everything is thoroughly combined.
Put the bowl on a plate (to catch any bubble-overs), place in the microwave, and cook in 1-minute increments, stirring after each.
High power? Low? I don't know, my microwave doesn't have any power levels. The instructions in Modern Baking say 3 to 5 minutes at "full power," but if your 'wave doesn't have power settings – just wing it.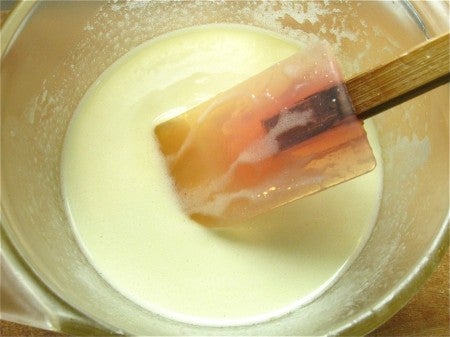 At first, you won't see much change; as the curd heats it'll foam up, but it'll stay quite liquid.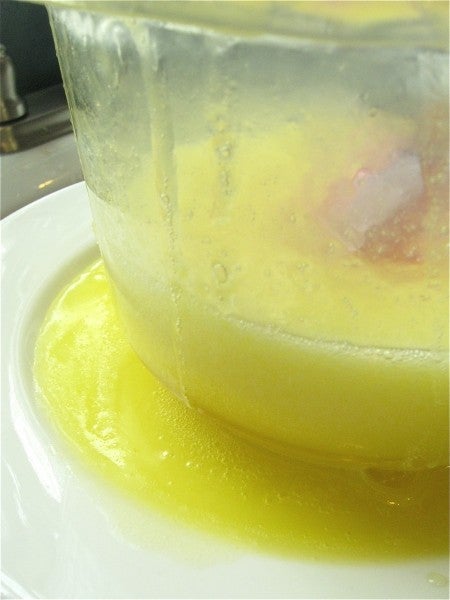 Speaking of foaming up, this is why you put the bowl on a plate...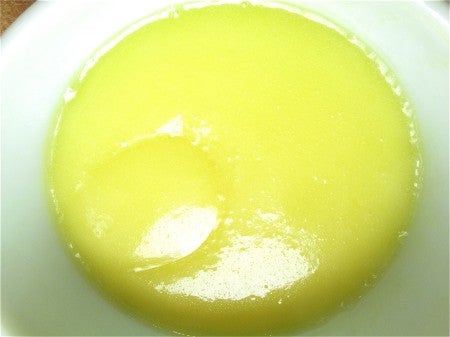 At some point – for me, it was 8 minutes – you'll see the curd start to mound just a tiny bit. It's subtle; it won't be anywhere near the thickness of finished lemon curd. But it'll definitely be thicker than it was to begin with.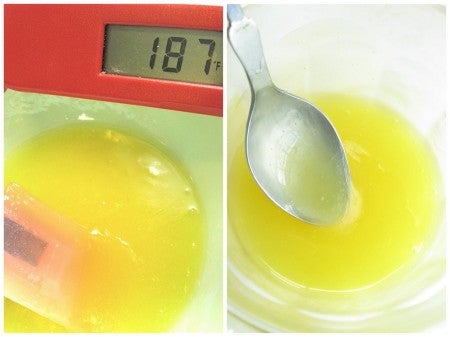 As the recipe says, it should coat the back of a spoon.
Well, that's kind of general, isn't it? Doesn't ANY liquid coat the back of a spoon?
I decided to take the curd's temperature, just to make sure the eggs were thoroughly cooked.
At 187°F, they were indeed sufficiently cooked. And the curd was thick enough that it didn't run right off the spoon, but kind of coated it – I guess.
Anyway, I stuck the curd (a scant 2 cups) in the fridge, and once it was thoroughly chilled... Eureka! It had thickened to a smooth, spreadable consistency, stiff enough to mound nicely when dropped from a spoon.
It's not as stiff as jarred lemon curd...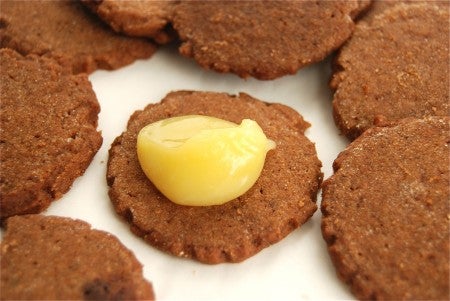 ...but it's certainly stiff enough to dollop onto a ginger cookie and enjoy.
Or combine with whipped cream for a lemon icebox pie, or spoon into paczki – both of which I intend to try ASAP.
Stay tuned...
Read, make, and review (please) our recipe for Easy Microwave Lemon Curd.
Jump to Comments