Cape Cod Soft Molasses Cookies
Looking for love...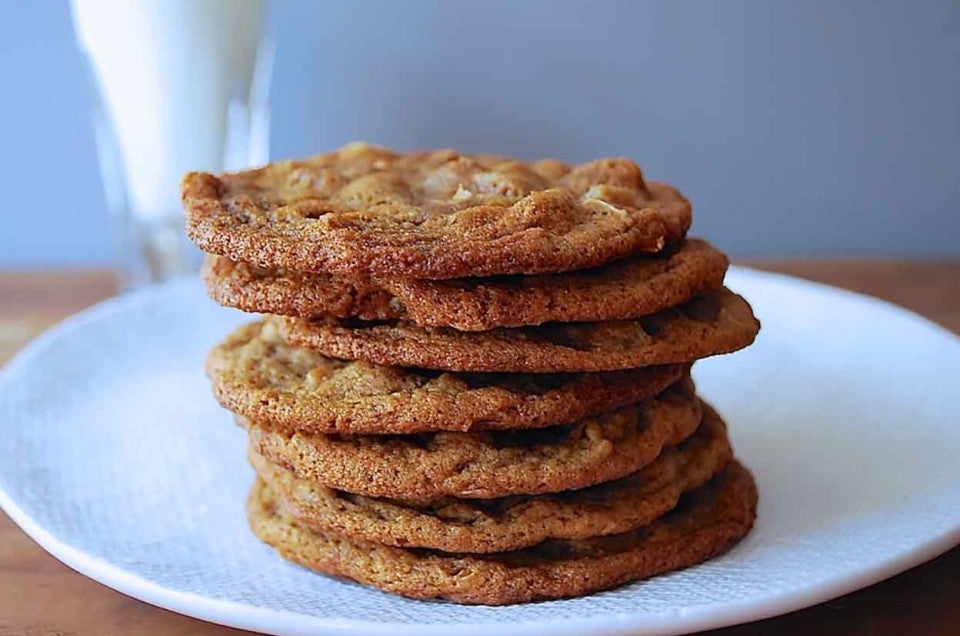 If there's one thing I particularly love here at King Arthur Flour, it's the challenge posed by readers wanting to replicate a favorite treat they've enjoyed at a restaurant or bakery.
Pamela's pancakes in Pittsburgh, Baltimore's famous Berger cookies...
Or the ginger-molasses cookies from a certain bakery on Cape Cod.
A couple of months ago, "nancyapoet" posted the following blog comment on our gingersnaps recipe:
"I REALLY like the ginger taste (from cookies remembered from when we lived on Cape Cod) and have been trying to replicate them ever since (they were bakery-bought). Does anyone use grated ginger in addition to the ground spice? I also add the crystallized ginger bits. I'm also going to try out black pepper as an ingredient – I am the type to go to the ends of the earth to 'recover' the cookie taste I remember from the Cape!"
After another clue from Nancy (the bakery was known for its chicken pot pies) and a bit of research, we tracked down what we thought might be the bakery: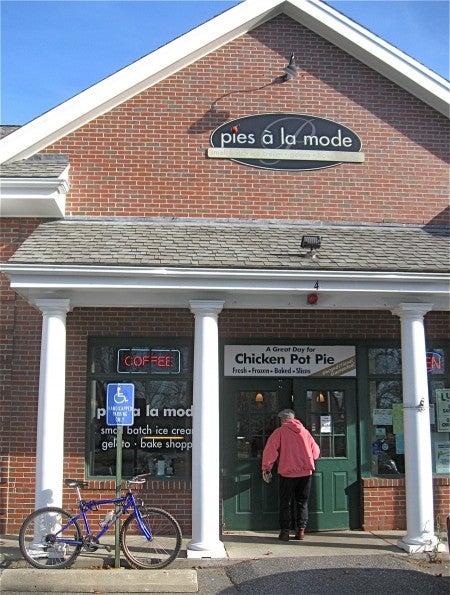 Pies à la Mode, in Falmouth, a delightful shop right next to the library on Main Street.
Chicken pot pie: check, right there over the front door.
But how about molasses cookies?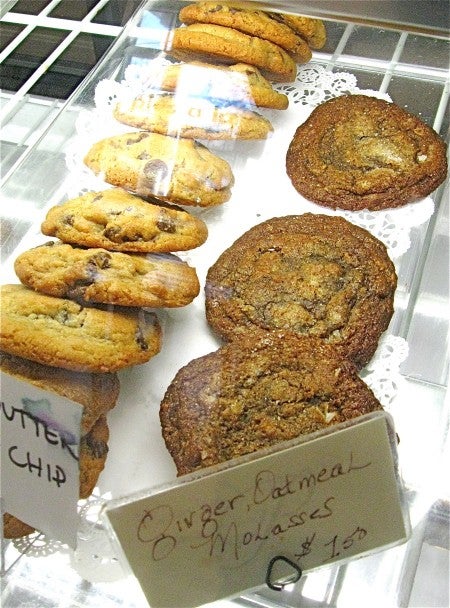 Success! These must be the cookies Nancy loves so much.
We bought; we tasted; we agreed.
Delicious.
The gauntlet had been thrown. Time to re-create these at home.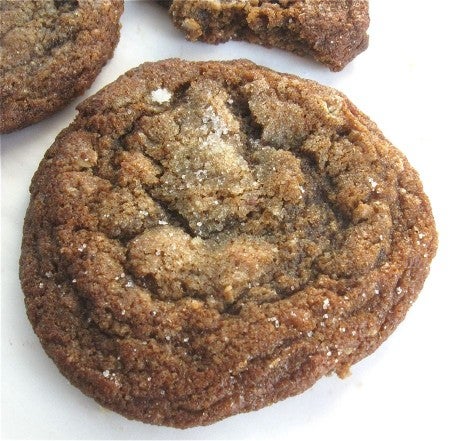 Here's a closeup, to get us started on our journey.
They're moist, but not "wet." Nicely chewy/bendy; and they taste very strongly of both ginger, and cloves.
This shouldn't be TOO tough, right?
Well, no – "shouldn't" being the operative word.
But as it turned out – it was.
Long story short: I took one of my favorite molasses-raisin cookie recipes, added oatmeal (to match Pie's cookies), substituted diced crystallized ginger for raisins, added fresh ginger, and fooled around with the spices.
SCORE! Very close match. The only real difference was the spices; Pie's cookies tasted strongly of cloves, which I don't love, so I used milder allspice instead.
Satisfied with this unexpectedly quick success, I carted a stack of cookies to my north window photo area, took their "beauty shot," and sat down to write up the new recipe.
One problem: I hadn't noted all the changes I'd made.
You know how it is in the heat of battle, with ideas tumbling over one another like breakers on the beach...
"What if I grind the oats? Should I reduce the amount of flour? If I leave the oats whole and DON'T reduce the flour, will it change the cookies' texture?"
"Hmmm, better write all this down. Nah, I'll remember..."
Or not.
When I sat down to write up the recipe, I realized I wasn't sure about some of the changes I'd made. So I remembered as best I could, and baked them again.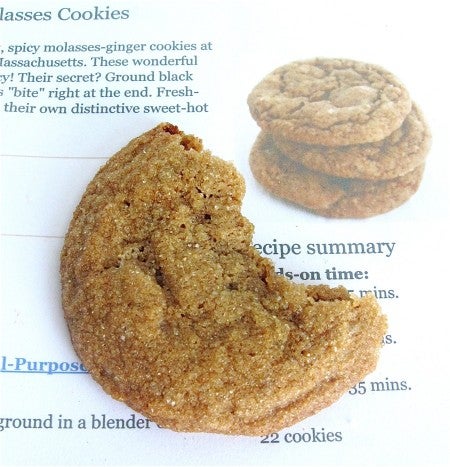 DARN! They weren't quite right.
Namely, the cookies were missing their distinctive crinkled tops. I usually don't care too much about looks, but these had been SO handsome the first time around.
Without the crinkles, they just looked... brown.
I changed the recipe slightly, and baked them again. Nope. More changes. Worse. Back to the original (maybe I just left something out?) No, and no, and no.
"The test kitchen" definitely earned its moniker on this one.
Thankfully, I finally managed to re-create those first successful cookies – using an entirely different recipe as a jumping-off point.
Note to self: you DO have a pencil. Next time – use it!
First, preheat your oven to 350°F. Lightly grease (or line with parchment) two baking sheets.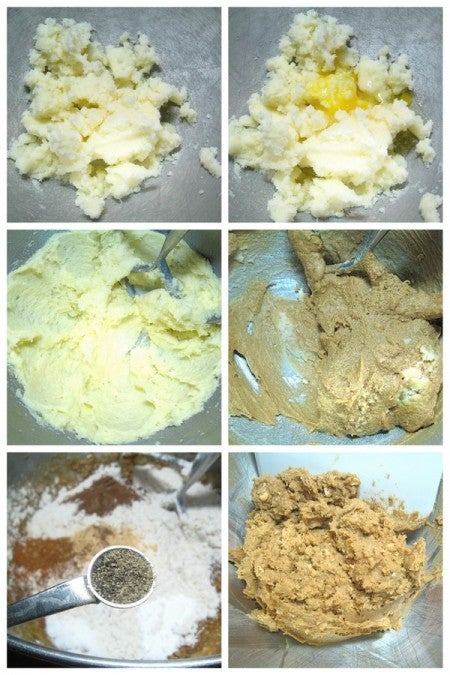 Place the following in a mixing bowl:
12 tablespoons (170g) butter, room temperature
1 cup (198g) granulated sugar
1/2 teaspoon salt
2 teaspoons baking soda
Mix until smooth.
Beat in 1 large egg, and then 1/3 cup (113g) molasses, scraping the sides and bottom of the bowl to blend in any sticky residue.
Add the following:
2 1/4 cups (269g) King Arthur Unbleached All-Purpose Flour
1/3 cup (30g) rolled oats, old-fashioned or quick-cooking
1/2 cup (85g) crystallized ginger, finely diced; or mini diced ginger
1 teaspoon grated fresh ginger, or to taste
heaping 1/2 teaspoon ground cinnamon
1 teaspoon ground ginger
1 teaspoon ground allspice or ground cloves
1/4 teaspoon ground black pepper, optional
1 teaspoon espresso powder, optional; for depth of flavor and added color
Mix just until thoroughly combined.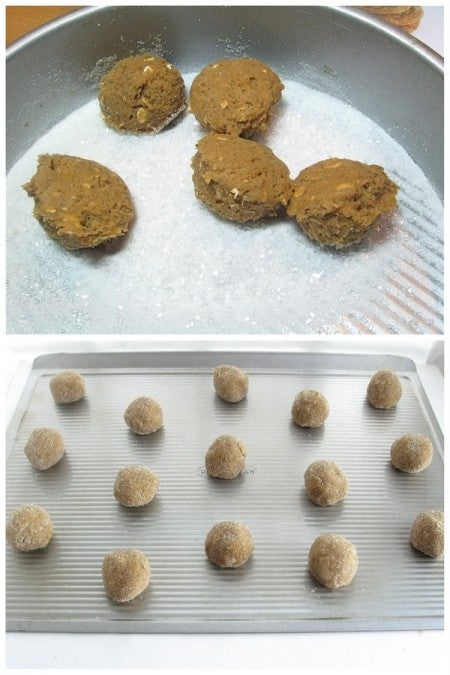 Scoop the sticky dough into 1 1/2" balls; a tablespoon cookie scoop works well here. Roll the balls in sugar (either granulated or coarse), if desired; 1/3 cup to 1/2 cup should do it. This is easily done by sprinkling the sugar into an 8" cake pan, and dropping the sticky dough into the pan. Shake the pan to coat the dough balls with sugar.
Space the cookies on the prepared baking sheets, leaving about 2" between them.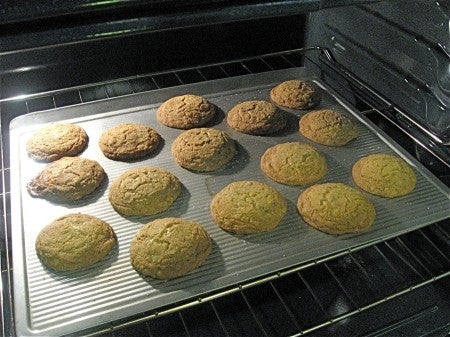 Bake the cookies for 8 to 10 minutes. The centers will look soft and puffy; that's OK. Cookies baked for 8 minutes will be VERY soft; bake them for 10 minutes, they'll be firmer.
They won't really attain their crinkly tops until they cool; so don't stress if they just look kinda plain and brown at this point.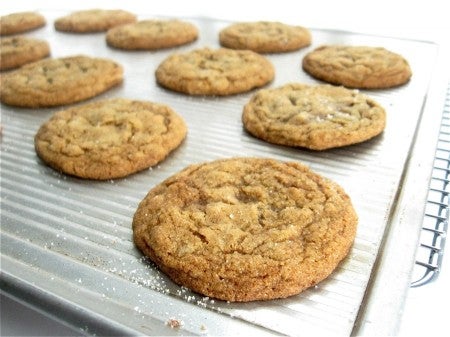 Remove them from the oven, and cool right on the pan; or transfer to a rack to cool.
See what I mean about the crinkles? They develop as the cookies cool.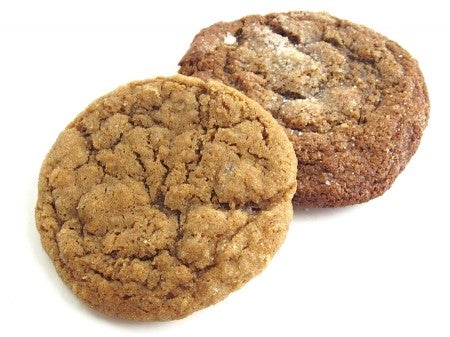 In front, our cookies; behind, Pie's cookies. Theirs are darker, but taste/texture is very close.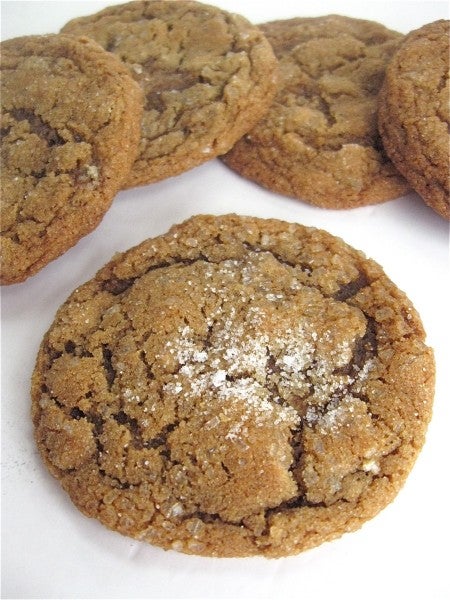 Oh, and one last thing: Pie's cookies have a very obvious sugar coating – one you won't get simply by rolling the balls of cookie dough in sugar.
How to get this extra shower of sugar? Once you've spaced the dough balls on the baking sheet, drop a big pinch of additional sugar atop each one.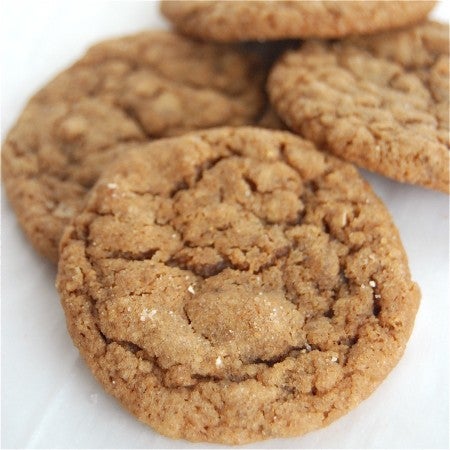 No extra sugar on this one, but LOVE those craggy crinkles - don't you?
Read, bake, and review (please) our recipe for Cape Cod Soft Molasses Cookies.
Jump to Comments