Break out your Wellies and bumbershoot, it's a drizzly day. When it's nearly time for dinner, what treats can we make to chase away the cold weather blahs and fill us with comfort? Even more important, what can we make for pudding today?
Dash away all thoughts of a box of powdered cocoa and sugar concoction, in Britain "pudding" is how they say "dessert". Before you think I'm telling porkies, I swear by my only chavy I'm speaking the truth. Okay, I'll get off of the British slang glossary website and speak American again. Loosely translated, it says "before you think I'm telling lies, I swear by my only child I'm telling the truth." Your Wellies and bumbershoot? That's your rainboots and your umbrella.
I may kid around about mudboots and my level of mental stability, but I never kid about dessert. On a rainy day, I know you want comfort food. No pickled pepper chocolate truffles, no vanilla bean asparagus shortbread, just good old pudding. In this case, a sticky toffee pudding.
What exactly is a sticky toffee pudding? Well first of all it's a name that's very hard to pronounce without at least a hint of British accent, no matter who you are. The dessert itself is a slightly sweet molasses cake that is soaked in a homemade caramel sauce that creates the "sticky" part of the dish. For some reason, I always used to think that sticky toffee pudding took days to make and tasted of coffee (my former arch-nemesis). When Charlotte our recipe developer was creating and testing this recipe I was pleased to learn it could be made in about half and hour and was a wealth of caramel flavor without a hint of coffee in site. Move over chocolate lava cake, there is a new soft and sweet sensation in town.
Don't Adam and Eve it? (don't believe it?) Come on, let's go make some sticky toffee pudding.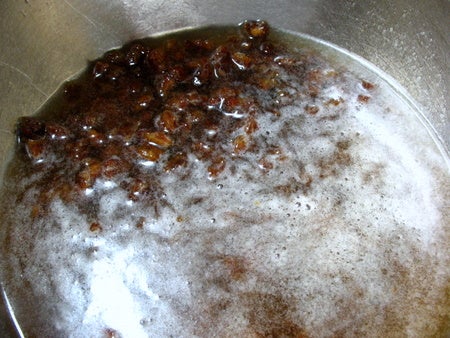 Soak the 1 cup dried dates or figs in the 2/3 cup boiling water as you work on the batter.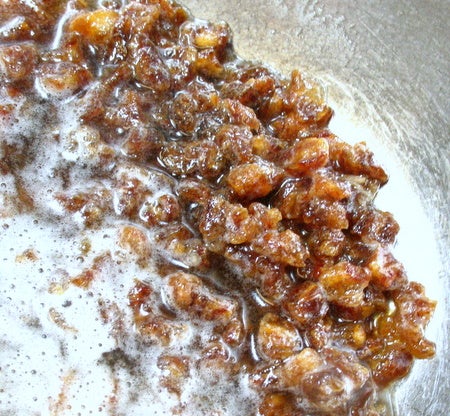 You'll see how nicely they soften up and become plump and tender.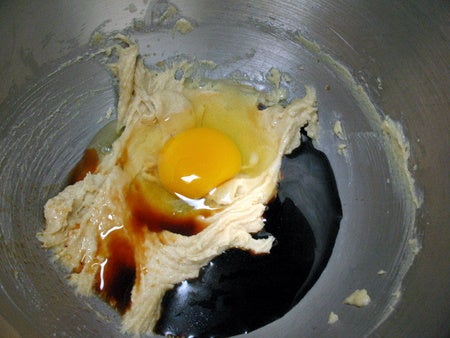 In the bowl of your mixer, blend together until light and fluffy:
¼ cup soft butter
1/4 cup brown sugar
3/4 teaspoon salt
1/2 teaspoon baking powder
Add in:
1 large egg
2 tablespoons dark molasses
1 teaspoon vanilla extract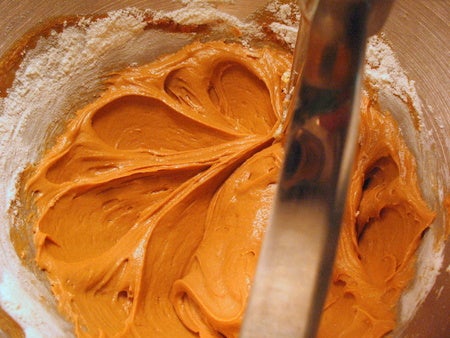 Blend in:
1 cup King Arthur Unbleached Cake Flour Blend.
10 points to your house if you know what is wrong with this picture. That's right, always scrape down the bowl after beating! Just look at how much flour would go unincorporated if you didn't scrape it down with a spatula.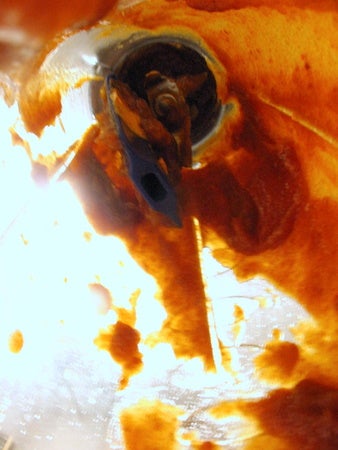 Puree the softened dates and water in your food processor of blender.
A word of caution. If you aren't careful with your spatula, you'll end up with it stuck fast to the blades. My dilemma prompted me to send an email out to a few of the guys in the department, promising a warm sticky pudding to anyone would could come and pull the sword from the stone, or at least open the bottom of the blender to free my poor stuck spatula. Public shout out to Frank, who came to my rescue.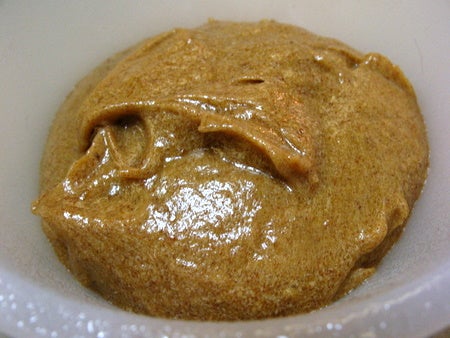 After you blend in the puree and the baking soda, scoop the batter into 6 mini silicone baking pans, or 6 small ramekins.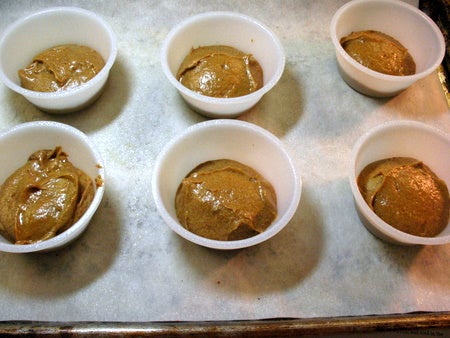 If you use silicone cups, it's still a good idea to give them a spritz with cooking spray to ensure the cakes slide out, and place them on a baking sheet for stability.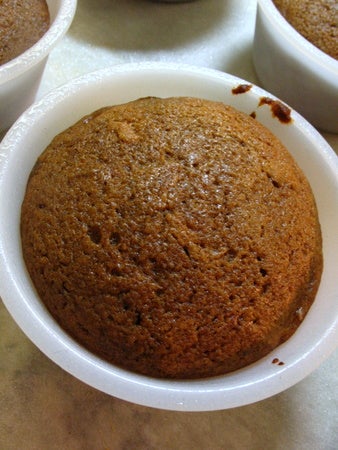 Bake in a pre-heated 350°F oven for 18 to 22 minutes, or until the cakes are light and springy in the center when touched lightly. Set aside to cool in the cups.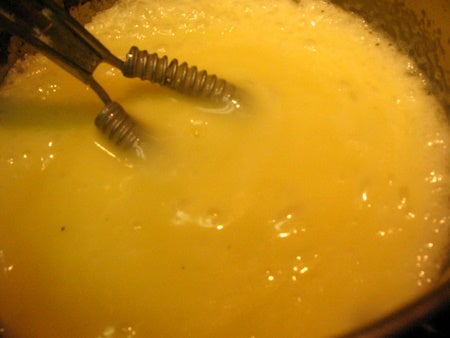 The cakes are very good on their own, but it's the caramel sauce that really sends them over the top into sticky pudding goodness land. In a small saucepan, combine:
½ cup Baker's  superfine sugar, or granulated sugar
6 tablespoons butter
¼ teaspoon salt; omit if using salted butter
Whisk over medium-low heat until the sauce turns from pale to deep amber in color. This sugar mixture will scorch if left unattended, so stay right on top of it.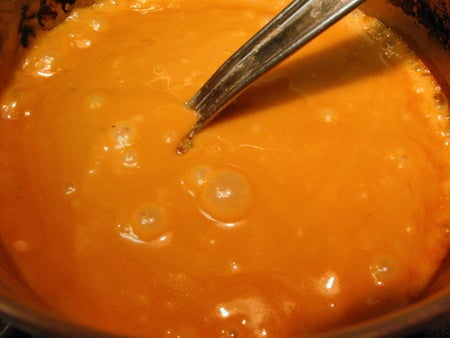 Mmm, thick caramel sauce, so good. But we're not done yet.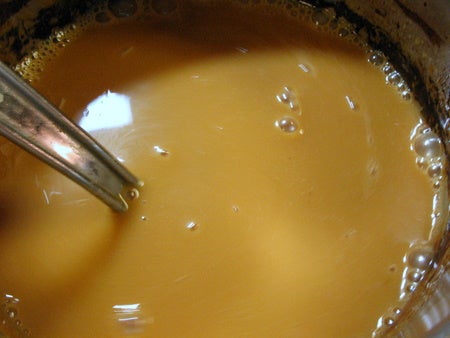 Whisk in 3/4 cup heavy cream and continue to cook for another 5 minutes or so, until the sauce coats the back of a spoon. It will seem thinner than when you started but that's exactly how you want it, so it will soak into the cakes.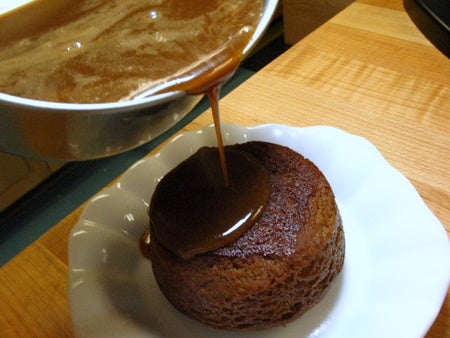 To serve, place each cake in a small bowl or serving dish with a rim so you keep every drop of sauce as you pour it over the top of the cake.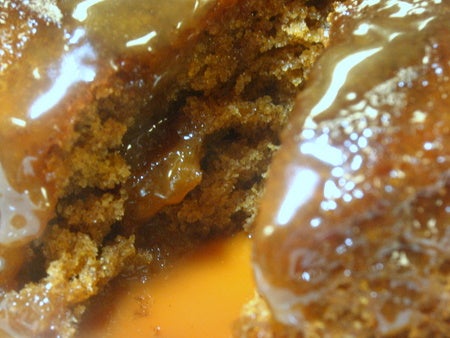 The first bite is a revelation of warm cake, warm sauce and rich caramel flavor. The cake is soft and tender from the Unbleached Cake Flour blend, and the sauce soaks in to each bite and creates the sticky goodness this dessert is famous for.
This is a dessert I would make on a rainy night, when you want a cozy, comfortable dessert that will wrap your taste buds in little blankets of caramel. So, tell your bricks and mortars (daughters), and your baker's dozen (cousin), you can make pudding with the best of them.
Please bake, rate and review our recipe for Sticky Toffee Pudding.
Jump to Comments