How does this...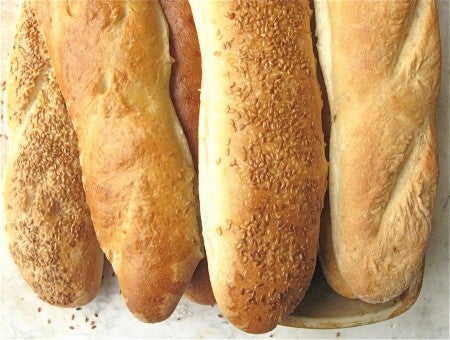 Become this...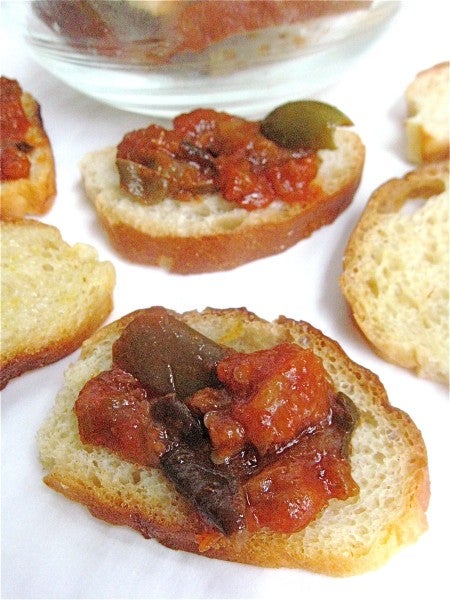 It's the MAGIC of sourdough!
Sourdough starter may put you in mind of ultra-sour, San Francisco-style sourdough bread. But it's SO much more versatile.
Basically, sourdough starter can be used in any recipe where you combine flour with water or another liquid.
Pancakes and waffles? Classic and delicious. Cake? You bet. Pizza? SO good...
And sourdough baguettes? They're a natural. The baguette's simple flour/water/yeast/salt dough, when made with sourdough starter, acquires deep, nuanced flavor impossible to obtain from "straight" dough: one made without a starter.
That richly flavored, crusty loaf, so wonderful when fresh, quickly loses its glamour, though. A sourdough baguette straight from the oven? Heaven. Next day? Well, unless you reheat it... meh, not so good.
Which isn't to say it's for the birds. Day-old or stale baguettes make remarkably good crostini – "little toasts," in Italian.
Cut the baguette into thin crosswise slices; spray or brush with olive oil, if desired; and toast in the oven until crisp. Top with a dab of caponata; a dollop of soft cheese, or a drizzle of imaginatively flavored oil.
Instant appetizer!
First, though, come the Sourdough Baguettes. Let's do it.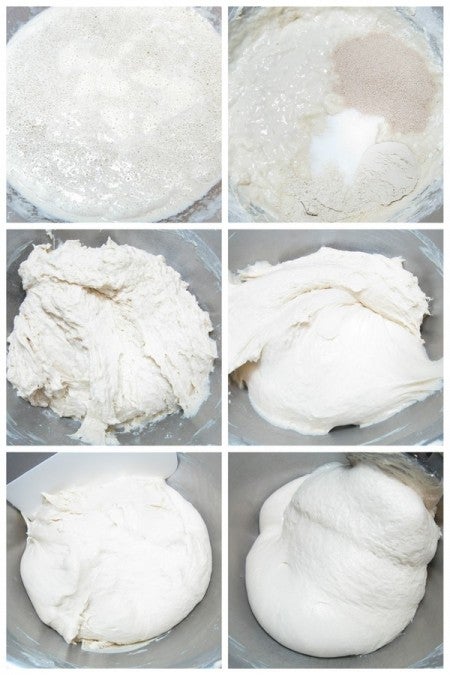 Start with a batch of sourdough starter. It should be cream-colored, about as thick as very thick pancake batter, and, if you've fed it, nice and bubbly.
Why would you use UNFED sourdough starter?
If you feed your sourdough before using, the loaves will rise better; but if you're in a hurry, unfed sourdough will simply lend its flavor, while the yeast in the recipe takes care of the rise.
Combine the following in a mixing bowl:
1 1/4 cups lukewarm water
2 cups sourdough starter, about the consistency of thick pancake batter; fed, or unfed
4 1/2 to 5 cups (540g to 600g) King Arthur Unbleached All-Purpose Flour
2 1/2 teaspoons salt
2 teaspoons sugar
1 tablespoon instant yeast
4 teaspoons vital wheat gluten*
No vital wheat gluten? Leave it out; your baguettes won't rise quite as high, but will still taste fine. Or substitute King Arthur Unbleached Bread Flour for the all-purpose flour.
Stir everything together to make a rough dough. Then start to knead (using a stand mixer, or your hands), adding only enough additional flour as necessary; a slack (sticky)  dough makes a light loaf.
The dough will probably stick to the sides of the bowl (or your work surface) at first; scrape it off the sides, and continue kneading for about 7 minutes in a stand mixer; or 8 to 10 minutes by hand.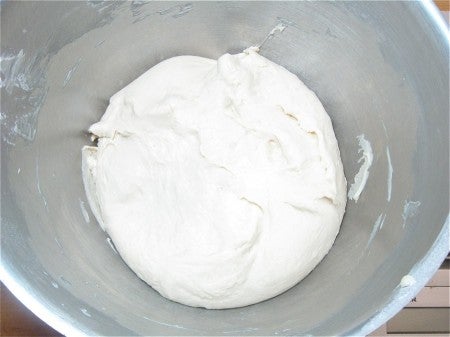 Turn the dough into an oiled bowl, cover the bowl...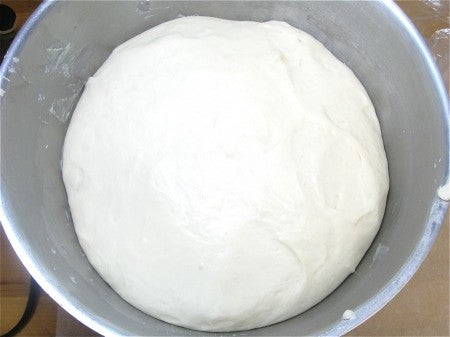 ...and let the dough rise until doubled in bulk, about 90 minutes.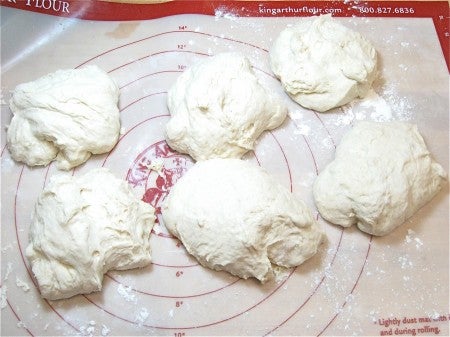 Gently deflate the dough, and divide it into six pieces (for thin baguettes) or three pieces (for thicker Italian loaves).
Shape each piece into a 16" long loaf (or 15" loaf, if you're using baguette pans). Here's how: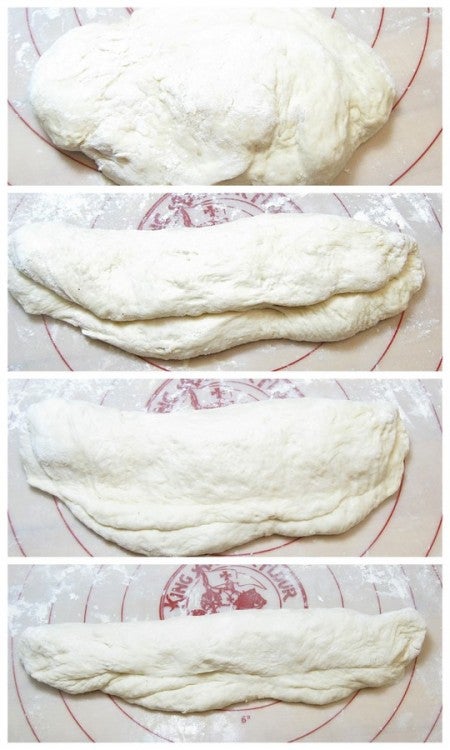 Working with one piece of dough at a time, shape it into a rough log. Fold it lengthwise, and use the heel of your hand to press the edges together. Fold it lengthwise again, and again press the edges together; you'll notice that during this folding process, the dough has naturally lengthened.
Turn the log over so the seam side is down, and gently roll it into a 15" to 16" log.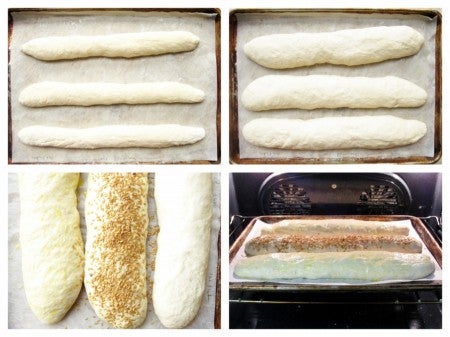 Place the logs onto two greased or parchment-lined baking sheets; or into two lightly greased baguette pans. Cover them gently with lightly greased plastic wrap, and let them rise for 1 1/2 to 2 hours, or until they're nice and puffy.
Towards the end of the rising time, preheat your oven to 450°F.
If desired, gently brush the loaves with egg yolk glaze – 1 egg yolk mixed with 1 tablespoon cold water. Sprinkle them generously with Pizza Seasoning, Artisan Bread Topping, or the toppings of your choice. If you're not brushing the loaves with egg yolk, spray them with olive oil spray; this will help them brown.
For a classic look, make three diagonal slashes in each loaf, cutting about 1/4" deep. For taller, rounder baguettes, don't slash.
Bake the baguettes for about 25 minutes, or until they're a rich golden brown.
Remove the loaves from the oven. Turn off the oven, crack it open a few inches, and return the loaves to the cooling oven, without their pans. Letting the loaves cool right in the turned-off oven helps preserve their crunchy crust.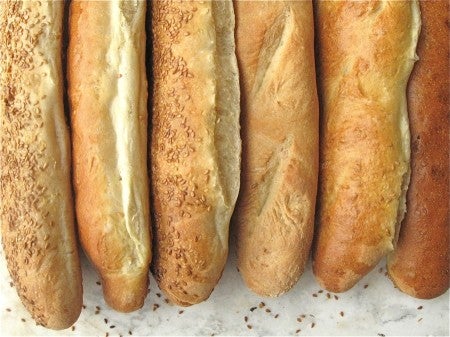 Remove the loaves from the oven when they're cool.
(If you can't wait until they're cool, go ahead – rip right into one while it's hot. But leave the others in the cooling oven.)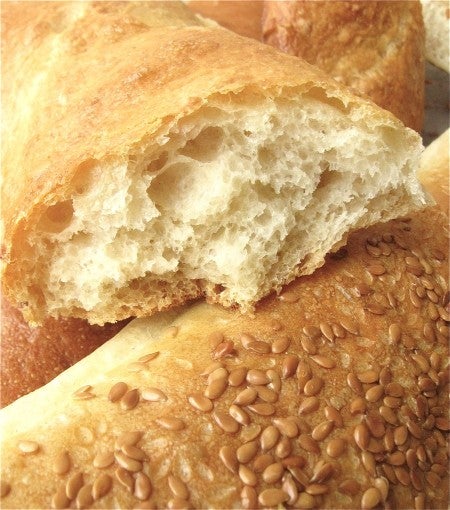 Break one open; enjoy its lovely, hole-riddled interior.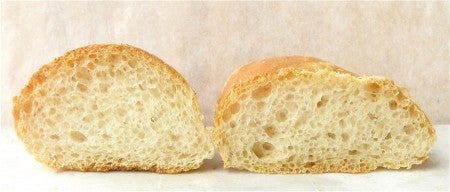 The loaf on the right was slashed; on the left, unslashed. Your choice.
OK, what about those other five baguettes, the ones you didn't wolf down right away? Unless you're having a party, you probably won't eat six baguettes in one day.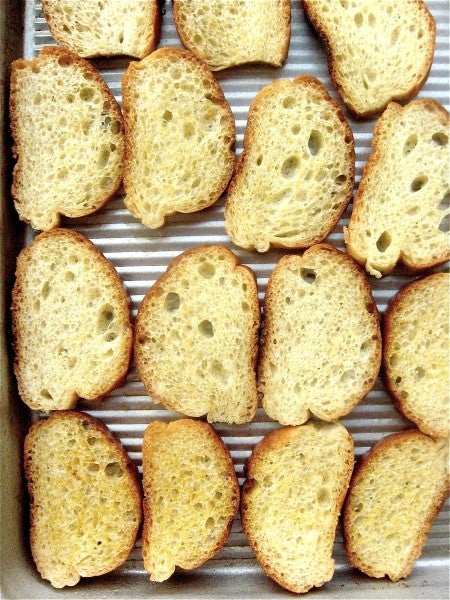 Whatever you don't enjoy the first day, either reheat in a 350°F oven for about 10 minutes, lightly tented with foil, to restore the loaves' crunchiness; or slice and make into crostini.
Crostini are a great snack to have on hand for unexpected holiday guests. Add cheese, or olives, or guacamole, or any kind of topping, and you're good to go, appetizer-wise.
Slice stale baguettes about 1/3" thick. Brush or spray with olive oil, if desired. Bake in a preheated 350°F oven for 20 minutes or so, until crostini are crunchy and starting to brown.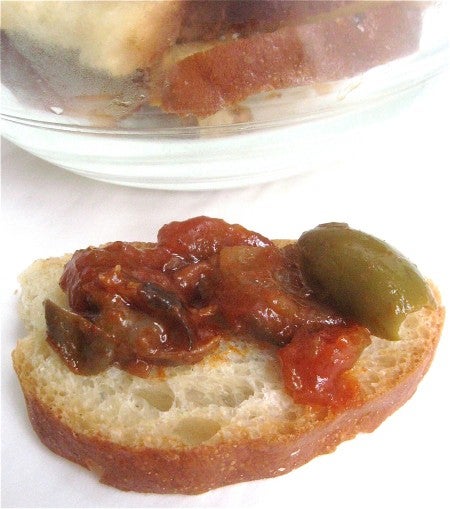 Remove from the oven, cool completely, and store airtight; they stay fresh and crunchy for weeks. Serve with toppings of your choice.
And pat yourself on the back for being OH-so-ready for impromptu holiday entertaining!
Read, bake, and review (please) our recipe for Sourdough Baguettes.
Jump to Comments