Isn't it funny that when you get a group of people together, you can usually divide them up in so many different groups with just a few words?
Cat lovers over here, dog lovers over there. Easy listening on the right, Heavy Metal on the left.
Vanilla? Chocolate.
Hey, fruitcake lovers, join me on the couch.
*crickets chirping*...Ummm, anyone? Fruitcake lovers, I'm waiting. *sigh*.
Okay, I know fruitcake is the most maligned baked good on the face of the planet, but I truly think that stems from centuries of rough, hard, dry lumps being passed off as holiday treats. Who wants to wake up on Christmas morning to a dark, chunky, sticky mass with outbreaks of day-glo protrusions pockmarking the surface?
Well, I'm here to tell you that is all literally in the past, and this year you can become one of the new in crowd.
Seriously, all the Hollywood stars are raving about fruitcake now, and I've heard they even want to give fruitcake a spot on the Walk of Fame*. A not-to-be named rock star is planning to wear a fruitcake hat and gown to the Oscars this year**, and a free-wheelin' singer has written a song called "Fruitcakes†."
*Okay, maybe I haven't heard that but a baker can dream, can't she?
**Again, maybe not, but wouldn't that be something to see?
†Actually, this one is true. Parrothead rocker Jimmy Buffet has a song called "Fruitcakes." It's one of my personal favorites.
So, jump on the bandwagon and forget everything you've been told about fruitcake in the past. I PROMISE YOU fruitcake can be light, tender, fruity, and full flavored, with nary a hint of cement or acid-colored fake foods. While we have a plethora of good recipes on our site, my sites are set on our Golden Fruitcake recipe. Let's get started.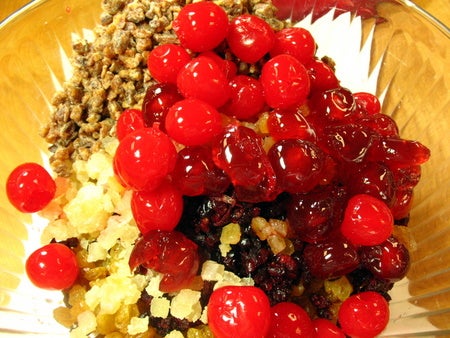 Let's start with the fruits. Remember, while it's nice to go "traditional," be sure to use the fruits that you like. You'll need 6 3/4 to 7 cups of fruit, including the cherries. For this batch, I used dried dates, candied peel, dried cranberries, golden raisins, and two types of cherries.
Our favorite fruit blend is just delightful as well, using diced apricots, raisins, pineapple cubes, chopped dates, and sweetened cranberries. I'm not an apricot girl, but if the blend appeals, it's the real deal!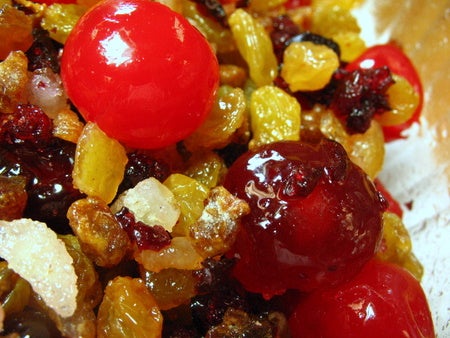 Candied red cherries are the norm, but I'm in love with maraschino cherries, so I used those as well. One cup of maraschino and 3/4 cup candied worked out well for me, but you can reverse the ratio if you wish.
To plump and refresh the fruits, soak in 3/4 cup (170g) brandy, rum, or apple juice overnight at room temperature. This is one of those steps that while you do have to plan ahead, makes a huge difference in the outcome of the finished cake. Please, please don't skip this part.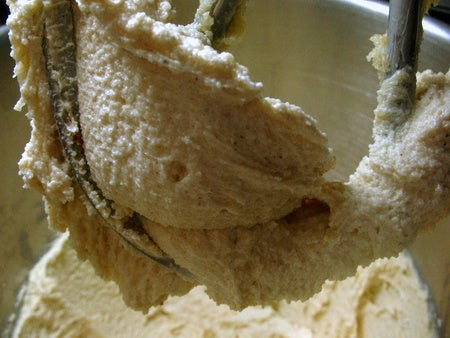 The next day when you're ready to bake, combine in your stand mixer bowl:
16 tablespoons (227g) unsalted butter, at room temperature, at least 65°F
1 3/4 cups (347g) sugar
1/4 cup (78g) light corn syrup
2 teaspoons baking powder
1 teaspoon salt
1/2 teaspoon nutmeg
1/8 teaspoon Fiori di Sicilia, optional
Beat until light and fluffy.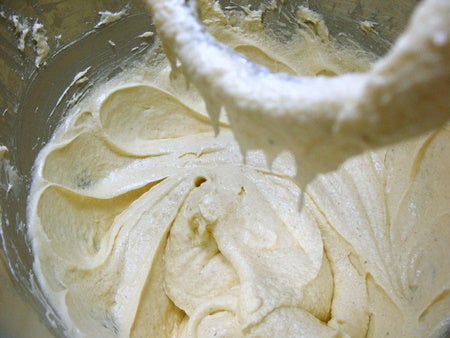 Beat in 5 eggs, one at a time. Alternate adding 3 3/4 cups (447g) King Arthur Unbleached All-Purpose Flour and 1 cup (227g) milk, beginning and ending with flour.
At this point, I always have a hard time not dipping into the batter. It just smells like Christmas.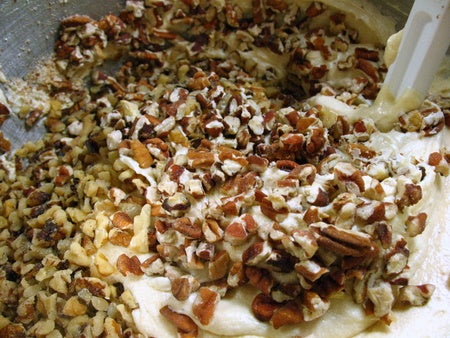 Stir in 2 cups (227g) diced nuts. I used both walnuts and pecans. Please do choose your favorites.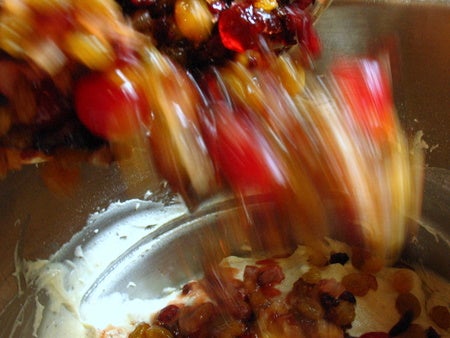 Waaahooo! Everybody into the pool! Add in your soaked fruits and any leftover soaking liquid. Stir everything together a few more times and get ready to pan it all up.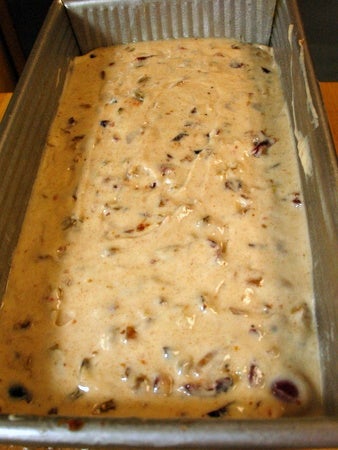 This recipe makes a LOT of batter! I was able to get one 9" x 5" loaf pan, plus...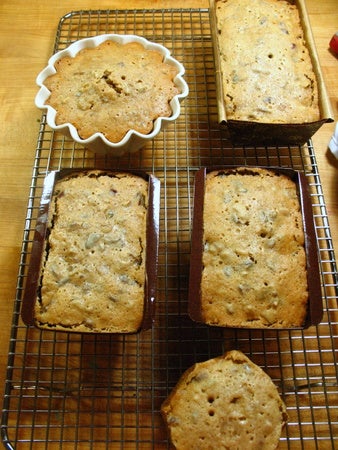 Two 4 3/4" x 2 ¾" x 1 ¾" pans, four 2 1/2" round mini pans, one mini brioche pan (2-cup capacity) and two 7"x 3 1/2" x 2" medium paper pans.
Whew! Of course, you can choose which sizes work best for you. See the recipe for more tips on how many of each pan you can get out of one batch of batter.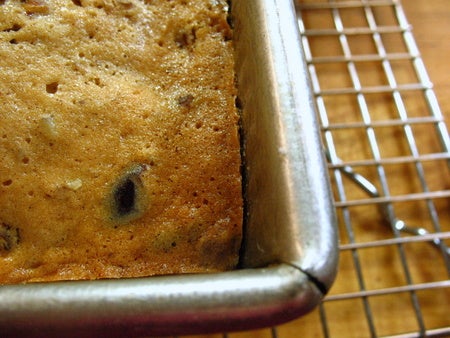 Bake the cake in a preheated 300°F oven. Baking time will depend on the size of your pans and number of pans used. For an 8 1/2" x 4 1/2" pan, baking time will be around 50 to 80 minutes. To see if cake is fully baked, check to be sure it's light golden brown all over; a cake tester inserted into the center comes out clean, and the edges of the cake just barely begin to pull away from the pan.
While the batter tends to pull away cleanly from the metal loaf pans, it can be a little less neat for your paper pans. Running a slim knife or scraper around the edge of the cake once it comes out of the oven is a real help in getting a nice, even release. In the test kitchen, we call it " doing the thingaround."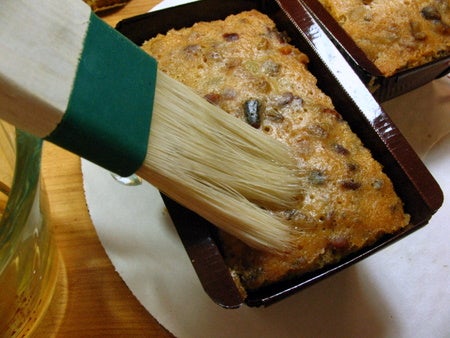 While the cakes are still warm, brush with a little extra brandy, rum, or juice. You'll want just enough to moisten the loaves, but not soak them.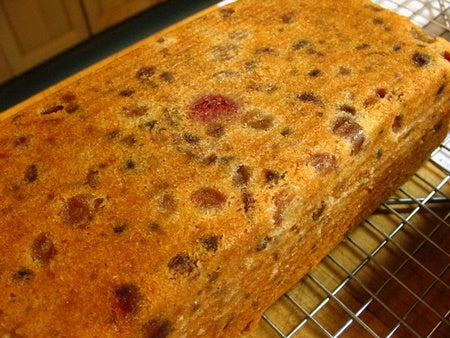 How's that for luck? I didn't place the cherry in the center of this loaf, but when I turned it out of the pan, there it was. As we do share pans here in the kitchen, I felt obliged to turn out my largest fruitcake, to free up the pan. When it's cool, I'll put it on a plate for storage. If you're using paper pans, there's no need to turn out your fruitcake.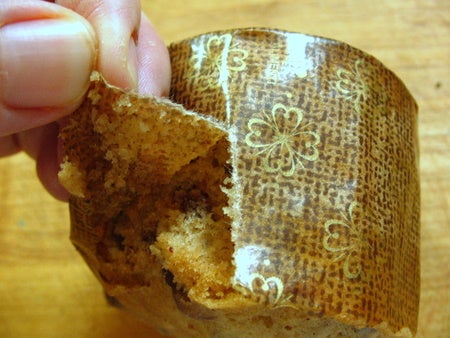 Speaking of the paper bake and give pans, we are often asked how to get the baked goods out of them. For small round loaves, peel them off like you would peel an orange. That's the beauty of the disposable pan.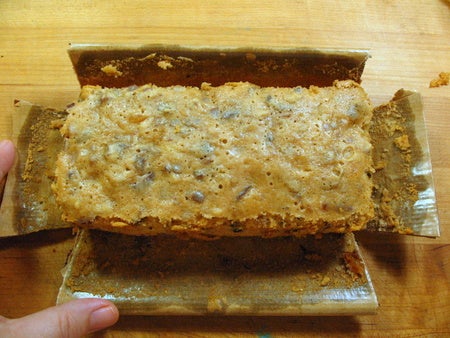 For the loaves, if you cut down along the four corners, you can peel off each side and have a little tray underneath. It makes slicing a breeze.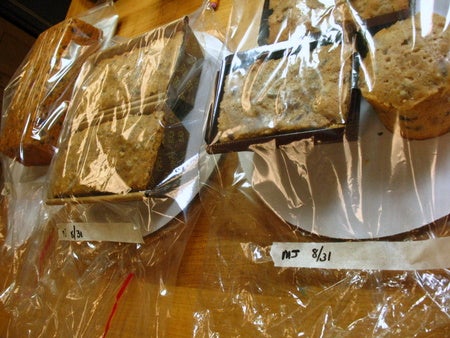 Here they are, wrapped up and ready to be "laid down." If you don't plan to brush them with liquor once a week, you can put them right into the freezer for up to 3 months. If you're going to brush them, they can remain at room temperature for at least that long.
Most fruitcake lovers will make their holiday cakes in October to have them sufficiently ripened by December. For those of you with eagle eyes, you'll notice that the little brioche pan of fruitcake is missing, along with a couple of the smaller round ones.
Where did they go?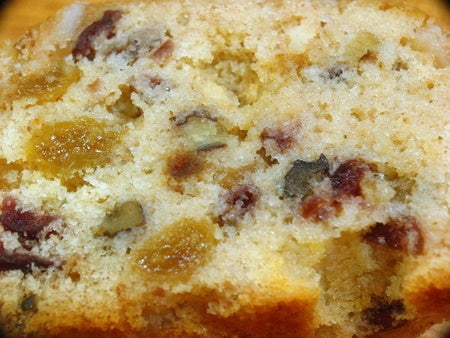 Those fruit and nut studded wonders went straight to the tasting table. You absolutely can eat fruitcake the day that it's made. You'll get the mild spice from the cake, the crunch of the nuts, and the tang of the fruits. If you used liquor, it will be a little sharper, not quite as mellow. Still and all, a sublime dessert for coffee time any day of the week.
Be sure to join us for Fruitcake Fridays on our Facebook page. Each Friday, we'll be sharing fruitcake trivia, tips, tricks, and folklore. You can also use it as a reminder to booze up your fruitcakes once a week from now until the holidays. See you there!!
Please bake, rate, and review our recipe for Golden Fruitcake.
Jump to Comments