I admit it, I'm a fiend. Pointy tail, forehead horns, spinning head, the whole 9 yards.
What, pray tell, turns your mild-mannered baking blogger into such a creature?
Chocolate. Or more specifically, lack of chocolate. I'm pretty sure that sometime in the Dark Ages, one of my French ancestors was cursed with the love of chocolate and would turn into a howling mess if more than 24 hours passed without chocolate in some form passing their lips.
Mais oui, c'est vrai! (But yes, it's true!) I don't remember my mother suffering, so it may have skipped a generation or two, but I know for sure that one key to keeping me in my right mind is regular doses of good old theobroma cacao.
If I haven't been baking brownies, cake, or chocolate cookies, sometimes I have to settle for a quick fix of a chocolate bar, or even a handful of chocolate chips. Chocolate ice cream will do the trick during warmer weather, and nothing soothes the savage beast in me during the cold months like a rich, decadent cup of hot chocolate.
While I do enjoy taking the time to make my hot chocolate from scratch, chopping a piece of chocolate by hand, measuring out a big spoonful of sugar, etc. there are times when the clock is ticking towards the witching hour and I need my special concoction in a hurry.
Enter this Hot Chocolate Mix for a Crowd. It has all the best ingredients that you would use for an extraordinary cup of chocolate, but pre-mixed for convenience. It keeps for months (not that it usually lasts that long), and makes an excellent gift for Morticia, Gomez, Uncle Fester, and all of the boys and ghouls on your holiday list.
Let's whip up a batch.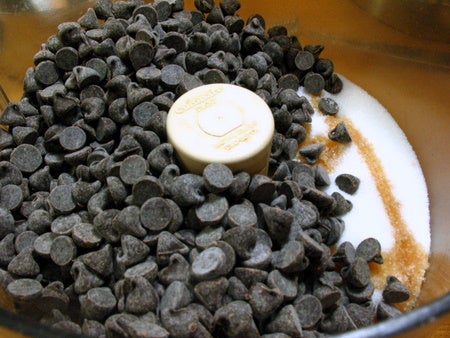 How to make hot chocolate mix for a crowd
In the bowl of your food processor place:
2 cups (397g) granulated sugar
2 teaspoons vanilla
2 1/2 cups (354g) semi-sweet chocolate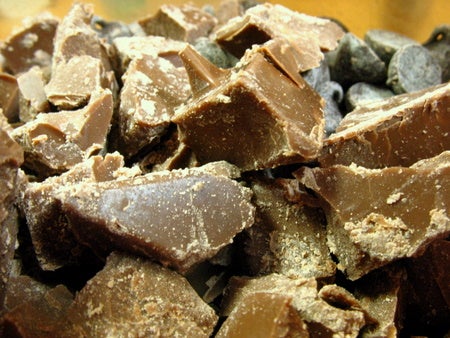 Add 3/4 cup (113g) chopped milk chocolate.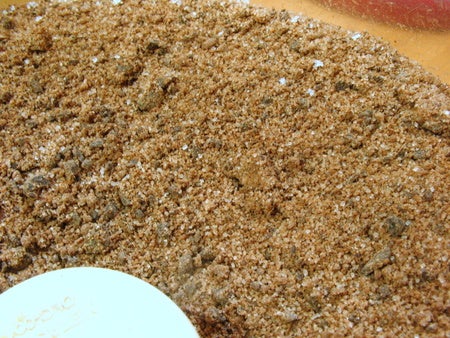 Pulse in 3 to 4 second bursts until the mixture resembles chunky granola. Process on high for 1 minute.
Add 1 cup (85g) Double-Dutch Dark Cocoa, and a pinch of salt (optional); process for another minute.
(No Double-Dutch cocoa? No fear, just use your favorite unsweetened baking cocoa).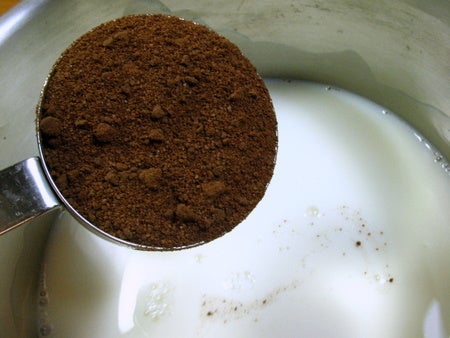 The mix will look like brown sugar: moist, and with more texture than plain powdered mixes.
How to prepare the hot chocolate
To make 1 cup of cocoa, heat 8 ounces of milk to a simmer and add 1/4 cup of your hot chocolate mix.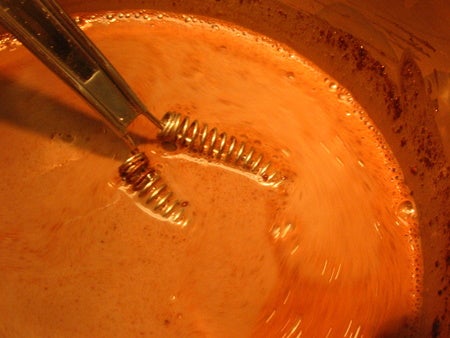 Whisk constantly until the chocolate is melted and the milk is hot. Keeping the milk in motion will prevent scorching.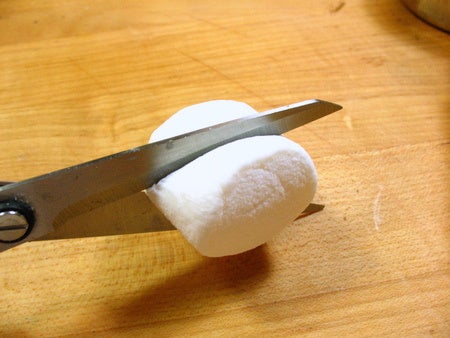 In the spirit? Make it spooky!
Ready to top your treat? Sure, anyone can plop in whipped cream or marshmallows, but remember, YOU are a kitchen wizard!
Let's start by cutting a large marshmallow in half with kitchen scissors. A spritz of cooking spray on your scissors will help with any sticking.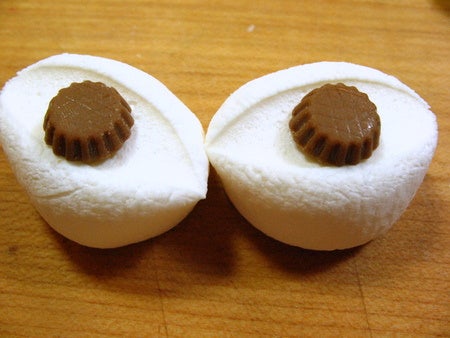 Turn the marshmallow sticky side up and press two "eyes" into the center. I've used mini peanut butter cups here, but chocolate chips and M&Ms would work well too. If you want to go all the way, try cinnamon red hots for a true horror movie look.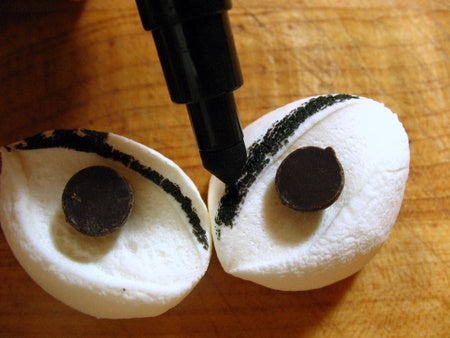 "And I'm packing your angry eyes, just in case." Like Mr. Potato Head, having a good pair of angry eyes can do the trick sometimes. Edible markers can be used to add details to your peepers, too.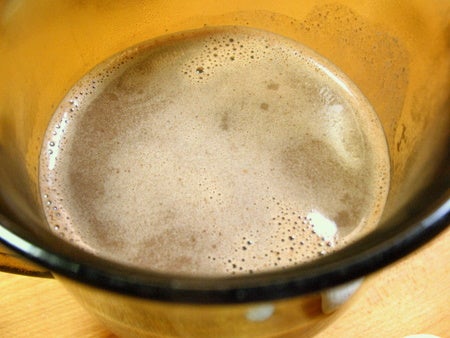 Plain hot chocolate is outstanding any day of the week; Halloween calls for something special...
SEE what I mean?
All in favor, say EYE!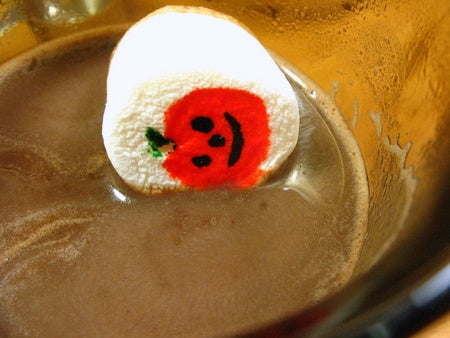 If having your drink stare back at you isn't your cup of cocoa, try adding some decorated marshmallows to your cup. Coloring on marshmallows is a snap with Foodoodlers. I once made colored marshmallows on a stick for a bake sale, and they were a hit!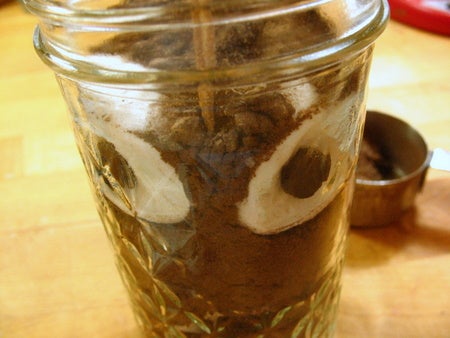 Having a Halloween party? Haunted Hot Chocolate would make a great party favor. Fill your jar 2/3 full with the hot chocolate mix, then press two eyes up against the glass. Getting them to stick a little is helpful when you fill the rest of the jar. Use a skewer to push some mix between the eyes to fill in. Top with a fun Halloween fabric print, or even fake fur for all out fun.
This recipe will make a 6 cup batch, enough for 2 dozen 8-ounce servings.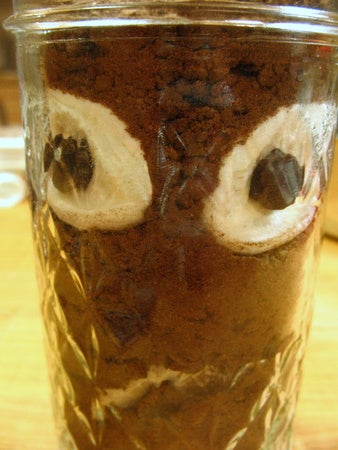 Be sure to include a tag with instructions. Remember, I'm watching you!
Please make, rate, and review our recipe for Hot Chocolate Mix for a Crowd.
Jump to Comments