Oatmeal and Flax Cranberry Cookies
Bring on the good stuff!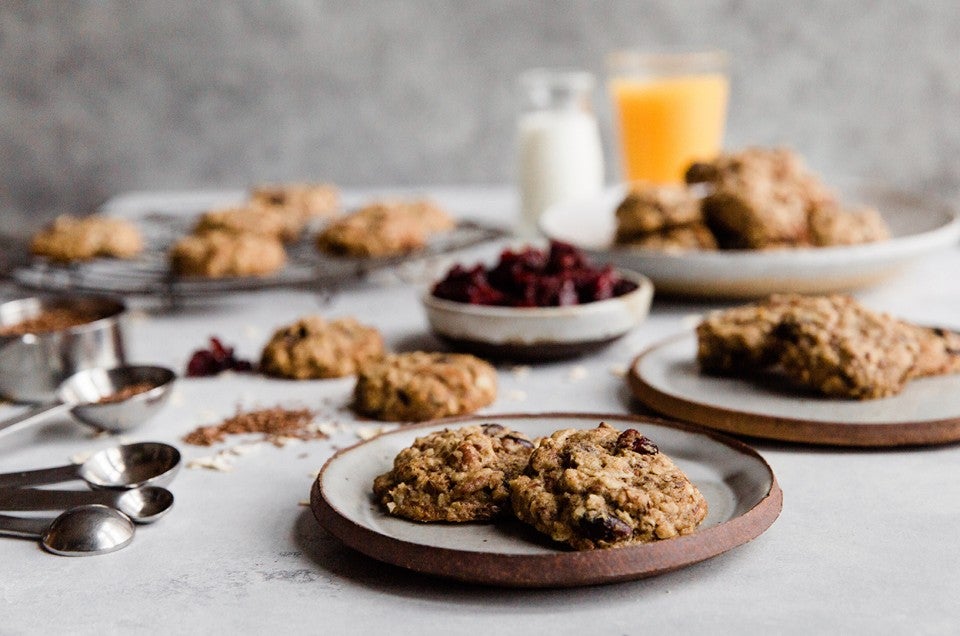 Oh, no, not more HEALTHY STUFF.
Whole wheat flour. Oats. Fiber-rich dried cranberries.
Walnuts, which the FDA agrees can reduce your cholesterol.
And that's not all.
Let's hear it for flax. Rich in protein, fiber, antioxidants, and Omega-3 fatty acids, flax is a nutritional powerhouse. Flax is also a rich source of soluble and insoluble fiber, as well. Experts agree (and the government concurs), consuming 1 to 2 tablespoons of flax a day is shown to be beneficial to your health.
And now flax tastes good, too – thanks to golden flax: a step up, flavor-wise, from its brown sibling. IMHO.
But more on that later. Let's make these chewy-in-the-center, crunchy-on-the-edge, delicious-through-and-through Oatmeal and Flax Cranberry Cookies.
First, lightly grease two baking sheets, or line them with parchment.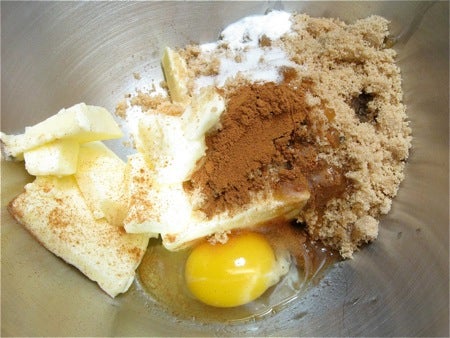 Put the following in a bowl:
16 tablespoons (227g) butter, softened
3/4 cup (159g) brown sugar, packed
1 teaspoon cinnamon
1 teaspoon vanilla extract
1/2 teaspoon baking soda
1/2 teaspoon salt
1 large egg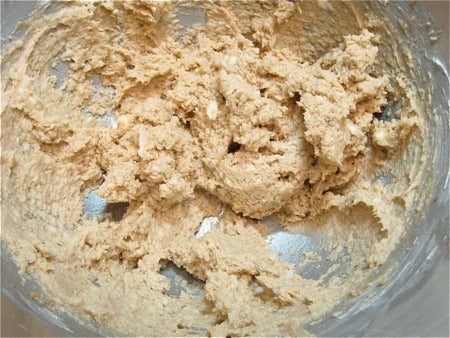 Beat everything together until the mixture is fairly smooth.
Now, here comes the healthy stuff...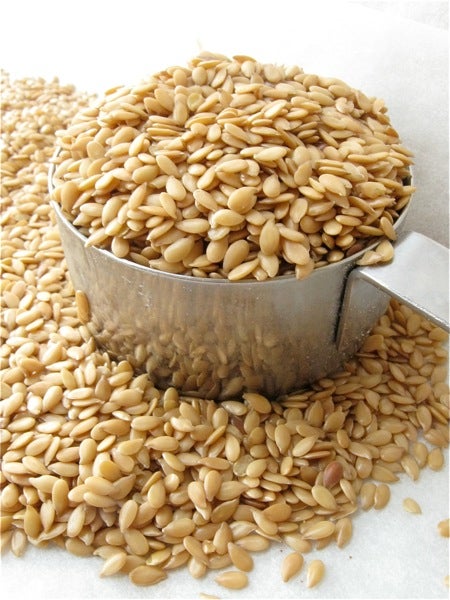 Golden flax seeds. Aren't they gorgeous? With the rich color of burnished gold, these flax seed looks great sprinkled atop crusty rolls and breads, or rolled into crunchy crackers.
Plus, their nutty, almost buttery flavor is wonderful in (and on) all kinds of baked treats, both savory and sweet. Including these cookies.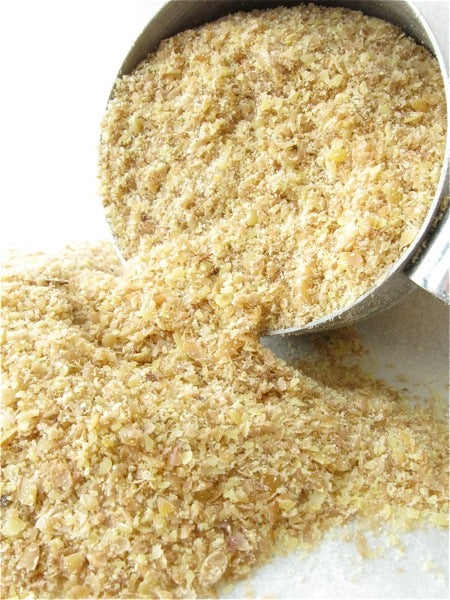 And whole flax meal: ground golden flax seeds.
Let's add 1/4 cup (43g) flax seeds and 1/2 cup (43g) whole flax meal to the ingredients in the bowl...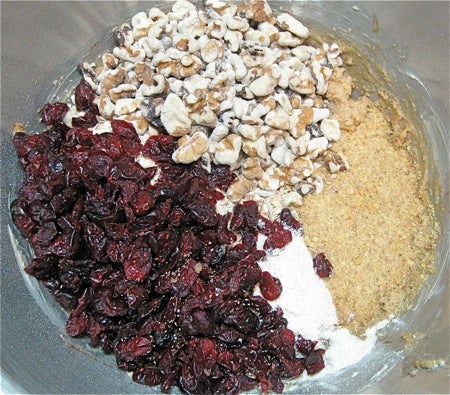 ...along with the following:
1 1/2 cups (170g) King Arthur White Whole Wheat Flour
1 1/2 cups (134g) old-fashioned rolled oats (not instant or quick cooking)
1 1/2 cups (170g) dried cranberries or raisins
1/2 to 1 cup (57g to 113g) chopped nuts, optional; walnuts or pecans are tasty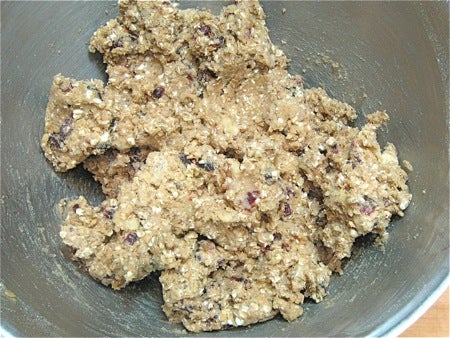 Mix to make a stiff dough.
Let the dough rest for 30 minutes or so at room temperature, for the oats to soften.
Towards the end of the rest period, preheat the oven to 350°F.
Grab your baking sheet...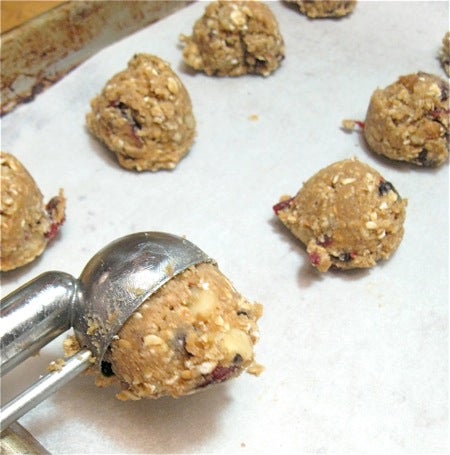 ...and plop the dough onto the sheet in rounded tablespoonfuls.
Yes, the scoop does make it VERY easy to make round, all-the-same-size balls of dough.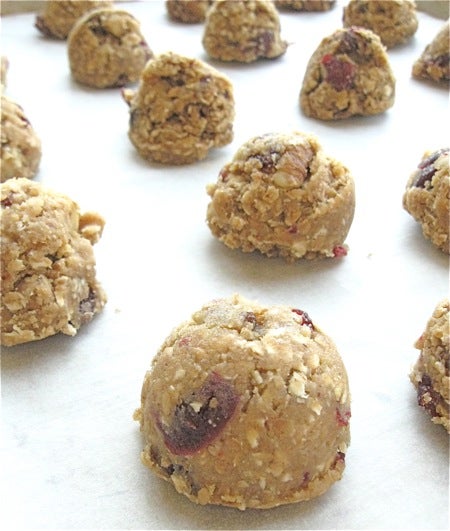 Ready for the oven? Not quite.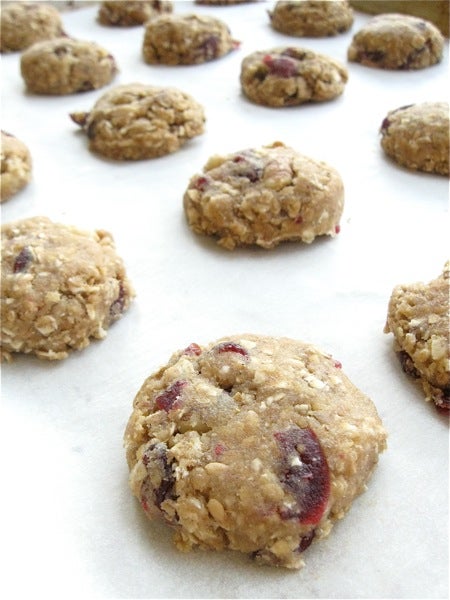 Flatten each ball of dough slightly. Your fingers, palm, or a flat-bottom cup all work well here.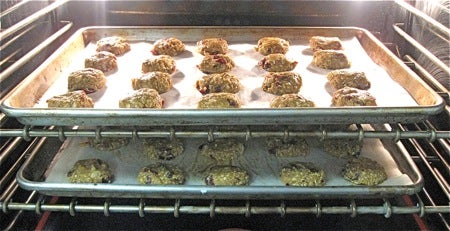 Bake the cookies for 10 to 12 minutes, until golden brown. It helps to rotate the pans in the oven midway through – top to bottom, bottom to top; front to back, back to front.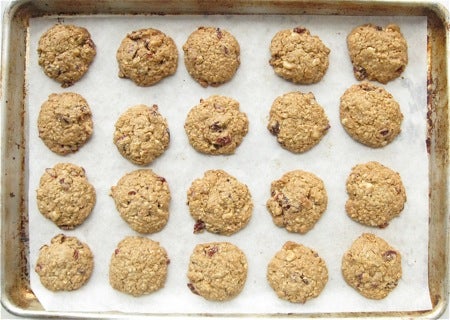 Remove the cookies from the oven, and cool right on the pans.
If you need a pan for another batch, just grab the parchment/cookies and transfer to a cooling rack, freeing the pan. If you didn't use parchment – wait about 10 to 15 minutes for the cookies to set before moving them to a rack.
Hmmm, I wonder what happens if I don't flatten the dough balls before baking?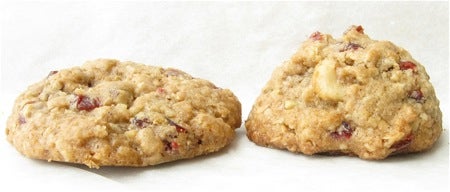 You end up with tall, somewhat soft cookies instead of flatter, crunchier cookies.
Your choice; both good.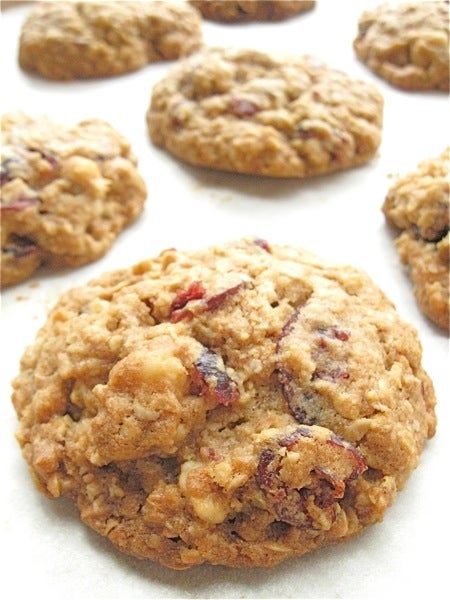 Now, when you see these cookies, do you immediately think "healthy antioxidants?"
Or "YUM"?
Break out the (skim) milk!
Read, bake, and review (please) our recipe for Oatmeal and Flax Cranberry Cookies.
Jump to Comments