Maple Corn Muffins
Southern classic gets a Far North makeover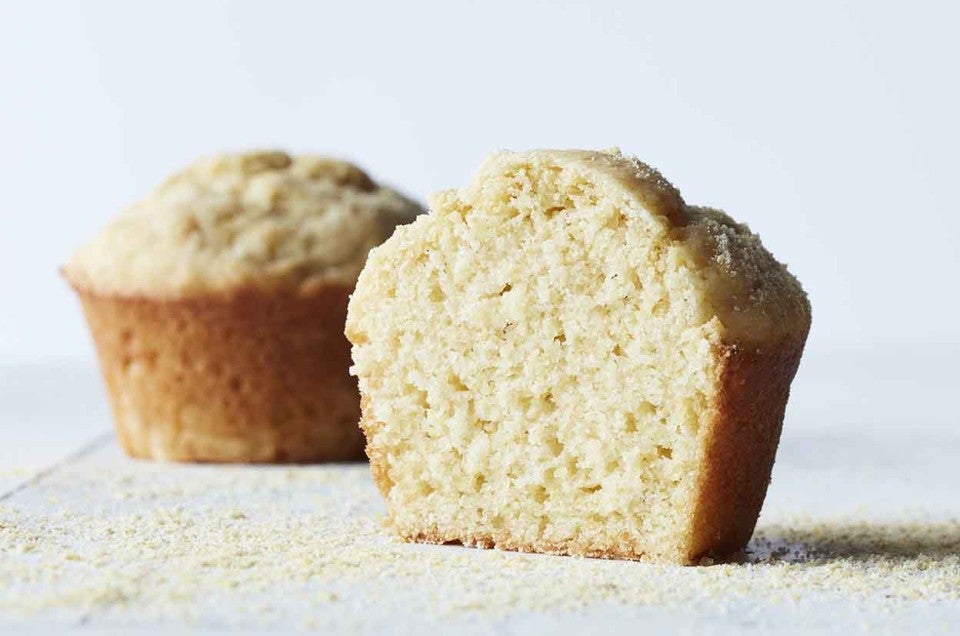 Is there anything quite as lovely as a simple corn muffin?
Its sunny interior perfectly reflects the color of the corn from which it springs.
You know the liquid-yellow hue of a just-shucked ear of corn? It's not Crayola yellow, nor golden, nor even bright lemon.
No, fresh corn is a pale but rich yellow, the color you might expect an opal to be – if opals came in yellow.
The muffin pictured above isn't exactly corn-colored; it's a deeper tone, a combination shucked corn and mahogany. But its slightly less sunny color is the result of a secret ingredient...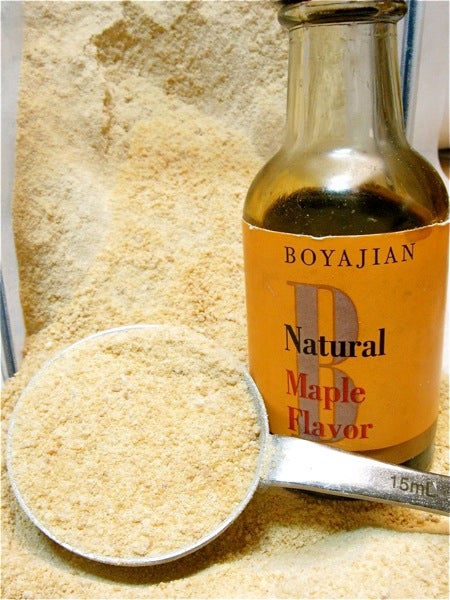 Maple, which brands this muffin as Canadian: corn and maple are two of Canada's most important food crops.
In honor of July 1, Canada Day, let's make a batch of easy Maple Corn Muffins.
Preheat the oven to 400°F. Lightly grease the 12 wells of a standard muffin pan; or line them with muffin papers, and grease the papers.
What's the difference, whether or not you line your muffin pan with papers? Stay tuned...
Place the following in a bowl:
1 3/4 cups (206g) King Arthur Unbleached All-Purpose Flour
1 cup (170g) yellow cornmeal
2 teaspoons baking powder
1/2 teaspoon baking soda
1/2 teaspoon salt
Whisk to combine.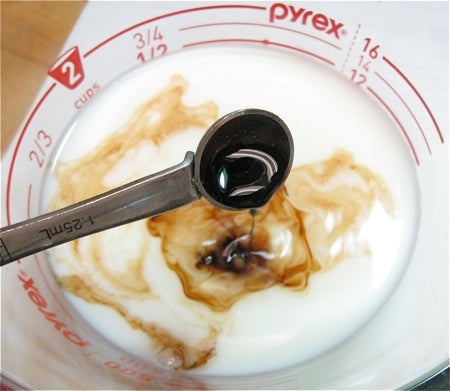 In another bowl or large measuring cup, whisk together the following:
1 cup (227g) milk
1/4 cup (78g) maple syrup
1/2 to 3/4 teaspoon maple flavor, optional
1 large egg
We've found that maple is one of the hardest flavors to "carry through" in baking. You have to add an awful lot of maple sugar or maple syrup to a recipe to taste it – at the risk of over-sweetening whatever it is you're baking.
If you're a fan of maple, I suggest keeping some maple flavor (pictured above) on hand; it really does boost the "maple-iness."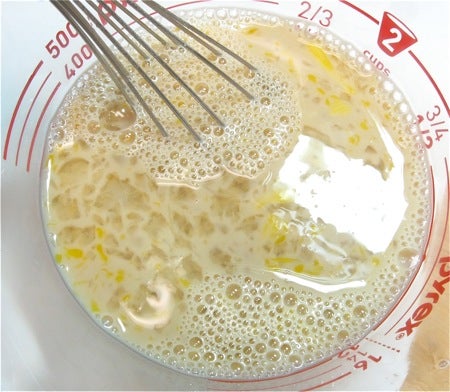 Whisk to combine.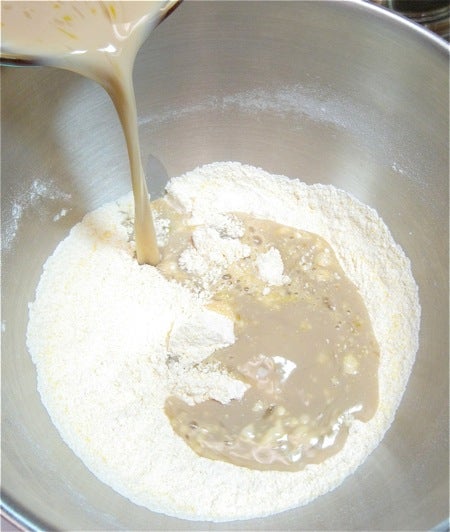 Add the wet ingredients to the dry ingredients...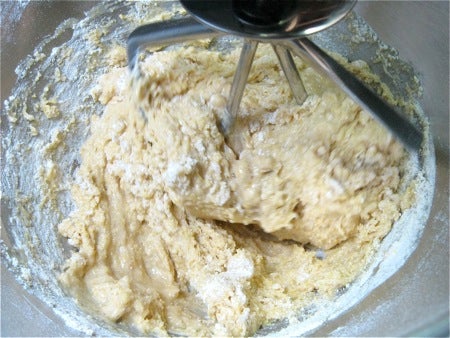 ...and stir to combine.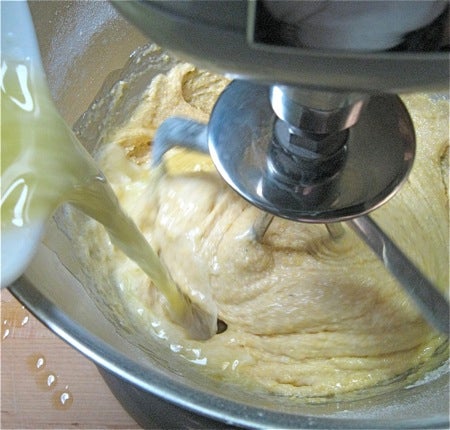 Finally, stir in 8 tablespoons (113g) melted butter. Unsalted is preferable, but if you use salted, reduce the salt in the recipe to 1/4 teaspoon.
Why not just add the melted butter along with the other liquid ingredients?
Because adding hot melted butter to cold milk and egg results in semi-solid butter globs, which are more difficult to combine (quickly) with the dry ingredients.
So, what does it matter how long it takes to beat the butter into the batter?
In the case of stir-together muffins – muffins where you simply stir wet and dry ingredients together, without beating butter and eggs and sugar together first – less is more. The less you stir, the less the flour's gluten will develop, the more tender your muffins will be.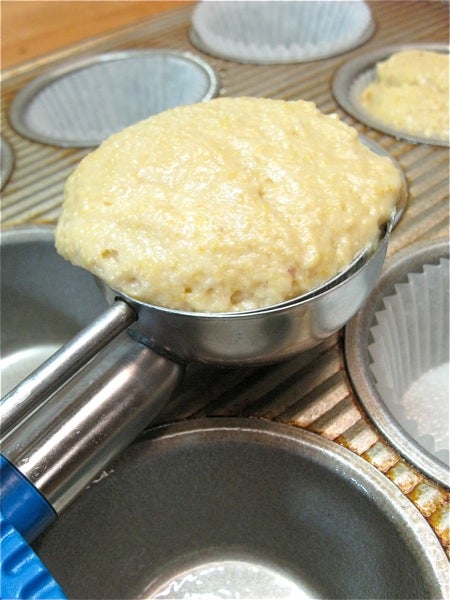 Scoop the batter by the heaping 1/4-cupful into the prepared pan. A muffin scoop is helpful here - no drips, no sticky fingers, and perfect portions every time.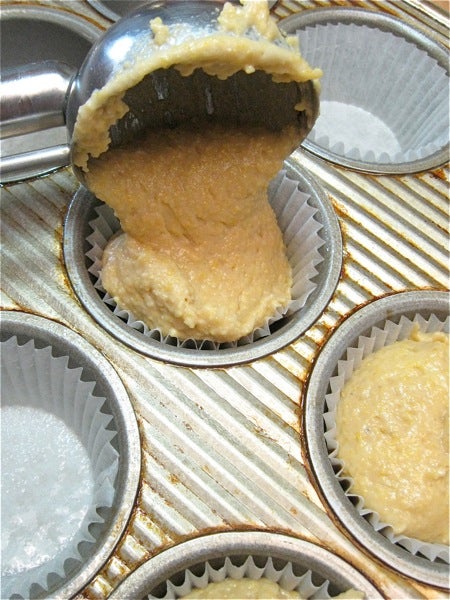 See what I mean? Easy does it.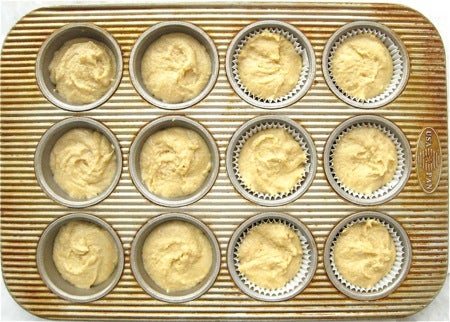 Ready for the oven? Not yet.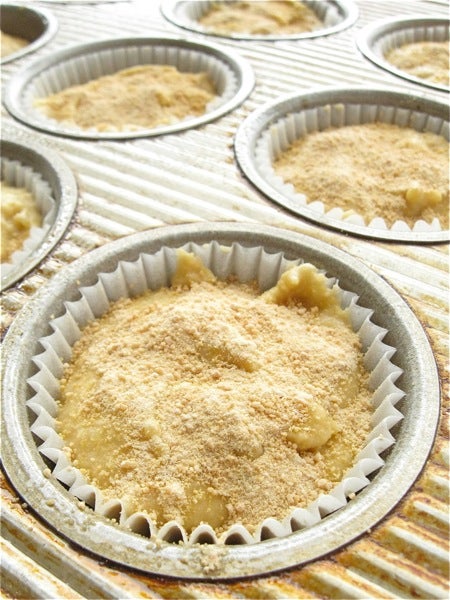 Sprinkle the top of each muffin with some maple sugar, if you have it. I find that using maple as a condiment rather than an ingredient really helps its flavor come through.
Another option: mix some sparkling white sugar with maple syrup, and spread on top of the muffins.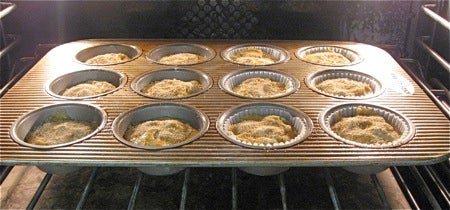 Bake the muffins for 15 to 18 minutes...
...until one of the center muffins tests done: the top should spring back lightly, and a toothpick inserted into the center should come out clean, or with just a few moist crumbs clinging to it.
Do you see any difference in rise between the muffins on the left, and those on the right? Hint: look at the back row.
It's all about the muffin papers.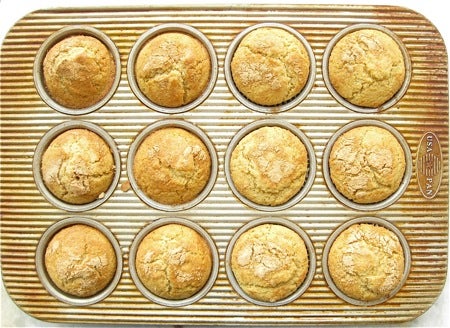 Remove the muffins from the oven.
Tilt them in the pan (they're hot, be careful), so their bottoms don't steam and become leathery.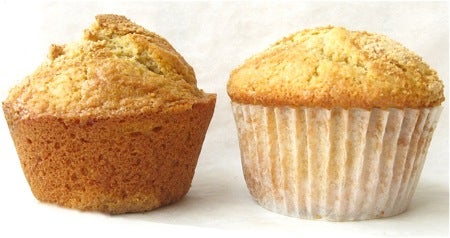 At last – muffin mysteries revealed! The muffins that baked in the papers rise more evenly, since the paper provides JUST enough insulation so that the edges don't set way before the centers.
So there you have it – another reason, besides presentation and ease of cleanup (unless you enjoy laboriously scrubbing each well of a muffin pan) to use muffin papers.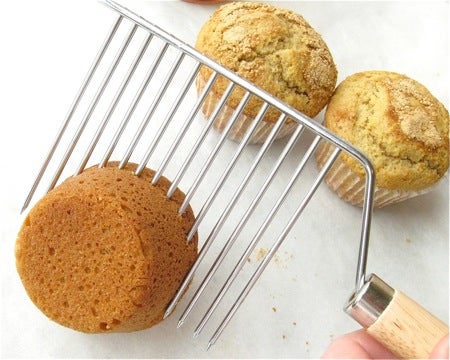 And here's another trick. Hot muffins, like angel food cake or English muffins, can be quite delicate, their interior easily squashed.
How about using an angel-food cake cutter to split hot muffins?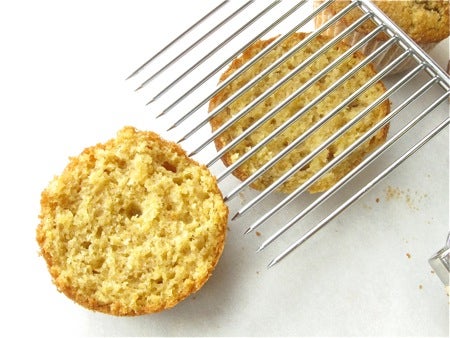 Works like a charm! Oh, those crags and tunnels, just waiting for some soft butter and...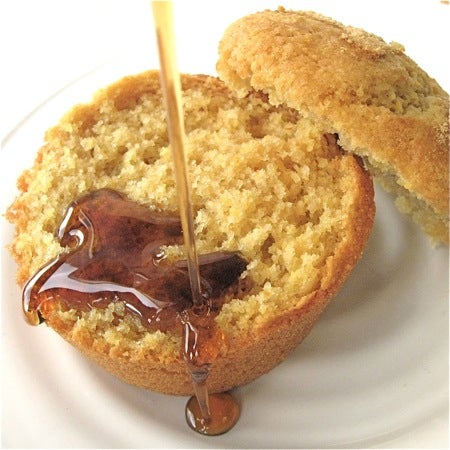 ...maple syrup, of course.
Serve muffins warm, or at room temperature. Store any (completely cool) leftovers tightly wrapped at room temperature for several days; freeze for longer storage.
Do you have friends or family in Canada? Suggest these muffins, and wish them a warm, sunny, and tasty Canada Day this Friday!
Read, bake, and review (please) our recipe for Maple Corn Muffins.
Jump to Comments