Although summer doesn't officially begin until June 21, I've always considered Memorial Day the real kickoff to the season.
Having put away the fleece (at last) and resurrected the outdoor furniture from its winter hideaway in the cellar, I'm ready to kick back on the deck, throw some burgers on the grill, and soak up some rays.
More than ready, after the challenging season we've just experienced here in northern New England. Record-breaking snowfall this winter was followed by a "spring" that offered very little in the way of sunshine, LOTS in the way of rain.
Read: dirt roads turned into mud baths, and spring flowers going from colorful to drooping and rusty brown within the space of a day or so.
So far, we've had 3 days of sunshine this month. We're more than due for some good weather this Memorial Day weekend – are you listening, Mother Nature?
Summer's heat would be very welcome right about now. As would summer's cold: ice cream.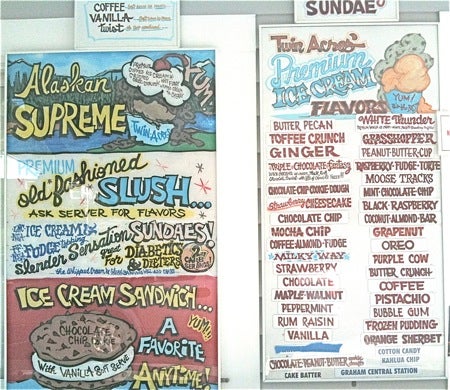 While there's no real ice cream season in New England (more ice cream is consumed in New England, per capita, than in any other region of the country, according to Wikipedia), nothing beats sitting at a picnic table in the last golden glow of a hot summer day, alternating licks of smooth ice cream with bites of crunchy cone.
And ice cream doesn't have to mean a $3.50 cone at your local stand. Or artificial flavors, guar gum, or any of the other ingredients typically found in the average supermarket ice cream.
It's easy to make your own ice cream – or frozen yogurt, which is far removed from what you'd buy at the store. Tangy-sweet and super-creamy, it can be flavored to taste with vanilla (of course), other flavors (butter rum? maple?), or with your favorite fruits.
Despite appearances (and mouth-feel) to the contrary, the following frozen yogurt is made with low-fat yogurt. The secret? Draining it to make thick, Greek-style yogurt before adding the sugar and flavors, and freezing.
Sure, it won't be as low-fat as the original yogurt, since the fats have been concentrated into a smaller volume. But you can still feel virtuous about the high-quality dairy (and calcium) you're enjoying.
Let's start with the yogurt. You can make your own; or use store-bought yogurt. The key, though, is to thicken it by draining away the whey.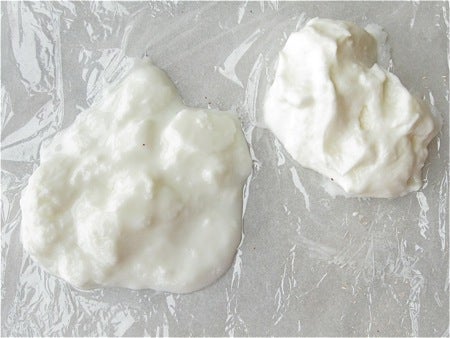 The yogurt on the left is just as it comes from the carton; pretty thin. On the right, yogurt that's been drained - Greek-style, in other words.
Can you purchase Greek-style yogurt, and skip the draining?
Sure. But it can get pretty pricey. Instead, you can put regular yogurt into a yogurt drainer or divide it among several paper coffee filters set into a strainer or attached to the top of cups with rubber bands.
Put the yogurt in the refrigerator, covered, and let it drain for 24 hours; you'll end up with about 2 cups of thick yogurt. 
What can you do with the leftover liquid (whey)? Bake some bread, using it in place of water. Whey is full of protein, vitamins, and minerals.
So, you've got your 2 cups of thickened yogurt; let's freeze it.
First: make sure the bucket of your ice cream maker is thoroughly frozen. It's a good idea to stick it in the freezer at the same time you put your yogurt in the fridge to drain; both will be ready to go the next day.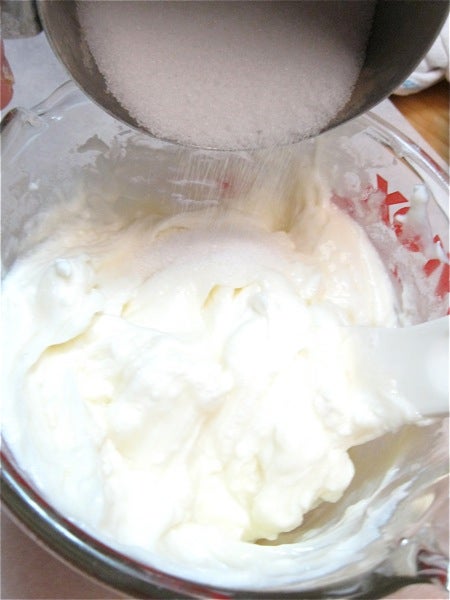 Mix 2 cups (1 pint, 16 ounces) drained yogurt or Greek-style (thick) yogurt with 1/2 cup sugar. Your best choice here is superfine Baker's Special sugar; it'll dissolve quickly in the yogurt. Use granulated sugar if you like; just be sure to stir it in thoroughly.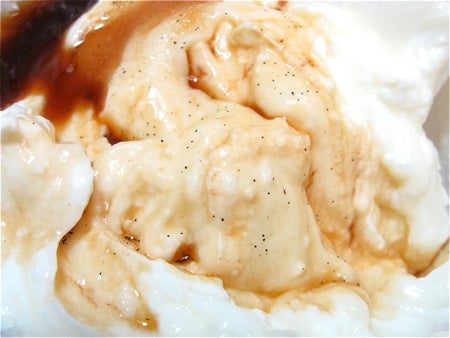 Add 2 to 3 teaspoons vanilla extract; I'm using Vanilla Bean Crush here, as the flecks of seed and pod are a nice visual.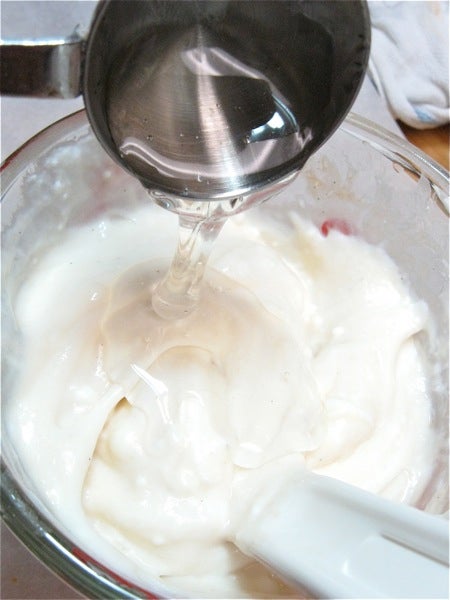 Next, stir in 2 tablespoons light corn syrup or honey. This liquid sweetener will help smooth the yogurt's texture.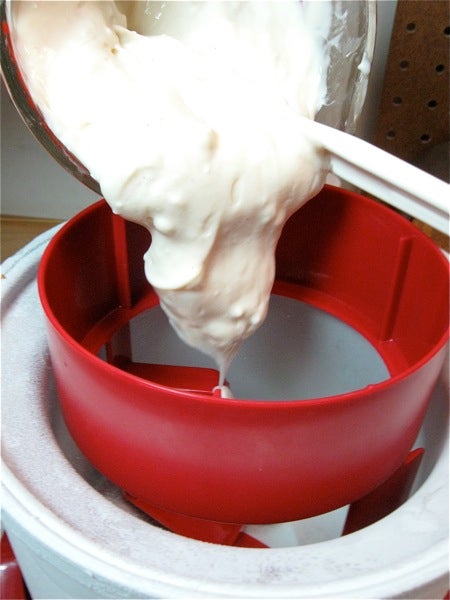 Spoon the yogurt into the bucket of your ice cream maker.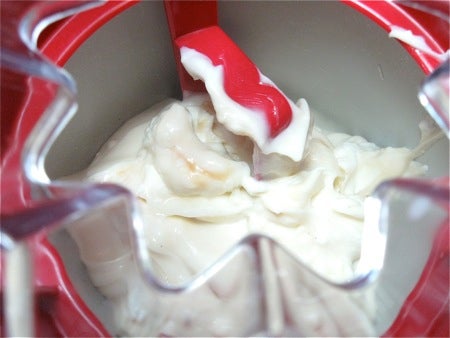 Freeze according to the manufacturer's directions. You'll see it start to thicken almost immediately.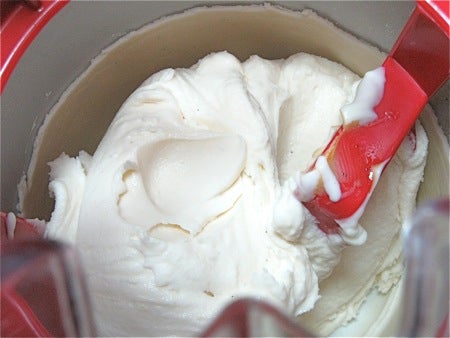 Creamy, smooth, thick...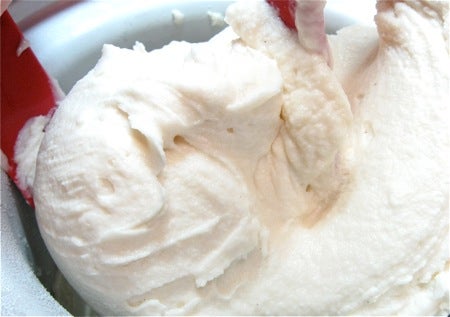 Let the machine go until the yogurt's as thick as you like – 20 to 30 minutes is the norm for most machines.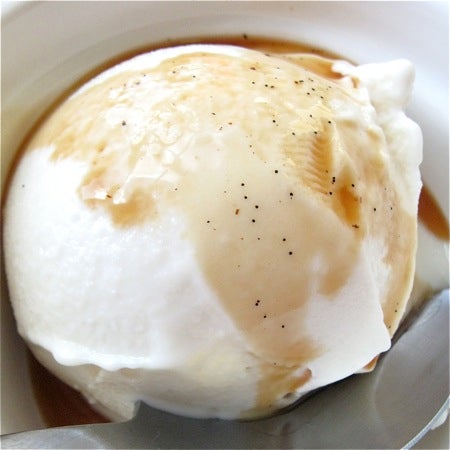 Serve frozen yogurt immediately, if you like; here I've drizzled it with additional Vanilla Bean Crush.
You can also transfer the frozen yogurt to a storage container, and place it in the freezer for several hours, if you prefer harder ice cream. It'll eventually become rock hard, but never fear; about 10 to 15 minutes at room temperature makes it nicely scoopable again.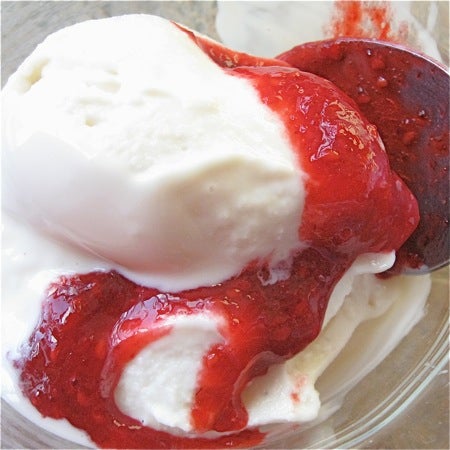 Strawberry sundae, anyone?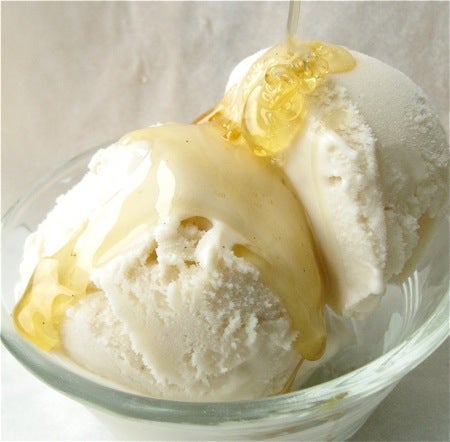 And for you non-fans of corn syrup – I made this version with honey. Plus I added 2 tablespoons spiced rum, which helps keep frozen yogurt a bit softer and creamier than it would otherwise be. Drizzle with honey for a can't-resist treat.
Oh, one last note: you might be tempted to start with a flavored yogurt. Say, vanilla, or lemon, or maple. But I've found there's something about flavored yogurts that prevent them from draining and thickening as nicely as plain yogurt. My advice: start with plain, and flavor to taste.
Jump to Comments