Maple. Bacon. Biscuits.
Salty/chewy. Sweet & gooey. Soft and tender and... WHOO-EE!
Was there ever a marriage more heaven-made than this?
Bacon, companion of eggs and darling of the breakfast crowd since time immemorial, has left its traditional morning time slot and is appearing in all kinds of new settings.
Try bacon cupcakes. Bacon cookies. Even bacon-flavored cotton candy – no joke, try Googling it.
With the new focus on salty-sweet desserts, introducing bacon to the pastry equation is a no-brainer. After all, there's nothing in the realm of salt quite so tasty, so nuanced, and with such compelling texture as a slice of crisp-cooked bacon.
Still, some of us feel the need to crawl before we walk. So, rather than just jump into the fray (fry?) by whipping up a batch of chocolate-covered bacon, I thought I'd start small and sensible.
Meet Maple-Bacon Biscuit Bake, my new BBF: best breakfast friend.
Are you (almost) ready to take the bacon dessert plunge? Dip your toe in the water with this easy, ridiculously tasty treat.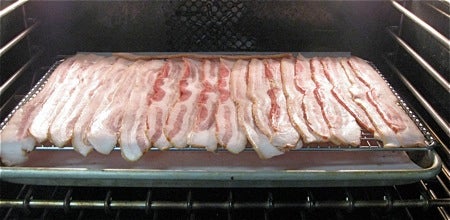 Let's start with the bacon; the recipe calls for half a pound. But I decided to cook an entire pound, since I figured I'd have to test the recipe at least twice. Which I did. Without protest.
The very easiest way to cook bacon is in the oven. Line a baking sheet with parchment, for easy cleanup; set a rack on top. Lay bacon on the rack, trying not to overlap the slices too much.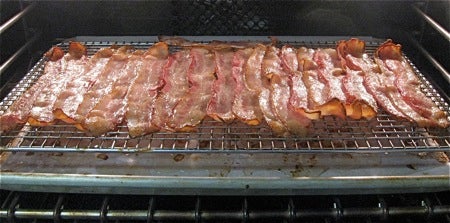 Bake the bacon in a preheated 350°F oven for 30 to 40 minutes, until it's as done as you like.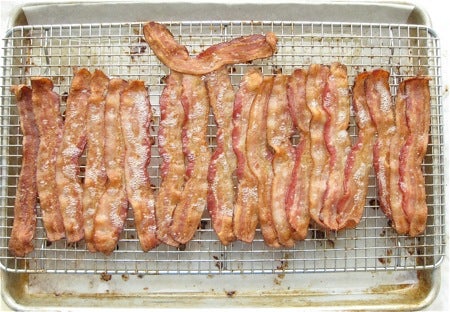 I baked this batch until golden, but not too brown, since it's going to cook a bit more with the biscuits.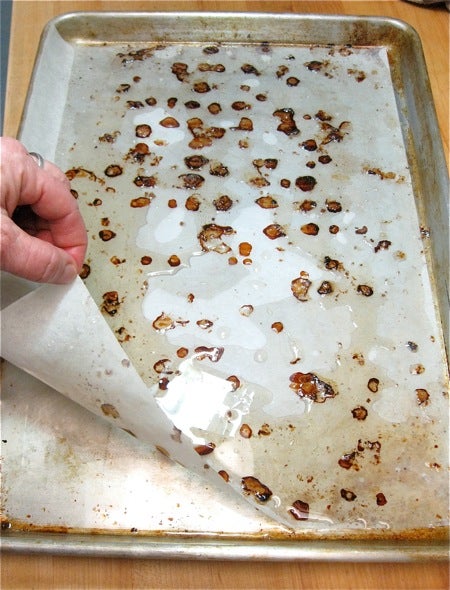 All the burned-on bits stick to the parchment, leaving you a pan that doesn't need scrubbing!
When the bacon has cooled enough to handle, chop it into 1/2" to 3/4" pieces; a pair of scissors is ideal for this task.
Now, start preheating the oven to 475°F. Lightly grease an 8" square pan or 9" round pan.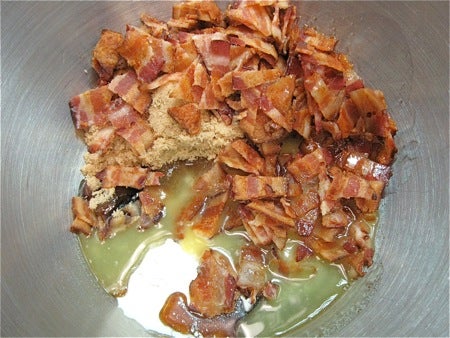 Place the following in a bowl:
1/2 pound bacon, cooked until medium-brown
1/3 cup (71g) brown sugar
1/4 cup (28g) King Arthur Unbleached All-Purpose Flour
1/4 cup (78g) maple syrup
2 tablespoons (28g) butter, melted
Can you substitute bacon grease for butter? Sure; either option is tasty.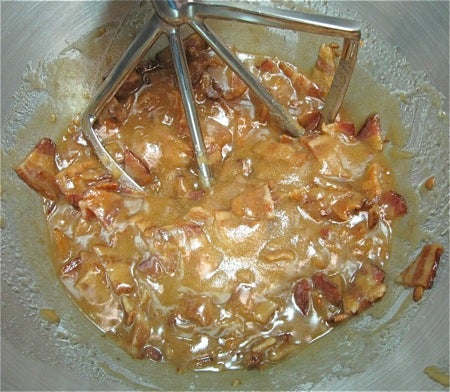 Mix until thoroughly combined. Spread in the prepared pan.
Next, the biscuits.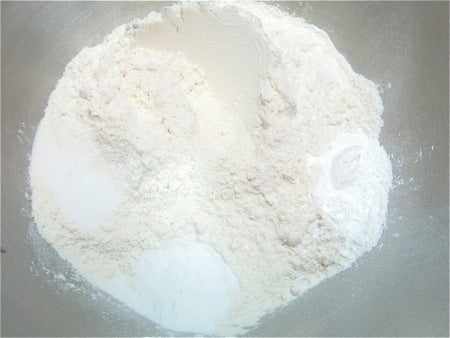 Whisk together the following:
2 cups (241g) King Arthur Unbleached All-Purpose Flour
2 teaspoons Bakewell Cream*
1 teaspoon baking soda
1/2 teaspoon salt
*If you don't have Bakewell Cream, substitute 2 teaspoons baking powder and omit the baking soda.
White flour is white, right? Well, not all flour is pure white, as you may be able to see in the picture above. Compared to the Bakewell Cream and baking soda in the photo, our flour is off-white; a lovely cream color.
That's because it's aged by Mother Nature, rather than bleached with chemicals. And what does THAT mean? All fresh-milled flour, unless it's going to be used immediately (e.g., whole wheat flour you mill yourself), should "age" for a few weeks before you bake with it. If this aging process is skipped, the flour tends to be "bucky," in baker's parlance; it just doesn't behave well.
And why is this? For the food scientists among you, acidity gradually increases as flour ages, which tends to strengthen  gluten in dough. The amount of free fatty acids in the flour increases, which also improves its baking quality. And finally, proteolytic enzyme activity decreases with aging; this enzyme activity is another factor that negatively affects gluten development.
Some millers bleach flour by adding chemicals. These chemicals strengthen gluten, and therefore can step in for the several-week aging process; time is money, and most big businesses have to report to stockholders focused on their bottom line.
But bleaching turns flour stark white; and adds unwanted chemicals. King Arthur Flour has never been bleached; we're employee-owned, report only to ourselves and, though the bottom line is critical, the quality of our flour is the key to our 221 years of success.
"Never Bleached – Never Bromated." (Bromate is another chemical strengthener.) That's our story, and we're sticking to it!
Wow, how'd I get off on that tangent? Yes, flour... after 20 years here at King Arthur, it's one of my passions.
Down, girl! Let's get back to the recipe.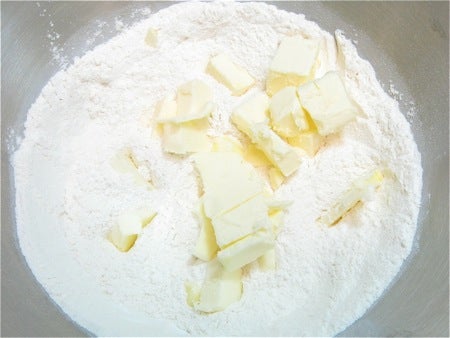 Add 4 tablespoons (57g) cold butter, cut in pats.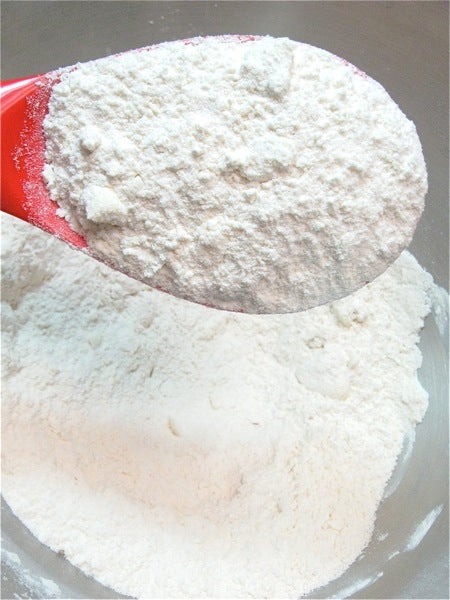 Work in the butter until the mixture is crumbly; some larger, pea-sized pieces of butter may remain intact.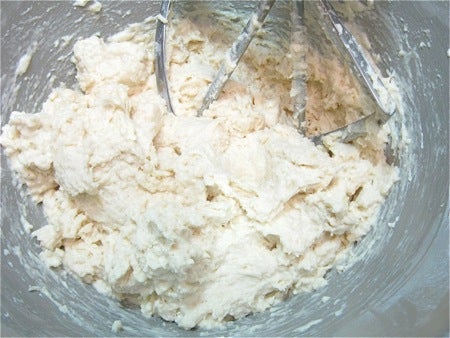 Add 1 cup (227g) cold milk or cold buttermilk, stirring to make a sticky dough.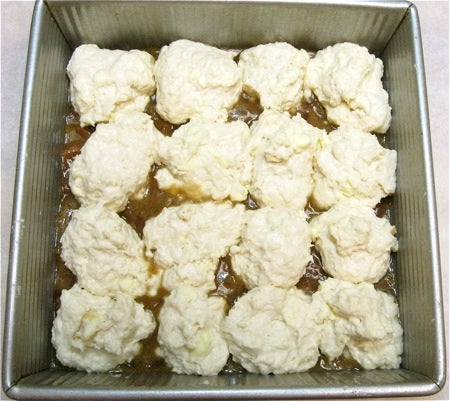 Drop the dough in heaping tablespoonfuls atop the syrup in the pan.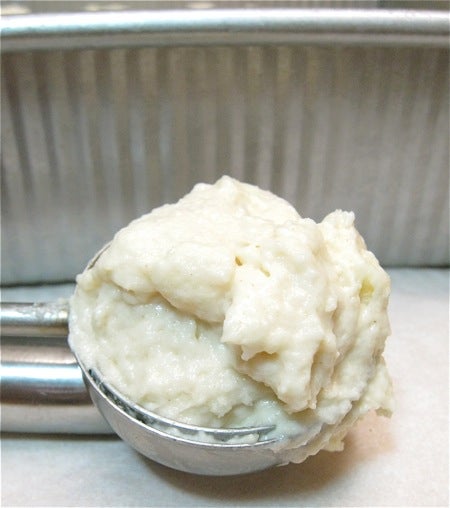 A tablespoon cookie scoop, slightly overfilled, works well here.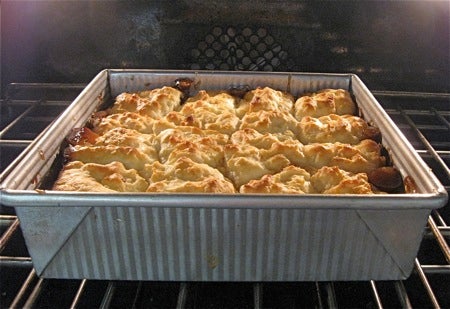 Bake the biscuits for 10 minutes. Turn the oven off, and leave them in the oven for an additional 5 to 10 minutes, until they're golden brown.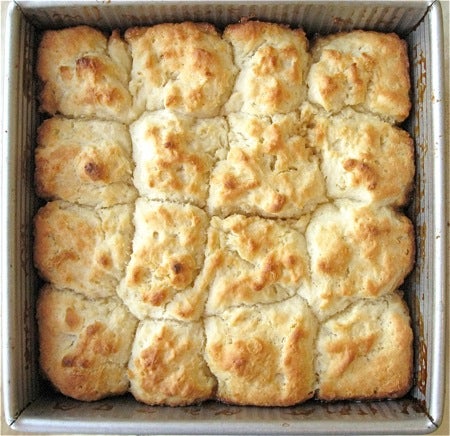 Like this.
Remove the biscuits from the oven.
OK, are you ready for some ooey-gooey goodness?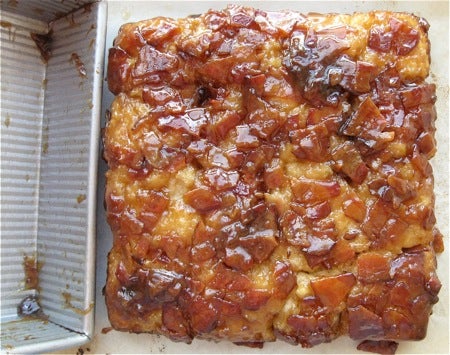 Immediately turn the pan over onto a serving plate. Lift it off, and scrape any syrup left in the pan onto the biscuits.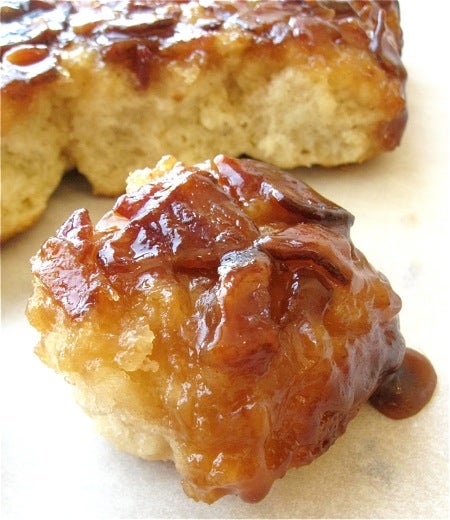 Pull biscuits apart to serve.
Provide plenty of napkins and/or, even better, encourage guests to lick their fingers.
Don't worry; Emily Post has left the building.
Want to take your breakfast to the next level but don't have a ton of time in the morning? See our Make Ahead Breakfast recipe collection for plenty of additional breakfast options. 
Jump to Comments