Mornings are solved with Breakfast Cookies
Beat the back to school blues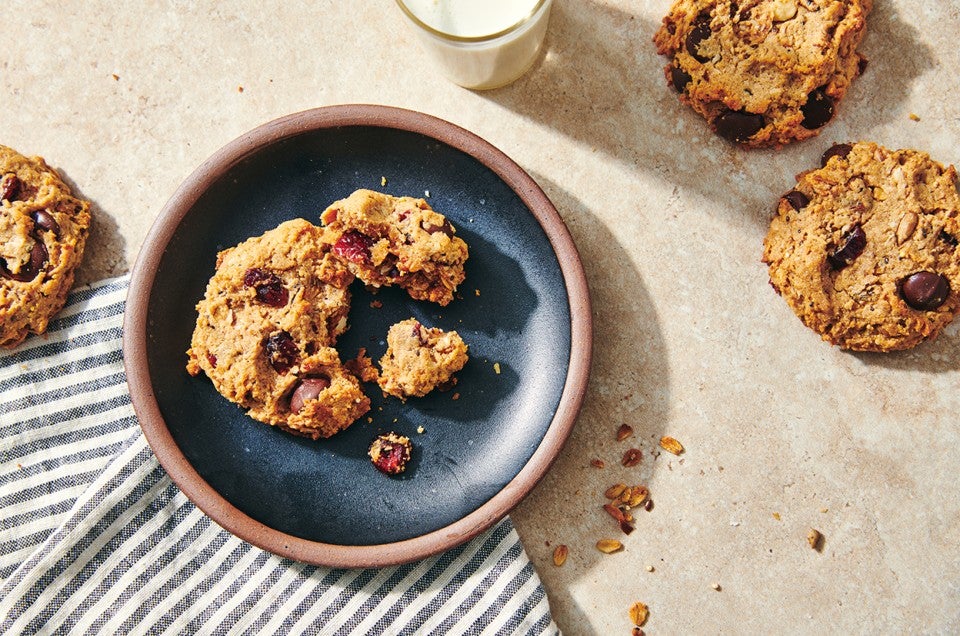 "Mom, can I have cookies for breakfast?"
I know we've all heard it at some point in time getting the kids ready for school, or (insert early morning sport) practice, or even just on a lazy Sunday morning when they think they can catch you off guard. Well, how'd you like to be able to say  "Yes?"  Wouldn't that just beat all, and leave your offspring thinking you've finally gone over the edge? Not really...
But it sure would be funny to see their expressions! These days many of us are up and on the go early, and full breakfasts just aren't always part of the plan.
We know the deep-down truth about fast food even if it tastes good, and even many "healthy" granola bars on the market are loaded with artificial colors and unpronounceable ingredients. Not all, mind you. There are some great ones out there to serve to your family without a hint of guilt, but wouldn't it be nice to whip up something delicious and be able to add just what YOU want for ingredients?
I've been making these Breakfast Cookies for nearly 20 years now. I've tweaked the original recipe many times over, quite a few since coming to work here at King Arthur. The greatest thing I've found about this recipe (besides sharing it with many, many parents of my students over the years) is that it's very adaptable, and each person can really tailor it to their tastes. Don't like coconut? Leave it out. Love walnuts? Throw 'em in! To quote the famous jingle, "Have it your way!"
Just a quick note before you break out the rope to string me up. These are still cookies, and I'm certainly not advocating them for breakfast every day of the year. BUT, these cookies can be loaded with fiber and protein and can be part of a balanced breakfast in moderation. Fair 'nuff?
I'm pretty darn happy with this latest variation, so let's get started on our Breakfast Cookies.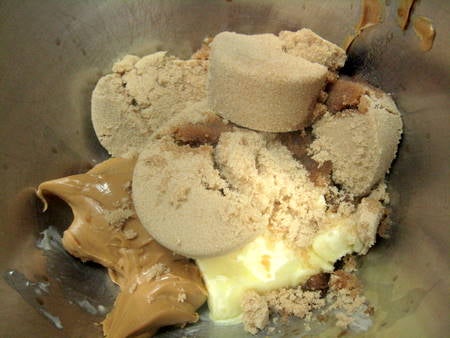 Place the butter, sugar, and peanut butter in the bowl of your stand mixer.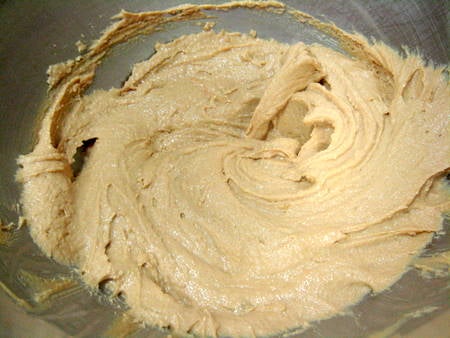 Blend on medium speed until lightened and fluffy.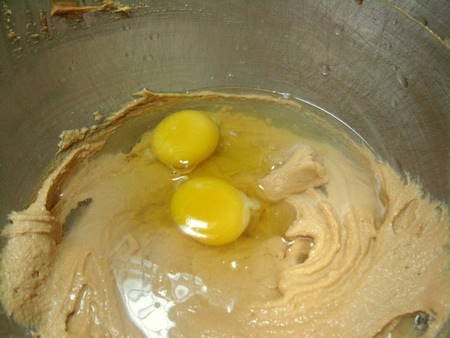 Add the eggs and mix until well incorporated.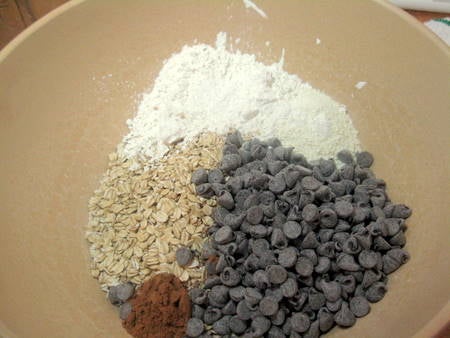 In a separate bowl mix together the flours, dried milk and your assorted add-ins and the cinnamon. I chose rolled oats, barley flakes, coconut, and chocolate chips. It looks like a lot of chocolate here, but there IS healthy stuff under it.
After I took the picture I found my cup full of coconut on the counter. I really did use it, you just can't see it in the photo.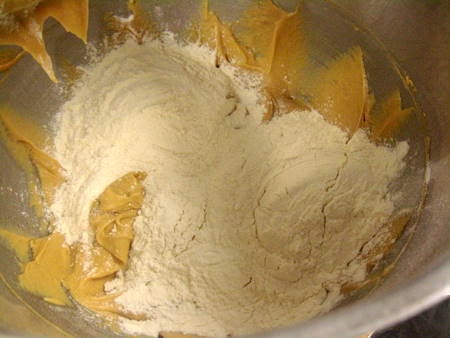 Combine the dry ingredients with the peanut butter mixture.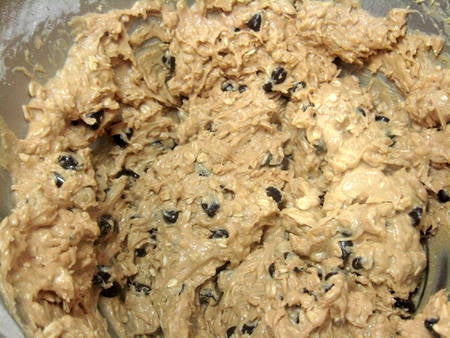 The dough will get much thicker, but shouldn't dry out and get clumpy.
Use a generous 1/4 cup measure to scoop out the dough onto parchment- lined cookie sheets. These cookies don't spread much, so you can place them fairly close together.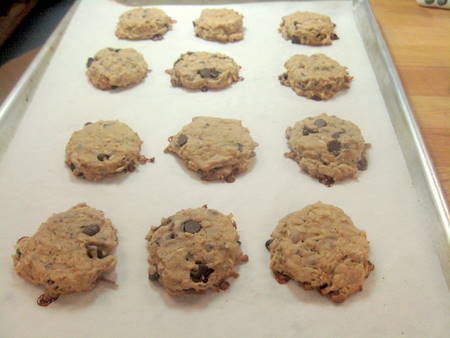 Somehow I missed the photo of the unbaked cookies on the sheet, but this should give you a good idea of spacing. If you like mounded cookies, don't press the dough down. If you like flatter cookies like these, press the dough down gently with your fingers.
Bake at 350°F for 18 to 22 minutes, until lightly browned. Over-baking these cookies will dry them out, so try a test cookie or two to get the feel for them in your oven.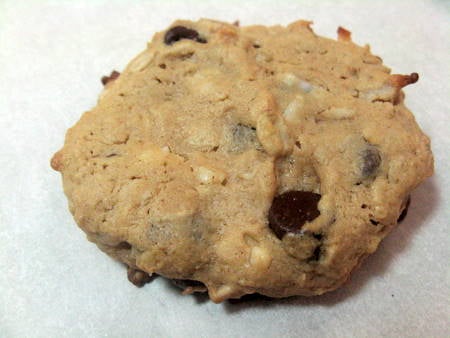 Ah, breakfast is ready! Give me two of these cookies, a piece of fruit and a glass of juice and I'm set for hours.
So whether you're headed back to school or back to work or even out to play for the weekend, why not start the day with these hearty Breakfast Cookies? Your taste buds, tummy, and (of course) your kids will thank you.
Please bake, rate, and review our recipe for Breakfast Cookies.
Jump to Comments