Tourtière
A classic holiday baking tradition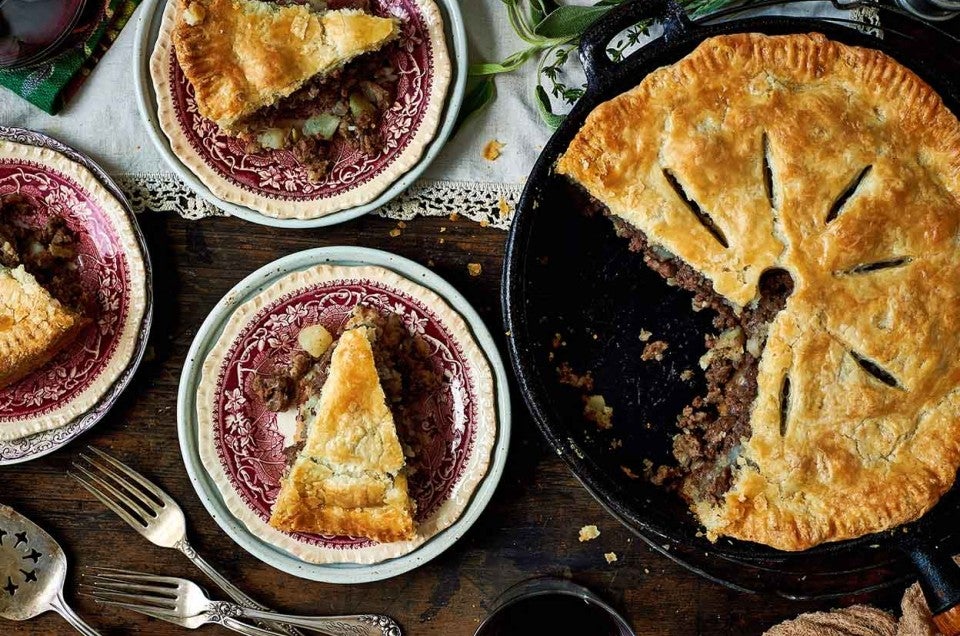 Réveillon!
What would the Christmas Eve and New Year's Eve feasts in Canada – Réveillon – be without tourtière, the classic meat pie beloved of Quebeçois and French-Canadians everywhere?
And this isn't a strictly Canadian treat. Ex-pats in northern New England and upstate New York, both of which claim a border with French-speaking Canada, guard their family tourtière recipes just as secretively as do bakers in Montreal and Quebec City.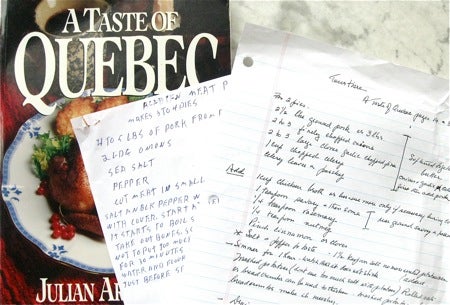 Recipes for tourtière can range from incredibly simple (boiled pork and onions, baked in a crust) to the sublime (gently spiced pork with onion, parsley, celery, and garlic, in a flaky, buttery crust). As my friend Jackie, a Montreal native, says, "There are as many recipes for tourtière as there are cooks in Quebec."
In researching recipes, I found that the meat can range from pork, chicken, or beef, to lamb, veal, or even duck. Some pies are simply meat and onions; others include potatoes and/or celery as well, plus an array of spices and seasonings. And while one may argue the merits of each combination of ingredients, one fact remains: woe betide the Quebeçois who neglects to bake his or her tourtière at Christmas!
After much research, and some invaluable help from both Jackie, and Sue Gray (my fellow King Arthur baker and tourtière veteran), I settled on the following recipe.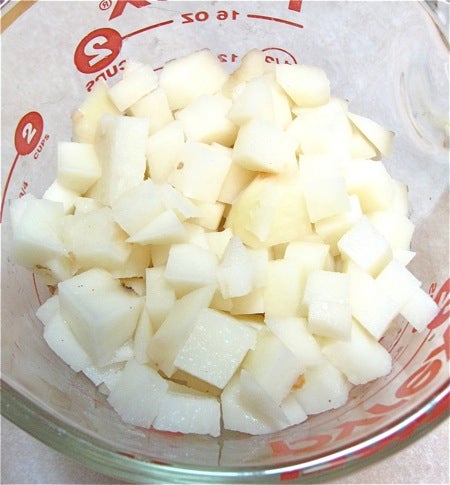 Let's start with the potato. Peel 1 large boiling potato (about 12 ounces), and cut it into 1/2" dice; you'll have about 2 cups (340g) of diced potato. Yukon Gold or Chef are both good potato choices.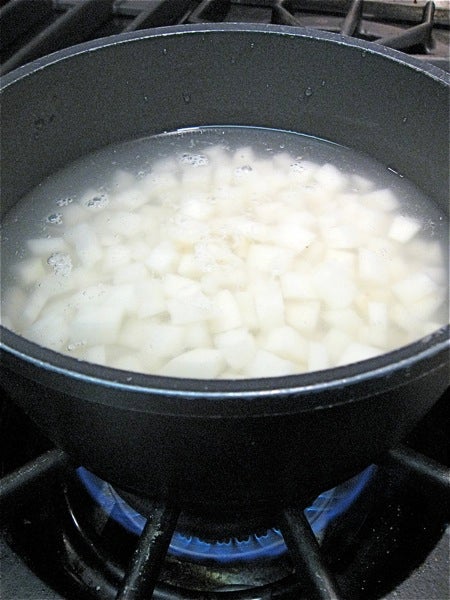 Put 1 teaspoon salt, 2 cups (454g) water, and the diced potato in a medium saucepan.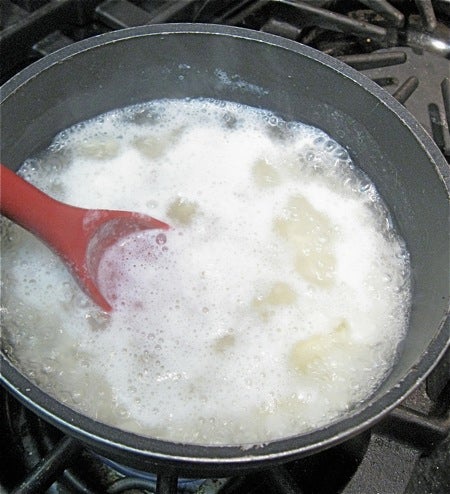 Bring the mixture to a boil over medium heat. Boil until the potatoes are fork-tender, about 5 to 6 minutes.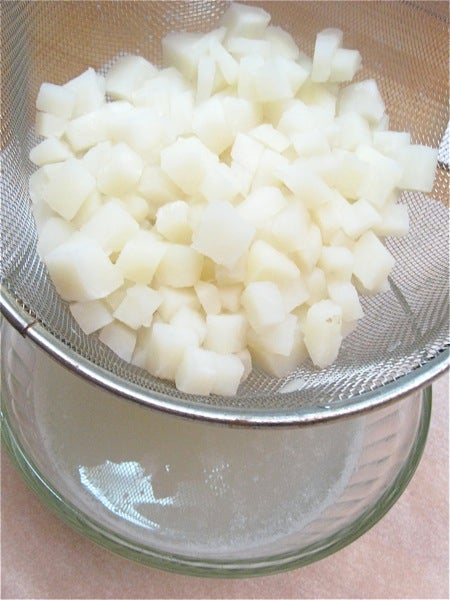 Drain the potatoes, saving the water.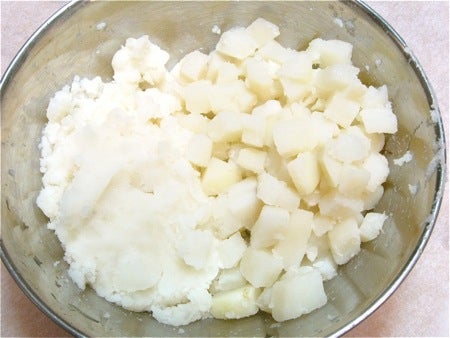 Mash about half the potatoes, leaving the other half in chunks. Set them aside.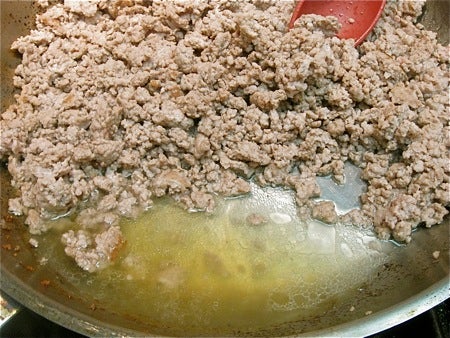 Next, brown the meat. Choose 2 pounds ground pork; or a combination of ground pork and ground beef; or meatloaf mixture.
Drain off any excess fat when finished.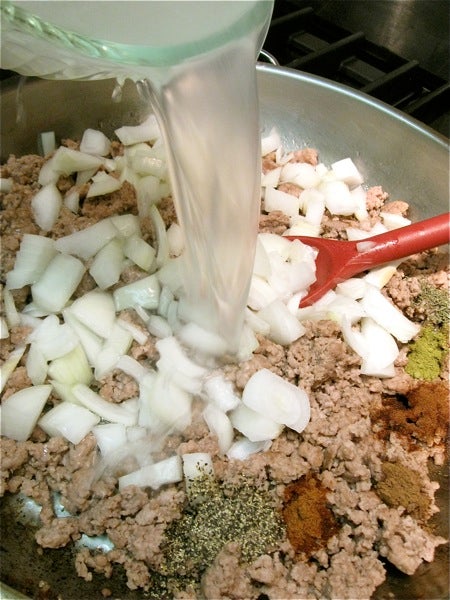 Add the following to the pan:
1 medium-to-large onion (about 8 ounces), diced (about 1 1/2 cups or 227g diced onion)
1 to 2 large cloves garlic, chopped fine
1/2 teaspoon ground clove
1/4 teaspoon ground nutmeg
1/4 teaspoon ground allspice
3/4 teaspoon ground sage
1/2 teaspoon dried thyme
1 teaspoon ground black pepper
1/2 to 3/4 teaspoon salt, to taste
Pour in the reserved potato water.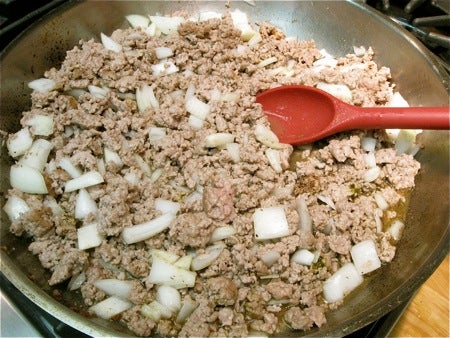 Stir to combine.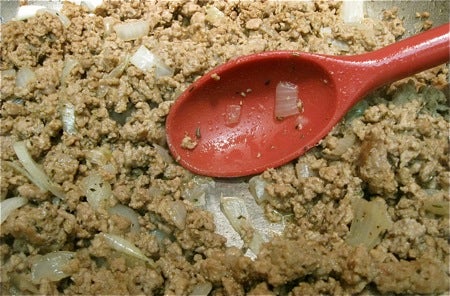 Bring the mixture to a boil, then lower the heat to simmer. Stirring occasionally, continue simmering the mixture for 35 minutes or so, until the liquid has evaporated and the onions are tender.
Add the mashed potatoes and diced potatoes, stirring to combine.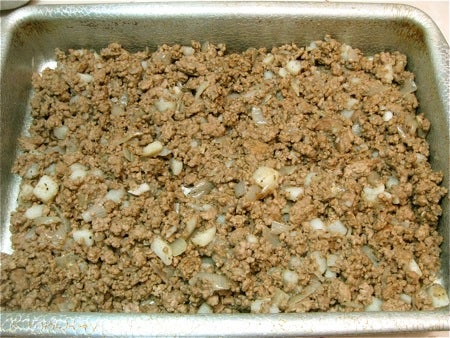 Spread the filling in a shallow pan, so it'll cool more quickly. It should be just lukewarm when you spoon it into the crust.
While the filling is cooling, let's make the crust.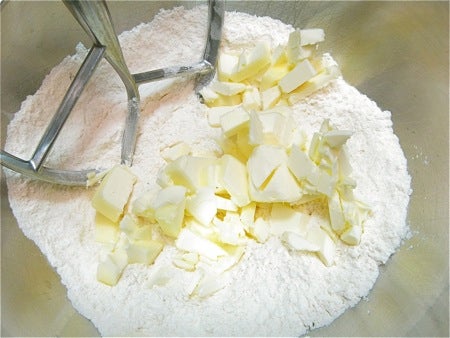 Put the following in a bowl:
2 1/2 cups (283g) King Arthur Perfect Pastry Blend or Unbleached All-Purpose Flour (298g)
10 tablespoons (142g) cold butter, cut into pats or diced
1/2 teaspoon salt
1 teaspoon baking powder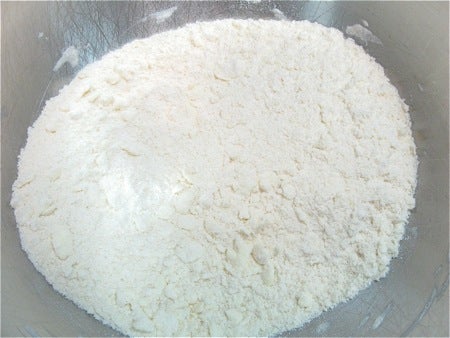 Mix everything together thoroughly.
Unlike a typical American pie crust, this "short crust" shouldn't have any extra-large pieces of butter remaining; the mixture should look like coarse breadcrumbs.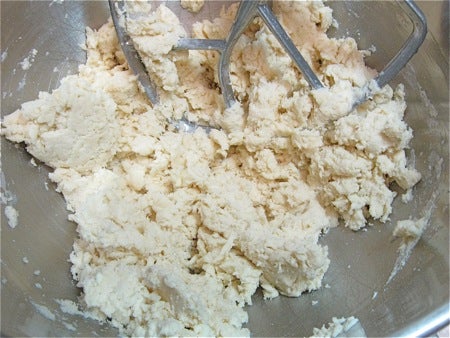 Drizzle in 5 to 8 tablespoons (71g to 113g) ice water (enough to make a cohesive dough), mixing all the while.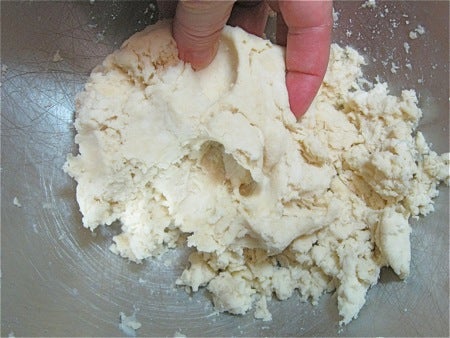 Grab the dough and press it with your fingers; it should feel supple and moist, not dry. You should be able to gather it into a ball that sticks together easily.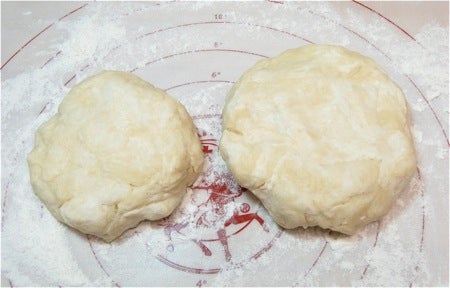 Divide the dough into two pieces, making one slightly larger than the other. The larger piece will be the bottom crust; the smaller piece, the top crust.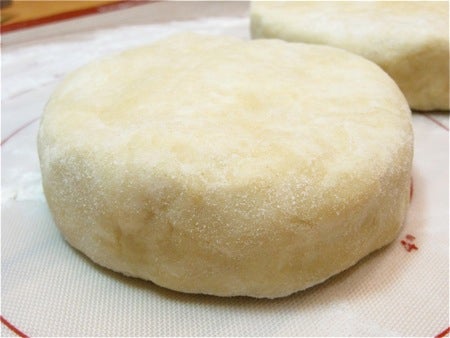 Shape each piece into a flattened ball, or wheel; they should look like big hockey pucks. Wrap in plastic, and refrigerate for 30 minutes.
Note: make the dough ahead and refrigerate it overnight, if desired. Next day, let it warm at room temperature for about 30 to 45 minutes before rolling it out.
Preheat the oven to 375°F.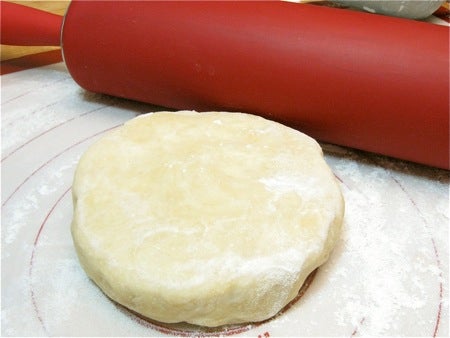 Unwrap the larger piece of dough, and put it on a lightly floured work surface. For ease of rolling AND cleanup, I highly recommend this silicone rolling mat.
Before rolling, select your pan. A 9" cast iron skillet offers striking presentation at the table; but any 9" pie pan at least 1 1/4" deep is fine.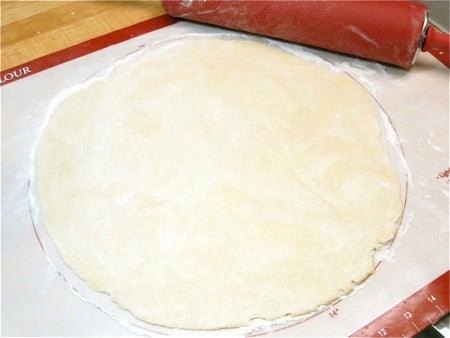 Roll the dough into a 13" to 14" circle (for the skillet), or 12" circle (for the pie pan).
Let the dough rest for 10 minutes; this will help prevent it shrinking as it bakes.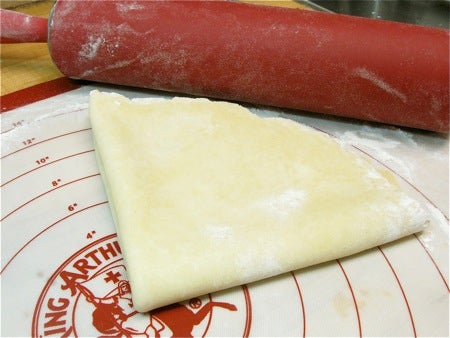 Fold it in quarters...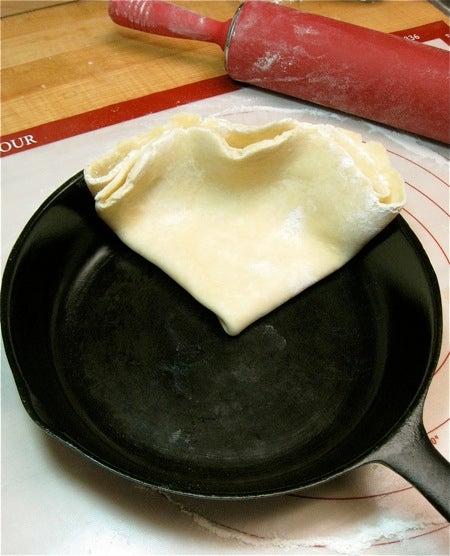 ...and transfer it to the pan, with its folded point in the center.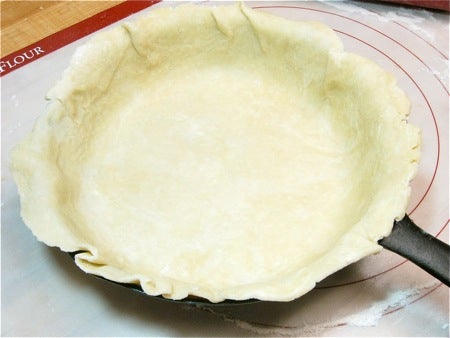 Unfold the crust and settle it gently into the pan.
Don't stretch it; stretching is what causes crust to shrink as it bakes.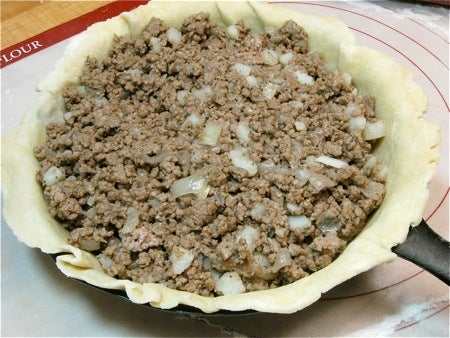 Spoon the cooled filling into the crust.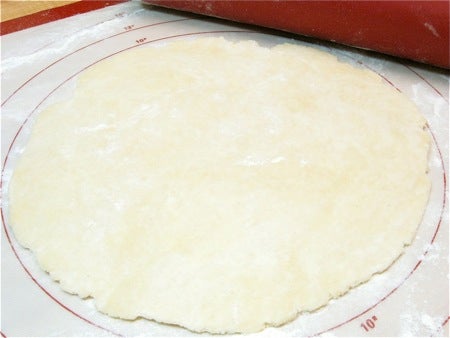 Roll the other piece of dough into a 9" to 9 1/2" circle.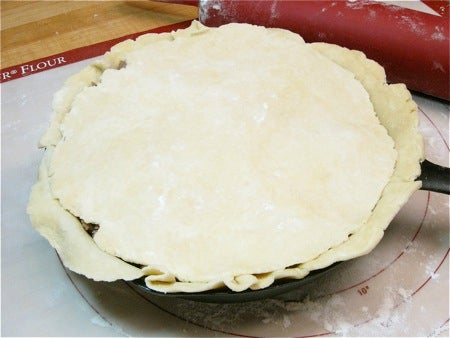 Settle it atop the filling.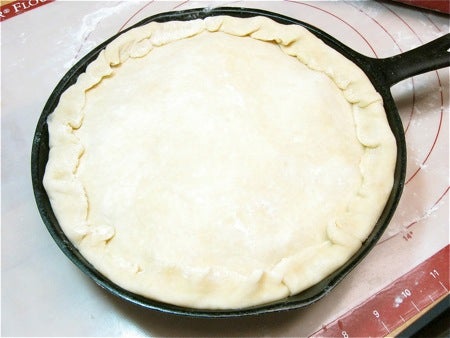 Fold the bottom crust over the top crust.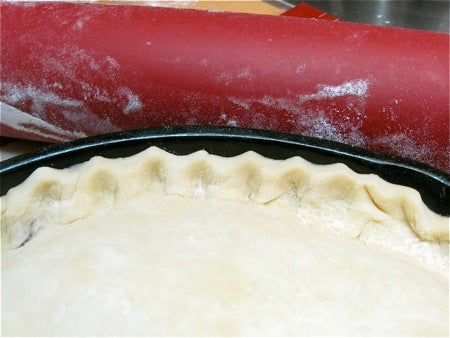 Pinch together, and crimp.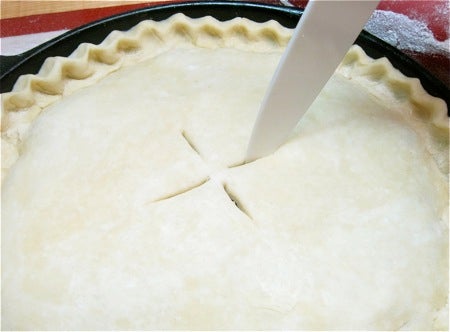 Cut a few vents in the top, to let the steam from the baking pie escape; this will keep the crust from ballooning up.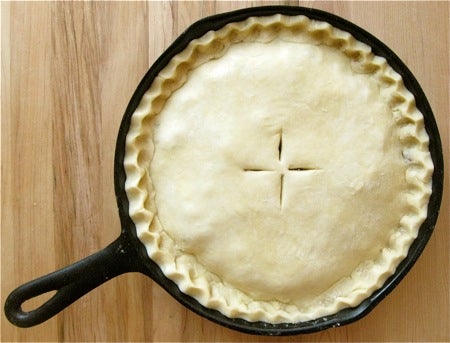 At last – ready for the oven!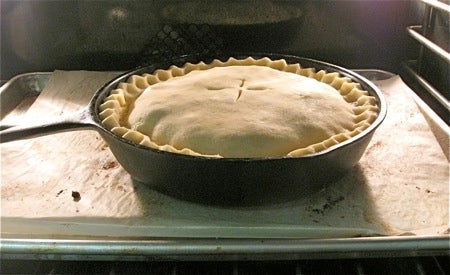 Bake the pie for 45 minutes, until it's golden brown. Remove it from the oven, and set it on a trivet or rack.
Allow the pie to cool for at least 10 to 15 minutes, preferably longer, before serving.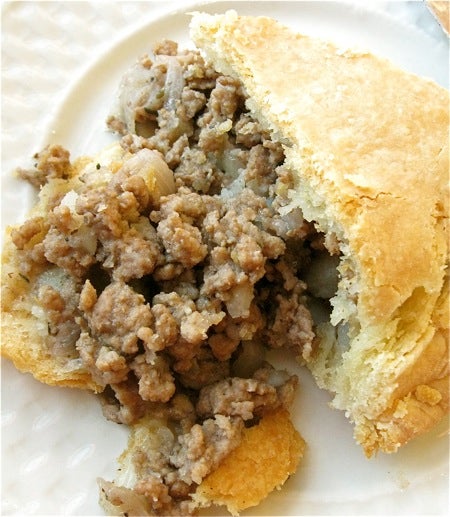 This is what happens when you serve tourtière hot from the oven; it simply won't hold its shape.
So if you care about looks, wait a bit before serving.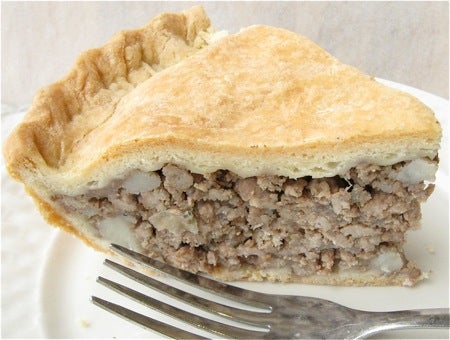 Here's what it looks like the next day, sliced and rewarmed briefly in the microwave. Many aficionados enjoy tourtière cold or at room temperature just as much as warm.
Joyeux Réveillon!
Read, rate, and review (please) our recipe for Tourtière.
Jump to Comments