The other day, a reader on our  community site, The Baking Circle, asked about old-fashioned cookie recipes. She writes as follows:
"My dad, who is 83, has been asking me to bake cookies that are a bit old fashioned. Like HIS MOTHER use to bake. Now... anyone have old recipes for cookies?"
What's the first thing that springs to mind when you hear the words "old-fashioned cookie"?
Depends on how old you are, right?
Gen-X and Gen-Y probably think Oreos, or Chips Ahoy. Or maybe Fig Newtons, the ultimate "old fogy" cookie in the supermarket aisle.
We older folks (read: Boomers. Get over it! We're "older folks") are more likely to think of something homemade.
Me, I get a mental picture of big, solid sugar cookies. And peanut butter criss-crosses. And soft molasses cookies, big enough to cover the palm of your hand.
And gingersnaps.
But not just any gingersnap. No, the "boxed cookie" gingersnap – a pale thing, barely two bites big – just doesn't cut it.
I like my gingersnaps thick and crunchy, with a fissured, sugar/crackly top. Big enough to last through a cup of tea, or a glass of lemonade (gingersnaps and lemonade being one of summer's signature pleasures).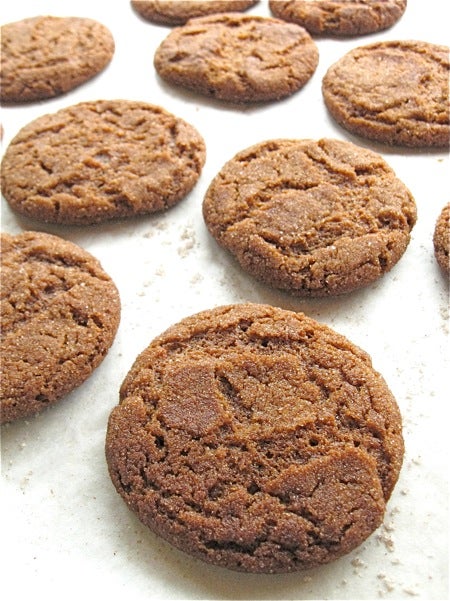 In other words, I like my gingersnaps homemade.
Boomer or not, if you're looking for a classic old-fashioned cookie, one that's absolutely perfect for the holidays — you've found it.
Let's make Gingersnaps.
Preheat the oven to 375°F. Lightly grease (or line with parchment) two baking sheets.
Put the following in a bowl:
3/4 cup (138g) vegetable shortening*
1 cup (198g) sugar
1/2 teaspoon salt
2 teaspoons baking soda
*Can you substitute butter for the vegetable shortening? Yes; but the cookies will be soft, not crisp.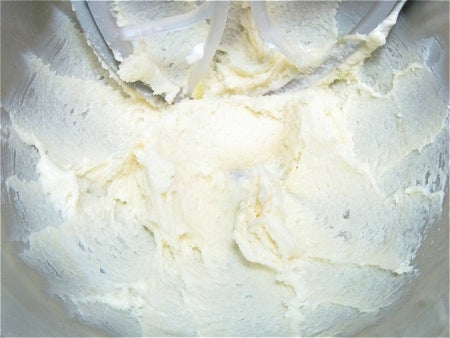 Beat until smooth.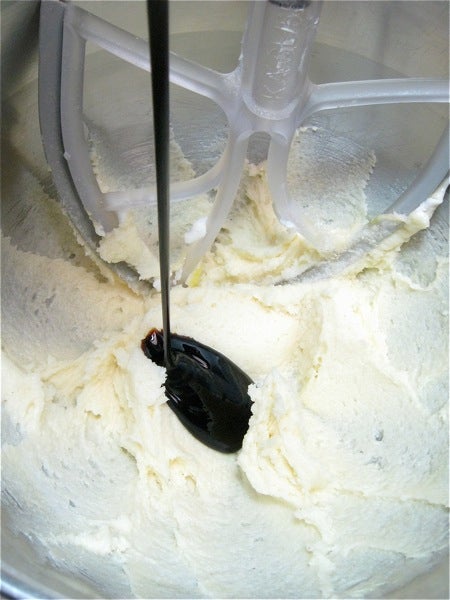 Add 1 large egg (I know, it's not showing; I didn't add it yet), and 1/3 cup (113g) molasses.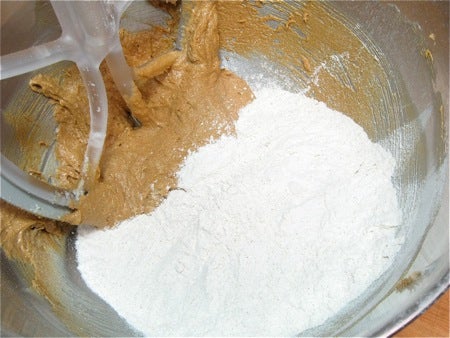 Beat until smooth. Add the following:
2 1/3 cups (276g) King Arthur Unbleached All-Purpose Flour
1 to 2 teaspoons ginger
1/2 teaspoon cloves
1 teaspoon cinnamon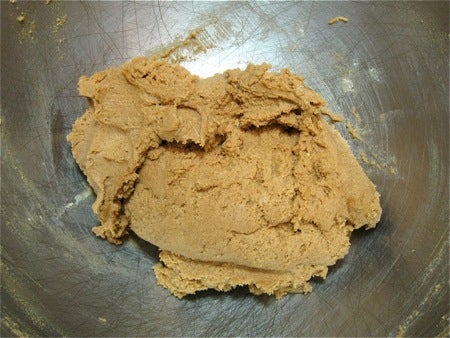 Beat until smooth and stiff.
Make coating by combining 1/4 cup (50g) sugar and 1 teaspoon cinnamon. Ordinarily I'd use our Cinnamon-Sugar Plus, a delightful mixture of superfine sugar and Vietnamese cinnamon. But for these particular cookies, I want crunch – the crunch of regular granulated sugar, hand-mixed with Vietnamese cinnamon.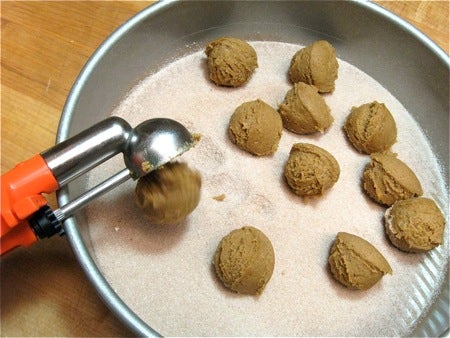 Place the coating in a shallow pan or dish. Drop the dough in 1" balls into the cinnamon-sugar mixture; a teaspoon cookie scoop is perfect here.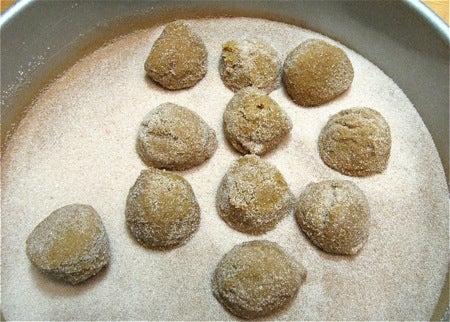 Roll the balls in the sugar to coat.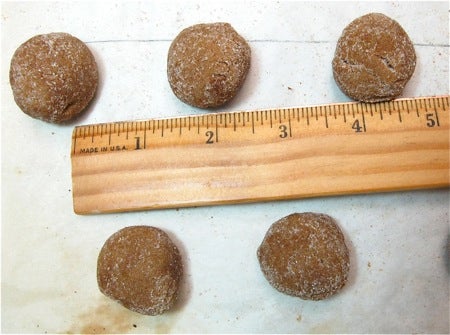 Transfer them to the prepared baking sheets, leaving at least 1 1/2" between them; they'll spread as they bake.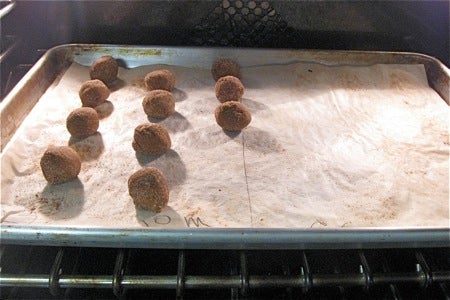 It's always good to bake a test batch first. You'll usually have a few cookies, the scrapings from the bottom of the bowl, that just don't fit onto that second or third baking sheet; don't try to crowd them on. Instead, bake those leftovers first.
A test batch tells you two things: whether your baking time yields the degree of crispness you like...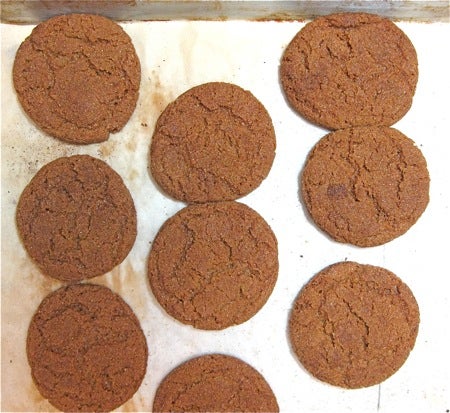 ...and whether the cookies are the right distance apart. Some of these, as you can see, were too close together.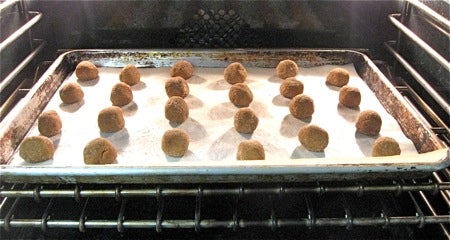 Bake the cookies for 11 minutes, for cookies that are crisp around the edges, and "bendy" in the center. Bake for 13 minutes, for cookies that are crisp/crunchy all the way through.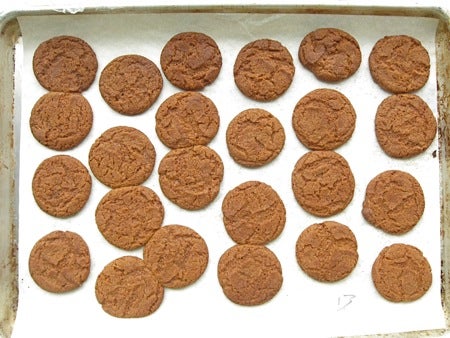 I like cookies that are crisp all the way through – see the "13" on the parchment? 13 minutes. And DUH, I still didn't leave enough space between them!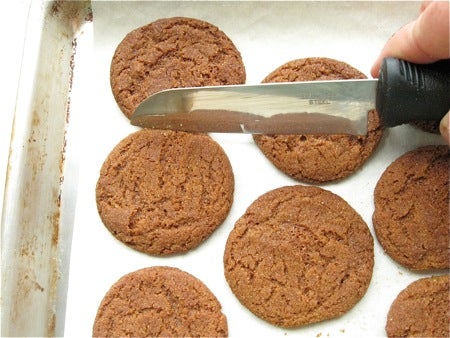 Oh well... if you're like me and always try to crowd too many cookies onto a pan, and they run together, take a knife and cut them apart while they're still hot.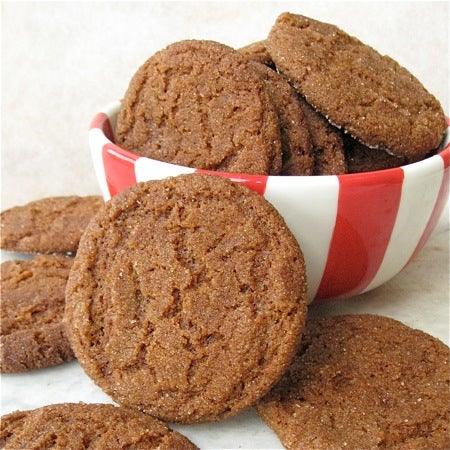 Remove the cookies from the oven, and cool right on the pan, or on a rack. Cool completely, then store tightly wrapped, at room temperature.
Enjoy an old-fashioned cup of tea with your old-fashioned cookie...
Read, rate, and review (please) our recipe for Gingersnaps.
Jump to Comments