Melted cheese.
To use a totally oxymoronic phrase – it absolutely screams comfort, doesn't it?
Pick up a piece of pizza, and swipe at the mozzarella stretching from pan to plate. Cut into a grilled cheese, and watch the cheddar oooooooze. Dig into a bowl of mac and cheese. Pour thick, smooth, golden cheese sauce onto toast.
So – do you find yourself relaxing, heaving a giant sigh, wanting to walk away from your computer and curl up in a warm blanket?
That's melted cheese: bliss on a plate.
Or, in this case, on a loaf of party-hearty pull-apart bread.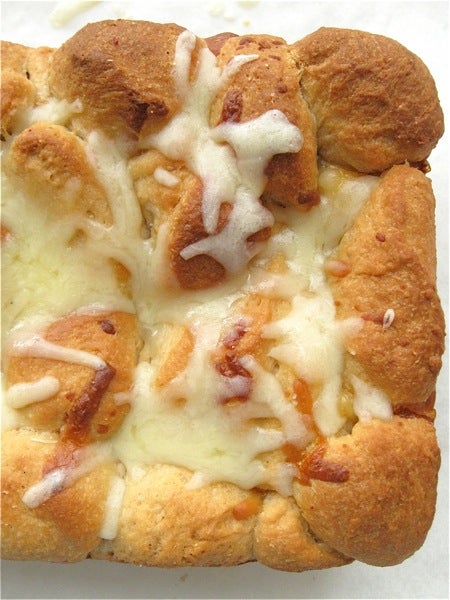 One of our most popular blog posts ever showcases our "grip it and rip it" bread. With its hidden treasure of cheese, a lava-flow of melty goodness that invites a wolfpack approach – "rip it open!" – it's a wonderful party bread.
But it's not pretty. As diners rip off big chunks, the loaf quickly turns into 5 miles of bad road, looks-wise.
The following bread is much more refined. A savory version of monkey or pull-apart bread, it divides daintily into two-bite pieces.
It's more pry and sigh than grip and rip...
...but every bit as comforting.
Let's make Golden Cheese Bread.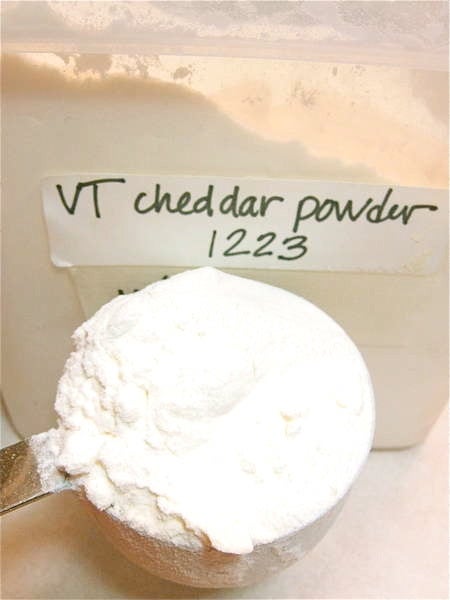 This aromatic powdered cheddar cheese is produced by Vermont farmers (and their contented cows). I add it to savory yeast breads  when I want to up their flavor: a little produces a rich, subtle tang, while more adds sharp cheddar flavor.
Put the following in a mixing bowl:
1 cup (227g) lukewarm water
4 tablespoons (57g) softened or sliced butter
1 1/2 cups (177g) King Arthur Unbleached Bread Flour
1 1/2 cups (170g) King Arthur 100% White Whole Wheat Flour
1 tablespoon (14g) sugar
1/4 cup (28g) Baker's Special Dry Milk or nonfat dry milk
1/3 cup (39g) Vermont cheese powder, optional for enhanced cheese flavor
4 teaspoons Pizza Dough Flavor, optional for enhanced flavor
1 1/4 teaspoons salt
3/4 teaspoon onion powder, optional for enhanced flavor
2 1/2 teaspoons instant yeast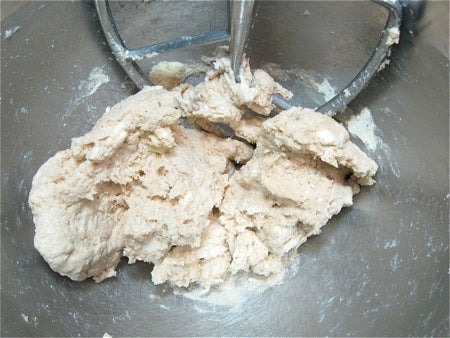 Mix to make a rough dough...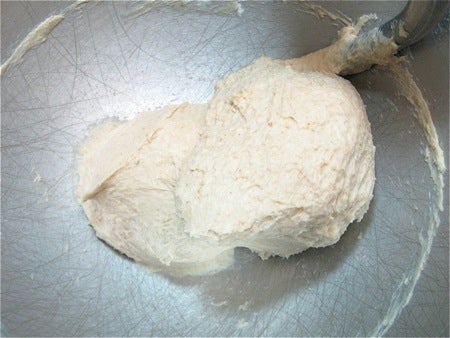 ...then knead for about 7 minutes, until fairly smooth. The dough will be somewhat sticky; that's OK.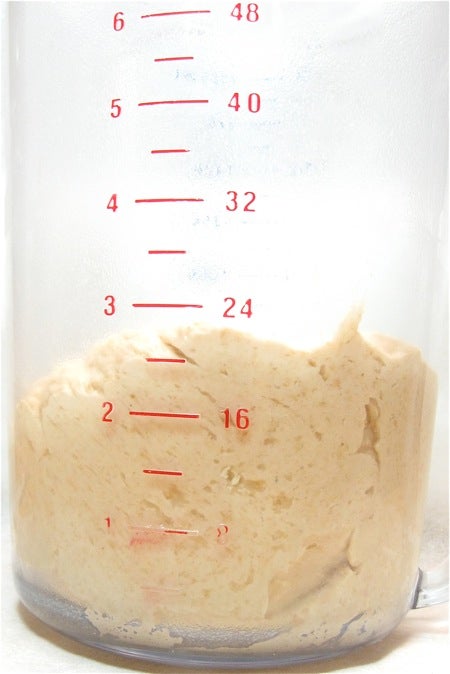 Place the dough in a lightly greased bowl or large (8-cup) measure.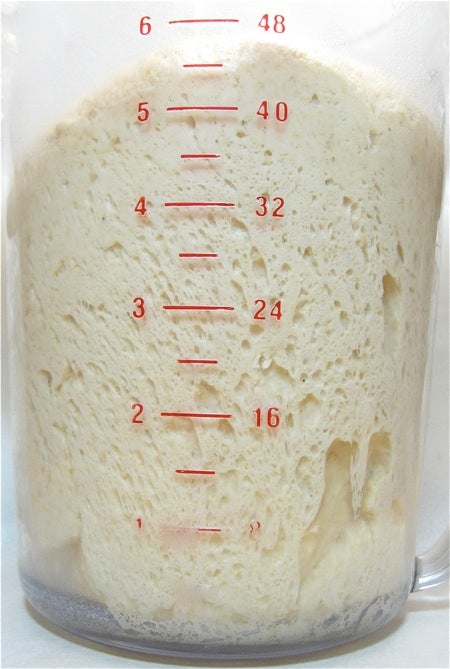 Cover it, and let it rise until very puffy, though not necessarily doubled; about 1 1/2 to 2 hours.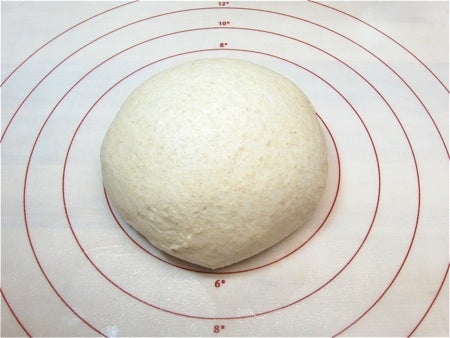 Gently deflate the dough, and place it on a lightly greased work surface. A rolling mat works well; it's pretty much stick-free, and rinses clean in warm water.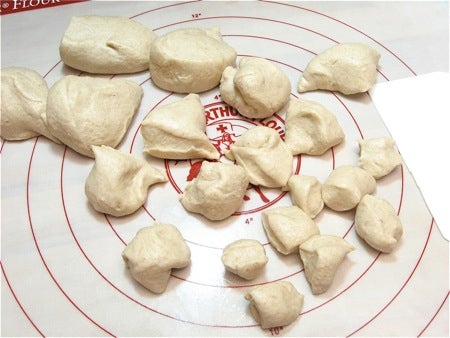 Divide it into chestnut-sized (about 1") pieces. Don't be too fussy here; the pieces don't have to be exactly the same size, nor do they need to be rolled into balls.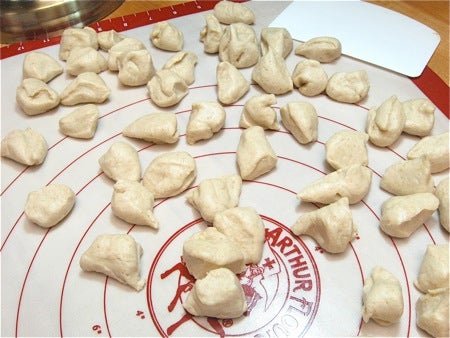 Dividing the dough into half, then each piece into half again, etc. works well; you want to end up with 64 pieces of dough, more or less.
Now, ready your filling ingredients: 1 1/3 cups (152g) shredded cheese: pizza blend, mozzarella, cheddar, or the cheese of your choice; and 2 1 /2 tablespoons (35g) melted butter.
Lightly grease a 9" x 5" loaf pan, and line the bottom with parchment or foil. Grease the parchment or foil.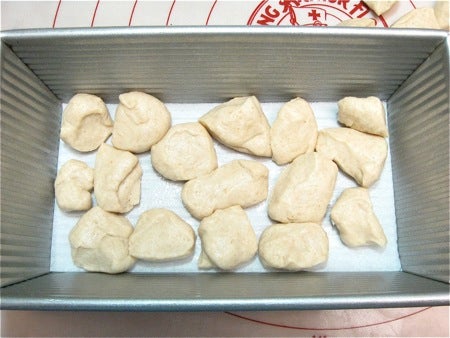 Place 16 dough pieces in the bottom of the pan, putting them close together.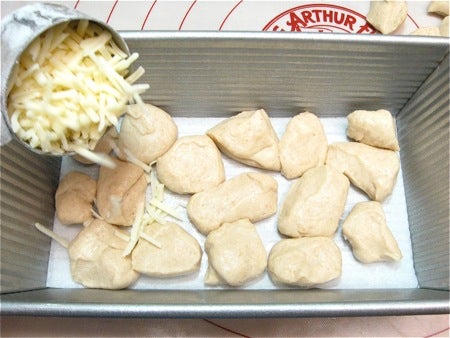 Sprinkle with 1/3 cup of the shredded cheese.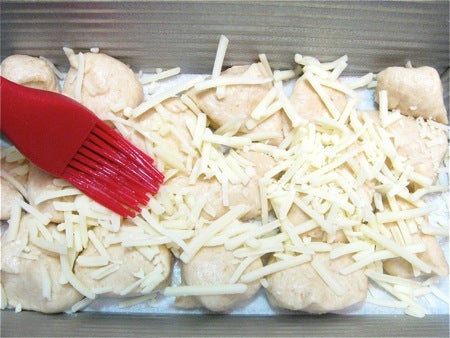 Drizzle or brush with some of the melted butter.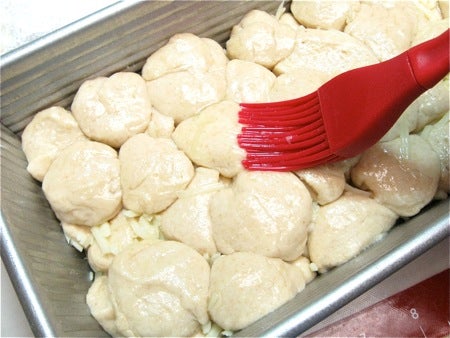 Place another 16 pieces of dough atop the first layer. Sprinkle with 1/3 cup cheese, and drizzle or brush with some more of the melted butter. Repeat with the remaining pieces of dough, making two more layers. Brush the top layer with butter, but don't sprinkle with cheese; that'll be added after the loaf is baked.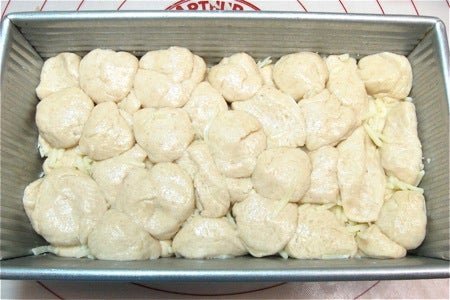 Cover the pan, and let the bread rise for 30 to 60 minutes.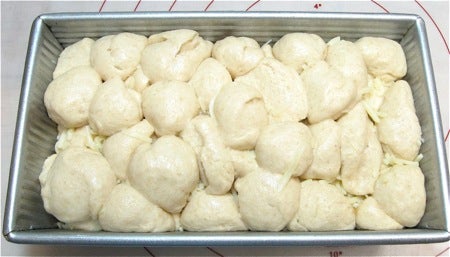 It should barely crown over the rim of the pan.
Towards the end of the rising time, preheat the oven to 350°F.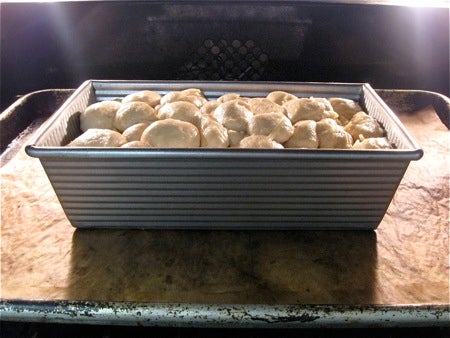 Bake the bread for 20 minutes.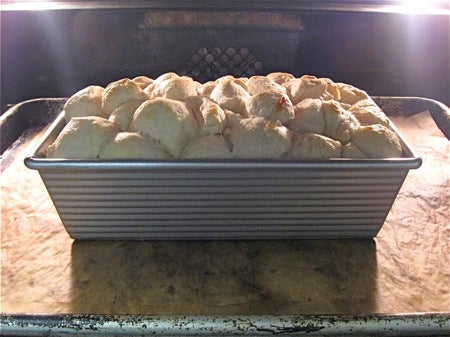 Nice rise!
After 20 minutes, tent the bread lightly with aluminum foil, and bake for an additional 15 to 20 minutes...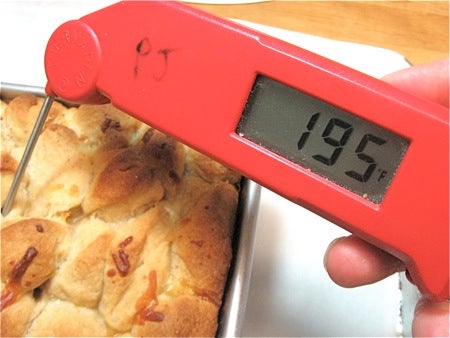 ...until an instant-read thermometer inserted into the center registers between 190°F and 200°F.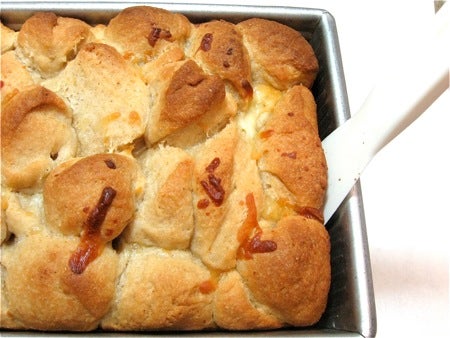 Remove the bread from the oven, and immediately loosen the edges with a table knife or heatproof spatula.
Wait 2 minutes, and turn it out of the pan onto a baking sheet.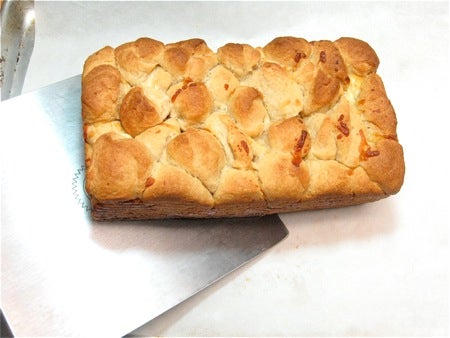 Carefully turn it right side up...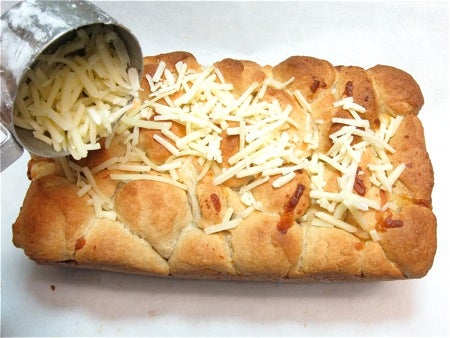 ...and sprinkle the top with the remaining 1/3 cup cheese.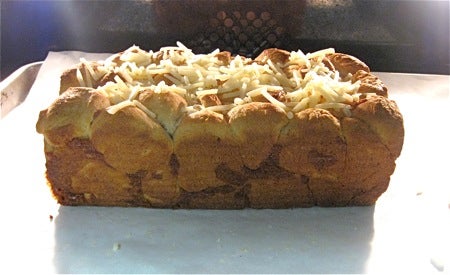 Return the loaf to the oven for about 2 minutes, just until the cheese softens and starts to melt.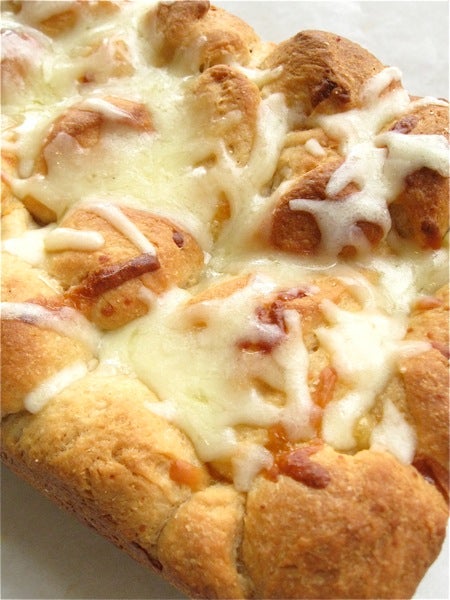 Like this.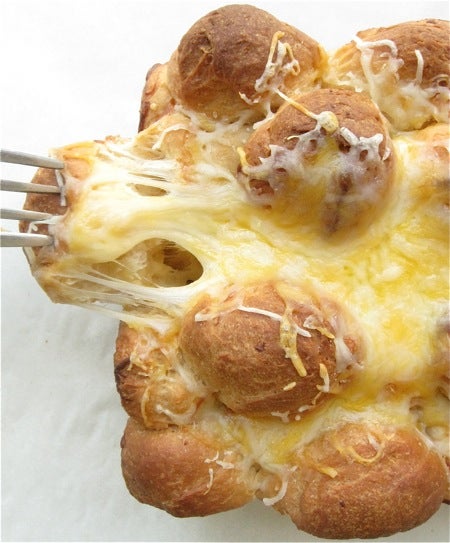 Remove the bread from the oven, and serve warm. For obvious reasons.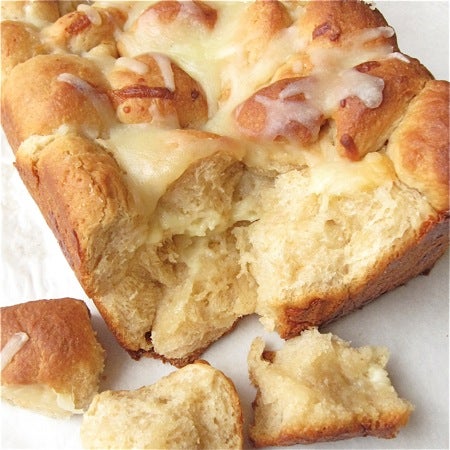 Now, how about sprinkling some golden raisins or chopped dates onto the dough along with the cheese, to get that cheese/fruit, salty/sweet thing going? Or some toasted pecans or walnuts. Or chopped scallions, or dried apple bits. Or [insert your own favorite cheese accompaniment...]
Read, rate, and review (please) our recipe for Golden Cheese Bread.
Jump to Comments