You know, I never, EVER thought I'd utter the following words:
I like panforte.
But I do; I really do.
Growing up, this classic Italian holiday sweet — a Christmas "fruitcake" native to Siena, Italy — wasn't my cup of tea. I mean, why put a piece of panforte in your mouth, when you could oh-so-easily munch on a gingerbread cookie or a Snickers bar?
I frequent Boston's North End on Christmas Eve, and I'm drawn to the torrone and the pizzelle, the heaps of nuts and beautiful candied fruits; but panforte has always left me cold.
Why? I just can't get past that bitter candied peel: lemon, orange, and citron.
I mean, there's a reason you peel oranges and lemons before you eat them, right? If the skin tasted good, we could bite into an orange just like we do an apple, peel and all.
Thus has panforte been permanently relegated to my list of "don't go there" foods.
Until now.
We don't always get to pick and choose which recipes we'll blog here. Panforte wasn't my first choice for these Holiday Traditions emails; I was assigned it. But in the spirit of "keep your friends close, and your enemies closer," I figured it wouldn't hurt to learn how to make it, at least.
Some experimentation with the balance of ingredients (six tries, actually) yielded a good-looking panforte, one that filled the pan, held its shape, and was suitably packed with nuts and fruit.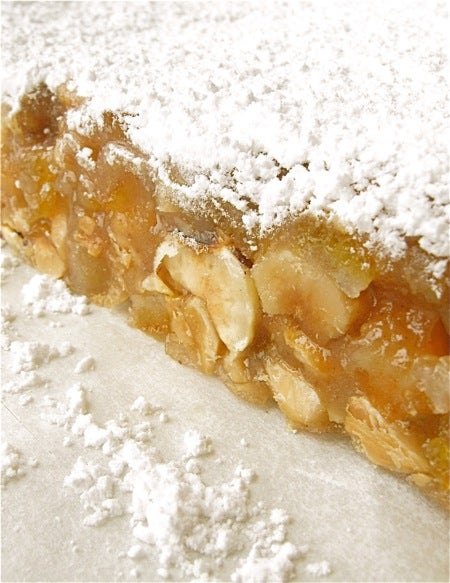 Beautiful! But did I dare taste it?
Indeed I did. And discovered that, in the company of honey and nuts, the candied peel's bitter note is exactly right. I mean, PERFECT.
I still wouldn't put candied peel in fruitcake. But you know what? I'll be buying peel and making panforte again next year, for sure.
Preheat your oven to 300°F.
We're going to toast some nuts first, so they can cool a bit while we make the cake batter.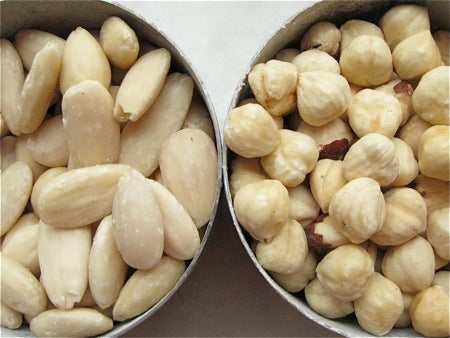 Measure out 1 1/4 cups (142g) whole blanched almonds, and 1 1/4 cups (142g) skinned hazelnuts.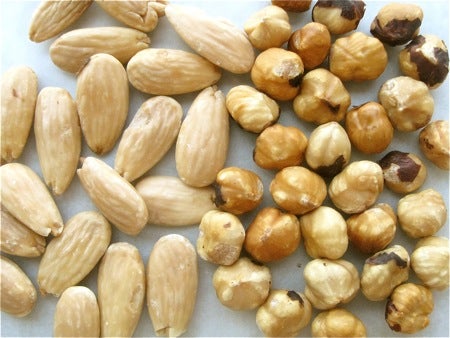 Toast the hazelnuts and almonds for 20 minutes, until they're a light golden brown. It's best to do this in separate pans, as they toast at slightly different rates, and you may want to take one pan out of the oven before the other. Remove the nuts from the oven, and set them aside to cool a bit.
When you can handle them, chop them coarsely.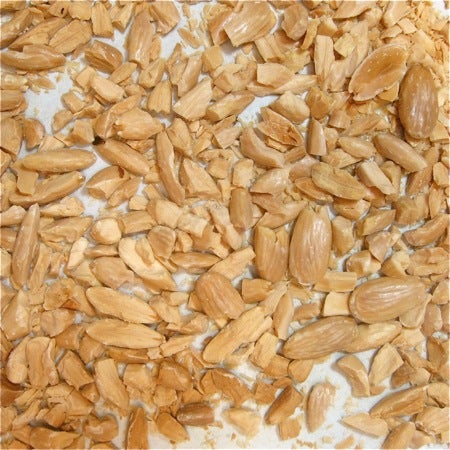 Since almonds and hazelnuts are different sizes/heights, it helps to chop them in separate batches, rather than together.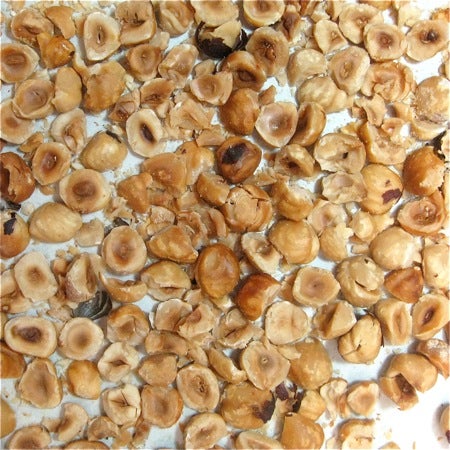 Chop them quite coarsely; if some remain whole, that's OK.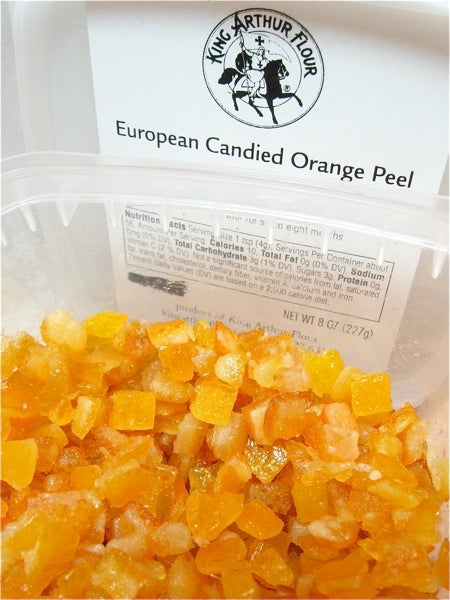 Here's one of the key ingredients in panforte: candied peel. Orange, lemon...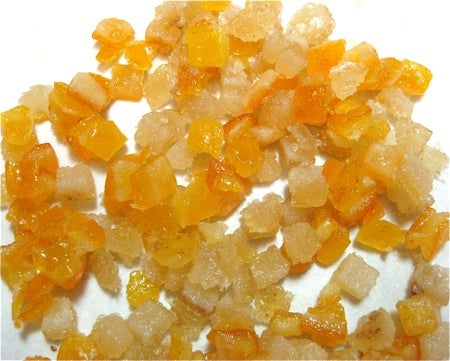 ...or mixed peel, which also includes citron, are all good choices. You can also make your own!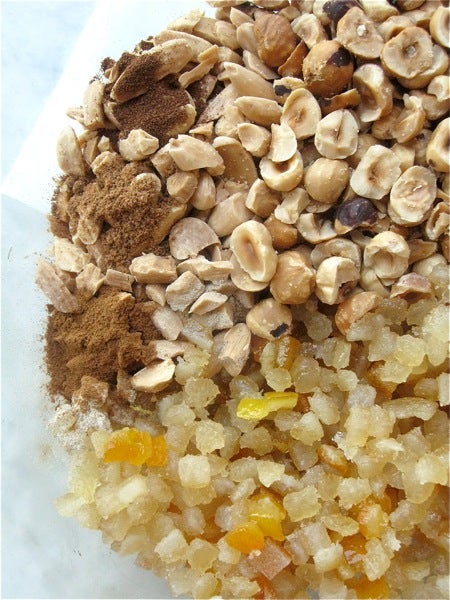 Put the toasted, chopped nuts, along with the following, in a large heat-proof bowl:
3 cups (454g) candied mixed peel (or a mixture of candied orange peel and candied lemon peel)
1/4 teaspoon cloves
1/4 teaspoon nutmeg
1/8 teaspoon white pepper
1/2 teaspoon cinnamon
1/4 teaspoon salt
3/4 cup (85g) King Arthur Unbleached All-Purpose Flour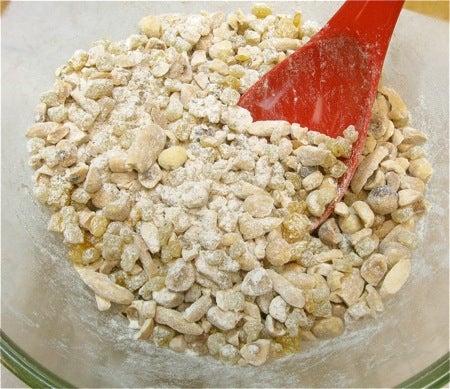 Stir to combine.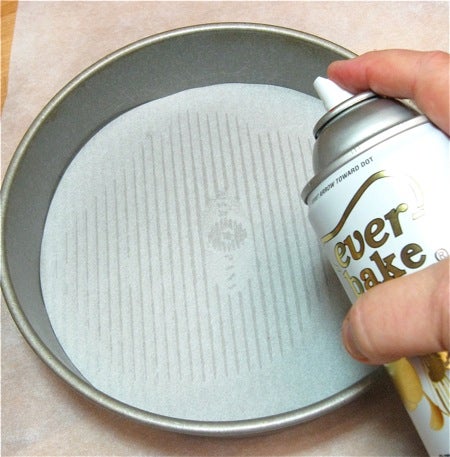 Line an 8" round cake pan with parchment (or foil), and grease the parchment.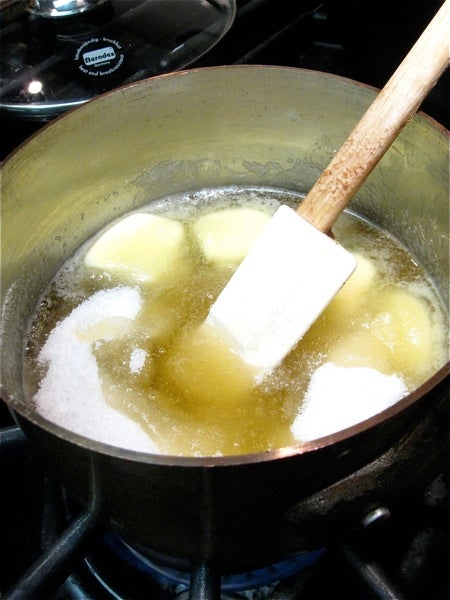 Combine the following in a saucepan:
2/3 cup (131g) sugar
2/3 cup (227g) honey
2 tablespoons (28g) butter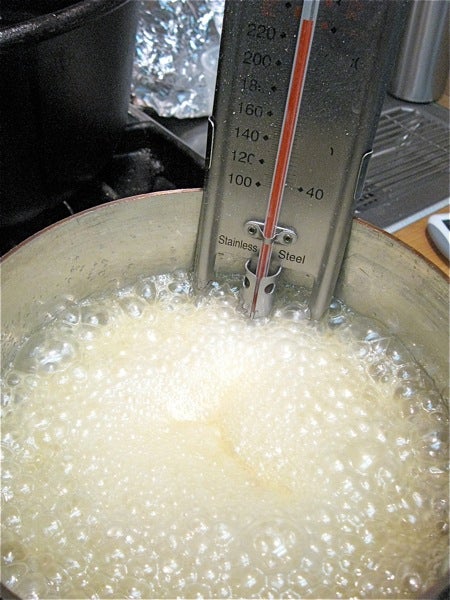 Over medium heat, bring the mixture to a boil. Using an instant-read or candy thermometer, boil the syrup, stirring frequently, till it reaches a temperature of about 245°F. This happens very quickly, so don't walk away; it should take about 2 minutes (or less) from the time the syrup starts to boil.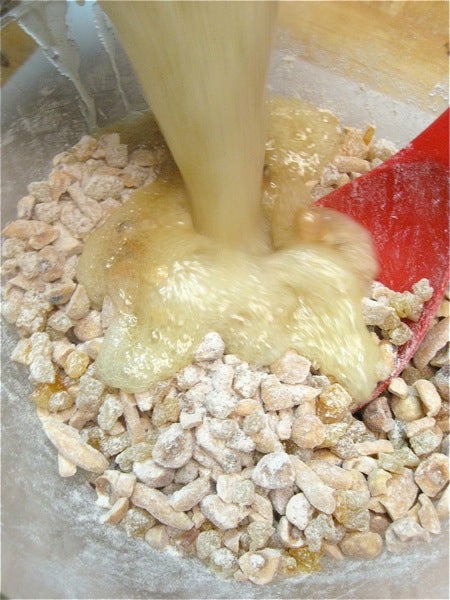 Immediately pour the boiling syrup over the fruit and nuts in the bowl.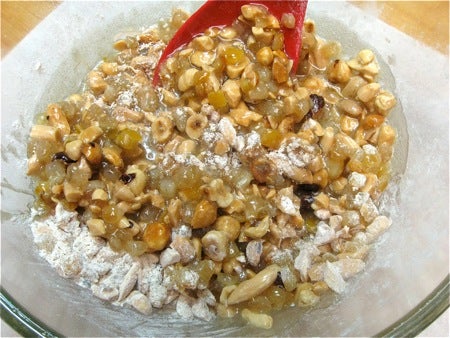 Stir to combine.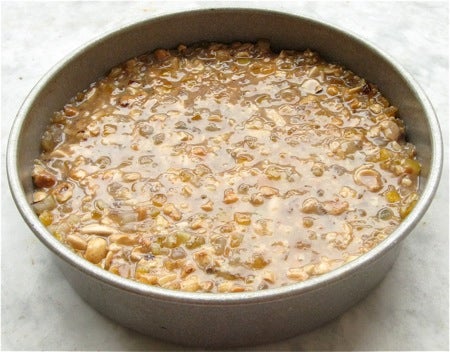 Pour into the prepared pan, smoothing the top with a spatula (or your wet fingers; it cools down quickly, and you shouldn't find it overly hot). You need to work fast, as the mixture will start to stiffen up.
Place the cake pan on a baking sheet, to catch any potential spills.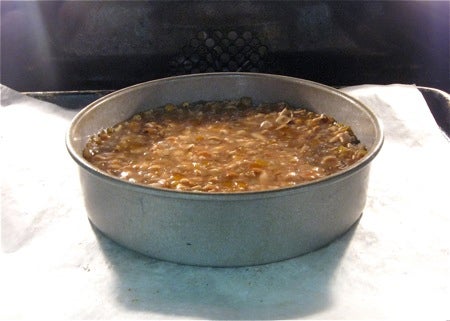 Bake the cake for 40 to 45 minutes; it won't seem firm, but will set as it cools.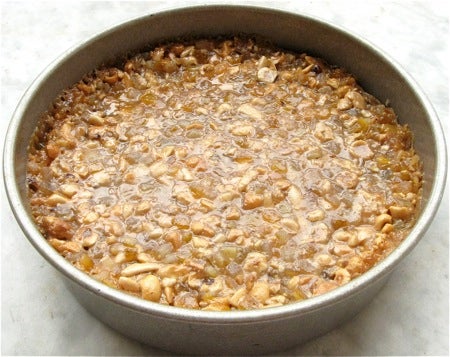 Remove it from the oven. The edges, an inch or so in, will look more set than the center; that's OK.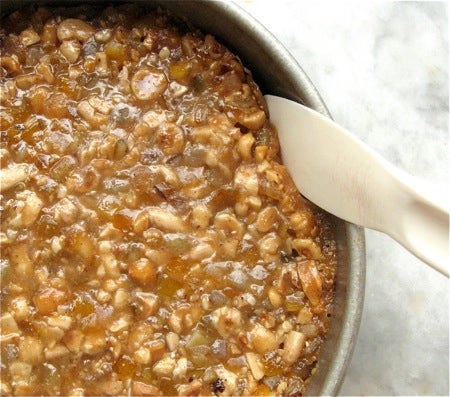 after 45 minutes, loosen the edges with a table knife or heat-proof spatula.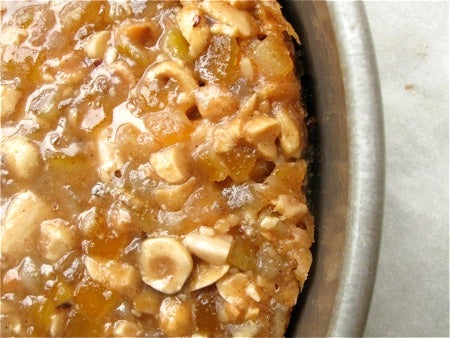 Like this.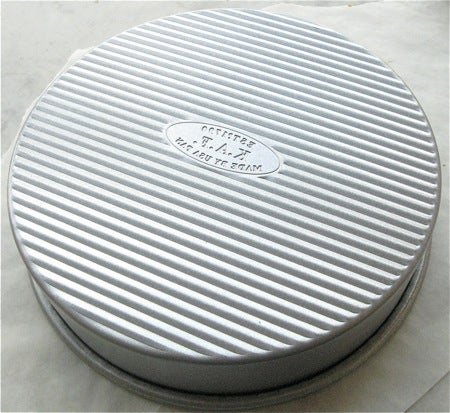 Turn the warm panforte out of the pan onto a piece of parchment or foil.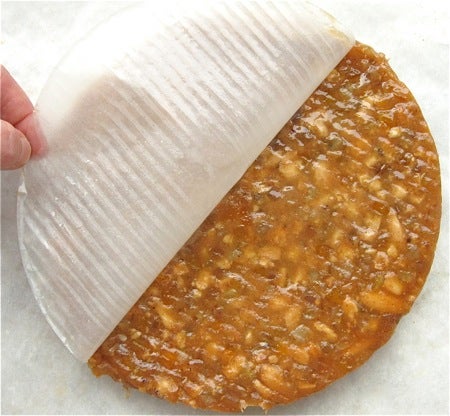 Peel off the parchment.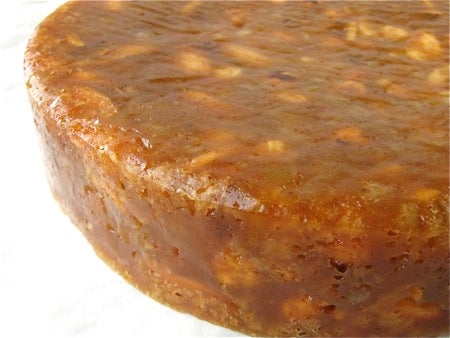 The bottom is now the top.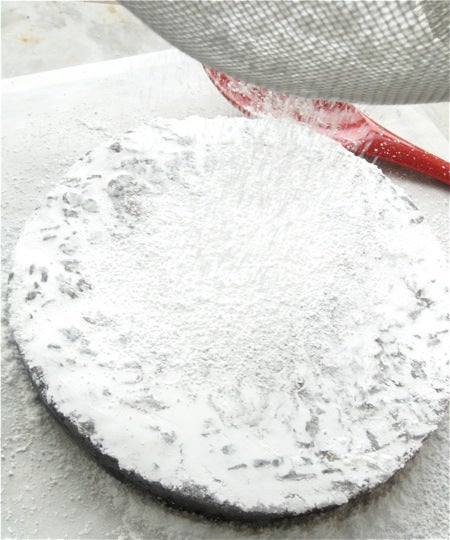 Sprinkle the top of the panforte heavily with confectioners' sugar, gently rubbing it in, if desired.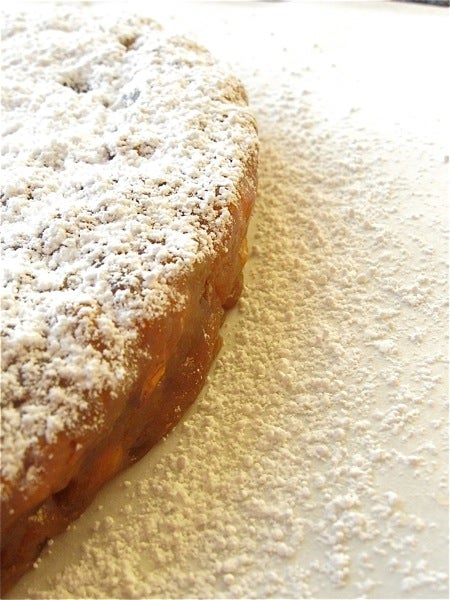 Or, don't rub it in; the snowy effect is nice, too.
Let the panforte cool completely before wrapping airtight. Store it at room temperature for up to 2 months.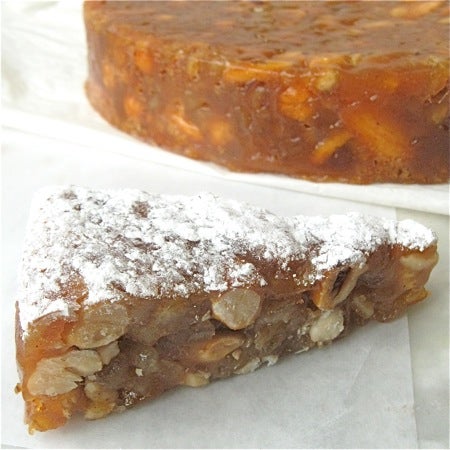 To serve this rich cake, cut it in thin wedges. The wedge pictured is rather hefty, but would be appropriate for a dedicated sweet-lover.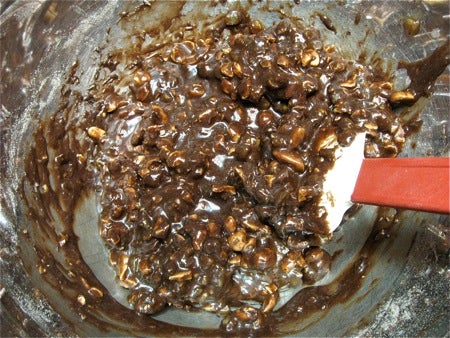 Now, how about chocolate panforte? 
Add 2 tablespoons Dutch-process cocoa to the nuts/peel/flour mixture. Melt 1/2 cup semisweet or bittersweet chocolate chips; stir them into the nuts/peel/flour along with the honey syrup. Bake as directed in the original recipe.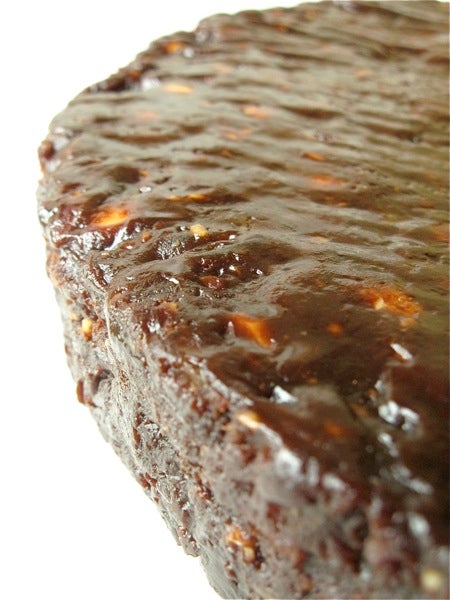 Dark and delicious!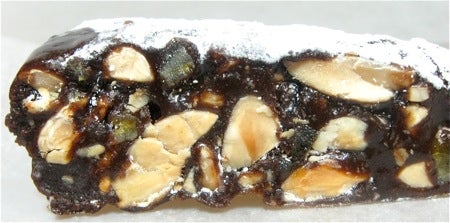 I like the "edge" chocolate adds.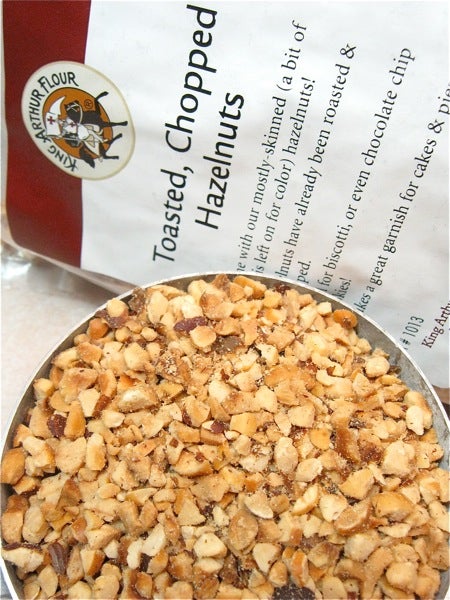 Finally – if you really don't want to try candied peel; plus you're in somewhat of a hurry, take the easy road.  Use an 8-ounce bag of pre-chopped, pre-toasted hazelnuts in place of the hazelnuts and almonds.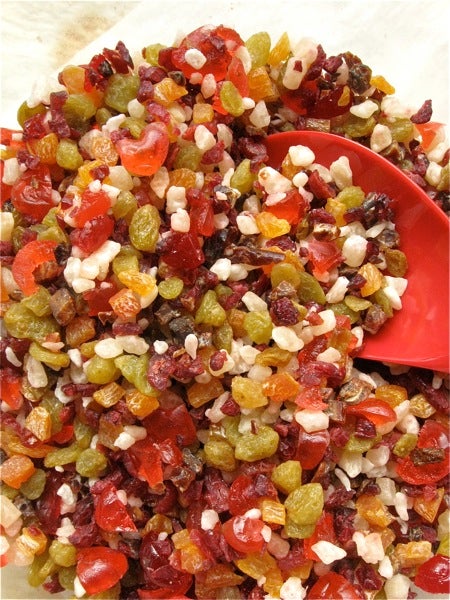 And try a 1-pound mixture of fruitcake fruit blend and candied red cherries, in place of the peel.
Prepare and bake as directed.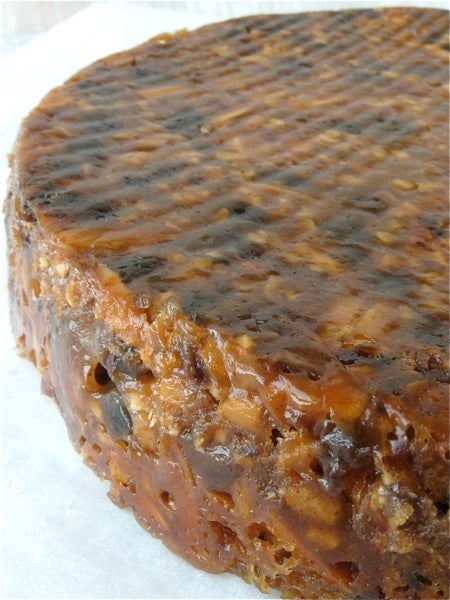 You'll make a lovely, dark cake...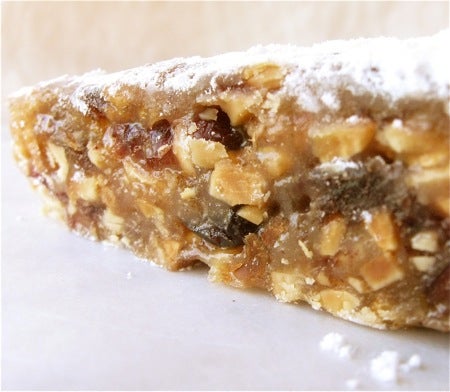 ...perfect for panforte scaredy-cats!
Read, rate, and review (please) our recipe for Panforte.
Jump to Comments