You arrive home after work or play, and see tempting home-baked goodies in the kitchen. You can't help but blurt out, "Is that for us, or is it going somewhere?"
If you live in a family with a home baker who willingly does their part for the community, you know what I mean. They bake for school functions, church, funerals, bake sales, or meetings, in addition to baking for the family.
In the home I grew up in questions were always voiced when we saw baked treats in the kitchen. "Where's that goin'?" or "Is that for us?"
The following recipe for Pumpkin Whoopie Pies features a cream cheese filling studded with diced ginger. My first attempt at making them just happened to be the same time I needed a dessert for a community potluck event. A-ha! Mini whoopie pies were the answer.
If you use a tablespoon cookie scoop (size 40), this recipe will make approximately 60 cookies - enough to yield 30 mini whoopie pies.  Let's get started by making the mini cake/cookie part of the recipe.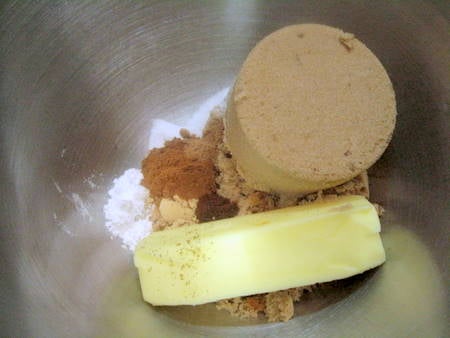 Beat together the butter, oil, sugar, molasses, cake enhancer, baking powder, baking soda, salt, and spices.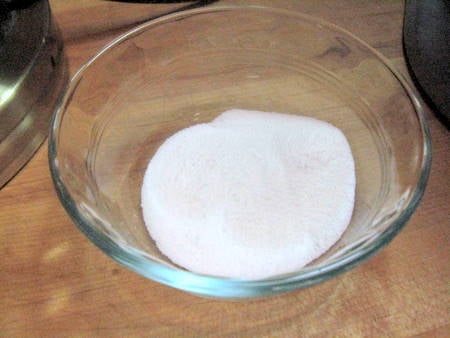 When I first tried making these mini whoopie pies I didn't have cake enhancer; it's an optional ingredient.  If you don't have it, you can leave it out, but I found it made a noticeable difference. Using the Cake Enhancer results in a cookie that holds its shape better and reduces the stickiness in the crust.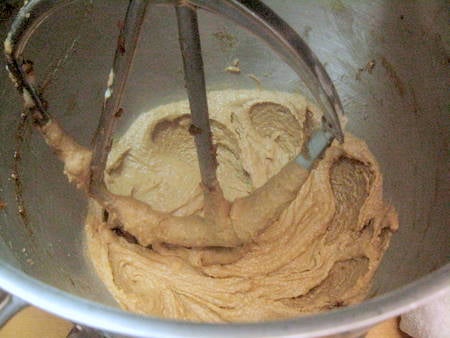 Scrape the bottom and sides of the bowl before adding the eggs.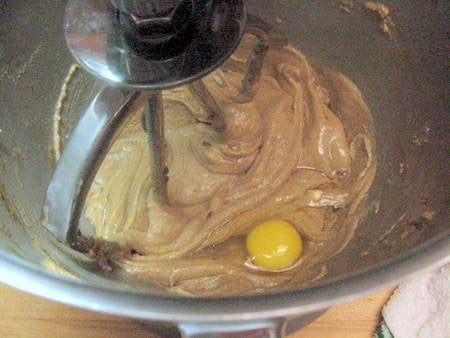 Beat in the eggs one at a time, until the mixture is fluffy.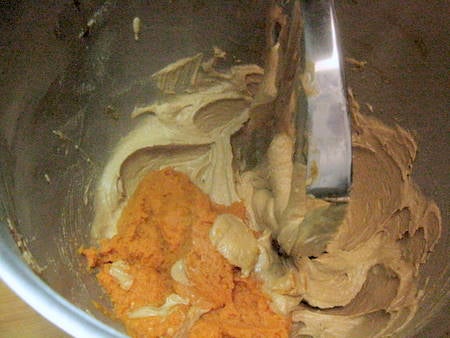 Stir in the pumpkin purée or canned pumpkin. Don't use pumpkin pie filling in this recipe! Canned pumpkin is what is says it is, only canned pumpkin purée. Pumpkin pie filling has additional spices and sugar added, so it won't act the same in recipes that call for pumpkin purée.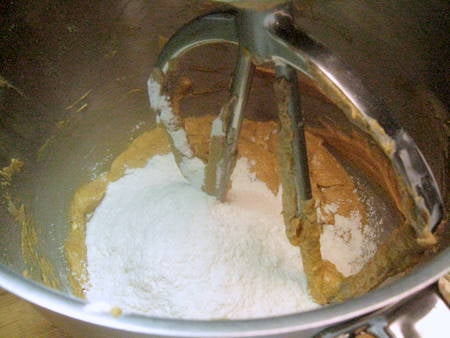 The flour is added in two additions, mixing well after each addition. Here's the first addition of flour.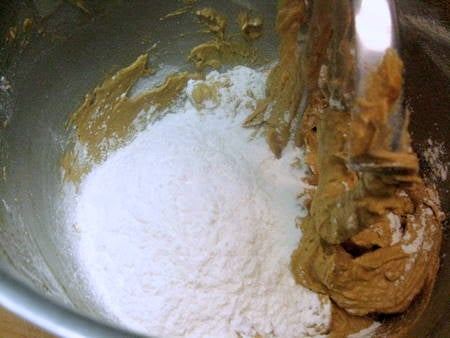 Then, mix in the second addition of flour.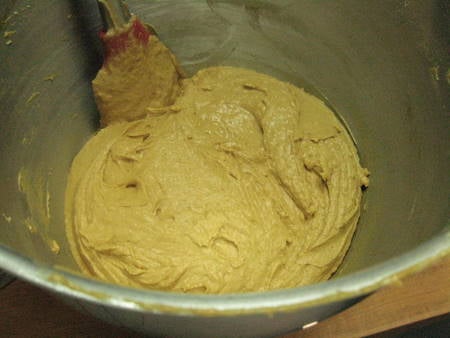 The finished batter will look like this. All the ingredients are incorporated and the mixture is fluffy.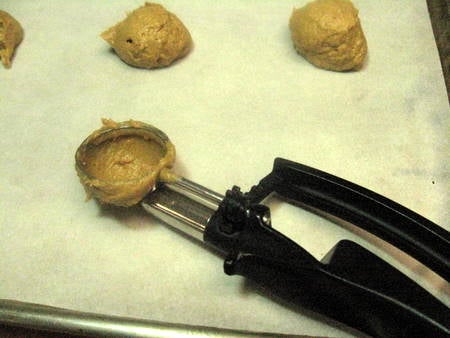 The original recipe directions call for a muffin scoop to portion the cookies. Using it with this recipe will yield about one dozen 4" whoopie pies. I used the tablespoon cookie scoop shown above to make minis that yielded 2 1/2 dozen 2" treats. This scoop measures 4 teaspoons (also referred to as a generous tablespoon).
Bake the mini whoopies at the same temperature listed in the original recipe, for about 10 minutes - or until the cookies feel firm to the touch.
While you're waiting for the cookies to cool, make the cream cheese filling.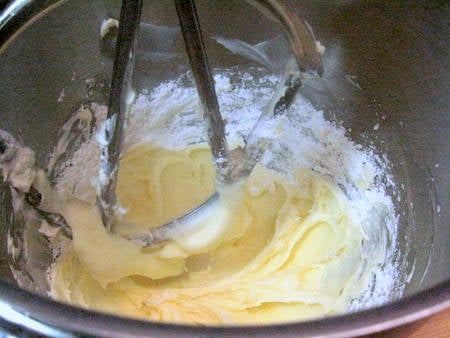 Beat the cream cheese and butter until smooth and fluffy.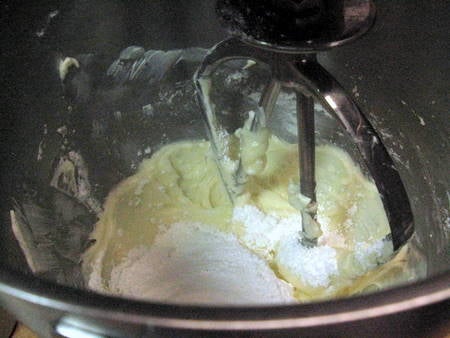 Beat in the confectioners' sugar in two additions.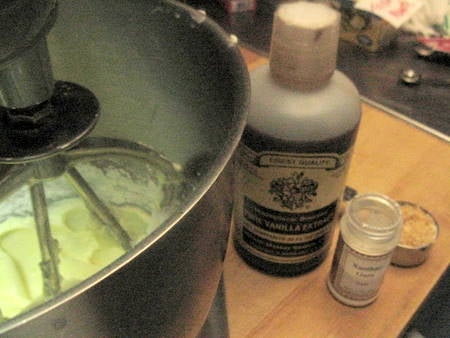 Add vanilla and xanthan gum (another optional ingredient), and beat for 2 to 3 minutes, until very fluffy. Since the two batches of whoopie pies I made were eaten the same day, I didn't add xanthan gum to the filling. Xanthan is used to help thicken and stabilize the filling.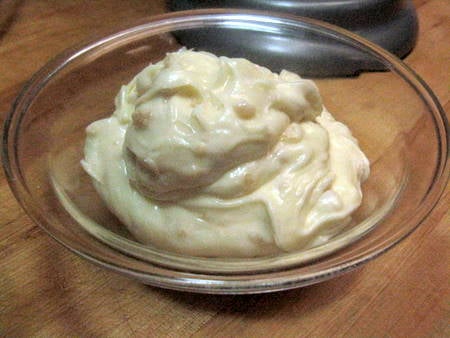 Stir in the diced ginger, which will prompt the recipients of these minis to ask, "What is that?" If you're a fan of ginger, it's another optional ingredient that will make a marked difference in the flavor of the finished product.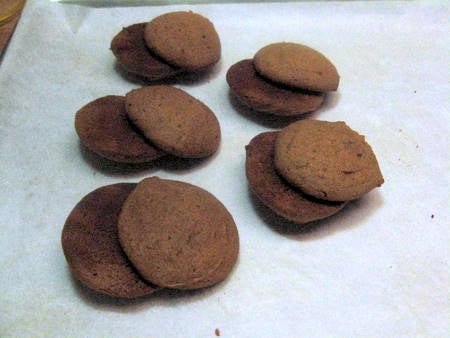 Once the cookies are cooled, I like to pair them together in like-size duos. Even though a scoop was used for portion size, some cookies fit together better than others. By doing this you can use the best cookies for the tops of the whoopie pies.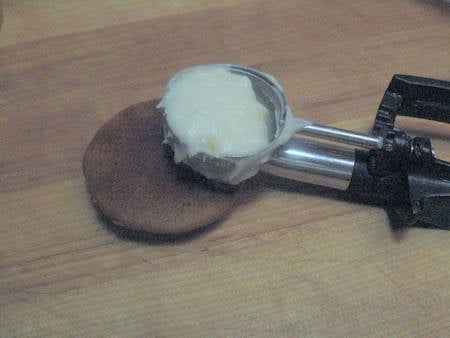 Use slightly less than a tablespoon cookie scoop (or #40 disher) to portion filling for the cookie sandwiches. You might also use a heaped tablespoon measure.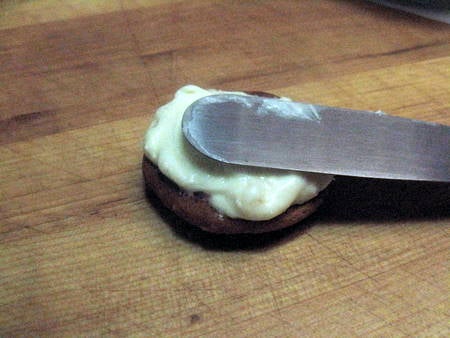 Some bakers like to squish the top cookie on to complete the whoopie pies; others use a small offset spatula to push the filling to the edges before topping with the second cookie.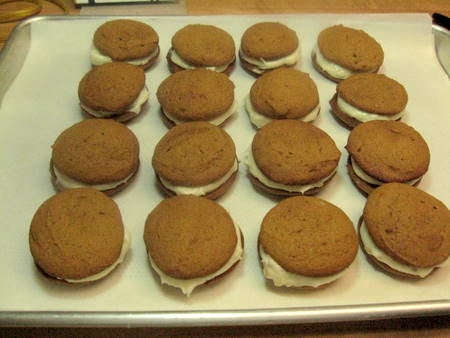 Small servings, big taste! Here are just some of the batch of minis, ready for giving or for a family treat. This recipe will yield approximately 30  pumpkin whoopie pie minis - two dozen for donation, and enough for at least six for the family. If you do the math differently, maybe one and a half dozen for donation, and a dozen for family?
There are nine other whoopie pie recipes in our King Arthur recipe archives that may lend themselves to the mini option by simply using the smaller scoop to portion. You'll also find a range of fillings that use cream cheese, Marshmallow Spread, or chocolate.
Happy baking to my generous baking friends!  Your donation of time, talent, and baked goods to your communities is an inspiration to us all.
Read, rate, and review (please) our recipe for Pumpkin Whoopie Pies.
Jump to Comments