Ever heard of a lime rickey?
NO?!
Then you've missed one of summer's most refreshing drinks.
At its simplest, the lime rickey is a mixture of carbonated water (seltzer), lime juice, and simple syrup (sugar). In elevated form, it includes alcohol; the mojito is its kissing cousin.
And if you're talking strictly ice cream fountain fare, the lime rickey is often enhanced with other flavored syrups – most often raspberry, if you live in New England.
Which I do. And have, for over 50 years.
I've actually lived in all 6 New England states – how's that for embracing a region? Childhood was spent in Connecticut, and teenage years in Massachusetts. I went to college in Rhode Island, spent 14 years of young adulthood in Maine, and touched down very briefly in Vermont while house-hunting in New Hampshire - where I've been for the past 20 years.
Right now, with warm weather upon us and school about to let out for the summer, I'm thinking Massachusetts. And remembering hot summer days riding my bike miles and miles through the coastal towns south of Boston, where I knew every bakery, candy store, and ice cream shop.
Which, if you're talking ice cream in Massachusetts, means, Friendly's, or Brigham's.
Oh sure, Dairy Queen has its outposts in the Bay State; heck, my 17-year-old niece is slinging Buster Bars in the Abington DQ right now. But for REAL Massachusetts ice cream, it has to be Mass. natives Friendly's (Springfield, 1935), or Brigham's (Boston, 1924).
Friendly's lays claim to my favorite-ever ice cream: the chocolate-marshmallow they offered back in the '70s, regrettably long gone. Deep-chocolate ice cream, laced with sticky swirls of white marshmallow (could it have been Fluff, another New England favorite?).
Sure, Friendly's Banana Royale sundae was awesome; and their Jim Dandy, with its 5 scoops of ice cream, would feed four of us after field hockey practice (and RIGHT before dinner; who cared about calories back then?). But a bowl of chocolate-marshmallow topped with crunchy salted almonds was, simply... heaven
And Brigham's – where else are you going to get frozen pudding ice cream? Or rum raisin (sadly, no longer a featured flavor)?
Or Raspberry Lime Rickey Sherbet?
It's true – Brigham's, long the best resource for an ice-cold raspberry lime rickey on a sultry day, has taken that concept and put it in the freezer case. I'm thinking a raspberry lime rickey float with you-know-what-kind of ice cream.
Not planning a trip to New England? This lime cake, with its raspberry topping, is a tribute to Brigham's favorite summertime drink.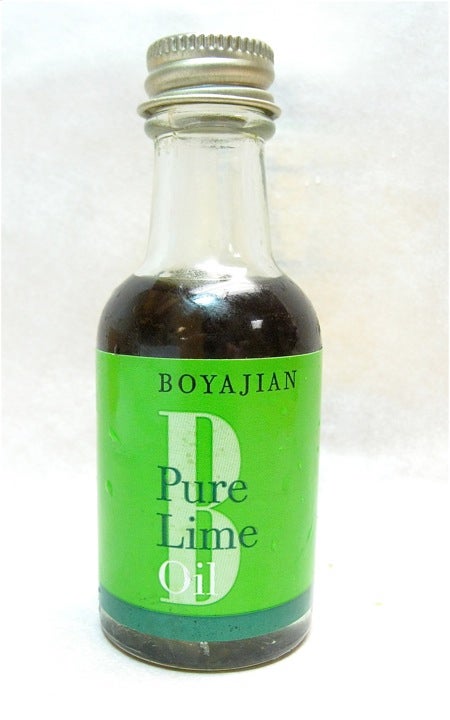 Here's a wonderful ingredient, if you love lime: lime oil, perfect for beefing up lime flavor in cake, cookies, muffins, icing, pie...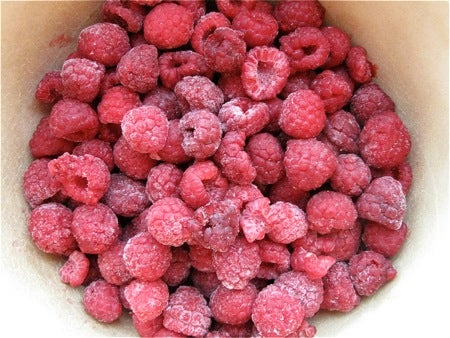 Let's make the raspberry sauce first. You'll need 3 1/2 to 4 cups raspberries; frozen are fine.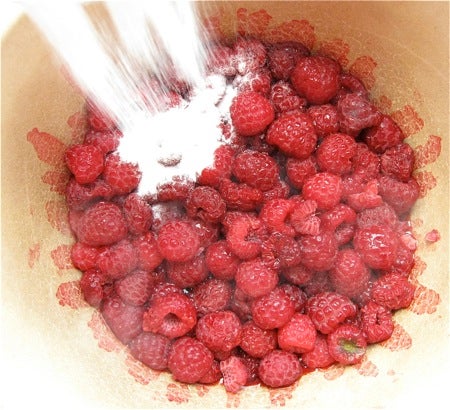 Mix the berries with 1 tablespoon Pie Filling Enhancer, for thickening; and 2 tablespoons sugar, or to taste. The Pie Filling Enhancer will keep the raspberries from separating into liquid juice and berries.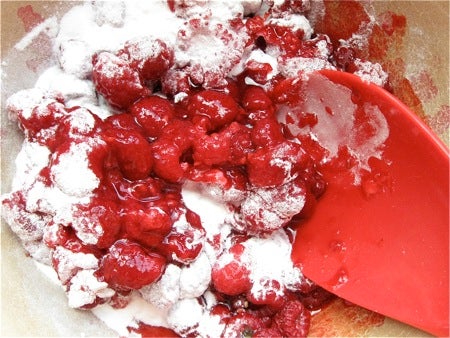 Stir to combine.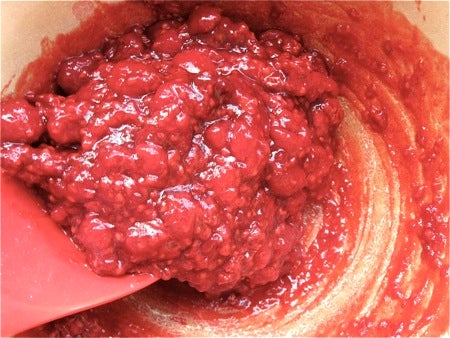 The enhancer works instantly, thickening the berries as you stir.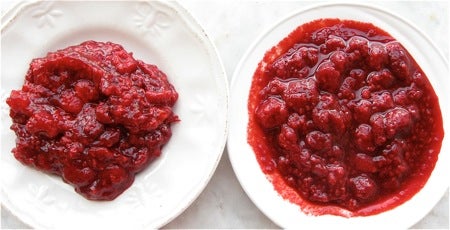 On the left, berries with enhancer; on the right, without enhancer. See the difference?
Set the sauce aside while you make the cake. There's no need to refrigerate it unless you don't plan on serving the cake till hours and hours later, or the next day.
Preheat your oven to 350°F.  Lightly grease a 9" x 13" pan.
Put 1 cup room-temperature unsalted butter, 2 cups sugar, and 1 1/4 teaspoons salt in a mixing bowl.
Beat till smooth.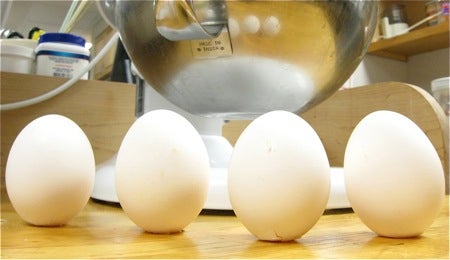 Next, add 4 large eggs. Get them out and set them on the counter, so you don't reach into the carton and lose track of how many you've added.
Don't you love how these eggs are standing at attention, unable to roll around (and fall on the floor)? It's a little trick I learned recently at our Baking Education Center. Hold an egg with its fat (wide) part towards the bottom, and give it a gentle tap on the counter. It'll just barely crack, at the same time forming a flat base for itself. No rockin' – no rollin'!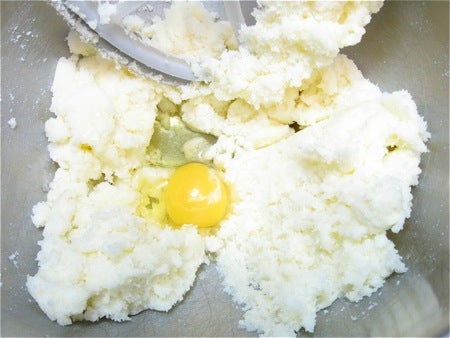 Add the eggs one at a time, beating well after each addition.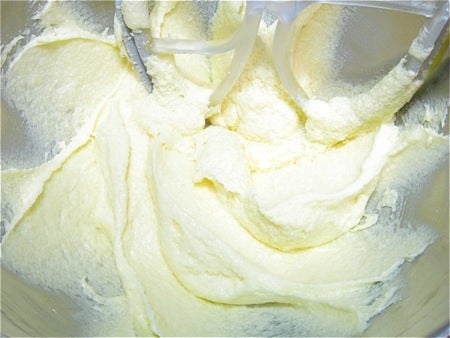 The batter will be fluffy, and a bit grainy; that's OK.
Stir in 2 teaspoons baking powder.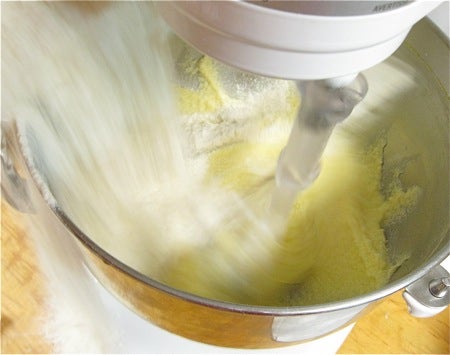 Add 3 cups (12 3/4 ounces) King Arthur Unbleached All-Purpose Flour alternately with 1 cup milk.
Try to get all of the flour into the bowl, as I'm NOT doing here. Just one of those photo-snapping instances when 3 hands and 2 pairs of eyes would have been useful...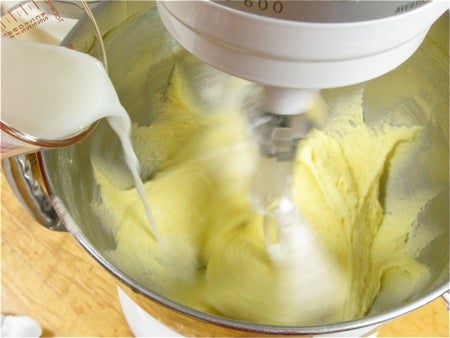 Flour, then milk; flour, then milk... ending with flour.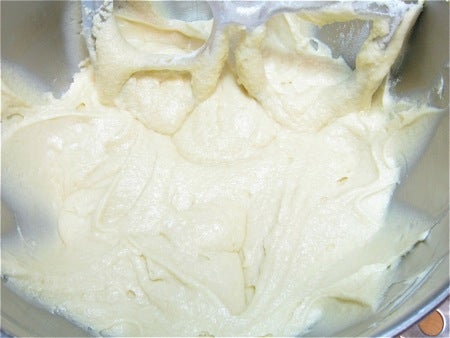 NOW you have a nice, thick, fluffy batter!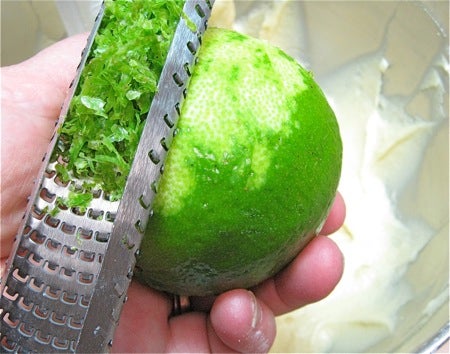 Grate the rind from 2 limes. A Microplane grater/zester works swell.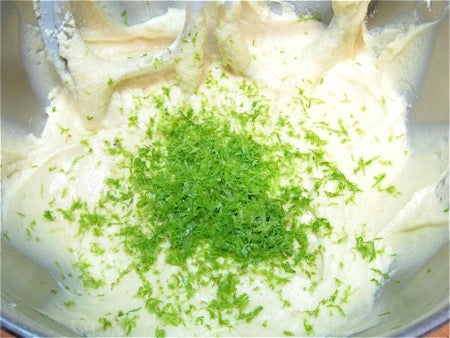 Stir the zest into the batter. If you're using lime oil instead of zest, now's the time to add it.
Pour the batter into the prepared pan.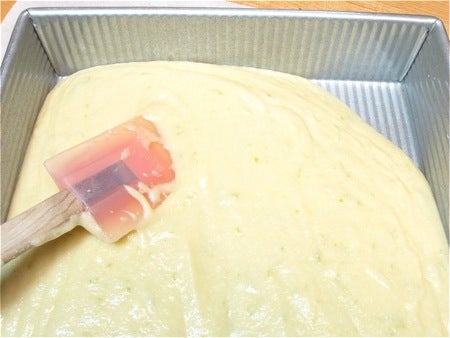 Use a spatula to smooth it into the corners.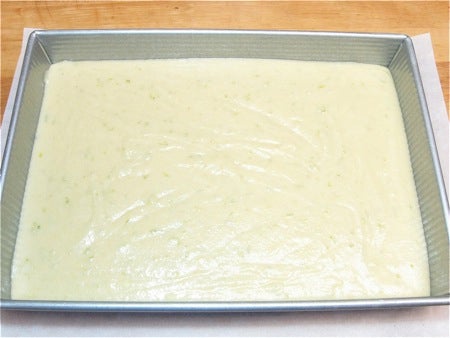 Like this.
Bake the cake for 25 to 33 minutes, or until the top is starting to brown and a cake tester inserted into the center comes out clean.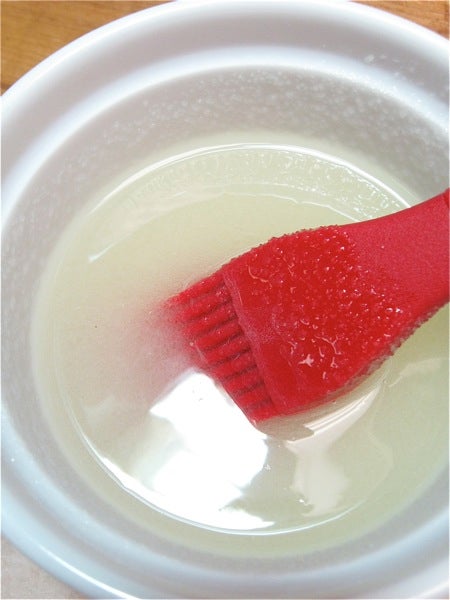 While the cake  is baking, make the glaze.
Combine the following:
1/3 cup freshly squeezed lime juice
2/3 cup sugar, superfine preferred; Baker's Special Sugar is a good choice here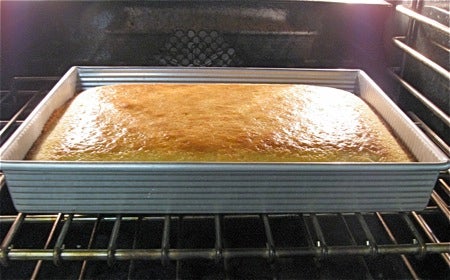 This cake looks done; let's take it out.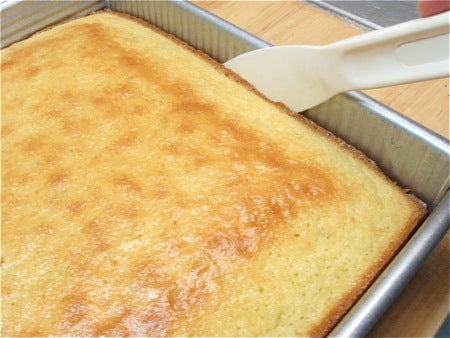 Use a spatula to loosen the edges.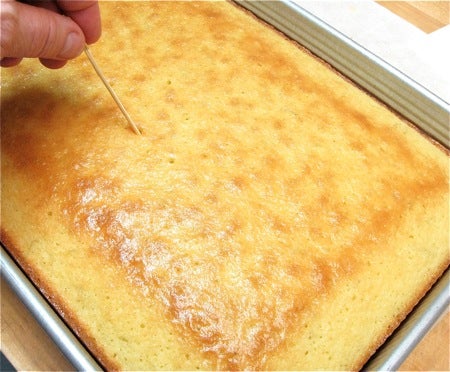 Use a skewer or toothpick to poke the top of the cake all over. Don't poke all the way to the bottom of the pan; just about halfway down.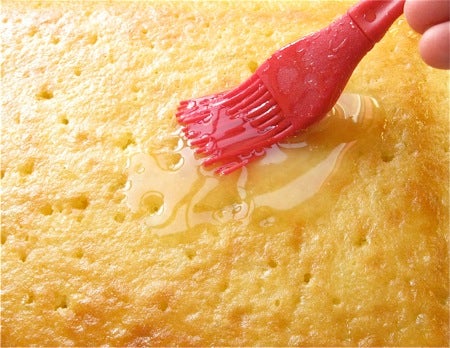 Stir the glaze to combine, and immediately brush it onto the hot cake; be generous.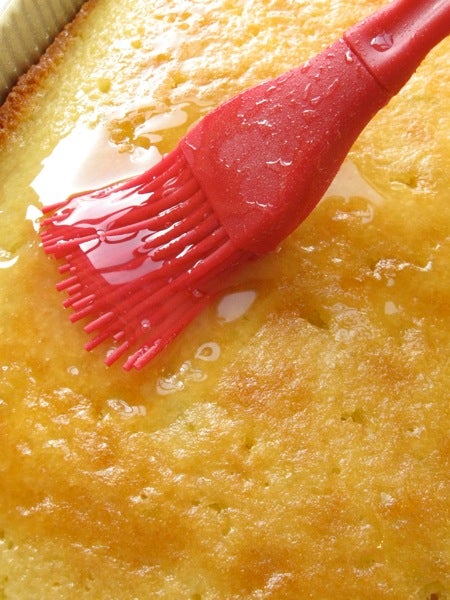 Let it sink in for about 5 minutes, then brush on more glaze, continuing until all the glaze is used up.
For an extra touch, shake together 1/2 cup coarse white sparkling sugar and 1/8 teaspoon lime oil in a screw-top jar.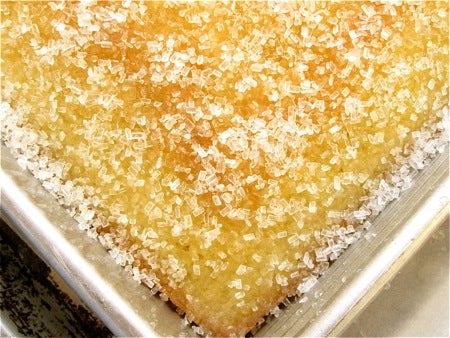 Sprinkle the sugar over the glaze-topped cake.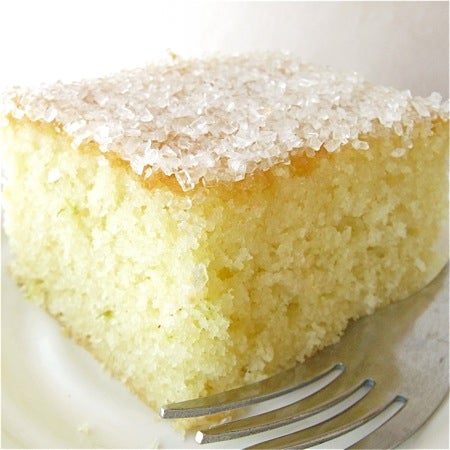 For plain lime lovers, serve as is.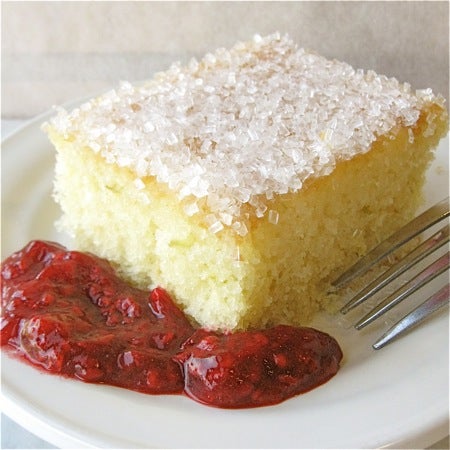 For those willing to do the lime rickey route, add a dollop of raspberry sauce.
Read, rate, and review (please!) our recipe for Raspberry Lime Rickey Cake.
Jump to Comments