Fiber.
It's just so virtuous. So healthy. So... dull.
It's true, fiber isn't the flashiest ingredient out there. I mean, next to chocolate, or strawberries – or the pepperoni on your pizza – fiber is an also-ran in the looks/flavor department.
But, like any wallflower, fiber can become the belle of the ball when put in the right situation.
Like these bran muffins.
Talk about moist, tender, and delicious... I tell you, Mr. Man, these are the bran muffins you want to bring along to the desert isle. And not only are they tasty, each packs about 7g of fiber – a good head start on your daily requirement.
Not only that – the batter can be made ahead, then left in the fridge for weeks, ready to scoop out and bake as many as you want: from two in the toaster oven for a his-and-her breakfast, to the full batch of 18 for your celebratory graduation brunch.
And this recipe has an interesting history. First printed in our 200th Anniversary Cookbook (published in 1990, and celebrating its 20th anniversary this year), it comes with this intro:
"Some of you may remember hearing the voice of Betty Crocker over the radio a number of years ago. The voice actually belonged to Zella Lane, who's a real person who really does love to bake. She lives in Virginia, and has her daughter ship King Arthur Flour to her since it's not available in that region. [Now, 20 years later, our flour is available nationwide - Ed.] This is one of Zella's favorite recipes..."
Radioland's Betty Crocker actually baked with King Arthur Flour – well, who knew?!
We may be prejudiced, but we're certain it's the flour that makes these muffins so delightfully delicious. Just ask Betty... er,  Zella!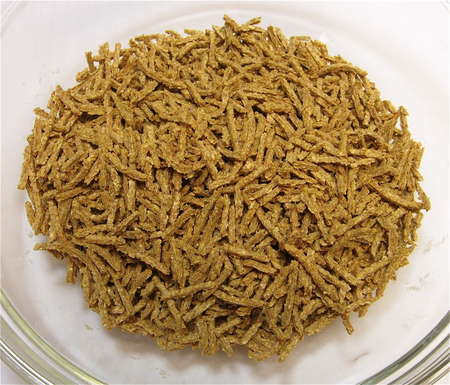 Like many older fiber-rich recipes, this one starts with breakfast cereal. (Remember Shredded Wheat bread?)
Put 1 cup (71g) bran buds or twigs; or 1 3/4 cups (71g) bran flakes in a bowl.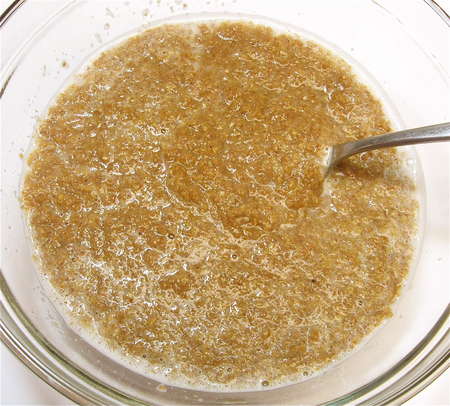 Add 1 cup (227g) boiling water, and stir. The cereal will break down and the mixture will become mushy.
Let the mixture cool to lukewarm. This will take about 45 minutes.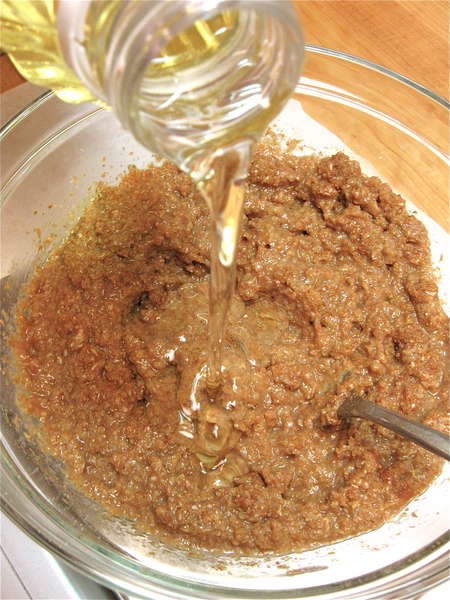 Add 1/2 cup (99g) vegetable oil to the cooled cereal.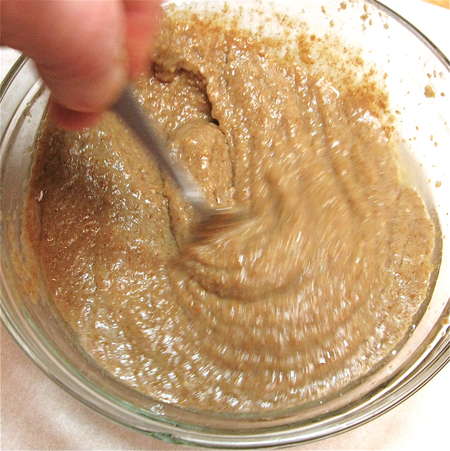 Stir to combine.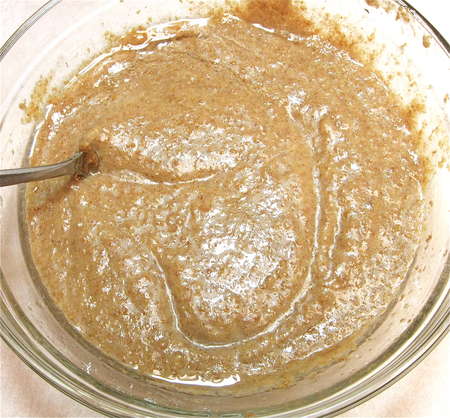 Set it aside; you'll use it later.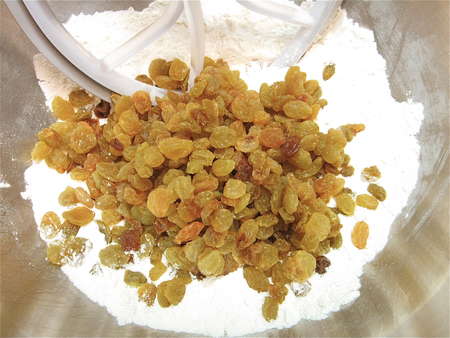 Put the following in a bowl:
2 1/2 cups (301g) King Arthur Unbleached All-Purpose Flour
2 1/2 teaspoons baking soda
1 teaspoon salt
1 to 1 1/2 cups cup (170g to 255g) raisins or currants
I first made this with golden raisins, then with currants. I prefer the currants, as they're smaller and distribute themselves throughout the batter more nicely.
Don't like raisins or currants? How about dried cranberries, chopped dates, or another dried fruit? If you're not a fan of dried fruit – end of story – simply leave it out.
Can you substitute fresh fruit? Only if it's quite dry (e.g., blueberries); and only if you stir in the fruit just before baking, rather than with the initial batter.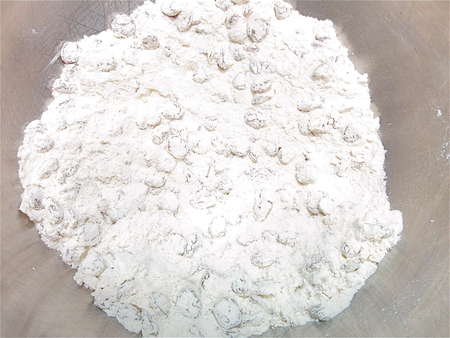 Whisk together. Set it aside; you'll get back to it.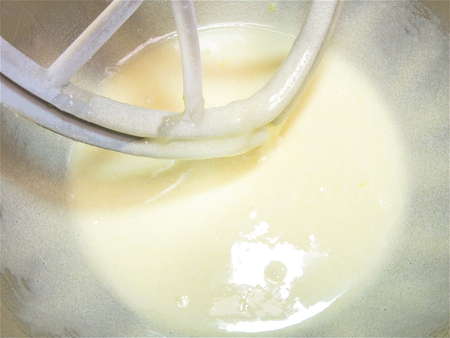 Whisk together 2 large eggs, 2 cups (454g) buttermilk, and 1 1/4 cups (248g) sugar.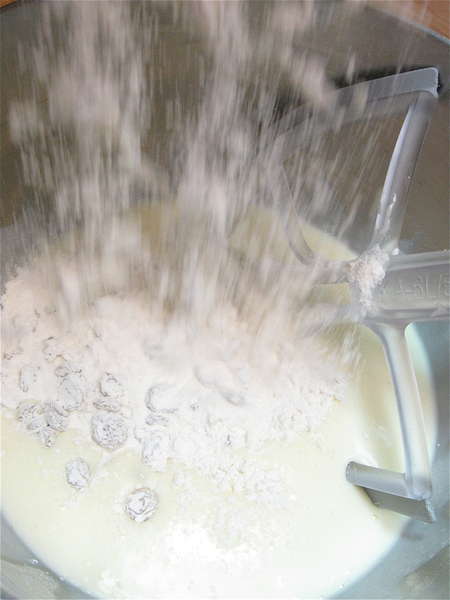 Add the flour/raisin mixture...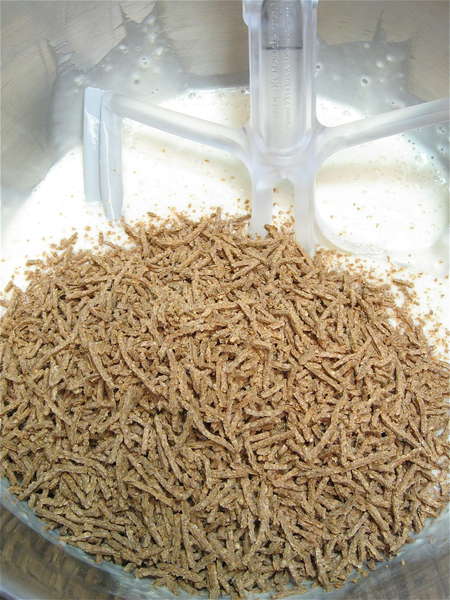 ...and 2 cups (142g) bran cereal (buds or twigs); or 3 1/2 cups (142g) bran flakes.
Stir to combine.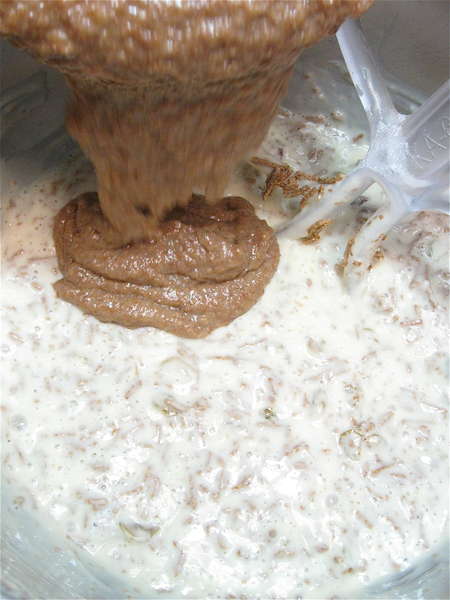 Now add the cooled cereal/water/oil mixture.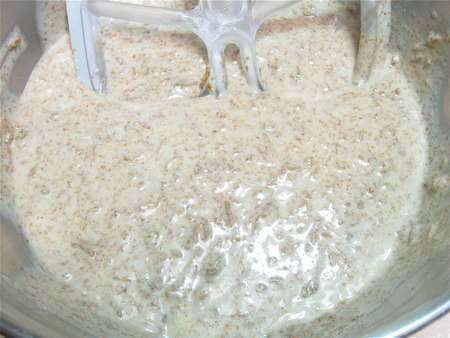 Stir to combine.
Cover the bowl, and refrigerate overnight. For longer storage, transfer to a covered container, and refrigerate.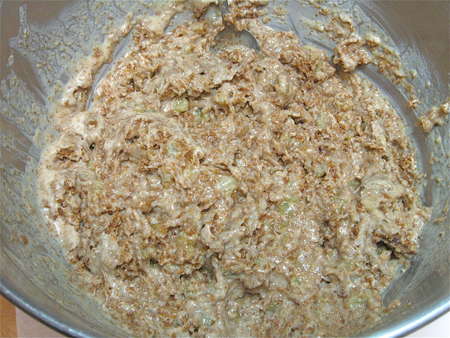 Next day, look how the bran cereal has absorbed the liquid. The batter has thickened considerably.
Preheat your oven to 375°F. Lightly grease a standard muffin pan, or line with paper cups, and grease the cups. Use as many wells as you like; since this recipe can live in the fridge for a couple of weeks, there's no need to bake 12 muffins all at once.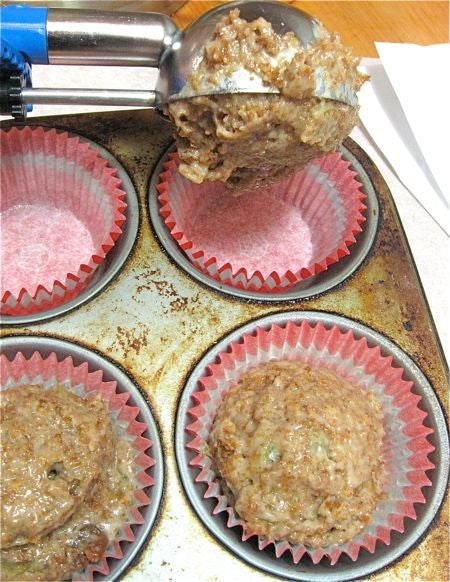 Heap the thick batter in the muffin cups.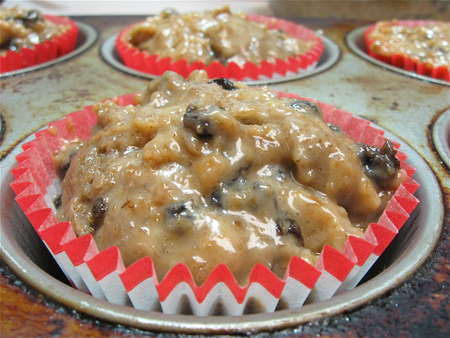 A generous 1/4 cup batter (about 3 1/2 ounces, or 100g) is a good amount to use.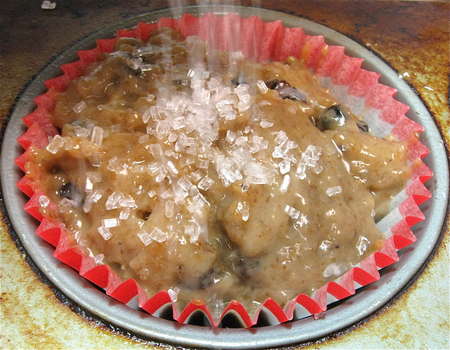 Sprinkle with coarse white sparkling sugar, if desired.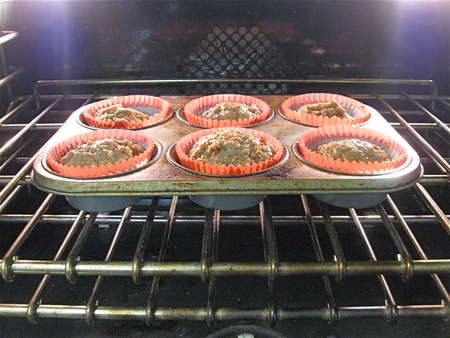 Bake the muffins for 20 to 25 minutes, till a cake tester inserted into the center of a muffin comes out clean.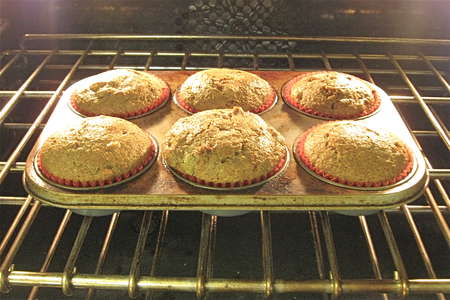 They'll rise nicely.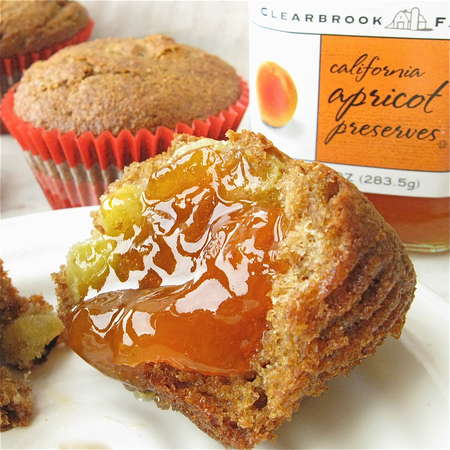 Remove from the oven, and tip the muffins in the pan to prevent their bottoms steaming and becoming soggy. Serve warm; or transfer to a rack to cool completely. Serve with jam, if desired.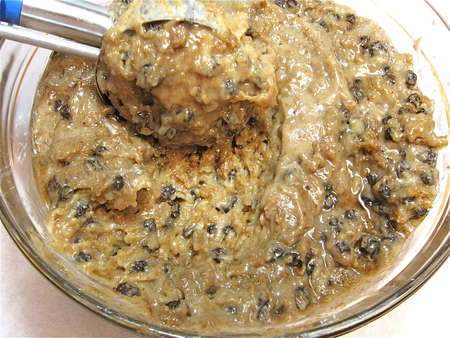 OK, here's the batter after it's been in the fridge for 2 weeks. How will it measure up?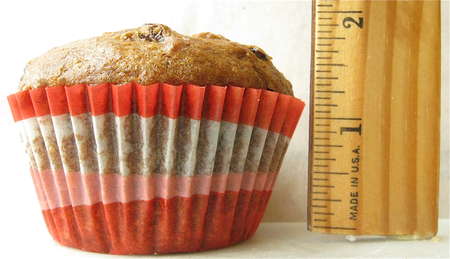 Here's a muffin baked 1 day after the batter was made...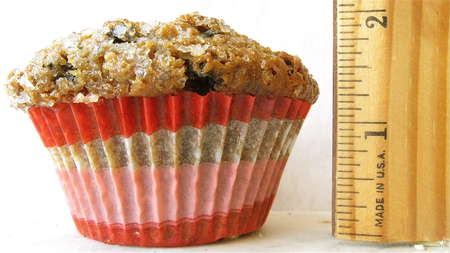 ...and here's one baked 2 weeks later. The 2-week batter produced a somewhat craggier top, but height was the same.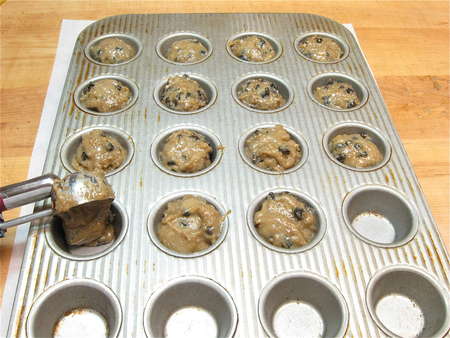 And how about making mini muffins?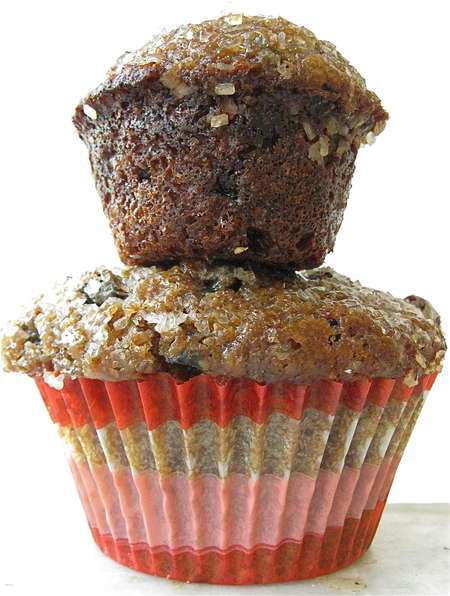 Bake for 15 minutes; works like a charm. The entire recipe will make 18 full-size muffins, or 45 minis.
Good to the last fiber-filled bite!
Read, rate, and review (please) our recipe for Zella Lane's 2-Week Bran Muffins.
Jump to Comments