Last time I left New England and ventured into the Midwest (virtually speaking), I found myself in a heap o' trouble.
Blogging a recipe for Chicago deep-dish pizza, I implied – well, to tell the truth, boldly stated – that this recipe made an "authentic" Chicago-style pizza.
Boy, did I ever get set straight!
"I am from Chicago, born and raised, so there are a couple things I noticed are not quite 'authentic'..."  – Katie
"Gino's East does NOT use cornmeal in their crust and NONE of the authentic deep dish pizza restaurants that you mention use cornmeal. It is a myth that continues to be perpetuated." Ed from Chicago
"Look at the title of the blog [since changed - PJ] . To me, it implies that the recipe is authentic and true to what you will find in Chicago pizzerias. The article itself does not really make that claim. I absolutely agree that you should make pizza how you like it. But the title implies authenticity and those of us who have noted some inauthentic additions are merely pointing that out. Still looks like an awesome pizza, authentic or not! I have yet to try a recipe I have not liked on this site." - Jess
Jess, a former though not current Chicago-an, added her input a number of times during the ensuing back and forth about the blog and recipe. In fact, we both became so engaged in the subject, we started emailing one another.
Jess offered to send me her recipe for Chicago stuffed pizza. Hoping to stay out of trouble, I eagerly accepted.
And what a (delicious) project it turned out to be! If you love to spend time in the kitchen, this one's for you. Jess not only makes her own sauce - she makes her own sausage.
WOW. I'd never made sausage before - though as it turns out, it's incredibly easy.
The sauce was delightful - a very simple combination of tomatoes, garlic, and onion, Jess' take on a Cook's Illustrated recipe.
Her directions were perfect. And if I'd followed them, I wouldn't have made QUITE the project out of the whole thing that I did.
For instance – "Pat the sausage into the bottom of the crust."
Did I do that? Of course not. I put the whole layered thing together, carefully fanning the cheese, spreading the mushrooms, dolloping bits of chopped spinach overall; crust, sauce...
Opened the fridge to pull out the Parmesan cheese for the final layer - [swear word of your choice]! There was the sausage, the very first thing I was supposed to put into the crust.
So what could I do? I went ahead and baked the pizzas without sausage. The vegetarians were happy. I was not.
Take two: Make the crust, let it rest overnight in the fridge. Make the sausage, make the sauce, prepare the remaining fillings. Roll out the dough, put it in the pans.
REMEMBER THE SAUSAGE. Check. Phew!
Fan the mozzarella atop the sausage; spinach and mushrooms in one, artichoke hearts and olives in the other (loathe though I am to stray beyond what might be considered "proper" for a Chicago stuffed pizza); add the top crust, that yummy sauce, Parmesan... and for one of them, pepperoni on top.
Hey - I saw a Chicago stuffed pizza online with pepperoni on top, I swear!
Bake.
Remove two hefty 3-pound pizzas from the oven, and let them settle a bit, to avoid a messy lava-flow.
Turn out of the pan.
Oh, my...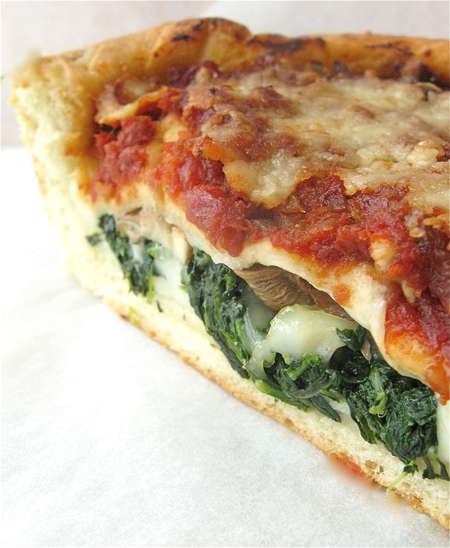 Cut a warm slice.
Take a delicious bite.
Jess says I'm good to go (right, Jess?). And that's good enough for this New Englander.
Ready for a weekend project? Let's make Chicago-style Stuffed Pizza.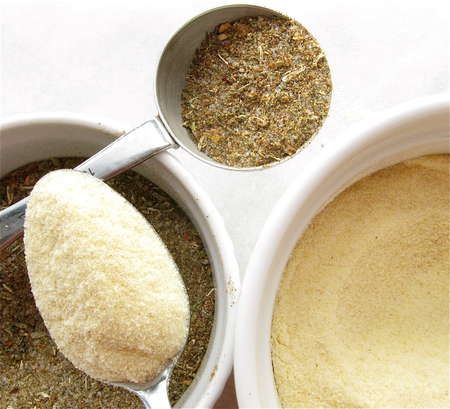 Here are two specialty ingredients I use in this pizza: pizza seasoning, a blend of Italian herbs and spices, garlic, onion, and salt; and semolina, golden durum wheat ground too coarse to call flour, but perfect nonetheless for bread, pasta, and pizza crust.
Put the following in a mixing bowl:
6 cups (765g) King Arthur Unbleached All-Purpose Flour
3/4 cup (122g) semolina
1 3/4 teaspoons instant yeast
2 1/2 teaspoons salt
2 tablespoons (25g) olive oil
1/2 cup (99g) vegetable oil
2 tablespoons (28g) melted butter
Mix till thoroughly combined.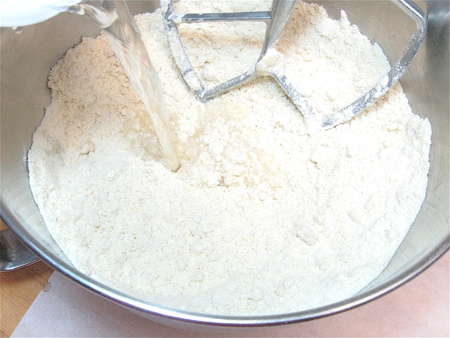 Add 1 1/2 to 1 3/4 cups lukewarm water. Use enough to make a smooth dough. You'll use less in the summer, or if you substitute all-purpose flour for the semolina; and more in the winter, or if you're in a dry climate.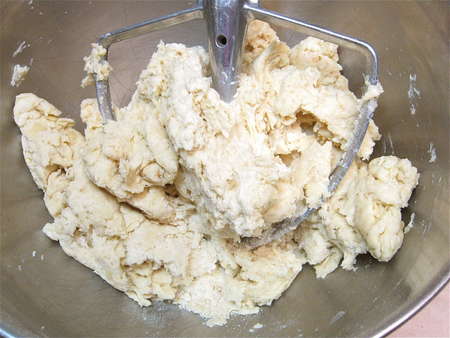 Mix till everything is cohesive...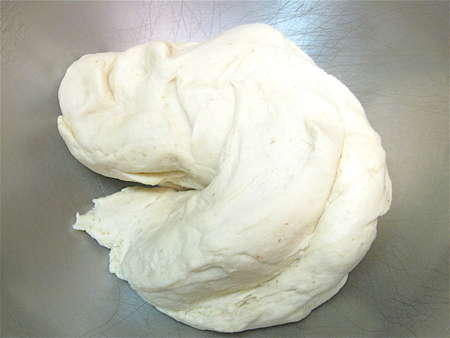 ...then knead to make an elastic, fairly stiff dough.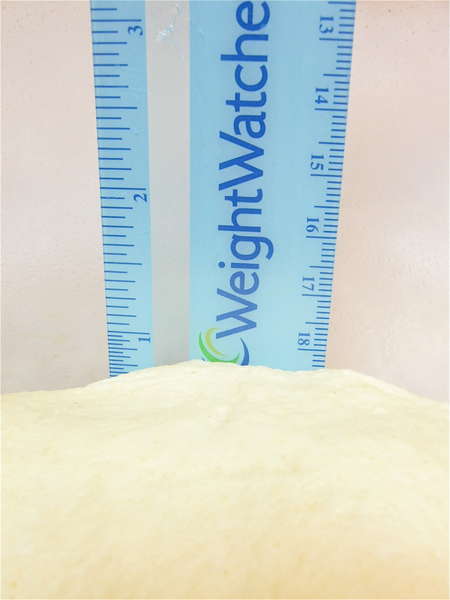 Place in a large, greased bowl; cover, and let rise at room temperature for 1 hour.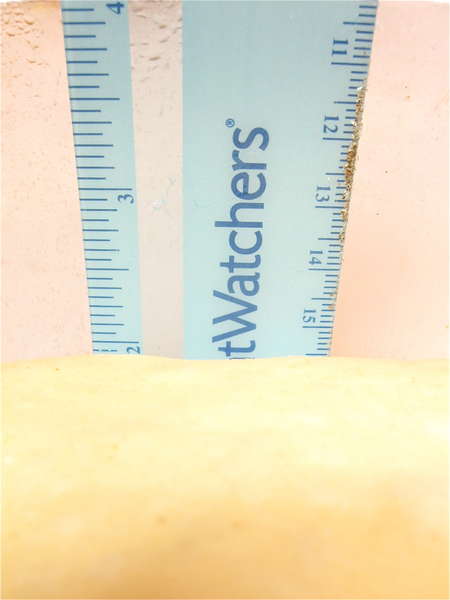 As you can see by the ruler, this isn't a really vigorous riser.
For best flavor, after its initial 1-hour rise, refrigerate the dough for several hours, or for up to 24 hours. You can use the crust after its first 1-hour rise, but its flavor will improve with the longer, slower rise offered by refrigeration.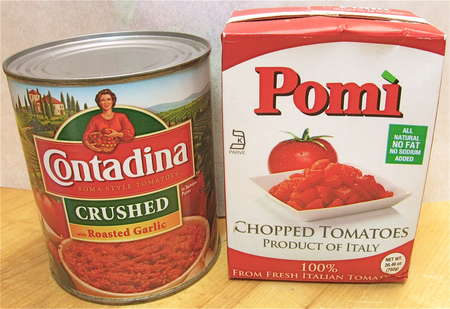 While the dough is rising, we'll make the sauce.
Or not. Feel free to use bottled pizza or spaghetti sauce; your own recipe, or whatever you like. Bottom line, you'll need about 28 to 30 ounces of sauce – just under 4 cups.
To make your own, start with canned (or boxed) tomatoes. Here's a 28-ounce can on the left; a 26-ounce box on the right.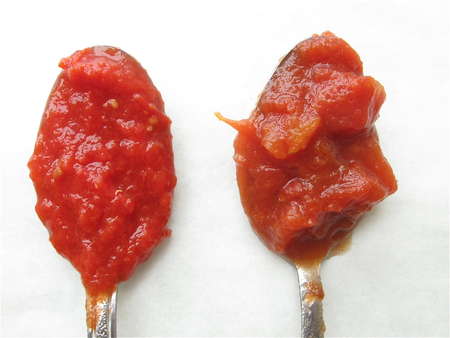 Canned crushed tomatoes on the left; aseptically boxed chopped tomatoes on the right. Your choice; I happen to like the chunkier boxed tomatoes, so that's what I used.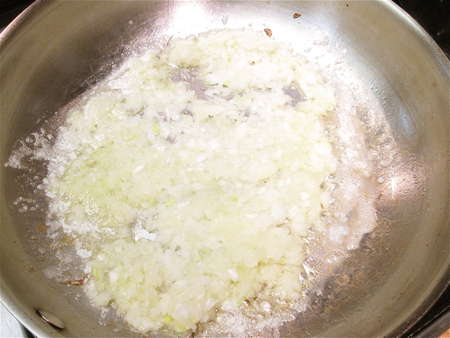 Coarsely grate 1 small onion; you'll have about 1/2 cup of onion. Sauté it in 1 tablespoon of butter.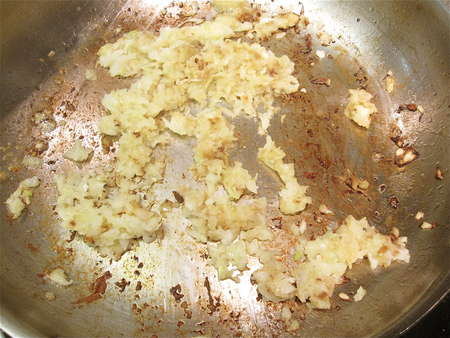 When the onion is starting to brown, add 2 garlic cloves, peeled and crushed. Cook for about 30 seconds, and remove the pan from the stove.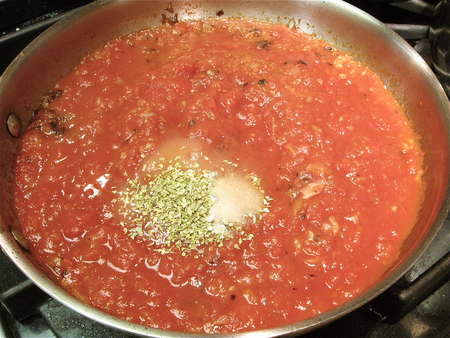 Add the following:
1 teaspoon dried oregano; or 1 teaspoon Pizza Seasoning
4 teaspoons sugar, or to taste
1/4 to 1/2 teaspoon salt, to taste*
*The amount will depend on the saltiness of the canned tomatoes. Under-salt a bit, as the sauce will cook down and the flavor intensify.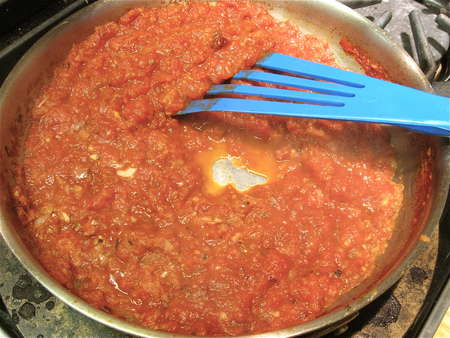 Simmer gently for up to 1 hour, to concentrate the flavors. This is what the sauce looked like after 30 minutes.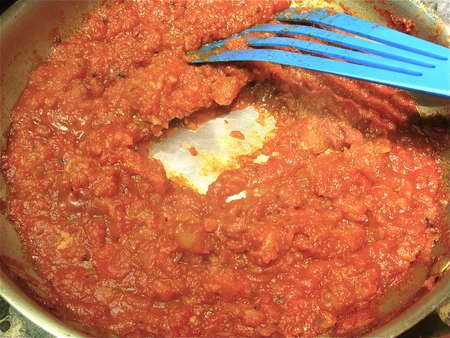 And here it is after 45 minutes – see how nicely it thickened?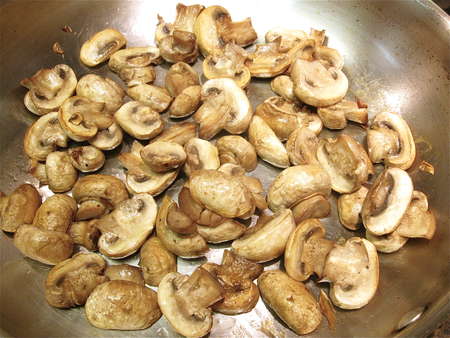 While the sauce is simmering, fry up some mushrooms, if you like. This is 8 ounces of button mushrooms, each chopped in half.
I happen to like mushrooms in my pizza. If you don't care for them – leave them out. Or substitute peppers. No Pizza Police here.
Sausage is traditional in Chicago stuffed pizza. You'll need 1 pound of bulk sausage.
Don't like sausage? Leave it out.
Want to make your own? Here's how.
Mix together the following:
1 pound ground pork
1 1/2 teaspoons salt
1/2 teaspoon sweet or hot paprika
1/2 teaspoon garlic powder
3/4 teaspoon fennel seed, lightly crushed
1 teaspoon finely ground black pepper
1/4 teaspoon red pepper flakes (more for spicier sausage)
1/2 teaspoon oregano
1/2 teaspoon ground sage
1/2 teaspoon dried basil
1/2 teaspoon dried thyme
Refrigerate till ready to use.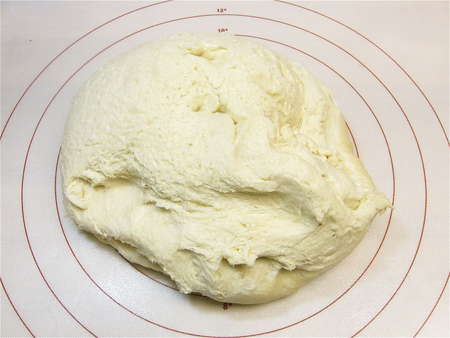 OK, let's start assembling this baby. Place the dough on a lightly greased work surface. A kneading/rolling mat works well here.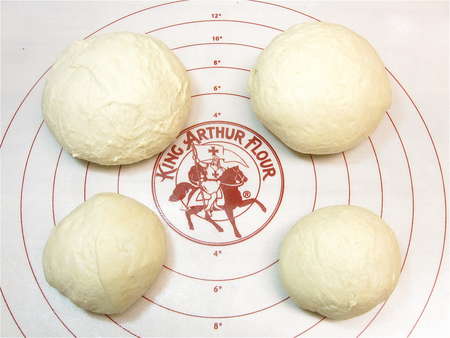 Divide the dough into two pieces. One should be about three-quarters of the dough; the other, one-quarter. If you have a scale, one piece should weigh about 36 ounces; the other, about 13 ounces.
Divide each piece of dough in half again. You'll now have four pieces of dough: top and bottom crusts for two 9" stuffed pizzas.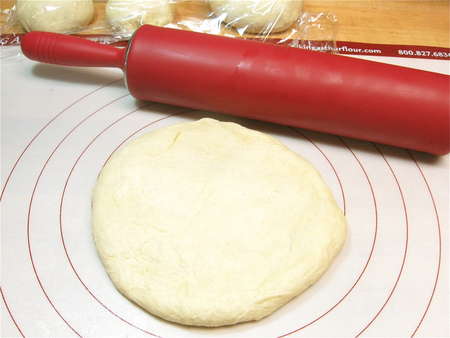 Start with one of the larger pieces of dough.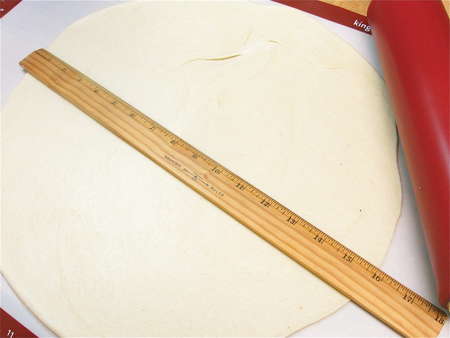 Stretch, then roll the dough into a round large enough (about 15" to 16") to line the bottom and sides of one pan, with some overhang.
You'll be rolling the dough quite thin; it helps to cover it with some lightly greased parchment as you roll.
Roll one of the smaller pieces of dough into a circle about 9" in diameter.
Cover both pieces of dough, and go away for 15 minutes. Or use the time to roll out the other two pieces of dough. Either way, you want to let your rolled-out dough rest for 15 minutes; it relaxes the gluten, allowing you to handle the dough without it shrinking.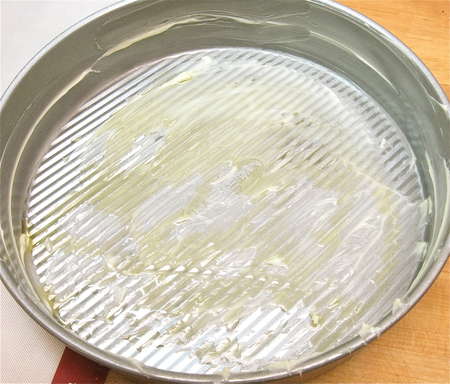 Butter the bottom and sides of two 9" x 2"-deep round cake pans, then drizzle olive oil in the bottom of each.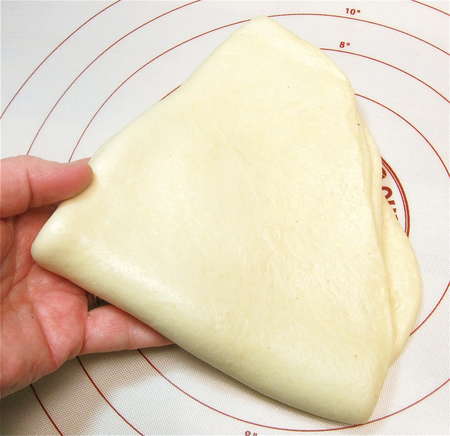 Fold the larger piece of dough into quarters...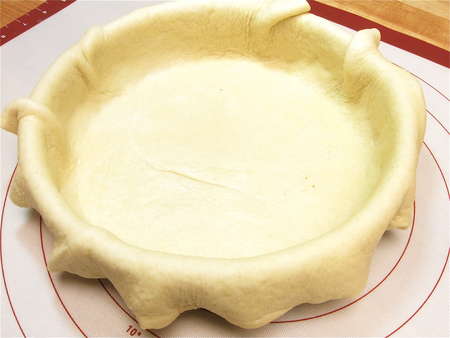 ...and center it in the pan.
Take half the sausage, and pat it into an 8" round, to nestle  into the crust. I found it works well to put it on an 8" parchment round...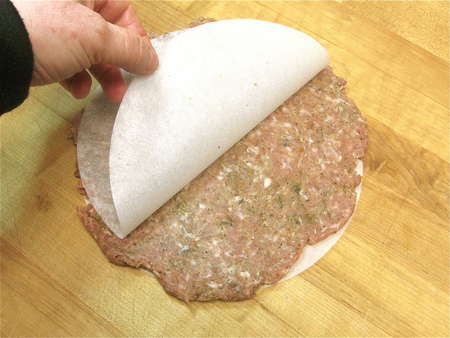 ...flatten it under another round of parchment...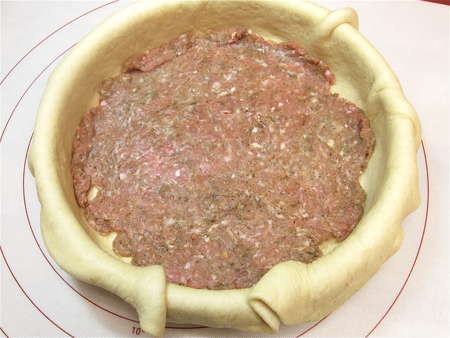 ...then pick the whole thing up and flop it into the crust, peeling off the parchment.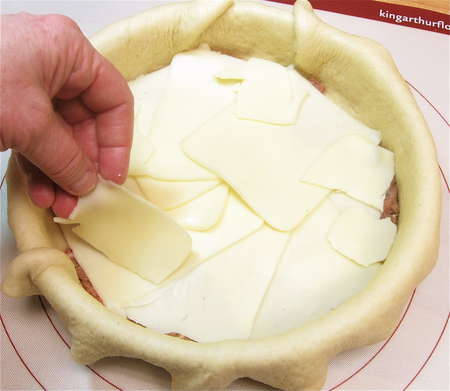 You'll need 1 pound of sliced mozzarella, 8 ounces for each pizza. "Tile" (fan) the mozzarella into the crust, atop the sausage.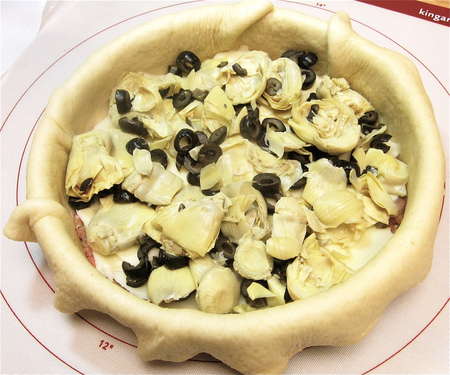 Add your fillings of choice. This pizza's getting black olives and artichoke hearts. The other will get those mushrooms I fried earlier, plus a box of frozen chopped spinach, thawed and squeezed dry.
This bears repeating: no Pizza Police! Use whatever fillings you like.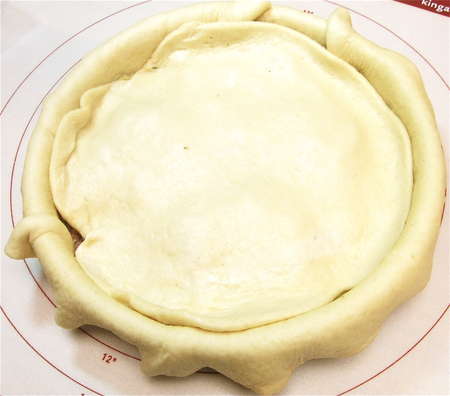 Put the smaller piece of rolled-out dough atop the fillings.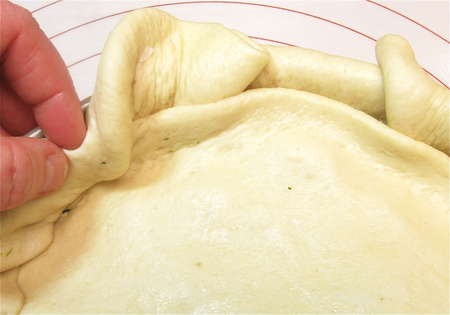 Crimp together the top and bottom crusts.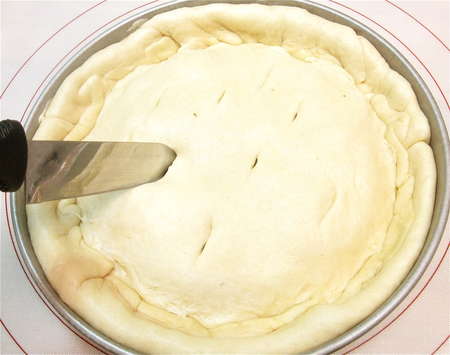 It's coming together nicely, eh? Cut slashes in the top, to allow steam to escape as the pizza bakes.
Repeat the whole process with the remaining dough and ingredients, making another 9" round pizza.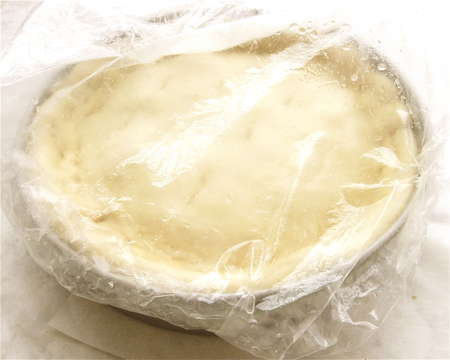 Cover the pizzas, and let them rest while you preheat your oven to 425°F, about 30 minutes.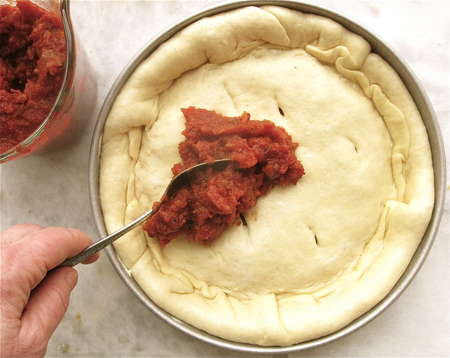 Just before baking, top the pizzas with the sauce...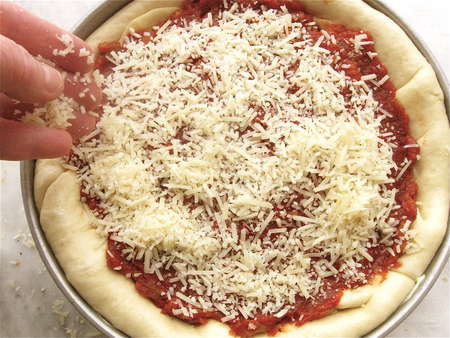 ...and sprinkle with a total of 1 1/4 cups of freshly grated Parmesan, Romano, aged Asiago, or your favorite hard cheese grated cheese.  Use half the cheese (a scant 2/3 cup) on each pizza.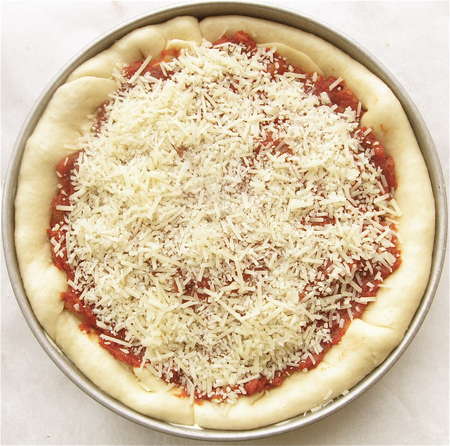 See how the crust has started to puff?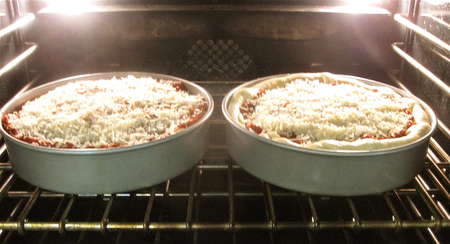 Put the pizzas in the oven.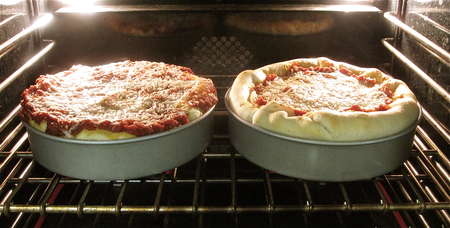 Bake till the crust is golden brown and the filling is bubbly, 20 to 25 minutes.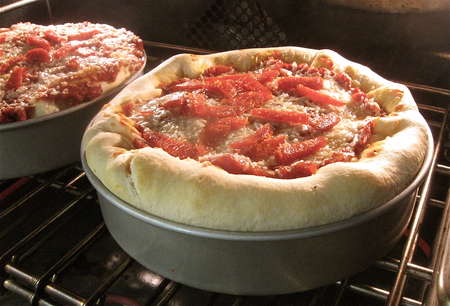 Lucky we used a 2"-deep pan, eh? Go thou and do likewise.
I decided to add a garnish of pepperoni on top of one of the pizzas. TOTALLY over the top.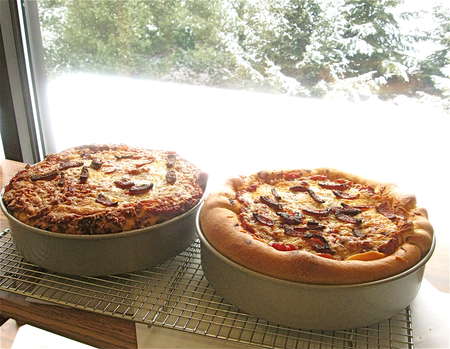 Remove the pizzas from the oven, and allow them to rest for about 15 minutes.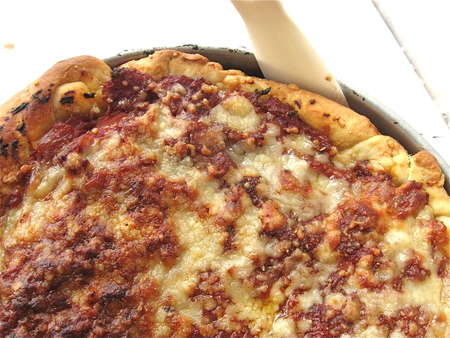 Loosen their edges...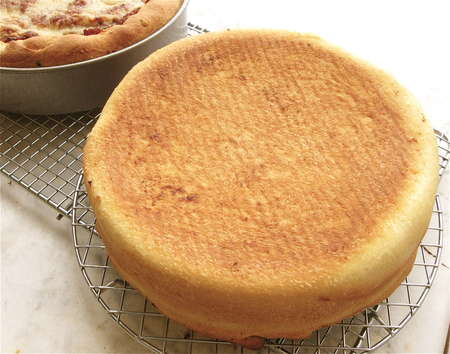 ...and gently turn them out of the pan onto a rack to cool.
To do this, place a round cooling rack atop one pan, and turn the whole thing over. Lift off the pan, place a rack on the bottom of the pizza, and turn the whole thing over again, so the pizza is now right side up.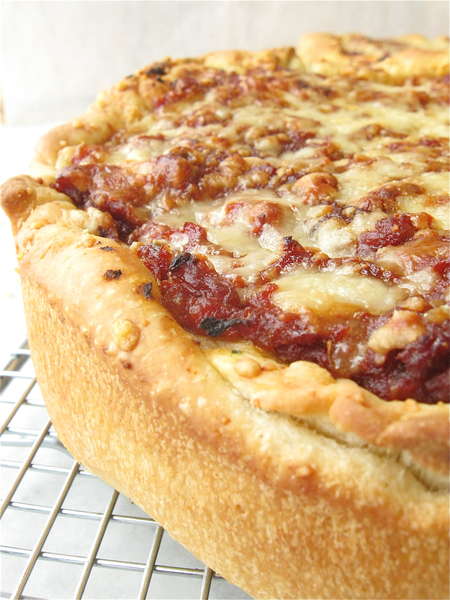 Like this. One 3-pound pizza, coming up!
Use a pair of scissors or baker's bench knife to cut wedges. Serve warm, with a fork.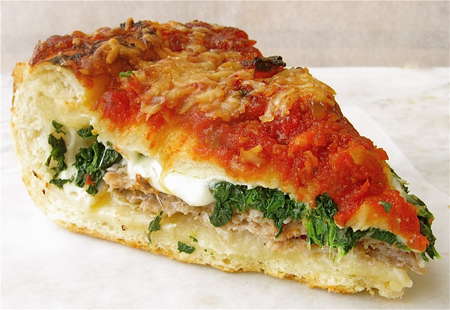 Here's a good view of the layers: crust, then sausage, mozzarella, spinach and mushrooms, crust, tomato sauce, and more cheese.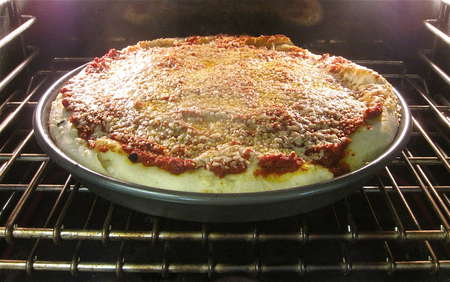 Now, you CAN make this entire recipe into one enormous 6-pound pizza by baking it in a 14" deep-dish pizza pan.
Be my guest! I found it kind of hard to handle.
Jess - thanks for the recipe, and most of all for the hand-holding and support along the way.
I love how baking and food and the Internet bring us together. ALL of us: Midwesterners, New Englanders, Brazilians (I know you're reading this, Ricardo)... Enjoy, everyone. Life's too short not to eat pizza.
Especially Stuffed Pizza.
P.S. Speaking of decadent – take a look at a reader variation on the three-cheese semolina bread recipe posted last Friday. The addition of cheddar cheese (extra-sharp, or chipotle); and a can of chipotle chiles in adobo sauce turn this bread into a smoky-hot-cheesy "volcano" of flavor. Scroll to the end of the blog for pictures and instructions. WOW.
Jump to Comments