How to make tender, high-rising, gluten-free sandwich bread
The key to good gluten-free bread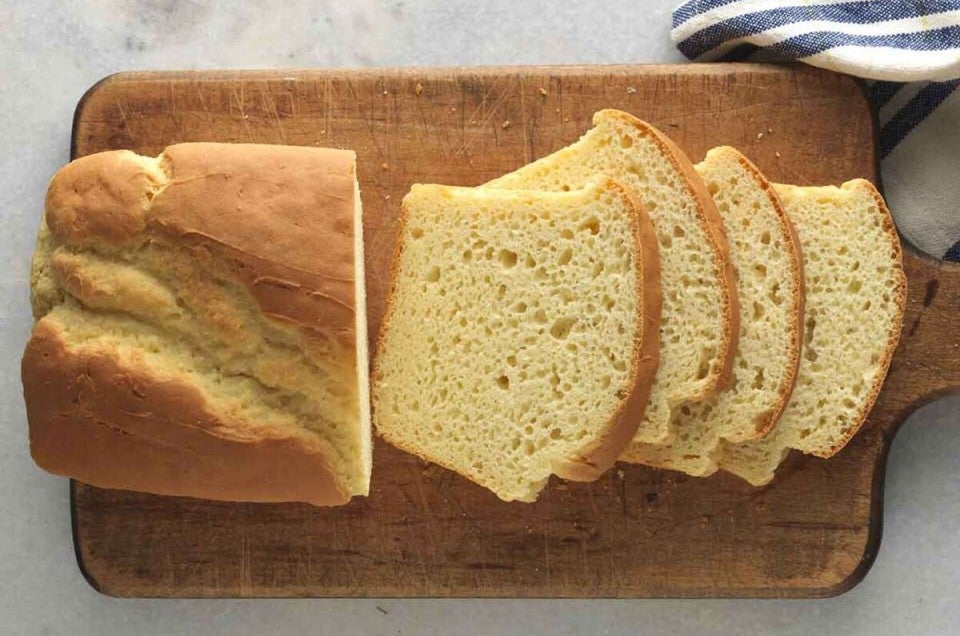 Baking gluten-free? This one's for you.
NOT baking gluten-free? This one might still be for you.
The number of people choosing to eliminate gluten from their diet has been growing quickly for the past several years. Which means even if you, or your child, or your significant other, mom, or best friend aren't testing life without gluten, it's a good bet you know someone who is.
And what's the #1 baked treat gluten-free dieters miss? Birthday cake? Pie? Brownies?
Well, our strictly anecdotal research shows that the top "must have" for those on a gluten-free diet is good bread.
Think grilled cheese. A PB & J sandwich. French toast. Croutons in salad, stuffing with chicken...
Bread may be the staff of life for most of us, but for gluten-free folks, bread is something to avoid. Unfortunately for those eating GF, there's probably nothing so packed with gluten as a slice of bread. Gluten is what allows bread to rise; remove it, and you have a hard-packed puddle of soggy dough.
So what's a gluten-free-diet sandwich-lover to do?
Bake high-rising, light-and-tender bread – without gluten.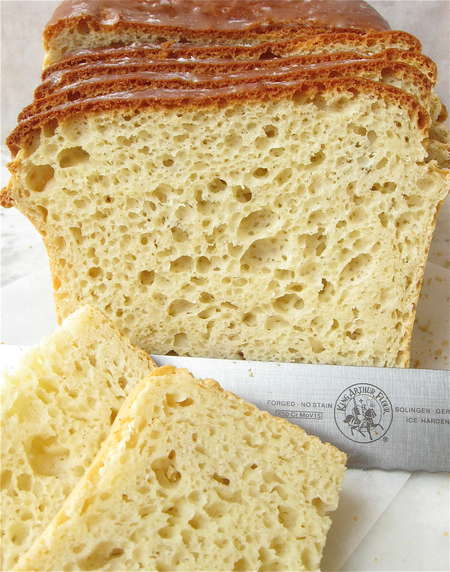 That's right. WITHOUT gluten.
And what's the secret to gluten-free sandwich bread? Read on...
Many gluten-free recipes use a blend of gluten-free flours. Our King Arthur Gluten-Free Multi-Purpose Flour includes ingredients (stabilized brown rice flour, tapioca starch, and potato starch) that reduce the grittiness sometimes found in gluten-free baked goods.
Our flour also increases the shelf life of your treats, keeping them fresh longer.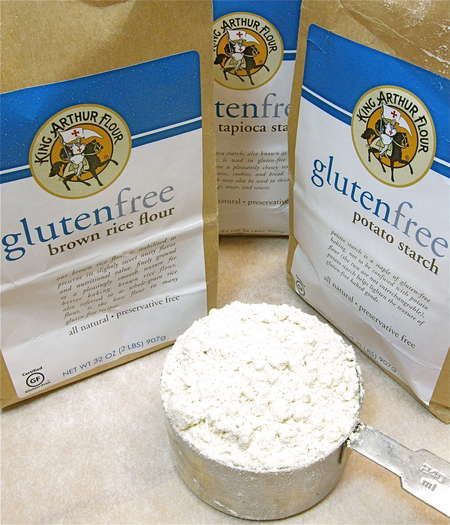 The following make-at-home brown rice flour blend works nearly as well; and it tastes better than a blend using regular brown rice flour.
Stir together the following gluten-free ingredients:
6 cups (32 ounces) stabilized brown rice flour
2 cups (10 3/4 ounces) potato starch
1 cup (4 ounces) tapioca starch (or tapioca flour; same thing)
Store airtight at room temperature.
Note: You can substitute white rice flour for the brown rice flour if you like; it'll make your baked goods grittier (unless you manage to find a finely ground version).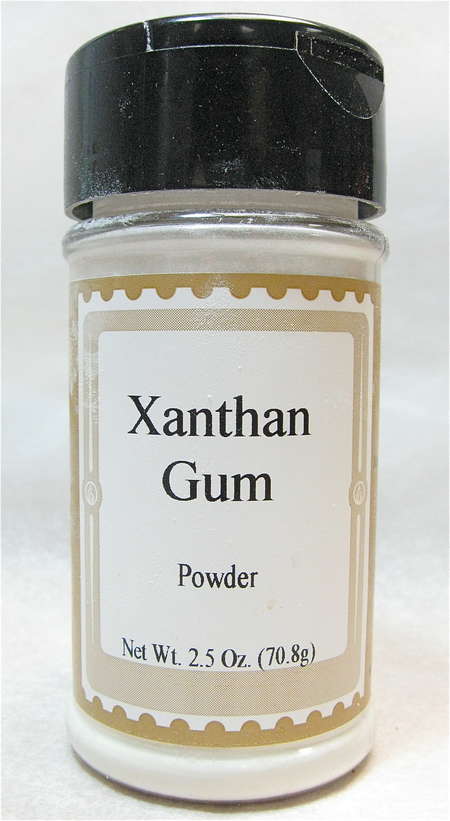 Xanthan gum is another ingredient critical to gluten-free baking. It's the "glue" that helps hold everything together, in the absence of gluten.
Before we start, I want to stress an important point: for best results, use an electric stand mixer or electric hand mixer to prepare this batter.
Can you stir it together by hand? Sure. But we don't recommend it; your bread won't look anything like the loaves in these pictures.
If you plan on doing much gluten-free baking, take the advice of every veteran gluten-free baker out there: start saving for an electric stand mixer, if you don't already own one. It's critical to success with GF yeast bread, pizza, muffins, and cake.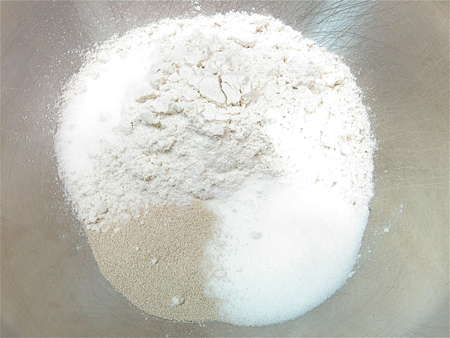 Place the following in a mixing bowl, or the bowl of your stand mixer:
3 cups (16 1/2 ounces) King Arthur Gluten-Free Flour or brown rice flour blend (13 1/2 ounces); see formula above
3 tablespoons sugar
2 teaspoons instant yeast
1 1/4 teaspoons salt
1 1/4 teaspoons xanthan gum
Using an electric mixer (hand mixer, or stand), gradually beat in 1 cup warm milk.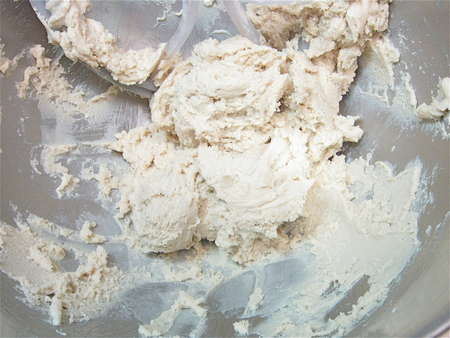 The mixture will be crumbly at first, but once all the milk is added, it'll come together.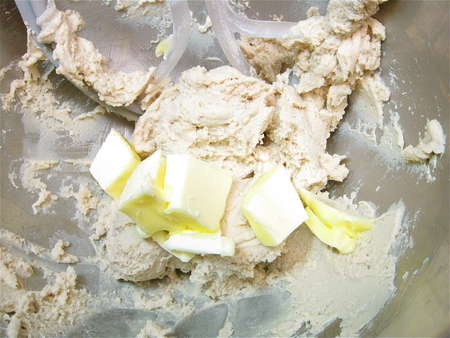 Add 4 tablespoons soft butter.
Beat until thoroughly blended.
Next you're going to add 3 large eggs, one at a time. Beat the mixture till each egg is thoroughly integrated before adding the next one.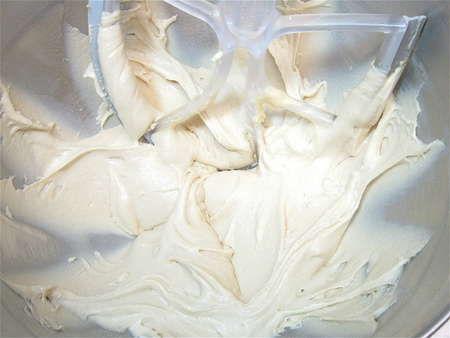 Once you've added all the eggs, beat the mixture at high speed for 3 minutes. This adds air to the thick batter, which helps take the place of the missing gluten as far as structure is concerned.
At the end of 3 minutes, the batter will look like thick, heavy buttercream icing: smooth and silky. It won't look at all like a typical yeast dough: smooth, elastic, kneadable.
The dough will also be very sticky, and feel a bit gritty if you rub some between your fingers. Have you ever repaired a wall with spackling paste? Same texture. It helps to keep a wet kitchen towel handy, to keep your hands clean as you work.
Leave the batter right in the mixing bowl. Or if you need your bowl for another purpose, scrape the sticky batter into a large measuring cup, or another bowl.
Cover the bowl or cup, and let the thick batter rise for 1 hour.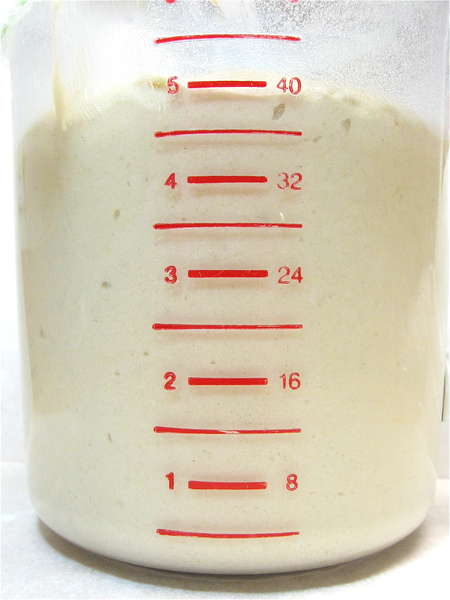 I often raise yeast dough in a measuring cup; it helps me track how much it's risen. This batter won't double in size, but it'll definitely puff up.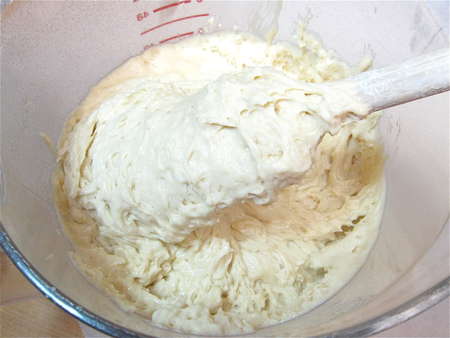 Gently stir the batter down.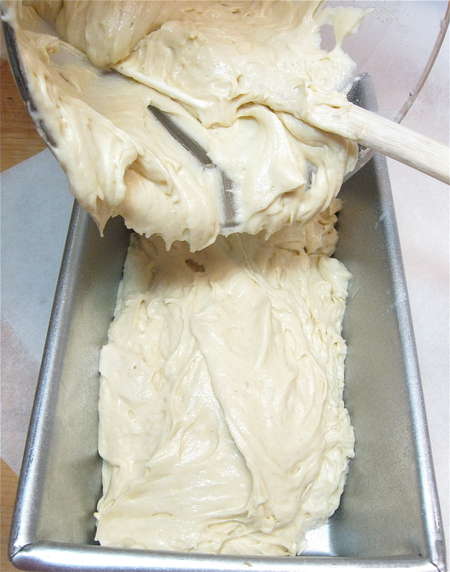 Scrape it into a lightly greased 8 1/2" x 4 1/2" loaf pan.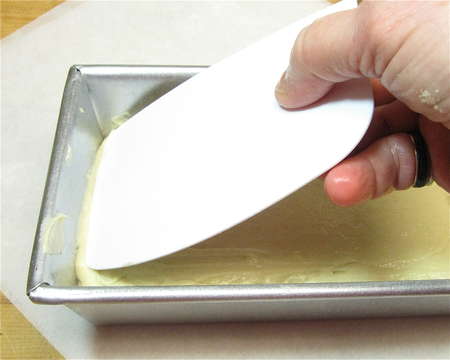 Use your wet fingers, or a wet spatula or bowl scraper, to smooth the top, eliminating any "wrinkles." The smoother your loaf is before you put it into the oven, the smoother it'll be once it's baked.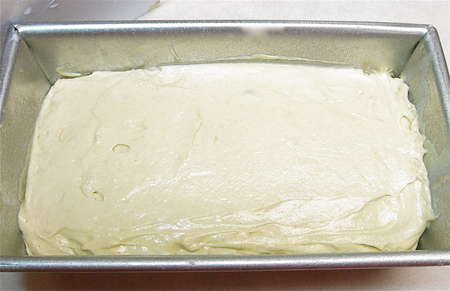 This is pretty smooth.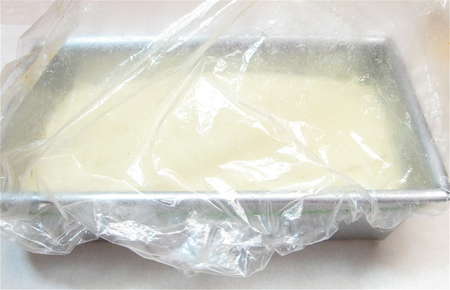 Cover the pan; a clear shower cap works well here. Let the dough rise...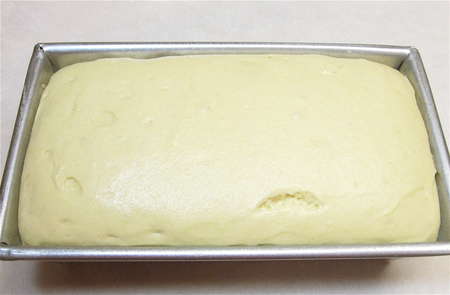 ...till it barely crowns over the rim of the pan.
Towards the end of the rising time, preheat the oven to 350°F.
See the divot on the front of the loaf? That's from me brushing it with the edge of the shower cap when I was pulling it off. The dough is very delicate; try not to touch it.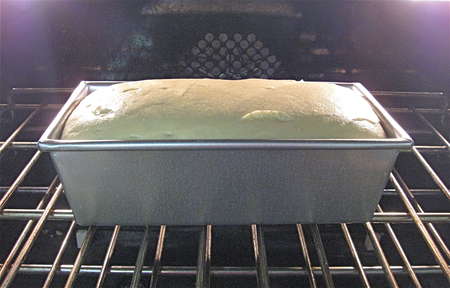 Bake the bread for 38 to 42 minutes...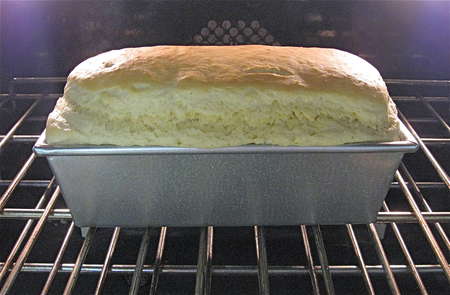 ...until golden brown.
Remove it from the oven, and turn it out of the pan onto a rack.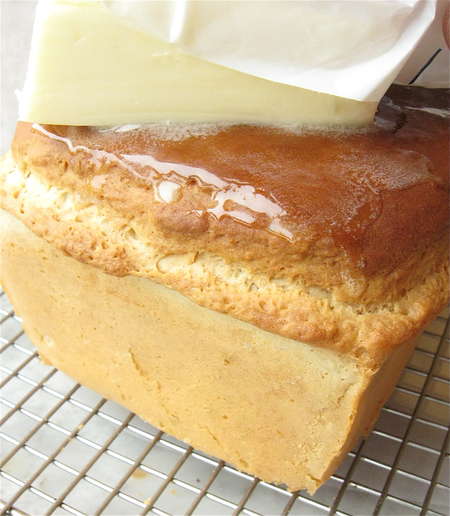 Run a stick of butter over the top crust, if you like. It'll help keep the crust soft, and add flavor.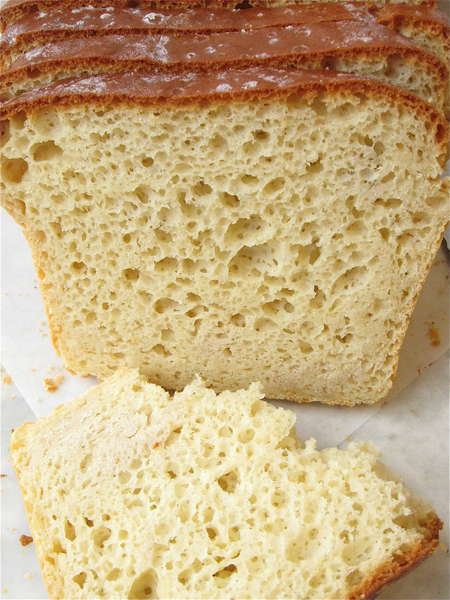 Slice when cool. Imagine a ham and cheese sandwich. Or cinnamon toast.
Ready for some variations? Cheese bread is easy. Stir 1 cup (4 ounces) shredded cheese into the risen batter.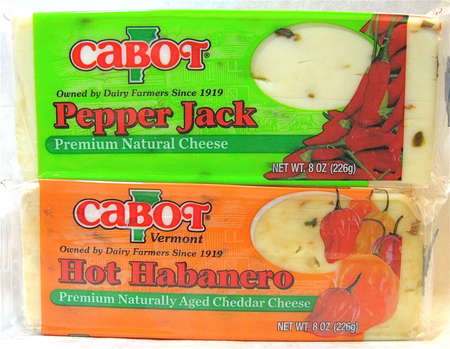 I've chosen a very spicy cheese, Cabot Hot Habanero.  It's too hot for me to eat out of hand, but in baking its flavor shines through, lending just the right amount of heat.
Don't like heat? Choose a milder pepper cheese, like Pepper Jack. Or a good sharp cheddar.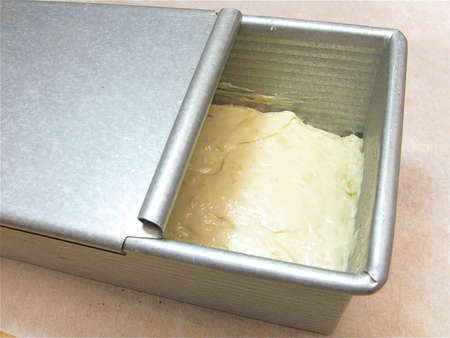 Here's a discovery I made while testing the recipes for this blog. Our 9" pain de mie pan is the ideal shape and size for gluten-free breads. Its straight, high sides lend a lot of support to the rising dough. The result? A very nicely shaped loaf.
Though the lid on this pan isn't critical, it does protect the dough as it rises.
If you don't have a 9" pain de mie pan, use a standard (8 1/2" x 4 1/2") loaf pan.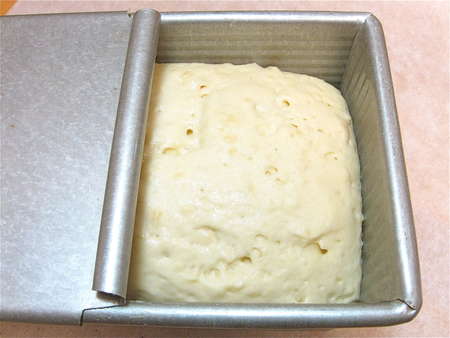 Let the dough rise, covered, till it's within about an inch of the rim of the 9" pain de mie pan. This should take about 45 to 60 minutes.
Towards the end of the rising time, preheat the oven to 350°F.
Slide the lid of the pan closed, and bake the bread for 50 minutes. When you slide the lid open, the loaf should be golden brown.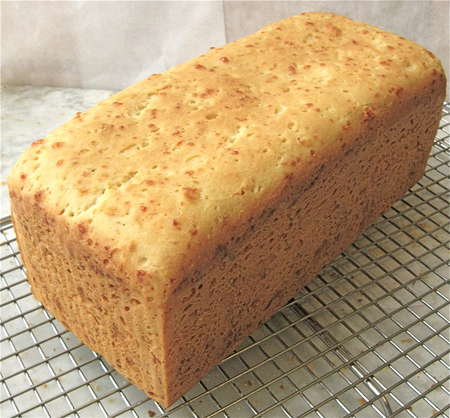 Remove the bread from the oven, turn it out of the pan, and cool on a rack.
You can also choose to bake the bread with the lid off; bake the same amount of time, but tent with aluminum foil for the final 15 minutes, to prevent over-browning.
And, to use a regular 8 1/2" x 4 1/2" loaf pan, bake the bread for about 40 to 45 minutes, till golden brown.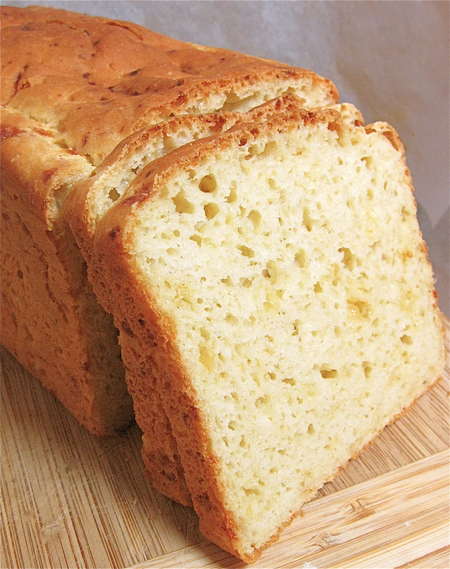 Slice when cool. Now, is that one nice-looking gluten-free bread, or what?!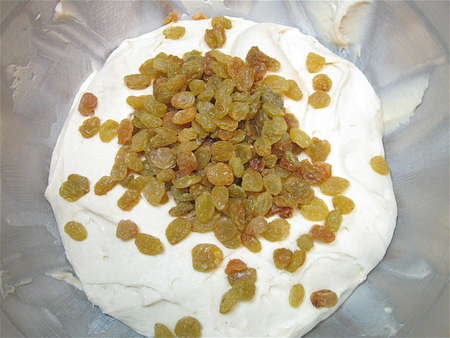 Next up: gluten-free cinnamon-raisin swirl bread.
Stir 1 cup golden raisins into the risen batter.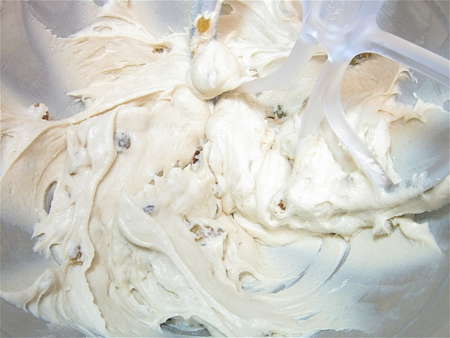 Like this. You don't have to beat the raisins in; a spoon will do the trick just as easily as your mixer's beater blade.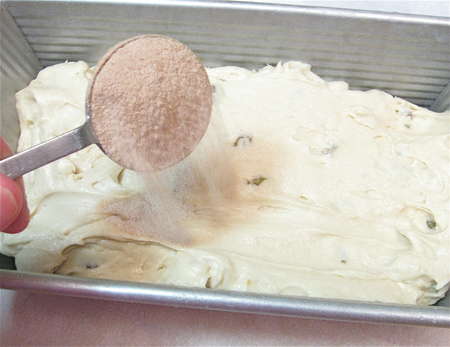 Scrape the batter into a lightly greased 9" pain de mie pan, or 9" x 5" loaf pan.
Sprinkle the top with 3 tablespoons cinnamon-sugar. If you're making your own, combine 3 tablespoons granulated sugar with 1 teaspoon cinnamon.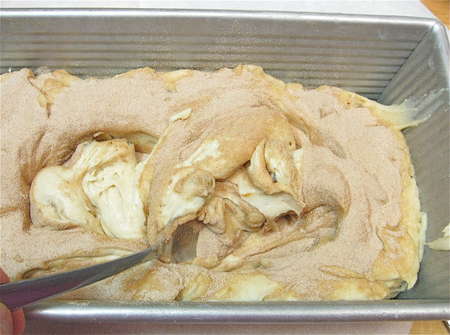 Use a spoon to swirl the cinnamon-sugar into the batter, as though you were making a marble cake. (And if you've never made a marble cake, now you know how!)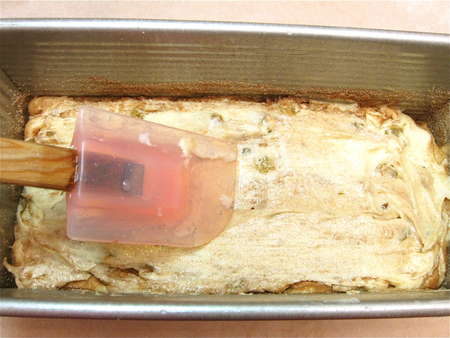 Smooth the top with a wet spatula or wet bowl scraper.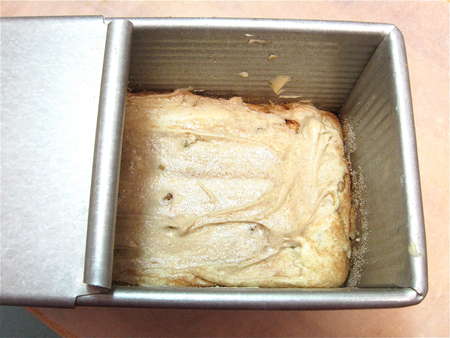 Let the dough rise, covered...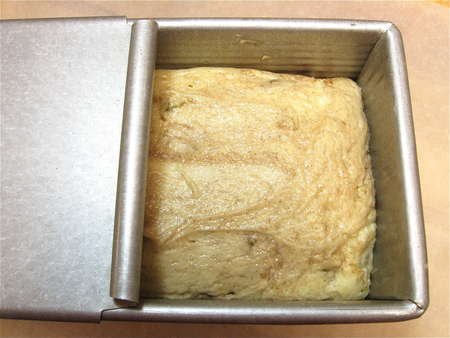 ...for about 60 minutes, till it comes to about 1" below the rim of the pain de mie pan, or to just below the rim of the 9" x 5" pan.
Towards the end of the rising time, preheat the oven to 350°F.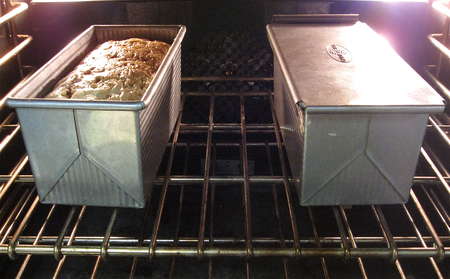 Bake the bread (covered, or uncovered) for 50 minutes. If it's uncovered, tent gently with aluminum foil for the final 15 minutes of baking.
Remove the bread from the oven, and turn it out of the pan onto a rack to cool.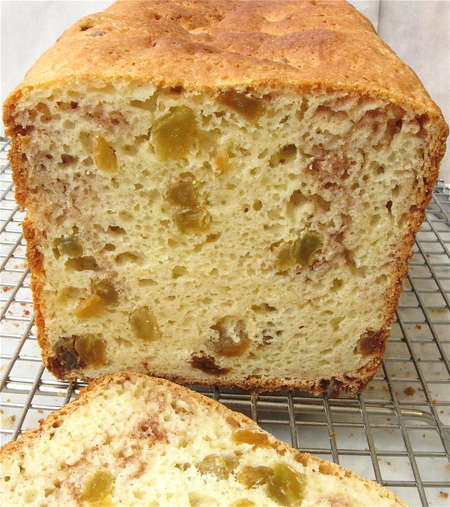 Slice when cool, revealing subtle swirls of cinnamon and raisins within.
I hear French toast calling my name...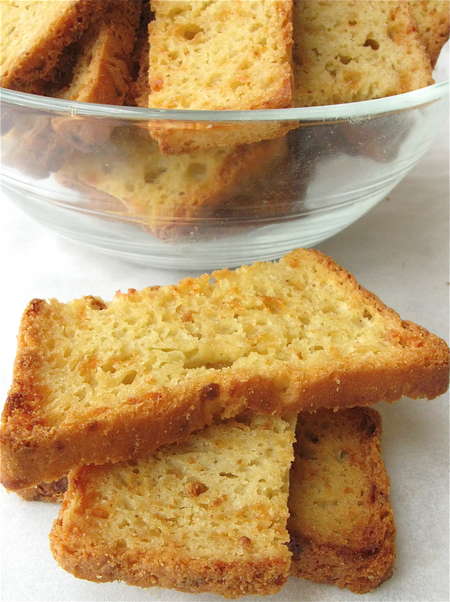 Finally, when the bread is getting stale, go with it. Cut it in thin slices; place the slices on a lightly greased baking sheet. Brush or spray with olive oil.
Bake in a 350°F oven for about 15 to 20 minutes, till golden and crisp. Store airtight when cool. Crunchy and delicious with drinks, with dips and spreads... and irresistible just as is.
Oh, one last note: Can you bake this bread in a bread machine? One of our GF experts, Andrea, tried it in our Zo X20. Here's her report:
"I used the quick wheat cycle. It wasn't as good as making it in a mixer. The top was flat, and sunk a bit.  Also, I needed to scrape the edges of the pan after 5 to 10 minutes of mixing."
Read, rate, and review (please) our recipe for Gluten-Free Sandwich Bread.
Baking gluten-free is a new experience for us here at King Arthur Flour. We're making progress, and still have a lot to learn. We look forward to gradually increasing our knowledge of this technically challenging style of baking, and sharing what we learn with you along the way.