Sticky Ginger Squares
Raising the bar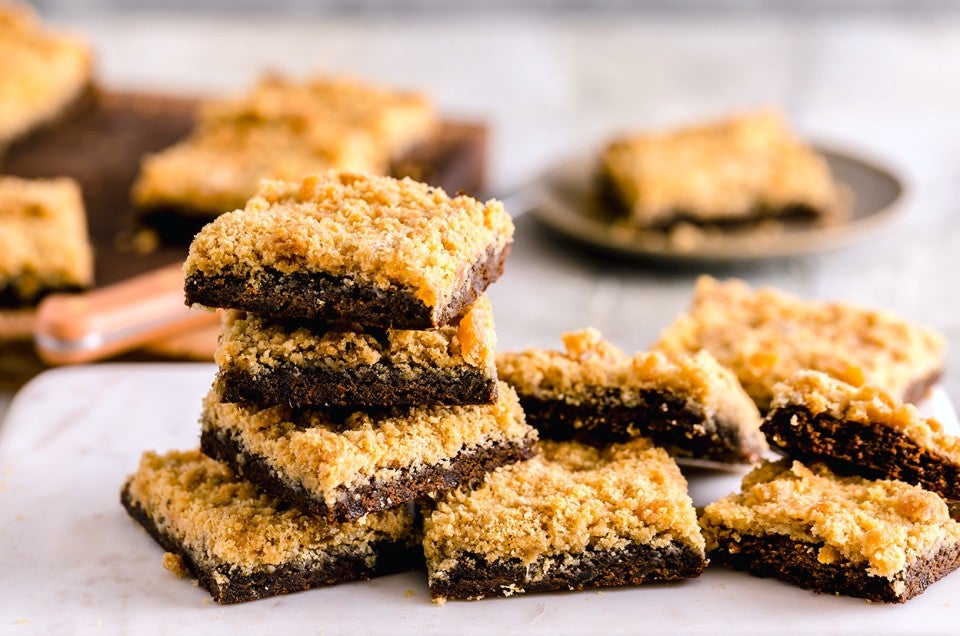 Chocolate, it's time for you to take a break. You've been hogging the spotlight for weeks now. Even your biggest fans are becoming a bit jaded. So move to the back of the line, OK?
Gingerrrrrrrrrrrr... come on down!
If ever there's a time for sweetSPICYhot ginger, in all its myriad incarnations, this is it. The fresh scent of balsam and the prickle of snow on your cheeks, overlaid with warm kitchen aromas of gingerbread cookies and eggnog, signal that the end-of-year holidays are upon us.
And to many of us, that means ginger. Think gingerbread men, and the warm, gingery scent of pumpkin pie. Gingersnaps and soft molasses cookies, gingerbread cake and tender scones studded with chunks of crystallized ginger. Ginger tea. Ginger ale (and its various celebratory add-ins).
Come the holidays, ginger is HOT – in more ways than one.
The following simple bars are a wonderful flavor combo of ginger and brown sugar and butter and spice. Their bottom layer is dense and chewy; the top, tender and crumbly and light. And throughout, wonderfully assertive ginger plays a starring role.
Can you make these bars without crystallized ginger? Well, yeah... but they just won't be the same, in texture or taste. If you've never enjoyed crystallized (candied) ginger, this recipe is the perfect place to start.
Sticky Ginger Squares – take center-stage. It's your time to shine.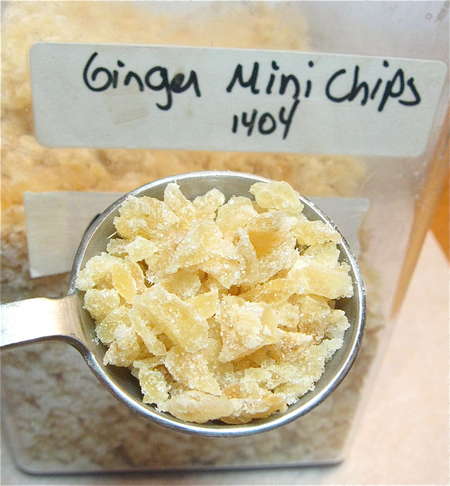 Our cute ginger mini chips, irregular chips ranging in size from 3/8" down, will be used twice in this recipe: once in the bar itself, and again in the the topping.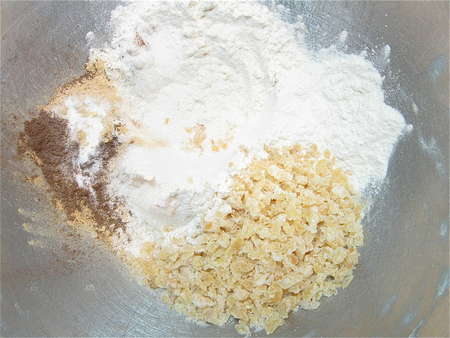 Preheat the oven to 350°F. Lightly grease a 9" x 13" pan, or line with parchment and grease the parchment.
Place the following in a mixing bowl:
1 1/4 cups (149g) King Arthur Unbleached All-Purpose Flour
2 teaspoons ground ginger
1 teaspoon ground allspice
3/4 teaspoon salt
1/4 teaspoon baking soda
1/2 cup (92g) ginger mini chips or diced crystallized ginger
If you're not using crystallized ginger, increase the ground ginger to 1 tablespoon.
Can you substitute raisins, dried cranberries, cinnamon chips, or 1/2 cup of something else for the crystallized ginger? Sure. It won't be the same, but who knows, you may invent something you like even better!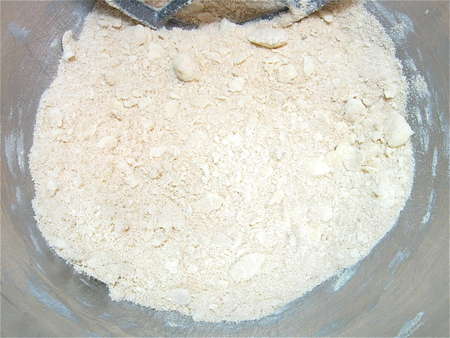 Whisk to combine.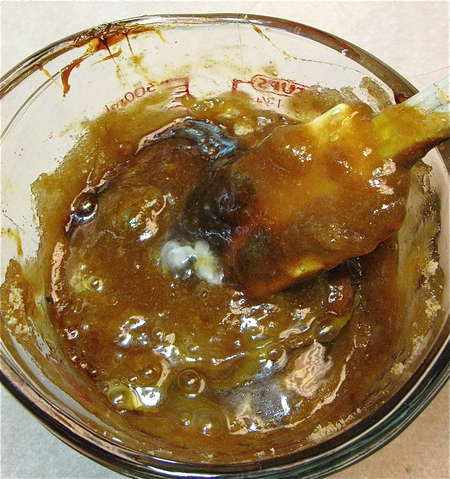 Combine 1/4 cup (85g) molasses, 2 large eggs, 1 1/3 cups (283g) brown sugar, and 4 tablespoons (57g) melted butter.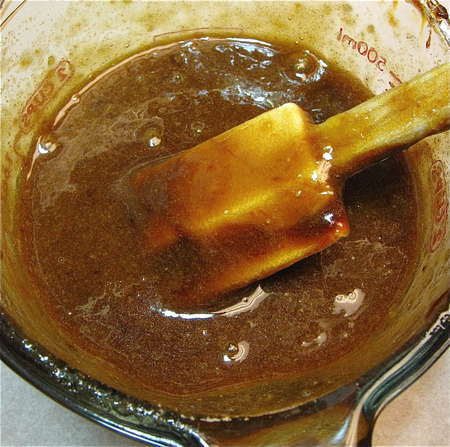 Stir till smooth.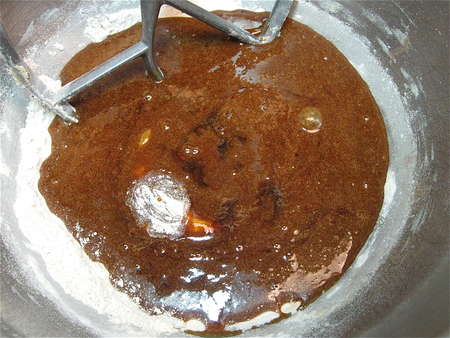 Pour over the dry ingredients in the bowl...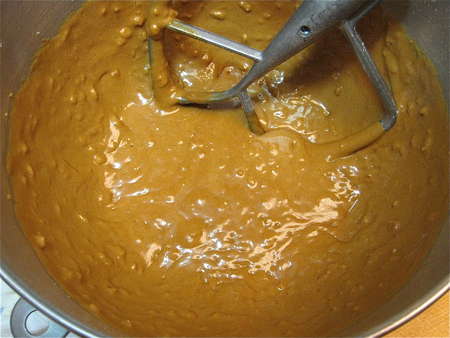 ...and stir till smooth. The ginger chips will give it a lumpy appearance; don't worry about it.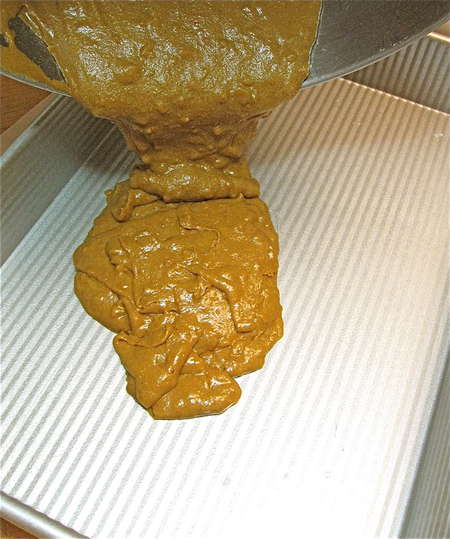 Pour the batter into the prepared pan.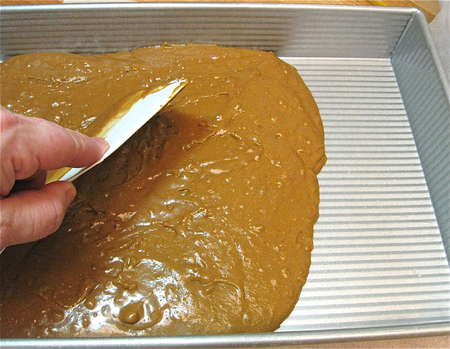 Spread to the edges. Boy, this is an EASY recipe, isn't it?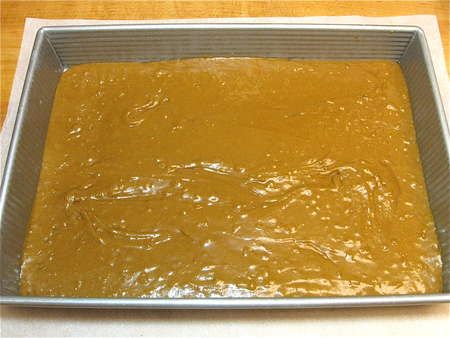 Here we are, ready to go into the oven.
What, no topping? Patience, that's next.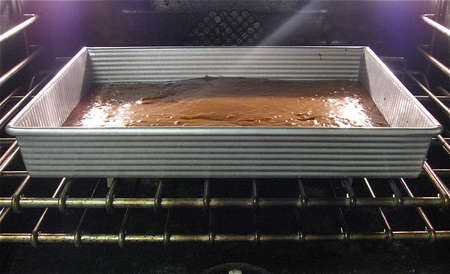 Put the squares in the oven, and bake for 15 minutes. While they're baking, make the topping.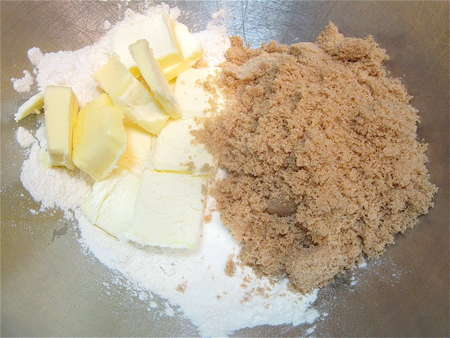 Combine the following:
1 1/3 cups (163g) King Arthur Unbleached All-Purpose Flour
8 tablespoons (113g) butter
1/4 teaspoon salt; reduce the salt to 1/8 teaspoon if you use salted butter
3/4 cup (152g) brown sugar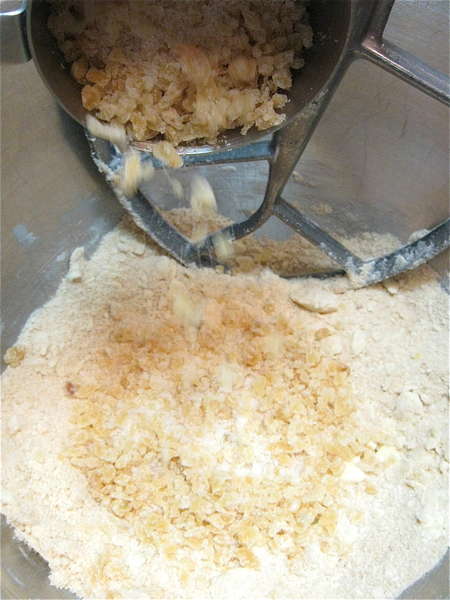 Work in the butter till the mixture is unevenly crumbly; some chunks of butter can remain. Stir in 1/2 cup (92g) ginger mini chips or diced crystallized ginger.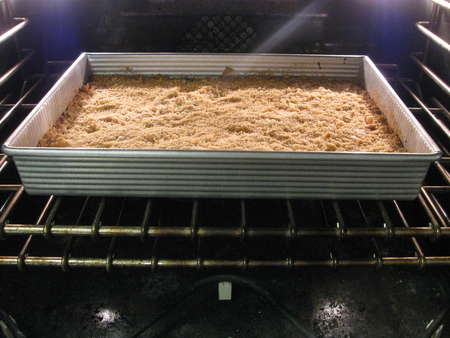 Remove the squares from the oven, and sprinkle with the topping. Return to the oven. Bake for an additional 25 to 30 minutes, till the topping is a lovely golden brown.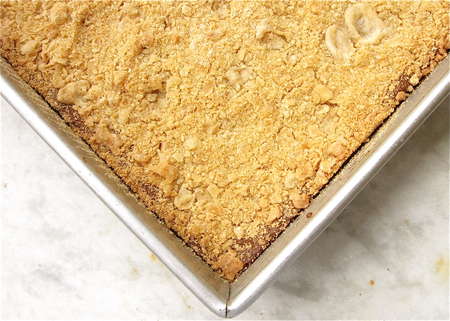 Remove from the oven; you'll notice the edges are pulling away from the sides of the pan just slightly – this is a sign the bars are done.
Run a knife around the edges of the pan to loosen them. Allow them to cool.
Cut into squares: four lengthwise strips, then six crosswise, for a total of 24 squares.
Notice the light/crumbly topping and ultra-dense, chewy bottom layer are just about equal in height; it's a compelling contrast of textures, with hot-sweet ginger flavor all the way through.
I can definitely see these on Santa's cookie plate - how about you?
Read, rate, and review (please!) our recipe for Sticky Ginger Squares.
Jump to Comments