Whole Grain Brownies
The little black dress of baking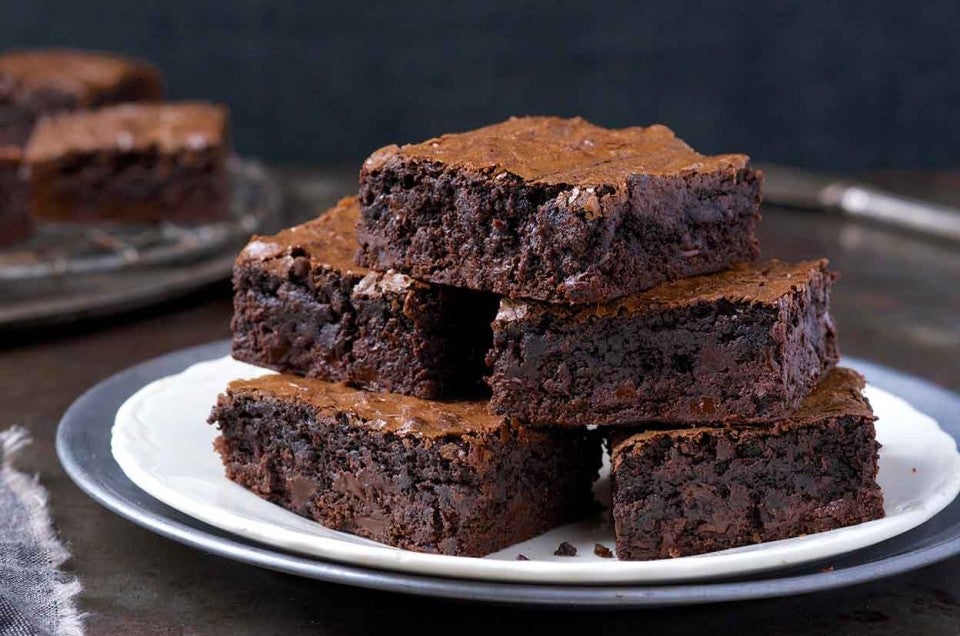 Think about it. They both fit any occasion, from day into evening. They both dress up or down with equal aplomb. And they're both appropriate, no matter the circumstance.
But whole grain? Isn't that like wearing a burlap sack to the prom?
Au contraire. Not when you have the right recipe.
In the test kitchen, we're sometimes so involved in our "mad scientist" mode, thinking up new combinations of flavors, or the next new thing as far as technique, that we forget that other people may still be looking at whole grains as punishment food. And that the wonder of white whole wheat flour may yet be undiscovered by many bakers out there.
The collective food memory of the 60s and 70s' boat anchor bread loaves dies hard.
When PJ, Susan Miller (the head of our Baking Education Center) and I marched into the test kitchen to work on our cookbook, King Arthur Flour Whole Grain Baking, we had a singular mission in mind. Of course, it was serious business and nothing but every day.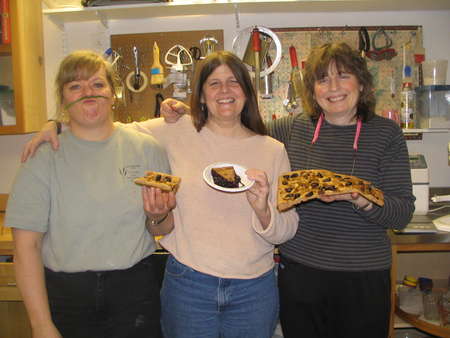 No recipe was good enough until it tasted great. Period. Not "great, for something made with whole grains." No qualifiers were allowed. Along the way, we cranked out a pile of leaden loaves, rocklike crackers and sunken cakes, so you wouldn't have to.
Every once in a while, we'd get a break during the testing process. We gradually learned how whole grains behave, and two of the guiding principles we came to trust were these: Whole grains need more moisture, and they need more time. PJ had the cookies and brownies chapter, and in the process created this classic. Like a little black dress, it's easy to reach for. Let's put some Whole Grain Brownies together now. 
Preheat your oven (350°F), and grease a 9" x 13" pan. If you're planning to take these brownies out on the town, I suggest you accessorize with a piece of parchment paper underneath; more about that later.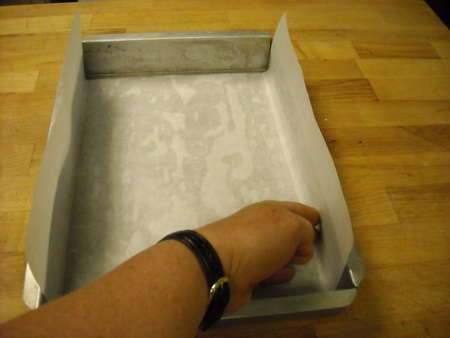 Place the butter and brown sugar in a large, microwaveable bowl, or in a medium saucepan. PJ decided the more assertive flavor of whole wheat was better matched with brown sugar than white. Smart lady. Melt the butter.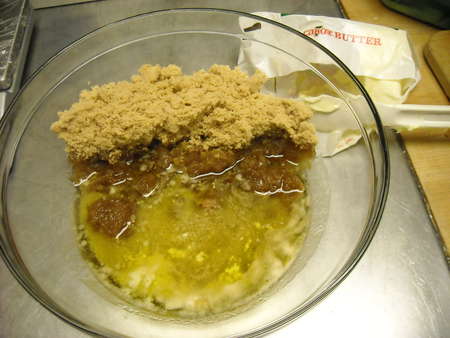 Stir the mixture, then heat just until it's hot (110°F to 120°F). This little extra bit of heat helps the sugar to dissolve, which is where the shiny crust comes from on top of your brownies. This is how the mixture looks after another 40 seconds at low power in the 'wave.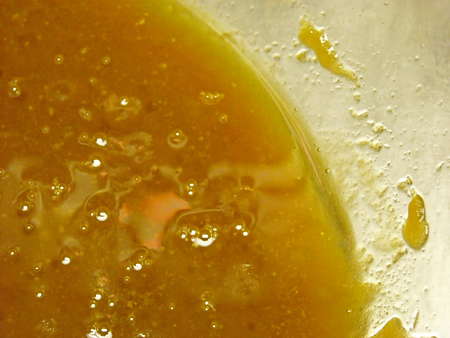 Off the heat, stir in the cocoa, salt, baking powder, espresso powder, and vanilla.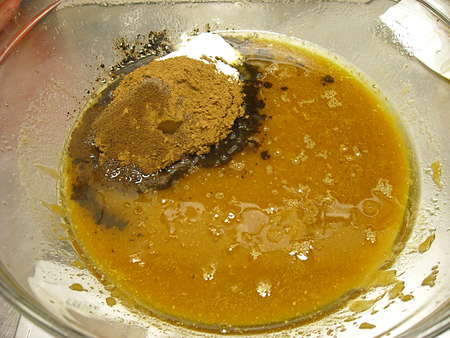 Here is my artsy, mirror-image photo of vanilla being added. This vanilla was from the very bottom of the bottle where the solids were, so it looks a tad cloudy in the measuring spoon.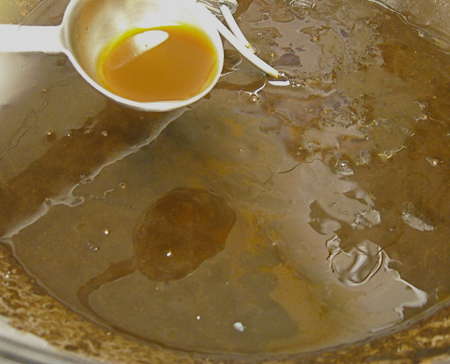 Stir until smooth; check that the mixture isn't too hot: pleasantly warm to the touch is ok, but you don't want to cook the eggs when you add them. Now add the eggs, one at a time.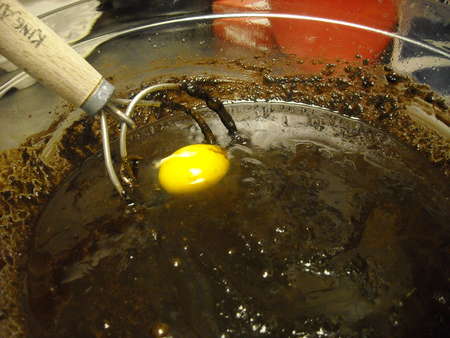 Stir between additions, and watch the texture of the batter change and get thicker.
Add the flour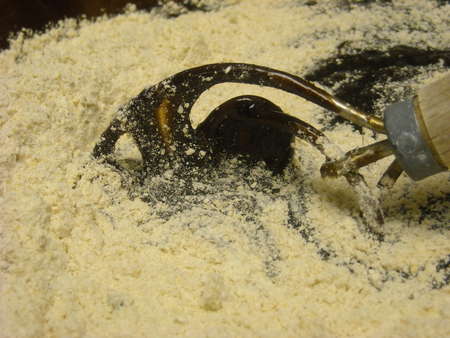 and chocolate chips. This step is where you can add your own personal touches. Mint or white chocolate chips? Sure! Peanut butter chips? Go on, turn some heads! Toffee bits? By all means.
For you raisinet fans, try a cup of dried cranberries and a cup of bittersweet chocolate chips. And don't forget nuts! I'm fond of macadamias in brownies, when I can afford them, but walnuts or pecans are just fine, too. Add 1 cup of whatever "accessories" you choose.
I went with some chocolate chips, white chocolate chunks, and walnuts in this batch.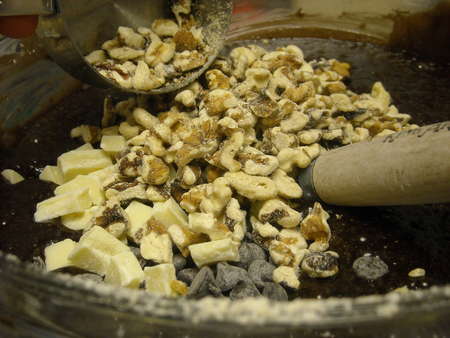 Transfer the batter to the pan,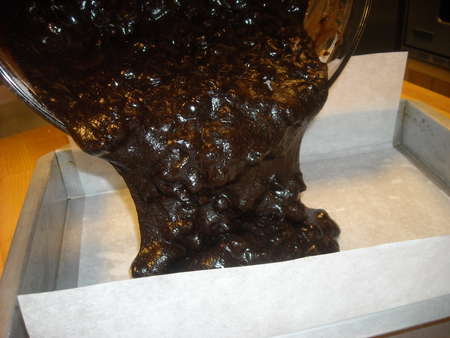 and bake for 28 to 30 minutes.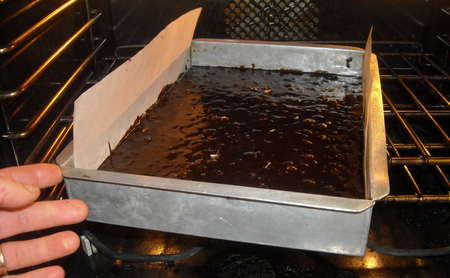 Test kitchen head smack here. Parchment has this annoying habit of flopping over in the oven. I know this, yet, do you think I'd remember to take proper measures to address it? Not this time.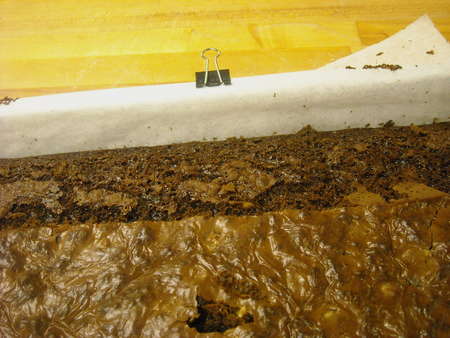 I can tell you, however, that if you're planning to go this route, it's best to collect yourself a couple of little metal alligator clips to secure the parchment to the edge of the pan.
Back to the baking. How do you know they're done? PJ often gives her pans of brownies a "belly button", but poking a small hole in the center to look at the texture of the brownies there. It should show wet crumbs, but not raw batter.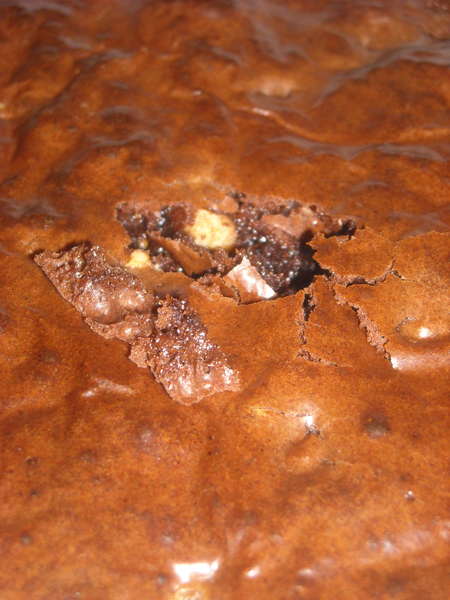 Look at the edges, as well. They should be set. With whole grain brownies, you may not see a lot of "pull" from the edge of the pan, the way you'd expect to with a white flour recipe, so don't let that fool you into overbaking. This is how the edges look after baking.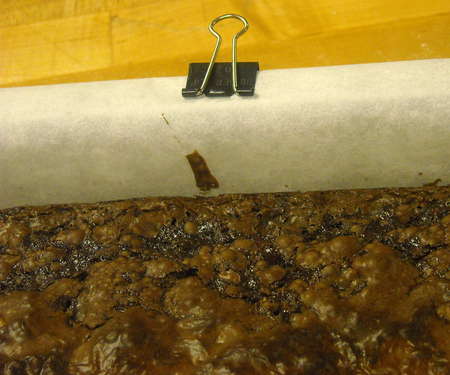 Take the brownies out of the oven. Now for the hard part. Keeping your hands off them.
Because the true miracle of this recipe happens overnight. After the brownies are cool, cover them and let them rest at room temperature. The bran in the flour will absorb moisture overnight, and do a graceful disappearing act. Like a lot of recipes, a little rest where all the flavors can talk to each other is a good thing.
Now, about that parchment thing. When it's time to serve, you can pick the whole batch of brownies straight up out of the pan, and place it on a cutting board. Now you can cut out shapes to drape in chocolate (a PJ specialty), frost, or drizzle with caramel and a sprinkling of salt. Cut into diamonds for a change of pace, or sandwich a slab of your favorite ice cream between two squares for the ultimate ice cream sandwich.
Brownies are an all-occasion kind of food, and welcome everywhere. No cooking wardrobe should be without a classic recipe like this. Just like your little black dress.
Please try, rate and review our Whole Grain Brownies.
Jump to Comments