Warning: This pie is not for the faint of heart. 
This pie is for you devil-may-care types, those of you who throw caution to the winds with regularity; or at least occasionally, but with aplomb. (Like that mixing of metaphors?)
I mean, nearly a pint of cream. Half a pound of chocolate. Five eggs. But wait—there's more! Over a cup of sugar. Vanilla, espresso, and a buttery crust.
Still reading? Good. Because I have a message for you: life is short. Enjoy it. Which DOESN'T mean eating this pie every day. But once a year, maybe, at Mardi Gras? Savor every bite. 
That said, this pie has one tricky little turn that's a royal pain in the you-know-what. To whit: In order to not overbake the filling, the meringue topping has to be applied while the center of the filling is still sloshing around in the crust. Imagine trying to spread shaving cream in a bowl of water; the darned stuff just won't sit still.
My advice is, do the best you can, and so what if you make some divots. No one will notice, they'll be too busy rolling their eyes up into their heads in ecstasy.
Mardi Gras is Feb. 24 this year. I've never been to the celebration itself, but have visited New Orleans several times, and this pie—with its abundance of rich ingredients, its deep-dark coffee/chocolate flavor, its over-the-top, in-your-face EXCESS—is a fitting tribute to that good-time city.
May the Big Easy continue to regain its footing; and may the good times ever roll.
Feeling brave? Read the recipe for Café au Lait Pie, and follow along with these pictures.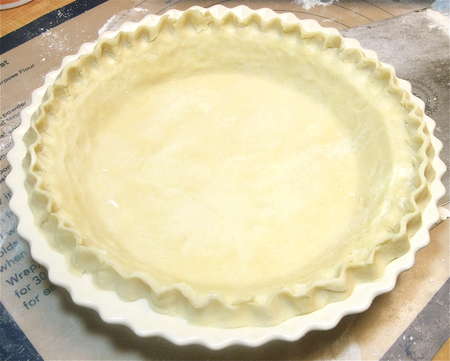 Let's begin with a 9" pie crust. Since this pie is rather towering, and the filling rather liquid to begin with (i.e., danger of sloshing), it helps to use a pie pan that's deeper rather than shallower. Don't think you can get away with one of those so-called 9" tinfoil pie pans from the dollar store; it's not 9" (inside diameter, which is how you measure baking pans); and it'll only be about 1" deep.
Roll out your favorite pie crust, place it in the pan, and make a tall crimp. For MY favorite pie crust recipe with complete directions, read our pie crust post; you can link to the recipe from there.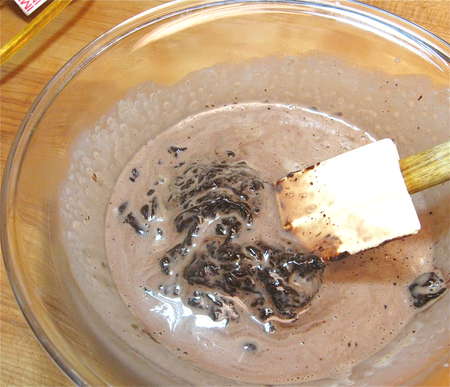 Next, the chocolate filling, a.k.a. chocolate ganache. It's the usual suspects: chocolate and heavy (or whipping) cream. Heat till the cream is very hot and starting to bubble; a microwave does the job very nicely.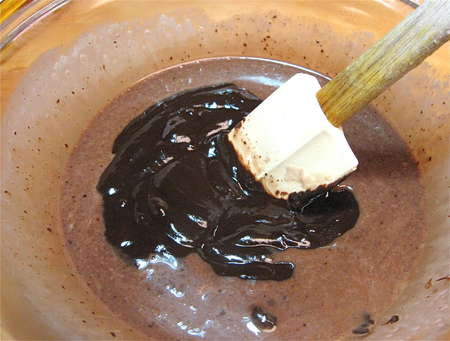 Stir, and keep stirring, and stirring...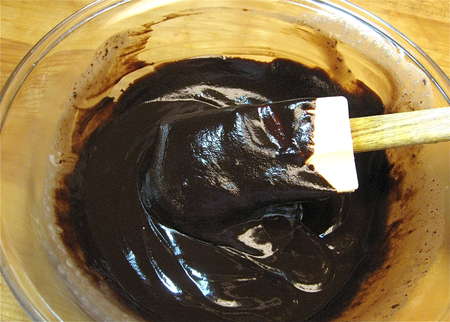 ...till the chocolate and cream come together.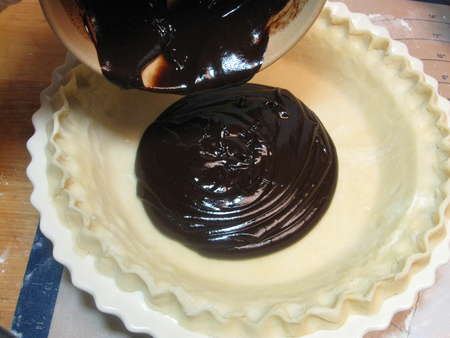 Pour the chocolate into the pie crust.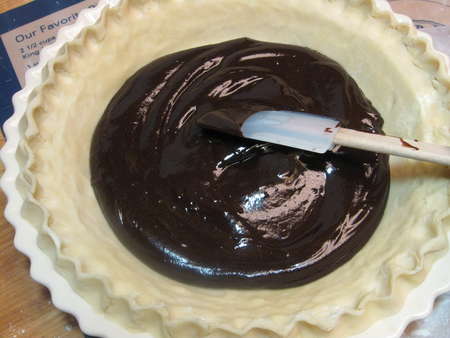 Spread it evenly across the bottom of the crust, then refrigerate while you make the vanilla filling.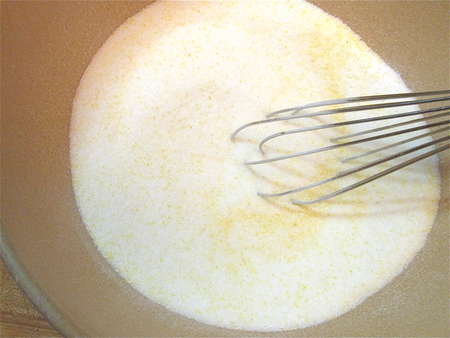 Whisk together sugar, salt, cornmeal, and cornstarch. This is the basis for a classic "chess pie," a traditional custard-type pie with a sturdy filling—lemon, or chocolate, or vanilla—perfect for storing in a chest (or so the legend goes). Some people think chess is a variation of "cheese," whose consistency this pie filling is supposed to resemble. Frankly, I don't see it, unless you're talking softened cream cheese; but, whatever.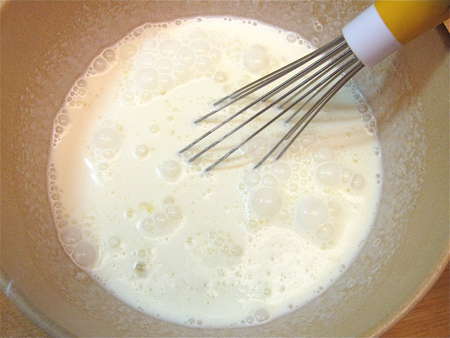 Add the cream and vanilla...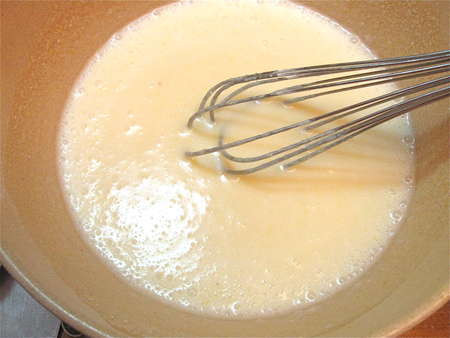 ...and stir till smooth.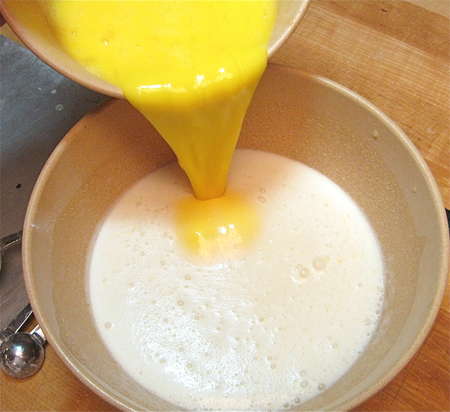 Add the beaten eggs and yolks...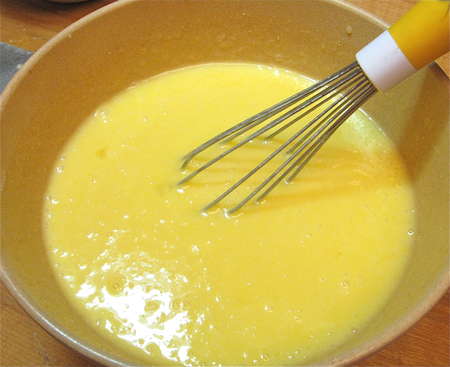 ...again stirring till smooth.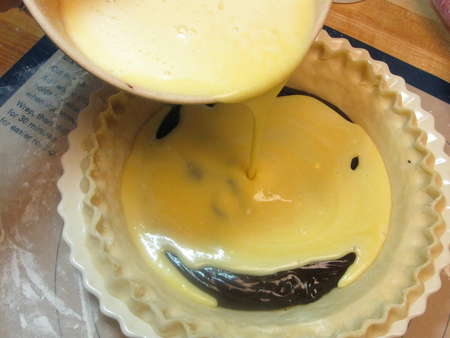 Carefully pour the vanilla filling over the chocolate filling; you don't want to put a big dent in the chocolate.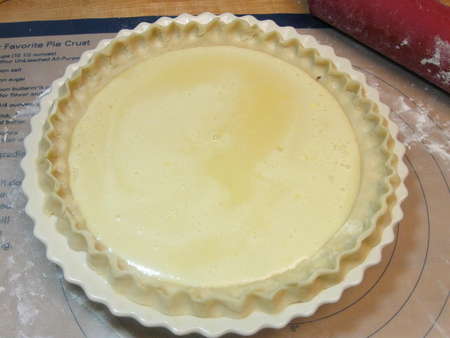 There! Put the pie in the oven, and bake for 20 minutes. Add a crust shield (one of my favorite kitchen toys), and bake for another 30 to 40 minutes, until the edges are fairly set, but the center is still liquid. The center will register at least 175°F on an instant-read thermometer.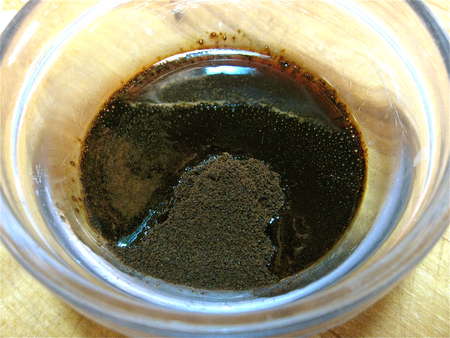 While the pie is baking, make the espresso meringue. First, combine espresso powder and water...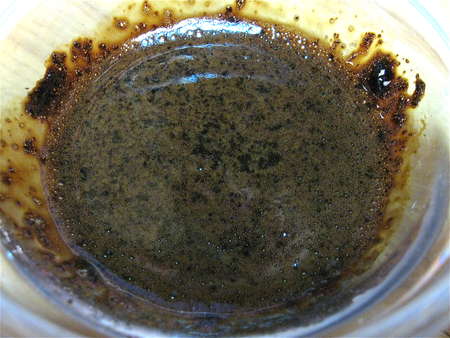 ...stirring to dissolve the espresso. Set it aside.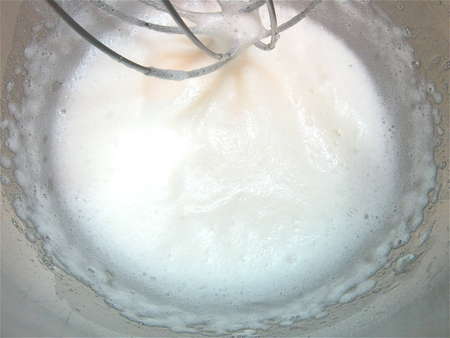 Whisk egg whites till foamy, then sprinkle in cream of tartar and continue to whisk. I'm using the whisk attachment on my stand mixer here.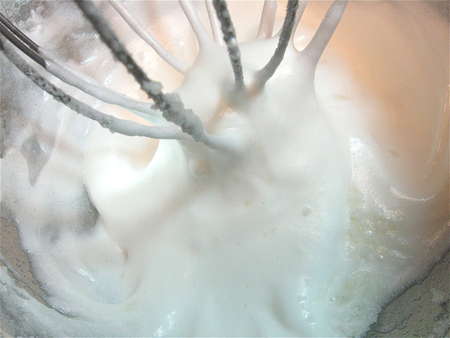 Sprinkle in sugar gradually, whisking all the while. The mixture will thicken.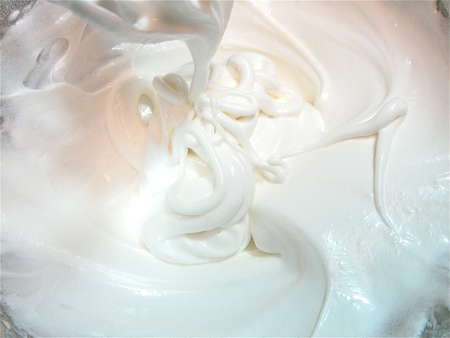 Whisk until it's stiff enough to hold its shape.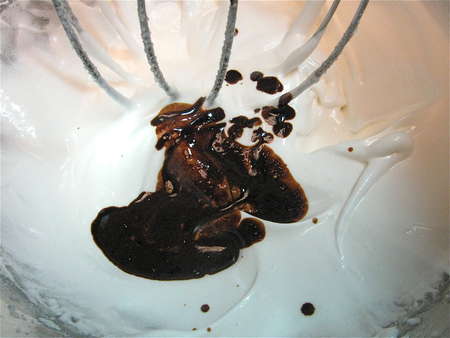 Add the dissolved espresso...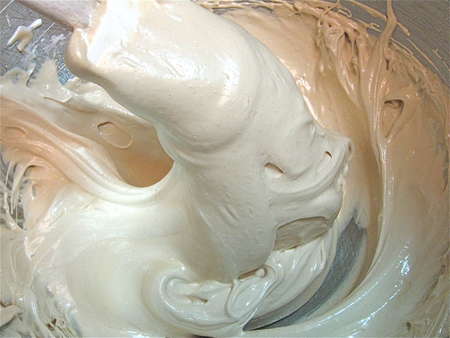 ...and stir to combine.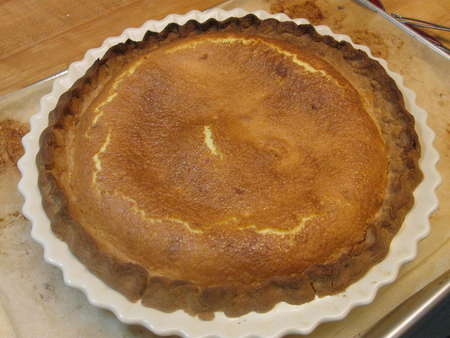 See the browned edges on this crust? That's because I forgot to put the crust shield on. DUH.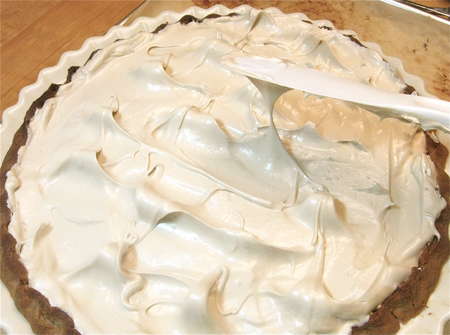 Very gently apply the meringue. Since the center is still liquid, this is a bit tricky. All I can say is, easy does it. Once you've covered the surface of the pie, use your spatula to make decorative peaks.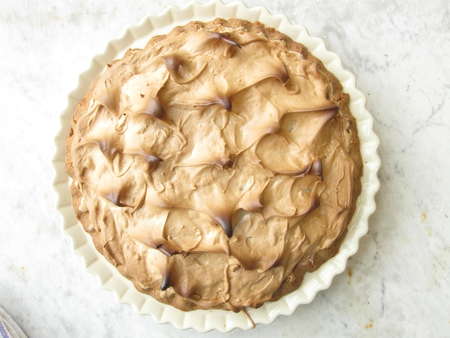 Continue to bake for 15 to 20 minutes, till the meringue is nicely browned.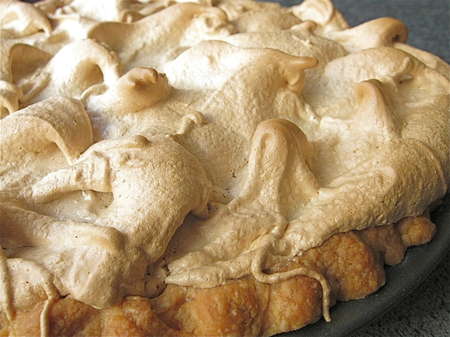 Like this. The middle may still seem awfully soft. Don't panic; it'll firm up as  it cools.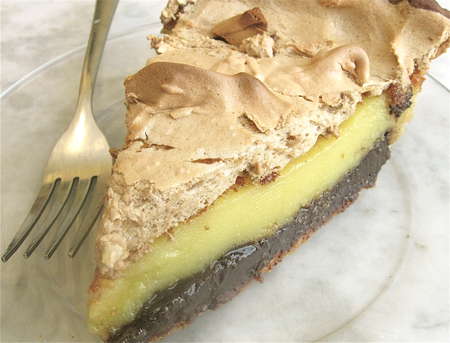 Serve with extra-strong coffee and a helping of New Orleans jazz. Perfect!
Read, rate, and review (please) our recipe for Café au Lait Pie.
Jump to Comments