Do you have any idea how easy it is to make a tender, tasty muffin? It's "easy as pie." A real "piece of cake." Both of which expressions puzzle me, because neither pie nor cake is anywhere near as simple to bake as a dozen muffins. Popovers can be problematic; brownies might burn. Even cookies are more complicated. But muffins? Give me a bowl and a spoon, and I'll produce a dozen steaming muffins faster than you can blink. 
Some muffins require beating butter and sugar, adding eggs separately, carefully alternating flour and milk… those are what we here in the test kitchen call cake muffins. Because there's really no difference at all between that kind of muffin, and a cupcake. Just like scones are really just biscuits with a bit of sugar and a fancy shape.
But stir-together muffins… that's another story. Mix dry ingredients. Mix wet ingredients. Mix dry ingredients with wet ingredients. Bake. Enjoy. Now that's MY kind of breakfast buddy!
As long as you've got a bag of good King Arthur Flour; some sugar, butter, eggs, milk, and a few other staples, you can bake muffins that'll turn any frown upside-down.
So down with the blues! (Unless they're berries). Dig out your mixing bowl and heat up the oven. A warm kitchen, the aroma of cinnamon drifting through the house, and a dozen Simple Muffins... what are you waiting for?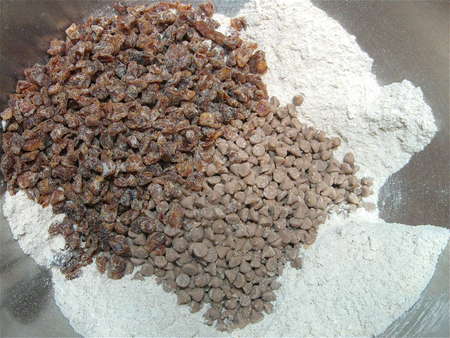 First comes the fun part: deciding what you want to add to these basic muffins to make them your own signature specialty. I happen to like chopped dates; I know not many do, but date-nut bread, sticky toffee pudding, date pinwheels... they all speak to me. So I keep a bag of chopped dates close at hand. And what's my favorite spice (other than vanilla, of course)? Cinnamon. Cinnamon chips and dates—sounds like a plan.
So, whisk together the flour, oats, sugar, salt, and baking powder, plus cinnamon, if it goes with your add-ins. And I can think of very few add-ins cinnamon doesn't complement. Stir in about 1 1/2 cups chips (cinnamon, chocolate, cappuccino...), nuts, and/or dried fruit.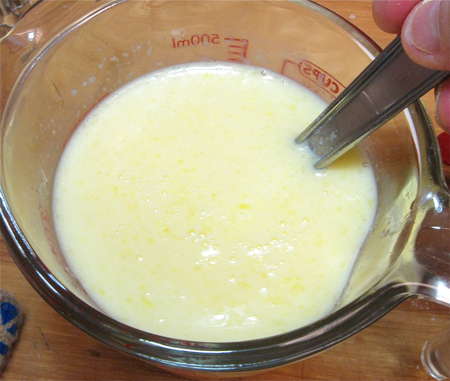 Next, combine the milk, vanilla, melted butter (or oil), and eggs. Whisk or beat with a fork till no streaks of egg show.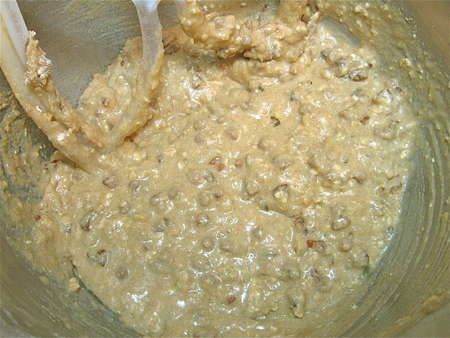 Mix the wet ingredients into the dry ingredients. This doesn't mean turn the mixer on high and beat like wild. It simply means stir till everything that was dry is now wet. Period. Stop. End of story.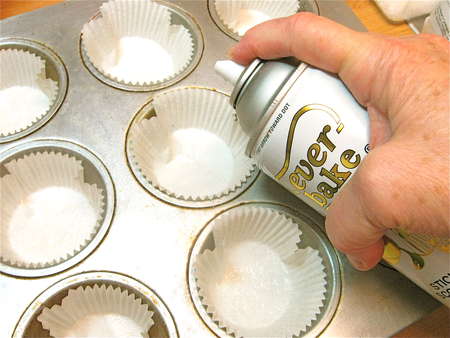 I like to line my muffin tin with papers. Why? Because I don't mind doing dishes, but I definitely grumble over having to scrub out all those hard-to-reach little creases in a dozen muffin cups. Spare me—which is exactly what muffin cups do. I grease them with our trusty Everbake spray, to make sure they slip off the baked muffins without any crumbling, and there you have it—slicker 'n a smelt, as they say in Maine.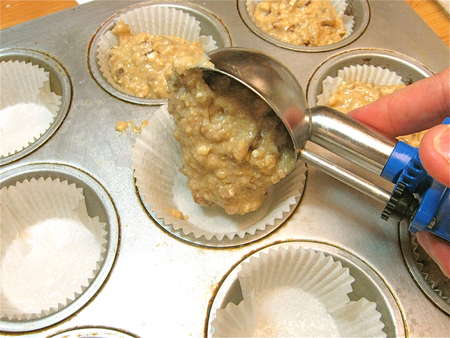 Use a 1/4 cup measure (or muffin scoop, or big ice cream scoop) to portion batter into the muffin tin.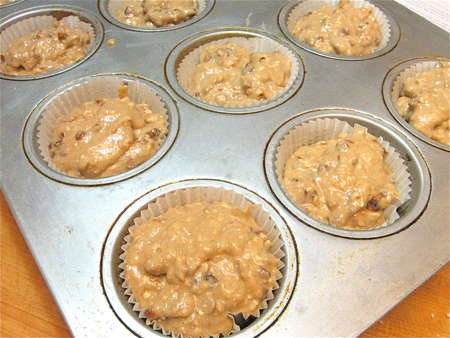 The batter will fill the papers just short of their rims.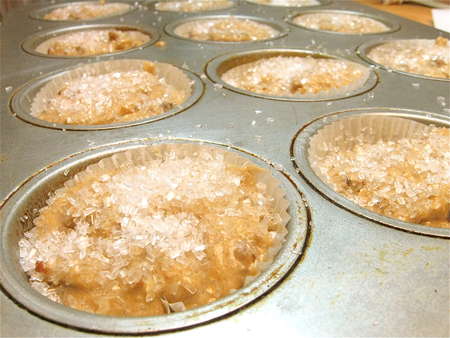 Another trusty muffin ingredient: sparkling white (coarse) sugar. It takes muffins to the next level; the culinary version of adding a strand of pearls to your little black dress.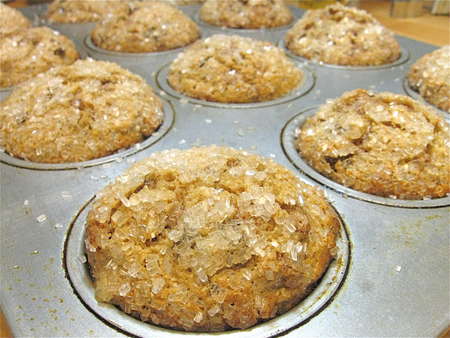 And tasty. This lovely crystalline sugar glitters, then crunches when you bite into the warm muffin.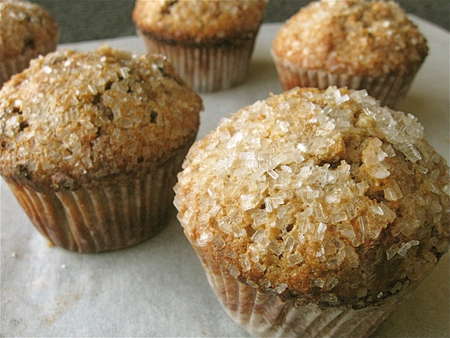 So, what more can I say? These muffins go from inspiration to delectation in just about 25 minutes. Fast, cheap, and easy—hey, sometimes that's a GOOD thing.
Read, rate, and review (please!) our recipe for The Simplest Muffins.
Jump to Comments