Boy, these cookies sure look like biscotti, don't they? And they're baked just like biscotti. And they taste… just like biscotti.
Fooled you! They're mandelbrot.
A cookie by any other name would taste as sweet?
Mandelbrot—literally, almond bread—is the eastern European version of Italy's biscotti. Crunchy, light, packed with almonds (traditionally) or with the add-ins of your choice (I chose chocolate, as always, plus walnuts), these cookies are fancy enough to qualify as beyond-everyday, yet easy enough not to tax your brain nor your baking skills.
Since they're made with oil rather than butter, mandelbrot are non-dairy, and thus appropriate for Jewish holiday meals that include meat. (I'm gradually learning the rules… go easy on me, please!) I realize these aren't traditional mandelbrot (remember, no almonds); but let's just call them an Americanized version.
And let's call them delicious, too. Because that's surely what they are.
Since tomorrow is Rosh Hashanah, let's get on the stick here and make mandelbrot—chocolate chip and walnut version. For the traditional version, substitute almonds for both the chips and walnuts.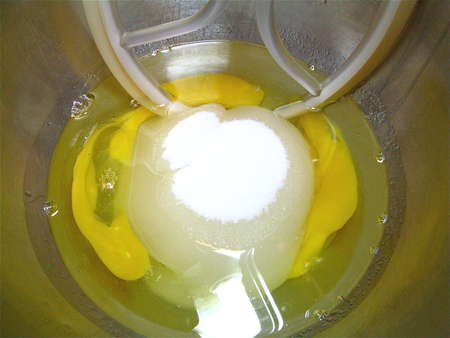 First, combine eggs, vegetable oil (we use safflower here in the test kitchen; it has a very neutral flavor), sugar, salt, and vanilla (it's hidden under the sugar) in a mixing bowl.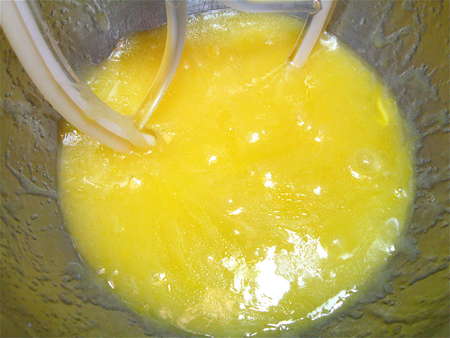 Beat till well combined.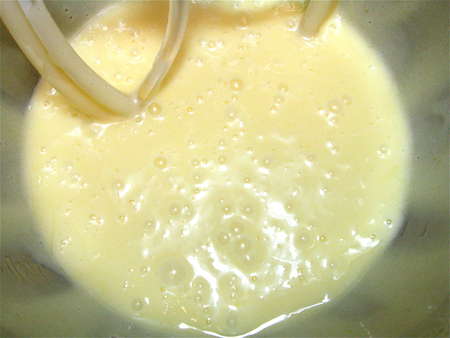 Then continue beating for about 5 minutes, till the mixture is lighter in texture and lemon-colored.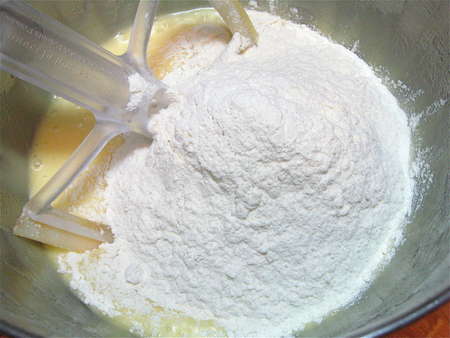 Add the baking powder and flour (King Arthur Unbleached All-Purpose, of course, my best friend in the kitchen)...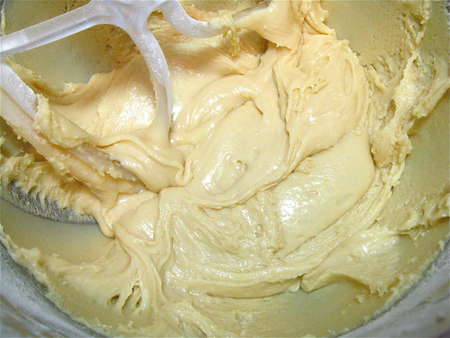 ...and beat gently till well combined.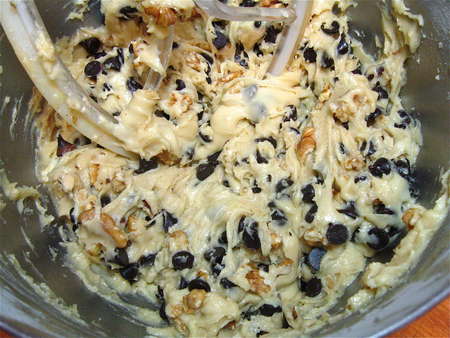 Stir in the chips and nuts.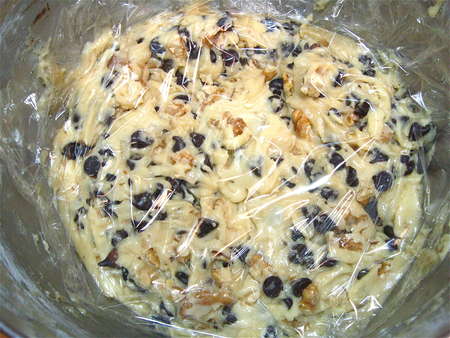 Cover with plastic, and refrigerate for at least 3 hours, or overnight.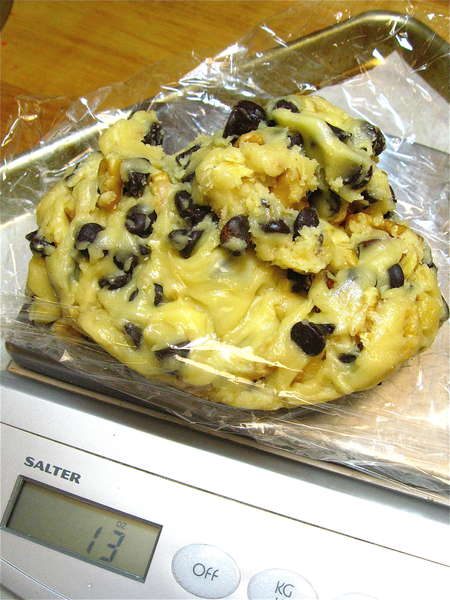 Divide the chilled dough into four equal pieces; a scale makes this task easy and accurate.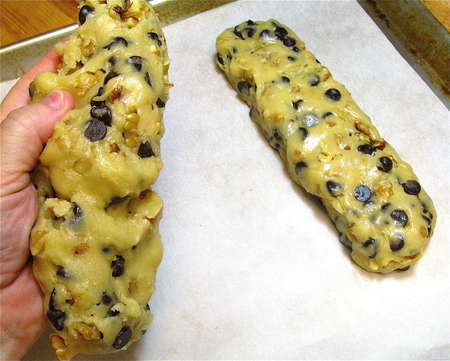 Shape each piece into a rough log about 8" long, and place on two lightly greased or parchment-lined baking sheet, two logs to a sheet.
Use your wet fingers to pat/smooth the logs till they're about 8" x 2" x 1" tall.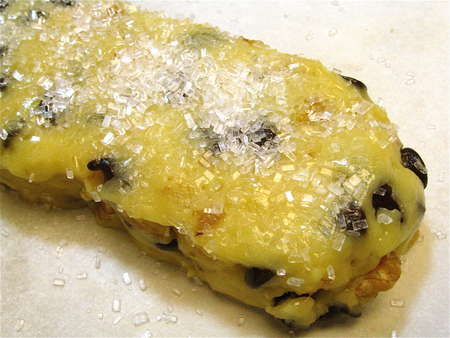 A sprinkling of coarse white sugar is always a plus!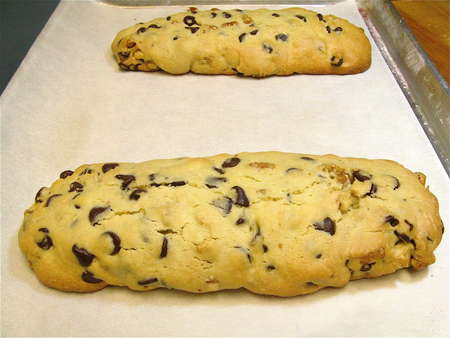 Bake the logs in a 350°F oven for 30 to 35 minutes, until they're very lightly browned around the edges—like this. Turn the oven heat down to 300°F.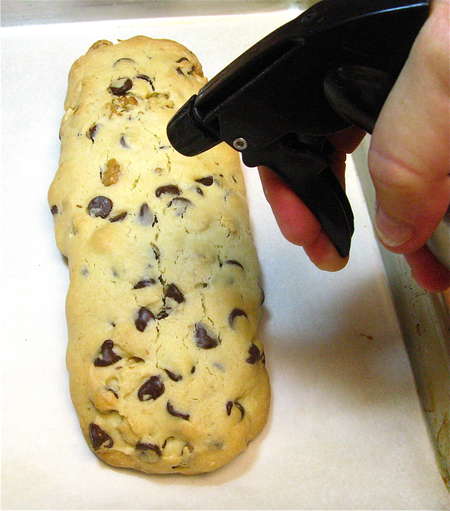 Remove from the oven, and spritz lightly with water; this will soften the logs' crust just a bit, making them easier to slice. Let the logs cool for 10 minutes before slicing.
Use a serrated knife to gently slice logs into 1/2" slices diagonally...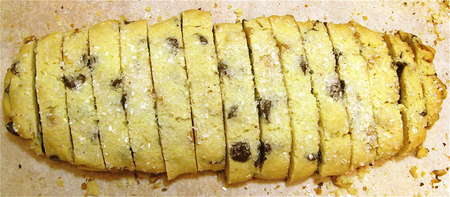 ...or crosswise. Crosswise, you'll get slightly shorter cookies, and slightly more of them. Be sure to cut straight up and down, so the mandelbrot can stand on their edges without wobbling.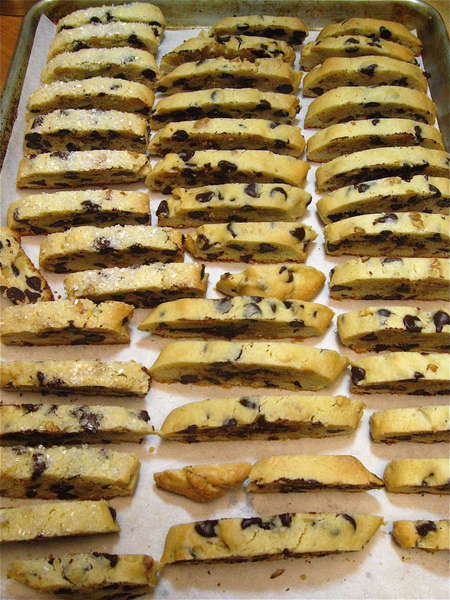 Like this. Put them back on the baking sheets; they can be fairly close together. You won't be able to cram them all on one sheet; you'll have to use two.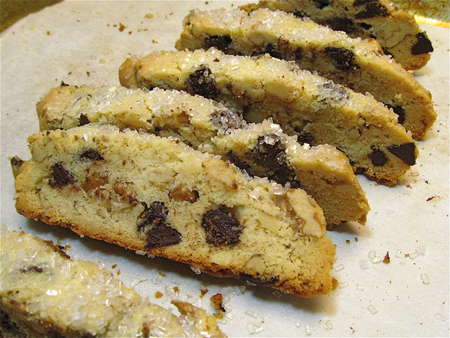 Now you're going to bake them again. And you'll need to use some judgment. The mandelbrot (above) aren't done; they're still soft. See how they're not browned at all?
Now look at the little mandelbrot on the right. It's brown all over; it's a bit too brown.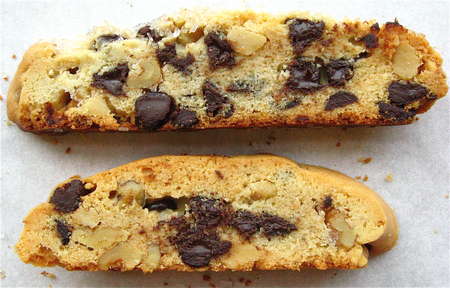 These two mandelbrot are both fine. The one on the bottom is a bit more browned than the one on the top.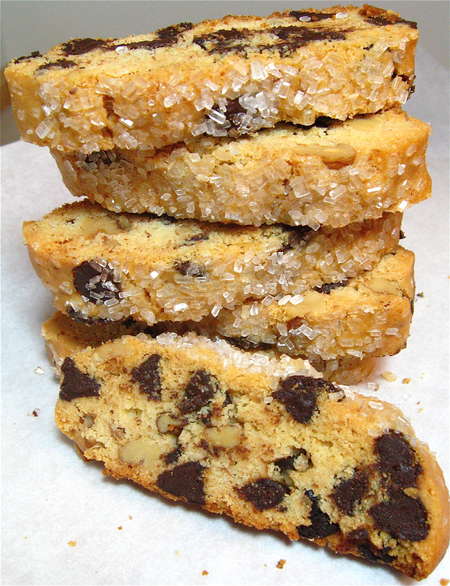 And here they are,  ready to enjoy. YUM!
Read, review, and rate (please!) our recipe for Chocolate Chip-Walnut Mandelbrot.
Jump to Comments