"PANCAKE BREAKFAST! This Saturday, 7 a.m. to 11 a.m., fire station. $5 adults, $3 kids, 4-and-under free. Benefit ambulance fund."
How often have you seen a sign like this, posted on the bulletin board outside the grocery store, or on a telephone pole downtown, or in the lobby of the rec. center?
Communities have been raising money—for a new ambulance, a swing set for the playground, curtains for the library reading room—since time immemorial. Or at least since I can remember (which sometimes feels like time immemorial…)
When I lived in Maine, pancake breakfasts were a regular event. A fact of weekend life. If you couldn't find a pancake breakfast somewhere close by on a Saturday morning, I tell you, Mr. Man, you just weren't trying.
In late fall, these fundraisers were called hunter's breakfasts and started at 4 a.m., so the men could get out to their deer stands before the sun rose. In winter, they were a way for snow-weary, housebound old-timers to get together and socialize. Springtime featured a new crop of maple syrup, fresh from the sugarhouse. And summer—ah, that was the time for everyone's favorite, the BLUEBERRY pancake breakfast.
I can picture it now—the fire station cleared of its trucks, tables lined with white paper, an industrial-size griddle at one end. Three or four cooks sporting aprons (men and women alike), some pouring batter, some flipping pancakes, some turning sausage links and bacon. Next to the griddle, a tray filled with plastic cups of orange juice. On each table, pitchers of syrup, plates of butter, carafes of coffee.
Families sit down together, the littlest ones on mom or dad's lap. Friends call across the hall: "Get your deer yet?" "Where you been? I haven't seen you since Joyce's wedding…" "How much snow you got out at the lake?" Kids, quickly bored with eating, race from table to table; no one minds. "It takes a village" is an old and familiar concept in small-town America.
At the end of the morning, people will have enjoyed hot pancakes, a cup of coffee with friends, and some catching-up on town gossip. And maybe the swing set or new ambulance is $300 closer to becoming reality.
Ah, I can smell the blueberry pancakes cooking now... How about you?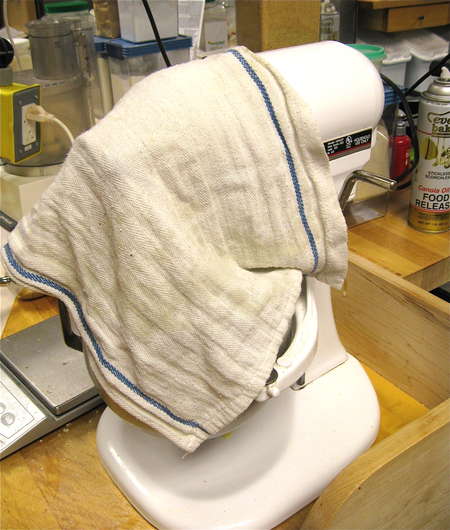 First, beat eggs, milk, and vanilla at high speed for 3 minutes. To me, that means splatters everywhere... thus the dish towel draped over the mixer bowl. I know, I know, a splatter guard came with this KitchenAid, but who knows where it is? Not I.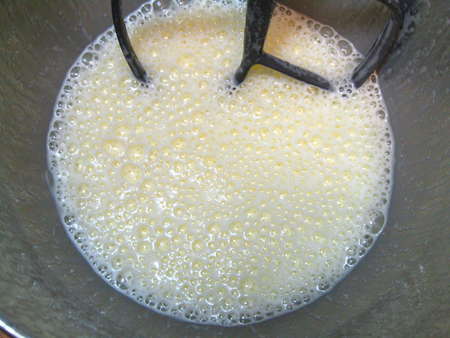 The mixture should be nice and foamy, like this.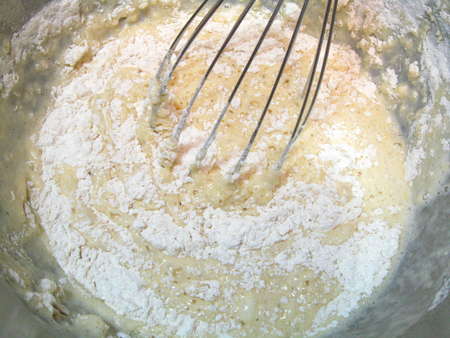 Add the butter or oil, then the flour, baking powder, salt, and sugar.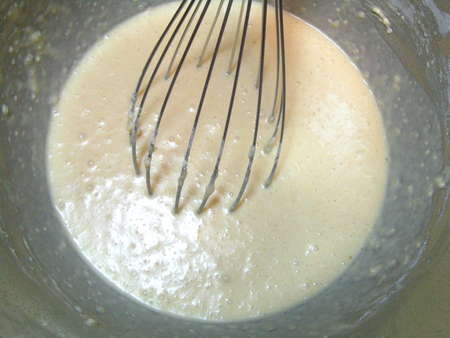 No need to beat; just stir to combine. A few lumps are OK.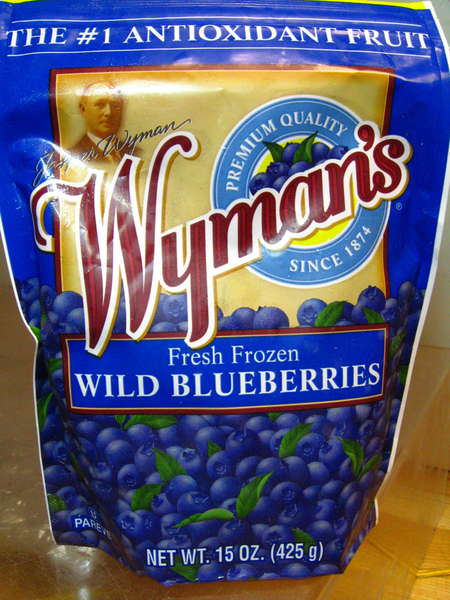 Next, get out your blueberries, either fresh or frozen. I like these Wyman wild blueberries; excellent quality, at an excellent price. They're gradually going national; if you don't see them at your preferred supermarket, ask the manager if (s)he can get them.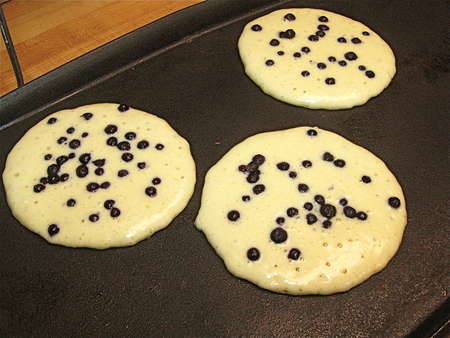 If you're using fresh berries, you can add them right to the batter. If frozen, sprinkle them on top of each cooking pancake. Why?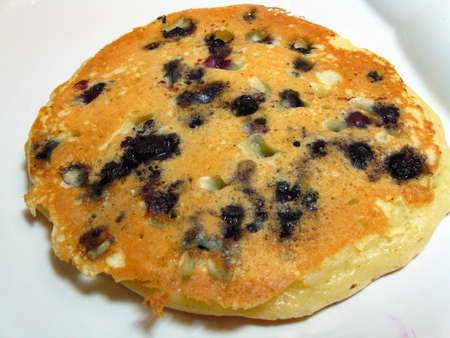 So that you can make a good-looking pancake like this one...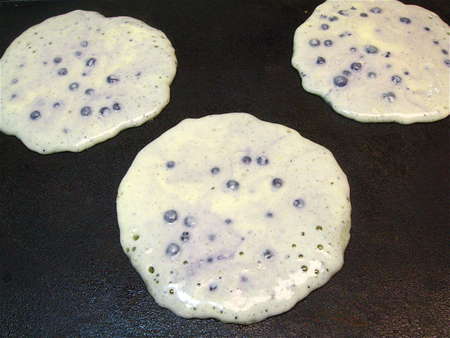 ...instead of pancakes tinged with blue juice...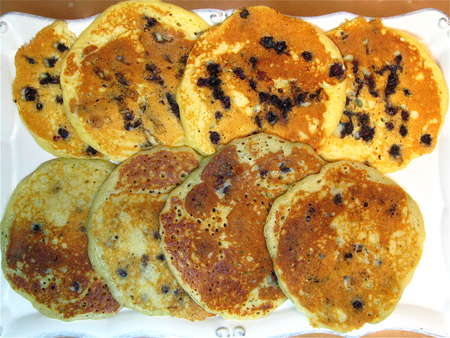 ...that yield a greenish-blue pancake (bottom row). See how much nicer the pancakes look when you scatter the frozen berries on top as they cook? That's my test-kitchen tip for today.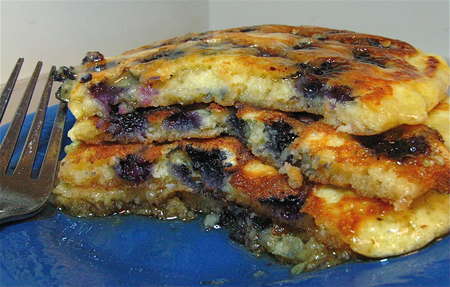 Serve a stack with butter and maple syrup. Tender... buttery... soft, moist, YUMMY!
Read our complete recipe for Blueberry Pancakes. 
Jump to Comments