Lemon-Almond Biscotti
We break for biscotti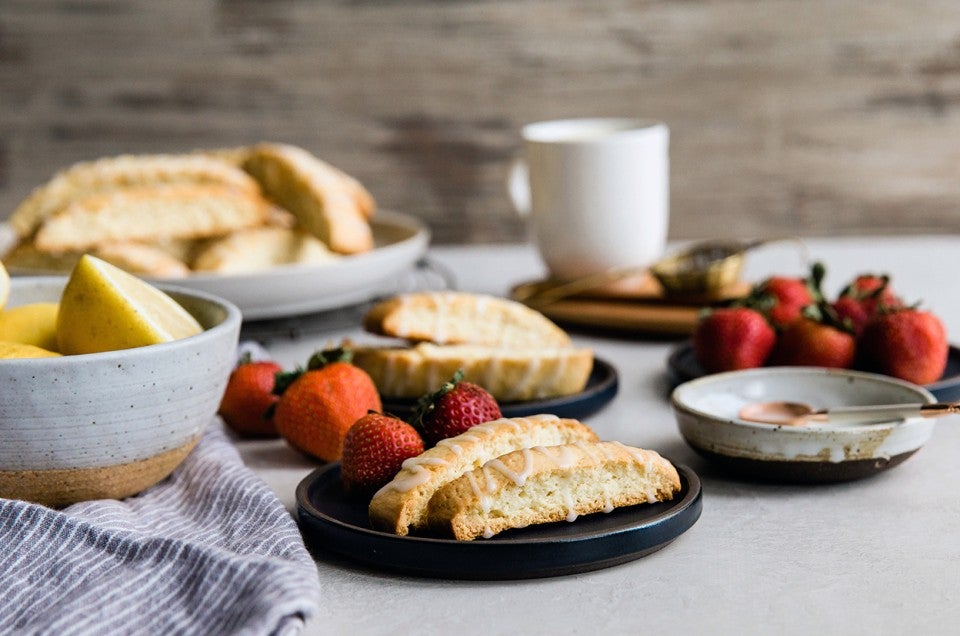 Biscotti are one of the simplest, most versatile cookies you can possibly bake. Butter, sugar, eggs, flour, and baking powder come together in a simple dough that can be flavored to taste (vanilla, almond, anise, orange, maple… pineapple! banana!). Or enhanced with impunity (aside from any possible fallout related to your waistline): chocolate chips, pecans, cinnamon bits, chopped ginger, diced apricots… In short, biscotti are Everyman's Cookie.
So why doesn't Everyman bake them?
I'm always surprised at the number of my baking friends who've NEVER baked biscotti. The ingredients are basic; the techniques are simple. (Can you pat out a meatloaf? Slice a loaf of bread? You have the necessary skills to make biscotti.) Just because something LOOKS fancy or unusual doesn't mean it's difficult. Witness my favorite all-time pastry, Almond Puff Loaf.
Or maybe it's that people are used to those rock-hard coffee-shop biscotti, the traditional dense, Italian-style cookies meant to be softened in a cup of cappuccino before submitting to your nibble. I agree, those can be hard to deal with. But American-style biscotti—ah, a different creature entirely. Light and crunchy rather than dense and hard, these biscotti are made for eating out of hand (sans the need for a coffee bath). Or for crumbling and layering with pudding or mousse and fruit to make a tasty parfait, as our King Arthur Flour test kitchen director, Sue Gray, often does.
So, next time cookies are in the offing, don't forget biscotti. They're easier than they look. More versatile than chocolate chippers (in fact, they can easily become chocolate chip biscotti). Most kids are afraid to try them (too weird…) Which means—for once, the adults don't have to stick their hand in the cookie jar and find it empty.
Lemon-Almond Biscotti make a nice, simple dessert, served with fresh berries or a perfectly ripe peach. To make the biscotti flavor of YOUR choice, simply leave out the lemon and almond, flavor with your favorite extract, and add your own touches: up to 2 cups nuts, and or chips, and/or dried fruit. Hazelnut cappuccino chip biscotti, anyone?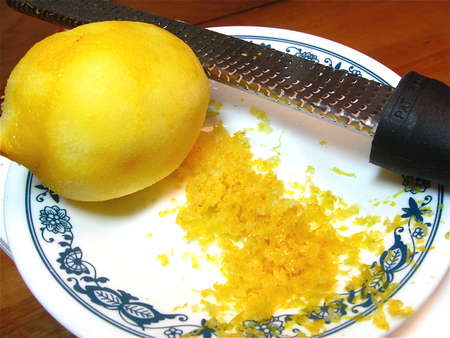 Start with 1 fresh lemon. First, grate its rind, taking only the yellow part, not the white; the white pith is bitter. Once you've taken off the rind, squeeze out 2 tablespoons of juice (or 3 tablespoons, for more lemon-y biscotti).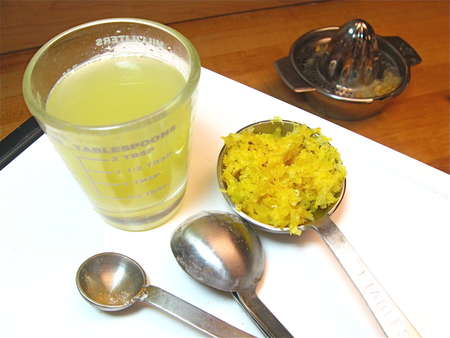 You'll have about 1 tablespoon grated rind, along with the juice.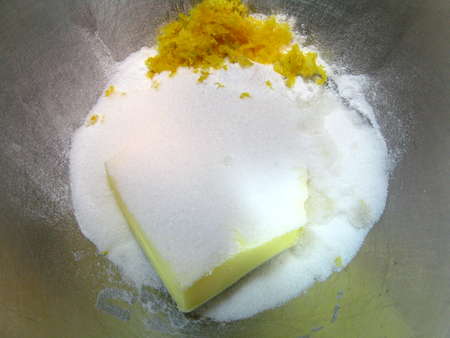 Put the lemon rind in a bowl along with the butter, sugar, salt, baking powder, and almond extract.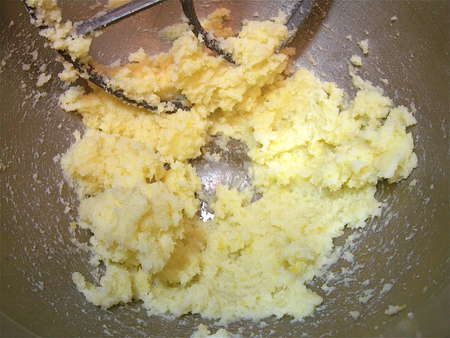 Beat till well combined.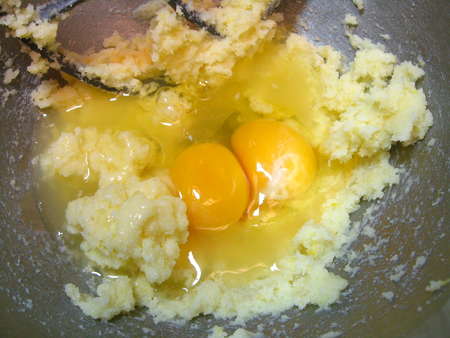 Add the eggs and lemon juice...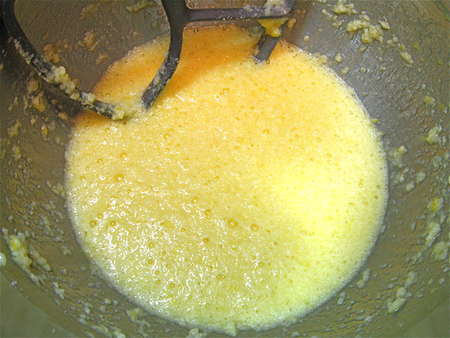 ...and beat again. You'll have a thin, somewhat curdled-looking mixture.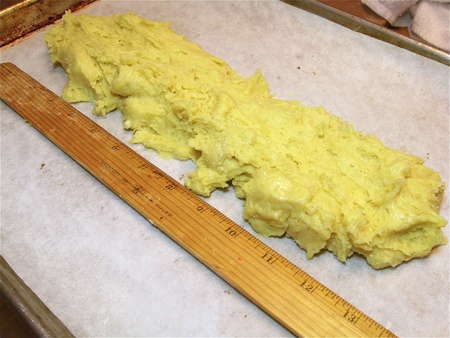 But once you add the flour, it smooths out nicely. Pat the dough into a 13" x 3" log on a parchment-lined or greased baking sheet.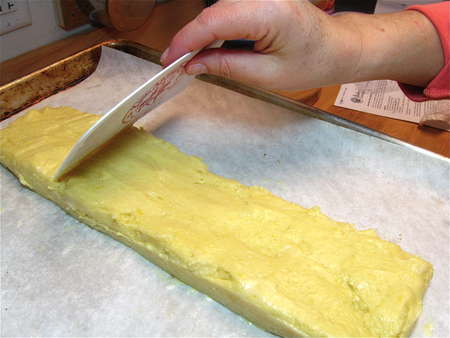 Use a bowl scraper dipped in water to smooth the sides and top of the log.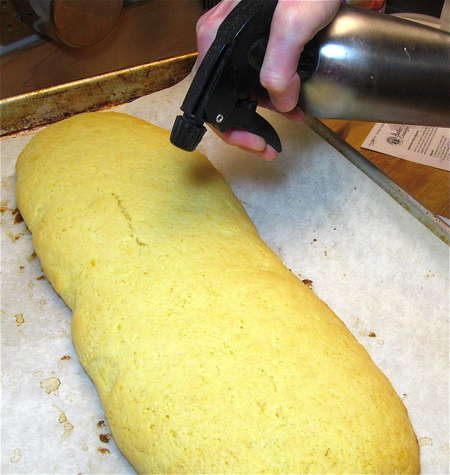 Bake the dough for 25 minutes. Let it cool for 10 to 25 minutes, then spritz it with water; this will make it easier to slice, which is the next step.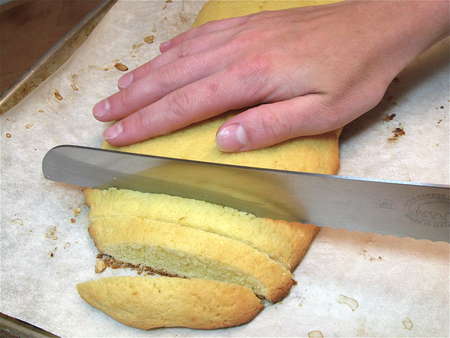 Slice the log crosswise into 1/2" pieces. Using a serrated knife and a light touch will make the task go smoothly.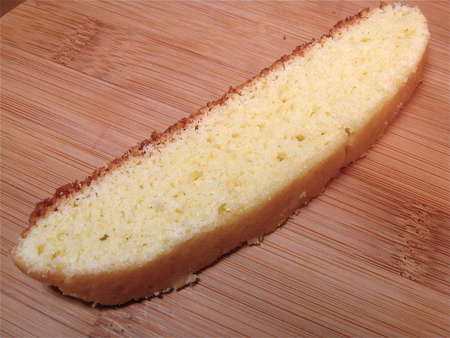 Here's what one biscotto (the singular of biscotti—who knew?!) looks like. It'll be soft and somewhat moist.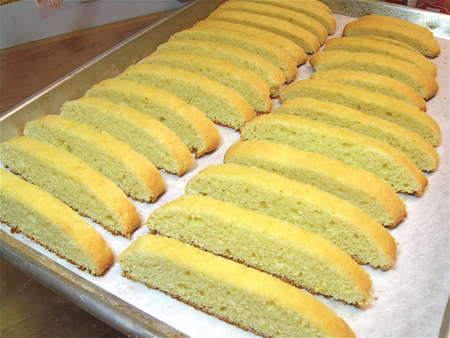 Line all the biscotto slices up on the same baking sheet, setting them on edge. This saves space, and helps them bake more quickly and evenly.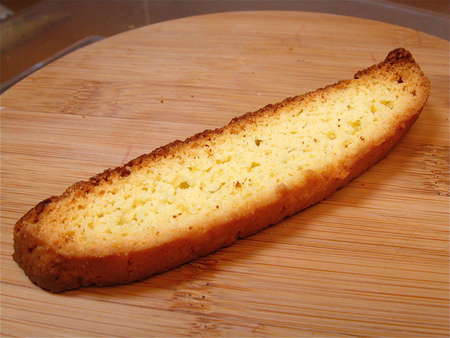 After about 30 minutes in the oven, biscotti will be lightly browned around the edges, and will no longer feel moist on the surface.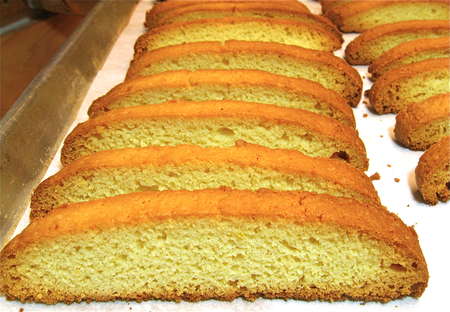 You can let them cool on the pan, just the way they are.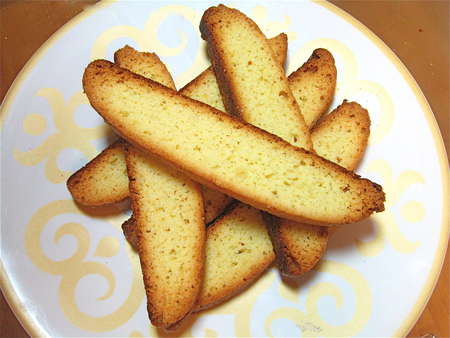 Finished biscotti. Bring on the berries! Or not; they're lovely as is.
Find our recipe for Lemon-Almond Biscotti.
BAKE Homemade Lemon-Almond Biscotti (ingredients cost): 10¢/ounce
Jump to Comments