Banana Bread, an ultimate classic
I'm a fanna banana bread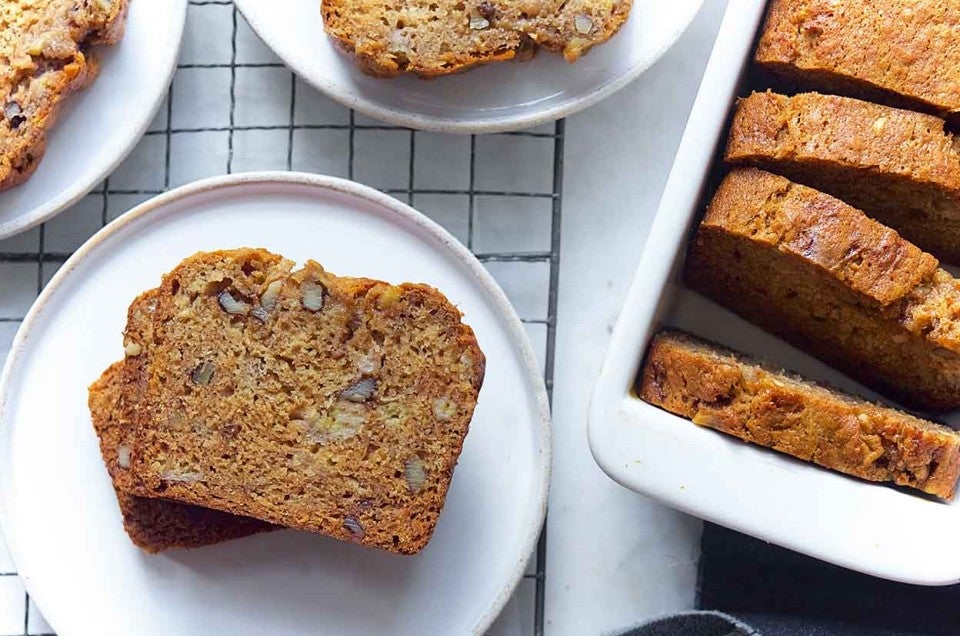 Bananas on oatmeal. The banana split. Banana Turkish Taffy (remember that?). Banana cream pie. Heck, mashed bananas right out of the Gerber's baby food jar… Is there an American alive today who didn't encounter the ubiquitous banana numerous times during childhood? But never mind childhood: the banana is the most popular fruit in America today. Pretty amazing, for a fruit that's commercially grown in only a single American state: Hawaii.
Think about it: apples, berries, peaches, watermelon, all are grown in lots of states across the country. But the banana? Here are a couple of facts that might surprise you: Bananas are America's #1 fruit. And they aren't grown commercially in the continental United States. That's right: every banana we slice onto our cornflakes is brought in from across the sea. And since every American enjoys an average of 28 pounds of bananas a year (and 96% of American households purchase bananas at least once a month), that's one heck of a lot of bananas being shipped onto our shores (mainly from India, the world's largest producer of bananas).
Which leads me to one of my favorite comfort foods, banana bread. Beloved of beginning bakers everywhere, this retro classic has been fancied up over the years with outlandish spices, an array of nuts, other fruits, sometimes even icing. But at the end of the day, my favorite version is still the original mahogany brown, moist/crumbly, aromatic bread of my youth.
The aroma and deep flavor of ripe bananas dominate this loaf; a scattering of nuts (walnuts or pecans only, please) give it textural contrast. I've been known to warm banana bread gently, and spread it with butter (or even cream cheese). But truth to tell, it's just as good eaten plain and cold. And how many breads can make that claim?
Here's my favorite Banana Bread recipe. We've been developing recipes for a new section of our online recipe site, Guaranteed Classics—due to debut later this summer—and this is the first recipe I nominated for inclusion. Classic? What could be more so than Banana Bread?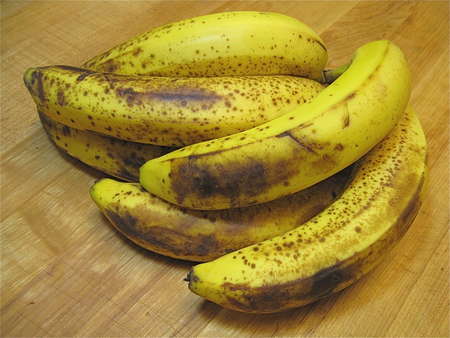 The first thing you need to know about banana bread is this: use over-ripe bananas. The riper the bananas, the more banana flavor your bread will have. These are just barely ripe enough for banana bread. If you have any bananas that are way beyond slicing onto your cereal, they're PERFECT for banana bread.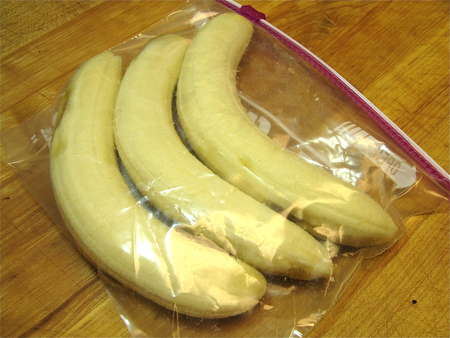 The next thing you'll do is mash the bananas. Easiest way is to put them in a zip-top bag, leaving it open about 1/2" at the top for air to escape.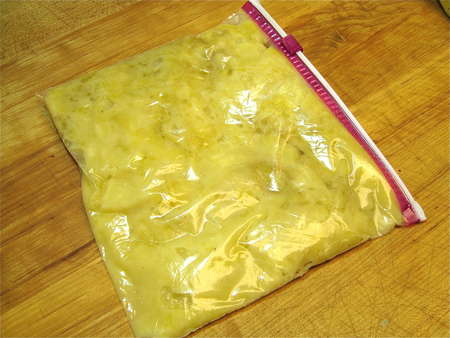 Flatten and squeeze with your hands till the bananas are mashed up.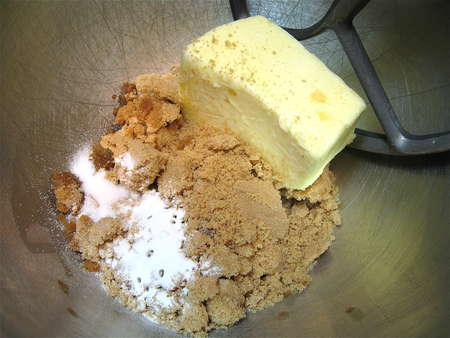 Let's start with butter, sugar, spices, leavening, and salt—sounds good to me!

Beat till well combined.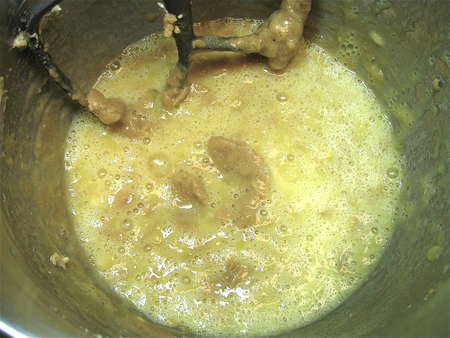 Beat in the mashed bananas, jam, honey, and eggs. The mixture won't be smooth; don't fret. Keep beating.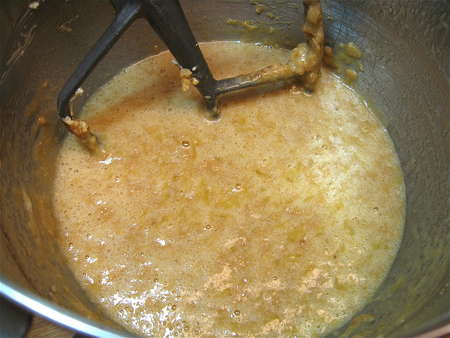 We're about to add the "secret ingredient"—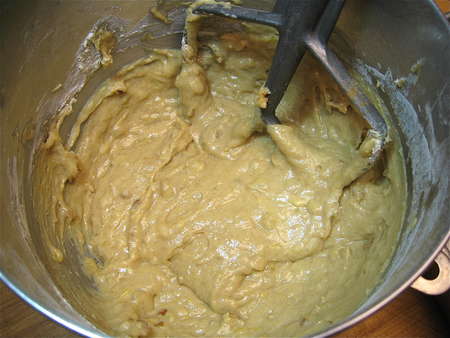 King Arthur Flour! Flour makes the (baking) world go 'round. Stir in the nuts along with the flour.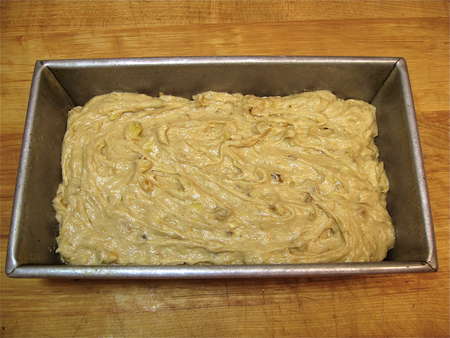 Spread the fairly thick batter in a lightly greased 9" x 5" loaf pan.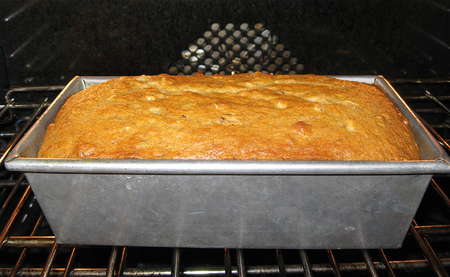 Put the bread in the oven, and watch those leaveners make it rise!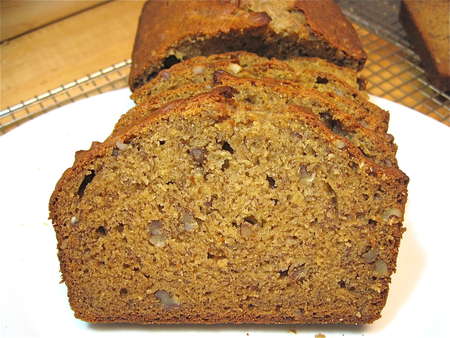 Craggy, some might say homely, but eminently satisfying, we give you: Banana Bread!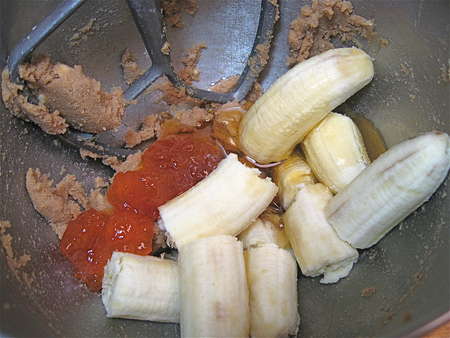 OK, let's back up a bit. If you have a scale, there's no need to mash the bananas before using them. Just chunk up 12 ounces of peeled bananas, and add them along with the jam, eggs, etc.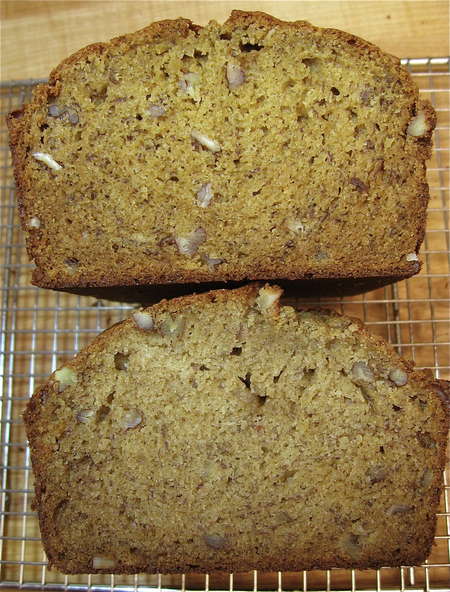 And, here's the bread using two different flours: King Arthur White Whole Wheat at the top, and King Arthur Unbleached All-Purpose at the bottom. Notice the all-purpose flour loaf rose a tiny bit more; but other than that, they're indistinguishable, including taste-wise. This is definitely a good opportunity to get some whole wheat flour into your family's diet.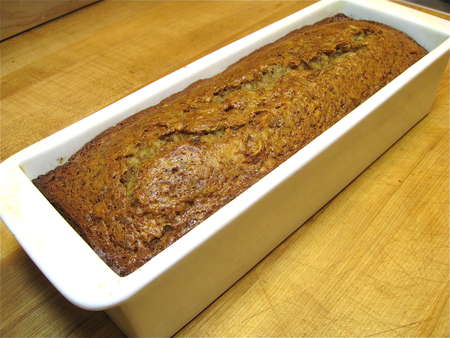 Finally, here's the same loaf baked in a 12" x 4" tea loaf pan, which makes a longer, slimmer loaf. With smaller pieces—nice for those of us on the constant diet...
Check out our recipe for Banana Bread.
Jump to Comments