What is it about sticky buns that just seems so perfectly in tune with this time of the year?
Is it the over-the-top sweetness, the kind of sugary overkill we used to enjoy as kids, sucking on lollipops and rock candy? Or maybe it's the active way you eat these buns, grasping them gingerly to avoid the sticky parts, but inevitably ending up with fingers to lick clean…
Perhaps it's just that they taste so darned good with a cup of hot coffee, nibbled in the car as you patiently wait for the heater to clear a 6" circle in the ice on the windshield so you can get on the road. Heck, even if you're in Florida (a state of bliss from which I just returned), cool mornings call for warm sticky buns.
Sticky buns and cinnamon rolls—or sticky rolls and cinnamon buns—are all sisters under the skin. A basic cinnamon roll recipe (butter-rich dough rolled around cinnamon filling, sliced and baked) becomes a cinnamon roll with the addition of white icing. Or a sticky bun by baking the rolls in a simmering bath of sugar and butter laced with pecans or walnuts. Or a Persian Bun by flattening the rolls into ovals before baking, then icing with a white (or, traditionally, raspberry) glaze. Note: For all you Persian Bun fans out there, we'll do a complete examination of this elusive sweet roll in a future blog.
While sticky buns include a number of steps, none of them are difficult. If you're a beginning yeast baker, you might want to get your feet wet with our No-Knead 100% Whole Wheat Bread. But once you've used yeast a few times (instant yeast is your best and easiest choice), making Sticky Buns is simply a matter of following a series of simple steps. Take a look: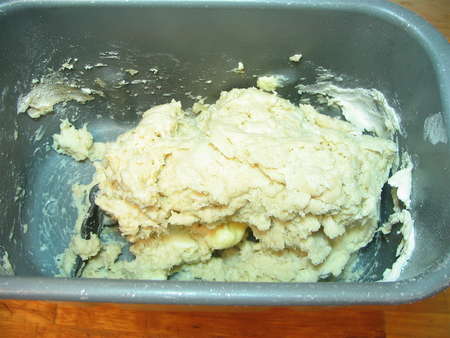 Mix together all of the dough ingredients. The bread machine does a great job; use a stand mixer, a hand mixer, or your hands, if you prefer.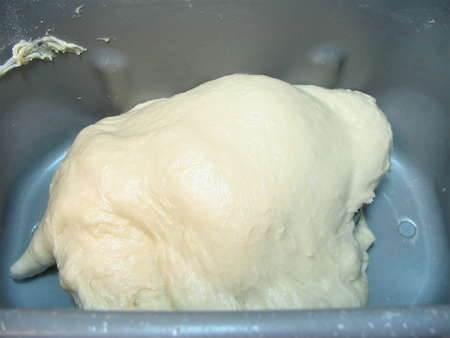 Knead till smooth. Again, the bread machine does a great job. In side-by-side tests, we found the bread machine kneaded dough better than any other method you can choose.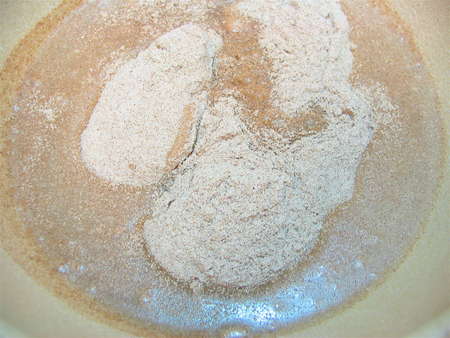 If you're using Baker's Cinnamon Filling, add water...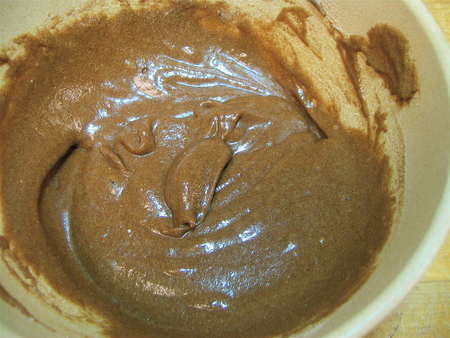 ...and stir to make a smooth, soft paste. (If you're substituting sugar and cinnamon for the Baker's Cinnamon Filling, skip the water.)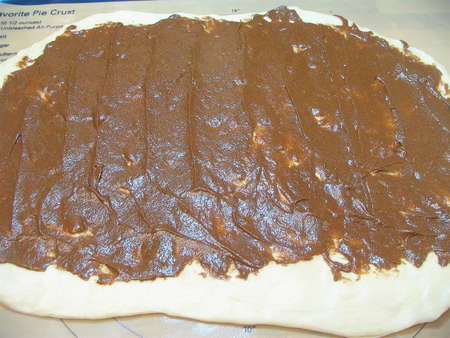 Roll the dough into a rectangle, and spread with the cinnamon filling, leaving one long edge uncovered.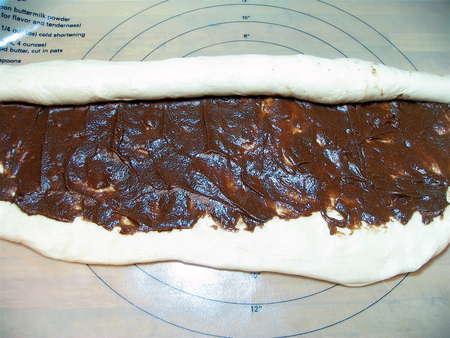 Roll up the dough the long way. Here's why you didn't cover that long edge with filling: because as you roll, the filling is pushed towards the edge. The "naked" edge allows the filling to spread, and also helps you seal the roll closed.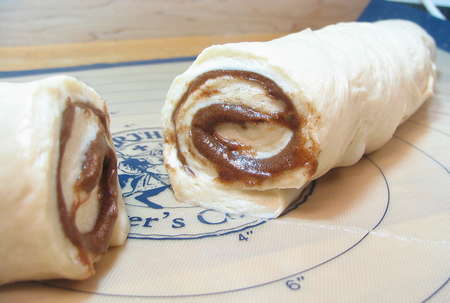 Cut the dough in slices. Gentle sawing with a serrated knife prevents squishing and keeps the filling where it belongs. If you're working on a silicone mat, watch out when you get to the bottom of the log; you don't want to cut the silicone. As I did here; note the saw mark on the silicone from an earlier (careless) bun-cutting episode.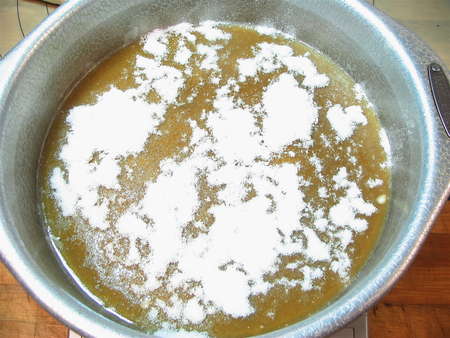 Combine the glaze ingredients, and divide it between two greased 9" round cake pans. Sprinkle with the sticky bun sugar, if you're using it. Sticky bun sugar, a "secret ingredient" of professional bakers, gives the buns over-the-top stickiness.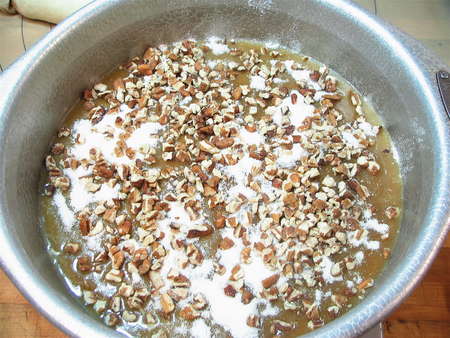 Scatter the pecans on top.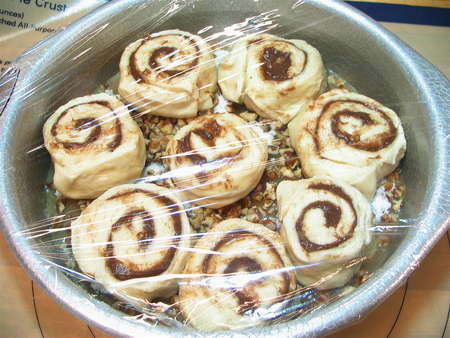 Space the buns in the pans evenly, and cover with plastic wrap.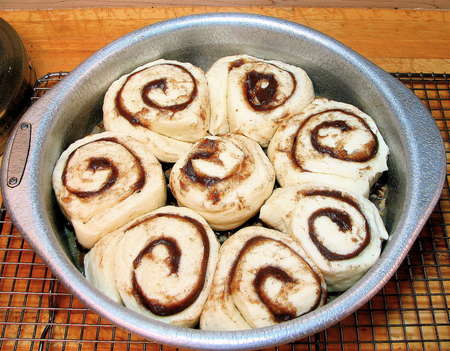 Let the buns rise for 60 to 90 minutes; they'll spread out and touch one another.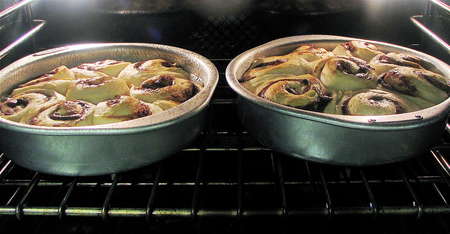 Bake till golden brown. You'll probably want to tent them loosely with foil after the first 15 minutes, to prevent over-browning.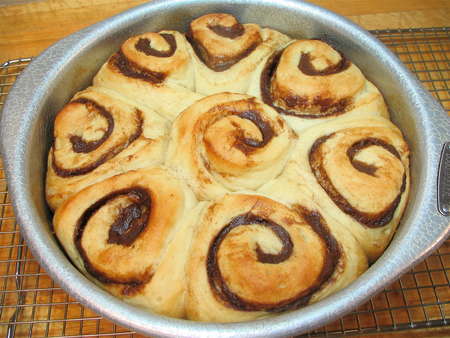 Lovely! But don't stand there admiring them too long, you need to work fast.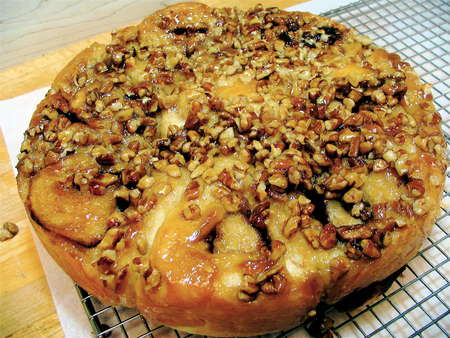 Turn the buns out of the pan onto a rack set over parchment, to catch any sticky drips.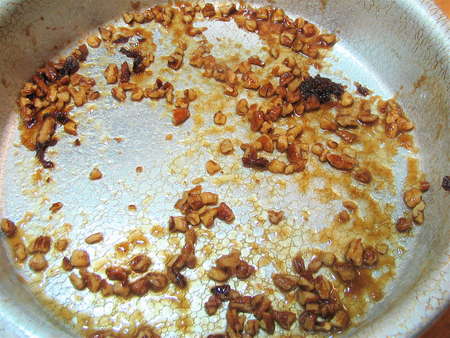 You'll no doubt find some of the topping has stuck to the pan. Just scrape it off and spread it on the warm buns.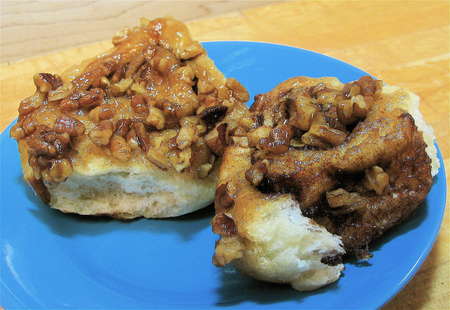 Pull apart and serve. Warm is best, but they're pretty darned tasty at room temperature, too. Pour a cup of coffee... ahhhh!
Looking for morning sugary morning bliss? See our recipes for Ridiculously Easy No-Knead Sticky Buns and Whole Grain Sticky Buns.
Jump to Comments