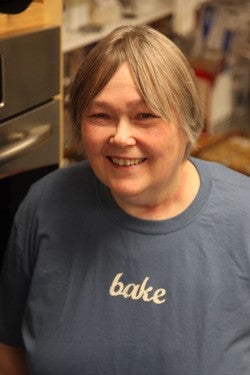 About Mary Tinkham
Employee-owner 2000-2020
Mary Tinkham began her career with King Arthur Baking Company in 2000. Mary anchored our Baker's Hotline for many years, where her calm manner and depth of baking knowledge were a welcome haven in a sea of burnt pie crusts and sagging sandwich breads. Many of the products and recipes to come out of our Test Kitchen during her 20-year career were lovingly, not to mention rigorously, tested by Mary herself.  
As a frequent contributor to our long-running publication The Baking Sheet, Mary's simple yet comforting recipes provided readers with easily achievable results while not sparing flavor for a moment. Mary was considered our resident expert on sourdough starters, yogurt and salt-rising bread, and a maven of fermentation information. Her Make-Ahead Egg Casserole remains a Spring holiday favorite to this day for many past and present King Arthur Employee-Owners.  
Recipes aside, Mary wasis a leader in her personal life as well. She had led bake sales, food drives and donation collections for her church and local community food shelves and organized monthly volunteer excursions to the New Hampshire Food Bank with her fellow Hotline bakers. Though she retired from King Arthur Baking Company in 2020, Mary's still baking up a storm for family and friends, and we're always delighted to hear what she's been up to!