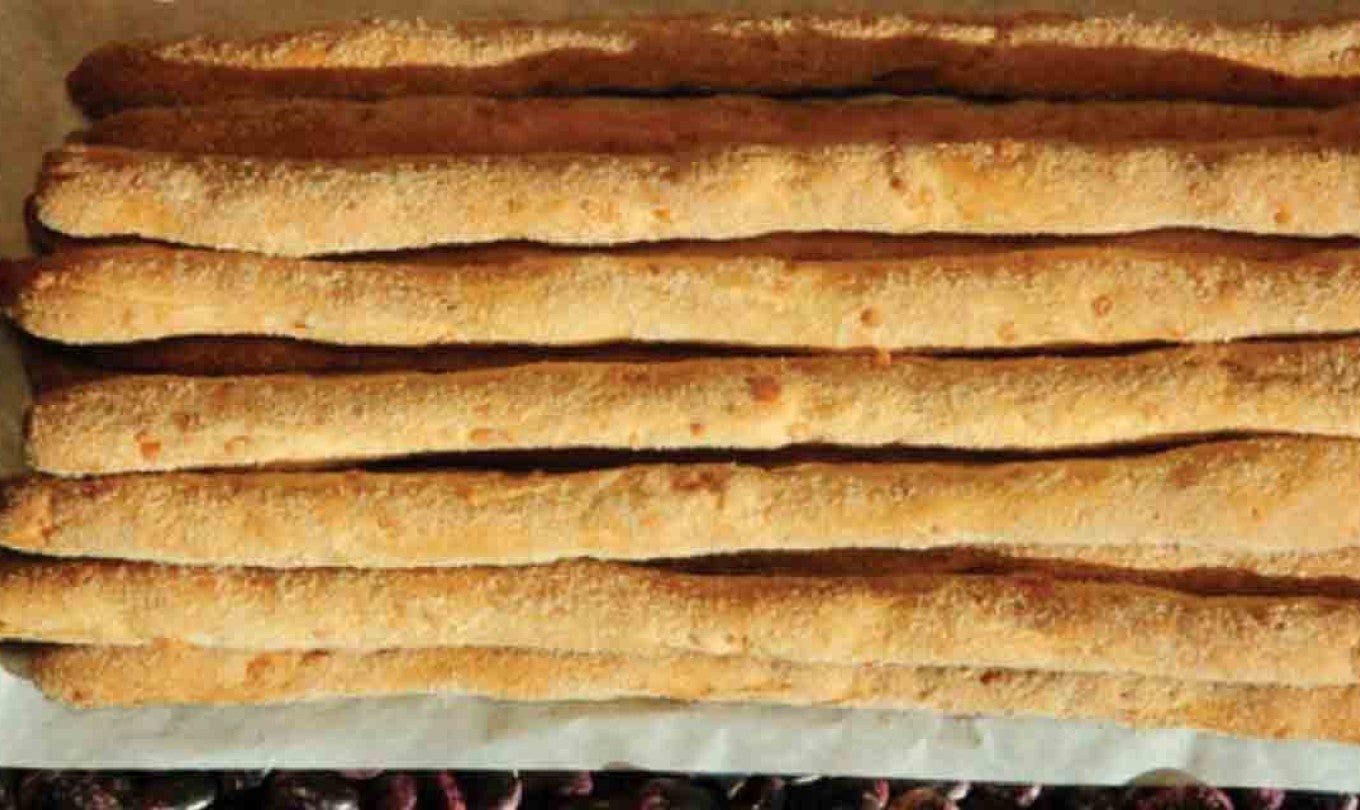 From "BREAD: A Baker's Book of Techniques and Recipes," by Jeffrey Hamelman, published by John Wiley & Sons.
|   | METRIC | BAKER'S % |
| --- | --- | --- |
| King Arthur Sir Galahad Flour | 1.52kg | 100% |
| Water | 0.79kg | 52% |
| Olive Oil | 0.182kg | 12% |
| Butter | 0.152kg | 10% |
| Salt | 0.03kg | 2% |
| Yeast (fresh) | 0.046kg | 3% |
| TOTAL YIELD | 2.72kg | 179% |
MIXING For large-scale production of grissini (50 dozen or more), a full-sized spiral mixer can be used. For smaller quantities (3 to 24 dozen), a small spiral mixer or 20- to 30-quart planetary mixer works well. Place all the ingredients in the mixing bowl. In a planetary style mixer, mix on first speed until the ingredients are incorporated, about 3 minutes. The dough should be of medium consistency. Turn the mixer to second speed and mix for another 4 or 5 minutes, to a moderate gluten development.
DESIRED DOUGH TEMPERATURE 76°F
BULK FERMENTATION 1 hour.
DIVIDING If using a 36-part dough divider, divide the dough into 2 pieces weighing 3 pounds (1.36kg) each. If scaling the bread sticks individually, divide the dough into 38g (1.33oz) portions. Let the divided pieces rest on a lightly floured work surface, covered with plastic, for about 10-15 minutes.
SHAPING Roll or stretch the pieces, trying to keep an even dimension along the length, to 14-16 inches long. Before transferring to baking sheets, the individual bread sticks can be rolled in a tray of fine semolina if desired; this adds a bit of texture to the taste. An alternative means of Dividing the dough is to press it into a flat rectangle on a floured bench and cut it into thin strips with a pizza wheel.
BAKING By the time the bread sticks have been divided, they can be baked right away with no further proofing. Bake at 380°F for about 20 minutes, or until golden brown. Once cool, the bread sticks can be stored in airtight containers for up to 5 days.
Variations:
ROASTED GARLIC GRISSINI For the 2.72kg batch size, 3 bulbs of garlic are needed; the home-sized batch of 2 pounds requires 1 bulb. To prepare the garlic, cut about 1/2 inch off the top of whole bulbs, and place the bulbs right side up on a baking sheet. There is no need to peel the bulbs. Sprinkle a light coat of olive oil on the exposed cloves. Cover the baking sheet with aluminum foil and bake at about 350°F until the garlic is soft, about 45 minutes. Remove the garlic from its husk by squeezing the individual cloves. Add the garlic to the dough at the beginning of the mix.
CHEESE GRISSINI For this variation, use good-quality Parmesan or Gruyère cheese. The 2.72kg batch size needs 0.34 pound of cheese (10% of the flour weight). Add the grated cheese at the beginning of the mix. Alternatively, roll the stretched bread sticks in a bed of grated cheese and ground black pepper